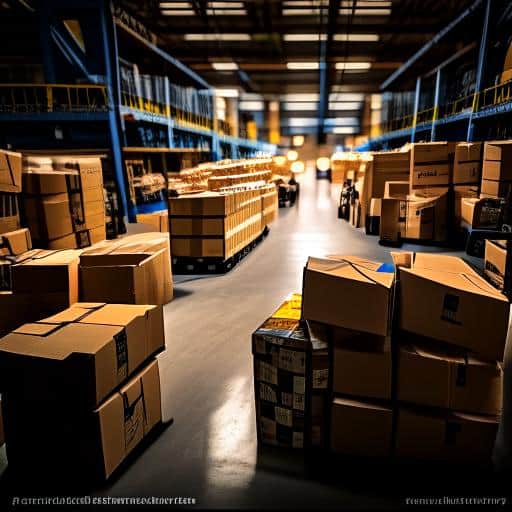 Introduction to Amazon Distribution for Pennsylvania Sellers
Welcome to the world of e-commerce, where success depends largely on efficient distribution and seamless supply chain management. In Pennsylvania, sellers have a golden opportunity to level up their Amazon businesses by partnering with a reliable third-party logistics (3PL) provider that caters specifically to their needs. Enter FBA Prep Logistics, a Bristol, PA-based 3PL warehouse with both the expertise and resources to help boost your Amazon sales.
In this introduction, we'll briefly discuss the significance of Amazon distribution for Pennsylvania sellers and showcase how partnering with FBA Prep Logistics can pave the way for your e-commerce business to thrive. Additionally, we'll touch upon our custom solutions tailored to your business size, the many services we offer to streamline your supply chain, and our commitment to ensuring customer satisfaction.
But before we dive deeper into the world of 3PL and FBA Prep Logistics, let's first familiarize ourselves with some key terms you'll encounter throughout this article. Amazon FBA, or Fulfillment by Amazon, refers to the retail giant's service that allows sellers to store their products in Amazon's warehouses, while Amazon handles the subsequent storage, packaging, shipping, and customer service on behalf of the sellers. This, in turn, frees up time and resources for sellers to focus on expanding their product line and marketing efforts.
On the other hand, a 3PL, or third-party logistics provider, is a company that offers outsourced logistics services, such as inventory management, warehousing, and transportation, to help businesses optimize their supply chain operations. In the context of Amazon sellers, partnering with a 3PL like FBA Prep Logistics can be particularly advantageous due to our deep understanding of Amazon's requirements and marketplace dynamics.
So, what's in store for you in the coming sections? We will explore why FBA Prep Logistics should be your 3PL partner of choice, the comprehensive range of services we offer, our customer-centric approach, and how you can take the first step in starting your journey with us. Stay tuned and get ready to elevate your Amazon business to new heights with FBA Prep Logistics by your side.
For further guidance on Amazon distribution and supply chain management, don't forget to check out our other resources, such as "The Ultimate Guide to Amazon Shipping for PA Sellers" and "Everything You Need to Know About Supply Chain Management for Amazon Sellers." These helpful articles offer in-depth insights and practical tips to set you up for success in Pennsylvania's bustling e-commerce landscape.
Why FBA Prep Logistics is the Right Choice for Your 3PL Needs

In this section, we will dive into the specific reasons why FBA Prep Logistics stands out as the go-to 3PL warehouse for Amazon sellers in Pennsylvania. We understand that navigating the complex world of supply chain management can be challenging, especially for newcomers. With our tailored solutions, expertise, and strategic location, we are committed to helping your e-commerce business run seamlessly and efficiently.

A. Expertise in Amazon Distribution: As a company focused on supporting Amazon sellers, our team at FBA Prep Logistics is well-versed in the ins and outs of Amazon distribution channels. This includes understanding the various fees, FBA requirements, and regulations that your business needs to adhere to. We use our extensive knowledge and experience in the field to help you navigate the Amazon ecosystem with ease, ensuring that your shipments reach their destinations on time.

B. Tailored Solutions for Your Business: At FBA Prep Logistics, we understand that no two businesses are identical. That's why we offer customized solutions to align with your specific needs and objectives. Our team is dedicated to working closely with you to develop a personalized strategy, whether you require specialized packaging, labeling, or order fulfillment services for your Amazon store. Plus, we regularly review our services to ensure they continue to meet your evolving business requirements.

C. Strategic Location: Our Bristol, PA warehouse is ideally situated to cater to Amazon sellers in Pennsylvania. With easy access to major transportation routes and logistics hubs, we are well-positioned to expedite your shipments. This strategic location enables us to reduce transit times and associated costs, ultimately boosting your business's profitability.

D. Partnerships and Resources: FBA Prep Logistics is more than just a 3PL warehouse; we are your partners in e-commerce success. As mentioned in our article, we work closely with our clients to ensure optimal results. Moreover, we actively invest in the latest tools and resources, such as the 7 Must-Have Amazon Inventory Management Tools for Sellers, to provide your business with a competitive edge.
By the end of this section, the reader should have a clear understanding of how FBA Prep Logistics is a reliable and experienced partner in successfully managing their Amazon supply chain. Our specialized services, customer-centric approach, and commitment to your growth make us the ideal choice for e-commerce entrepreneurs looking for a 3PL warehouse in Pennsylvania.
Comprehensive Services to Streamline Your Amazon Supply Chain
At FBA Prep Logistics, we know that managing your Amazon supply chain can be a complex and time-consuming task, especially for sellers who are new to the game. To simplify the process and help you focus on what truly matters – growing your e-commerce business – we offer a range of comprehensive services specifically designed for Amazon sellers.
Our services cover all aspects of the Amazon supply chain, ensuring a seamless flow from inventory management to order fulfillment. Here's a rundown of what we can do for you:
Inventory Management: Keeping track of your stock levels can be challenging, especially if you're selling across multiple sales channels. Our state-of-the-art inventory management system provides real-time data and insights, helping you stay on top of your stock and preventing costly stockouts or overstocking situations. Learn more about inventory management in our article on "7 Must-Have Amazon Inventory Management Tools for Sellers."

Order Fulfillment: Speed and accuracy are crucial for keeping your customers happy and maintaining a positive seller reputation. FBA Prep Logistics utilizes advanced fulfillment technology, allowing us to process incoming orders efficiently and accurately, while carefully packaging items to meet Amazon's strict requirements. Check out our "Master Your Order Fulfillment Process in NJ: A Step-by-Step Guide" for insights into our methodology.

Labeling and Packaging Services: Meeting Amazon's labeling and packaging requirements can be a headache for sellers. Our team takes care of this critical aspect, adhering to Amazon's specifications and labeling your goods with scannable barcodes to ensure a smooth ride through the Amazon distribution network.
Returns Management: Returns and exchanges are part of the online selling landscape, but with FBA Prep Logistics handling your reverse logistics, there's no reason to stress. Our system easily processes returns, inspects the items, and gets them back into your inventory, ensuring that you make the most of your returned product. Explore more about reverse logistics in our post "How NJ Amazon Sellers Can Optimize Their Reverse Logistics."

FBA Prep Services: If you're using Amazon's FBA program, there are stringent preparation requirements for your products before they can be shipped to Amazon's warehouses. We expertly handle the FBA prep process, freeing you from the hassle and ensuring your items meet Amazon's guidelines.
By partnering with FBA Prep Logistics, you gain access to our full spectrum of services, all aimed at streamlining your Amazon supply chain and ultimately leading to increased sales and business growth. Discover how we've helped other e-commerce businesses by checking out our article "How East Coast FBA Prep Services Can Streamline Your Amazon Business."
Customer-Centric Approach for Maximum Efficiency
At FBA Prep Logistics, we understand that each e-commerce business is unique, and their needs vary. That's why we prioritize our customers by adopting a customer-centric approach that not only helps us understand your specific requirements but also allows us to create tailored solutions for maximum efficiency in your supply chain management.
Personalized Support: From the moment you partner with us, you will have access to our dedicated team of professionals who will guide you every step of the way. We'll help you to develop an in-depth understanding of our services and customize them to fit your specific needs. Our personalized support ensures that your Amazon distribution process runs smoothly and seamlessly.
Easy Scalability: As your business grows and evolves, so do your supply chain management requirements. That's why FBA Prep Logistics offers easy scalability, giving you the flexibility you need to adapt to changing demands. Whether it's an increase in order volume or the introduction of new product lines, our scalable solutions can efficiently accommodate your needs.
Seamless Communication: Communication is key when it comes to managing your Amazon distribution process successfully. FBA Prep Logistics prioritizes transparent and easy communication with our clients through regular updates, reports, and consultations. This ensures a smooth flow of information between your business and ours, preventing any hiccups in the supply chain process.
By focusing on a customer-centric approach, FBA Prep Logistics plays a significant role in enhancing your Amazon distribution experience. Check out our blog post on Everything You Need to Know About Supply Chain Management for Amazon Sellers for more insights on how to optimize your supply chain for success.
Taking the First Step with FBA Prep Logistics
Embarking on a partnership with FBA Prep Logistics is an important decision that will greatly impact your e-commerce business, so we want to ensure the transition is as seamless as possible. This section will walk you through the steps to get started with us as your 3PL partner, from understanding your unique needs to setting up a consultation and our onboarding process for new clients.
A. Analyzing Your Amazon Business Needs
Before you even contact us for consultation, it is crucial to assess your current Amazon business operation. This allows you to pinpoint areas for improvement and growth. Spend some time understanding your inventory management, order fulfillment, and shipping processes, as well as any challenges you've faced. To help you optimize your Amazon inventory management, refer to our "7 Must-Have Amazon Inventory Management Tools for Sellers" article.
B. Setting Up a Consultation with FBA Prep Logistics
Armed with an understanding of your needs, it's time to reach out to us. While contacting FBA Prep Logistics, mention your current Amazon business challenges or areas for improvement. Whether it's optimizing reverse logistics or streamlining the shipping process for your Shopify store in PA, our team's expertise will help identify the best solutions for your unique e-commerce operation.
C. Tailored Solutions for Your Amazon Business Growth
During your consultation, our team of experts will delve deeper into your business and outline tailored solutions that address your specific needs, cooperating with you in creating a strategic action plan. This ensures your e-commerce operation will thrive with FBA Prep Logistics as your partner.
D. Seamless Onboarding Process
After agreeing on the strategic action plan, FBA Prep Logistics will guide you through our efficient and straightforward onboarding process. This phase includes setting up your accounts, inventory transfer, and integration into our systems. We will maintain open communication throughout this process, ensuring you know the ins and outs of our services and how our 3PL solutions will make your Amazon selling experience better than ever before.
E. Implementing Services for Continued Success
Once you're all set up, it's time to execute the action plan and watch your e-commerce business flourish under the partnership with FBA Prep Logistics. Whether you require comprehensive services (like those in "The Ultimate Guide to Amazon Shipping for PA Sellers") or want to focus on optimizing specific aspects of your e-commerce operation, our team is dedicated to helping you achieve and maintain success as an Amazon seller.
By choosing FBA Prep Logistics as your 3PL partner, you're taking the first step towards a more efficient, customer-centric, and successful Amazon business. With our tailored solutions, strategic location, and commitment to customer satisfaction, there's no better choice for Pennsylvania e-commerce businesses.
Frequently Asked Questions
1. Why should Pennsylvania-based e-commerce businesses consider FBA Prep Logistics for their 3PL needs?
FBA Prep Logistics specializes in Amazon distribution, offering a wide range of services such as inventory management, order fulfillment, labeling, and packaging. Our strategic location in Bristol, PA, allows for faster delivery to the Amazon fulfillment centers nearby, resulting in lower shipping costs and higher profits for your business.
2. What sets FBA Prep Logistics apart from other 3PL warehouses?
At FBA Prep Logistics, we pride ourselves on our customer-centric approach, offering personalized support, seamless communication, and easy scalability to meet the specific needs of each client. Our tailored solutions are designed to help e-commerce sellers effectively navigate the complex Amazon supply chain, ensuring maximum efficiency and a smooth experience for your business.
3. Can FBA Prep Logistics help me manage my inventory efficiently?
Yes, FBA Prep Logistics offers a comprehensive set of inventory management solutions designed to ensure your products are always in stock and ready for shipment to Amazon fulfillment centers. We keep track of your inventory levels, update your stock in a timely manner, and provide you with detailed reports to help you make informed decisions for your e-commerce business.
4. How does FBA Prep Logistics streamline the order fulfillment process for Amazon sellers?
Our expertise in Amazon distribution allows FBA Prep Logistics to provide efficient order fulfillment services that cater to the unique requirements of Amazon sellers. We handle the entire process, from receiving your products to packing, labeling, and shipping, ensuring your orders are delivered to customers in a timely manner and meeting Amazon's strict guidelines.
5. How do I get started with FBA Prep Logistics as my 3PL partner?
To get started with FBA Prep Logistics, the first step is to identify your unique needs as an e-commerce seller. This involves assessing your current supply chain challenges and determining how our tailored solutions can address them. Next, schedule a consultation with our team to discuss your requirements and begin the onboarding process for your business.