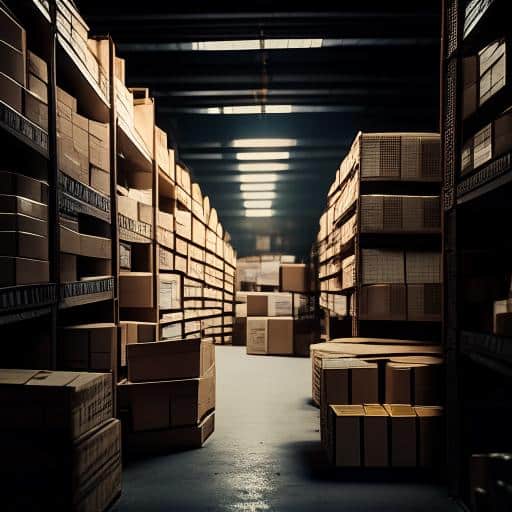 The e-commerce landscape is expanding at an incredible pace, with New Jersey becoming a hub for Amazon sellers due to its key location and accessibility to major distribution networks. As a result, there is a growing need for warehouses that can accommodate the inventory and logistical requirements of these businesses. At FBA Prep Logistics, we understand the unique challenges faced by e-commerce sellers, particularly those that primarily sell on Amazon. Our 3PL warehouse located in Bristol, PA is perfectly positioned to serve NJ-based Amazon sellers, providing a complete range of services customized to fit the needs of our clients. In this article, we will discuss how FBA Prep Logistics has emerged as the top choice for Amazon sellers in New Jersey, offering optimized storage and fulfillment services that will give your business a competitive edge.
What Makes FBA Prep Logistics the Top Choice for Amazon Sellers
As a digital marketing assistant at FBA Prep Logistics, I am proud to say that we offer an extensive range of benefits for Amazon sellers, establishing us as the top choice for e-commerce businesses looking for efficient warehouse solutions in New Jersey. The following are the factors that set us apart from other 3PL warehouses.
Expertise in assisting e-commerce businesses, specifically those selling on Amazon: Our team at FBA Prep Logistics boasts years of experience in helping businesses thrive on the Amazon platform. Our in-depth understanding of Amazon's systems allows us to implement strategies that boost not only your storage capabilities but also your overall sales and growth prospects.
Customized storage and fulfillment solutions tailored to individual business needs: We recognize that each business is unique, and therefore, a one-size-fits-all approach isn't optimal. At FBA Prep Logistics, we work closely with you to understand your business requirements and tailor our storage and fulfillment services accordingly. This ensures a seamless supply chain process that meets your specific needs.
Seamless integration with the Amazon FBA system to ensure smooth operations: Our services are designed to align with Amazon's FBA system, reducing the chances of errors and ensuring timely order fulfillment. With FBA Prep Logistics, you can rest assured that your inventory management, shipping, and other logistics operations are streamlined and under control.
To optimize your operations further, we recommend exploring the following articles to learn more about efficient e-commerce practices:
With the right knowledge and resources, your e-commerce venture can comfortably rely on FBA Prep Logistics as the top 3PL warehouse solution in New Jersey.
FBA Prep Logistics Services for Amazon Sellers
A. Inventory and Warehouse Management
At FBA Prep Logistics, we understand the importance of efficient storage and order tracking for e-commerce businesses. That's why we offer a robust inventory management system that keeps your products organized and accounted for, providing real-time updates on quantities and locations. With our state-of-the-art warehouse in Bristol, PA, we'll ensure that your inventory is not only well-maintained but also promptly updated when new stock arrives or when orders are fulfilled.
Related article: Efficient Shopify Inventory Control in PA
B. Picking, Packing, and Shipping Services
As an Amazon seller, you know the value of fast and accurate order fulfillment. At FBA Prep Logistics, our team of experts carefully picks, packs, and ships your products, ensuring that your customers receive their orders in pristine condition and within the promised delivery timeframe. Our same-day shipping service for NJ-based e-commerce businesses guarantees that when a customer places an order, it's on its way to them in no time.
Related article: Get Same-Day Shipping for Your NJ Shopify Orders
C. Product Labeling, Bundling, and Kitting
Presentation matters, especially in the competitive world of e-commerce. FBA Prep Logistics offers product labeling, bundling, and kitting services to enhance your customer experience and keep your products looking polished and professional. By utilizing these services, you can create product bundles, offer special deals, and make sure that your products arrive with easy-to-read labels, making the unboxing experience memorable for your customers.
Related article: How East Coast FBA Prep Services Can Streamline Your Amazon Business
Advantages of FBA Prep Logistics for NJ-based Amazon Sellers
As an e-commerce business owner selling on Amazon, you need a warehouse that not only meets your storage and fulfillment needs but also maximizes your operational efficiencies. FBA Prep Logistics is your ideal partner, catering to all your warehousing requirements. Here's why NJ-based Amazon sellers can benefit from choosing FBA Prep Logistics:
Strategic location in Bristol, PA with close proximity to major distribution hubs: Our warehouse is ideally situated near New Jersey and the East Coast's major distribution centers. This allows for reduced transit times, ensuring speedy deliveries and enhancing customer satisfaction.
Competitive pricing for storage and fulfillment services: As an e-commerce business, keeping costs low is a priority. At FBA Prep Logistics, we offer competitive pricing for our storage and fulfillment services, allowing you to optimize your operational expenses and reap higher profits.
Dedicated customer support for e-commerce sellers: Handling logistics can be complex, which is why our team of expert customer support representatives are at your service. We will guide you through the entire process, from getting started with FBA Prep Logistics to navigating the often-challenging supply chain landscape.
Seamless integration with Amazon FBA system: Our 3PL warehouse is designed to work in tandem with the Amazon FBA system, ensuring a smooth flow of operations. This means that Amazon sellers can enjoy greater peace of mind knowing that their shipments are being handled efficiently and effectively.
Expertise in e-commerce and Amazon seller support: At FBA Prep Logistics, we pride ourselves on our vast experience in e-commerce and our deep understanding of the specific challenges faced by Amazon sellers. This enables us to tailor solutions that address your unique needs and fuel your business's overall success.
Now that you've learned the benefits of partnering with FBA Prep Logistics for your New Jersey-based Amazon business, consider exploring our other resources, such as "The Ultimate Guide to Amazon Shipping for PA Sellers" and "Efficient Amazon Distribution for Pennsylvania Sellers", for further insights into optimizing your supply chain operations.
How to Get Started with FBA Prep Logistics
Simple Steps to Kickstart Your Collaboration: Getting started with FBA Prep Logistics is easy and stress-free. To begin, head over to our website and request a quote for your e-commerce business. We'll discuss your business needs and create a customized service plan tailored just for you. For more in-depth information, check out our Ultimate Guide to Amazon Shipping for PA Sellers.
Ongoing Support from Experienced Logistics Professionals: Our team of logistics experts will guide you every step of the way. From setting up your account and integrating our systems with Amazon FBA to managing your inventory and shipments efficiently, we've got you covered. Plus, you can count on our one-stop solution for Shopify distribution in PA to optimize all aspects of your supply chain.
Testimonials from Satisfied E-commerce Businesses: Many small and medium-sized e-commerce businesses trust FBA Prep Logistics for their warehousing and fulfillment needs. Don't just take our word for it – read our clients' success stories and learn how we've helped them streamline their operations and grow their online businesses. Discover the most effective e-commerce solutions we offer through our clients' experiences.
By choosing FBA Prep Logistics as your 3PL warehouse partner, you're ensuring the success and growth of your e-commerce business. With our expertise, customized solutions, and dedicated support, you'll gain peace of mind knowing that your warehousing and fulfillment needs are in expert hands.
How to Get Started with FBA Prep Logistics
FBA Prep Logistics makes it easy to kickstart your collaboration with us. Our ongoing support from a team of experienced logistics professionals guarantees a seamless transition for your e-commerce business, as proven by the testimonials of our many satisfied clients.
Frequently Asked Questions
Why should I choose FBA Prep Logistics for my e-commerce warehouse needs?

FBA Prep Logistics is a top choice for Amazon sellers due to our extensive experience, customized solutions, seamless integration with Amazon FBA systems, competitive pricing, and strategic location in Bristol, PA, near major distribution hubs.

What services does FBA Prep Logistics offer for Amazon sellers?

We provide a wide range of services, including inventory and warehouse management, picking, packing, and shipping services, as well as product labeling, bundling, and kitting to enhance your customer's experience with your brand.

How can FBA Prep Logistics help my NJ-based e-commerce business thrive?

Our warehouse provides a strategic location close to major distribution hubs, competitive pricing, and dedicated customer support from our experienced logistics professionals, helping you navigate the complex landscape of supply chain management and ensure your business's success.

How do I get started working with FBA Prep Logistics?

Simply reach out to our team, and we'll guide you through the process to kickstart our collaboration. You'll have access to ongoing support from our team of logistics professionals committed to helping your e-commerce business excel.

What do other e-commerce businesses say about working with FBA Prep Logistics?

Our testimonials page showcases a multitude of satisfied clients who have benefited from our services, as we've helped them scale and succeed in the competitive e-commerce landscape.