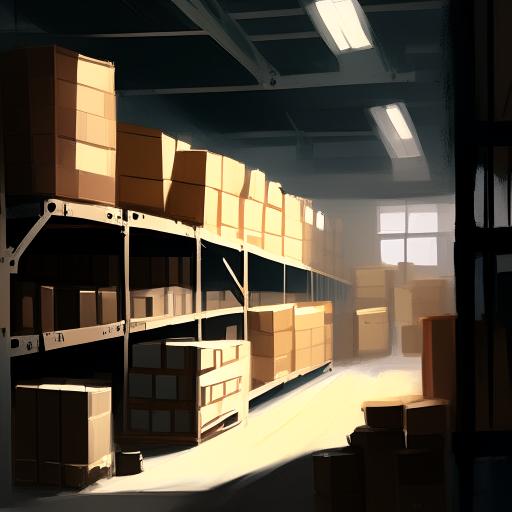 Introduction to Shopify Inventory Management
Managing inventory is one of the most critical aspects of running an e-commerce business. For those using the popular e-commerce platform, Shopify, it becomes increasingly important to choose a reliable and efficient third-party logistics (3PL) provider to ensure seamless inventory management. This article will provide a comprehensive overview of what inventory management entails within the Shopify framework and why partnering with FBA Prep Logistics, a 3PL warehouse located in Bristol PA, can significantly benefit your e-commerce business.
What is Inventory Management?
Inventory management refers to the process of overseeing and organizing the goods and products that a business has in stock. This process is vital for e-commerce businesses selling on platforms like Shopify, as it helps maintain optimal stock levels, track inventory movement, and prevent stockouts or overstock situations. Efficient inventory management ultimately leads to higher customer satisfaction, reduced operational costs, and increased profitability.
The Role of Shopify in Inventory Management
Shopify simplifies inventory management for e-commerce businesses by providing a range of built-in tools and integrations for tracking and managing inventory levels. This simplification makes it easy for sellers to monitor product listings, stock levels, and order processing – all from a centralized dashboard. However, as businesses scale up, the need for partnering with a 3PL provider becomes essential to streamline order fulfillment and optimize inventory management further.
Factors to Consider When Choosing a 3PL
To ensure efficient inventory management, it's essential to choose a 3PL provider who understands your business needs and can provide the necessary services that align with your growth strategy. Factors to consider when selecting a 3PL include:
Location and proximity to major urban centers and transportation hubs
Integration with the Shopify platform for seamless inventory updates
Shipping costs and delivery speed
Order accuracy and reliability
By considering these factors, e-commerce businesses can find the perfect 3PL partner to help them optimize inventory management and scale their business successfully.
How FBA Prep Logistics Fits in Your Shopify Inventory Management Strategy
FBA Prep Logistics is the ideal 3PL partner for e-commerce businesses that want to take their Shopify inventory management to the next level. Our Bristol PA warehouse location offers significant benefits, such as strategic proximity to major urban centers like New York City and Philadelphia, excellent transportation infrastructure, and access to skilled labor. Stay tuned to learn more about the advantages of choosing FBA Prep Logistics and how our integration with Shopify makes inventory management simpler and more efficient for your e-commerce business.
In the following sections, we will dive deep into the importance of having a strategically located warehouse in New Jersey and how our Bristol PA location can offer a perfect alternative to N.J. businesses. Furthermore, we'll shed light on why choosing FBA Prep Logistics for your Shopify inventory management offers numerous benefits that can significantly impact your business growth, followed by some effective strategies to optimize your inventory management with our 3PL services. Finally, we'll walk you through an easy step-by-step guide to getting started with FBA Prep Logistics and how our team is dedicated to helping your online business thrive.
The Importance of Location: Why NJ is the Ideal Choice for Your Shopify Warehouse
When it comes to e-commerce, the strategic location of your warehouse is of utmost importance. It directly affects crucial factors such as shipping costs, delivery times, and order accuracy, which are critical to ensure customer satisfaction. For businesses selling on Shopify, New Jersey (NJ) has emerged as an ideal location for warehousing solutions. Many factors contribute to the state's appeal, and here, we will take a closer look at these aspects and, equally as important, how FBA Prep Logistics' Bristol, PA location can be an essential solution for businesses choosing to operate within the vicinity of NJ.
Proximity to Major Urban Centers
New Jersey is conveniently situated near several key urban centers, including New York City, Philadelphia, and Washington, D.C. This proximity allows Shopify businesses using warehouses in NJ to benefit from faster shipping times when fulfilling orders for customers in these densely populated areas. As a result, the e-commerce businesses in NJ can provide quicker and more reliable deliveries, leading to higher customer satisfaction rates than businesses located farther away from these urban centers. FBA Prep Logistics is strategically located in Bristol, PA, offering its clients the advantage of proximity to these vital shipping hubs.
Strong Transportation Infrastructure
One of the primary reasons that NJ has become an ideal warehouse location for e-commerce businesses is because of its well-developed transportation infrastructure. NJ boasts an extensive network of highways, railroads, and ports that make transporting goods faster and more efficient.
Bristol, PA, is ideally situated to take advantage of this infrastructure, as FBA Prep Logistics is located just across the state line from New Jersey. This means that when you choose FBA Prep Logistics as your 3PL partner, you can be confident that your inventory can be easily accessed and transported via the same infrastructure that attracts businesses to New Jersey.
Access to a Large Pool of Skilled Labor
New Jersey's thriving economy and dense population have resulted in a pool of skilled workforce that is available to meet the demands of the growing e-commerce industry. This talent pool ensures that warehouses operating in NJ can hire experienced and competent staff who can help your business optimize its inventory management processes.
Although our facility is in Bristol, PA, the proximity to New Jersey allows FBA Prep Logistics to access the same workforce advantages in neighboring NJ. This means that by partnering with us for your inventory management needs, you can be confident that you will receive top-notch services from skilled professionals.
Competitive Pricing
Another advantage of choosing a warehouse location in or near NJ is the competitive pricing. Warehouses in NJ tend to offer lower rates compared to those in major urban hubs like New York City. While your business can save on warehousing costs, our Bristol, PA location, being a stone's throw away from NJ, allows FBA Prep Logistics to offer cost-effective storage solutions and other 3PL services in a strategically advantageous location.
FBA Prep Logistics: Your Ideal 3PL Partner Near NJ
As an e-commerce business selling on Shopify, optimizing your inventory management is crucial to your success. Establishing a warehouse near the NJ area can prove highly beneficial in ensuring faster shipping times, reduced costs, and increased customer satisfaction. FBA Prep Logistics, located in Bristol, PA, strikes the perfect balance of being in proximity to the NJ advantages while offering comprehensive 3PL services tailored to your needs.
We, at FBA Prep Logistics, are committed to providing top-of-the-line Shopify inventory management services to help grow your business. By choosing us as your 3PL partner, you can reap the benefits of an NJ warehouse location, along with receiving exceptional service for all your order fulfillment, storage, and inventory management requirements. Contact us today to find out more about how FBA Prep Logistics can help streamline your inventory processes and boost your e-commerce efficiency.
3. The Benefits of Choosing FBA Prep Logistics for Your Shopify Inventory Management
Here at FBA Prep Logistics, we are proud to offer a wide range of valuable services designed to help you with all aspects of inventory management for your e-commerce business. We understand the unique challenges that come with running an online store, especially on a platform like Shopify. That's why we're committed to providing a top-notch experience that covers everything you need to keep your operations running smoothly. In this section, let's explore some of the key advantages of partnering with us for your Shopify inventory management needs.
3.1 Lower Shipping Costs
Our strategic location in Bristol PA, near the New Jersey border, allows us to provide our clients with accessible shipping options that can save you money on both domestic and international shipments. The East Coast is home to several major urban centers and international ports, which means that we can often find affordable shipping rates due to the high volume of goods being handled. This proximity also helps in reducing the time it takes for your products to reach your customers, leading to overall greater customer satisfaction. With our affordable and effective e-commerce solutions, you can stay competitive in the ever-changing world of online retail.
3.2 Improved Order Accuracy
When it comes to e-commerce, few things are more important than order accuracy. After all, no business owner wants to deal with the headaches and costs associated with incorrect orders. Here at FBA Prep Logistics, we utilize state-of-the-art warehouse management systems and a meticulous approach to ensure that your orders are always accurate. Our skilled team carefully picks, packs, and ships each order with precision, so you can rest easy knowing that your customers will receive the correct items every time.
3.3 Faster Delivery Times
In today's fast-paced retail environment, customers have come to expect speedy delivery of their online purchases. Our strategic location and efficient warehouse operations enable us to provide faster shipping options for your Shopify store. We understand the importance of getting products into the hands of your customers as quickly as possible, and our team is focused on streamlining every step of the journey to ensure a smooth and speedy delivery process.
3.4 Personalized Customer Support
At FBA Prep Logistics, we take pride in the relationships we build with our clients. When you partner with us for your Shopify inventory management needs, you can expect personalized, one-on-one attention from our highly skilled team of logistics professionals. We're here to help you navigate the complexities of e-commerce supply chain management and ensure that your business thrives. Whether you have questions, concerns, or simply need some guidance, you can count on us to be there for you every step of the way.
3.5 Seamless Shopify Integration
One of the major benefits of choosing FBA Prep Logistics as your 3PL partner is our seamless integration with your Shopify store. We offer a simple setup process that allows you to easily connect your store's inventory with our warehouse management system, ensuring that your inventory levels are always up to date. Our integration also supports automatic order syncing, which means that as soon as an order is placed on your Shopify store, it is sent to our warehouse for immediate processing. Efficient and cost-effective inventory management has never been easier.
3.6 Expertise in E-commerce and Supply Chain Management
As a digital marketing assistant at FBA Prep Logistics, our team consists of experts who bring years of experience in e-commerce and supply chain management to the table. We understand the challenges that come with running an online store, and we're here to provide valuable insights and advice to help your business succeed. By leveraging our knowledge and experience, you can optimize your inventory management practices and navigate the world of e-commerce with confidence.
In conclusion, choosing FBA Prep Logistics as your Shopify inventory management partner can provide numerous benefits to help your e-commerce business thrive. With our strategic location, efficient warehouse operations, personalized customer support, and seamless Shopify integration, we make inventory management a streamlined and stress-free process. Partner with us today and let our team of experts help you navigate the complexities of e-commerce supply chain management and pave the way for your business's success.
Strategies to Optimize Your Inventory Management with FBA Prep Logistics
Optimizing inventory management is essential for any e-commerce business to stay ahead in the competitive market and provide exceptional customer experience. Here, we'll discuss how partnering with FBA Prep Logistics can complement your inventory management strategies while providing some actionable tips and best practices.
4.1 Understand Your Sales Velocity and Stock Levels
Attention to your sales velocity and stock levels is the key to successful inventory management. By tracking sales data and understanding the sales trends of your products, you can avoid stock-outs and overstocking. FBA Prep Logistics works in sync with your Shopify store, providing real-time insights and analytics to help you stay on top of your inventory levels.
4.2 Optimize Your SKU Organization
A well-organized SKU system is paramount to efficient inventory management. With our expert guidance, you can implement a SKU organization strategy that suits your product offerings and warehouse layout. This not only reduces picking errors but also speeds up the entire order fulfillment process.
4.3 Monitor Inventory Levels Regularly
Regular monitoring of inventory levels is crucial to identifying slow-moving products, preventing stock-outs, and managing returns. Utilizing our state-of-the-art integration with Shopify, you can have complete visibility of your inventory levels, allowing you to make informed decisions and quickly address any potential issues.
4.4 Employ Demand Forecasting Techniques
Take the guesswork out of inventory management by employing demand forecasting techniques to predict sales trends and anticipate customer demands. At FBA Prep Logistics, we understand the complexities of demand forecasting and help our customers by providing data-driven insights and market intelligence, enabling them to make smarter decisions and keep optimal inventory levels.
4.5 Implement an Effective Returns Management Process
Handling returns and exchanges can be challenging, but they're an unavoidable part of any e-commerce business. Partnering with FBA Prep Logistics ensures efficient returns management, as our dedicated team provides a seamless process for handling returns, processing refunds, and restocking inventory.
4.6 Streamline Communication with Your Suppliers
Maintaining effective communication with your suppliers is vital to a smooth supply chain operation. Ensure that your suppliers, FBA Prep Logistics, and your Shopify store are seamlessly integrated, so you can make informed decisions on when to reorder and replenish your inventory promptly.
4.7 Utilize Reorder Point and Safety Stock Strategies
Integrate the concept of reorder points and safety stock into your inventory management process to make sure you never run out of stock. This will help you maintain a balance between satisfying customer demands and avoiding excess inventory costs. As your 3PL partner, FBA Prep Logistics assists you in calculating and setting these benchmarks, ensuring your inventory supply is seamlessly replenished.
4.8 Continuously Evaluate and Improve Processes
Inventory management practices should be continuously evaluated for optimization and streamlining. Collaborate with FBA Prep Logistics to identify areas of improvement, implement advanced technologies, and fine-tune processes that accelerate growth and improve operational efficiency.
4.9 Leverage FBA Prep Logistics' Expertise
FBA Prep Logistics' experienced team offers valuable insights and tailored solutions on inventory management best practices. Drawing from our vast knowledge and expertise, we can develop unique strategies to address specific challenges and facilitate better inventory decision-making.
4.10 Stay Informed on Industry Trends
Utilize our resources, such as The Ultimate Guide to Inventory Management for East Coast Shopify Owners, to stay informed of industry trends and best practices in inventory management. FBA Prep Logistics is dedicated to providing customers with a wealth of knowledge that will help them stay ahead in the competitive market.
In conclusion, optimizing your inventory management is crucial for business growth and scaling your e-commerce operations. By partnering with FBA Prep Logistics and implementing the strategies discussed here, you can streamline and enhance your inventory management, allowing you to focus on providing the best possible experience for your customers.
Getting Started with FBA Prep Logistics: A Step-by-Step Guide to Seamless Inventory Management
In this section, we'll walk you through the process of setting up your Shopify store with our 3PL services. Our goal is to make this transition as smooth as possible, empowering you to focus more on growing your e-commerce business. So, let's dive in and discover how our team at FBA Prep Logistics is committed to helping businesses scale and succeed!
Step 1: Create an FBA Prep Logistics Account
First and foremost, you'll need to create an account with FBA Prep Logistics. This can be easily done by visiting our website and following the prompts to create a new account. Once your account is created, you'll have access to our dashboard, where you can manage various aspects of your e-commerce business, such as shipping, inventory, and customer support.
Step 2: Integrate Your Shopify Store
Of course, seamless inventory management begins with integrating your Shopify store with our 3PL services. To do this, simply navigate to the integrations tab within your FBA Prep Logistics dashboard, and follow the instructions to connect your Shopify store. This process enables our system to access your store's data, helping to automate and streamline various inventory management tasks.
Step 3: Transfer Your Inventory
Next, it is time to transfer your inventory to our state-of-the-art Bristol PA warehouse. We offer flexible storage options, enabling you to select the services that best fit your specific needs. If you're unsure about what works best for you, our team of dedicated professionals is always on hand to provide guidance and support.
Step 4: Configure Your Shipping Options
With your inventory in place, it's time to configure your shipping options. Through our easy-to-use dashboard, you can set up various shipping methods, such as standard, expedited, or international shipping. We offer competitive rates, ensuring your products reach your customers quickly and cost-effectively.
Step 5: Monitor and Optimize Inventory Management
Now it's time to sit back and watch as FBA Prep Logistics expertly handles your inventory management. Our comprehensive dashboard provides real-time insights, allowing you to monitor your inventory levels, track shipments, and manage returns with ease. This powerful tool equips you with the data you need to make informed decisions about optimizing your supply chain, leading to increased efficiency and lower costs.
Step 6: Scale Your Business with Confidence
As your e-commerce store grows, you can rely on FBA Prep Logistics to handle the increasing demands of your business effortlessly. Our proactive customer support ensures all your queries and concerns are addressed promptly, and our flexible storage and shipping options adapt to your ever-changing needs. With FBA Prep Logistics by your side, scaling your business is a breeze!
Step 7: Explore Additional Resources
Last but not least, we want to make sure you have all the resources you need to continue improving and scaling your e-commerce business. Be sure to explore our comprehensive range of blog articles, such as The Ultimate Guide to Shopify Inventory Management, Third-Party Logistics vs In-House Fulfillment: Which is Best for Your Shopify Store?, or The Best Shopify Inventory Tracking Solutions for Your NJ Business, which offer valuable insights and information for building a successful e-commerce empire.
In conclusion, partnering with FBA Prep Logistics for your Shopify inventory management is a strategic decision that can pave the way for your e-commerce business' success. Our team of dedicated professionals is committed to your store's growth, and our state-of-the-art facilities and processes ensure smooth, efficient operations. So, why wait? Get started with FBA Prep Logistics today and take your e-commerce business to new heights!
What is inventory management in the context of Shopify?
Inventory management for Shopify refers to the process of tracking and managing the stock levels, sales, orders, and deliveries of products in your Shopify store. A well-organized inventory management system is crucial for e-commerce businesses to ensure smooth operations, minimize errors, and maximize profits.
Why should I choose a warehouse in or near New Jersey for my Shopify store?
Choosing a warehouse in or near New Jersey, such as FBA Prep Logistics in Bristol, PA, offers several benefits for your e-commerce business. These include proximity to major urban centers, a robust transportation infrastructure, and access to a large workforce of skilled employees. This strategic location helps reduce shipping costs and delivery times, ultimately improving customer satisfaction.
What are the benefits of using FBA Prep Logistics for Shopify inventory management?
FBA Prep Logistics offers a range of advantages for your Shopify inventory management needs. Partnering with us provides lower shipping costs, improved order accuracy, faster delivery times, and personalized customer support. Additionally, our seamless Shopify integration ensures a hassle-free experience when it comes to managing your inventory.
How can I optimize my inventory management using FBA Prep Logistics?
To optimize your inventory management with FBA Prep Logistics, you can follow several best practices, such as organizing SKUs effectively, keeping an eye on inventory levels, and implementing efficient return and exchange management strategies. Our team of experts will also work closely with you to develop customized solutions tailored to your business needs.
How do I get started with FBA Prep Logistics for my Shopify store?
Setting up your Shopify store with FBA Prep Logistics is easy and straightforward. Start by creating an account, then follow the step-by-step guidance provided by our team to ensure a seamless inventory transfer. We are committed to helping your business succeed by offering a hassle-free, efficient inventory management solution tailored to your needs.