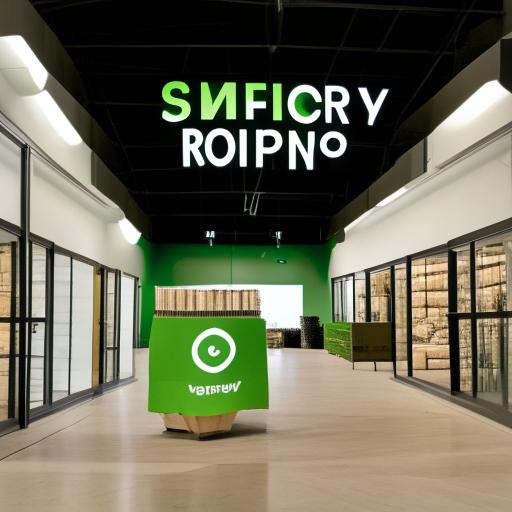 Build Your Own Return Center for Shopify with the Help of FBA Prep Logistics
1. Introduction: The Importance of a Seamless Return Process
Running a successful Shopify store requires meticulous attention to various aspects of your eCommerce operation. One of the most critical factors that can significantly impact customer satisfaction and retention is an efficient return center. As more and more shoppers flock to online platforms, the likelihood of products being returned increases. This can create challenges for e-commerce business owners, especially if they lack the infrastructure and systems to handle and process returns in a hassle-free manner. In this scenario, FBA Prep Logistics emerges as your ultimate partner to help you build and manage an effective return center tailored to the unique needs of your Shopify store.
A Better Return Experience for Your Customers
The return process can be a deciding factor in whether a consumer chooses to shop from your online store again. Having an effective return center in place ensures that customers can conveniently return products, resulting in a positive shopping experience. This not only bolsters customer satisfaction but also fosters trust and loyalty, paving the way for repeat purchases and increased revenue for your business.
Partnering with FBA Prep Logistics
At FBA Prep Logistics, we understand the complexities of managing a return center for Shopify store owners. We offer a comprehensive range of services that help create a seamless return process while fostering a smooth reselling or disposal of returned products. Partnering with us ensures that your customers receive exceptional service and support throughout the return process, allowing you to focus on growing your business worry-free. Let's explore how FBA Prep Logistics can help you build a top-notch return center for your Shopify store by providing tailored solutions, cutting-edge infrastructure, and unwavering support.
Customized Return Center Solutions with FBA Prep Logistics
When you're looking to build a reliable return center for your Shopify store, it is essential to have a plan and system in place that cater to your specific business model and clientele. At FBA Prep Logistics, we understand that not all businesses are the same, and that's why we offer customized return center solutions to fit the unique demands and requirements of your Shopify store. Here is a rundown of our tailor-made return center services:
Personalized Strategies and Workflows
With our extensive experience and expertise, we provide return center strategies designed specifically for your eCommerce business. This means that your return process is tailor-made to suit the nature of your products and clientele, ensuring that the entire system is efficient and hassle-free. Our goal is to devise streamlined workflows that facilitate easy returns and minimize any roadblocks in the process.
Flexibility in Return Policies
We recognize that return policies need to be adaptable depending on the products you sell and the changing needs of your business. With FBA Prep Logistics, you get the flexibility to create return policies that suit your business, balancing customer satisfaction with the cost of returns. As your business evolves, we seamlessly adjust our strategies to match your growth in both scale and complexity.
Scalable Solutions
Whether you're just starting on your eCommerce journey or looking to expand your established business, having a scalable return center is essential. Our return center solutions are designed to accommodate businesses of all sizes, from small start-ups to large enterprises. This way, you can always accommodate the needs of your clients without worrying about outgrowing your logistics partner.
Seamless Integration with Shopify
Our return center solutions fully integrate with Shopify, providing you with a seamless experience that bolsters your business's efficiency. We ensure that your return process has a convenient, user-friendly interface on your Shopify store to make it easy for customers to initiate returns and track their progress. With FBA Prep Logistics, you can be confident that your return center will work harmoniously with your Shopify platform.
Wide Range of 3PL Services
As a 3PL warehouse, we offer a comprehensive range of logistics services that go hand-in-hand with our return center solutions. Our services include order fulfillment, inventory management, pick and pack services, and more. By partnering with us, you'll gain access to an entire suite of logistics services designed to make your online business more efficient, cost-effective, and customer-friendly.
In conclusion, FBA Prep Logistics offers customized return center solutions that are the perfect fit for Shopify store owners looking to create a seamless return process. Ensuring the ultimate customer satisfaction is our top priority as we work together to devise strategies and workflows that are adaptable, scalable, and perfectly tailored to your eCommerce business. With our strong expertise, diverse services, and relentless commitment to your success, you can rest assured that you've made the right choice in partnering with FBA Prep Logistics for your return center needs.
Streamlined Reverse Logistics Process
In the world of eCommerce, having a well-organized reverse logistics process is crucial for maintaining outstanding customer satisfaction and driving long-term business growth. The good news? You don't have to go through this challenge alone. FBA Prep Logistics has you covered! Leveraging our strong expertise in 3PL (Third-Party Logistics) and warehouse management, we specialize in designing and implementing seamless reverse logistics processes that simplify product returns for customers and help businesses remain competitive.
A Customer-Centric Return Experience
We understand that the return process can be a hassle for both customers and businesses. That's why we focus on creating an intuitive, user-friendly return experience that exceeds your customers' expectations. By working with FBA Prep Logistics, your customers will be able to return items with minimal fuss, leading to increased customer satisfaction and loyalty.
Efficient Reverse Logistics Workflow Design
Our experienced team at FBA Prep Logistics will thoroughly analyze your eCommerce business operation to design a reverse logistics workflow that caters specifically to your unique needs. By doing so, we make certain that your Return Center is set up correctly, ensuring that each step in the return process – from return authorization to inspections and product reselling or disposal – is executed promptly and flawlessly.
Minimizing Return-associated Business Risks
Running a smooth return process is essential to minimize potential business risks associated with returns, such as loss of sales, reputation damage, or increased operational costs. By partnering with FBA Prep Logistics, you can trust that we'll implement return best practices and adhere to strict regulations and guidelines, protecting your business from potential pitfalls.
Addressing Return Challenges Head-On
With extensive experience in the 3PL industry, FBA Prep Logistics is well-equipped to handle even the most complex return challenges, including returns from international customers or returns of oversized items. Our team will develop a tailored solution to tackle these specific return needs, ensuring the reverse logistics process remains streamlined and efficient.
Seasonal Spikes and Volume Fluctuations
Return volumes can surge during particular periods such as holiday seasons or promotional events. At FBA Prep Logistics, we are prepared to manage these fluctuations to ensure your return process remains efficient. We are more than capable of adapting to any variation in return demands, providing additional resources whenever needed to keep your return center running smoothly.
In Conclusion
By partnering with FBA Prep Logistics, you get the benefit of a streamlined reverse logistics process, ensuring a hassle-free experience for your customers while protecting your eCommerce business from return-associated risks. Our wealth of knowledge, practical experience, and focus on providing tailored solutions means your eCommerce business is in the best possible hands. Don't hesitate to take the next step and let FBA Prep Logistics be the backbone of your Shopify Return Center.
4. Data-Driven Approach and Inventory Management
At FBA Prep Logistics, we understand the value of data and the role it plays in optimizing your return center operations. As a data-driven company, we leverage analytics and insights to streamline the return process, analyze product performance, and optimize workflows, ensuring a smooth and efficient return experience for your customers. Our data-driven approach empowers you to make informed, strategic decisions about your eCommerce business and helps you identify patterns that could impact your sales and customer satisfaction levels. Let's take a closer look at how our data-driven approach and inventory management system can revolutionize your return center.
4.1 Real-time Product Performance Insights
One crucial benefit of working with FBA Prep Logistics is our ability to provide real-time insights into product performance. By analyzing return data, we can identify trends and patterns that signal potential issues with specific products, such as recurring defects or a higher-than-average rate of returns. These insights can help you make important decisions about your product lineup and help you pinpoint opportunities for improvement, ensuring a better customer experience and reducing the load on your return center.
4.2 Smart Inventory Management Systems
Your return center's efficiency heavily depends on how well your inventory is managed. We offer cutting-edge inventory management systems designed to minimize costs, maximize available storage, and ensure the smooth handling of returned items. Whether reselling or disposing of returned products, our inventory management solutions make it easy to track, store, and manage resold items in line with your eCommerce business's unique requirements. With FBA Prep Logistics, you can trust that your return center will function seamlessly when it comes to inventory management.
4.3 Reducing Costs Through Data-Driven Decision Making
Implementing a data-driven approach not only boosts productivity and efficiency but can also reduce costs significantly. By analyzing the data generated from return operations, we can optimize workflows, reducing the time and labor required to process returns. Additionally, this data can provide insights into potential cost-saving measures, such as targeted product improvements to reduce the overall rate of returns. This translates to lower overhead expenses and increased profit margins for your eCommerce business.
4.4 Adaptable and Scalable Systems for Your Business Growth
FBA Prep Logistics is committed to providing return center solutions that can grow and adapt alongside your eCommerce business. Our data-driven systems and inventory management tools are designed to be scalable, ensuring that we can continue to meet your business's needs as it expands. Plus, our team of experts is always working to enhance our technology and strategies, staying ahead of industry trends and ensuring your return center remains efficient and effective.
4.5 Compliance Monitoring for Increased Efficiency
Another crucial aspect of handling returns is maintaining compliance with various industry regulations and requirements. Our data-driven approach enables us to track and monitor your return center's compliance, ensuring that any returned products are processed in accordance with relevant regulations. This helps minimize potential disruptions and penalties, while also maintaining the integrity of your business and fostering customer trust.
In conclusion, FBA Prep Logistics' data-driven approach and advanced inventory management systems vastly improve the efficiency and effectiveness of your return center, optimizing your eCommerce business's overall performance. By working with us, you can gain valuable insights, reduce costs, enhance compliance, and ultimately achieve greater customer satisfaction and retention. Don't hesitate to reach out to our team to discuss how we can help you build your own return center and unlock your Shopify store's full potential!
5. Exceptional Customer Support and Client-Centric Approach
At FBA Prep Logistics, our goal is not just to provide you with top-notch return center solutions, but also to deliver an extraordinary customer support experience. We believe that strong communication is the foundation of a successful partnership, and we are committed to being there whenever you need us.
Personalized Attention to Your Needs
Our team always puts the needs of our clients at the forefront of everything we do. We know that every Shopify merchant is unique, so our solutions and support are customized according to your business requirements. From the moment you contact FBA Prep Logistics, our team will work closely with you to ensure that we understand your needs and provide a seamless return center setup experience.
Proactive and Prompt Problem-Solving
FBA Prep Logistics is known for its proactive approach in addressing any potential issues before they escalate into major concerns. We constantly monitor your return center's performance to ensure it's running smoothly and efficiently. By doing so, we can quickly identify any potential issues and resolve them before they impact your customers or bottom line. This enables you to focus on growing your business while we take care of your return operations.
Responsive and Accessible Support Team
Our customer support team is always available and eager to help you with any questions or concerns you may have. Whether you're looking for guidance on setting up your return center or need assistance with an issue that may arise, you can count on our team to provide fast and thorough support. We are here to help you navigate the complexities of returns management and make the process as smooth as possible for both you and your customers.
Regular Updates and Improvement Recommendations
The eCommerce landscape is ever-evolving, and we believe it's essential to stay informed of the latest trends and best practices to remain competitive. As part of our ongoing support, we provide regular updates and data-driven recommendations to help you continually improve your return center's performance and efficiency. By leveraging our extensive knowledge and expertise, you'll be well-positioned to meet the needs of your customers and stay ahead of the competition.
Building Long-Term Relationships
Our client-centric approach means that we're committed to building and maintaining long-term partnerships with you. Instead of treating you as just another customer, we consider you a valued partner, and our ultimate goal is to see you succeed in your eCommerce journey. By partnering with FBA Prep Logistics, you're not only gaining access to our expert return center solutions but also joining a community of eCommerce enthusiasts who share a common goal: achieving lasting success for your Shopify store.
Step Forward with Confidence: Partner with FBA Prep Logistics for Your Return Center Needs
In conclusion, FBA Prep Logistics is the ideal partner for setting up and managing your Shopify return center. Our expertise as a 3PL warehouse, commitment to providing customized solutions, and unwavering focus on your success make us the perfect choice for businesses new to supply chain management or those looking to improve their existing returns process. Let us help you build a return center that enhances customer satisfaction, increases your product performance insights, and ultimately drives eCommerce success. Reach out to FBA Prep Logistics today, and together we can create a well-oiled return center that takes your Shopify store to new heights.
Frequently Asked Questions
Why is an efficient return center essential for my Shopify store?

An efficient return center plays a crucial role in enhancing customer satisfaction and retention, as it ensures a hassle-free and seamless return process for your customers. This ultimately results in better reputation and increased sales for your online store.

How does FBA Prep Logistics provide customized return center solutions?

FBA Prep Logistics works closely with you to understand your eCommerce business needs and requirements. Our team then designs tailored return center strategies and workflows, customized to fit your unique operation. This ensures a flexible and scalable solution that grows with your business.

What is the advantage of FBA Prep Logistics' streamlined reverse logistics process?

Our streamlined reverse logistics process simplifies the entire returns experience for both you and your customers. By leveraging our extensive experience as a 3PL warehouse, we efficiently manage returns, saving you time and resources while making it easy for your customers to return their purchases.

How does FBA Prep Logistics' data-driven approach benefit my return center operations?

Our data-driven approach enables us to optimize your return center operations and provide valuable insights into product performance. This, coupled with our inventory management systems, minimizes costs and maximizes storage, while ensuring the smooth reselling or disposal of returned items.

What kind of customer support can I expect from FBA Prep Logistics?

FBA Prep Logistics is committed to providing exceptional customer support throughout the entire return center setup process and beyond. Our team is always available to assist you, ensuring that your return center operations run smoothly and efficiently.
Ready to build your own return center for your Shopify store with the help of FBA Prep Logistics? Contact us today for more information and to discuss your specific return center needs.
"`json
{
"@context": "https://schema.org",
"@type": "FAQPage",
"mainEntity": [
{
"@type": "Question",
"name": "Why is an efficient return center essential for my Shopify store?",
"acceptedAnswer": {
"@type": "Answer",
"text": "An efficient return center plays a crucial role in enhancing customer satisfaction and retention, as it ensures a hassle-free and seamless return process for your customers. This ultimately results in better reputation and increased sales for your online store."
}
},
{
"@type": "Question",
"name": "How does FBA Prep Logistics provide customized return center solutions?",
"acceptedAnswer": {
"@type": "Answer",
"text": "FBA Prep Logistics works closely with you to understand your eCommerce business needs and requirements. Our team then designs tailored return center strategies and workflows, customized to fit your unique operation. This ensures a flexible and scalable solution that grows with your business."
}
},
{
"@type": "Question",
"name": "What is the advantage of FBA Prep Logistics' streamlined reverse logistics process?",
"acceptedAnswer": {
"@type": "Answer",
"text": "Our streamlined reverse logistics process simplifies the entire returns experience for both you and your customers. By leveraging our extensive experience as a 3PL warehouse, we efficiently manage returns, saving you time and resources while making it easy for your customers to return their purchases."
}
},
{
"@type": "Question",
"name": "How does FBA Prep Logistics' data-driven approach benefit my return center operations?",
"acceptedAnswer": {
"@type": "Answer",
"text": "Our data-driven approach enables us to optimize your return center operations and provide valuable insights into product performance. This, coupled with our inventory management systems, minimizes costs and maximizes storage, while ensuring the smooth reselling or disposal of returned items."
}
},
{
"@type": "Question",
"name": "What kind of customer support can I expect from FBA Prep Logistics?",
"acceptedAnswer": {
"@type": "Answer",
"text": "FBA Prep Logistics is committed to providing exceptional customer support throughout the entire return center setup process and beyond. Our team is always available to assist you, ensuring that your return center operations run smoothly and efficiently."
}
}
] }
"`