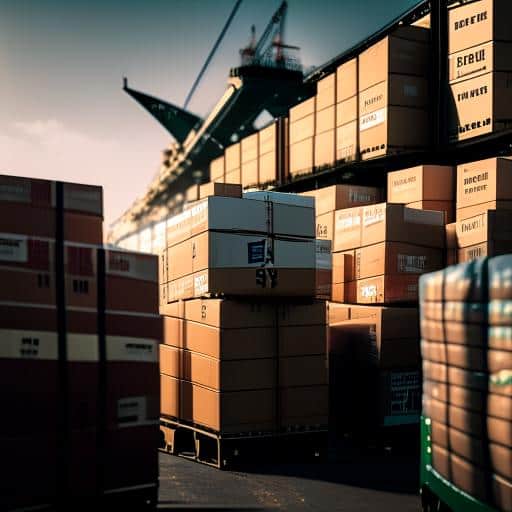 Top Tips for East Coast Supply Chain Management for Shopify
1. Introduction
In the fast-paced world of eCommerce, effective supply chain management is vital to the success of any online business, especially for those selling on Shopify. For those operating on the East Coast, having a seamless and efficient supply chain management process is of paramount importance to not only stay ahead of the competition but also to ensure smooth operations and customer satisfaction. That's where FBA Prep Logistics comes in – we are here to help you streamline your entire supply chain management process, making sure your business thrives in the long run.
As a Shopify retailer based on the East Coast, you may be new to supply chain management or have never used a 3PL before. Worry not! In this article, we'll walk you through some essential tips for effectively managing your supply chain. Additionally, we'll introduce FBA Prep Logistics and how our expertise and services can help you overcome any challenges and improve the overall efficiency of your operations. So, buckle up and let's dive in!
Why is Supply Chain Management Crucial for eCommerce businesses?
In the age of instant gratification, online shoppers have come to expect fast, seamless, and accurate order fulfillment. A well-executed supply chain management strategy enables businesses to meet customer expectations and maintain a competitive edge in the eCommerce market. Shopify retailers on the East Coast, specifically, must be adept with supply chain management to handle the unique challenges and opportunities present in their region. Partnering with FBA Prep Logistics ensures smoother operations and a more satisfying customer experience for your Shopify business.
Stay tuned as we explore the most effective ways to manage your East Coast supply chain – from choosing the right 3PL partner and streamlining inventory management to enhancing customer satisfaction through efficient order fulfillment processes. Let's get started!
[next_section]
Choosing the Right 3PL Partner – FBA Prep Logistics
When it comes to managing the East Coast supply chain for your Shopify store, partnering with the right third-party logistics (3PL) provider is crucial. Here are some essential qualities to look for in a 3PL:
Location
An ideal 3PL should be located near your target market. This will ensure faster delivery times, reduced shipping costs, and better customer satisfaction. FBA Prep Logistics, located in Bristol, PA, is strategically situated, offering easy access to major shipping routes and hubs, perfect for East Coast-based Shopify retailers.
Expertise
Your 3PL should have proven experience and expertise in providing supply chain solutions tailored to eCommerce businesses like yours. This means familiarity with platforms like Shopify and a solid understanding of the unique requirements associated with online retail. FBA Prep Logistics excels in this area, with a team of seasoned professionals who are experts in eCommerce logistics and Shopify-specific fulfillment processes.
Scalability
The ability to easily scale to accommodate your business's growth is a must-have for any 3PL partner. FBA Prep Logistics understands this need and offers flexible warehouse space and staffing options to manage fluctuations in your order volumes. This way, you can be confident that your logistics needs will always be met, no matter how quickly your Shopify business expands.
Reliable and Efficient Order Fulfillment
An excellent 3PL should have a track record of accurate and swift order fulfillment, regardless of the order size or complexity. FBA Prep Logistics prides itself on consistently delivering products to customers on time and with minimal errors, ensuring that you can maintain a high level of customer satisfaction.
So, why should Shopify businesses on the East Coast choose FBA Prep Logistics?
Adaptability to Your Business Needs
At FBA Prep Logistics, we understand that not every Shopify store operates the same way. That's why we're committed to delivering customized solutions tailored to your specific needs. We work closely with you to understand your business requirements and provide a comprehensive suite of services to help your Shopify store thrive on the East Coast.
Industry-Leading Technology and System Integration
Our advanced technology stack allows for seamless integration with Shopify, ensuring a smooth flow of data between your online store and our warehouse. With real-time inventory updates, order tracking, and enhanced visibility into your supply chain, you'll be well-equipped to make informed decisions about your business.
A Focus on Customer Satisfaction
Customers expect quick and hassle-free deliveries when shopping online, and our team at FBA Prep Logistics does everything in their power to ensure that you can meet their expectations. From expedited shipping options to returns management, we work tirelessly to improve your customers' experience, so they keep coming back for more.
In summary, FBA Prep Logistics combines the perfect mix of strategic location, industry expertise, scalability, and commitment to customer satisfaction, making us the ideal choice for Shopify businesses looking to optimize their East Coast supply chain. Partnering with FBA Prep Logistics means you can focus on growing your business while leaving the logistical challenges to the experts – it's a win-win scenario.
Streamlining Inventory Management with FBA Prep Logistics
As an eCommerce business on the East Coast, you're likely dealing with a rapidly growing inventory and the challenges that come with managing it effectively. With Shopify being your eCommerce platform, streamlining inventory management is essential in maintaining efficient operations and meeting customer expectations. FBA Prep Logistics is here to help you optimize your inventory management processes by offering comprehensive warehousing solutions, real-time tracking, and inventory processing best practices tailored to the needs of East Coast Shopify sellers.
Comprehensive Warehousing Solutions
FBA Prep Logistics provides a secure and reliable warehousing solution for your Shopify inventory. Our East Coast supply chain experts can manage every aspect of your warehousing needs, from receiving products to organizing and maintaining your inventory. Our scalable warehousing services grow with your business, ensuring that you have ample space to store your inventory, no matter the size of your operation.
Climate-Controlled Storage
We offer climate-controlled storage options to ensure the longevity and quality of your inventory, suitable for delicate and perishable items. This means that your products are stored under optimal conditions, preserving their value and keeping your customers satisfied.
Efficient Inbound and Outbound Processing
Our team is well-versed in receiving, inspecting, and processing inbound shipments. This ensures that any discrepancies in the incoming inventory are caught before entering your stock, helping to maintain accurate inventory levels. Moreover, our experts efficiently pick, pack, and dispatch outbound orders, shortening order fulfillment time and ensuring a seamless process.
Real-Time Inventory Tracking and Reporting
Knowing the status of your inventory at all times is crucial for effective East Coast supply chain management. FBA Prep Logistics offers Shopify sellers real-time inventory tracking and robust reporting capabilities through our state-of-the-art warehouse management software. You'll never be left in the dark—the moment a product enters or leaves the warehouse, you'll receive live updates on quantities, locations, and stock levels. This transparency enables you to make informed decisions regarding replenishment, product launches, and sales forecasting.
Seamless Integration with Shopify
Our inventory tracking and reporting software seamlessly integrates with your Shopify store, automating data transfer and ensuring a strong connection between your online sales platform and your physical inventory. This synchronicity prevents overselling and ensures your customers never face disappointment due to stockouts.
Inventory Processing Best Practices
To prevent inventory-related issues and maintain high standards of customer satisfaction, FBA Prep Logistics implements several inventory processing best practices for Shopify sellers located on the East Coast. These include:
Batch Tracking and Quality Control
We utilize batch tracking methods to monitor inventory with expiration dates or unique identifiers, such as serial numbers. This enables our team to ensure that your inventory is rotated correctly, maintaining product quality and minimizing waste. Our additional quality control measures ensure your products meet the strictest standards before leaving our facility, further enhancing your customer's experience.
High-Level Security Measures
FBA Prep Logistics places a high value on safeguarding your inventory. Our fully secured facility boasts advanced security systems, including 24/7 video surveillance and controlled access points. You can be confident that your Shopify inventory is safe and secure with us.
Adherence to Industry Regulations
Our team ensures that your inventory is managed in compliance with all relevant industry regulations, such as government safety guidelines and specific Amazon fulfillment requirements. This adherence to regulations helps mitigate any potential issues down the line and protects you from fines and other penalties.
By partnering with FBA Prep Logistics to streamline your inventory management processes, you're taking a crucial step in optimizing your Shopify business's performance on the East Coast. With our comprehensive warehousing solutions, real-time tracking, and best-in-class inventory processing practices, your inventory is in excellent hands, freeing you up to focus on growing your brand and delivering an exceptional customer experience.
4. Boosting Customer Satisfaction with an Enhanced Fulfillment Process
Efficient order fulfillment is a critical pillar of eCommerce success, and when it comes to providing a positive customer experience for East Coast Shopify sellers, relying on FBA Prep Logistics' advanced fulfillment process is definitely the way to go. Your east coast supply chain can expect to become more efficient and streamlined, leading to better overall customer satisfaction. In this section, we will explore the various ways our fulfillment services help improve customer satisfaction and enhance your Shopify business reputation on the East Coast.
4.1 Expedited Order Processing
One of the cornerstones of FBA Prep Logistics' approach to enhanced customer satisfaction is our focus on expedited order processing. Our team understands that times have changed, and nowadays, customers expect to get their items incredibly fast. To meet these expectations, we work tirelessly to ensure that all orders are processed and shipped within 24 hours. Our warehouse management system integrates seamlessly with your Shopify store, keeping your inventory levels up-to-date and alerting our team the moment an order is placed.
4.2 Accurate Order Picking and Packing
Shipping errors can be a major source of dissatisfaction for customers, and as an east coast supply chain partner, we take this matter very seriously. To meet their expectations, we employ the best order picking and packing practices, like using barcode scanning and a thorough quality control process. This helps ensure that every customer gets exactly what they ordered, which, in turn, enhances overall satisfaction and reduces return rates.
4.3 Wide Range of Shipping Options
FBA Prep Logistics knows that one size doesn't fit all when it comes to shipping options. That's why we continuously work with our clients to find the best shipping methods for their specific needs. We tap into a broad network of carriers—the most reliable and cost-effective options on the East Coast—to cater to various customer shipping preferences, be it same-day or next-day deliveries. This dedication to meeting customers' shipping needs is crucial in providing memorable shopping experiences.
4.4 Real-Time Order Tracking
Customers love to be informed about their order status, and we understand that importance. When partnering with FBA Prep Logistics, your customers will have real-time access to order tracking information, granting them the peace of mind knowing that their purchase is on its way. This transparency provides reassurance and significantly contributes to customers' positive perception of your business.
4.5 Proactive Return Management
We know that returns can be intimidating, but with FBA Prep Logistics, the process is made as smooth as possible for both you and your customers. Our reverse logistics strategies ensure that your Shopify store can handle returns efficiently while still maintaining high customer satisfaction levels. Customer inquiries and concerns regarding returns are given top priority, and we work together with your team to make sure all parties stay informed throughout the entire process.
4.6 Continuous Improvement and Scalability
FBA Prep Logistics is always on the lookout for ways to optimize and enhance the fulfillment process—particularly, those methods that will specifically cater to the needs of your East Coast customers. We stay updated with the latest technological advancements and industry trends, allowing us to adapt and scale as needed. As your Shopify store grows, we grow too, ensuring that your East Coast supply chain remains efficient and well-suited for sustained success.
In conclusion, FBA Prep Logistics helps amplify customer satisfaction by streamlining the entire fulfillment process, from speedy order processing to expert return management. By choosing us as your 3PL partner for your East Coast Shopify business, you're not only securing efficient fulfillment services, but you're also investing in greater customer satisfaction, positive reviews, and ultimately, higher sales.
5. Navigating East Coast Logistics Challenges
As an eCommerce business focusing on the East Coast, Shopify store owners might face unique obstacles when managing their supply chain. In this section, we'll discuss some common challenges that could potentially disrupt the East Coast supply chain and how FBA Prep Logistics can help clients overcome these hurdles.
5.1 Weather-Related Disruptions
The East Coast experiences a diverse range of weather conditions throughout the year: from heavy snowstorms in the winter to tropical storms in the summer. These unpredictable weather patterns can significantly impact the delivery times of shipments, causing delays and potential customer dissatisfaction.
With FBA Prep Logistics, you'll have a dedicated team that continually monitors weather conditions and adjusts shipping routes accordingly. Our expertise with navigating freight shipping for Amazon sellers on the East Coast helps to avoid potential disruptions while ensuring quick delivery times for your Shopify store customers.
5.2 Regional Transportation Issues
The East Coast is notorious for its traffic congestion and infrastructure challenges. These can contribute to longer transit times, making it much harder for eCommerce businesses to provide timely deliveries consistently.
FBA Prep Logistics has a deep understanding of the local transportation landscape. Our knowledge of these regional difficulties allows us to work closely with transportation partners and optimize routes to minimize delays. Our NJ Amazon fulfillment company is the ultimate solution for your business, providing seamless deliveries throughout the East Coast regardless of traffic conditions.
5.3 Higher Shipping Costs
Operating an eCommerce business on the East Coast comes with higher shipping costs due to denser population centers, resulting in more expensive last-mile delivery. Finding a cost-effective solution to manage shipping expenses is crucial for the financial success of your Shopify venture.
FBA Prep Logistics can help you reduce shipping costs through our relationships with numerous carriers, negotiating bulk shipping discounts on your behalf. By partnering with us, you can take advantage of lower shipping rates without compromising the quality or speed of your delivery service to customers.
5.4 Balancing Supply and Demand
Shopify retailers on the East Coast face the challenge of balancing their supply chain operations to meet fluctuating consumer demands. Overstocking inventory can lead to product obsolescence and increased storage costs, while insufficient stock can result in lost sales and unhappy customers.
By working with FBA Prep Logistics, you'll have access to advanced inventory management strategies and real-time tracking features that help you strike a balance between supply and demand. Our ultimate guide to Shopify inventory management covers a variety of tactics that can help your business proactively prepare for rapid changes in consumer demand.
5.5 Staying Compliant with Regulations
E-commerce businesses on the East Coast need to be aware of and abide by local and federal regulations. Requirements include sales tax collection, environmental policies, and product safety guidelines.
As a trusted 3PL provider, FBA Prep Logistics ensures your Shopify store remains compliant with all relevant regulations. Our knowledgeable team will provide personalized guidance and support for your business when it comes to navigating complex legislation while managing your East Coast supply chain.
In Conclusion
Running a Shopify business on the East Coast comes with its own set of challenges. The good news is that by partnering with FBA Prep Logistics, you'll be able to overcome these roadblocks and optimize your supply chain for maximum efficiency. From weather-related disruptions to managing changing regulations, we have the expertise and resources to support the success of your growing eCommerce venture.
FAQs: East Coast Supply Chain Management for Shopify with FBA Prep Logistics
Frequently Asked Questions
1. Why is supply chain management essential for Shopify sellers on the East Coast?
Effective supply chain management is crucial for eCommerce businesses as it helps streamline operations, reduce costs, and improve customer satisfaction. For East Coast-based Shopify sellers, partnering with a specialized 3PL like FBA Prep Logistics can further enhance efficiency, tackle regional challenges, and boost overall business success.
2. What factors should I consider when selecting a 3PL partner for my Shopify business?
When choosing a 3PL partner, key factors to consider include location, expertise in your niche, scalability to match your business growth, and a demonstrated track record of successful support for similar clients. FBA Prep Logistics has a strategic presence on the East Coast, extensive experience in supply chain management, and a dedication to helping your business grow.
3. How can FBA Prep Logistics improve my inventory management process?
FBA Prep Logistics offers comprehensive warehousing solutions, real-time inventory tracking, and processing best practices specifically designed for Shopify sellers. Our tailored services will help you optimize your inventory management, reduce excess stock, and streamline order fulfillment.
4. How does FBA Prep Logistics enhance my order fulfillment process and customer satisfaction?
By partnering with FBA Prep Logistics, you can ensure speedy and efficient order fulfillment, leading to better customer experiences and higher satisfaction ratings. Our expert team will manage your shipments right from our East Coast warehouse, ensuring reliable, timely delivery to your customers.
5. How does FBA Prep Logistics help me overcome common East Coast logistics challenges?
At FBA Prep Logistics, we understand the unique challenges faced by East Coast Shopify sellers, such as weather-related disruptions and regional transportation issues. Our team's in-depth expertise helps clients navigate these hurdles, ensuring smooth supply chain operations and enhanced resilience for your business.
6. What are the main benefits of partnering with FBA Prep Logistics for my Shopify business?
By partnering with FBA Prep Logistics, you gain a trusted ally who comprehends the intricacies of East Coast supply chain management, providing end-to-end support. Our strategic location, tailored services, and commitment to customer satisfaction can help elevate your Shopify business's success and long-term growth.