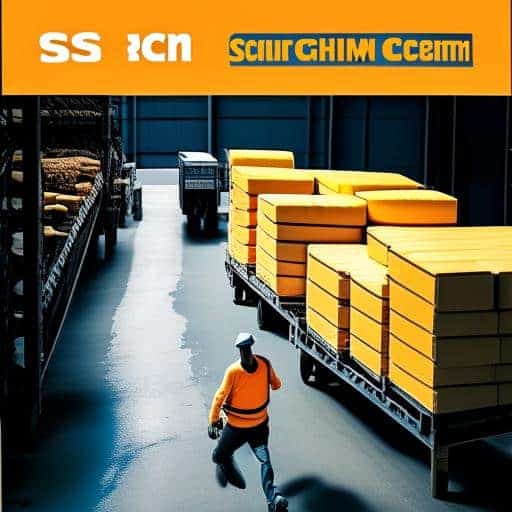 Your Ultimate Guide to Supply Chain Management as an Amazon Seller
I. Introduction: Amazon Seller SCM NJ
Welcome to the world of e-commerce and Amazon selling! As an Amazon seller, you're continuously looking for ways to optimize your sales, manage your inventory, and improve your customer experience. One crucial aspect you'll need to be acquainted with is Supply Chain Management (SCM). For you, our dear Amazon Seller in SCM NJ, this article is a must-read!
So, what is SCM, and why is it essential for Amazon sellers like you? Supply Chain Management refers to the efficient synchronization of the entire process, from acquiring raw materials or products from suppliers to delivering the product to the customer. The process involves numerous activities such as inventory management, warehousing, transportation, and order fulfillment. Partnering with a professional 3PL warehouse, like FBA Prep Logistics, located in Bristol, PA, can not only help you manage your SCM but also bring significant advantages to your e-commerce business.
FBA Prep Logistics specializes in offering comprehensive supply chain solutions tailored specifically for Amazon sellers, ensuring efficient inventory management and smooth order fulfillment. This article will guide you through the benefits of efficient supply chain management and why partnering with FBA Prep Logistics is an excellent choice for your growing e-commerce enterprise. So, let's dive in and explore what we have to offer!
II. The Necessity of Efficient Supply Chain Management for Amazon Sellers
As an Amazon seller, the success of your business hinges on your ability to manage your supply chain effectively. Efficient Amazon Seller SCM NJ is the backbone of your e-commerce operations, ensuring that your products are readily available to your customers and that you can fulfill orders promptly. Let's delve into why supply chain management is essential for Amazon sellers.
A. Inventory Management
Inventory management plays a crucial role in the success of e-commerce businesses like yours. With the ever-changing landscape of the digital environment, it's crucial to have a system capable of tracking inventory levels in real-time, identifying trends, and enabling effective inventory replenishment decisions. FBA Prep Logistics helps you stay on top of your inventory, reducing the chances of stockouts, overstocking, and wasted investment.
B. Order Fulfillment
For an Amazon seller, order fulfillment is a critical component of supply chain management. As your business grows, managing and fulfilling orders can become increasingly complex, so you must have systems in place to maintain efficiency and meet customer expectations. With FBA Prep Logistics, we provide state-of-the-art warehouse facilities and dedicated pick, pack, and ship services tailored to your needs. Our goal is to ensure that all aspects of your order fulfillment process run smoothly and that your customers receive their orders promptly.
C. Meeting Amazon's Expectations
Amazon has set high-performance standards for its sellers. These expectations revolve around factors such as the seller's order defect rate, perfect order percentage, and timely delivery. To thrive on the platform, you must meet or exceed these benchmarks. Using a 3PL like FBA Prep Logistics, with extensive experience in Amazon Seller SCM NJ, is crucial to meeting these expectations. Our team possesses the expertise to manage your supply chain efficiently, ensuring that your e-commerce business is in sync with Amazon's requirements.
D. Customer Satisfaction
The customer experience is paramount for any Amazon seller. With increased competition and constantly evolving customer demands, it's essential that you prioritize customer satisfaction and exceed customer expectations. FBA Prep Logistics understands this, and we work tirelessly to ensure that your products reach your customers promptly and in perfect condition. Happy customers lead to positive reviews, high seller ratings, and an increased likelihood of repeat business, which is vital for long-term business success.
E. Scaling Your Business
As your Amazon business grows, so too will the demands of your supply chain. A solid supply chain management strategy enables you to handle the additional inventory, orders, and customer support efficiently. FBA Prep Logistics' unmatched scalability ensures that no matter how much your Amazon business grows, fulfillment will never be a bottleneck. We have the infrastructure, team, and expertise to scale alongside your business ambitions.
In conclusion, efficient supply chain management is non-negotiable for any successful Amazon e-commerce business. FBA Prep Logistics is here to help you manage your Amazon Seller SCM NJ, ensuring that your e-commerce operations run smoothly and your customers receive nothing but the best in terms of service. As a result, you can focus on growing your business to even greater heights – all while reaping the rewards of streamlined supply chain operations.
III. Why Choose FBA Prep Logistics
As an Amazon Seller on the lookout for reliable and competent SCM solutions, your search ends with the FBA Prep Logistics warehouse, a top-rated 3PL company located in Bristol, PA. We provide a plethora of services that cater to your varying needs, whether you're a small or medium-sized e-commerce business. Here, we will delve into some of the unique advantages of partnering with us, constituting the very rationale behind why you should choose FBA Prep Logistics.
1. Comprehensive Services
At FBA Prep Logistics, we offer a wide array of tailor-made services for your Amazon Seller SCM NJ requirements. We pride ourselves on integrating services such as product labeling, pick and pack, storage, carrier matching, and more, allowing for seamless inventory management and order fulfillment. Our diverse range of services ensures you find the perfect match for your business requirements.
2. Professional Expertise
Our team of professionals have years of experience and deep-rooted knowledge in the e-commerce industry. By leveraging our expertise and skill sets, we are adept at maneuvering through complex SCM processes, addressing challenges and finding efficient solutions to make your Amazon business thrive.
3. Strategic Location
The strategic positioning of our warehouse in Bristol, PA, acts as a valuable asset to your e-commerce business, as it facilitates easy and fast access to major transportation hubs and distribution centers. This significantly reduces transit time and ensures timely deliveries, bolstering your reputation as an Amazon Seller and boosting customer satisfaction.
4. Cost-effective Solutions
Partnering with FBA Prep Logistics, you can expect affordable and transparent pricing, owing to our commitment to providing the best value for your investment. Our cost-effective solutions not only ease the burden on your budget but also allow you to allocate resources judiciously to propel your business growth.
5. Dedicated Support
FBA Prep Logistics boasts a stellar support team, devoted to offering a seamless and hassle-free customer experience. Our proactive approach to addressing any issues that might arise and our willingness to go the extra mile in resolving problems ensures that your e-commerce business stays on track, without encountering any hiccups.
6. Success Stories
Delivering top-notch services across various e-commerce platforms, FBA Prep Logistics has played an instrumental role in the success stories of numerous clients. Our commitment to excellence and providing bespoke 3PL solutions has been the driving factor behind the growth and achievements of these businesses. Don't just trust our word for it: take a look at some of these case studies that illustrate how we've helped Amazon sellers thrive in the increasingly competitive e-commerce landscape.
In conclusion, choosing FBA Prep Logistics as your Amazon Seller SCM NJ partner is a decision that will undoubtedly pay dividends down the line. Our comprehensive services, professional expertise, strategic location, and cost-effective solutions, backed by our dedicated support and client success stories, create the perfect recipe for your e-commerce business to flourish. So, don't hesitate to take advantage of all that FBA Prep Logistics offers, and elevate your Amazon Seller status to new heights.
IV. Making the Most of FBA Prep Logistics Services:
As an expert in Amazon Seller SCM NJ, FBA Prep Logistics offers a comprehensive range of services designed to meet the specific needs of Amazon sellers. In this section, we will explore these services in detail and offer practical tips on how you can make the most of these services to scale your e-commerce business.
1. Pick and Pack Services
Our pick and pack services are tailored specifically for Amazon sellers. We understand the importance of fast and accurate order fulfillment, which is why our team ensures that each order is processed, picked, and packed with precision. By partnering with FBA Prep Logistics, you can streamline your pick and pack process, reduce delays, and enhance customer satisfaction.
Tips for making the most of this service:
Provide clear and accurate product information, including SKU, barcode, and product dimensions
Optimize your packaging materials for cost-efficiency and environmental sustainability
Regularly review performance metrics and engage with our team to make continuous improvements
2. Labeling
Incorrect or missing labels on your products can lead to costly penalties and delays. FBA Prep Logistics follows the strict Amazon FBA labeling requirements to ensure your products are ready for shipment to Amazon fulfillment centers. Our accurate labeling system guarantees that your inventory will be processed without any issues.
Tips for leveraging our labeling service:
Keep your product information up-to-date and share it with our team
Monitor your inventory levels to avoid any label-related issues
Ensure that your products are packaged properly before sending them to FBA Prep Logistics
3. Storage Solutions
Running out of storage space can hinder the growth of your e-commerce business. At FBA Prep Logistics, we offer scalable storage solutions to meet the needs of both small and large Amazon sellers. Our secure and monitored warehouse facilities in Bristol, PA, ensure that your inventory is safe and ready for fulfillment.
Tips for optimizing storage solutions:
Analyze your sales data to forecast inventory requirements and adjust your storage needs accordingly
Implement an effective inventory management system to avoid stockouts and overstocking
Periodically review your storage plans to ensure cost-effectiveness and scalability
4. Carrier Matching
Transportation costs can be a significant part of your e-commerce operating expenses. FBA Prep Logistics offers carrier matching services to help you find the most cost-effective shipping options for your products. By selecting the right carriers, you can reduce shipping costs and improve your profit margins.
Tips for benefiting from carrier matching service:
Provide accurate product dimensions and weight to enable accurate carrier selection
Stay informed about changes in shipping rates and service availability
Collaborate with our team to identify and capitalize on opportunities to reduce shipping costs
5. Returns Management
Managing returns is an essential part of Amazon Seller SCM NJ. Our returns management services ensure that customer returns are handled efficiently, minimizing the impact on your bottom line. Promptly dealing with returns contributes to better customer satisfaction and higher seller ratings on Amazon.
Tips for improving returns management:
Establish a clear returns policy and communicate it to your customers
Monitor and analyze return reasons to identify trends and take corrective actions
Collaborate with FBA Prep Logistics to optimize the returns process and reduce associated costs
By incorporating these tips and leveraging the comprehensive range of services at FBA Prep Logistics, Amazon sellers stand to enjoy significant improvements in order fulfillment, customer satisfaction, and overall business growth.
V. Getting Started with FBA Prep Logistics:
If you're an Amazon Seller in the NJ area, it's an exciting time to start partnering with FBA Prep Logistics for all your supply chain management needs. Our onboarding process is streamlined so that you can quickly integrate our services into your existing e-commerce operations. So, let's dive into the process to get started with our services!
1. Initial Consultation
Reach out to us for an initial consultation, where we will discuss your specific business needs and objectives. You can use our contact form to get connected to our expert team. During this meeting, we will gather information about your e-commerce business, including your products, sales channels, order volume, and more. This information is crucial for us to better understand your unique requirements and offer tailored solutions for seamless supply chain management.
2. Customized Service Plan
Based on our assessment of your business, our dedicated team of professionals will develop a customized service plan covering a range of services, including pick & pack, labeling, storage, and carrier matching. We will consider aspects like your target market, sales channels, and order volume to recommend the most cost-effective and efficient plan for you.
3. Service Agreement
Once we present our recommendations and you approve the service plan, we will provide a service agreement that outlines the scope of our partnership. This document will clearly outline the responsibilities of both parties and establish a transparent foundation for our partnership.
4. Integration and Set-Up
Our team will guide you through the seamless integration of your Amazon Seller account with our warehouse management system. We will ensure that your inventory and fulfillment processes are seamlessly connected with FBA Prep Logistics. Our team will also provide helpful training on tools and resources available to help you monitor and manage your SCM operations.
5. Launch and Ongoing Support
As your 3PL partner, FBA Prep Logistics is committed to your success. Once the integration and set up are complete, we will launch your account and start providing our top-notch services. Our dedicated support team will be available to address any questions, concerns, or challenges you may encounter throughout the process. So, whether you need assistance with managing inventory or addressing Amazon returns for NJ sellers, we have your back.
So, what are you waiting for? It's time to take your Amazon Seller SCM NJ to the next level. Reach out to FBA Prep Logistics to discover all the ways we can help grow your e-commerce business. Together, let's embark on this journey of success and operational excellence!
FAQs: FBA Prep Logistics and Supply Chain Management for Amazon Sellers
What is Supply Chain Management (SCM) and why is it important for Amazon sellers?

Supply Chain Management (SCM) is the process of managing the flow of goods, services, and information from suppliers to customers. For Amazon sellers, efficient SCM is crucial to maintain a competitive edge, as it directly impacts inventory management, order fulfillment, and overall customer satisfaction. Partnering with a 3PL warehouse like FBA Prep Logistics can streamline your SCM and help you meet Amazon's strict requirements.

How can FBA Prep Logistics improve my Amazon business's SCM?

FBA Prep Logistics offers a comprehensive range of services designed to optimize your e-commerce business's supply chain operations. By leveraging our professional expertise, strategic location in Bristol, PA, and cost-effective solutions, we can help you manage your inventory, fulfill orders quickly, and maintain compliance with Amazon's requirements.

What services does FBA Prep Logistics offer to Amazon sellers?

We provide an extensive selection of services catered to Amazon sellers, including pick & pack, labeling, storage, carrier matching, and more. These services ensure efficient inventory management and faster order fulfillment, allowing you to focus on growing your e-commerce business.

How can I choose the right FBA Prep Logistics services for my business?

To select the best services for your e-commerce needs, start by analyzing your current supply chain operations and identifying areas for improvement. Consider factors such as cost-efficiency, scalability, and integration with your existing systems. Don't hesitate to reach out to our support team for guidance on choosing the most suitable services for your unique business requirements.

What is the process for getting started with FBA Prep Logistics?

To onboard with FBA Prep Logistics, follow these steps: 1) Contact our support team to discuss your specific Amazon e-commerce business needs; 2) Select the relevant range of services that align with your SCM goals; 3) Seamlessly integrate FBA Prep Logistics into your existing operations; and 4) Begin experiencing the benefits of streamlined SCM and expert support.