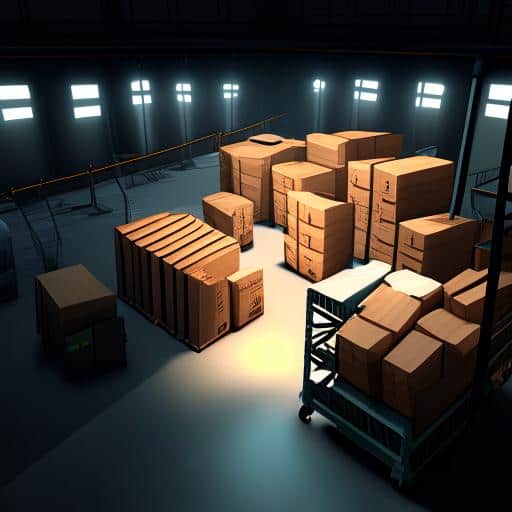 Introduction to Efficient Shopify Warehouse Management on the East Coast
When you're on the East Coast and running an e-commerce business on Shopify, having an effective and efficient warehouse management system (WMS) in place is crucial to your success. As a business owner, you know that proper logistics management is the key to keeping your customers happy and maintaining a competitive edge. So, why not leave this critical aspect of your business to FBA Prep Logistics, the 3PL warehouse that specializes in making your Shopify operations stress-free? In this section, we'll discuss the importance of a well-organized WMS when handling Shopify orders and explain how FBA Prep Logistics plays a vital role in making your process smooth and hassle-free.
The Importance of Efficient Warehouse Management
Efficient warehouse management has a direct impact on your e-commerce business' growth and customer satisfaction. When your warehouse operates optimally, it:
Ensures smooth processes: From inventory management to order picking and packing, streamlining these interconnected processes will reduce errors and increase productivity.
Reduces operational costs: By adopting smart warehouse management techniques, you can decrease labor costs, minimize storage space and avoid costly mistakes.
Enhances customer satisfaction: Quick and accurate order fulfillment is the key to maintaining a loyal customer base. Happy customers equate to repeat business and positive reviews, which attract new customers.
Improves scalability: By optimizing warehouse management, your operations can easily adapt to fluctuations in demand and scale as your business grows.
The Role of FBA Prep Logistics in Your East Coast E-commerce Business
FBA Prep Logistics is dedicated to providing the ultimate warehouse management solution for your East Coast Shopify business. Below are some reasons why partnering with FBA Prep Logistics will help you achieve exceptional results.
Comprehensive Services
Our wide range of value-added services includes inventory management, order fulfillment, packing, shipping, returns management, and freight forwarding. We can tailor our services to your specific needs, so you can focus on growing your business.
Expertise in Shopify Integration
Shopify is a popular e-commerce platform, and we have extensive experience integrating our warehouse operations with our clients' Shopify stores. With our streamlined process, managing your inventory, tracking orders, and optimizing fulfillment has never been easier.
State-of-the-Art Facilities and Technology
We utilize cutting-edge technology, such as Warehouse Management Systems (WMS), to manage and track inventory efficiently. Our well-equipped facilities ensure your products are stored securely and remain in top condition.
Exceptional Customer Support
Your success is our priority, and we pride ourselves on offering the best possible customer service. Our knowledgeable team is always available to assist you with any questions or concerns that may arise throughout the process.
Competitive Pricing
We understand that affordability is crucial for your business. Our transparent pricing model ensures you receive the best value for our quality services without any hidden fees.
Make the Smart Choice: Partner With FBA Prep Logistics
In conclusion, running a successful Shopify e-commerce business on the East Coast calls for efficient warehouse management. Partnering with FBA Prep Logistics ensures you receive top-notch services, tailored to your needs, saving you time, money, and giving you peace of mind. Don't leave your business' success to chance. Get started with FBA Prep Logistics today and elevate your warehouse management experience to new heights.
2. Streamlining Inbound Shipments and Inventory Tracking
Optimizing your inbound shipments and inventory tracking process is essential for efficient warehouse management. In this section, we'll share essential Shopify Warehouse Management Tips and Tricks focused on streamlining these aspects, ensuring smooth operations, and ultimately improving customer satisfaction.
2.1. Accurate Documentation of Inbound Shipments
Proper documentation of all incoming shipments is crucial for maintaining an error-free inventory system. Invest time in creating and implementing a well-organized system that records all necessary information about inbound shipments, such as date, quantity, and product identification numbers. Accurate documentation minimizes discrepancies, simplifies inventory updates, and helps avoid potential stockout situations. FBA Prep Logistics is experienced in identifying and managing inbound shipments, saving our clients time and effort.
2.2. Assign Unique Identification Numbers
We cannot stress enough the importance of assigning unique identification numbers (SKUs, barcodes, or QR codes) to every product that enters your warehouse. This simplifies inventory tracking and reduces the chances of errors due to similar product descriptions or packaging. By partnering with FBA Prep Logistics, you benefit from our comprehensive inventory tracking system, ensuring your products are accurately traced from arrival to dispatch.
2.3. Optimize Storage Space Allocation
Efficient storage space allocation directly affects the timely identification and retrieval of products. Adopt a strategic product placement approach, such as grouping similar items together or organizing products based on sales velocity. Additionally, consider utilizing vertical space in your warehouse to maximize storage capacity. FBA Prep Logistics provides customized warehouse solutions, including storage optimization, designed to meet the unique requirements of your Shopify store.
2.4. Perform Regular Inventory Audits
Conducting periodic inventory audits is essential for identifying discrepancies and maintaining accurate inventory records. It helps in preventing potential stockouts or overstock situations, which could lead to lost sales, penalties, or unhappy customers. FBA Prep Logistics offers seamless inventory audit services using the latest technologies, maintaining the highest standards of accuracy and efficiency.
2.5. Implement Real-time Inventory Management
Tracking inventory in real-time is one of the most valuable Shopify Warehouse Management Tips and Tricks. It offers numerous benefits, including instant updates on stock levels, identification of stock discrepancies, and identification of fast/slow-moving items for informed decision-making. FBA Prep Logistics employs state-of-the-art Warehouse Management Systems (WMS) that enable real-time inventory monitoring, ensuring accurate and up-to-date information is always available for our clients.
2.6. Cross-docking for Efficient Inbound Shipments
Cross-docking is a process in which incoming shipments are sorted and redirected to specific outbound trucks, without any long-term storage. It helps in reducing handling time and warehouse storage requirements, thus improving overall efficiency. FBA Prep Logistics has extensive experience in cross-docking and can offer expert guidance on implementing this strategy for your Shopify store Top 5 Cross-docking Best Practices for Your Shopify Store.
2.7. Establish Transparent Communication Channels
Open and transparent communication between your business, suppliers, and 3PL partners is essential for efficient management of inbound shipments. Ensure all stakeholders are regularly updated on shipment schedules, delays, or any other critical information. FBA Prep Logistics is committed to maintaining open and transparent communication, keeping clients informed every step of the way, and building strong, long-lasting partnerships.
2.8. Plan for Seasonal Inventory Fluctuations
Seasonal fluctuations in inventory demand careful planning and warehouse management. Anticipate seasonal trends and stock up accordingly to avoid stockouts or excessive stock holding costs. FBA Prep Logistics works closely with clients to develop customized strategies that accommodate for seasonal variations while optimizing storage space and inventory levels.
2.9. Establish Consistent Inbound Shipment Procedures
Having consistent, well-documented procedures for handling inbound shipments boosts efficiency and streamlines the process. Ensure all team members are trained to follow these procedures, allowing for quick identification and resolution of discrepancies or issues. FBA Prep Logistics is dedicated to following industry-best practices and exacting standards, ensuring your inbound shipments are managed efficiently and effectively.
2.10. Partner with FBA Prep Logistics for Expert Inbound Shipment Management
Collaborating with a reliable and experienced 3PL partner like FBA Prep Logistics provides unrivaled support in streamlining your inbound shipments and inventory tracking processes. From accurate documentation and real-time inventory management to optimized storage space allocation and seasonal inventory planning, FBA Prep Logistics offers end-to-end solutions tailored to your Shopify store's unique needs, positioning your business for sustainable growth and success.
To summarize, streamlining inbound shipments and inventory tracking is crucial for the smooth functioning of your Shopify store. By implementing the Shopify Warehouse Management Tips and Tricks discussed above and partnering with a reliable and proficient 3PL partner like FBA Prep Logistics, you can ensure efficient and seamless warehouse management that elevates your e-commerce business to new heights.
Best Practices for Fast and Accurate Order Fulfillment
Overview
Efficient order fulfillment is crucial for e-commerce businesses, as it defines customer satisfaction and impacts your brand reputation. As a leading 3PL warehouse provider, FBA Prep Logistics understands the importance of timely and error-free deliveries. In this section, we're sharing some battle-tested Shopify Warehouse Management Tips and Tricks to enhance your order fulfillment process and help your business prosper.
Develop a Solid Order Management Strategy
To ensure seamless order processing, start by building a robust strategy that accounts for everything from order intake, payment processing, to order picking, packing, and shipping. Having a dedicated order management system in place allows you to efficiently handle order information and makes it easier for your staff to prepare and ship the products. Our team at FBA Prep Logistics can assist you in setting up the perfect order management strategy designed to suit your business needs.
Organize Your Warehouse for Optimum Efficiency
An optimally organized warehouse is indispensable for accurate and swift order fulfillment. Maintain a well-defined layout, consider using bins and labels for easy location, and keep track of stock levels. A clean and organized warehouse reduces the risk of errors, allowing for better productivity among your employees. As part of our excellent warehouse management service, FBA Prep Logistics ensures that your inventory is skillfully handled and stored, enabling outstanding order turnaround times.
Streamline Picking and Packing Process
Efficient order picking and packing processes are essential to avoid delays and errors in shipping. Implement the best picking strategies, such as batch picking, zone picking, or wave picking, depending on your warehouse setup and order volumes. Proper packaging not only preserves the product during transit but also represents your brand identity, so make sure you invest in quality packaging materials. Let FBA Prep Logistics manage your picking and packing operations for flawless order fulfillment every time.
Automate Shipping and Labeling
Shipping management can be a labor-intensive and time-consuming process. Automating shipping and labeling systems helps save time and reduce human error. Integrating shipping software, automatic label printers, and barcode scanners can make this process hassle-free. FBA Prep Logistics leverages advanced technology to expertly handle your shipping management and ensure timely and precise deliveries.
Implement Real-Time Inventory Management
Inaccurate inventory data can result in stockouts and delays, damaging customer trust and loyalty. Real-time inventory management ensures that you always have the most up-to-date stock information, which helps in accurate order fulfillment. FBA Prep Logistics employs sophisticated inventory tracking systems to ensure comprehensive real-time data, providing unmatched transparency and control over your stock.
Train Your Staff
A skilled and knowledgeable staff is the backbone of effective order fulfillment. Make sure your employees are trained according to industry best practices and are aware of your unique warehouse processes. At FBA Prep Logistics, our team of seasoned experts is adept at handling various aspects of warehouse management, guaranteeing that your orders are in more than capable hands.
Offer Multiple Shipping Options
Offering multiple shipping options, such as standard and expedited shipping, is essential to cater to customer preferences and, ultimately, elevate their satisfaction. By working with FBA Prep Logistics, you can access a wide range of shipping options to accommodate the diverse needs of your clients while streamlining your order fulfillment process.
Establish Clear Communication Channels
Transparency is critical for a successful e-commerce business. Keep your customers informed throughout the process, from an order's placement to its delivery. Automated email notifications, SMS updates, and easy access to tracking information can significantly enhance customer experience. As your 3PL partner, FBA Prep Logistics can help you set up efficient communication channels to cultivate strong relationships with your customers.
Measure and Analyze Performance
To maintain an optimized order fulfillment process, it is vital to continuously gauge the performance of your warehouse operations. Monitoring key performance indicators (KPIs) like order accuracy, shipping time, return rates, and customer satisfaction helps in identifying areas for improvement. FBA Prep Logistics is dedicated to constantly measuring and enhancing our warehouse performance to maintain our high service standards.
Conclusion
By implementing these best practices for fast and accurate order fulfillment, you can optimize your warehouse process and improve customer satisfaction. Entrusting your order fulfillment to FBA Prep Logistics takes the burden of warehouse management off your shoulders, allowing you to focus on growing your business. With our knowledge, resources, and expertise, we'll go above and beyond to provide our valuable clients with premier order fulfillment services.
Utilizing Technology for Seamless Warehouse Operations
A pivotal aspect of efficient warehouse management is embracing technology to streamline operations and improve overall efficiency. FBA Prep Logistics is committed to leveraging advanced tools and techniques to provide top-notch services to clients looking for Shopify warehouse solutions. In this section, we will discuss some of the latest technological advancements in warehouse management, particularly for Shopify store owners, and how FBA Prep Logistics uses them to optimize operations and client satisfaction.
The Power of Warehouse Management Systems (WMS)
Warehouse Management Systems (WMS) have increasingly become indispensable for modern warehouse operations due to their capacity to streamline tasks, reduce potential errors, and boost overall productivity. For Shopify store owners, a powerful WMS can make a significant difference in their ability to provide a smooth and well-organized customer experience. Here's how FBA Prep Logistics utilizes WMS to its advantage:
1. Real-time Inventory Tracking
A top-notch WMS allows for accurate real-time inventory tracking and monitoring. This particular Shopify Warehouse Management Tips and Tricks is essential for preventing stockouts, optimizing inventory levels, and managing refill orders. At FBA Prep Logistics, our WMS ensures our clients can access real-time data for their entire inventory levels, allowing them to make well-informed decisions and provide excellent service to their customers.
2. Efficient Order Processing
WMS technology enables FBA Prep Logistics to efficiently process and manage orders for our clients' Shopify stores. With barcode scanning and RFID capabilities, our team can quickly and accurately locate products, pick, and pack items, reducing the time spent searching for products in the warehouse. Furthermore, an advanced WMS minimizes the chances of human errors and ensures that orders are processed swiftly and accurately.
3. Optimized Warehouse Space Utilization
With a superior WMS, FBA Prep Logistics can strategically optimize warehouse space for our clients' products. This way, we can address the unique requirements of each product and provide tailored solutions that maximize efficient storage and minimize unnecessary costs.
4. Seamless Integration with Shopify
One crucial aspect of leveraging WMS technology is ensuring smooth integration with our clients' Shopify stores. At FBA Prep Logistics, our team is dedicated to providing seamless synchronization between our WMS and shop owners' platforms, making it incredibly easy to manage inventory records, order processing, and shipment tracking data.
Embracing Automation and Data-Driven Solutions
Recognizing the power of automation and data analytics, FBA Prep Logistics continuously strives to implement innovative solutions within our warehouse operations:
1. Data-Driven Decision Making
Our team uses data analytics to identify trends, patterns, and potential bottlenecks within our warehouse processes. With these insights, we can make informed decisions and implement changes that enhance warehouse efficiency, ultimately benefiting our clients' businesses.
2. Automating Repetitive Tasks
By automating repetitive tasks, we can minimize human errors, reduce lead times, and increase overall warehouse efficiency. This enables our team to focus on providing personalized and attentive support to our clients, ensuring their satisfaction and success.
Adapting to Emerging Technologies
In today's fast-paced digital landscape, staying abreast of new technological advancements in warehouse management is essential. FBA Prep Logistics is devoted to continuously researching, evaluating, and integrating the latest tools and systems into our operations, always keeping our clients' needs at the forefront.
In Conclusion: FBA Prep Logistics, Your Technologically Savvy 3PL Partner
As e-commerce continues to evolve, embracing technology becomes paramount for efficient Shopify warehouse management. At FBA Prep Logistics, our commitment to leveraging cutting-edge tools and systems positions us as an industry leader, and the perfect 3PL partner for your Shopify store. With real-time inventory tracking, efficient order processing, optimized warehouse space utilization, and continuous innovation on the horizon, we ensure that your warehouse operations are smooth, efficient, and poised to scale alongside your business needs. Let FBA Prep Logistics handle your Shopify warehouse operations while you focus on growing your business.
Ensuring Scalability and Flexibility: Choosing the Right 3PL Partner
As your e-commerce business grows, so will the demand for efficient and effective Shopify warehouse management. The key to thriving in such a competitive space is by choosing the right 3PL partner with the capacity to not only support your business's present needs but also scale and adapt to future changes. In this section, we'll dive into the importance of partnering with a reliable 3PL warehouse such as FBA Prep Logistics, and how we ensure that your e-commerce business remains successful and competitive.
A Commitment to Client Success
At FBA Prep Logistics, we prioritize our clients' growth and success as much as they do. We fully understand that a great warehousing partnership can make or break an e-commerce operation, so we devote ourselves to ensuring that our clients receive top-notch service and support throughout their journey with us. To that end, we're in a constant pursuit of improvement—implementing the latest Shopify Warehouse Management Tips and Tricks to maximize efficiency and minimize operational costs.
Adapting to Growth and Changes
As any successful e-commerce business can attest, growth and change are inevitable. Our team at FBA Prep Logistics is ready and able to meet these challenges head-on. By staying in the know about market trends and industry advancements, we're eager to fine-tune our processes and strategically devise solutions catered to the ever-changing needs of our clients. In other words, you can confidently focus on expanding your business, while we ensure seamless warehouse management in the background.
Building on Experience and Expertise
With years of combined experience in e-commerce and supply chain management, we can accurately anticipate and address any obstacles that may arise in managing your Shopify inventory. Our history of handling complex operations and catering to a large clientele base has equipped us with a wealth of knowledge to draw from. This, combined with our expertise in order fulfillment, freight management, cross-docking, and returns (check out our comprehensive guide on mastering ecommerce returns for Shopify in NJ), enables us to provide you with optimal warehouse management services.
A Wealth of Resources at Your Disposal
We understand that managing a successful Shopify warehouse is heavily resource-dependent. With FBA Prep Logistics as your 3PL partner, you can enjoy access to a wide array of resources, like top-of-the-line fulfillment technology, ample storage space, and a highly trained, dedicated team. Further, our strategically located warehouse in Bristol PA enables us to cater to e-commerce businesses on the East Coast, offering efficient logistics and transportation solutions.
Eliminating the Uncertainties Associated with Warehouse Management
Warehouse management can be overwhelming, especially for emerging e-commerce businesses. Let FBA Prep Logistics shoulder the responsibility of managing your Shopify inventory and orders, ensuring operational efficiency and peace of mind. By partnering with us, you can transform uncertainties and challenges into strategic business opportunities, unlocking the full potential of your online store.
In conclusion, e-commerce businesses require scalable, flexible warehouse management systems to meet the high demands of thriving in today's market. By choosing FBA Prep Logistics as your 3PL partner, you gain access to unparalleled expertise, resources, support, and technology, which empowers your business to grow and adapt to the e-commerce landscape confidently and effortlessly. So take this crucial step for your business, and let FBA Prep Logistics be your go-to 3PL provider for seamless Shopify warehouse management on the East Coast.
Frequently Asked Questions</h2>
<dl>
<dt><h3>Why is efficient Shopify warehouse management critical for my East Coast e-commerce business?</h3></dt>
<dd>Efficient Shopify warehouse management is crucial to ensure order accuracy, timely deliveries, and customer satisfaction. By choosing an expert logistics provider like FBA Prep Logistics, you'll be able to streamline your warehouse operations and spend more time focusing on your core business.</dd>
<dt><h3>How can FBA Prep Logistics help with streamlining my inbound shipments and inventory tracking?</h3></dt>
<dd>At FBA Prep Logistics, we use advanced technology and proven methods to maintain accurate inventory records, reducing discrepancies and saving you time and resources. By partnering with us, you benefit from smooth inbound shipment management, ensuring error-free inventory tracking.</dd>
<dt><h3>What are the best practices for fast and accurate order fulfillment?</h3></dt>
<dd>Swift and precise order fulfillment involves streamlined order processing, proper packing, and timely shipping. With FBA Prep Logistics handling these tasks for you, rest assured that your Shopify orders reach your customers promptly and accurately, giving you a competitive edge.</dd>
<dt><h3>How does FBA Prep Logistics utilize technology for seamless warehouse operations?</h3></dt>
<dd>FBA Prep Logistics stays up-to-date with the latest Warehouse Management System (WMS) developments to optimize operations and provide top-tier services. This includes accurate tracking, real-time data access, and information transparency, all essential components of efficient warehouse operations.</dd>
<dt><h3>Why is choosing the right 3PL partner like FBA Prep Logistics essential for scalability and flexibility?</h3></dt>
<dd>As your e-commerce business grows, it's vital to have a reliable 3PL partner that can adapt to your needs. FBA Prep Logistics offers a wide range of resources, experience, and commitment to client success, making us the ideal choice for managing your Shopify warehouse processes and fueling your business growth.</dd>
</dl>
<script type="application/ld+json">
{
"@context": "https://schema.org",
"@type": "FAQPage",
"mainEntity": [{
"@type": "Question",
"name": "Why is efficient Shopify warehouse management critical for my East Coast e-commerce business?",
"acceptedAnswer": {
"@type": "Answer",
"text": "Efficient Shopify warehouse management is crucial to ensure order accuracy, timely deliveries, and customer satisfaction. By choosing an expert logistics provider like FBA Prep Logistics, you'll be able to streamline your warehouse operations and spend more time focusing on your core business."
}
}, {
"@type": "Question",
"name": "How can FBA Prep Logistics help with streamlining my inbound shipments and inventory tracking?",
"acceptedAnswer": {
"@type": "Answer",
"text": "At FBA Prep Logistics, we use advanced technology and proven methods to maintain accurate inventory records, reducing discrepancies and saving you time and resources. By partnering with us, you benefit from smooth inbound shipment management, ensuring error-free inventory tracking."
}
}, {
"@type": "Question",
"name": "What are the best practices for fast and accurate order fulfillment?",
"acceptedAnswer": {
"@type": "Answer",
"text": "Swift and precise order fulfillment involves streamlined order processing, proper packing, and timely shipping. With FBA Prep Logistics handling these tasks for you, rest assured that your Shopify orders reach your customers promptly and accurately, giving you a competitive edge."
}
}, {
"@type": "Question",
"name": "How does FBA Prep Logistics utilize technology for seamless warehouse operations?",
"acceptedAnswer": {
"@type": "Answer",
"text": "FBA Prep Logistics stays up-to-date with the latest Warehouse Management System (WMS) developments to optimize operations and provide top-tier services. This includes accurate tracking, real-time data access, and information transparency, all essential components of efficient warehouse operations."
}
}, {
"@type": "Question",
"name": "Why is choosing the right 3PL partner like FBA Prep Logistics essential for scalability and flexibility?",
"acceptedAnswer": {
"@type": "Answer",
"text": "As your e-commerce business grows, it's vital to have a reliable 3PL partner that can adapt to your needs. FBA Prep Logistics offers a wide range of resources, experience, and commitment to client success, making us the ideal choice for managing your Shopify warehouse processes and fueling your business growth."
}
}] }
</script>