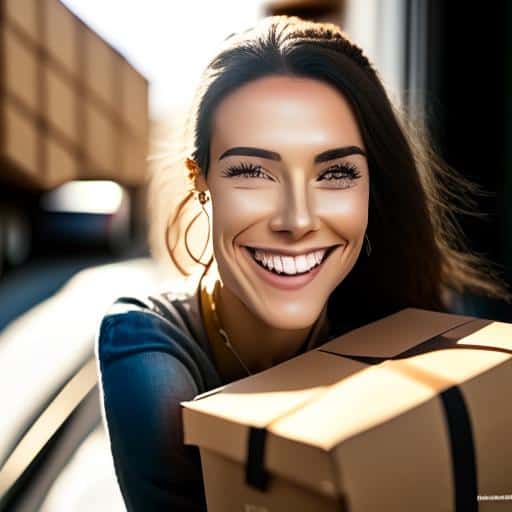 Unlock Advanced Shipping Methods for Your Shopify Store in PA
1. Introduction
In today's fast-paced e-commerce landscape, businesses need to stay ahead of their competition to thrive and grow. One essential aspect of online retail success is the ability to deliver products quickly and efficiently to customers. This is where advanced shipping methods come into play. By optimizing your shipping processes, you can ensure that your customers are satisfied with their shopping experience and keep coming back for more.
FBA Prep Logistics, a reliable 3PL warehouse located in Bristol, PA, is here to help e-commerce businesses, particularly those selling on amazon.com, implement advanced shipping methods in their operations. Our services are specifically designed for small and medium-sized businesses that are new to supply chain management. We make it easy for our clients to take advantage of advanced shipping methods to streamline their operations and boost customer satisfaction.
II. Benefits of Advanced Shipping Methods
In today's rapidly evolving e-commerce landscape, businesses must stay ahead of the competition by offering faster, more reliable shipping options. Implementing advanced shipping methods can be the key to success for your e-commerce business. Below, we'll delve into the advantages of adopting advanced shipping strategies and how FBA Prep Logistics can help you harness their potential.
1. Cost Savings
One of the most significant advantages of using advanced shipping methods is cost savings. By optimizing your shipping processes, you can reduce shipment costs and pass these savings onto your customers. FBA Prep Logistics works closely with clients to identify the most efficient shipping strategies, helping them reduce costs and remain competitive on platforms like Amazon.
2. Increased Efficiency
Efficient shipping is crucial to keeping your supply chain running smoothly. Advanced shipping methods can streamline your workflow, resulting in fewer errors and delays. This can lead to increased customer satisfaction, as customers receive their orders on time and without issues. FBA Prep Logistics offers tailored solutions that enable businesses to achieve higher levels of efficiency by adopting advanced shipping techniques.
3. Faster Delivery Times
In the age of Amazon Prime, customers expect fast delivery times. By employing advanced shipping methods, you can provide customers with rapid shipping options that meet their expectations. At FBA Prep Logistics, we specialize in optimizing shipping processes for sellers on Amazon, ensuring that their customers receive their orders promptly.
4. Improved Customer Satisfaction
By offering advanced shipping options, you can cater to your customers' preferences and provide a seamless buying experience. This leads to increased customer satisfaction, higher retention rates, and positive word-of-mouth referrals. FBA Prep Logistics is dedicated to helping businesses enhance their customer satisfaction levels by providing customized, advanced shipping solutions.
5. Tailored Solutions for Amazon Sellers
Different e-commerce platforms, such as Amazon, may have unique requirements for shipping and fulfillment. FBA Prep Logistics possesses in-depth knowledge and experience in handling the intricacies of Amazon's platform, providing tailored advanced shipping solutions for businesses selling through Amazon.
6. Scalability
As your e-commerce business grows, so too should your shipping processes. Advanced shipping methods can be easily scaled to accommodate expansions in order volume and product offerings. FBA Prep Logistics works alongside clients to help them adapt and grow their shipping strategies as their businesses flourish.
7. Enhanced Tracking and Visibility
Advanced shipping methods often come with improved tracking capabilities, providing a higher level of visibility throughout your supply chain. This can help you identify and address potential issues before they escalate, resulting in a more streamlined shipping process. FBA Prep Logistics' innovative approach to shipping ensures clients benefit from enhanced tracking and visibility.
8. Eco-friendly Options
Many advanced shipping methods also incorporate elements of sustainability and environmental responsibility. By adopting these eco-friendly practices, you can reduce your business's carbon footprint and appeal to environmentally conscious consumers. FBA Prep Logistics is committed to helping clients implement greener shipping solutions that positively impact both their bottom line and the planet.
In conclusion, advanced shipping methods offer numerous benefits to e-commerce businesses, from cost savings and increased efficiency to faster delivery times and improved customer satisfaction. Partnering with FBA Prep Logistics allows you to unlock these advantages and take your shipping processes to new heights. As a trusted 3PL provider with expertise in managing Amazon sellers, FBA Prep Logistics ensures clients receive tailored solutions that suit their specific needs, setting them up for growth and success.
III. Comprehensive Services Offered by FBA Prep Logistics
FBA Prep Logistics understands the unique challenges faced by e-commerce businesses, particularly Amazon sellers, and offers comprehensive solutions to streamline operations and shipping. By partnering with us, you get access to a wide range of services, designed to improve efficiency, accuracy, and flexibility in your supply chain. Below is an overview of the essential services offered:
1. Inventory Management
Effective inventory management is crucial to e-commerce success. Our advanced shipping methods and inventory management system help you avoid stockouts and excess inventory, ensuring optimal stock levels at all times. With real-time inventory tracking, notifications for low stock levels, automated re-ordering, and data-driven forecasting, FBA Prep Logistics enables you to make informed decisions and keep your business running smoothly.
2. Order Fulfillment
Order fulfillment is at the core of your customers' experience, and we go the extra mile to ensure fast and accurate order processing. Our state-of-the-art facility in Bristol, PA, allows us to provide efficient pick, pack, and ship services for Amazon sellers. By adopting advanced shipping methods and utilizing modern technology, we ensure your orders are dispatched promptly with little room for error. This helps reduce fulfillment times, boosts customer satisfaction, and enhances your overall brand image.
3. Shipping
Shipping is a vital aspect of any e-commerce store, and advanced shipping methods can help you stay ahead of the competition. FBA Prep Logistics offers a variety of shipping solutions, including same-day shipping, expedited shipping, and international shipping. Our strategic location in Bristol, PA, ensures that your orders reach customers quickly and cost-effectively. Moreover, through partnerships with industry-leading carriers, you can take advantage of discounted shipping rates while maintaining full visibility and control over your shipments.
4. Returns Management
Handling returns can be a challenging task for e-commerce businesses, especially those new to the industry. FBA Prep Logistics takes the hassle out of returns management by streamlining the process and promptly addressing customer issues. Our returns management system includes inspection of returned items, identification of reasons for returns, and swift resolution to minimize impact on customers and your bottom line. By implementing advanced shipping methods and thorough return handling, we ensure customer satisfaction and loyalty.
5. Customization and Kitting
FBA Prep Logistics also offers product customization and kitting services to add value to your customer offerings and enhance your brand image. From product bundling to gift-wrapping and light assembly, we provide flexible solutions tailored to your unique requirements. By partnering with us, you can leverage our experience and expertise in e-commerce to create a competitive edge for your business.
6. Warehousing and Storage
Our state-of-the-art warehouse facility in Bristol, PA, offers secure, scalable, and flexible storage solutions for your inventory. With its prime location, it serves as a hub for swift and efficient shipping to customers across the country. We employ the latest technology and security measures to keep your inventory safe while optimizing storage space and minimizing storage costs.
In conclusion, FBA Prep Logistics is a dependable 3PL warehouse partner for your e-commerce business, especially for those selling on Amazon. Our range of comprehensive services, advanced shipping methods, and commitment to customer success make us an ideal choice. By partnering with us, you can focus on growing your business while we take care of your supply chain challenges. To learn more about how we can help you succeed, get in touch with us today.
IV. FBA Prep Logistics and Shopify Integration
Seamless Integration for Efficient Order Management

FBA Prep Logistics takes pride in providing its clients with seamless Shopify integration, making it easier for e-commerce businesses to manage their orders more efficiently. By integrating their 3PL services with this popular e-commerce platform, you can experience a simplified order management process that will save you time, effort, and resources.

Easy Setup Process

Setting up the FBA Prep Logistics integration with your Shopify store is a breeze. All it takes is a few simple steps, and you'll be able to connect your store with the advanced shipping methods offered by FBA Prep Logistics. This streamlined/simplified setup ensures that you can quickly start taking advantage of these advanced features without delay.

Real-Time Syncing for Improved Accuracy
- The integration between FBA Prep Logistics and Shopify allows for real-time syncing between the two systems, ensuring that your inventory levels, order statuses, and shipment details are always up-to-date. This real-time synchronization feature eliminates the need for manual updates, significantly reducing the risk of errors and ensuring that your customers receive accurate and timely information about their orders.

Automatic Order Imports

With FBA Prep Logistics integration, all orders placed on your Shopify store are automatically imported into their system, streamlining the order fulfillment process. This means you no longer need to manually transfer order data between systems, allowing you to focus on other essential aspects of your business.

Advanced Shipping Methods Tailored for Your Shopify Store in PA

One of the key benefits of integrating FBA Prep Logistics with your Shopify store is gaining access to advanced shipping methods designed specifically for e-commerce businesses in Pennsylvania. This means that you can offer your customers faster delivery times, better tracking, and more affordable shipping options, all without having to manage these processes internally.

Effortless Returns Management
- Handling returns can be a headache for any e-commerce business. However, when you integrate your Shopify store with FBA Prep Logistics, they take care of the returns process for you. Their team of experts manages returns efficiently, ensuring that your customers receive prompt refunds or replacements, and you can maintain a positive reputation for your brand.

Expert Support for Amazon Sellers

As a Shopify store owner selling on Amazon, you'll appreciate the expert support provided by FBA Prep Logistics. Their team is well-versed in all aspects of Amazon's selling policies and requirements, ensuring that your orders are processed and shipped in compliance with Amazon's guidelines. This expertise can help you avoid potential penalties or suspensions of your seller account while simultaneously improving your Amazon store's overall performance.
In conclusion, partnering with FBA Prep Logistics and leveraging their seamless Shopify integration offers numerous benefits to e-commerce businesses in Pennsylvania. With easy setup, real-time syncing, automatic order imports, advanced shipping methods, and dedicated support for Amazon sellers, FBA Prep Logistics provides the tools and expertise to help you grow and succeed.
Don't miss out on these advantages – get in touch with FBA Prep Logistics today and unlock advanced shipping methods for your Shopify store. Remember, a streamlined order management process is just one step away – and FBA Prep Logistics is here to help.
V. Partner with FBA Prep Logistics for Success
As a growing e-commerce business, especially those venturing in the Amazon marketplace, it's imperative that you align yourself with an efficient and knowledgeable 3PL partner like FBA Prep Logistics. By collaborating with us, you can unlock advanced shipping methods that cater specifically to your needs and preferences. Our team of logistics experts is committed to the growth and success of our clients, understanding the unique challenges of selling on Amazon, and offering customized solutions to help achieve your goals.
1. Tailored Solutions for Your Business
By partnering with FBA Prep Logistics, you gain access to a range of tailored solutions designed to address the specific requirements of your e-commerce business. As your 3PL partner in PA, we help you implement advanced shipping methods, optimize your supply chain, and enhance your customer experience with each sale.
2. Expert Knowledge and Support
Our team of professionals possess years of experience in the e-commerce industry, with an emphasis on assisting Amazon sellers. By collaborating with us, you receive guidance from experts who understand the intricacies of the marketplace and can help you achieve success with your advanced shipping methods.
3. Seamless Shopify Integration
FBA Prep Logistics also offers seamless Shopify integration for businesses located in PA. By integrating our services into your Shopify store, you can simplify and streamline your order management processes, ensuring a smooth operation from start to finish.
4. Comprehensive Services
Beyond unlocking advanced shipping methods, FBA Prep Logistics provides a wide range of comprehensive logistics services, such as inventory management, order fulfillment, shipping, and returns management. Our one-stop service enables you to focus on growing your e-commerce presence while we take care of your logistics needs.
5. Commitment to Your Success
As a dedicated partner in your e-commerce journey, FBA Prep Logistics is committed to providing top-tier services that help you achieve your business objectives. By offering personalized support and tailored solutions, we help your business succeed in the ever-evolving e-commerce landscape.
6. Easy Partnership Process
Starting your partnership journey with FBA Prep Logistics is incredibly simple and hassle-free. We are here to answer any questions you may have and guide you through the steps necessary to establish your collaboration with our experienced team.
By entrusting FBA Prep Logistics with your logistics requirements, you unlock advanced shipping methods designed to propel your e-commerce business to new heights. Our dedicated, professional team and streamlined Shopify integration make the process seamless and effective. Discover the many benefits of working with FBA Prep Logistics by getting in touch with our experts today. Let your e-commerce business experience growth, success, and unparalleled customer satisfaction with our specialized services for Amazon sellers.
FAQs</h2>
<ul>
<li><strong>Q1: What makes FBA Prep Logistics different from other 3PL providers?</strong>
<br>
<em>A1: FBA Prep Logistics specializes in providing tailored solutions for e-commerce businesses, specifically those selling on Amazon. Our expert knowledge in handling Amazon sellers combined with our comprehensive range of services (including inventory management, order fulfillment, shipping, and returns management) makes us the ideal choice for businesses looking to improve their supply chain.</em></li>
<br>
<li><strong>Q2: Can FBA Prep Logistics integrate with my Shopify store?</strong>
<br>
<em>A2: Yes, FBA Prep Logistics offers a seamless integration with Shopify that simplifies your order management process. Setting up this integration is straightforward, allowing you to streamline operations and unlock advanced shipping methods for your Shopify store in PA.</em></li>
<br>
<li><strong>Q3: How can advanced shipping methods benefit my e-commerce business?</strong>
<br>
<em>A3: Implementing advanced shipping strategies can lead to cost savings, increased efficiency, faster delivery times, and improved customer satisfaction. Partnering with a 3PL like FBA Prep Logistics can help you access these benefits, as we offer tailored solutions to meet the unique requirements of your e-commerce business.</em></li>
<br>
<li><strong>Q4: What services does FBA Prep Logistics provide?</strong>
<br>
<em>A4: FBA Prep Logistics offers a wide range of services, including inventory management, order fulfillment, shipping, and returns management. Our reliable, accurate, and flexible solutions make us the perfect partner to help you optimize your supply chain and improve your e-commerce operations.</em></li>
<br>
<li><strong>Q5: How can I get in touch with FBA Prep Logistics to discuss partnership opportunities?</strong>
<br>
<em>A5: You can visit our website or use our contact form to get in touch with us. We're excited to discuss how we can work together to unlock advanced shipping methods for your Shopify store in PA and help you achieve success in the e-commerce world.</em></li>
</ul>
<script type="application/ld+json">
{
"@context": "https://schema.org",
"@type": "FAQPage",
"mainEntity": [
{
"@type": "Question",
"name": "What makes FBA Prep Logistics different from other 3PL providers?",
"acceptedAnswer": {
"@type": "Answer",
"text": "FBA Prep Logistics specializes in providing tailored solutions for e-commerce businesses, specifically those selling on Amazon. Our expert knowledge in handling Amazon sellers combined with our comprehensive range of services (including inventory management, order fulfillment, shipping, and returns management) makes us the ideal choice for businesses looking to improve their supply chain."
}
},
{
"@type": "Question",
"name": "Can FBA Prep Logistics integrate with my Shopify store?",
"acceptedAnswer": {
"@type": "Answer",
"text": "Yes, FBA Prep Logistics offers a seamless integration with Shopify that simplifies your order management process. Setting up this integration is straightforward, allowing you to streamline operations and unlock advanced shipping methods for your Shopify store in PA."
}
},
{
"@type": "Question",
"name": "How can advanced shipping methods benefit my e-commerce business?",
"acceptedAnswer": {
"@type": "Answer",
"text": "Implementing advanced shipping strategies can lead to cost savings, increased efficiency, faster delivery times, and improved customer satisfaction. Partnering with a 3PL like FBA Prep Logistics can help you access these benefits, as we offer tailored solutions to meet the unique requirements of your e-commerce business."
}
},
{
"@type": "Question",
"name": "What services does FBA Prep Logistics provide?",
"acceptedAnswer": {
"@type": "Answer",
"text": "FBA Prep Logistics offers a wide range of services, including inventory management, order fulfillment, shipping, and returns management. Our reliable, accurate, and flexible solutions make us the perfect partner to help you optimize your supply chain and improve your e-commerce operations."
}
},
{
"@type": "Question",
"name": "How can I get in touch with FBA Prep Logistics to discuss partnership opportunities?",
"acceptedAnswer": {
"@type": "Answer",
"text": "You can visit our website or use our contact form to get in touch with us. We're excited to discuss how we can work together to unlock advanced shipping methods for your Shopify store in PA and help you achieve success in the e-commerce world."
}
}
] }
</script>