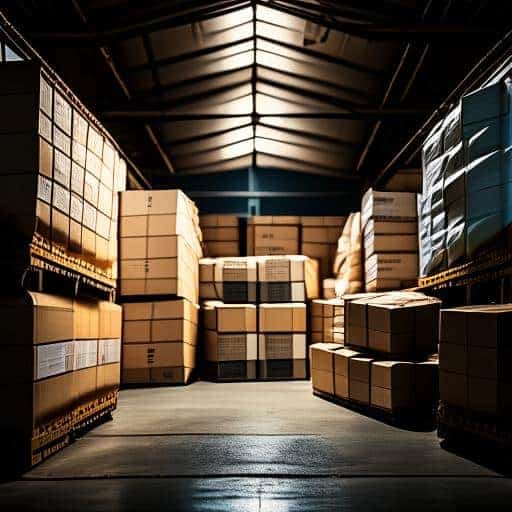 Introduction to 3PL Services for Amazon Sellers in PA
As an Amazon seller based in Pennsylvania (PA), you must understand the importance of streamlining your supply chain to optimize your business operations. One way to achieve this is by partnering with a reliable third-party logistics (3PL) service like FBA Prep Logistics. In this article, we'll discuss why choosing FBA Prep Logistics as your 3PL partner can lead to increased sales and efficient supply chain management.
The Growing Importance of 3PL Services in Ecommerce
The ecommerce industry has experienced exponential growth over the past few years, with Amazon being a major player in this expansion. This growth has led to an increased demand for efficient and reliable supply chain solutions. As an Amazon seller in PA, partnering with a reputable 3PL service provider is crucial to ensuring your supply chain operations run smoothly, ultimately allowing you to focus on growing your business.
FBA Prep Logistics: A Partner You Can Trust
At FBA Prep Logistics, we understand the unique challenges faced by Amazon sellers and are committed to providing tailored solutions to meet your business needs. Our team of experts works closely with you to develop personalized strategies to support your business growth and ensure a seamless supply chain management process.
Comprehensive Services for New and Experienced Amazon Sellers
Whether you're a first-time seller on Amazon or a seasoned pro, our range of services caters to businesses of all sizes. From inventory storage and product receiving to order fulfillment and shipment tracking, FBA Prep Logistics offers end-to-end support for your Amazon business.
Pennsylvania: A Strategic Location for Your Amazon Business
As the Keystone State, Pennsylvania is an ideal location for Amazon sellers looking to benefit from reliable and efficient 3PL services. Its strategic position allows for quicker shipping times and improved logistics operations, giving your business a competitive edge. With FBA Prep Logistics as your 3PL partner in PA, you can leverage this advantage to expand your reach and grow your Amazon sales.
Building a Strong Partnership for Success
By partnering with FBA Prep Logistics, you'll not only benefit from our comprehensive suite of services and dedicated support but also our commitment to helping your business succeed. We're passionate about providing Amazon sellers in PA with the tools they need to navigate the challenging world of supply chain management and achieve long-term success.
In conclusion, choosing a reliable third-party logistics service provider like FBA Prep Logistics is essential for Amazon sellers in PA. Our commitment to personalized solutions, fast shipping, cost-effective pricing, and outstanding customer support makes us an ideal partner to help grow your Amazon business. Stay tuned for our next sections where we'll delve deeper into the benefits of using FBA Prep Logistics and explore our wide range of services in more detail.
2. Benefits of Using FBA Prep Logistics for Your Amazon Business
As an Amazon seller in PA, you've likely come to understand the importance of efficient and reliable third-party logistics services. Well, look no further! FBA Prep Logistics offers the perfect solution to your needs—let's explore the many benefits of using FBA Prep Logistics for your Amazon business.
2.1 Personalized Solutions Tailored to Your Business
At FBA Prep Logistics, we understand that every business is unique, which is why our team of experts work closely with you to provide customized solutions tailored specifically to your Amazon business. Whether you're a small budding entrepreneur or an established seller, our personalized approach ensures that your supply chain needs are met with the utmost accuracy and efficiency.
2.2 Fast and Efficient Shipping for Happy Customers
In this age of instant gratification, customers expect their online orders to arrive swiftly. With FBA Prep Logistics, you can rely on our speedy and efficient shipping services to ensure your products reach your customers as quickly as possible. Our warehouse is conveniently located in Bristol, PA, allowing for faster transit times and ultimately leading to higher customer satisfaction.
2.3 Cost-Effective Pricing Without Compromise
As a business owner, it's essential to manage costs while maintaining high-quality service. FBA Prep Logistics offers transparent and competitive pricing, ensuring you get the most bang for your buck. Our cost-effective solutions do not compromise on quality, so you can trust that your business is always in good hands.
2.4 Superior Customer Service for Seamless Support
Your success is our success, and we take that mantra seriously. Our dedicated team offers unparalleled customer support, addressing your questions and concerns with promptness and professionalism. This commitment to excellence ensures that your partnership with FBA Prep Logistics remains a smooth and enjoyable experience from start to finish.
2.5 Save Time, Resources, and Boost Profitability
By outsourcing your supply chain management to FBA Prep Logistics, you can allocate your valuable time and resources to other essential aspects of your business. Our reliable services streamline your operations, reducing the margin for error and enhancing overall efficiency. The result? Higher profitability, happy customers, and boosted growth for your Amazon business.
2.6 Scalability and Flexibility
The ecommerce landscape is ever-evolving, and your business needs a 3PL provider that can adapt to changes swiftly. FBA Prep Logistics offers scalability and flexibility to accommodate the growing demands of your business. As you expand, our services scale with you, ensuring a seamless transition throughout your growth journey.
2.7 Stay in Control with Real-Time Visibility
Gain full control and insight into your supply chain with up-to-date information through our advanced tracking and reporting systems. By partnering with FBA Prep Logistics, you maintain complete visibility of your inventory, order fulfillment, and shipping processes. This real-time data allows you to make informed decisions and optimize your supply chain with ease.
In conclusion, partnering with FBA Prep Logistics for your Amazon business is a surefire way to enjoy a personalized, efficient, and cost-effective logistics experience. Our slate of comprehensive services and commitment to excellent customer support will enable your business to thrive in the competitive world of ecommerce. Don't wait any longer—join the FBA Prep Logistics family today!
Comprehensive Services Offered by FBA Prep Logistics
At FBA Prep Logistics, we understand that each Amazon seller has unique needs when it comes to managing their inventory and fulfilling customer orders. That's why we offer a wide array of services tailored to cater to both first-time and veteran Amazon sellers. As a reliable third-party logistics provider for Amazon sellers in PA, we take pride in offering comprehensive solutions to help streamline your supply chain and boost your sales. Read on to discover the various services we provide at FBA Prep Logistics:
Inventory Storage Solutions
Our secure and modern warehouse facility has ample storage space for your products. Whether you need long-term storage solutions or just a temporary place to hold your items before they're shipped, FBA Prep Logistics has got your back. Our state-of-the-art inventory management system ensures that your products are always organized and easily accessible for a seamless fulfillment process.
Product Receiving and Inspection
Upon receiving your products at our warehouse, our team of seasoned professionals conducts a thorough inspection to check for damaged or misplaced items. We then reconcile your shipment with your purchase order, ensuring that everything is accounted for and documented accurately.
Order Fulfillment and Pick and Pack Services
When a customer orders one of your products, our advanced order fulfillment system swiftly processes the order, locates the item within our warehouse, and then meticulously packs it for shipping. Our effortless packing service employs best practices to ensure that your products reach your customers in perfect condition and without any unnecessary delays.
Shipping and Freight Management
As reliable third-party logistics for Amazon sellers in PA, FBA Prep Logistics effectively manages all aspects of shipping, including freight management, carrier selection, shipment tracking, and invoicing. Our strategic location in Bristol, PA, enables us to provide fast and efficient shipping routes to quickly reach customers in the East Coast region.
Shipment Tracking and Reporting
Our innovative tracking system allows you to monitor your shipments in real-time from our warehouse to their final destination. This level of transparency enables you to keep your customers informed and reassured about their order's status. Additionally, we provide detailed reports on inventory levels, shipping costs, order trends, and more, allowing you to make informed decisions and optimize your supply chain accordingly.
Returns Management
Handling customer returns can be a daunting task, but with FBA Prep Logistics, we streamline the process through our efficient return center services. We manage all aspects of returns, such as receiving, inspecting, and processing the item. This seamless solution not only saves you time and money but also maintains a positive customer experience, encouraging repeat sales and customer loyalty.
Customized Support for Amazon FBA and FBM Sellers
Whether you're an Amazon FBA seller or an FBM seller, FBA Prep Logistics is equipped with the knowledge and expertise to guide you through the entire fulfillment process. Our team is well-versed with Amazon's unique set of requirements and guidelines, ensuring that your products are prepped, packed, and shipped in compliance with Amazon's standards.
Focused Solutions for Shopify Distribution
Shopify store owners can also benefit from our range of services, as we are highly experienced in managing order fulfillment and distribution for Shopify platforms. Our reputation as a reliable third-party logistics service makes us the perfect partner for Shopify sellers seeking efficient and hassle-free solutions to their distribution needs.
In conclusion, FBA Prep Logistics offers comprehensive and personalized solutions to simplify the supply chain for Amazon sellers in PA. With our expansive list of services, state-of-the-art facilities, and customer-centric approach, we are committed to helping you grow your e-commerce business and achieve success. So why not partner with FBA Prep Logistics and experience the pinnacle of third-party logistics services for yourself?
4. Navigating Supply Chain Management With Ease
Supply chain management can be quite the jigsaw puzzle for Amazon sellers, especially for those new to the game. It involves a multitude of processes that need to run smoothly and work together to ensure that products are meticulously stored, prepped, and shipped to customers on time. FBA Prep Logistics, a reliable third-party logistics (3PL) provider for Amazon sellers in PA, is here to make this complicated affair a piece of cake. Let's dig into how our services help Amazon sellers handle supply chain management with ease.
4.1. Understanding the Basics of Supply Chain Management
When you're an Amazon seller in PA, managing the supply chain is a critical part of your business. It goes way beyond just knowing how to ship a package – it involves connecting with suppliers, working through inventory plans, prepping products for Amazon FBA, and ensuring timely delivery to your customers. This is where a reliable 3PL like FBA Prep Logistics comes to the rescue – honed through years of experience, the right blend of expertise, and state-of-the-art facilities, we'll tackle every aspect of supply chain management so you don't have to.
4.2. Streamlining Inventory Management
Inventory management is one of the primary aspects of supply chain management, and it's essential to get it right. FBA Prep Logistics helps Amazon sellers keep an eagle's eye on their inventory by providing real-time, 24/7 access to inventory data. This allows our clients to have a clear view of their stock levels, know when to reorder products to avoid stockouts, and even detect trends that can help them make better business decisions. Discover the Secret to a Faster and More Efficient Supply Chain to maximize your growth potential.
4.3. Managing Inbound Shipments
A vital part of the supply chain is receiving goods from suppliers and transporting them to the warehouse. FBA Prep Logistics helps Amazon sellers in PA manage their inbound operations by verifying the accuracy and timeliness of shipments, instantly resolving discrepancies, coordinating with suppliers, and ensuring the products reach our warehouse safely and as quickly as possible. This helps sellers avoid additional costs, save time, and maintain consistent inventory levels.
4.4. Amazon FBA Prep and Order Fulfillment
Processing orders with speed and precision is crucial for Amazon sellers. FBA Prep Logistics excels at preparing products for Amazon's FBA program and making sure orders are fulfilled promptly. Our team of dedicated professionals handles everything from product bundling, labeling, and packaging to kitting and storage. To help our clients ensure their products are delivered to their customers as fast as possible, we work closely with shipping carriers to get the best shipping rates. Get Your Products Prepped and Shipped with Ease by teaming up with us.
4.5. Returns Management
Returns are an inevitable part of the e-commerce world, and handling them efficiently can make or break your customer experience. FBA Prep Logistics boasts a comprehensive returns management service that helps Amazon sellers process returns and refunds quickly, keeping customers happy and loyal. Our experience with processing e-commerce returns allows us to assist you in navigating return policy guidelines and swiftly getting your inventory back in circulation.
4.6. Growing Your Business Seamlessly
When you choose FBA Prep Logistics as your reliable 3PL for Amazon sellers in PA, you're investing in the future of your business. We understand the importance of adapting to the ever-changing e-commerce landscape, which is why our flexible and scalable solutions allow you to grow your business without worrying about outgrowing your supply chain management capabilities. Whether you're expanding your product catalog, entering new marketplaces, or reaching more customers around the world, we'll be right there with you, supporting and guiding you every step of the way.
In conclusion, managing the supply chain is no easy task, especially for Amazon sellers who already have a lot on their plate. FBA Prep Logistics, offering reliable third-party logistics for Amazon sellers in PA, is your one-stop solution for navigating supply chain management with ease. By partnering with us, you can focus on what truly matters – growing your Amazon business!
Why Choose FBA Prep Logistics Over Other 3PL Providers
Amazon sellers in PA face a plethora of options when it comes to selecting a reliable third-party logistics provider. So, what sets FBA Prep Logistics apart from the competition and makes it the ultimate choice for enhancing supply chains and boosting sales on Amazon? Here, we'll delve into the core reasons that make working with FBA Prep Logistics a wise decision for your online business.
1. Personalized Approach to Your Business Needs
At FBA Prep Logistics, we treat each client's business as if it were our own. We understand that even though your business operates in the e-commerce sphere, it has unique needs. As a result, we provide tailored solutions designed to suit your specific requirements, whether you're a new seller or a veteran in the market.
2. Experience and Expertise
Working with a 3PL provider that has extensive experience serving clients in your industry is crucial for success. FBA Prep Logistics prides itself on having a team of professionals who possess a deep understanding of the e-commerce landscape, particularly for Amazon sellers. Our expertise not only streamlines the supply chain management process but also helps you eliminate costly mistakes.
3. Streamlined Order Fulfillment and Shipment Tracking
At FBA Prep Logistics, we stay committed to a smooth and efficient order fulfillment process. We can handle all aspects of your order, from inventory storage and product receiving to shipping. Our robust shipment tracking system keeps you in the loop throughout the entire process, giving you peace of mind knowing that your orders are being delivered swiftly and efficiently.
4. Cost-Effective Pricing and Transparent Billing
A significant concern for many businesses when choosing a 3PL provider is cost. FBA Prep Logistics eliminates this worry by offering competitive pricing without sacrificing service quality. Moreover, we believe in maintaining transparency in our billing process, ensuring that there are no hidden fees or surprise costs down the line.
5. Exceptional Customer Service
At the heart of FBA Prep Logistics is an unwavering commitment to providing exceptional customer service. We consistently communicate with our clients to make the entire logistics process seamless and hassle-free. We are always eager to address any questions and concerns, ensuring that your business runs smoothly and effectively.
6. Location Advantage
Strategically located in Bristol, PA, FBA Prep Logistics provides Amazon sellers with a distinct advantage. Our facility's proximity to prime shipping routes enables us to accommodate faster and more cost-effective shipping solutions both regionally and nationally.
7. Proven Track Record
When it comes to our clients' success and satisfaction, our proven track record speaks for itself. Discover the Secret to a Faster and More Efficient Supply Chain by partnering with FBA Prep Logistics and watch your Amazon business flourish.
In conclusion, selecting the right third-party logistics provider can make all the difference in optimizing your Amazon business's growth and success. Choosing FBA Prep Logistics not only guarantees personalized service but also ensures access to a team of experts dedicated to streamlining your supply chain, reducing costs, and boosting your bottom line. With our tailored solutions, exceptional customer service, and strategic location advantage, we are your reliable partner for all your logistics needs. Don't settle for less when it comes to your business's success — trust FBA Prep Logistics to take your Amazon sales to the next level.