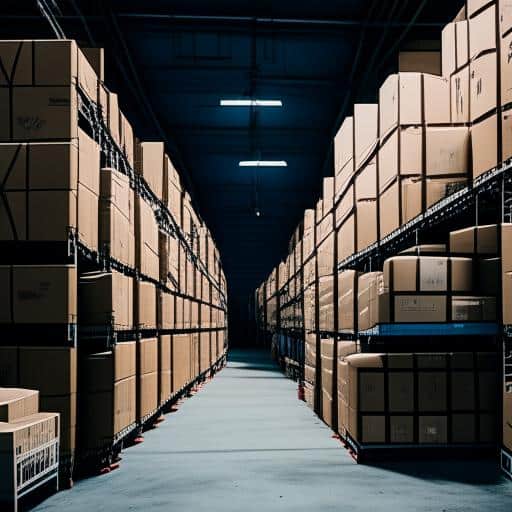 Discover the Best East Coast Fulfillment Services for Shopify
Introduction to East Coast Fulfillment Services
As an e-commerce business owner, you understand the importance of efficient and cost-effective order fulfillment, especially when it comes to shipping. There is no denying that with the growing demand for fast shipping, finding the right fulfillment partner is crucial for your success. That's where East Coast fulfillment services come into play.
By choosing an East Coast fulfillment service, you reap the benefits of reduced shipping times and lower shipping costs. This is mainly due to the strategic location of warehouses, allowing for easier access to major shipping carriers and densely populated areas. With the majority of customers residing on the East Coast, having a warehouse near these customers will result in shorter transit times, which is a significant factor for customer satisfaction.
Additionally, an East Coast fulfillment service ensures a more streamlined inventory management process. This is because your inventory will be closer to your customers, making it easier to oversee and maintain appropriate stock levels.
Why Choose an East Coast Fulfillment Service for Shopify Store Owners?
Reduced Shipping Times: East Coast fulfillment centers are strategically located closer to your customers, resulting in quicker delivery times. This plays a vital role in keeping your customers satisfied and, ultimately, boosting your reputation as an efficient e-commerce retailer.

Lower Shipping Costs: With shorter transit times and distances, you can significantly save on shipping costs. This helps you maintain competitive pricing on your products, directly impacting your profit margins and overall success.

Strategic Location: East Coast fulfillment centers are positioned near major shipping carriers and transportation hubs. This makes it easier to coordinate shipments and optimize delivery routes, further improving shipping efficiency.
Inventory Management: Having your inventory closer to your customers simplifies the process of managing stock levels and replenishment. This helps ensure that you're meeting your customers' demands without risking overstock or stockouts.
Now that you understand the importance of East Coast fulfillment services for Shopify store owners, it's time to introduce you to one of the best options available.
FBA Prep Logistics: Your Perfect East Coast Fulfillment Partner
FBA Prep Logistics is a leading 3PL warehouse located in Bristol, PA, specializing in providing fulfillment services tailored to the needs of Shopify businesses. With experience in supply chain management and a strong focus on customer satisfaction, FBA Prep Logistics is your go-to solution for efficient and cost-effective East Coast fulfillment services.
In the following sections, we will dive deeper into the unique advantages of FBA Prep Logistics for Shopify businesses, highlight how they empower your business to scale and discuss their commitment to reliable and time-sensitive deliveries. Lastly, we will guide you through the process of getting started with FBA Prep Logistics and making the switch to one of the best East Coast fulfillment services in the market.
Get ready to level up your e-commerce game and experience the difference of a truly reliable and top-notch East Coast fulfillment service.
The Unique Advantages of FBA Prep Logistics for Shopify Businesses
As an e-commerce business owner, finding the perfect partner for your Shopify store's logistics needs is crucial. FBA Prep Logistics takes pride in offering a host of distinct advantages that make us the ideal choice for any Shopify entrepreneur looking to excel on the East Coast. Here, we'll take an in-depth look at how our tailor-made solutions cater specifically to your requirements, guaranteeing success in terms of seamless integration, simplified pricing, and dedicated customer service.
Seamless Integration with Your Shopify Store
One of our most significant assets at FBA Prep Logistics is our ability to provide effortless integration with your Shopify store. By seamlessly syncing your account to our system, our automated processes ensure that your orders are received and processed in real-time, without any manual intervention required. This level of convenience allows you to focus on growing your business while leaving the logistics aspects to us.
Simplified Pricing Model for Maximum Transparency
At FBA Prep Logistics, we understand that pricing transparency plays a critical role in maintaining a healthy business partnership. To facilitate this, we have devised a simple and easy-to-understand pricing model that revolves around three key fee structures:
Receiving: A one-time fee applied per shipment when we receive your inventory in our warehouse.
Storage: A monthly fee calculated based on your inventory volume, ensuring that you only pay for the space you use.
Order Fulfillment: Our fulfillment fees are based on the dimensions and weight of the items in an order, considering both pick-and-pack and shipping costs.
These fees ensure you're able to plan your budget effectively, without any hidden costs or surprises – giving you complete control over your expenses.
Unlimited Scalability with FBA Prep Logistics
As your Shopify store thrives, you'll require an experienced fulfillment partner who can easily keep up with your growth. FBA Prep Logistics provides limitless scalability, catering to businesses of all sizes and types – right from start-ups selling low volumes to enterprise clients with high-demand products. Our flexible storage model allows you to scale up or down according to your inventory needs, and our state-of-the-art technology can handle a sudden surge in order volume without any hiccups.
High-Speed Processing for Optimal Efficiency
We recognize that quick and accurate order processing is vital to keep customers happy and coming back for more. Our East Coast fulfillment center is geared to ensure swift processing of your orders – from receiving inventory to the final shipping stage. Our team of trained professionals meticulously handles each step, while our advanced technology guarantees that your orders are processed in the fastest time possible, resulting in minimal lead times for your customers.
Dedicated Customer Support Ensures Exceptional Service
Customer satisfaction is the cornerstone of any successful business, which is why FBA Prep Logistics emphasizes the importance of providing dedicated and personalized customer support. Our service experts are readily available to address any concerns or issues that may arise during the fulfillment process. Moreover, your account will be assigned a dedicated Account Manager to oversee your account and help navigate challenges, ensuring you always receive timely and effective solutions.
In conclusion, FBA Prep Logistics offers a comprehensive suite of benefits that make us your ideal partner on the East Coast. Our commitment to seamless integration, a transparent pricing model, and exceptional customer service sets us apart from the competition, making East Coast fulfillment for your Shopify store a breeze. Let FBA Prep Logistics take care of all your logistic needs, empowering you to focus on growing and expanding your business.
How FBA Prep Logistics Empowers Your Business to Scale
As a Shopify business owner, growth is always at the forefront of your mind. But managing it effectively can be overwhelming, especially when it comes to logistics and warehousing. Partnering with FBA Prep Logistics, an East Coast fulfillment provider, ensures that your e-commerce business will scale smoothly, adapting to changes in order volume and inventory needs. With their flexible solutions, robust inventory management system, and customized support, FBA Prep Logistics empowers you to focus on expanding your business with ease.
Adaptable Storage and Fulfillment Services
One of the main aspects when it comes to growth is storage. FBA Prep Logistics understands that your storage needs may change as your business scales, which is why they offer flexible storage solutions to accommodate fluctuations in inventory levels. This flexibility not only guarantees sufficient space for your products but also ensures that you're not paying for unused square footage.
Moreover, their scalable East Coast fulfillment services are designed to manage varying order volumes, from sudden spikes during peak seasons to steady, long-term growth. This adaptability ensures that your fulfillment process remains efficient and cost-effective no matter the scale of your business.
Streamlined Inventory Management System
Managing your inventory as your e-commerce business expands can be a challenging task. FBA Prep Logistics employs advanced inventory management systems to help you keep track of your stock levels accurately, avoiding issues like stockouts or overstocking.
Their efficient inventory management system seamlessly integrates with your Shopify store, providing real-time data and updates on your product levels. This enables you to make informed decisions on when to replenish stocks, adjust pricing, or launch new products, all essential aspects of a growing business.
Learn everything you need to know about Freight Management for Shopify in the East Coast
Customized Support for Scaling Businesses
Every e-commerce business has its unique challenges and requirements when it comes to growth. FBA Prep Logistics recognizes this and offers dedicated support to help address your specific needs as your business expands. Their account management team works closely with you to understand your goals and provide tailor-made solutions to optimize your growth strategy.
For instance, this personalized support could involve assistance in navigating international shipping regulations, sourcing the most cost-effective shipping carriers, or implementing new systems aimed at improving order fulfillment processes. Regardless of your specific challenges, FBA Prep Logistics' customized support provides the expertise needed to overcome them and foster a thriving e-commerce business.
Easy Integration with Your Shopify Store
To simplify your order management process further and improve the overall performance of your expanding e-commerce venture, FBA Prep Logistics provides seamless integration with your Shopify store. This not only ensures a streamlined fulfillment process but also allows you to focus on other aspects of your growing business.
Get Your Products Delivered Fast
Final Thoughts
FBA Prep Logistics is an invaluable partner for Shopify business owners looking to scale their operations efficiently. Offering adaptable storage and order volume options, superior inventory management systems, and customized support focused on your unique challenges, FBA Prep Logistics can help drive consistent, sustainable growth for your e-commerce enterprise.
Making the most of this exceptional East Coast fulfillment service ensures that your customer satisfaction remains high, your costs are controlled, and you can focus on building your brand and expanding your reach across the e-commerce market. Unlock the true potential of your Shopify store and set the foundation for success by partnering with FBA Prep Logistics today.
FBA Prep Logistics – A Reliable Partner for Time-sensitive Deliveries
The e-commerce market is more competitive than ever, and customers demand fast shipping as a standard offering. In fact, 63% of online shoppers consider the availability of fast shipping as a significant factor when placing an order. Meeting customer expectations for timely deliveries is crucial for the success of your Shopify business. That's where FBA Prep Logistics comes in to play, as a reliable partner for fast and efficient deliveries of your orders.
Strategic Location in Bristol, PA
FBA Prep Logistics is strategically located in Bristol, PA, giving your business a significant advantage with our East Coast fulfillment services. With easy access to major highways, we can efficiently deliver your orders to the vast majority of customers in the Eastern United States in just 1-2 days.
Our location ensures quicker transit times to major metropolitan areas like New York City, Washington D.C., Philadelphia, and Boston. These large markets are home to a massive customer base, and partnering with FBA Prep Logistics means your shipments reach customers faster than ever before.
Proximity to Major Shipping Carriers
Being located near major shipping carriers such as UPS, FedEx, and USPS, we can efficiently manage your logistical needs. Our close proximity to these carrier hubs enables us to batch-process your orders multiple times per day. This means that your orders are consistently picked, packed, and shipped out promptly, ensuring faster delivery to your customers.
Real-time Tracking and Visibility
With FBA Prep Logistics, you have constant visibility into the status of your orders, enabling you to provide accurate delivery expectations to your customers. Our state-of-the-art management system shares real-time tracking information with you as soon as an order is shipped out. This transparency empowers you to better manage customer relationships and satisfaction, directly impacting your business's growth and positive customer reviews.
Avoid Peak Season Delays with Reliable East Coast Fulfillment
During peak seasons, such as Black Friday or the holiday season, it's even more crucial to deliver products to customers without delay. Notwithstanding the surge in order volume and workload, FBA Prep Logistics still maintains efficiency in the order fulfillment process by leveraging our East Coast fulfillment capabilities and strong relationships with major shipping carriers. This ensures that your business continues to deliver optimal customer service, even during the most demanding times of the year.
Seamless Returns Management
In addition to fast shipping, FBA Prep Logistics offers seamless returns management. Handling returns can be a time-consuming and complicated process for businesses, but our expert team streamlines this process for you. We handle all aspects of the returns process, making it hassle-free for you and your customers. Our efficient returns management system ensures that returns are processed quickly, reducing customer wait time and increasing satisfaction levels.
The Bottom Line
FBA Prep Logistics is an excellent partner for time-sensitive deliveries and reliable East Coast fulfillment. Our strategic location, proximity to major shipping carriers, and advanced order management system make us a go-to choice for any Shopify business. If you want to meet the high expectations of today's online shoppers and grow your business exponentially, partner with FBA Prep Logistics. Your customers will thank you for choosing a dedicated, fast, and efficient fulfillment partner.
Making the Switch: How to Get Started with FBA Prep Logistics Fulfillment Services
Switching to FBA Prep Logistics for your East Coast fulfillment needs is a wise decision that will benefit your Shopify business in many ways. To ensure a seamless transition, here are the key steps you need to follow when getting started with FBA Prep Logistics.
1. Sign Up for an Account
First, create an account on the FBA Prep Logistics website. You'll need to provide basic information about your Shopify store, including your business name, contact information, and a brief description of your products. This will allow FBA Prep Logistics to better understand your specific needs and requirements, so they can offer the most effective solutions.
2. Connect Your Shopify Store
Once you've signed up, the next step is to integrate FBA Prep Logistics with your Shopify store. This can be done easily through their user-friendly dashboard. Simply connect your Shopify store by entering your store URL and API key. This step enables seamless real-time sync of your inventory and order information with FBA Prep Logistics.
3. Set Up Your Shipping and Payment Preferences
With your Shopify store connected, you'll need to set up your shipping preferences. Choose whether you want to use FBA Prep Logistics exclusively for East Coast fulfillment or as a backup fulfillment provider for emergency situations. You can also set up your preferred shipping carriers, packaging preferences, and payment options. A quick guide on Freight Management for Shopify in the East Coast can help you gain valuable insights to streamline your operations.
4. Transfer Your Inventory to FBA Prep Logistics
After setting up your preferences, it's time to transfer your inventory to the FBA Prep Logistics warehouse in Bristol, PA. Coordinate with the FBA Prep Logistics team to arrange a smooth transfer of your products. They'll help you with the necessary documentation and ensure that your inventory arrives safely and on time. Be sure to familiarize yourself with their Effortless Packing service to make use of their expert packing solutions.
5. Monitor and Manage Your Orders in Real-Time
As orders start rolling in, you can use the FBA Prep Logistics dashboard to monitor and manage your inventory and shipment tracking information in real-time. This will keep you updated on your order performance and allow you to make informed decisions when it comes to inventory management, restocking, and order fulfillment.
For a comprehensive approach to managing your inventory, refer to The Ultimate Guide to Inventory Management for East Coast Shopify Owners.
6. Enjoy Expert Customer Support
FBA Prep Logistics is committed to providing top-notch customer support for any issues or concerns you may face during the transition. From account setup, integration, shipping preferences, or addressing questions related to their services, their team is always readily available to assist you.
In conclusion, making the switch to FBA Prep Logistics for your Shopify store's East Coast fulfillment needs is a simple process that offers significant benefits. By following these steps and utilizing their expertise, you have the opportunity to develop a lasting partnership that will support your business growth and increase customer satisfaction.
Frequently Asked Questions</h2>
<h3>What makes FBA Prep Logistics stand out among other East Coast fulfillment services?</h3>
<p>FBA Prep Logistics provides tailor-made solutions specifically for Shopify businesses, combined with seamless integration, simplified pricing, dedicated customer support, and a strategic location in Bristol, PA. This allows us to offer efficient shipping and inventory management services, enabling your business to scale.</p>
<h3>How does FBA Prep Logistics integrate with Shopify stores?</h3>
<p>Integration between FBA Prep Logistics and your Shopify store is made seamlessly through an easy-to-use platform. Once connected, all your product information, inventory data, and order details are automatically synced – ensuring smooth and accurate fulfillment of your customer orders.</p>
<h3>Will I be locked into a long-term contract with FBA Prep Logistics?</h3>
<p>No, FBA Prep Logistics offers flexible service plans without any long-term contracts. We are committed to supporting your e-commerce business as it grows, so you can adjust your plan according to your current needs and requirements.</p>
<h3>How does FBA Prep Logistics handle time-sensitive deliveries?</h3>
<p>Our strategic location in Bristol, PA allows us to quickly access major shipping carriers and offer reduced transit times along the East Coast. This helps us accurately meet customers' delivery expectations and ensure their satisfaction with your Shopify store.</p>
<h3>What steps do I need to take to get started with FBA Prep Logistics' fulfillment services?</h3>
<ol>
<li>Set up the integration process between your Shopify store and FBA Prep Logistics.</li>
<li>Transfer your inventory to our facilities.</li>
<li>Keep track of your orders in real-time to ensure a smooth transition.</li>
</ol>
<h4><em>JSON-LD for FAQs</em></h4>
<script type="application/ld+json">
{
"@context": "https://schema.org",
"@type": "FAQPage",
"mainEntity": [{
"@type": "Question",
"name": "What makes FBA Prep Logistics stand out among other East Coast fulfillment services?",
"acceptedAnswer": {
"@type": "Answer",
"text": "FBA Prep Logistics provides tailor-made solutions specifically for Shopify businesses, combined with seamless integration, simplified pricing, dedicated customer support, and a strategic location in Bristol, PA. This allows us to offer efficient shipping and inventory management services, enabling your business to scale."
}},
{
"@type": "Question",
"name": "How does FBA Prep Logistics integrate with Shopify stores?",
"acceptedAnswer": {
"@type": "Answer",
"text": "Integration between FBA Prep Logistics and your Shopify store is made seamlessly through an easy-to-use platform. Once connected, all your product information, inventory data, and order details are automatically synced – ensuring smooth and accurate fulfillment of your customer orders."
}},
{
"@type": "Question",
"name": "Will I be locked into a long-term contract with FBA Prep Logistics?",
"acceptedAnswer": {
"@type": "Answer",
"text": "No, FBA Prep Logistics offers flexible service plans without any long-term contracts. We are committed to supporting your e-commerce business as it grows, so you can adjust your plan according to your current needs and requirements."
}},
{
"@type": "Question",
"name": "How does FBA Prep Logistics handle time-sensitive deliveries?",
"acceptedAnswer": {
"@type": "Answer",
"text": "Our strategic location in Bristol, PA allows us to quickly access major shipping carriers and offer reduced transit times along the East Coast. This helps us accurately meet customers' delivery expectations and ensure their satisfaction with your Shopify store."
}},
{
"@type": "Question",
"name": "What steps do I need to take to get started with FBA Prep Logistics' fulfillment services?",
"acceptedAnswer": {
"@type": "Answer",
"text": "1. Set up the integration process between your Shopify store and FBA Prep Logistics. 2. Transfer your inventory to our facilities. 3. Keep track of your orders in real-time to ensure a smooth transition."
}}
] }
</script>