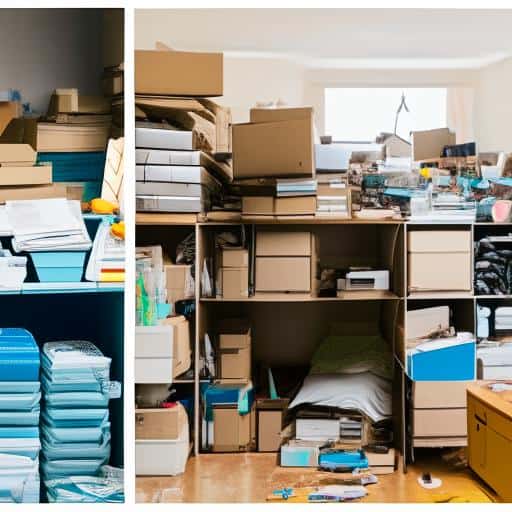 Introduction to FBA Prep Services and its Importance in E-commerce
E-commerce has been thriving in recent years, thanks to the ease, convenience, and accessibility that online shopping brings to millions of consumers across the globe. For any e-commerce business, particularly those selling on Amazon.com, inventory management can prove to be a challenging task. That's where FBA Prep Services offered by FBA Prep Logistics come into play, making it an excellent partner for seamless inventory management.
Located in Bristol, PA, FBA Prep Logistics is a top-notch third-party logistics (3PL) warehouse that specializes in partnering with e-commerce businesses. We understand that many sellers on Amazon may be new to supply chain management and the complexities of fulfilling orders on the platform. As a reliable and experienced 3PL service provider, our aim is to ensure that your e-commerce journey is smooth, efficient, and hassle-free.
Benefits of Partnering with FBA Prep Logistics
If you're considering partnering with FBA Prep Logistics for your e-commerce business, you're making a wise decision. Our professional services offer a multitude of benefits, especially for those new to the industry. Let's dive into some of the advantages of choosing FBA Prep Logistics:
1. Expertise in E-commerce Inventory Management
Navigating the complexities of e-commerce inventory management can be daunting. However, FBA Prep Logistics has years of experience in managing inventory for our clients, ensuring the utmost level of efficiency and accuracy. Our expertise makes us the ideal partner for e-commerce businesses looking for specialized knowledge and support in managing their inventory.
2. Flexible and Scalable Solutions
At FBA Prep Logistics, we understand that every business is unique and has specific requirements. As such, we offer flexible solutions that can easily adapt to your changing needs. Our FBA Prep Services are scalable and can grow alongside your business, making us a reliable, long-term partner for e-commerce success.
3. Time and Cost Savings
Efficient inventory management is essential for reducing costs and increasing profitability. As your order volume grows, managing inventory can become more time-consuming and complex. By choosing FBA Prep Logistics as your 3PL partner, you can save both time and effort while benefiting from our cost-effective solutions.
4. Enhanced Customer Experience
A streamlined fulfillment process translates to happier customers, and when it comes to shipping and delivery, consistency is crucial! Partnering with FBA Prep Logistics ensures that your customers receive their orders on time and in excellent condition. As a result, you can expect increased customer satisfaction, better reviews, and repeat business.
5. Adherence to Amazon Requirements
Amazon has strict guidelines and requirements to ensure quality and customer satisfaction. FBA Prep Logistics stays updated with these policies and ensures all our services meet Amazon's standards. Our goal is to avoid mishaps, such as mislabeled products or incorrect shipping, which can lead to penalties and negative reviews.
As you can see, the benefits of partnering with FBA Prep Logistics for your e-commerce inventory management are substantial. Our FBA Prep Services are designed to simplify and streamline the fulfillment process, allowing you to focus on growing your business. So, are you ready to experience e-commerce success? Trust FBA Prep Logistics for all your inventory management needs!
Streamlining the Fulfillment Process with FBA Prep Logistics
As a digital marketing assistant at FBA Prep Logistics, I'm here to share how our FBA Prep Services can help you streamline your fulfillment process, saving you time and effort while ensuring optimal inventory management. The e-commerce world is constantly evolving, and sellers need to stay ahead of the curve to succeed. That's where we come in. By offering a wide range of FBA Prep Services, we ensure smooth and efficient operations for your e-commerce business.
Comprehensive FBA Prep Services for Amazon Sellers
Managing your inventory can be a time-consuming and daunting task, especially for businesses new to the e-commerce world. At FBA Prep Logistics, we focus on providing top-notch FBA Prep Services to help you save time, effort, and resources. Some of the key services we offer include:
Product Inspection: Our team thoroughly inspects your products to ensure they meet Amazon's stringent requirements and guidelines. This includes checking for damage, verifying the accuracy of product details, and ensuring your products are correctly labeled for shipment.
Labeling: Properly labeling your products is crucial to successful inventory management. We make sure your items are labelled with barcodes, suffocation warnings, and any other Amazon-required stickers, ensuring a smooth journey from our warehouse to Amazon's fulfillment centers.
Bundling: We know that product bundling is an effective way to increase your business's revenue. As part of our FBA Prep Services, we create customized product bundles based on your business requirements, boosting your sales potential in the process.
Packaging: Proper packaging is essential to securing your inventory and ensuring it reaches its destination undamaged. Our team takes care of your packaging needs by using high-quality materials and adhering to Amazon's strict packaging guidelines.
Storage: At FBA Prep Logistics, we offer secure and affordable storage solutions for your inventory, giving you peace of mind that your products are safe and ready to be shipped.
Efficiency in Inventory Management
Our FBA Prep Services enable you to spend more time focusing on growing your e-commerce business and less time worrying about logistics. As an FBA seller, there are a lot of moving parts to manage, from juggling stock to coordinating shipments. Our warehouse, located in Bristol, PA, is staffed with a team of experts who ensure your inventory is always handled with the utmost care and professionalism.
We have a deep understanding of Amazon's fulfillment process and appropriate guidelines to maximize storage, shipping, and minimizing your chances of incurring fees. By partnering with us, you can be confident that your inventory is managed efficiently, providing you with a competitive advantage.
Increased Savings
If you're looking to save money and time, hiring a 3PL service such as FBA Prep Logistics is the way to go. Our rates are competitive compared to other service providers, and our dedicated team works hard to reduce your overall operation costs. By outsourcing your inventory management to our experienced staff, you can save on labor expenses and keep your business running effortlessly.
Proactive Inventory Management Solutions
At FBA Prep Logistics, we strive to prevent any revenue loss caused by incorrect inventory handling or shipping delays. Our team is always proactive when it comes to managing your inventory needs, identifying potential issues before they escalate, and providing solutions in real-time.
Staying Ahead of The Curve
In the ever-evolving e-commerce landscape, staying up-to-date with the latest trends is essential. As part of our FBA Prep Services, we keep you informed about new Amazon rules and regulations, ensuring your business adapts quickly and stays compliant.
In conclusion, partnering with FBA Prep Logistics allows you to streamline your fulfillment process, increase your savings, and focus on what really matters – growing your e-commerce business. By taking advantage of our expertise and personalized services, you can make inventory management a hassle-free experience. So, why not leverage FBA Prep Logistics' tailored FBA Prep Services to ensure your e-commerce success?
3. Expertise in Amazon FBA Management
When it comes to selling on Amazon, e-commerce businesses face various challenges that can be overwhelming, especially for newcomers. To help you navigate these challenges, our team at FBA Prep Logistics offers specialized Amazon FBA management services to ensure smooth operations and maximize your revenues. Let's take a closer look at some common issues faced by businesses and how our FBA Prep Services provide the solutions you need.
3.1 Understanding Amazon FBA Rules and Regulations
Amazon has several specific rules and regulations that sellers must follow to remain in good standing with the platform. These guidelines can be complex and confusing, which is where our FBA Prep Services team comes in handy. With extensive knowledge of Amazon's requirements for packaging, labeling, and shipping, our team ensures compliance with those intricacies, allowing your business to avoid costly mistakes and suspended accounts.
3.2 Efficiently Dealing with Inventory Limits and Storage Fees
As an Amazon seller, inventory management can be tricky due to storage limits and fees. Our FBA Prep Services help you skillfully manage your inventory, avoiding Amazon-imposed restrictions on quantities while minimizing long-term storage fees. By partnering with FBA Prep Logistics, you receive additional warehouse space to store and manage your products without worrying about Amazon's strict guidelines.
3.3 Product Preparation and Quality Control
Proper product preparation is essential for a smooth FBA experience. Our team at FBA Prep Logistics goes the extra mile to inspect, label, bundle, and package your products according to Amazon's guidelines. This careful attention to detail helps reduce the risk of product returns, bad reviews, and listing suspensions, ultimately saving you time and ensuring customer satisfaction.
3.4 Seamless Integration with Amazon FBA Software
To make your FBA journey even more manageable and profitable, FBA Prep Logistics offers seamless integration with popular Amazon seller software tools. Our team of experts stays up-to-date with the latest technological advancements to provide e-commerce businesses with advanced inventory management solutions and accurate tracking of inbound shipments. This comprehensive approach helps sellers streamline their operations and make informed decisions for growth.
3.5 Multichannel Fulfillment Assistance
Diversifying sales channels is a crucial strategy for long-term e-commerce success. To effectively manage multiple platforms, FBA Prep Services supports not only Amazon FBA inventory but also fulfillment for various marketplaces and web stores. By leveraging our expertise, you can optimize your omnichannel presence and gain better control of your inventory and order fulfillment, all without sacrificing efficiency or customer service.
3.6 Proactive Customer Service Solutions
Effective customer service is crucial for maintaining positive buyer-seller relationships and earning excellent reviews on Amazon. At FBA Prep Logistics, our dedicated support team offers expedited solutions to any issues that may arise during the fulfillment process. This includes monitoring shipment statuses, addressing damaged products, and resolving customer disputes. Our commitment to proactive customer service helps maintain your business's reputation for excellent service and product quality.
3.7 Scaling Your Amazon Business with Confidence
The ultimate goal of partnering with FBA Prep Logistics is to help you scale your Amazon business while reducing stress and time-consuming tasks. As experts in Amazon FBA management, our team supports your growth by efficiently handling your inventory, ensuring product compliance, and providing data-driven insights for your supply chain management. With our help, you can focus on expanding your product offerings and target demographics, maximizing profits, and transforming your e-commerce business into a powerhouse.
In conclusion, FBA Prep Services, provided by FBA Prep Logistics, gives e-commerce businesses the edge they need to succeed in a competitive marketplace like Amazon.com. Our comprehensive approach to Amazon FBA management, including inventory control, product preparation, and customer service, offers unparalleled expertise and support. By joining forces with FBA Prep Logistics, you can confidently scale your business, increase revenues, and make your mark in the e-commerce world.
4. Customer-Centered Approach for Customized Solutions
At FBA Prep Logistics, our top priority is you – the e-commerce business owner. You are the driving force behind our services, and we strive to ensure that every aspect of our service matches your unique needs and supports your growth. As a reliable and experienced 3PL warehouse, our customer-centered approach sets us apart from other providers. In this section, we'll discuss how FBA Prep Logistics goes the extra mile to offer customized solutions and personalized support to our clients.
4.1 Tailoring Services to your E-commerce Business Needs
E-commerce businesses are indeed diverse. Your products, target market, and sales platform may vary widely from those of other sellers. At FBA Prep Logistics, we understand that a one-size-fits-all approach won't work for everyone. That's why we take the time to get to know you and your business, to create tailored FBA prep services that suit your unique requirements.
For instance, if you sell delicate items, we will ensure our product inspection and packaging processes prioritize the protection of your merchandise. Alternatively, if you require specific labeling or bundling for your products, our team of experts will work closely with you to achieve the desired outcomes. By customizing our solutions, we can adapt to your specific situation, ensuring that your inventory is managed effectively and efficiently.
4.2 Dedicated Account Management and Support
At FBA Prep Logistics, our commitment to client satisfaction extends beyond mere service provision. Our dedicated client support team becomes an extension of your business, providing personalized services and support around the clock. When you partner with us, you'll be assigned an account manager who will prioritize your needs and serve as a single point of contact for all your inquiries or concerns.
Having an account manager ensures smooth communication between your business and our team, addressing any concerns promptly, maintaining ongoing dialogue, and fostering a deeper understanding of your e-commerce operation. By working with a dedicated account manager, you can have the confidence that your e-commerce business is in capable and attentive hands.
4.3 Data-driven insights for Continuous Improvement
At FBA Prep Logistics, we believe in the power of data to improve efficiency and effectiveness in inventory management. Our cutting-edge technology enables us to track performance metrics related to your inventory, such as turnaround times, order accuracy rates, and stock levels. These detailed analytics provide valuable insights into your supply chain's performance and efficiency and allow us to continually refine and optimize our services to better suit your needs.
Our data-driven approach not only helps us identify potential bottlenecks in your inventory management but also allows us to develop tailored strategies for your sustained growth and profitability. By partnering with FBA Prep Logistics, you gain access to performance insights that can drive your business forward.
4.4 Educating Clients on E-commerce Best Practices
Your success is our success. At FBA Prep Logistics, we're more than just your 3PL partner – we're your inventory management educators. We leverage our vast experience and expertise in inventory management and logistics to empower you with the knowledge and best practices that will enable you to optimize your e-commerce operations.
From sharing informational content on our blog, to offering advice on maximizing your Amazon FBA profits, or guidance on navigating ever-evolving industry trends, we're committed to helping you stay informed and making well-informed decisions for your business.
4.5 Transparent, Trustworthy, and Open Communication
FBA Prep Logistics believes in building a strong foundation of trust and transparency with our clients. We uphold open and honest communication, ensuring that you're always kept in the loop regarding our services and processes, and any changes that may impact your e-commerce business.
Our commitment to transparency includes providing regular updates on your shipment statuses, inventory counts, and any potential service adjustments. By maintaining open channels of communication, we aim to foster a collaborative and nurturing partnership that supports your continued growth and success.
In Summary
FBA Prep Logistics goes above and beyond to ensure that our clients receive personalized, tailored services to meet their unique needs. By offering dedicated account management, customized solutions, data-driven insights, educational resources, and transparent communication, we strive to set ourselves apart from other 3PL warehousing providers.
As an e-commerce business owner, you deserve a partner who truly understands your needs and works in tandem with you to achieve your goals. We encourage you to trust FBA Prep Logistics with your inventory management and experience the difference our customer-centered approach can make in your e-commerce journey.
Section 5: How FBA Prep Logistics Ensures Your E-commerce Success
As an e-commerce business owner, ensuring your success goes beyond merely listing products on various platforms such as Amazon. There's a lot more to consider, especially when it comes to inventory management. That's where FBA Prep Logistics, a 3PL warehouse in Bristol, PA, enters the picture. In this section, we will discuss how FBA Prep Logistics ensures your e-commerce success by providing cost-effective, efficient, and adaptable solutions.
5.1 Cost-Effective Inventory Management Solutions
One aspect that sets FBA Prep Logistics apart is its focus on balancing cost-effectiveness with high-quality services. By offering tailored FBA Prep Services, the company ensures that you get the most value for your money. In addition, FBA Prep Logistics' expertise in supply chain management can help you save on shipping costs, storage fees, and other operational expenses, thereby boosting your profit margins.
5.2 Ensuring Efficiency Throughout the Process
Maintaining an efficient e-commerce operation is essential to success, and FBA Prep Logistics plays a significant role in this area. With a team of experienced professionals, the company streamlines your inventory management, allowing you to focus on other aspects of your business. From product inspection to labeling and packaging, FBA Prep Logistics offers an efficient, end-to-end solution that eliminates the need to juggle multiple service providers.
5.3 Adaptable Solutions for a Dynamic Marketplace
Given the ever-evolving nature of the e-commerce industry, it's crucial to partner with a 3PL warehouse that is adaptable and flexible. FBA Prep Logistics understands the importance of staying ahead of the curve and is constantly working on improving and updating its services to meet the changing needs of its clients. This means that as your business grows, FBA Prep Logistics will grow alongside it, providing consistently excellent services in line with your requirements.
5.4 Collaborative Approach and Dedicated Support
FBA Prep Logistics takes pride in its collaborative, customer-focused approach, treating your success as its own. By working closely with you to understand your unique business needs, FBA Prep Logistics ensures that they deliver the best possible 3PL services. Furthermore, FBA Prep Logistics believes in providing outstanding customer support to help you navigate the complexities of inventory management and make informed decisions for your business.
5.5 Leveraging Expertise in Amazon FBA Management
FBA Prep Logistics not only specializes in general e-commerce inventory management but also excels in Amazon-specific FBA management. As an e-commerce business owner, you can trust FBA Prep Logistics to use their in-depth knowledge of Amazon's processes to optimize your inventory and increase your chances of success on the platform.
5.6 Continuous Improvement through Technology Integration
Constantly improving its services, FBA Prep Logistics harnesses the latest tools and technology in inventory management. This allows the company to offer advanced solutions that align with your growing business' needs, making FBA Prep Logistics an essential partner in your e-commerce journey.
In summary, FBA Prep Logistics excels in providing e-commerce businesses with cost-effective, efficient, and adaptable inventory management solutions. By relying on this 3PL warehouse for your FBA Prep Services, you can gain a competitive advantage in the dynamic world of online retail. So why wait any longer?
Experience the benefits of partnering with FBA Prep Logistics and start solidifying your e-commerce success today. Check out our Ultimate Guide to E-commerce Logistics in the East Coast to learn more about what we can offer your business, and let's grow together!
Frequently Asked Questions
1. What services does FBA Prep Logistics offer for e-commerce sellers?

FBA Prep Logistics offers a variety of services tailored to e-commerce sellers, including product inspection, labeling, bundling, and packaging. We help streamline the entire fulfillment process, saving sellers time and effort while ensuring optimal inventory management.
2. How does FBA Prep Logistics help Amazon FBA sellers?

We are experts at tackling the specific challenges faced by e-commerce businesses selling on Amazon.com. Our team provides solutions to optimize the FBA experience, manage inventory efficiently, and navigate the complexities of the platform, ultimately boosting your revenues.
3. How does FBA Prep Logistics customize its services for individuals businesses?

Our customer-centered approach allows us to create personalized solutions that cater to each seller's unique requirements. We work closely with our clients to design tailored strategies that best serve their business goals, offering unparalleled service and support.
4. Why should I choose FBA Prep Logistics over other 3PL providers?

Unlike other 3PL providers, FBA Prep Logistics emphasizes a customer-centered approach and delivers customized solutions for each business. Our expertise in e-commerce and Amazon FBA management, along with our commitment to cost-effectiveness and efficiency, helps drive success for our clients' e-commerce ventures.
5. How can FBA Prep Logistics contribute to my e-commerce success?

By partnering with FBA Prep Logistics, you gain access to our comprehensive range of services, industry expertise, and dedicated customer support. We ensure efficient inventory management, optimize your Amazon FBA experience, and adapt our solutions to your unique needs, setting the foundation for your e-commerce success.