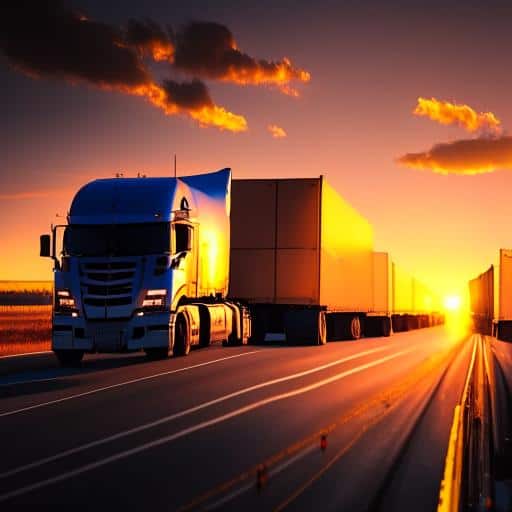 The Benefits of Using a 3PL Trucking Company
1. Introduction to 3PL Trucking companies
When it comes to e-commerce success, efficient supply chain management is crucial. Third-party logistics (3PL) trucking companies, like FBA Prep Logistics, play an essential role in this process by offering a wide range of services designed to ease the burden of shipping and logistics for online businesses. FBA Prep Logistics, a top-notch 3PL trucking service provider located in Bristol, PA, is on a mission to help e-commerce businesses optimize their operations so they can focus on growing sales and expanding their market reach.
As a key partner in your supply chain, 3PL trucking companies handle everything from transportation to warehousing, packaging, and even return logistics. They have the expertise, technology, and resources to provide seamless and efficient logistics management, leaving you free to concentrate on other aspects of your business.
FBA Prep Logistics: Your 3PL Trucking Partner in Bristol, PA
Whether you're a small online seller or an established e-commerce brand, choosing FBA Prep Logistics as your 3PL partner in Bristol, PA, gives you access to the infrastructure, expertise, and solutions needed for a resilient supply chain. We're committed to helping e-commerce businesses maximize their supply chain efficiency through our reliable, scalable, and cost-effective 3PL trucking services. You can trust us to handle your shipping needs and take your e-commerce business to new heights of success.
2. Increased Flexibility in Supply Chain Management
One of the main reasons e-commerce businesses choose to partner with a 3PL trucking company like FBA Prep Logistics is the increased flexibility in supply chain management they offer. In the dynamic world of e-commerce, it's crucial to have a supply chain that can adapt quickly to changing conditions and customer demands. Let's dive deeper into how FBA Prep Logistics provides superior flexibility to help your e-commerce business thrive.
2.1 Adapt to Fluctuating Order Volumes and Seasonal Changes
Running an e-commerce business often involves dealing with seasonal shifts and sudden spikes in order volume. A 3PL trucking company, like FBA Prep Logistics, can quickly adjust to these fluctuations, ensuring you have the necessary resources to maintain the same level of efficiency you expect. For example, if you experience a surge in orders during the holiday season, FBA Prep Logistics can promptly scale up their workforce and truck fleet to accommodate the increased demand. This not only ensures customer satisfaction but also helps prevent stockouts and service delays.
2.2 Swift Response to Changing Market Conditions
The e-commerce landscape is always evolving, and the demands between different regions and market segments can vary significantly. This requires fast and decisive decision-making to stay one step ahead of the competition. With FBA Prep Logistics, you'll receive the guidance and expertise needed to react effectively to these changes and take advantage of emerging opportunities. Our 3PL trucking services offer flexibility in terms of routing and logistics planning, which means you can adapt your shipments according to market trends and customer expectations.
2.3 Expand Your Reach with Multi-Channel Fulfillment
As an e-commerce seller, expanding your business to multiple sales channels can be a significant factor in your overall growth. Partnering with a 3PL trucking company like FBA Prep Logistics makes it easier to manage multi-channel fulfillment. Our advanced systems can integrate with various e-commerce platforms like Shopify and Amazon, ensuring seamless coordination and consistency in your order fulfillment process. This flexibility makes it much simpler to expand into new marketplaces and leverage numerous sales channels for long-term growth.
2.4 Customized Solutions Tailored to Your Business Needs
No two e-commerce businesses are the same, which means logistical solutions should not be a one-size-fits-all. A 3PL trucking company like FBA Prep Logistics can customize its services to suit your specific requirements. Whether it's accommodating unique shipping needs, implementing bespoke packaging, or integrating specialized inventory management solutions, our team will work closely with you to develop the optimal logistics strategy tailored to your unique business objectives.
2.5 Easily Adapt to Returns Management
E-commerce returns are an inevitable part of online business operations. Having a robust and efficient returns process is crucial for maintaining customer satisfaction and brand loyalty. With FBA Prep Logistics, handling returns becomes much simpler thanks to our hassle-free Shopify returns solutions and our expertise in Amazon reverse logistics. We offer adaptable and effective solutions that take the stress out of managing returns, helping you focus on growing your business.
In conclusion, partnering with a 3PL trucking company like FBA Prep Logistics can significantly increase the flexibility of your supply chain management. Our services are designed to adapt to your ever-changing e-commerce landscape, keeping you on the cutting edge of the industry. By leveraging our expertise, customizable solutions, and efficient processes, your e-commerce business will be better equipped to navigate market fluctuations, expand its reach, and achieve long-term success.
3. Cost and Time Savings
One of the greatest advantages of using 3PL trucking services is the potential cost and time savings that such services provide. Partnering with a 3PL trucking company like FBA Prep Logistics offers your e-commerce business the opportunity to optimize your shipping and logistics processes, allowing you to focus on other aspects of your company's growth. Let's dive into how 3PL trucking can save both time and money for your business.
3.1. Reduced Shipping Costs
By partnering with FBA Prep Logistics, you can take advantage of volume discounts on shipping rates that might not be available to you as a small or medium-sized business. Our partnerships with major carriers enable us to negotiate lower rates, which we pass on to our clients. This can result in significant cost savings on every shipment you make.
3.2. Lower Overhead
Managing your own in-house logistics department requires substantial investment in terms of time, manpower, and resources. By outsourcing your logistics to FBA Prep Logistics, you can avoid the need to purchase or lease warehouse space, hire and train staff, and invest in expensive logistics software. This helps you keep your overhead costs low, leaving you with more resources to invest in other areas of your business.
3.3. Efficient Route Planning
Efficient route planning is essential for timely deliveries and cost savings in transportation. Our expert team at FBA Prep Logistics works diligently to optimize routes for all shipments, ensuring that your products reach your customers as quickly and cost-effectively as possible. By constantly monitoring shipping trends and carrier performance, we can make adjustments to routing as needed, keeping your logistics process agile and responsive to changing conditions.
3.4. Streamlined Logistics Processes
FBA Prep Logistics has the expertise and resources to manage all aspects of the shipment process, from order processing to carrier selection and tracking. Our seamless, efficient logistics system helps save time and reduce errors, ensuring that your orders are fulfilled promptly and accurately. Our comprehensive e-commerce logistics services can be tailor-made to suit your specific needs, further simplifying your operations and reducing costs.
3.5. Lower Risk of Shipping Mistakes
Errors in shipping can lead to significant losses for your business, both financially and in terms of customer satisfaction. FBA Prep Logistics' experienced team is proficient in handling all aspects of e-commerce shipping, minimizing the likelihood of costly mistakes. Our advanced software systems help us effectively manage order processing, inventory management, and shipping documentation, virtually eliminating the risk of errors that could lead to delays or added expenses.
3.6. Timely and Accurate Delivery
Timely and accurate delivery of orders is crucial for maintaining customer satisfaction and fostering long-term relationships with your clients. With FBA Prep Logistics at the helm of your shipping process, you can be confident that all shipments will reach their destinations on time and intact. This not only helps you cultivate a strong brand image but also saves you time and money lost due to delayed or damaged shipments.
To conclude, partnering with a 3PL trucking company like FBA Prep Logistics can result in significant cost and time savings for your e-commerce business. With our streamlined logistics processes, expert knowledge, and resources, we can assist you in achieving efficient and cost-effective shipping solutions that ultimately boost your bottom line. If you're ready to experience the benefits of outsourcing your logistics to FBA Prep Logistics, contact us to discuss how we can tailor our 3PL trucking services to meet your specific needs.
4. Improved Customer Satisfaction
One of the primary goals of any successful e-commerce business is to ensure consistently high levels of customer satisfaction. Fast and reliable shipping plays a crucial role in achieving this objective. Partnering with a top-notch 3PL trucking company like FBA Prep Logistics not only ensures accurate and efficient deliveries, but it also provides an unbeatable overall customer experience. In this section, we will delve into the importance of swift and dependable shipping and explain how FBA Prep Logistics can help you in delivering an outstanding customer experience.
4.1 The Importance of Reliable Shipping
In today's competitive e-commerce landscape, online shoppers expect quick shipping and seamless delivery services. A delayed or incorrect delivery can easily lead to negative reviews and lost customers. E-commerce businesses must guarantee an impeccable shipping experience to keep their customers loyal and satisfied. That's where FBA Prep Logistics comes in as a reliable 3PL trucking partner.
4.2 FBA Prep Logistics' Timely Delivery Commitment
At FBA Prep Logistics, we understand the value of timely and accurate delivery in the world of e-commerce. Our 3PL trucking services are carefully designed and executed to ensure your products reach your customers in the quickest possible time. We make it our top priority to meet delivery deadlines and maintain a high standard of shipping services. Our team continuously monitors and optimizes the shipping process, making sure that your e-commerce business is always delivering the best customer experience.
4.3 Advanced Tracking Features
Your customers want to know where their package is and when it will arrive. At FBA Prep Logistics, we are committed to providing your e-commerce business with advanced tracking features through Simplify Inventory Tracking on Shopify. This helps your customers monitor their orders in real-time and reduces the chances of delivery issues. Transparency in shipping processes leads to increased customer satisfaction and trust in your business.
4.4 Responsive Customer Support
We understand that unexpected issues can arise during the shipping process. That's why FBA Prep Logistics offers top-notch customer support to assist you and your customers in case of any logistical concerns. Our team is trained to resolve issues quickly, ensuring minimal impact on your customers' experience. By partnering with FBA Prep Logistics, you can assure your customers that their concerns will be promptly addressed.
4.5 Building Customer Loyalty
A well-structured and dependable shipping process is a key contributor to building customer loyalty. By selecting FBA Prep Logistics as your 3PL trucking partner, you can guarantee your customers consistently excellent service. Our commitment to timely and accurate delivery helps generate repeat business, positive reviews, and word-of-mouth referrals, which are essential to the growth and success of your e-commerce store.
4.6 Enhancing Brand Reputation
Your choice of a 3PL trucking partner can dramatically impact your brand's reputation. FBA Prep Logistics' reliable shipping services not only ensure satisfied customers but also promote a positive brand image. When your e-commerce store consistently meets or exceeds customers' expectations in terms of shipping, it creates a foundation of trust and credibility that will set your business apart from competitors.
In conclusion, incorporating FBA Prep Logistics as your 3PL trucking partner is a smart move for any e-commerce business looking to elevate customer satisfaction and loyalty. Our services, from timely delivery to responsive customer support, are designed to create an exceptional experience for your customers. Don't wait any longer; make FBA Prep Logistics your dedicated 3PL partner and see the difference it makes in your customers' satisfaction and your brand reputation.
Expert Knowledge and Resources
Partnering with a 3PL trucking company like FBA Prep Logistics comes with a myriad of advantages, one being access to their expert knowledge and vast resources. As e-commerce businesses grow, managing logistics and supply chain activities can become overwhelming. Let's dive into how our team of specialists and extensive resources can significantly impact your supply chain efficiency:
A Team of Professionals at Your Service
At FBA Prep Logistics, we pride ourselves on having a highly skilled and experienced team specializing in various aspects of 3PL trucking. Our expert logistics team keeps up to date with the latest trends and best practices in the industry. Entrusting your 3PL trucking needs to our experienced team means receiving exceptional support in handling your shipping and supply chain complexities.
Providing Personalized Advice and Solutions
One size does not fit all when it comes to 3PL trucking. Every e-commerce business has unique needs and requirements. FBA Prep Logistics ensures you receive tailored solutions that cater specifically to your business's demands, to not only meet but exceed your expectations. Our expertise allows us to identify bottlenecks and inefficiencies in your supply chain, helping you streamline your processes for better results.
Leveraging a Vast Network of Carriers and Partners
At FBA Prep Logistics, we offer a wide array of 3PL trucking services, made possible by our extensive network of carriers and partners. Partnering with us gives you access to this network, helping you secure competitive shipping rates and timely deliveries.
Benefit from Capacity and Services Previously Unattainable
Our strong relationships across the 3PL trucking landscape mean we can provide businesses with capacities and services that might have been out of their reach, preventing delays and ensuring smooth shipping processes regardless of time or geographical constraints.
Access to Innovative Technology and Logistics Tools
To help our customers stay ahead of the curve and enhance their e-commerce logistics, FBA Prep Logistics utilizes cutting-edge technology and advanced logistics tools. By collaborating with us, you'll benefit from seamless integrations with major e-commerce platforms and marketplaces, such as Shopify and Amazon.
Streamline Your Operations with Data Insights
Understanding data is crucial for businesses in the world of e-commerce. Our state-of-the-art tools provide your business with valuable insights into your supply chain to help you make informed decisions and optimize your operations.
Keeping You in Control and Connected
FBA Prep Logistics ensures that your business stays in control of its logistics and supply chain with our advanced tracking and visibility tools. Not only will you have complete transparency on your shipment's status, but also access to real-time updates, ensuring you're always informed.
Ongoing Support and Continuous Improvement
Our commitment to our customers doesn't end after providing a tailored 3PL trucking solution. FBA Prep Logistics is dedicated to the ongoing improvement of our services through consistent communication and by staying open to feedback and new ideas. Our team will always be there to assist and support, no matter how much your business grows.
Don't Miss Out – Partner with FBA Prep Logistics Today!
In conclusion, it's evident that partnering with a 3PL trucking company like FBA Prep Logistics is a game-changer for e-commerce businesses. Our expertise, vast network, innovative technology, and relentless commitment to delivering the best services provide businesses with the upper hand in navigating complex supply chains, optimizing operations, and ultimately scaling their growth. Don't miss out on the opportunity to streamline your logistics and boost your competitiveness – consider FBA Prep Logistics for your 3PL trucking requirements today!
Frequently Asked Questions about 3PL Trucking Companies
What is a 3PL trucking company and why should I consider using one for my e-commerce business?

A 3PL (third-party logistics) trucking company is a specialized logistics provider that manages and handles shipping, transportation, and warehousing for e-commerce businesses. By partnering with a 3PL company like FBA Prep Logistics, you can enjoy increased flexibility, cost and time savings, improved customer satisfaction, and access to expert knowledge and resources in supply chain management.

How does a 3PL company like FBA Prep Logistics provide flexibility in supply chain management?

FBA Prep Logistics has the ability to quickly adapt to the changing needs of your e-commerce business through its expertise and resources. We offer scalable solutions that can be tailored to meet your specific shipping and logistics requirements, making it easy to manage variations in demand and growth of your e-commerce business.

How can my e-commerce business save money by using FBA Prep Logistics for our trucking needs?

By outsourcing your logistics needs to FBA Prep Logistics, you can benefit from significant cost savings through our optimized shipping processes and competitive pricing. Additionally, you can minimize the need for investing in warehouse spaces, transportation equipment, and manpower, which will reduce your overhead expenses and maximize your profits.

What are some ways in which FBA Prep Logistics contributes to better customer satisfaction?

At FBA Prep Logistics, we understand the importance of fast, reliable shipping in the world of e-commerce. Our prompt and precise delivery services ensure timely shipments to your customers, resulting in a better overall shopping experience. By offering reliable and efficient shipping services, we help you build and maintain a positive reputation for your e-commerce business.

What kind of expert knowledge and resources can FBA Prep Logistics provide for my e-commerce logistics needs?

As a 3PL trucking service provider, FBA Prep Logistics is staffed with experienced professionals who are well-versed in handling all aspects of e-commerce shipping. We provide access to advanced technologies and efficient processes that can help small and medium businesses effectively manage their increasingly complex logistics needs, ensuring your products reach your customers in a timely and cost-effective manner.
Now that you understand the benefits of partnering with a 3PL trucking company like FBA Prep Logistics, it's time to consider taking your e-commerce logistics to the next level. Reach out to us today and let's discuss how we can optimize your shipping processes and improve customer satisfaction.