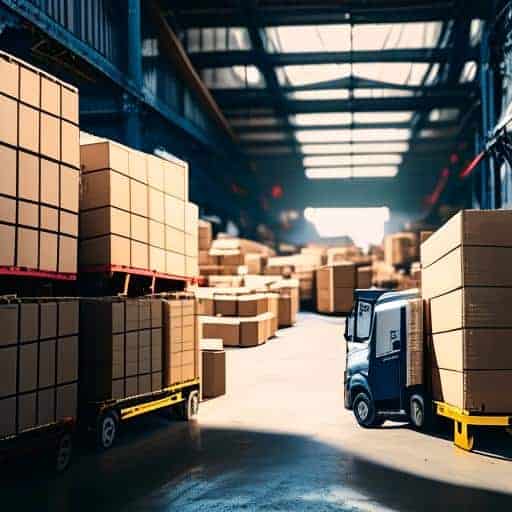 The Advantages of Using a 3PL Near Me
1. Introduction: The Rise of E-commerce and the Need for 3PL Services
In recent years, the e-commerce industry has experienced tremendous growth, with more entrepreneurs and businesses venturing into the online retail space. This growing success relies heavily on efficient supply chain management and is now more critical than ever for businesses to flourish. As competitive pressures heighten, it's vital for e-commerce sellers to provide customers with expedited shipping and smooth order fulfillment. As a result, many businesses are turning to third-party logistics (3PL) providers to manage their supply chain operations more effectively, making it essential to find a reliable "3PL near me."
FBA Prep Logistics, a leading 3PL warehouse in Bristol, PA, recognizes the increasing demand for dependable and efficient 3PL services. This top-notch logistics provider offers an array of services designed to support e-commerce sellers in managing their supply chains, allowing them to save time, effort, and money in the process.
In this guide, we'll dive into the numerous advantages of partnering with a 3PL near you, particularly FBA Prep Logistics. Following the table of contents provided, we'll explore the landscape of 3PLs, the services offered by FBA Prep Logistics, and the benefits of choosing them as your go-to logistics partner, and how it will contribute to the success and growth of your flourishing e-commerce business.
The E-commerce Landscape: How Demand for 3PL Services Has Grown
Over the past decade, the surge of e-commerce sites and online shopping has forever changed our approach to retail. This shift in consumer behavior implies that businesses must adapt and ensure their supply chains can meet the rapidly evolving demands of customers. To remain competitive, e-commerce businesses need to offer quick shipping, streamlined order fulfillment, and hassle-free returns; this is where 3PL services come in.
The need for 3PL services has risen as businesses look for ways to optimize their supply chains. Outsourcing logistics to an experienced 3PL provider can help your business effectively manage shipping, fulfillment, and returns, allowing you to focus on other critical aspects of running your company.
The Growing Importance of Local 3PL Solutions
As you search for a "3PL near me," you may be overwhelmed by the number of providers available. However, partnering with a local 3PL, like FBA Prep Logistics, can offer significant benefits in terms of efficiency, faster deliveries, and cost savings for your e-commerce business. By choosing a 3PL nearby, you can build a strong relationship with your logistics partner and enjoy more direct oversight of your supply chain. This proximity means reduced shipping times, which can result in a happier, more loyal customer base.
In the following sections, we'll provide a more in-depth look at what 3PL services are, why it's crucial to select a 3PL near you, the range of services offered by FBA Prep Logistics, the benefits of choosing them as your 3PL partner, and taking the next steps to partner with them.
Stay tuned as we dive into the world of 3PL and FBA Prep Logistics, proving that outsourcing supply chain management is a game-changer for your expanding e-commerce venture.
2. What is 3PL and Why Choose a 3PL Near Me?
Third-party logistics (3PL) is an outsourced service that handles all or part of your logistics and supply chain functions, encompassing warehousing, inventory management, order fulfillment, and shipping. As an e-commerce business owner, managing these operations on your own can be challenging and time-consuming. This is where a 3PL near you, like FBA Prep Logistics, comes in to simplify your business processes and ensure a seamless customer experience.
2.1 A Brief Overview of 3PL Services
3PL providers offer a wide range of services to help you control your inventory, fulfill customer orders, and manage returns. Some of the core services they offer include:
Warehousing: A well-organized and managed warehouse ensures that your products are stored safely and efficiently and are readily available for shipping when needed.
Inventory Management: Proper inventory management is crucial for minimizing losses and maintaining accurate records. Advanced software and systems used by a 3PL near you ensure excellent visibility, real-time tracking, and efficient inventory control.
Order Fulfillment: This includes picking, packing, and shipping the products to your customers. Outsourcing this process to an experienced 3PL company like FBA Prep Logistics ensures speed and accuracy.
Shipping and Freight Services: A 3PL near you can optimize shipping costs, negotiate better rates with carriers, and manage imports and exports.
Returns Management: A smooth returns process plays a significant role in customer satisfaction and brand reputation. A 3PL near you can help manage returns reliably and efficiently.
2.2 Proximity Matters: The Advantages of a 3PL Near Me
Choosing a 3PL provider located close to your business has several practical benefits:
Reduced Shipping Costs and Time: By having a 3PL warehouse near your primary customer base or distribution channels, you can cut down on shipping costs and delivery times, leading to increased customer satisfaction. A 3PL near you, FBA Prep Logistics, in the strategic location of East Coast, benefits your business this way.
Personalized Support: Local 3PL providers are better equipped to provide more personalized support, enabling you to establish a long-lasting and trusting business relationship.
Improved Communication: Working with a 3PL near you means shorter travel times and the ability to visit the warehouse whenever required, enabling better communication and collaboration. Moreover, a nearby 3PL provider may be more familiar with local regulations and resources.
Flexible Scalability: Particularly for seasonal businesses or those experiencing rapid growth, outsourcing to a 3PL company near you ensures you can quickly scale up or down to accommodate changes in volume.
Environmental Impact: Transportation is responsible for a significant amount of greenhouse gas emissions. By using a local 3PL warehouse, your carbon footprint is significantly reduced, contributing to environmental sustainability and promoting a positive brand image.
2.3 FBA Prep Logistics: The Ideal 3PL Provider for Your E-commerce Business
When looking for a 3PL partner, proximity is essential. FBA Prep Logistics is strategically located in Bristol, PA, allowing easy access to the East Coast customer base and big marketplaces like Amazon FBA. With a team of seasoned professionals and comprehensive services covering inventory management, order fulfillment, shipping, and returns, FBA Prep Logistics will streamline your supply chain, reduce your costs, and elevate the customer experience.
In summary, partnering with a 3PL near you is a smart move for e-commerce businesses. A provider like FBA Prep Logistics offers a comprehensive range of services and expertise designed to help your business grow and succeed in a competitive marketplace. So don't wait any longer; let's explore the benefits of working with FBA Prep Logistics in the next section!
The Services Offered by FBA Prep Logistics


A Complete Suite of 3PL Services for Your E-commerce Business
Partnering with a reliable and proficient 3PL near me like FBA Prep Logistics ensures that all your e-commerce logistics needs are taken care of, paving the way for a smooth and efficient workflow. Let's take a closer look at the range of services FBA Prep Logistics offers to make your e-commerce business a success:
3.1 Inventory Management
FBA Prep Logistics offers effective inventory management solutions that help you stay organized and always in control of your stock levels. We ensure that your inventory is accurately updated, tracked, and replenished, preventing stockouts, overstocking, and other discrepancies that could hinder your business growth.
3.2 Order Fulfillment
Our order fulfillment services handle everything from picking to packaging and shipping, allowing you to focus on other aspects of your business. We pride ourselves on our fast turnaround times, ensuring that your customers receive their orders in a timely fashion – a crucial factor in maintaining high levels of customer satisfaction.
3.3 Shipping and Returns
FBA Prep Logistics employs industry-leading shipping and return management processes that yield cost-effective and reliable results. Our shipping solutions include carrier selection, rate negotiation, and label generation to guarantee efficient outbound shipping, while our hassle-free return solutions make it easier for customers to send back items and keep them satisfied with your service.
3.4 Expertise in Amazon FBA
With FBA Prep Logistics, you harness the power of our in-depth knowledge and experience in Amazon FBA. We provide comprehensive services, covering everything from FBA prep, labeling, and packaging to seamless integration with the Amazon Seller Central system. Our expertise ensures that your products comply with Amazon's requirements, helping you stay in Amazon's good graces and maintaining your customers' trust.
3.5 Cross-Docking
Our state-of-the-art cross-docking facilities enable us to expedite your inventory flow by reducing the time it spends in the warehouse. By temporarily holding items and loading them directly to outbound trucks, we significantly shorten lead times and reduce handling costs, ensuring that your products reach your customers more swiftly.
3.6 Customized Solutions
At FBA Prep Logistics, we recognize that each e-commerce business has unique requirements. That's why we offer tailored logistics solutions, designed to suit your specific needs and preferences. By choosing FBA Prep Logistics as your 3PL partner, you benefit from our flexible and adaptable services that cater to your unique demands.
3.7 Technology Integration
Embracing cutting-edge technology distinguishes FBA Prep Logistics from its competitors. With our top-notch technology integration, we streamline your logistics processes, allowing real-time visibility and control over your inventory, order management, and reporting to help you make data-driven decisions for your e-commerce business.
3.8 Customer Service and Support
Our exceptional customer service sets FBA Prep Logistics apart from the competition. Our team of dedicated and knowledgeable experts is always on hand, providing guidance and assistance every step of the way. With FBA Prep Logistics, you have a 3PL partner who truly cares about your success and understands the challenges you face as an e-commerce entrepreneur.
Now that you're familiar with our expansive range of services, it's time to discover the numerous benefits of partnering with FBA Prep Logistics as your 3PL provider. In the next section, we'll delve into the advantages that set us apart from other 3PL providers and highlight the positive impact we can have on your e-commerce business.
4. The Benefits of Choosing FBA Prep Logistics as Your 3PL Partner
Wondering why you should choose FBA Prep Logistics as your go-to "3PL near me" solution? Let's dive into the various advantages that make FBA Prep Logistics stand out from other 3PL providers and how partnering with us can impact your business in all the right ways.
4.1 Expertise in Amazon FBA
FBA Prep Logistics has experience and in-depth knowledge of Amazon FBA, ensuring your products follow the strict guidelines and requirements set by Amazon. This avoids any delays or possible penalties that may arise if the products are not compliant. Our comprehensive guide to Amazon Reverse Logistics is just one example of the wealth of information we have to help Amazon sellers succeed.
4.2 Enhanced Operational Efficiency
One of the significant benefits of partnering with a 3PL near you is that your company's operations will become more efficient. FBA Prep Logistics can manage the entire supply chain, allowing you to focus on other crucial aspects of your business like marketing, product development, and customer service.
4.3 Cost Savings
Partnering with a 3PL company like FBA Prep Logistics means noticeable cost savings for your business. By outsourcing logistics and fulfillment, your company can eliminate the need to invest in warehouse space, technology, and staff. Our top cost reduction strategies for Amazon sellers provide even more ways to save.
4.4 Scalability and Flexibility
One of the challenges of running an e-commerce business is meeting the demands of peak seasons and holiday rushes. FBA Prep Logistics provides the flexibility to scale up or down as your business needs change, ensuring a better balance between supply and demand. Check out our guide on Amazon FBA Prep Services to learn more about scaling your business efficiently.
4.5 Access to Advanced Technology and Automation
FBA Prep Logistics is constantly updating and implementing cutting-edge supply chain and logistics technology. By partnering with us, your e-commerce business will gain access to these advanced tools, allowing you to remain competitive in today's fast-paced market. Learn more about integrating technology into your Amazon seller workflow for the best results.
4.6 Improved Customer Satisfaction
A key aspect of e-commerce success is ensuring that your customers are satisfied with your service. With FBA Prep Logistics handling order fulfillment, your customers will receive their orders promptly, accurately, and in perfect condition. This leads to a better overall experience for your customers and helps boost your brand reputation—our Shopify inventory control is just one way we ensure this.
4.7 Expert Support and Assistance
FBA Prep Logistics believes in providing top-notch customer support and assistance to our partners. We offer comprehensive consulting and strategic advice to help you optimize your logistics and supply chain management processes. This can have a significant impact on your e-commerce business's overall performance.
4.8 Streamlined Returns Management
Handling returns efficiently is crucial for any e-commerce business. FBA Prep Logistics can help manage returns professionally, offering the ultimate guide to Amazon reverse logistics and hassle-free Shopify returns to make returning products simple for your customers.
4.9 Expanded Reach and Faster Delivery
As a 3PL near me, FBA Prep Logistics can serve businesses in Bristol, PA, and beyond. Our strategic location on the East Coast allows us to provide quicker shipping times to your customers, resulting in higher satisfaction rates.
4.10 Customizable Solutions
Every e-commerce business is unique, requiring tailored solutions to succeed. FBA Prep Logistics understands this, and we work closely with our partners to develop customized logistics and supply chain strategies that cater to their specific needs.
To sum it all up, choosing FBA Prep Logistics as your 3PL partner will elevate your e-commerce business to new heights. You'll gain access to our expertise in Amazon FBA, advanced technology, and a versatile range of services. By trusting us with your logistics and supply chain management, you'll free up time and energy to focus on growing your business in today's competitive market. So go ahead and take the first step towards a successful partnership with FBA Prep Logistics – your future awaits!
5. Taking the Next Step: How to Partner with FBA Prep Logistics
Choosing a 3PL near me is not as daunting as it may seem. In fact, partnering with FBA Prep Logistics is a straightforward process that involves:
Reaching out: It all starts with making the first move. Simply visit the FBA Prep Logistics website and contact the team via phone or email to initiate a conversation.
Discussing your requirements: Be prepared to describe your e-commerce business and its logistics needs, such as storage, fulfillment, transportation, and more. This will help the FBA Prep Logistics team to understand your specific requirements and suggest the most suitable solutions.
Exploring services: Learn more about the various services FBA Prep Logistics has to offer by reading their Efficient PA Order Fulfillment Services and The Ultimate Guide to E-commerce Logistics in East Coast. This will give you an idea of what to expect from their offerings.
Agreeing on terms: Once you've discussed your needs and the services FBA Prep Logistics recommends for your e-commerce business, you'll need to agree on the terms of the partnership, including pricing, length of contract, and service level agreements (SLAs).
Sharing information: After agreeing to the terms of the partnership, you'll need to provide FBA Prep Logistics with access to relevant information and systems, such as your e-commerce platform and inventory data. This is crucial for the smooth integration of their services into your operations.
Training and onboarding: Some aspects of transitioning to a new 3PL partner may require training and onboarding, such as software integration or learning how to leverage FBA Prep Logistics' reporting tools. The team will provide you with any necessary support during this process, ensuring you and your staff are comfortable using their services.
Monitoring and adjusting: After the initial transition period, it's essential to monitor the performance of your partnership with FBA Prep Logistics and make adjustments as needed. The team will be there to support you in optimizing your logistics processes and adapting to any changes in your business or the e-commerce market.
As your business grows, you may find it necessary to explore additional services or expand the scope of your current partnership with FBA Prep Logistics. By consistently evaluating the performance of their services and maintaining an open line of communication, you can ensure that your e-commerce logistics are set up for long-term success.
Adapting to Evolving Business Needs
One of the great advantages of partnering with FBA Prep Logistics as a 3PL near me is their ability to adapt to your evolving business needs. This means they can provide flexibility and scalability as your e-commerce business grows, ensuring that your supply chain remains efficient and your customers stay satisfied.
Whether you're launching a new product line, expanding to new markets, or facing seasonal fluctuations in demand, FBA Prep Logistics has the resources and expertise to help you manage these changes effectively. By leveraging their extensive knowledge of the e-commerce landscape and their comprehensive suite of services, you can be confident that your logistics operations are optimized for success.
In conclusion, partnering with FBA Prep Logistics as a 3PL near you can significantly improve your e-commerce business's efficiency, cost savings, scalability, and customer satisfaction. Their robust range of services, combined with their team's expertise and commitment to client success, make them an ideal choice for overcoming your supply chain challenges and propelling your e-commerce business to new heights.
Frequently Asked Questions:
What is 3PL and why should I choose a 3PL company near me?

3PL (Third-Party Logistics) refers to the outsourcing of various logistics and supply chain management tasks to an external service provider, like FBA Prep Logistics. Choosing a nearby 3PL company ensures faster delivery times, reduced shipping costs, and better support for your e-commerce business.

What makes FBA Prep Logistics stand out from other 3PL providers?

FBA Prep Logistics offers a range of comprehensive, cost-effective, and scalable logistics solutions tailored to your e-commerce business needs. Their proficiency in Amazon FBA, along with dedicated customer support and a focus on operational efficiency, truly sets them apart from the competition.

What services does FBA Prep Logistics offer to e-commerce businesses?

FBA Prep Logistics provides a variety of services such as inventory management, order fulfillment, shipping, and returns management. They also specialize in Amazon FBA, ensuring that your products reach Amazon's fulfillment centers efficiently and in compliance with their requirements.

How can partnering with FBA Prep Logistics benefit my e-commerce business?

By choosing FBA Prep Logistics as your 3PL partner, you can enjoy improved operational efficiency, reduced costs, enhanced customer satisfaction, and expert support. Their comprehensive logistics solutions and tailored approach help your e-commerce business grow and stay competitive in the market.

How do I get started with FBA Prep Logistics?

To partner with FBA Prep Logistics, simply visit their website or reach out to their customer support team. They will assist you in setting up a seamless partnership that caters to your e-commerce business needs and drives its success to new heights.