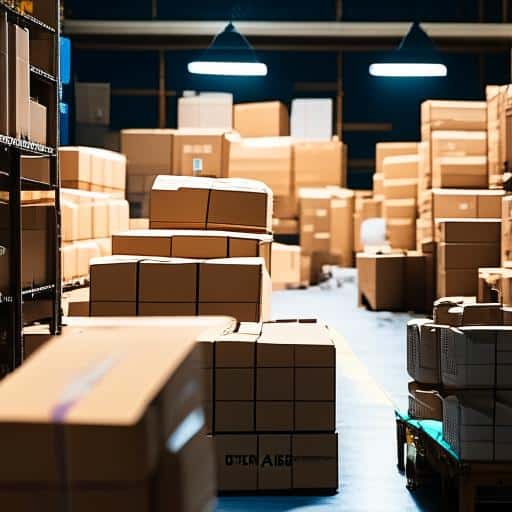 How FBA Prep Service Can Skyrocket Your Amazon Business
I. Introduction
As an e-commerce business owner, you probably already know about Amazon'sFulfillment by Amazon (FBA) program, and how it has revolutionized the way sellers manage their inventory and shipments. But have you ever wondered how to ensure your products are properly prepared, packaged, and shipped according to Amazon's strict guidelines? This is where FBA Prep Logistics comes into play. We are a 3PL warehouse located in Bristol, PA, that specializes in providing top-notch FBA Prep Service to help you grow your Amazon business seamlessly.
In this article, we will discuss the various aspects of our FBA Prep Service and how partnering with FBA Prep Logistics can skyrocket your Amazon business by saving you time and money, managing your inventory more effectively, offering customized solutions for your specific needs, and providing unparalleled customer support.
Importance of Proper FBA Preparation
Amazon's FBA program allows you to store your products in Amazon's warehouses, where they take care of storage, packaging, and shipping on your behalf. As convenient as it sounds, it also comes with strict guidelines for preparing your products to ensure they meet Amazon's standards and avoid potential penalties, such as additional fees or even account suspension.
Working with an experienced FBA Prep Service provider like FBA Prep Logistics will help you navigate these guidelines and ensure your products are always properly prepared for shipment to Amazon's fulfillment centers. By partnering with us, you can focus on growing your business while we take care of the rest.
Introducing FBA Prep Logistics as Your Trusted 3PL Warehouse
FBA Prep Logistics is a leading 3PL warehouse that specializes in FBA prep services. Our dedicated team of professionals has extensive experience in the Amazon marketplace and understands the ins and outs of the FBA fulfillment process. Read on to learn how FBA Prep Logistics can help you save time, manage inventory better, create tailored solutions for your unique needs, and provide stellar customer support in the process.
Stay tuned for an in-depth look at our various services and how they can play a crucial role in the growth and success of your Amazon business.
Read more about Efficient PA Order Fulfillment Services for Your E-commerce Store
Time and Cost Savings with FBA Prep Service
Every e-commerce business owner wants to save time and money while growing their business on Amazon. Partnering with FBA Prep Logistics offers significant benefits in both these aspects. In this section, we will dive into how FBA Prep Logistics saves our clients time and money by handling the entire FBA prep process.
Streamlining the FBA Process
Our FBA prep service takes the hassle out of preparing and shipping items to Amazon FBA centers. We handle everything from receiving, inspecting, and prepping products to labeling and shipping packages. By outsourcing this process, business owners can focus on other crucial aspects of their e-commerce enterprise, like marketing or sourcing new products, while we take care of the logistics.
Minimizing Costly Amazon Penalties
Improperly prepared shipments can lead to hefty fines and penalties from Amazon. FBA Prep Logistics ensures that your products are prepared according to Amazon's strict guidelines, minimizing the risk of costly rejections or delays. Our expertise in FBA prep services is designed to streamline your supply chain and help you avoid unnecessary expenses.
Bulk Discounts and Competitive Pricing
At FBA Prep Logistics, we offer bulk discounts for our services, which translates to significant cost savings for our clients. By leveraging our economies of scale, business owners can take advantage of competitive pricing without sacrificing quality.
Success Story: Increased Efficiency and Reduced Costs
One of our clients, a fast-growing e-commerce business, faced the challenge of managing their time-consuming and increasingly complex FBA processes. By partnering with FBA Prep Logistics, they were able to save substantial time previously spent on tedious tasks. In addition, our competitive pricing and bulk discounts resulted in a reduction of their shipping costs by 30%. This has allowed them to stay flexible and more agile in navigating the competitive Amazon marketplace.
Success Story: Boosting Sales and Profits with our FBA Prep Service
Another e-commerce retailer witnessed a remarkable increase in sales and profits after engaging FBA Prep Logistics for their FBA prep services. Previously, their internal team was responsible for the entire FBA process. However, as their product line expanded, they realized they needed a specialized partner to manage the supply chain. FBA Prep Logistics stepped in and took care of the entire FBA process. The result was a faster turnaround time for their shipments and a significant boost in their Amazon sales and profits.
Freeing Up Time for Business Growth
By outsourcing FBA prep to FBA Prep Logistics, our clients can focus on other essential aspects of their business, like marketing strategies, product sourcing, or customer service. This allows the business owner to allocate more time and resources to activities that directly impact growth and profitability.
Case Study: More Time for Marketing and Customer Engagement
A client was struggling to strike a balance between managing daily FBA activities and addressing the pressing need to promote their products online. After partnering with FBA Prep Logistics, they were able to devote more time to crafting compelling marketing campaigns and responding to customer inquiries. This proactive approach significantly boosted their online presence, brand image, and customer engagement, ultimately leading to a noticeable uptick in sales.
To sum it up, partnering with FBA Prep Logistics for FBA prep services can effectively save your business time and money while skyrocketing your Amazon business. With our expertise in handling FBA logistics, exceptional pricing, and a range of services customized to suit your specific needs, we take the stress out of managing your inventory for the Amazon marketplace. To learn more about our services and how we can support your business on its path to Amazon success, don't hesitate to get in touch with us.
Inventory Management and Storage
Premier Warehouse with High-Quality Standards
At FBA Prep Logistics, we understand that to effectively manage your Amazon business, you need reliable inventory management and storage solutions. That's why we have designed our state-of-the-art warehouse facilities in Bristol, PA, to ensure your products are stored safely and efficiently. Our warehouses are equipped with advanced security systems to safeguard your inventory, along with climate-controlled areas for sensitive products.
Flexible Storage Solutions
We know that every e-commerce business's storage needs vary, which is why we offer flexible storage solutions that cater to all types of products. Whether you need pallet racking, shelf storage, or custom storage solutions, we've got you covered. Our skilled team meticulously accounts for each and every item, ensuring that no matter the product type or size, it will be organized and monitored correctly.
Advanced Inventory Management System
As a leading FBA prep service provider, we have adopted an advanced inventory management system that streamlines your Amazon business's operations. This software allows us to accurately monitor stock levels in real-time, optimize inventory turnover, and prevent product stock-outs or overstocking. This system not only helps us stay organized but also ensures that we are ready to ship your products to Amazon as soon as they're needed.
Seamless Integration with Amazon FBA
Our sophisticated inventory management software easily integrates with Amazon's FBA platform, enabling you to keep track of your products at every stage of their journey. From the moment your inventory arrives at our warehouse to when it reaches Amazon's fulfillment centers, you'll have complete visibility and control over your stock.
Timely Stock Updates
Our platform provides frequent updates on your stock levels, ensuring you're always informed about the availability of your products. This enables you to make strategic decisions about reordering and managing your inventory more proactively, reducing the risk of stock-outs and lost sales.
End-to-End Supply Chain Management
Our complete e-commerce logistics solutions encompass every aspect of your supply chain management, ensuring a seamless and streamlined process from beginning to end. We handle everything from inventory receipt and storage to order processing, packaging, and shipping of your products to Amazon.
Expert Handling and Care
Our team of trained professionals is well-versed in handling a diverse range of products, from delicate electronics to bulky furniture. We take great care in sorting, inspecting, and labeling your inventory according to Amazon's stringent FBA requirements, ensuring that your products reach their destination in perfect condition and ready to be sold.
Streamlined Returns Process
In the unfortunate event of customer returns, FBA Prep Logistics has got your back. We aid in Amazon reverse logistics, ensuring a hassle-free experience for you and your customers. With our streamlined returns process, you can trust that your returned items will be handled with the utmost care and efficiency.
Scalability and Growth
One of the most significant advantages of partnering with FBA Prep Logistics is the ability to scale your business seamlessly. As your sales grow and your inventory requirements increase, you can trust us to adapt to your needs and continue providing the top-notch inventory management and storage solutions that have become synonymous with our name.
In conclusion, partnering with FBA Prep Logistics for your inventory management and storage needs offers numerous benefits. From our state-of-the-art warehouse facilities in Bristol, PA, to our advanced inventory management system that integrates seamlessly with Amazon FBA, you can trust us to help you run your e-commerce business efficiently and effectively. Our commitment to providing customized solutions, expert handling, and scalable services allows you to focus on what you do best – growing your Amazon business. To learn more about how FBA Prep Logistics can support your e-commerce journey, be sure to get in touch with our team today.
IV. Customized Solutions and Expertise
A. Personalized FBA Prep Service
At FBA Prep Logistics, we understand that each e-commerce business is unique with its own set of requirements and objectives. To cater to these diverse needs, we offer customized FBA prep solutions that are tailored to meet the demands of your business.
Whether you are a seasoned Amazon seller or just starting out, we work closely with you to identify your specific requirements and help you achieve your goals. Our team of experts carefully analyze various factors such as your sales volume, product type, and target market to develop a bespoke FBA prep service that fits your business perfectly.
B. Expertise in a Wide Range of Industries and Product Types
FBA Prep Logistics has expertise in handling a diverse range of industries and product types, enabling us to meet the unique needs of our clients. Our vast experience spans across various sectors, including electronics, consumer goods, fashion, health, and beauty, to name a few.
Regardless of the complexity or nuances of your products, our knowledgeable team is equipped with the right skills and resources to ensure that your products are prepped, packed, and shipped in compliance with Amazon's strict standards. This not only gives you an edge over your competitors but also helps you maintain a high seller rating on the platform.
C. Compliance with Amazon's Guidelines
Staying up-to-date with Amazon's ever-changing guidelines and requirements can be a challenging task for any seller. Our team at FBA Prep Logistics is well-versed with Amazon's policies and ensures that all FBA prep services are carried out in strict accordance with these guidelines.
From accurately labeling and packaging your products to adhering to Amazon's strict storage and shipping requirements, we safeguard the integrity of your products and help you avoid the hassle of returns, chargebacks, or penalties. By partnering with us, you can focus on growing your Amazon business while leaving the complexities of FBA prep to the experts.
D. Comprehensive Range of FBA Prep Services
Our customized FBA prep service offering is comprehensive to ensure that we cater to every aspect of your Amazon fulfillment process. Some of the key services we offer include:
Product inspection: To ensure high-quality standards and compliance with Amazon's guidelines, our team conducts detailed product inspections before the items are prepped for shipment.
Labeling: We apply necessary product labels, such as barcodes, warning labels, and size labels, in accordance with Amazon's requirements.
Bundling: Our team expertly bundles multiple products together as per your business needs and Amazon's guidelines.
Packaging: We use high-quality, Amazon-compliant packaging materials to protect your products during transportation and storage.
Kitting: Our team can create custom product kits and assortments as required by your business and Amazon's policies.
Palletizing: We ensure the efficient and safe transportation of your products by expertly palletizing them in compliance with Amazon's guidelines.
E. Continuous Improvement and Innovation
At FBA Prep Logistics, we believe in continuously improving our services and staying ahead of the curve in the fast-paced e-commerce world. Our team constantly monitors industry trends, updates, and technological advancements to ensure that we are always equipped with the latest knowledge and tools to better serve our clients.
Through innovation and a commitment to excellence, we ensure that our customized FBA prep services are not only reliable and cost-effective but also set the benchmark for quality in the industry.
Conclusion
By offering customized solutions and a wide range of expertise, FBA Prep Logistics stands out as the go-to 3PL warehouse for your Amazon FBA prep needs. Partnering with us not only helps you save time and money but also provides you with the peace of mind that your products are in the hands of experienced professionals who are dedicated to helping your Amazon business grow and succeed. So, what are you waiting for? Get in touch with our team today and let us show you how FBA Prep Logistics can skyrocket your Amazon business.
Top-notch Customer Support and Services
When it comes to the success of your Amazon business, partnering with a 3PL provider that offers exceptional customer support and services can make all the difference. At FBA Prep Logistics, we pride ourselves on providing the highest level of customer care and value-added services to help you grow and thrive in the competitive Amazon marketplace.
24/7 Customer Support
Our dedicated customer support team is available 24/7 to address any questions or concerns you may have regarding your FBA prep services. We understand that every e-commerce business faces different challenges, and our experienced support staff is always ready to assist you in troubleshooting any issues that may arise. With a direct line to our specialists, you'll never be left in the dark, ensuring that your Amazon business operations run smoothly and efficiently.
Real-Time Inventory Tracking
One feature that sets our FBA prep service apart from others is our innovative real-time inventory tracking system. Gone are the days where you need to worry about product stock-outs or overstocking. With our advanced tracking system, you have access to up-to-date information about your inventory levels and movement within our warehouse. This level of transparency allows you to properly manage your stock and make informed decisions about when to replenish your supply.
Streamlined Returns Management
Returns are an inevitable part of any e-commerce business, especially for those selling on Amazon. Our seamless returns management system ensures that your customer returns are processed quickly and efficiently, minimizing any potential negative impact on your seller rating. By taking care of the entire returns process, our FBA prep service allows you to focus on more important aspects of your business, like marketing and product research.
Enhanced Product Labeling and Packaging
When you partner with FBA Prep Logistics, you gain access to our expert product labeling and packaging services. This process ensures that your items meet Amazon's strict guidelines to avoid additional fees or delays. Our experienced team will take care of label application, polybagging, shrink-wrapping, or any other packaging requirements to ensure your inventory arrives at Amazon's fulfillment center in perfect condition.
Consultation and Expert Advice
Looking to scale your Amazon business but unsure of the best methods to do so? Our team of e-commerce veterans can offer expert advice and consultation. From cost reduction strategies like the ones outlined in this article, to maximizing your Amazon PPC advertising as described in this definitive guide, we're here to help you make informed decisions that lead to long-term success.
Cross-Docking Services
In addition to our FBA prep services, we also provide efficient cross-docking services, saving you time and money. By utilizing cross-docking, your inventory moves from the receiving dock to the outbound shipping dock with minimal storage time in between. Learn more about cross-docking and how it can benefit your Amazon business in this article.
In conclusion, FBA Prep Logistics is your go-to solution for a seamlessly integrated FBA prep service that takes care of every aspect of your Amazon business operations. From time and cost savings to exceptional customer support and value-added services, your success is our top priority. Don't miss out on the opportunity to skyrocket your Amazon business – reach out to us today to learn more about our FBA prep services and how they can work for you.
Frequently Asked Questions
1. What is FBA (Fulfillment By Amazon)?

FBA stands for Fulfillment By Amazon, a service provided by Amazon that takes care of the storage, packaging, and shipping of products to customers. By utilizing FBA, e-commerce sellers can rely on Amazon's expertise and infrastructure, giving them more time to focus on growing their businesses.

2. How does FBA Prep Logistics save businesses time and money?

At FBA Prep Logistics, we handle the entire preparation process, including inventory receiving, storage, labeling, packaging, and shipping. This allows our clients to focus on their core business activities, like product sourcing and marketing, while also saving them time and money on warehouse and staffing costs.

3. What does FBA Prep Logistics' warehouse facilities look like?

Our state-of-the-art warehouse facilities in Bristol, PA, are designed for efficient, safe, and secure storage of your inventory. We ensure that your products are always protected and handled in compliance with Amazon's guidelines, guaranteeing a smooth fulfillment process.

4. Can FBA Prep Logistics handle unique product types or industries?

Yes, we have expertise in various industries and product types. We tailor our FBA prep services to meet the unique needs of each e-commerce business, ensuring that we can handle a diverse range of client needs and products while maintaining high quality and efficiency in our services.

5. What kind of customer support does FBA Prep Logistics offer?

At FBA Prep Logistics, our dedicated customer support team is always available to answer your questions, address concerns, and provide valuable insights. We believe in a seamless partnership with our clients and offer value-added services like real-time inventory tracking and customized reporting to guarantee your satisfaction.