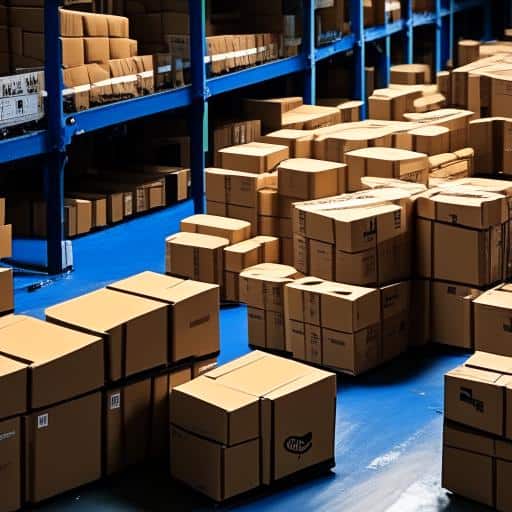 Everything You Need to Know About FBA 3PL Services
1. Introduction to FBA 3PL Services
As an e-commerce business owner, especially if you're new to the world of supply chain management, you may have come across the term FBA 3PL. But what does it really mean, and more importantly, how can it benefit your e-commerce business? Let's dive into the world of FBA 3PL services and discover how they can greatly benefit e-commerce businesses looking to streamline their supply chain management processes.
1.1 What are FBA 3PL Services
FBA stands for Fulfillment by Amazon, which is a service provided by Amazon that takes care of storage, packaging, and shipping of your products to customers. 3PL, on the other hand, stands for Third-Party Logistics. Essentially, a 3PL provider specializes in managing the entire supply chain processes, from warehouse management and order fulfillment to transportation and delivery.
By combining these two concepts, FBA 3PL provides comprehensive supply chain management services specifically tailored for e-commerce businesses selling on Amazon. This means that by partnering with a reliable FBA 3PL warehouse like FBA Prep Logistics, you not only optimize your order fulfillment process but also ensure smooth integration with Amazon's FBA system.
1.2 Benefits of FBA 3PL Services for E-commerce Businesses
Managing an e-commerce business involves many intricate processes, and it can be overwhelming to handle everything on your own. By outsourcing key operations like storage, order fulfillment, and shipping to an FBA 3PL provider, you can:
Save Time and Resources: Focus on core business operations such as marketing, product development, and customer service while your FBA 3PL provider handles the complex supply chain processes.
Improve Efficiency: A good FBA 3PL provider knows the ins and outs of Amazon's FBA system, ensuring smooth integration and efficient operations to minimize errors and delays.
Scale Your Business: With the support of a reliable FBA 3PL provider, you can easily expand your business and reach new markets without worrying about logistics and warehouse capacity constraints.
Optimize Cost Management: By outsourcing logistics to FBA 3PL providers, e-commerce businesses can avoid fixed costs associated with operating their own warehouses, while also benefiting from the economies of scale provided by the 3PL provider.
Now that you have a basic understanding of FBA 3PL services, it's time to explore the importance of selecting the right 3PL provider and how FBA Prep Logistics can be the ideal choice for your e-commerce business. Check out the Efficient PA Order Fulfillment Services for Your E-commerce Store to learn more about our various offerings.
2. The Importance of Selecting the Right 3PL Provider: FBA Prep Logistics
In today's competitive e-commerce landscape, choosing the right FBA 3PL provider is essential for ensuring efficiency, scalability, and overall success. If you're new to supply chain management and looking for your first 3PL partner, you'll want to partner with a provider that understands Amazon's unique requirements while offering exceptional customer service. That's where FBA Prep Logistics comes in.
2.1 Why Choosing the Right 3PL Provider Matters
Selecting the right 3PL provider is key to boosting your business's bottom line and growth potential. Here's why:
Efficiency: A reliable 3PL provider will streamline your supply chain management process, saving you time, money, and effort so that you can focus on marketing and selling your products.

Scalability: As your e-commerce business grows and expands into new markets, you'll need a 3PL provider capable of scaling their services to match your increasing demands.

Expertise: Every e-commerce platform has its unique requirements and regulations. By choosing a 3PL provider with expertise in Amazon's FBA system, you'll avoid costly mistakes and ensure that your products are compliant with Amazon's guidelines.
2.2 What Sets FBA Prep Logistics Apart
FBA Prep Logistics is dedicated to helping e-commerce businesses succeed by providing top-notch 3PL services tailored to Amazon sellers. Here's what makes us the perfect partner for your e-commerce business:
Deep Knowledge of Amazon Requirements: Our team is well-versed in Amazon's FBA system, ensuring that your products comply with their guidelines and standard operating procedures. This reduces the risk of errors that could lead to shipment delays, penalties, or even account suspension.

Customer-Centric Approach: At FBA Prep Logistics, we understand that each e-commerce business is unique. That's why we offer personalized services to meet your specific needs and requirements. Our friendly and knowledgeable team is always available to answer your questions, provide guidance, and help you overcome any challenges or issues that may arise.

Flexible Solutions: Our 3PL services are scalable and adaptable, making it easy to adjust your operations as your e-commerce business grows and evolves. From simple labeling tasks to complex kitting projects, we can handle it all without breaking a sweat.
2.3 How FBA Prep Logistics Benefits Your Business
When you choose FBA Prep Logistics as your 3PL provider, you're joining forces with a team of seasoned professionals who understand what it takes to achieve success on Amazon. Our experience and dedication translate into tangible benefits for your e-commerce business, including:
Lower Operating Costs: By outsourcing your fulfillment and logistics operations to FBA Prep Logistics, your business can mitigate expenses such as warehouse rent, personnel salaries, and costly equipment maintenance. Plus, our volume discounts on shipping can help reduce your shipping costs.

Reduced Complexity: Navigating Amazon's ever-changing requirements and rules can be a daunting task for sellers. Our team stays current on Amazon's policies, meaning you can depend on us to manage these complexities and ensure your products remain compliant at all times.

Greater Focus on Core Competencies: By entrusting your supply chain management to FBA Prep Logistics, you free up time and resources, allowing you to focus on growing your business and developing new strategies for marketing and sales.
In conclusion, selecting the right 3PL provider is crucial to your e-commerce success on Amazon. FBA Prep Logistics, with its expert knowledge, personalized services, and strategic location, ensures that your supply chain management process is smooth and efficient. Partnering with us will not only save you time and money but also guarantee compliance with Amazon's regulations, enabling your business to thrive in the competitive e-commerce landscape.
"## FBA Prep Logistics: Services Offered
As a reliable and reputable FBA 3PL provider, FBA Prep Logistics offers a comprehensive suite of services to support e-commerce businesses in their operations and supply chain management. Our main objective is to help you save time, money, and resources while reducing the likelihood of errors and delays in your Amazon selling journey. In this section, we will delve into the specific services that we provide, explaining how each one contributes to the efficient running of your e-commerce store.
Receiving
Firstly, our FBA 3PL services begin with receiving your products at our Bristol, PA-based facility. Upon arrival, our experienced warehouse team meticulously counts and checks each item in order to ensure accurate inventory management, as well as maintaining a strict record of all incoming shipments. For you to get the most out of your partnership with us, we require that some information—including a packing list, purchase order, or Bill of Lading—be provided in advance, allowing us to process your inventory in a timely and organized manner.
Quality Control
At FBA Prep Logistics, we take quality assurance very seriously. Our quality control processes involve inspecting your products to ensure that they meet both your standards and Amazon's strict guidelines for FBA sellers. This includes checking for damage, measuring dimensions and weight, and verifying SKUs. Our thorough quality control process is designed to prevent any issues that may arise from damaged or non-compliant products so that you can avoid returns, negative reviews, and potential account suspensions.
Labeling
Proper labeling is essential not only for efficient inventory management within our warehouse but also for smooth and accurate processing in Amazon's FBA warehouses. FBA Prep Logistics provides comprehensive labeling services, adhering to Amazon's strict labeling requirements, including FNSKU barcodes, expiration dates where applicable, and any additional labeling mandated by Amazon's guidelines.
Packaging
To protect your inventory during transit and storage, we offer top-notch packaging services tailored to each product type. Using quality packing materials such as boxes, poly bags, and bubble wrap, our team ensures that your items are adequately protected, while also complying with both Amazon's and your specific packaging guidelines. Our experience in e-commerce logistics allows us to know what works best when it comes to ensuring the safety and compliance of your products while minimizing storage and weight fees on Amazon.
Kitting
For those e-commerce businesses that require kitting services, FBA Prep Logistics has you covered. Our team efficiently assembles product sets or bundles prior to shipping, combining individual products into a single, cohesive unit. Kitting services are particularly beneficial for increasing sales, decreasing packaging costs, and simplifying order processing when offering multi-packs or exclusive bundles within your online store.
Shipping
In addition to helping you manage your inventory, FBA Prep Logistics takes care of your shipping needs as well. Whether it be direct-to-consumer orders or shipments to Amazon's fulfillment centers, we strategically schedule and optimize the logistics process to guarantee the fastest, most cost-effective delivery of your products. Our understanding of Amazon's specific processes and guidelines for inbound shipments, partnered with our continued commitment to excellence in supply chain management, ensures that your products reach their intended destination swiftly, and in sellable condition.
Dedicated Support
FBA Prep Logistics goes beyond the tangible aspects of managing your inventory and shipments by providing personalized support for our clients. Our dedicated team of experts is just a call or email away, ready to help with any questions or problems you may have regarding our 3PL services or your Amazon business in general. We pride ourselves on maintaining a high level of customer satisfaction and service, ensuring that not only are your logistical needs met but also fostering a strong partnership focused on your e-commerce business's growth and success.
In conclusion, FBA Prep Logistics offers a full suite of services to cater to any online seller's supply chain management needs. With our support, you can focus on growing your business, while we take care of the day-to-day logistics that make it all possible. To learn more about how we can make a positive impact on your e-commerce operations, please feel free to reach out to our team, or check out our resources such as our Ultimate Guide to E-commerce Logistics on the East Coast for more helpful information regarding the industry."
4. How FBA Prep Logistics Ensures Seamless Integration with Amazon's FBA System
For e-commerce businesses, the power of Amazon cannot be underestimated. With millions of consumers from around the world using this platform every day, it is the go-to place for online retailers to showcase their products. However, to truly maximize the potential of this e-commerce giant, you need a FBA 3PL partner that understands Amazon's policies, processes, and requirements. FBA Prep Logistics is your ideal partner, ensuring seamless integration with Amazon's FBA system.
In this section, we will demonstrate how FBA Prep Logistics can integrate our services efficiently with Amazon's FBA system, taking the burden off your shoulders and letting you focus on growing your business. Let's dive right in!
4.1. Knowledge of Amazon's Requirements
At FBA Prep Logistics, we pride ourselves on our deep understanding of Amazon's requirements and policies. We know what Amazon expects from sellers, and we customize our services accordingly. By adhering to Amazon's rules, we make sure that your products are properly prepared and packaged to be stored, picked, packed, and shipped according to Amazon's standards. This both prevents costly errors and ensures that your business always stays compliant with Amazon's policies.
4.2. Complete FBA Prep Services
Our comprehensive range of FBA 3PL services is designed to cater to all aspects of Amazon FBA management. This means when you partner with us, you no longer have to worry about the minutiae of FBA requirements. From receiving, inspection, labeling, repackaging to kitting and shipping, FBA Prep Logistics takes care of it all. We even provide storage services for any overstock or high-volume inventory that you may have.
4.3. Efficient and Timely Shipments
Our location in Bristol, PA offers a strategic advantage for shipments to Amazon's fulfillment centers on the East Coast. With FBA Prep Logistics' quick and efficient shipping services, we ensure that your products reach Amazon FBA centers on time, every time. This allows you to maintain a consistent stock level on Amazon and prevent stockouts, resulting in increased sales and a better customer experience.
4.4. Reliable Inventory Management
FBA Prep Logistics employs advanced inventory management systems to provide you with greater visibility and control over your inventory. Our systems are designed to work seamlessly with Amazon's FBA platform, providing real-time updates on stock levels and fluctuations. With our help, you can reduce the risk of inventory-related issues, such as stockouts, overstocking or delays, while optimizing your supply chain for maximum efficiency.
4.5. Expert Consultation and Support
As an experienced FBA 3PL partner, we do not stop at offering top-notch logistical services. FBA Prep Logistics also serves as a consultant for your business, helping you navigate the complex world of Amazon. Our team of experts is always ready to provide answers to your questions, offer guidance in strategically setting up your Amazon FBA business, and implement best practices for optimizing your sales and customer satisfaction.
4.6. Continuous Improvement and Adaptability
Please don't be mistaken, the world of e-commerce is ever-evolving. So staying up to date with Amazon's changing policies, requirements, and new features is crucial to maintaining a competitive edge. At FBA Prep Logistics, we are committed to staying ahead of the curve and continuously improving our FBA 3PL services to meet the demands of this dynamic marketplace. Now consider us as your strategic partner in this journey, offering insights, innovation, and proactive support.
To sum up, FBA Prep Logistics' comprehensive and adaptable range of 3PL services ensures seamless integration with Amazon's FBA system. From expert knowledge of Amazon's requirements to delivering timely shipments and providing ongoing support and guidance, we make it possible for your e-commerce business to focus on what matters most: growing and expanding your online presence. Partner with FBA Prep Logistics and benefit from a worry-free, efficient, and successful Amazon selling experience.
Getting Started with FBA Prep Logistics: The Onboarding Process
If you've made the wise decision to partner with FBA Prep Logistics, you're probably eager to get started and experience the multitude of benefits that our FBA 3PL services offer to your e-commerce business. Here, we'll walk you through the straightforward and user-friendly onboarding process for new clients interested in our 3PL services.
Step 1: Reach Out to Our Team
To kickstart the process, simply contact our team of knowledgeable professionals. We understand that you may have questions or concerns about our services and operations, so feel free to ask away! We're here to provide you with all the necessary information you need to feel confident in our abilities and expertise.
Step 2: Discuss Your Business Needs
Every e-commerce business is unique, and we want to ensure that our services are tailored to best suit your specific needs. During our initial conversation, we'll discuss your business goals, product types, sales channels (such as Amazon), and existing supply chain processes. This step is crucial, as it helps us understand your operations in detail and allows us to craft a personalized 3PL strategy for your success.
Step 3: Review Our Proposal and Service Agreement
Once we have a clear understanding of your e-commerce business, we'll provide you with a detailed proposal outlining the FBA 3PL services that we believe will serve you best. This proposal will include pricing, service specifics, and any additional requirements. Once you've reviewed the proposal and reached an agreement, we'll provide a service agreement to put our partnership in writing.
Step 4: Account Setup and Integration
With the service agreement in place, our team will help you set up your account in our proprietary system. During this phase, we'll also assist you in integrating your sales channels (such as Amazon) with our platform. This integration ensures that your inventory, order processing, shipping, and other crucial data are seamlessly synced between our systems.
Step 5: Receive and Review Inventory
As your FBA 3PL partner, we'll take care of your inventory management. Once we receive your inventory at our warehouse, we will thoroughly inspect and catalog it. Our meticulous quality control process ensures that your inventory is accurately accounted for and that any discrepancies or issues are addressed promptly.
Step 6: Ongoing Support and Communication
At FBA Prep Logistics, we don't believe in leaving our clients in the dark. Throughout our partnership, you can expect frequent communication and updates on your inventory, order fulfillment, and overall progress. Our dedicated account managers are available to answer any questions or address concerns you may have along the way, ensuring your e-commerce business runs smoothly and efficiently.
In conclusion, starting your journey with FBA Prep Logistics is an easy and streamlined process. From the initial contact to the ongoing support and communication, our team will be with you every step of the way. By choosing FBA Prep Logistics as your FBA 3PL provider, you're not just choosing a service – you're choosing a partner dedicated to helping your e-commerce business succeed on Amazon and beyond.
Everything You Need to Know About FBA 3PL Services
Frequently Asked Questions
What is a 3PL service and why is it important for my e-commerce business?

A 3PL (Third-Party Logistics) service is a company that offers a range of supply chain management solutions, including receiving, storing, packing, and shipping products on behalf of e-commerce businesses. By outsourcing your logistics operations to a 3PL provider like FBA Prep Logistics, your e-commerce business can save time, money, and resources while ensuring a smooth and efficient supply chain.

Why should I choose FBA Prep Logistics over other 3PL providers?

FBA Prep Logistics is a professional 3PL provider with an in-depth understanding of Amazon's FBA requirements and a strong focus on customer service. Our dedicated team has the know-how and the experience necessary to provide top-notch services to e-commerce businesses, ensuring seamless integration with Amazon's FBA system and helping you grow your business to new heights.

What services does FBA Prep Logistics offer?

Our comprehensive 3PL services include receiving, quality control, labeling, packaging, kitting, and shipping. By outsourcing these tasks to FBA Prep Logistics, e-commerce businesses can focus their time and resources on other aspects of their operations, such as marketing and product development, without the need to worry about logistics.

How does FBA Prep Logistics ensure seamless integration with Amazon's FBA system?

Our knowledgeable team at FBA Prep Logistics continuously stays up-to-date on the latest Amazon FBA policies, requirements, and processes. This allows us to expertly tailor our 3PL services to fully comply with Amazon's guidelines, thereby ensuring a smooth and hassle-free experience for our clients.

What is the onboarding process for FBA Prep Logistics?

Getting started with FBA Prep Logistics is simple and straightforward. We guide you through every step of the process to ensure a seamless transition. Our team provides personalized support and answers any questions you may have along the way, making the onboarding process efficient and stress-free.
Conclusion
In conclusion, FBA Prep Logistics is the ultimate 3PL provider for e-commerce businesses looking to optimize their supply chain management and succeed on Amazon and beyond. With our innovative solutions, unparalleled expertise, and commitment to customer satisfaction, we are the ideal choice for your business.