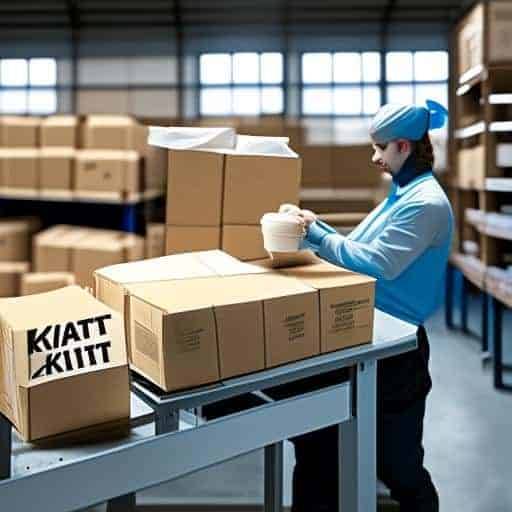 Introduction to 3PL Kitting
Welcome to the world of 3PL kitting, a game-changing service that could be just what your fledgling Amazon business needs to soar to new heights. As a digital marketing assistant at FBA Prep Logistics, I'm excited to show you how our Bristol, PA-based warehouse can help transform your e-commerce operations by taking charge of your kitting needs. But first, let's learn a bit about 3PL kitting and why it matters.
What is 3PL Kitting?
3PL kitting refers to the process of outsourcing the assembly and packaging of individual items into ready-to-ship bundles or kits. In other words, a third-party logistics provider (i.e., us at FBA Prep Logistics) arranges multiple products into a single package, which can then be shipped to customers more efficiently.
Benefits of 3PL Kitting for Amazon Sellers
If you're new to supply chain management, you're probably wondering what all the fuss is about. Why should you, an Amazon seller, care about 3PL kitting? Well, here are a few reasons you should consider it:
Reduced shipping and handling costs
Improved customer experience
Streamlined inventory management
Enhanced product presentation
If you're nodding your head in agreement, then keep reading, as we delve into how FBA Prep Logistics can take your Amazon business to the next level with our top-notch 3PL kitting services.
Enjoy the Ride with FBA Prep Logistics
Finding the right 3PL provider can be tricky, especially if you've never worked with one before. Lucky for you, I'm here to make the decision easier! In this article, I'll detail how FBA Prep Logistics can make all the difference in your e-commerce business, covering key topics like:
Streamlined Inventory Management
Time and Cost Savings
Flexibility and Scalability
Enhanced Customer Experience and Reduced Returns
Strong Focus on Amazon Compliance
Ready to get started? Let's dive into the ways FBA Prep Logistics can help you reach newfound success on Amazon through our exceptional 3pl kitting services.
II. Streamlined Inventory Management
As a growing Amazon business, managing your inventory can quickly become a complicated and time-consuming task. This is where outsourcing your 3PL kitting to FBA Prep Logistics makes a significant difference, by simplifying your inventory management and allowing you to focus on other crucial aspects of your business. In this section, we'll dive into the many benefits of streamlined inventory management through FBA Prep Logistics' highly efficient 3PL kitting services.
A. Centralized Inventory Control
FBA Prep Logistics enables you to centralize your inventory management through our state-of-the-art warehouse facilities in Bristol, PA. By consolidating all your inventory in one location, you can easily keep track of your stock levels and reorder quantities as needed. This comprehensive view of your inventory ensures you can manage and fulfill orders more effectively, ultimately resulting in faster response times for your customers.
B. Improved Accuracy
Our 3PL kitting services involve a thorough inventory management process, meticulously tracking and sorting products before bundling them together. This efficient system significantly reduces errors, leading to a more accurate inventory count and improved customer satisfaction. Our proficiency in handling different types of products guarantees your customers always receive precisely what they ordered, thereby building trust and brand loyalty.
C. Automation Integration
FBA Prep Logistics leverages advanced automation technology to streamline and optimize inventory management. From order processing to shipping, our highly skilled team effectively uses automation tools to eliminate manual tasks, minimize errors, and improve overall efficiency. Additionally, we provide seamless integration with several e-commerce platforms, like Shopify [(/2153/simplify-inventory-tracking-on-shopify/)], making it easier than ever to manage your inventory from a single dashboard.
D. Real-time Inventory Updates
Keeping track of your stock levels is essential for any Amazon seller, and FBA Prep Logistics helps you do just that! By integrating with your e-commerce platform, we provide real-time inventory updates directly to your dashboard. This allows you to make informed decisions about inventory replenishment and sales forecasting, ensuring you never run out of stock or waste precious resources on products with low demand.
E. Reduced Complexity
Outsourcing 3PL kitting to FBA Prep Logistics significantly reduces the complexities surrounding inventory management. Our trained professionals are well-equipped to handle all aspects of kitting, from assembly to packaging, so you only need to focus on your core business activities. Leave the inventory challenges to us and see your business soar!
F. More Time and Resources for Growth
Streamlined inventory management via FBA Prep Logistics' 3PL kitting services means you can allocate more time and resources toward growing your Amazon business. Instead of juggling inventory and kitting tasks, you can now concentrate on product sourcing, marketing, and customer service, providing value-added services that will set you apart from your competition.
G. Efficient Order Fulfillment
With FBA Prep Logistics handling the complexities of 3PL kitting, your order fulfillment process becomes far more efficient. We ensure all products are securely packaged before shipment, significantly reducing the risk of damage during transit. This ultimately translates into faster delivery times for your Amazon customers [(/2195/efficient-pa-order-fulfillment-services-for-your-e-commerce-store-3/)], who are sure to appreciate the swift service and quality packaging.
H. Enhanced Reporting and Data Analysis
Lastly, by outsourcing 3PL kitting to FBA Prep Logistics, you gain access to extensive reporting tools and critical performance metrics. Understanding your inventory data will enable you to make informed business decisions, optimize your supply chain, and continuously improve your operations.
In conclusion, streamlined inventory management through 3PL kitting is key to unlocking success in the world of Amazon e-commerce. Outsourcing this crucial task to a reliable provider like FBA Prep Logistics empowers your business with the tools and resources needed for growth, allowing you to focus on what matters most: meeting the needs and expectations of your customers. By partnering with FBA Prep Logistics, you can ensure your inventory management is in professional hands, placing your Amazon business on the path to success.
III. Time and Cost Savings with 3PL Kitting Services by FBA Prep Logistics
One of the primary reasons businesses seeking growth choose FBA Prep Logistics as their 3PL kitting partner is because we save you both time and money. We understand that efficiency is a critical component of your e-commerce success, and our 3PL kitting services are designed to deliver tangible benefits that enhance your bottom line.
A. Optimized Kitting Processes
At FBA Prep Logistics, our experts have years of experience in managing the kitting process for an array of e-commerce businesses. We have streamlined our operations to ensure we consistently deliver high-quality, efficient kitting services that translate to faster order turnaround times for your customers.
We continuously invest in training, process improvements, and technology upgrades to stay updated with industry best practices and enhance our kitting services' efficiency. Partnering with us allows you to leverage our expertise, leading to a smoother kitting process and more satisfied customers.
B. Consolidated Shipments and Reduced Shipping Costs
By outsourcing your 3pl kitting needs to FBA Prep Logistics, your e-commerce business benefits from the ability to consolidate shipments more efficiently. We help you reduce both shipping complexity and costs by bundling multiple products together into a single package, which can be shipped at a lower overall rate due to economies of scale.
This leads to not only cost savings but improved customer experience as well. Your customers will appreciate receiving fewer boxes, less packing material waste, and quicker order deliveries.
C. Lower Labor Expenses
Running an in-house kitting operation can be cost-prohibitive, especially for small to medium-sized e-commerce businesses. Delegating kitting tasks to FBA Prep Logistics significantly reduces labor expenses, as you no longer need to hire, train, and manage an internal kitting team.
Our experienced kitting professionals handle everything, allowing you to allocate valuable labor resources to other functions that contribute to your business's growth, like marketing and product development.
D. Reduced Warehousing Costs
Storing individual products and components requires ample warehouse space, which can be quite costly for businesses. Hiring FBA Prep Logistics as your 3PL kitting provider helps you minimize warehousing costs, as we effectively manage your inventory and efficiently utilize our warehousing facilities.
We follow a space optimization approach while storing and bundling products, which helps you keep warehousing expenses to a minimum and supports more effective inventory management.
E. Minimized Shipping Errors
FBA Prep Logistics takes great pride in our commitment to accuracy and quality. Our team is thoroughly trained in ensuring that each product is kitted precisely according to your specifications, greatly reducing the chance of shipping errors.
By minimizing shipping errors, we help you avoid costly order returns and dissatisfied customers, ultimately saving both time and money while bolstering your reputation in the marketplace.
F. Turnaround Time for New Product Launches
When it comes to launching new products on Amazon, time-to-market is crucial. Our kitting professionals can efficiently kit and package your new products to get them listed and shipped quickly. Outsourcing the kitting process to experts significantly reduces turnaround time for new product launches, empowering your e-commerce business to stay agile and competitive in a fast-paced industry.
G. Leveraging Industry Knowledge to Save Time and Money
FBA Prep Logistics has developed industry-specific knowledge and insights through our experience supporting numerous Amazon sellers. We're able to apply this expertise to improve every aspect of the kitting process, from cost-effective packaging selection to compliance with Amazon's rules and regulations.
By outsourcing kitting to FBA Prep Logistics, you're not only gaining access to the immediate time and cost savings advantages, but also positioning your business to thrive within the e-commerce ecosystem well into the future.
In conclusion, FBA Prep Logistics' 3PL kitting services offer a transformative approach to shipping and order fulfillment. Our dedication to efficiency, accuracy, and cost reduction enables your e-commerce business to maximize profitability and growth within the competitive Amazon marketplace. When you choose FBA Prep Logistics for your 3PL kitting needs, you're investing in a partnership that will ultimately empower the success of your e-commerce venture.
IV. Flexibility and Scalability with FBA Prep Logistics' 3PL Kitting Services
Adaptable Kitting Solutions for Seasonal Fluctuations
When it comes to the e-commerce business, seasonality plays a significant role in demand. With FBA Prep Logistics' 3PL kitting services, you can easily adapt to seasonal fluctuations, such as holiday seasons or special sales events. For instance, during the Christmas season, you may choose to bundle certain items as gift sets. With our flexible approach and experienced staff, we're prepared to handle any new kitting requirements – making it a stress-free experience for Amazon sellers.
Accommodating Unexpected Surges in Demand
In the ever-changing e-commerce landscape, an unexpected surge in demand could happen at any time. FBA Prep Logistics can scale its kitting services to cater to these unforeseen situations. This means that even during peak sales periods, we have the resources and processes in place to ensure your orders are fulfilled quickly and efficiently, keeping your customers happy.
Customized Kitting Solutions
At FBA Prep Logistics, we understand that every e-commerce business is unique, and so are their kitting requirements. We offer customized kitting solutions that cater specifically to your individual needs, ensuring optimal efficiency and customer satisfaction.
Expanding Your Product Offerings with Ease
Introducing new products or bundles may seem daunting, but with our 3PL kitting services, the process becomes seamless. Our team will collaborate with you to determine the best kitting solution for your new products or promotional bundles. This allows you to expand your product line without worrying about the logistics of kitting, fulfillment, or shipping these new items.
Scaling as Your Business Grows
As your e-commerce business grows, so too will your kitting needs. FBA Prep Logistics is capable of scaling its 3PL kitting services to accommodate your company's growth, providing an easily expandable solution that grows with your business.
Outsourcing to Save on In-house Resources
Outsourcing your 3PL kitting to FBA Prep Logistics not only saves you time and money but also allows you to direct your in-house resources more effectively. Instead of having your team dedicated to managing kitting, they can focus on other crucial aspects of your business that will help you grow even further.
Expert Knowledge in Kitting Best Practices
With extensive experience in providing kitting services, FBA Prep Logistics is well-equipped to recommend the best kitting strategies for your business. Whether it's suggesting alternate packaging that might better suit your products or advising on optimal kitting combinations for sales promotions, our team continually stays up-to-date with industry trends and best practices.
Building Long-term Partnerships for Business Success
At FBA Prep Logistics, we're committed to building long-term partnerships with our clients. By understanding your long-term business goals, we can tailor our 3PL kitting services to help you achieve those objectives. As your trusted partner, we'll constantly evolve to remain competitive and responsive to your needs.
Access to Advanced Technology and Equipment
One of the essential advantages of partnering with FBA Prep Logistics as your 3PL kitting provider is having access to advanced technology and equipment. Our sophisticated warehouse management system ensures your kitted products are correctly assembled, packaged, and shipped, reducing the risk of mistakes and ensuring your customers receive their orders precisely as expected.
Increased Speed to Market
Launching, bundling, or reconfiguring your products becomes a quicker and more efficient process with FBA Prep Logistics' 3PL kitting services. We quickly implement new kitting strategies, enabling you to meet tight deadlines and respond rapidly to market demands.
In conclusion, partnering with FBA Prep Logistics for your 3PL kitting needs allows you not only to optimize your operation but also to be more agile in adapting to changes in market dynamics. Our flexible, scalable, and cost-effective solutions place you ahead of the competition. So why wait? Choose FBA Prep Logistics as your 3PL kitting partner and unleash your e-commerce business' full potential.
V. Enhanced Customer Experience and Reduced Returns
1. Professional, High-Quality Packaging with 3PL Kitting
At FBA Prep Logistics, we take pride in our expertise in providing professional, high-quality packaging for your products. Ensuring that your product is well-packaged not only demonstrates your commitment to delivering the best possible experience to your customers but also helps protect your products during transit. Our dedicated team has years of experience in handling various types of products, assuring you that your items are in safe hands.
2. Attention to Detail Matters
We understand that attention to detail matters when it comes to kitting services. Our warehouse staff is trained to follow precise instructions in assembling and packaging your products, guaranteeing a consistent and polished output. This level of detail signals to your customers that your brand can be trusted, leading to higher customer satisfaction and loyalty. The Ultimate Guide to E-commerce Logistics in East Coast can give you further insight into the importance of attention to detail in packaging and logistics.
3. Fewer Returns
High-quality 3pl kitting ensures that your products reach your customers without any issues and in pristine condition. This significantly reduces the likelihood of returns due to damage or dissatisfaction with the packaging. Fewer returns mean happier customers, positive reviews, and less hassle for your business overall.
4. Boosting Positive Feedback and Conversion Rates
A well-kitted product encourages positive feedback from customers. Consumers appreciate businesses that go the extra mile to ensure their products are carefully packaged and arrive safely. This customer satisfaction directly contributes to an increase in repeat purchases and positive reviews, resulting in an increase in your conversion rates.
5. Customizable Packaging Options
With FBA Prep Logistics, you can choose from various packaging options to suit your brand's identity and preferences. Whether you need simple and cost-effective solutions or more elaborate, premium packaging, we can accommodate your requirements. By doing so, your product packaging will align with your brand image and make a lasting impression on your customers.
6. Inventory Monitoring and Real-Time Updates
Working with FBA Prep Logistics, business owners can easily monitor inventory levels for each kit component in real-time. By providing seamless access to such data, we allow you to make informed decisions and manage your stock levels efficiently, reducing the likelihood of stockouts and returns due to unavailable items.
7. Proactive Inventory Control
We understand that adequate stock levels are crucial for any e-commerce business, so our team actively manages your inventory levels and alerts you when they fall below a predetermined threshold. This proactive approach ensures that your products are always available for purchase and that returns related to stockouts are minimized.
8. Addressing Customer Needs Through Personalization
At FBA Prep Logistics, we recognize the increasing demand for personalized products from today's consumers. Our kitting services can be tailored to offer personalized items to your customers, which can boost their satisfaction and create a positive shopping experience that keeps them coming back.
9. Enhanced Unboxing Experience
An impressive unboxing experience can leave a lasting impression on your customers. By outsourcing your 3pl kitting to FBA Prep Logistics, you'll benefit from our attention to detail and attractive, branded packaging that delights your customers as they open their orders. This results in word-of-mouth referrals and social media mentions, attracting more potential customers to your brand.
VI. Conclusion: Improved Customer Experience and Reduced Returns with FBA Prep Logistics
Opting for FBA Prep Logistics' 3pl kitting services guarantees a superior customer experience and reduces returns for your Amazon business. Leveraging professional, high-quality packaging, customizable options, inventory control, and attention to detail, we ensure that your products arrive at your customers' doorsteps in perfect condition. By partnering with us, your Amazon business will benefit from enhanced customer satisfaction, higher conversion rates, and positive reviews, ultimately leading to long-term growth and success in the competitive e-commerce industry.
Frequently Asked Questions
Q: How does 3PL kitting with FBA Prep Logistics benefit my Amazon business?
A: FBA Prep Logistics offers streamlined inventory management, time and cost savings, flexibility, enhanced customer experience, and strict adherence to Amazon compliance, ensuring your business runs smoothly on the Amazon platform.
Q: Can FBA Prep Logistics help reduce my shipping costs and delivery times?
A: Absolutely! By efficiently managing kitting services, FBA Prep Logistics reduces shipping costs and ensures faster order turnaround times for your customers.
Q: Is FBA Prep Logistics able to accommodate fluctuations in demand for my products?
A: FBA Prep Logistics is designed for flexibility and scalability, allowing us to adapt our kitting services to your business's changing needs, whether seasonal or due to sudden growth.
Q: How can I be sure FBA Prep Logistics will provide high-quality kitting and packaging?
A: Our team of experts ensures professional, high-quality kitting and packaging, leading to fewer returns and increased positive feedback from your Amazon customers.
Q: Will FBA Prep Logistics maintain compliance with Amazon's guidelines?
A: Yes, we have deep familiarity with Amazon's guidelines and adhere to them strictly, ensuring your products are listed and shipped correctly, avoiding costly mistakes.