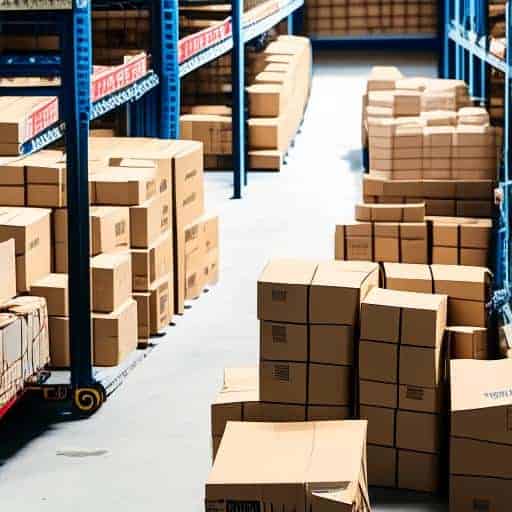 Maximize Your E-Commerce Profits with California FBA Prep Services
1. Introduction to FBA Prep and California's Role in E-Commerce
E-commerce has revolutionized the way businesses operate, and Fulfillment by Amazon (FBA) is a key factor contributing to this transformation. FBA enables online merchants to store their products in Amazon's warehouses, from where they are packaged, shipped, and managed by Amazon. As a result, sellers benefit from a streamlined process, allowing them to focus more on expanding their product range, building their brands, and elevating their presence in the market.
California plays an instrumental part in the e-commerce landscape. With its vast consumer base, being closer to the population center of the United States, and its proximity to major ports like Los Angeles and Long Beach, California is a hub for successful online businesses. Opting for California FBA Prep services can immensely boost your e-commerce endeavors by improving efficiency, enhancing quality control, and increasing customer satisfaction.
1.1 Brief Explanation of FBA (Fulfillment by Amazon) and Why It's Essential for E-Commerce Businesses
Fulfllment by Amazon, or FBA, is a service that enables sellers to leverage Amazon's extensive network of distribution centers and expertise in fulfillment. By outsourcing storage, packaging, and shipping responsibilities to Amazon, businesses can focus their efforts on other aspects of growth, such as marketing and product development. With FBA, sellers also gain access to Amazon's Prime program, which offers two-day shipping, thereby increasing their products' visibility and encouraging more sales. In essence, FBA plays a pivotal role in lowering operational costs and maximizing profits.
1.2 The Importance of California as a Strategic Location for E-Commerce Due to its Vast Consumer Market and Proximity to Major Ports
California is not only the most populous state in the U.S., but it also has one of the largest economies, making it an ideal market for e-commerce businesses. The strategic location of California, with its proximity to major ports such as Los Angeles and Long Beach, facilitates quicker shipments and access to global markets. Additionally, local businesses also benefit from a highly skilled workforce and a diverse customer base. Therefore, embracing California FBA Prep services can accelerate your business growth and place you ahead of your competition.
Stay tuned for more insightful information on how FBA Prep Logistics enhances your supply chain management. We'll deep dive into the benefits of partnering with us in the upcoming sections, helping you make a well-informed decision for your e-commerce business.
How FBA Prep Logistics Enhances Your Supply Chain Management
In today's highly competitive e-commerce landscape, efficient supply chain management is crucial to the success of online businesses, especially those selling on Amazon. As a vital part of the supply chain, the role of a 3PL warehouse cannot be overstated. In this section, we'll unpack how FBA Prep Logistics, as a trusted 3PL partner, enhances your supply chain management by streamlining operations and offering top-notch California FBA Prep services.
The Role of a 3PL Warehouse in Streamlining the Supply Chain Process
A 3PL warehouse plays a significant part in optimizing the supply chain process for e-commerce businesses by handling all storage, packaging, and shipping needs on their behalf. By outsourcing these operations to FBA Prep Logistics, e-commerce businesses, like yours, can focus on core business activities, such as product research, sourcing, marketing, and customer service. Below are a few benefits that a 3PL warehouse offers:
Reduced Operational Costs: A 3PL warehouse helps businesses save on the costs of leasing or purchasing storage space, hiring staff to handle inventory, and investing in transportation and warehouse technology.
Efficient Order Fulfillment: With a 3PL by your side, you can ensure orders are promptly and accurately processed, allowing swift delivery of products to customers in California and beyond.
Better Inventory Management: 3PLs provide real-time inventory tracking and reporting, thereby allowing better control and visibility of stock levels, which ultimately enhances customer satisfaction and brand credibility.
Scalability: Outsourcing logistics management to a 3PL enables businesses to scale their operations more smoothly, especially during seasonal peaks or when expanding into new markets.
Benefits of Choosing FBA Prep Logistics as Your 3PL Partner for California FBA Prep Services
Partnering with FBA Prep Logistics for California FBA Prep services comes with numerous advantages that not only streamline your supply chain management but also augment your e-commerce business growth.
Expertise in Amazon FBA Requirements
FBA Prep Logistics possesses extensive knowledge about Amazon FBA requirements and the specific needs of Amazon sellers. Our team of experts ensures all preparations are made according to Amazon's stringent guidelines, including product labeling, packaging, and kitting. Thus, our California FBA Prep services minimize errors and maximize the likelihood of your products reaching Amazon's warehouses without delays or additional fees.
Advanced Warehouse Technology
At FBA Prep Logistics, we continuously invest in cutting-edge warehouse technology to guarantee the efficient handling of your inventory. Our advanced warehouse management system (WMS) guarantees accurate tracking of all incoming and outgoing inventory, ensuring your stock levels remain precise and up-to-date. This allows you to focus on your core business operations and make data-driven decisions.
Seamless Integration with E-Commerce Platforms
Our California FBA Prep services integrate seamlessly with popular e-commerce platforms, such as Shopify, making the order fulfillment process smooth and hassle-free. This synchronization helps maintain accurate and consistent data across all platforms, ensuring orders are expediently processed and shipped, resulting in satisfied customers and positive seller feedback.
Competitive Pricing
FBA Prep Logistics offers cost-effective California FBA Prep solutions that reduce your overall fulfillment costs. Our competitive pricing model derives from years of experience and deep understanding of the e-commerce landscape, providing you excellent value for your investment.
Proactive Customer Support
Our dedicated customer support team is available to help you with any questions, concerns, or issues related to your California FBA Prep services. By partnering with FBA Prep Logistics, you'll have knowledgeable and responsive professionals at your side, ready to assist and ensure smooth operations.
In conclusion, FBA Prep Logistics specializes in California FBA Prep services, offering all the necessary assistance to optimize your supply chain management and give your e-commerce business a competitive edge. By choosing us as your trusted 3PL partner, you can enjoy a suite of benefits, such as expert knowledge of Amazon FBA requirements, state-of-the-art warehouse technology, seamless integration with e-commerce platforms, competitive pricing, and proactive customer support. With FBA Prep Logistics, you'll have the advantage of an efficient and optimized supply chain, positioning your business for success in the California market and beyond.
3. Customized Solutions for Your Amazon Business
At FBA Prep Logistics, we understand that each e-commerce business has its unique set of requirements and challenges. This is why we pride ourselves in offering California FBA Prep services specifically tailored to cater to the individual needs of your Amazon business. Our customized solutions ensure a perfect fit for your company's strategy, growth, and expansion plans. Let's explore some of the personalized services we offer for a successful Amazon FBA operation in California.
3.1 Personalized FBA Prep Services
No two e-commerce businesses are the same, and neither should their FBA Prep services. That's where FBA Prep Logistics comes in. Some of our personalized California FBA Prep solutions include:
Inventory management and forecasting: By accurately tracking and managing your inventory, we help reduce stockouts and overstocks, allowing you to focus on expanding your business.
Custom labeling and packaging: We offer customized packaging solutions that meet Amazon's strict FBA requirements, ensuring that your products are always elegantly presented, protected, and FBA compliant.
Product bundling: Our team can create and assemble product bundles to help you improve your sales and ranking on Amazon.
Quality control and inspection: We conduct thorough inspections to maintain the highest level of quality for your products before they reach Amazon warehouses or your customers' hands.
3.2 Scalable Solutions for Your Business Growth
At FBA Prep Logistics, our California FBA Prep services are designed to grow with your business and adapt to ever-changing market conditions seamlessly. Some of the ways we help you scale your operations include:
Enhanced storage capacity: As your business grows, so does the need for additional storage space. We provide flexible storage options to accommodate your increasing inventory, ensuring that you always have enough room for your products.
Order processing scalability: Our advanced warehouse management system (WMS) enables us to efficiently handle an increasing volume of orders. As your order processing needs grow, we can seamlessly scale up to accommodate the additional demand.
Expansion to new marketplaces: If you're considering expanding your e-commerce presence beyond Amazon, we offer comprehensive multi-channel fulfillment services that can help you reach new customers on various platforms.
3.3 Expert Support for Amazon FBA Operations
Navigating the complex world of Amazon FBA can be a daunting task. Our team of experts at FBA Prep Logistics is well-versed in the intricacies of Amazon FBA and can help guide you through the process, from registration to advanced strategies that drive your business growth. Our support offerings for your California FBA Prep needs include:
Amazon FBA registration assistance: If you're new to Amazon FBA, our team can guide you through the registration process, ensuring that you comply with all the necessary requirements.
Advanced FBA strategies: Our experts can help you implement advanced strategies such as repricing, inventory forecasting, and product listing optimization to maximize your Amazon FBA profits.
Streamlined reverse logistics: Returns are inevitable, but our team can help you manage the process efficiently, minimizing any negative impact on your business and ensuring a smooth experience for your customers.
To sum up, our customized California FBA Prep services at FBA Prep Logistics provide a comprehensive and flexible solution for your Amazon business needs. We tailor our services to suit your specific requirements, ensuring a seamless, efficient, and profitable e-commerce operation. With our scalable solutions and expert support, your e-commerce business is set to achieve greater levels of success and growth in the competitive California market. So why wait? Partner with FBA Prep Logistics today and unlock your full potential in the world of Amazon FBA!
4. The High Standards of FBA Prep Logistics' Warehouse and Operations
As a successful e-commerce business, you wouldn't want to compromise on the quality and safety of your products. With California FBA Prep services from FBA Prep Logistics, you can trust that your products are in the best hands. Our focus on maintaining high standards of operations in our warehouse ensures your products remain safe and secure. Furthermore, we strive to create a stellar customer experience, which translates into positive reviews and increased sales for your business. Below are some aspects that set our warehouse and operations apart and make us your go-to partner for California FBA Prep services.
4.1. Advanced Technology and Infrastructure
At FBA Prep Logistics, we believe in keeping up with the latest technological advancements in the industry to provide our clients with cutting-edge services. Our warehouse in California is equipped with advanced technology systems that enhance operational efficiency, accuracy, and security. Some features include:
State-of-the-art inventory management software, enabling real-time tracking and reporting of your stock
Climate-controlled storage facilities, ensuring products sensitive to temperature remain in perfect condition
Advanced surveillance systems, protecting your investments from theft and ensuring the safety of your merchandise
These modern systems enable us to handle your California FBA Prep needs with incredible accuracy, ultimately reducing errors in order processing and fulfillment.
4.2. Strict Quality Control Measures
We understand the importance of maintaining high quality standards for your e-commerce business, particularly when selling on Amazon. In fact, Amazon's strict guidelines can lead to penalties or even suspension if not adhered to properly. At FBA Prep Logistics, we have implemented a stringent set of checks to ensure that each item we receive, package, and ship complies with Amazon's FBA guidelines and meets the highest quality standards.
Our trained staff meticulously inspect each product to ensure:
The product is free of damage and defects
Proper labeling and barcoding are in place
The packaging is compliant with Amazon's requirements
These precautionary measures help you avoid costly delays and potential penalties by ensuring your products meet Amazon's guidelines right from the start.
4.3. High Customer Satisfaction Rates
Our unwavering commitment to providing top-notch California FBA Prep services extends to our focus on exceptional customer service. We pride ourselves on maintaining high customer satisfaction rates, striving to continuously exceed our clients' expectations. Our dedicated customer support team is always available to answer any questions or address any concerns you might have regarding our California FBA Prep services.
4.4. Environmentally Friendly Practices
FBA Prep Logistics is devoted to implementing ecologically responsible practices to minimize our carbon footprint. Our warehouse uses energy-efficient lighting, and we have established recycling programs for all materials. Additionally, we utilize biodegradable packaging and shipping supplies whenever possible, further solidifying our dedication to reducing waste and promoting sustainable solutions.
4.5. Continuous Improvement and Innovation
At FBA Prep Logistics, we are never content with the status quo. We are constantly seeking innovative ways to improve our California FBA Prep services, adapting to market changes to ensure that we remain at the forefront of the industry. By partnering with us, you can be confident that our team will work tirelessly to refine our processes and enhance the efficiency in managing your inventory, packaging, and shipping operations.
In conclusion, FBA Prep Logistics is dedicated to maintaining high standards of warehouse and operational efficiency, guaranteeing that your e-commerce business remains both profitable and sustainable. Our use of advanced technology, strict quality control measures, and commitment to customer satisfaction make us the ideal partner for your California FBA Prep needs. By entrusting your supply chain management to us, you can focus on what you do best — growing your business.
Why FBA Prep Logistics is Your Ideal Partner for California FBA Prep Services
FBA Prep Logistics has established itself as a premier provider of California FBA Prep services. Joining hands with us guarantees a smooth, efficient, and streamlined supply chain process tailored to the specific needs of your e-commerce business. Our goal is simple; we are here to help you maximize your profits while minimizing operational hassles and headaches. Let's dive into the key reasons why FBA Prep Logistics is your go-to choice for an effective e-commerce venture in the California market.
5.1. Cost-Effective Solutions That Save You Money
At FBA Prep Logistics, we understand that cost is a major concern for our clients, especially for small and medium-sized e-commerce businesses. Our California FBA Prep services are designed to give you the most bang for your buck. By outsourcing your storage, packaging, and shipping needs to us, you can significantly cut down on overhead costs and operational expenses. Plus, our competitive pricing structure ensures that you receive the best possible service without breaking the bank.
5.2. Time-Saving Processes That Enable You To Focus On Growth
Time is of the essence in the fast-paced world of e-commerce. Partnering with FBA Prep Logistics frees up your valuable time by handling the time-consuming tasks of inventory management, order fulfillment, and shipping. As your trusted 3PL partner, we make it our priority to take the burden off your shoulders, allowing you to focus on core competencies and key areas that drive growth and profitability for your business.
5.3. High-Quality Services That Amplify Your Brand's Reputation
With FBA Prep Logistics on your side, you can rest assured that the quality of our California FBA Prep services is second to none. We take great pride in our exceptional attention to detail and stringent quality control processes, ensuring that your products are stored, packaged, and shipped with utmost care. Our high standards are tailored to enhance your brand's reputation and help you meet the expectations of your customers, ultimately leading to positive reviews and higher sales.
5.4. Scalability That Keeps Up With Your Expanding Business
FBA Prep Logistics understands that every e-commerce venture aims to grow and expand. That's why our California FBA Prep solutions are designed to scale with your business. As your order volume increases, we can effortlessly accommodate your growing needs through our extensive warehouse capacity, advanced technology, and dependable workforce. Trust us to support your business's evolution at every stage of its growth journey.
5.5. Reliable Customer Support That Goes Above And Beyond
At FBA Prep Logistics, we take customer satisfaction very seriously. Our dedicated customer support team is available around the clock to answer any queries or concerns you may have. We believe in fostering strong relationships with our clients, and our proactive approach helps resolve any issues before they escalate. Our exceptional customer care sets us apart from the competition and confirms our position as the perfect California FBA Prep partner for your e-commerce business.
5.6. Proven Track Record That Speaks For Itself
Our reputation precedes us. Over the years, FBA Prep Logistics has consistently delivered top-notch California FBA Prep services to countless satisfied clients. Our efficient PA order fulfillment services and Amazon reverse logistics expertise are just a couple of examples of the comprehensive offerings that have made us a trusted 3PL partner for numerous e-commerce businesses.
Don't Wait – Invest In Your Success Today!
Ready to unlock the full potential of your e-commerce business in California? Make the smart choice by partnering with FBA Prep Logistics. Our unparalleled expertise in California FBA Prep, commitment to high-quality service, and unwavering customer support make us your ideal 3PL partner. Ready to explore our range of services further? Contact our team today to find out how we can transform your e-commerce venture into a thriving success!
Frequently Asked Questions
What is FBA (Fulfillment by Amazon) and why is it essential for e-commerce businesses?

FBA (Fulfillment by Amazon) is a service provided by Amazon that handles the storage, packaging, and shipping of your products to the end customers. This means that when you sell a product on Amazon, the FBA service will pick, pack, and ship it on your behalf. Utilizing FBA services for your e-commerce business significantly reduces your workload and allows you to focus on other aspects like marketing and product growth.

What role does a 3PL warehouse play in streamlining the supply chain process?

A 3PL (third-party logistics) warehouse, like FBA Prep Logistics, streamlines your supply chain process by managing the receiving, storage, and shipping of your products. This minimizes your operational hassles and allows you to focus on other crucial aspects of your business. Our responsibility as your 3PL partner extends from handling inventory management to ensuring timely and accurate delivery of your products to customers.

What customized solutions does FBA Prep Logistics offer for Amazon e-commerce businesses?

At FBA Prep Logistics, we provide personalized FBA Prep services that cater to your specific e-commerce business needs, no matter how big or small. Our solutions are scalable and can be tailored to support your business growth and expansion. We understand the unique challenges of selling on Amazon, and our services are designed to ensure seamless integration and maximum efficiency.

What advanced technologies and infrastructure does FBA Prep Logistics use to ensure efficient and safe storage of products?

FBA Prep Logistics uses state-of-the-art technology and warehouse infrastructure to ensure the efficient and safe storage of your products. Our warehouses are equipped with advanced security systems, climate-controlled storage spaces, and organized inventory management processes that ensure the utmost care and protection of your e-commerce inventory.

What are the benefits of choosing FBA Prep Logistics as my California FBA Prep service partner?

Opting for FBA Prep Logistics as your California FBA Prep service partner offers several benefits, including cost-effectiveness, time-saving, and reliable customer support. Our customized and scalable solutions ensure seamless integration with your Amazon business, while our commitment to adhering to strict quality control measures ensures maximum customer satisfaction. Partnering with FBA Prep Logistics will enable you to focus on your business growth while we manage the complex logistics requirements efficiently.