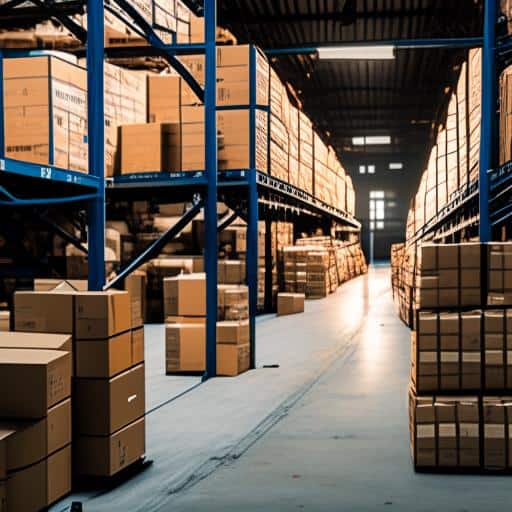 What is 3PL Amazon? Why FBA Prep Logistics is Your Go-to Solution
Introduction to 3PL Amazon Services
In the ever-evolving world of e-commerce, 3PL Amazon services have emerged as an essential component for businesses seeking to optimize their supply chain management. Third-party logistics (3PL) simply refers to the outsourcing of some or all logistics operations for a business to external organizations that specialize in those functions. For e-commerce businesses utilizing the Amazon platform, partnering with a 3PL provider tailored to meet Amazon's unique requirements can yield astounding results, such as increased sales, reduced costs, and seamless operations.
Meet FBA Prep Logistics, a top-notch 3PL warehouse located in Bristol, PA, fully committed to serving the needs of Amazon sellers. FBA Prep Logistics understands that efficient and accurate inventory management is the backbone of e-commerce businesses, which is why we offer an extensive suite of services designed to help you simplify your operations and foster long-term growth.
What Does a 3PL Amazon Service Entail?
Whether you're new to the Amazon selling ecosystem or a seasoned seller, it's important to understand the benefits of working with a dedicated 3PL Amazon provider. By outsourcing tasks such as:
Inventory management
Amazon FBA (Fulfillment by Amazon) preparation
Product storage
Order picking, packing, and shipping
Returns handling
You can focus on your core competencies, including product development, marketing, and customer support.
FBA Prep Logistics: A Trusted 3PL Amazon Partner
At FBA Prep Logistics, we go beyond the traditional scope of 3PL services by offering specialized expertise in handling the specific needs of Amazon sellers. Our understanding of Amazon's requirements and our commitment to providing smooth, compliant, and efficient processes make us your go-to solution for all your 3PL Amazon needs.
So, why partner with us?
Amazon FBA experts: Our skilled team is well-versed in Amazon FBA's intricate requirements and guidelines, ensuring that your inventory is accurately prepared, labeled, and shipped to Amazon fulfillment centers for a hassle-free selling experience.
Sophisticated technology: We utilize cutting-edge inventory management systems, providing real-time data, accurate forecasting, and inventory control, so you can make informed business decisions.
Advanced warehousing solutions: With our state-of-the-art warehouse facilities, rest assured that your inventory is stored safely and managed efficiently, avoiding common issues such as stockouts and overstocking.
Flexible & scalable: Whether you're a startup or an established e-commerce business, FBA Prep Logistics offers tailored solutions to accommodate and support your growth.
Ready to take your e-commerce business to new heights with a reliable 3PL Amazon partner? Look no further than FBA Prep Logistics. Our team of experts is here to guide you through the process, ensuring a smooth integration and seamless operations, so you can focus on growing your Amazon business.
2. Importance of Choosing the Right 3PL Partner for Amazon Sellers
When it comes to selling on Amazon, the logistics and supply chain management aspects can make or break an e-commerce business. This is why selecting a reliable and efficient 3PL partner is crucial for Amazon sellers! A seamless partnership with a professional 3PL provider like FBA Prep Logistics can significantly boost an e-commerce business, helping it efficiently manage its inventory, order fulfillment, and shipping processes.
Let's delve into the significance of choosing a trustworthy 3PL service provider, explicitly tailored to the unique needs of Amazon sellers.
2.1 Understanding the Specific Needs and Challenges of Amazon Sellers
Amazon sellers face unique challenges, especially when it comes to managing inventory, navigating Amazon's policies and requirements, and optimizing fulfillment processes. Collaborating with a 3PL partner who truly understands Amazon's ecosystem is essential for any e-commerce business looking to scale and grow.
FBA Prep Logistics takes pride in specializing in Amazon-based services and operations. Our team comprehends the distinctive needs of Amazon sellers and is dedicated to providing unparalleled solutions. Having us as your 3PL Amazon partner can make a tremendous difference in your e-commerce business's efficiency and success.
2.2 Ensuring a High-Level Customer Experience
Meeting Amazon's high customer service standards is critical for consistent seller success. FBA Prep Logistics understands the importance of providing exceptional customer experience, which is why we prioritize delivering top-notch 3PL Amazon services.
Through fast and accurate order fulfillment, we guarantee customer satisfaction and positive reviews, directly contributing to improved seller reputations and increased sales.
2.3 Adapting to Amazon's Rapidly Evolving Policies and Requirements
Amazon is constantly updating its policies and seller requirements. Working with a 3PL partner who stays up to date with these changes is incredibly vital. FBA Prep Logistics consistently monitors Amazon's policy updates, ensuring that your e-commerce operation remains compliant.
As your go-to 3PL Amazon provider, we help you avoid potential penalties and keep your seller account in good standing, which, in turn, allows your business to thrive in a competitive market space.
2.4 Providing Scalability and Flexibility
E-commerce businesses often experience fluctuating sales volumes. An experienced 3PL Amazon partner like FBA Prep Logistics can help your business swiftly adjust to sudden shifts in sales. Our flexible warehousing and fulfillment solutions accommodate inventory fluctuations, offering your business the agility it needs to grow.
By relieving the stress of logistics management, we enable you to focus on marketing, product development, and other essential aspects of your e-commerce venture.
2.5 Harnessing Cutting-Edge Technology for Streamlined Operations
Embracing advanced technology is a crucial factor in excelling in the world of Amazon selling. FBA Prep Logistics leverages state-of-the-art software and tools that guarantee seamless integration with your Amazon account. Our technologically-driven processes deliver accurate inventory tracking, real-time updates, and maximized efficiency.
By choosing FBA Prep Logistics as your 3PL Amazon partner, you gain access to innovations that ensure a smooth and seamless e-commerce journey.
In conclusion, choosing the right 3PL partner is a vital decision for any Amazon seller. FBA Prep Logistics is a top-tier 3PL warehouse that deeply understands the unique needs and challenges that Amazon sellers face. We are committed to providing unparalleled service, helping you streamline your e-commerce operations, and scaling your business to new heights. So, why wait any longer? Discover how partnering with FBA Prep Logistics can transform your Amazon selling experience and boost your business's success today!
3. Key Reasons Why FBA Prep Logistics Stands Out (3PL Amazon)
If you're an e-commerce business owner and new to supply chain management, partnering with a 3PL Amazon service provider like FBA Prep Logistics is a game-changer. Let's dive into the key reasons why FBA Prep Logistics is the go-to solution for Amazon sellers like you.
3.1. Expertise in Amazon FBA
Drawing from our extensive experience, we have designed FBA Prep Logistics to specifically cater to Amazon sellers. Our team understands the intricacies of Amazon's FBA system (Fulfillment by Amazon), enabling us to help with your product preparation, labeling, bundling, and other FBA related services. Our experts will ensure your products comply with Amazon's stringent requirements, so you can focus on growing your business without worrying about hiccups.
3.2. Top-notch Inventory Management
To succeed on Amazon, maintaining optimal inventory levels is crucial. At FBA Prep Logistics, we offer best-in-class inventory management solutions to make sure you never run out of stock or overstock on slow-moving items. In addition, we use cutting-edge technology to track inventory in real time, offering you the ultimate peace of mind and complete stock visibility.
3.3. Seamless Order Fulfillment
Order fulfillment is at the heart of every 3PL Amazon service provider, and FBA Prep Logistics is no exception. With our efficient PA order fulfillment services, we pick, pack, and ship your orders promptly, accurately, and cost-effectively. Our tailored approach to order fulfillment ensures a seamless experience for your customers and helps build a credible reputation for your e-commerce business.
3.4. Integration with Amazon's Platform
FBA Prep Logistics offers full integration with Amazon Seller Central, allowing for a streamlined process, whether it's for sending inventory to FBA warehouses or fulfilling orders directly through our facility. We understand that time is of the essence, and our experienced team will ensure that your shipments are always prepared to Amazon's precise requirements.
3.5. Adaptable to Your Business Size and Needs
Whether you're a small, medium, or large e-commerce business, FBA Prep Logistics can scale according to your demands. Our flexible solutions accommodate varying order volumes and inventory levels, ensuring that you receive customized services tailored to your specific needs.
3.6. Cost-effective and Transparent Pricing
At FBA Prep Logistics, we pride ourselves on competitive pricing that doesn't compromise quality. Our cost-effective 3PL Amazon solutions, coupled with transparent pricing, ensure that you can better manage your supply chain spend. This allows you to allocate resources towards other areas of your business, such as marketing and product development.
3.7. Data-driven Approach to Continuous Improvement
FBA Prep Logistics believes in leveraging technology for proactive decision making. By utilizing data analytics, we identify opportunities for process improvements not only for our own operations but also within your supply chain. Our commitment to your success helps boost efficiency and profitability in the long run.
3.8. Exceptional Customer Support
Our customer support sets us apart from the competition. At FBA Prep Logistics, we treat every client as a valued partner and stop at nothing to ensure satisfaction. Our team is well-versed in the world of Amazon and e-commerce, allowing us to answer questions and address concerns efficiently and professionally.
In conclusion, FBA Prep Logistics has carved a niche in the 3PL Amazon service industry as a trailblazer for innovation and client success. With our deep-rooted expertise in all things Amazon, provider of superior inventory management and order fulfillment, seamless integration, and dedicated customer support, there's no doubt that FBA Prep Logistics is the premier partner for your e-commerce business.
4. How FBA Prep Logistics Ensures Your Business Growth and Success
Collaborating with a highly-skilled 3PL Amazon, such as FBA Prep Logistics, will unlock the full potential of your e-commerce enterprise. We work closely with our clients and proactively identify solutions that ensure their businesses thrive. Below are the core ways in which FBA Prep Logistics is committed to fostering your e-commerce business's growth and success.
4.1. Expertise in Amazon FBA Fulfillment
As a seasoned 3PL Amazon service provider, FBA Prep Logistics specializes in navigating the complex world of Amazon FBA fulfillment. We understand the intricacies of Amazon's requirements and policies, ensuring that your products are prepared, packaged, and shipped in compliance with Amazon's guidelines. Our knowledge and experience translate into minimal delays and disruptions to your Amazon store, ultimately helping you maintain a positive seller reputation.
4.2. Scalable Solutions
FBA Prep Logistics provides scalable solutions that grow alongside your e-commerce business. We tailor our offerings, such as storage space and staffing, to fit your business's current and future needs. As your product inventory or order volume expands, our 3PL services adapt accordingly. This flexibility enables you to efficiently manage business fluctuations without the need for significant upfront investments or time-consuming operational adjustments.
4.3. Streamlined Inventory Management
Our state-of-the-art inventory management system is designed to increase accuracy and deliver real-time updates. By integrating seamlessly with your Amazon store, we ensure that your inventory levels remain accurate and up to date. This way, you can avoid costly stockouts or carrying excess inventory. Moreover, our efficient operations and order tracking help you optimize your supply chain and enhance customer satisfaction with timely and accurate deliveries.
4.4. Cost-Effective Solutions
FBA Prep Logistics' comprehensive range of services offers an opportunity for you to benefit from substantial cost savings. Our bulk shipping and negotiated carrier rates result in lower shipping costs for your online enterprise. Plus, our efficient warehousing operations reduce storage expenses and minimize the risk of unnecessary stock levels. Saving money on logistics allows you to redirect resources and focus on other aspects of your business, such as marketing or product development.
4.5. Dedicated Customer Support
We pride ourselves on providing personalized and attentive customer support. Our team of skilled professionals is always available to address your inquiries, discuss your needs, or help troubleshoot any issues. We make it our mission to ensure your satisfaction and the flawless functioning of your e-commerce business. In addition, we can support your customer service efforts by assisting with returns management, which plays a critical role in maintaining customer loyalty.
4.6. Data-Driven Decisions
At FBA Prep Logistics, we believe in the power of data. Our innovative data analytics tools allow you to make informed decisions and improve your overall business performance. By analyzing key performance indicators (KPIs) such as inventory turnover and customer metrics, you can uncover insights into operational areas that demand attention or optimization. With this data readily available, you're equipped to make strategic adjustments and drive growth.
4.7. Continuous Improvement
We are constantly refining our 3PL Amazon services to better serve e-commerce businesses like yours. Through continuous evaluations and improvements, we aim to stay ahead of the curve and remain adaptive to the ever-evolving landscape of e-commerce and Amazon selling. Our ongoing commitment to excellence maximizes efficiency and ensures that we deliver top-notch services, thereby contributing to your business's long-term growth and success.
4.8. Tailored Solutions for Your Unique Needs
We recognize that every e-commerce business is unique, with its own set of challenges and requirements. That's why we strive to customize our 3PL services according to your specific needs. Our flexible and tailored approach helps you address pain points, streamline your operations, and achieve your business objectives more effectively.
Make FBA Prep Logistics Your Ultimate 3PL Amazon Partner
In conclusion, partnering with FBA Prep Logistics, a reliable 3PL Amazon service provider, is instrumental in ensuring the growth and success of your e-commerce business. From expert fulfillment services to tailored solutions that evolve as your business grows, FBA Prep Logistics has the expertise and resources to help you prosper. Don't wait any longer – let us help you reach new heights and conquer the competitive world of Amazon selling!
Getting Started with FBA Prep Logistics: The Easy Onboarding Process
Experience a Smooth and Hassle-Free Transition
FBA Prep Logistics understands that transitioning to a new 3PL Amazon partner might seem overwhelming. That's why we have designed an easy and straightforward onboarding process, ensuring you make a seamless switch without any hiccups. Our dedicated team of experts is here to guide you every step of the way, helping you achieve a smooth and hassle-free transition.
Step 1: Reach Out to Our Team for a Consultation
The first step towards a successful partnership with FBA Prep Logistics is reaching out to our team for a consultation. During this initial phase, our experts will evaluate your specific needs, learn about your business goals, and discuss the various services we have to offer. This comprehensive analysis will help us tailor a customized 3PL Amazon solution that aligns with your e-commerce business perfectly. Don't hesitate to contact us to schedule a consultation!
Step 2: Account Set-Up and Integration
Once we have a thorough understanding of your business needs, we will assist you in setting up your account and integrating your Amazon Seller Central with our platform. This crucial step allows us to effectively manage your inventory, streamline order processing, and ensure accurate reporting. Our software seamlessly syncs with Amazon's system, enabling us to provide real-time updates and complete visibility throughout every stage of the fulfillment process.
Step 3: Product Preparation and Compliance
Safety and compliance are of the utmost importance when dealing with Amazon FBA. Our team will work with you to ensure your products meet all necessary requirements and guidelines. This may involve tasks such as labeling, packaging, bundling, or kitting, depending on the specifications of your products. Proper product preparation ensures smooth sailing once your products reach Amazon's fulfillment centers, reducing the risk of delays or costly penalties.
Step 4: Shipping and Inventory Management
Once your products are prepared and compliant, the next step in our easy onboarding process is to manage shipping and inventory. FBA Prep Logistics will handle all aspects of shipment coordination, from scheduling pickups and negotiating carrier rates to tracking deliveries and updating inventory levels. Our advanced warehouse management system enables us to monitor your stock levels in real-time, ensuring you never run out of products or face stock-outs.
Step 5: Ongoing Support and Continuous Improvement
At FBA Prep Logistics, our commitment to your success goes beyond the onboarding process. We believe in fostering long-term relationships with our clients, continuously striving to improve our services and support your growth. Our team will remain a valuable resource throughout the course of our partnership, providing ongoing assistance, answering questions, and offering insights to help optimize your supply chain further.
Partnering with FBA Prep Logistics as your go-to 3PL Amazon solution means entrusting your e-commerce business with an experienced and dedicated team of professionals. Our easy onboarding process, coupled with the array of services we provide, will help to streamline your supply chain and pave the way for your business's success. So why wait any longer? Get in touch with FBA Prep Logistics today and embark on the journey of scaling your e-commerce business to new heights.
Frequently Asked Questions
1. What is a 3PL Amazon service and how does it benefit e-commerce businesses?

A 3PL (Third-Party Logistics) Amazon service is a company that provides warehousing, inventory management, and order fulfillment services for online sellers, specifically those selling on Amazon. By outsourcing these tasks to a specialized 3PL like FBA Prep Logistics, e-commerce businesses can focus on growing their brand and boosting sales without being overwhelmed by logistics and supply chain management.

2. Why is it crucial to choose the right 3PL partner for Amazon sellers?

Choosing a reliable 3PL partner is essential for Amazon sellers because it directly impacts the efficiency and accuracy of their supply chain. FBA Prep Logistics focuses on understanding the unique requirements of e-commerce businesses and strives to ensure seamless integration with Amazon's platform, ultimately leading to an enhanced customer experience and higher seller ratings.

3. How does FBA Prep Logistics stand out from other 3PL service providers?

FBA Prep Logistics specializes in Amazon FBA, inventory management, and order fulfillment for e-commerce businesses. Our team's expertise, coupled with our tailored solutions and streamlined processes, ensures businesses can scale up rapidly and efficiently. Furthermore, we prioritize client satisfaction and work collaboratively toward the success of each e-commerce business that partners with us.

4. How can FBA Prep Logistics contribute to my business's growth and success?

Partnering with FBA Prep Logistics allows e-commerce businesses to optimize their supply chain management, reduce operational bottlenecks, and focus on core business activities. As a result, partnering with us leads to increased efficiency, improved customer satisfaction, and the ability to scale your business sustainably.

5. What is the process for getting started with FBA Prep Logistics?

Getting started with FBA Prep Logistics is simple. Begin by reaching out to our team to discuss your business's unique requirements and challenges. We'll work together to develop a tailored solution and ensure a seamless onboarding experience as you transition to partnering with our expert 3PL team.