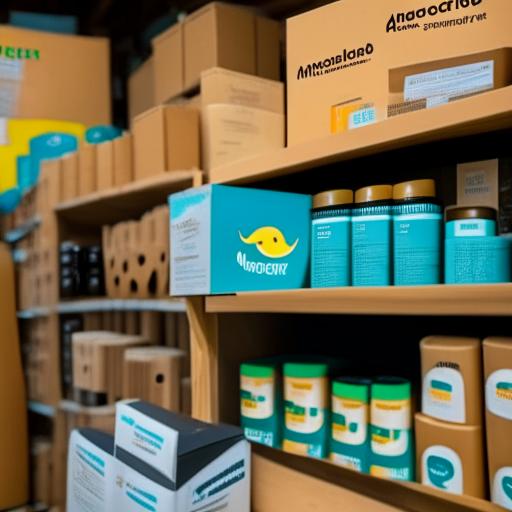 1. Introduction: Why Outsourcing Your Amazon Logistics Matters
As an Amazon seller, you've most likely put in countless hours perfecting your product listings, optimizing your shipping strategy, and tweaking your advertising campaigns. But did you know that an efficient supply chain management is a crucial element for your success on the platform? As a matter of fact, the way you manage your inventory, fulfillment, and returns can make or break your Amazon business.
The Importance of Supply Chain Management for Amazon Sellers
Effective supply chain management is vital for the smooth and efficient functioning of any e-commerce enterprise. Specifically for Amazon sellers, it plays an integral role in determining factors such as:
Customer satisfaction: Ensuring products are delivered on time and in good condition is a must for maintaining high customer satisfaction rates and positive reviews.
Sales and profitability: Proper inventory management helps avoid stock-outs and overstock situations, both of which can affect your sales and bottom line.
Competitive advantage: A well-oiled supply chain allows you to remain competitive by fulfilling orders faster, meeting customer expectations, and minimizing costs tied to storage, shipping, and waste.
Growth potential: Having a scalable and adaptable supply chain will enable you to keep up with increased demand as your Amazon business continues to expand.
Introducing the Concept of Third-Party Logistics (3PL) as a Solution for Streamlining the Process
Now that you know the importance of supply chain management in your Amazon business, it's time to determine the best way to approach it. One popular solution is to partner with a third-party logistics provider, or a 3PL. These companies specialize in handling various aspects of your logistics needs like order fulfillment, warehousing, and shipping.
With the right 3PL on your side, you can secure several benefits for your Amazon store, including:
Expertise: 3PL providers have extensive knowledge and experience in logistics management and can help you optimize your processes.
Scalability: A dependable 3PL can manage fluctuations in volume, whether it's due to seasonal changes, promotional events, or overall business growth.
Flexibility: A good 3PL will have the agility to adapt to your changing needs, ensuring the continued efficiency and effectiveness of your supply chain.
Save time and money: By outsourcing your logistics to a 3PL, you can free up time to focus on other aspects of your business while also potentially reducing your overhead costs.
As you consider partnering with a 3PL to enhance your supply chain management, it's essential to find the one best suited for your needs. In the next section, we'll delve into the essential qualities of the best 3PL for Amazon sellers and introduce FBA Prep Logistics as the ideal choice.
2. The Essential Qualities of the Best 3PL for Amazon Sellers
The best 3PL for Amazon sellers needs to possess specific qualities to support your e-commerce business effectively. These qualities set top-tier 3PL providers apart from the rest, making them an ideal choice for your Amazon supply chain management. Here are the essential qualities to look for in the best 3PL for Amazon sellers:
2.1. Scalability
When it comes to e-commerce, your business might experience rapid growth or sales spikes during peak seasons. The best 3PL for Amazon sellers should have the capacity to scale their services according to your business needs. They should be able to handle increased order volumes during peak times without compromising service quality.
2.2. Flexibility
E-commerce is a dynamic industry, and your business needs may change over time. The best 3PL for Amazon sellers should be flexible and adaptable to your evolving needs. This includes offering customizable storage solutions, adapting to new product offerings, and accommodating changes in fulfillment processes as your business grows.
2.3. Dedicated Customer Support
A strong 3PL provider understands the importance of consistent communication and dedicated customer support. The best 3PL for Amazon sellers should provide timely responses to your queries and concerns, ensuring your peace of mind throughout the outsourcing process. Moreover, they should maintain proactive communication, keeping you informed of important updates and changes in your supply chain.
2.4. Streamlined Inventory Management
Efficient inventory management is crucial for your Amazon business. The best 3PL for Amazon sellers should offer advanced inventory management solutions that incorporate real-time updates, accurate tracking of stock levels, and seamless integration with your existing systems, such as the ones mentioned in this article.
2.5. Established Delivery Network
A strong 3PL provider should have an established delivery network that ensures your products reach their designated warehouses and customers promptly. This network is particularly important for Amazon sellers, where fast and efficient delivery can boost your reputation and sales. The best 3PL for Amazon sellers should have reliable connections with carriers and shipping services, allowing them to deliver your products on time and at competitive rates.
2.6. Knowledge and Expertise in Amazon FBA
Working with a 3PL provider that understands the intricacies of Amazon FBA is beneficial for your business. The best 3PL for Amazon sellers should be well-versed in Amazon's guidelines and requirements, ensuring your products are prepared, packed, and shipped according to these specific rules. These providers can also offer expert advice in optimizing your logistics to improve your Amazon seller performance.
2.7. Impeccable Order Fulfillment and Returns Management
The best 3PL for Amazon sellers should have a track record of excellent order fulfillment and returns management. This includes an efficient pick and pack process, accurate order processing, and timely deliveries. They should also handle returns seamlessly, offering easy solutions for the reverse logistics process.
2.8. Competitive Pricing
While quality should be your priority, it is essential to consider the cost of 3PL services. The best 3PL for Amazon sellers should offer competitive pricing, ensuring you receive top-notch services without breaking the bank. This allows your business to strike a balance between efficiency and affordability, contributing to overall growth and profitability.
2.9. Advanced Technology Integration
Top-tier 3PL providers continuously invest in advanced technology to improve their fulfillment processes. The best 3PL for Amazon sellers should provide robust technology solutions, such as warehouse management systems and inventory tracking capabilities. These solutions should integrate smoothly with your existing platforms, enhancing your supply chain management and giving you a competitive advantage in the e-commerce market.
2.10. Proven Track Record of Success
Finally, the best 3PL for Amazon sellers should have a proven track record of success in supporting e-commerce businesses like yours. Look for providers that have a strong history of working with Amazon sellers and helping them achieve their business growth and fulfillment goals.
To summarize, when searching for the best 3PL for your Amazon business, prioritize scalability, flexibility, customer support, inventory management, network, expertise, order fulfillment, pricing, technology, and success. By identifying a 3PL provider that possesses these qualities, you can successfully outsource your Amazon logistics and focus on other aspects of growing your business.
FBA Prep Logistics: A Comprehensive 3PL Solution for Amazon Sellers
---
3.1. The Ideal Choice for Your Amazon Business
When it comes to choosing the best 3PL for Amazon sellers, FBA Prep Logistics is a name you can trust. Our comprehensive and efficient third-party logistics services cater to the unique needs of your Amazon business, ensuring that you stay ahead of the game in the highly competitive e-commerce landscape. Located in the strategic hub of Bristol, PA, FBA Prep Logistics is not only adept at providing remarkable service to our clients but also seamlessly integrates our services within the Amazon ecosystem.
3.2. Location: The Power of Proximity
One of the significant advantages FBA Prep Logistics provides is our prime location. Our warehouse in Bristol, PA, is conveniently close to several important facilities and transportation hubs, enabling shorter transit times for your inventory and faster, more reliable delivery to your customers. As a result, FBA Prep Logistics ensures that your products reach Amazon fulfillment centers and your end customers without any delays or hurdles.
3.3. Experienced Team: Expertise at Your Disposal
Our team at FBA Prep Logistics is composed of seasoned professionals with years of experience in e-commerce and logistics management. We understand the unique challenges that come with selling on Amazon and are well-equipped to address them. By entrusting your logistics to our expert team, you can rest assured that your inventory is in capable hands, and your business is poised for success.
3.4. Competitive Pricing: Affordable and Transparent
At FBA Prep Logistics, we understand the importance of cost management. Our competitive pricing structure is designed to provide you with the best possible service without breaking the bank. We believe in maintaining transparency to build trust and allow you to make informed decisions about your logistics partner. Our pricing model enables businesses of all sizes to leverage the benefits of a top-notch 3PL without overstretching their budgets.
3.5. Services Tailored to Your Needs
Our suite of services at FBA Prep Logistics is specifically designed to meet the ever-evolving needs of Amazon Sellers. We offer a wide range of solutions, from inventory management, pick and pack, to shipping and handling return products. These services are optimized for both efficiency and accuracy, ensuring a seamless experience for your customers and a streamlined process for your business.
3.5.1. Reliable Inventory Management
Effective inventory management is a critical component for any Amazon business. Our sophisticated inventory management system keeps track of your product levels in real-time, allowing you to monitor stock levels and make informed decisions regarding reorders and warehousing requirements.
3.5.2. Accurate Pick and Pack Services
Our efficient pick and pack services ensure that your customers receive the correct items, in the right condition, and on time. Our team pays meticulous attention to detail when picking and packing orders, thereby maintaining a high level of accuracy and customer satisfaction.
3.5.3. Hassle-free Shipping and Returns Handling
Our agile shipping services ensure your products are delivered to Amazon fulfillment centers and customers promptly and economically. Additionally, FBA Prep Logistics also efficiently manages return processes, facilitating easy and hassle-free returns, maximizing customer satisfaction, and protecting your seller reputation.
3.6. Scalability: Growing Along With Your Business
One of the most notable features of partnering with FBA Prep Logistics is our ability to scale our services to accommodate your burgeoning business. As your sales grow, we have the capacity to manage the increasing volume of orders and associated logistics requirements without any hiccups. Our expertise in efficient PA order fulfillment services for your e-commerce store ensures that your growth journey remains smooth, fulfilling, and stress-free.
In conclusion, choosing FBA Prep Logistics as your 3PL partner guarantees a comprehensive solution to the various logistics challenges that Amazon sellers face. With our prime location, experienced team, competitive pricing, and tailored services, we stand as the best 3PL for Amazon sellers. By partnering with us, you have the opportunity to focus on what you do best – growing your business and delighting your customers.
4. How FBA Prep Logistics Supports Your Business Growth
As an Amazon seller, growth is an essential part of your long-term goals. But expansion can create new challenges, especially in managing logistics and supply chain demands. This is where FBA Prep Logistics comes in as the best 3PL for Amazon sellers, providing the critical support needed for your business to flourish. Let's look at how partnering with FBA Prep Logistics can help you tackle these challenges and reach the next level of success in your Amazon business.
4.1 Scalable Solutions
As your business scales, so does the complexity of your logistics. Our 3PL services are designed to grow with you, ensuring a seamless transition as your operations expand. At FBA Prep Logistics, we understand the need for flexibility and scalability [(/2257/3-benefits-of-e-commerce-fulfillment-on-the-east-coast/)]. As your sales and inventory increase, we can allocate more warehouse space, manpower, and resources to manage your growing needs effectively.
4.2 Streamlined Inventory Management
Keeping track of your inventory across different sales channels and warehouses can be a daunting task. FBA Prep Logistics offers advanced inventory management solutions that provide complete visibility and real-time updates to ensure you never run out of stock or face warehouse-related issues. Our state-of-the-art systems help you stay informed, make informed business decisions, and focus on strategic growth opportunities [(/2153/simplify-inventory-tracking-on-shopify/)].
4.3 Efficient Fulfillment Processes
Efficient order fulfillment is crucial to maintaining customer satisfaction and achieving long-term success on Amazon. FBA Prep Logistics excels in timely and accurate order processing, ensuring that your products reach your customers without delays or errors. By integrating cutting-edge technology and proven workflows, we offer efficient PA order fulfillment services for your e-commerce store [(/2592/efficient-pa-order-fulfillment-services-for-your-e-commerce-store/)]. Our dedicated team continuously optimizes the order fulfillment process to maximize cost-effectiveness and minimize turnaround time.
4.4 Adherence to Amazon's Guidelines & Requirements
When selling on Amazon, it's crucial to adhere to their strict guidelines and requirements. FBA Prep Logistics is highly experienced in managing Amazon FBA shipments, allowing you to avoid costly mistakes and ensure compliance. From packaging and labeling to creating FBA shipments, you can trust our team to handle all the necessary tasks accurately and efficiently [(/2167/how-amazon-fba-prep-services-can-help-you-scale-your-business/)].
4.5 Expertise in Amazon Reverse Logistics
Returns can impact your bottom line and negatively affect customer experience if not managed effectively. FBA Prep Logistics specializes in Amazon reverse logistics, offering fast and efficient return processing that reduces inventory losses and ensures timely refunds or replacements [(/2163/the-ultimate-guide-to-amazon-reverse-logistics-for-east-coast-sellers/)]. Our experts also provide valuable insights on reducing return rates and mitigating potential issues.
4.6 Cost Reduction Strategies
We understand that increasing profit margins are a top priority for Amazon sellers. FBA Prep Logistics offers various cost reduction strategies, including optimized shipping solutions, inventory control, and improved operational efficiency [(/2161/top-cost-reduction-strategies-for-amazon-sellers-in-pa/)]. By partnering with us, you can save on operational costs, allowing you to invest more resources into expanding your product catalog and reaching new customers.
4.7 Concentrated Focus on Key Business Areas
Outsourcing your logistics to FBA Prep Logistics frees up time and resources, allowing you to focus on other crucial aspects of your Amazon business – such as product research, marketing, and customer service. With our team taking care of your supply chain, you can devote more time and energy to expanding your market reach, exploring new product ideas, and cultivating a loyal customer base.
4.8 Exceptional Customer Support
At FBA Prep Logistics, we pride ourselves on our commitment to exceptional customer support. Our experienced team is always available and eager to assist you with any questions or concerns you may have. We understand the importance of communication and proactive problem-solving, ensuring that you always feel informed and confident in trusting us as your Amazon 3PL partner.
In conclusion, FBA Prep Logistics is the comprehensive 3PL solution that empowers your Amazon business to soar to new heights. As the best 3PL for Amazon sellers, our services support growth and expansion, from scalable solutions and efficient fulfillment processes to advanced inventory management and reliable customer service. Ready to embark on this journey towards a more successful Amazon business? Reach out to our team and experience firsthand how FBA Prep Logistics can elevate your operations and boost your bottom line.
5. Taking the First Step: Getting Started with FBA Prep Logistics
Embarking on the journey towards a more efficient and successful Amazon business starts with partnering with the right 3PL provider such as FBA Prep Logistics. If you've made the decision to work with us, congratulations! You're about to simplify your logistics process, save time, and boost your business growth. Let's walk you through the steps to get started:
1. Reach Out to Our Friendly Team
The first step is opening a line of communication with our team. We're excited to learn more about your business and how we can assist you in meeting your objectives. Don't hesitate to contact us with any questions or concerns you might have—we're here to help!
2. An In-Depth Inventory and Operational Assessment
Our team will work with you to gain a comprehensive understanding of your current inventory management and operational systems. This enables us to recommend the best 3PL for Amazon Sellers and tailor our approach to suit your unique needs. As part of this step, we will also discuss pricing and the packages we offer to ensure you get the most value for your investment.
3. Integration and Handover
We understand that transitioning to a new logistics partner can be daunting, which is why our team is committed to providing a seamless integration process. We'll work with you to ensure smooth handovers, meticulously move your inventory to our facilities, and integrate our systems with your Amazon account and other sales channels. You can be confident that your business operations will remain uninterrupted during the transition.
4. Advanced Technology and Reporting
Our warehouse management system (WMS) is designed for seamless integration with Amazon seller accounts. As a result, you'll benefit from advanced technology that can provide real-time reporting and inventory updates. Having a transparent view of your supply chain process will allow you to optimize operations and make more informed decisions as you grow your business.
5. Ongoing Support and Scaling Solutions
At FBA Prep Logistics, we're committed to fostering long-lasting relationships with our clients. We achieve this by providing exceptional ongoing support and being readily available to answer any queries. As your business grows, our services are designed to continue offering the best 3PL for Amazon Sellers. We'll be there each step of the way to help you navigate changes and remain versatile throughout the scaling process.
6. Efficient Amazon FBA Prep and Services
With location in Bristol, PA, FBA Prep Logistics offers Efficient PA Order Fulfillment Services for Your E-commerce Store. Our range of services covers everything from warehousing and inventory management to returns processing. Additionally, our expertise in Amazon Reverse Logistics for East Coast Sellers ensures that we understand the nuances of the Amazon marketplace, resulting in smooth and comprehensive logistics support for your business.
7. Relax and Watch Your Business Thrive
With FBA Prep Logistics handling your Amazon logistics, you can focus on other aspects of business growth, such as marketing, product development, and customer service. We'll ensure your products get to the Amazon fulfillment centers on time and in compliance with Amazon requirements. As your business continues to grow, we'll adjust our services to cater to an increase in product volume and demand, allowing you to remain competitive and seize new opportunities in the market.
In conclusion, taking the first step to partner with FBA Prep Logistics ensures that you're choosing a flexible, reliable, and scalable solution. We're dedicated to providing the best 3PL for Amazon Sellers, paving the way for your business to thrive. Don't wait—reach out to our team today to begin your journey towards a more efficient supply chain and a successful Amazon business.
Frequently Asked Questions
1. Why is it important to choose the right 3PL for my Amazon business?
Choosing the right 3PL is crucial because they handle your inventory management, packaging, and shipping, which can have a significant impact on your business's reputation and success. The right 3PL will save you time and resources, allowing you to focus on growing your Amazon business.
2. What qualities should I look for in a 3PL for my Amazon business?
When choosing a 3PL for your Amazon business, look for a provider that offers scalability, flexibility, and dedicated customer support. They should have a streamlined order fulfillment process, extensive knowledge of Amazon's requirements, and a strong track record of customer satisfaction.
3. How does FBA Prep Logistics stand out as the best 3PL choice for Amazon sellers?
FBA Prep Logistics sets itself apart by offering a comprehensive range of services specifically tailored to Amazon sellers, with competitive pricing and an experienced team. Our strategic location in Bristol, PA, allows for faster and more efficient shipping, while our dedicated customer support ensures a smooth and seamless experience for you and your customers.
4. Can FBA Prep Logistics help my business grow?
Yes, FBA Prep Logistics is designed to support the growth of your Amazon business by efficiently managing your inventory and fulfillment processes. Our scalability and flexibility ensure we can handle increased volume and more complex requirements as your business grows, allowing you to focus on other key aspects of your Amazon business.
5. How do I get started with FBA Prep Logistics?
To get started with FBA Prep Logistics, simply reach out to our team using the contact information on our website. We'll guide you through the process of partnering with us for your 3PL needs and help you take the first step towards a more efficient and successful Amazon selling experience.
In conclusion, outsourcing your Amazon logistics to a reliable and experienced 3PL like FBA Prep Logistics can free up valuable time and resources, allowing you to focus on growing your business. With our comprehensive services, strategic location, and dedicated customer support, we're confident that we're the ideal choice to help you take your Amazon business to new heights. Get in touch with FBA Prep Logistics today to start your journey towards a more successful and efficient selling experience.