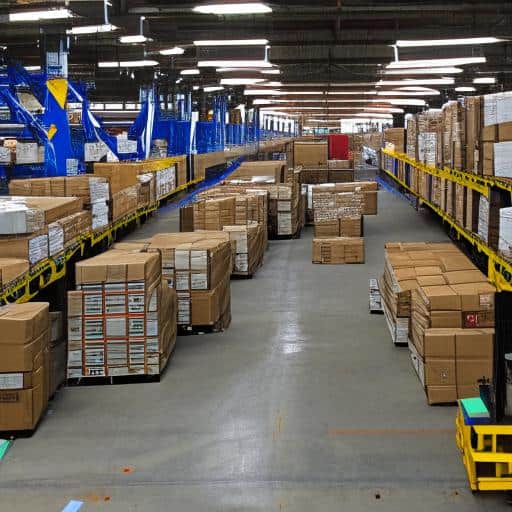 Introduction: Why Choosing the Right 3PL on the East Coast Matters
E-commerce has been growing at an astounding rate in recent years, and with this expansion, there have come formidable challenges in managing the shipping and fulfillment process. Those who have established their e-commerce business, principally selling on amazon.com, are well aware of how important it is to maintain a seamless supply chain. So, why is choosing the right 3PL East Coast partner crucial for you and your business? And how can FBA Prep Logistics be the perfect solution to your needs? Let's find out!
Rising Expectations in a Competitive Market
In a digital world where customers expect their orders to be delivered in the blink of an eye, it's critical for online retailers to maintain a flexible and adept supply chain. The expectations of today's e-commerce customers are higher than ever before – they want things fast, secure, and convenient.
To surmount these challenges and stay ahead of the competition, having an efficient and experienced 3PL East Coast partner is essential. A third-party logistics (3PL) provider on the East Coast offers a strategic advantage as it provides easy access to major metropolitan markets. This helps in reducing shipping time and overall logistics costs. Thus, enabling your business to meet the growing demands of your customers while maintaining an edge over your competitors.
The Power of the Right 3PL Partner
The right 3PL partner can be a game-changer for your e-commerce business. Their expertise in shipping, inventory management, warehousing, and fulfillment can help bridge any gaps in your supply chain and ensure that your customers' orders are accurately processed and delivered on time, every time.
With the right 3PL East Coast partner, you no longer need to stress over the complexities of supply chain management. Instead, you can focus on what really matters – expanding your customer base and improving your product offerings.
The Importance of Location in E-commerce Logistics
When it comes to fulfilling orders for a vast customer base, location plays a significant role. The East Coast is the most populous region in the United States, making it a prime hub for e-commerce business operations.
Partnering with a reliable 3PL provider in this area is a strategic move as it offers quick and efficient shipping to a large customer base. The closer your warehouse is to heavily populated areas, the faster your products can be delivered, resulting in satisfied customers and more positive feedback.
FBA Prep Logistics: Your Ideal 3PL East Coast Solution
FBA Prep Logistics, a 3PL warehouse located in Bristol, PA, helps you streamline your e-commerce logistics operations. We understand the unique needs of e-commerce sellers like you and provide tailored solutions to ensure your success.
In the following sections, we will delve into the numerous advantages and services FBA Prep Logistics offers as your East Coast 3PL partner. From customized and automated services to excellent customer support, scalability and flexibility to cost-effectiveness, we aim to address all your concerns and requirements – arming you with the perfect choice for an East Coast 3PL partner. So, keep reading to discover why FBA Prep Logistics is the one-stop solution you've been searching for!
II. The Unbeatable Advantages of our FBA Prep Logistics as Your East Coast 3PL Partner
Choosing the right 3PL East Coast partner can make a significant impact on the success of your Amazon business. Here at FBA Prep Logistics, we offer a range of unbeatable advantages that make us the perfect fit for your e-commerce needs. In this section, we'll highlight key benefits our warehouse provides, ensuring your satisfaction and business growth.
1. Customized Services Tailored to Your Business
At FBA Prep Logistics, we understand that every business is unique, so our services are tailored to suit the specific needs of your Amazon store. We work closely with you to create customized solutions for inventory management, fulfillment, labeling, and returns. Our skilled team is equipped to handle diverse requirements, ensuring seamless, efficient 3PL services for your e-commerce store.
2. Automated Services for Increased Efficiency
Our warehouse constantly evolves with state-of-the-art technology to improve our processes and efficiency. With our sophisticated warehouse management system and tracking tools, you'll have full visibility into your inventory and orders – giving you better control over your business and reducing the risk of errors or delays. Embrace automation and watch your business thrive with FBA Prep Logistics.
3. Excellent Customer Support
As a partner, we understand the need for responsive and reliable customer support. Our dedicated account managers are available to address your questions and concerns, ensuring a smooth experience in working with us. With expertise in Amazon FBA and 3PL services, our team can provide invaluable guidance and assistance, allowing you to tackle any logistical challenges with ease.
4. Scalability and Flexibility to Adapt with Your Business
Growth is crucial for any business, and our 3PL services at FBA Prep Logistics can scale with you, adapting to changes in your order volume or inventory size. As your Amazon store expands, our flexible 3PL solutions ensure you're able to keep up with demand without the added stress of managing increased logistics complexity.
5. Cost-effective Solutions
Maintaining your budget is essential for a thriving e-commerce business, and that's why FBA Prep Logistics prioritizes offering cost-effective solutions for our clients. Our competitive pricing structures allow you to save on storage fees and shipping costs, while our top cost reduction strategies for Amazon sellers in PA can further help you maximize your profit margins.
6. Expertise in Amazon FBA Requirements
Complying with Amazon FBA requirements is crucial to maintaining good standing and avoiding penalties. Our team at FBA Prep Logistics is well-versed in Amazon's guidelines, ensuring your inventory and shipments comply with their standards. With our expertise and adherence to Amazon's guidelines, you can be confident that your inventory and shipments are in good hands.
7. Fast, Reliable Shipping in the East Coast Region
Being located in Bristol, PA, FBA Prep Logistics offers fast and reliable shipping within the East Coast region. Our proximity to the major marketplaces and transportation hubs means quicker delivery times to your customers – improving customer satisfaction and increasing your chances of repeat business. Learn more about the 3 benefits of e-commerce fulfillment on the East Coast to appreciate the impact this can have on your operations.
8. Easy Integration with Amazon Store
Our warehouse management system effortlessly integrates with your Amazon store for seamless inventory management and order processing. This secure and efficient integration means you can spend less time worrying about the logistics and more time focusing on the growth of your e-commerce business.
9. Efficient Reverse Logistics
Returns are an inevitable aspect of e-commerce, but FBA Prep Logistics makes handling them hassle-free. Our efficient reverse logistics services for East Coast sellers ensures smooth processing and management of returns, keeping your customers satisfied and minimizing any disruptions to your operations.
10. Sustainability
FBA Prep Logistics is committed to sustainable business practices. Our environmentally friendly processes, such as recycling and responsible waste management, demonstrate our commitment to reducing your business's environmental impact.
In conclusion, FBA Prep Logistics offers a comprehensive range of unbeatable advantages specifically tailored to the needs of medium-sized Amazon e-commerce businesses. With our customized and automated services, excellent customer support, flexibility, and cost-effective solutions, your business can enjoy unparalleled growth and success on the East Coast. Partner with us and experience the difference FBA Prep Logistics can bring to your e-commerce journey.
III. How FBA Prep Logistics Seamlessly Integrates with Your Amazon Store
A. Complete Integration: The Key to Streamlined Operations
At FBA Prep Logistics, we understand the importance of hassle-free integration between your Amazon store and our 3PL services. Our warehouse is designed to work in sync with your e-commerce store, making it easy to manage inventory, track shipments, and ensure that items get packed and shipped efficiently. By choosing FBA Prep Logistics as your 3PL East Coast provider, you'll enjoy a seamless connection to your Amazon platform that will enhance your online business and drive growth.
B. Real-Time Inventory Management for Optimal Stock Levels
Our integration with Amazon enables us to offer real-time inventory management for all our clients. You'll be able to monitor stock levels in our warehouse, set alerts for low inventory, and keep track of incoming and outgoing shipments – all within your Amazon store's dashboard. These insights will assist you in maintaining optimal stock levels and avoid both stock-outs and overstocking, saving you time, money, and resources in the long run.
C. Order Fulfillment: Synced and Automated
When an order is placed in your Amazon store, our system automatically retrieves and processes it in the warehouse. Our team of professionals will ensure shipping accuracy and timeliness by picking, packing, and shipping products as per the order specifications. Once we ship the order, tracking information is synced back to your Amazon store, keeping you and your customers informed about the progress of the shipment. This seamless process results in greater efficiency and customer satisfaction, ultimately benefiting your bottom line.
D. Mastering the Art of FBA: Your Shortcut to Amazon Prime
Leveraging FBA Prep Logistics as your 3PL East Coast provider has a significant advantage if you're selling on Amazon. We offer FBA prep services tailored to Amazon's requirements, which means your products will always be compliant with Amazon's packaging, labeling, and shipping guidelines. This expertise in FBA prep means faster processing times, fewer shipping issues, and access to Amazon Prime customers, giving your business a competitive edge in the market.
E. Hassle-Free Returns Management
Dealing with returns can be a challenging aspect of e-commerce, but our integration with Amazon simplifies this process. When a customer initiates a return, our warehouse receives a notification, and we take care of the entire process – from receiving the returned item to inspecting it, restocking, or disposing of it as needed. This streamlined returns management system keeps you in control and informed while minimizing the effort required on your part.
F. Hands-On Reporting and Analytics for Data-Driven Decisions
With our seamless integration with Amazon, you'll have access to comprehensive reporting and analytics features. From sales metrics to inventory reports, you'll be able to track your business's performance in real-time and make data-driven decisions to improve operations and increase profitability. Through this integration, FBA Prep Logistics becomes your one-stop-shop for supply chain management, providing valuable insights into your business that you can rely on.
G. Expand Your Reach with Multi-Channel Fulfillment
While our 3PL services are designed with Amazon sellers in mind, we understand that many e-commerce businesses utilize multiple sales channels. Our warehouse is equipped to handle multi-channel fulfillment, allowing you to leverage your Amazon inventory to fulfill orders from other marketplaces and platforms. This integrated approach to order fulfillment grants you the flexibility to expand your reach and grow your business without adding logistical complexity.
H. Scaling Up Made Easy
As your e-commerce business grows, so do your warehousing and fulfillment needs. Our integration with Amazon means that you can easily scale your operations without worrying about the increased complexity. Whether you need to add more SKUs or increase your storage capacity, our warehouse can accommodate your growth, helping you manage increased demand efficiently and cost-effectively.
I. Ongoing Support Throughout Your 3PL Journey
Our dedication to providing top-notch customer support doesn't end once your account is set up and integrated with Amazon. We are always here to assist you with any questions, challenges, or concerns that may arise. Through continuous communication and collaboration, we ensure that our services are aligned with your business goals and evolving needs, making us a reliable partner in your e-commerce journey.
In conclusion, FBA Prep Logistics is not just a 3PL East Coast warehouse that caters to your storage and fulfillment needs, but a true partner in your Amazon business's success. Our seamless integration with your Amazon store enables us to streamline your logistics operations and support your growth journey, letting you focus on the strategic aspects of your e-commerce business. Choose FBA Prep Logistics as your 3PL partner and experience a new level of efficiency and reliability!
IV. Making the Most Out of Your 3PL Experience: Tips for Working with FBA Prep Logistics
A successful partnership between a business and a 3PL East Coast provider like FBA Prep Logistics involves both parties working seamlessly to achieve the desired goals. To make the most out of your 3PL experience, it's crucial to apply certain practices that help streamline the process. In this section, we provide helpful tips to ensure your collaboration with FBA Prep Logistics runs smoothly and efficiently.
1. Communication is Key
Effective communication with your 3PL East Coast partner is essential for a successful working relationship. Make sure you're in constant touch with your FBA Prep Logistics representative, discussing your business needs, expectations, and any potential issues that might arise during the fulfillment process. By maintaining transparent and open communication lines, you can avoid misunderstandings and address concerns promptly.
2. Provide Accurate Product Information
Product information accuracy is critical for efficient inventory management and order fulfillment. Share your product data with FBA Prep Logistics, ensuring that all details – such as weight, dimensions, and SKU numbers – are accurate. Providing correct product information helps avoid discrepancies and delays while maintaining high-quality control and efficient fulfillment times.
3. Proper Packaging and Labeling
Ensuring your products are packaged and labeled correctly not only protects your inventory during transportation but also leads to smooth handling at the FBA Prep Logistics warehouse. Make sure packaging materials are of high quality and appropriate for the product type. Ensure product labels and barcodes are clearly visible and scannable. A well-organized inventory helps reduce errors and speeds up the fulfillment process.
4. Set Up Efficient Inventory Control
Efficient inventory control helps maintain appropriate stock levels, avoiding both stockouts and overstocks. Monitor your inventory levels in real-time and maintain clear communication with FBA Prep Logistics regarding replenishing your stock. Utilize inventory tracking on Shopify or your preferred e-commerce platform to keep inventory data updated and accessible for your 3PL East Coast partner.
5. Utilize Automation and Integration
Integrating your e-commerce platform with FBA Prep Logistics can streamline the entire fulfillment process. Syncing your store with our warehousing system allows you to automate the inventory management and order processing, saving you time and reducing the chances of human error. FBA Prep Logistics effortlessly integrates with your Amazon store, providing a seamless experience from start to finish.
6. Monitor KPIs and Metrics
Setting Key Performance Indicators (KPIs) and closely tracking the metrics helps identify areas for improvement. Regularly evaluate your 3PL East Coast partner's performance and analyze the shipping times, order accuracy, return rates, and other crucial parameters. Continuous monitoring helps you work with FBA Prep Logistics to find solutions and improve overall performance.
7. Be Open to Change and Adaptation
As your business grows, your logistics requirements and processes may need to evolve and adapt. Be proactive in discussing these changes with FBA Prep Logistics and embrace new solutions to optimize your supply chain and stay competitive in the e-commerce market.
8. Leverage FBA Prep Logistics Expertise
FBA Prep Logistics is a 3PL East Coast provider with experience in handling logistics for many e-commerce businesses. Make use of their expertise and industry knowledge, seeking advice and recommendations for improving your fulfillment process.
By implementing these practices, you can ensure your collaboration with FBA Prep Logistics not only meets your expectations but also contributes positively to your e-commerce business's growth and success. With FBA Prep Logistics on your side, you can focus on other essential aspects of your business and leave the logistics to the experts.
V. Getting Started with FBA Prep Logistics: Your First Step Towards East Coast 3PL Success
Start Your 3PL Journey: Welcome to FBA Prep Logistics
Congrats! By choosing FBA Prep Logistics as your 3PL East Coast partner, you're taking the first step in transforming your e-commerce business. We understand that starting with a new logistics partner can be confusing and even intimidating. That's why we've compiled this step-by-step guide to help you easily onboard and swiftly sail through the process.
1. Sign Up for an Account
First things first, visit our FBA Prep Logistics website to create an account. Signing up is a breeze! Just fill in your company and contact information, and you're ready to go. Once your details are submitted, our dedicated team will review your information and contact you to confirm account setup.
2. Connect Your Amazon Store
After signing up, it's time to link your Amazon store with our system. This seamless integration allows for optimal inventory management, order fulfillment, and shipping processes, while also providing real-time updates and insights for your business. Follow the step-by-step instructions on our how-to guide, and you're all set!
3. Get Acquainted with Our Dashboard
Our user-friendly dashboard will be your one-stop solution for monitoring inventory levels, tracking shipments, managing orders, and much more. Take your time to explore the various features and tools that our platform provides. Make sure you familiarize yourself with the order processing procedure, as this will be crucial to streamline your online business operations and avoid any potential hiccups.
4. Send Your First Shipment
Now that you're all set up, it's time to send in your first shipment. Start by following our efficient PA order fulfillment guideline to help you prepare your products for smooth and accurate fulfillment. Keep in mind the importance of proper packaging and labeling – this will reduce error rates and ensure your items reach their destinations on time.
Need help? Leverage our FBA Prep Services
We understand that preparing for shipments can be overwhelming, especially for newbies. That's why we offer comprehensive Amazon FBA prep services to take care of all your packaging and labeling needs. Our team will handle everything from product inspection and bundling to labeling and even creating Amazon-compliant shipments. Visit our FBA prep services page for more information.
5. Sync Pricing and Inventory
Remember, accurate product listings are essential for maintaining a strong online presence. Make sure to sync your pricing and inventory information between your Amazon store and our dashboard. This process ensures customer orders are fulfilled accurately. You'll be able to provide real-time product availability and pricing, which ultimately enhances the customer experience and helps your business grow.
6. Monitor Your Shipments and Returns
Once your first shipment is on its way, you can easily track its progress via our dashboard. Additionally, you can manage returns and exchanges hassle-free, thanks to our hassle-free Shopify returns service. Stay up-to-date on all your e-commerce logistics through our platform and receive insightful analytics to help you make informed decisions for your business.
---
Congratulations! You've now unlocked the full potential of our FBA Prep Logistics services as your 3PL East Coast partner. Ready to ignite growth in your e-commerce business? Harness the unbeatable advantages of our tailored solutions and let us handle the tedious logistics while you focus on what really matters – expanding your online empire. Fasten your seatbelts and let success follow!
Frequently Asked Questions
What sets FBA Prep Logistics apart from other 3PLs?

FBA Prep Logistics offers a tailored approach to the specific needs of median-sized e-commerce businesses selling on Amazon, with customized services, automated solutions, exceptional customer support, scalability, flexibility, and cost-effective plans.

How does FBA Prep Logistics integrate with my Amazon store?

Our warehouse works seamlessly with your Amazon store through integration with inventory management, order fulfillment, and shipping processes, ensuring a smooth and hassle-free experience for your online business.

Are there tips for maximizing my experience with FBA Prep Logistics?

Optimizing your experience with us includes maintaining clear communication, utilizing proper packaging techniques, and effectively controlling your inventory. This will help you focus on growing your business while we handle the logistics.

What's the process of getting started with FBA Prep Logistics?

To begin your partnership with our East Coast 3PL, simply sign up and set up your account. Afterward, you can send in your first shipment and begin enjoying the benefits of our services.

Why is it crucial to choose an east coast 3PL for my e-commerce business?

An East Coast 3PL like FBA Prep Logistics ensures a more efficient supply chain, meeting customers' expectations and helping you stay competitive in the ever-evolving world of e-commerce.