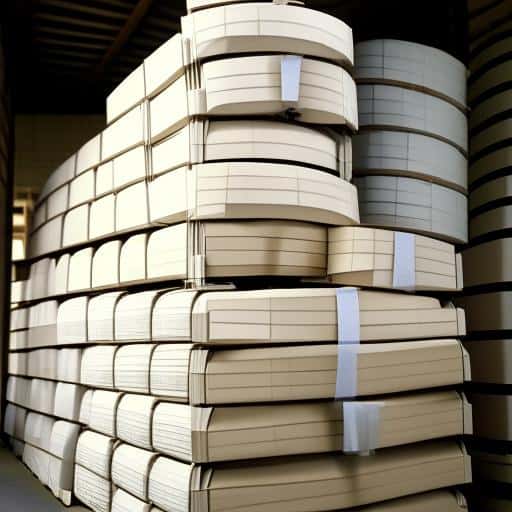 The Benefits of Using Paper Warehousing with FBA Prep Logistics
1. Introduction to Paper Warehousing
Paper warehousing is a specialized storage solution designed specifically for paper products, such as books, packaging materials, envelopes, and more. Businesses selling on Amazon need to prioritize efficient and secure storage for their valuable inventory. That's where a professional paper warehousing service like FBA Prep Logistics comes in, providing you with the utmost care and a streamlined process tailored to the unique requirements of your e-commerce business.
In the ever-growing world of e-commerce, efficient supply chain management is essential for success, and paper warehousing plays a crucial role in achieving this. Not only does it ensure the proper handling and preservation of delicate paper products, but it also provides a strong foundation for smooth order fulfillment and inventory management.
But why FBA Prep Logistics? Let's dive into the numerous benefits of our paper warehousing services for your e-commerce business selling on Amazon.
1.1 The Importance of Paper Warehousing in E-commerce
Managing paper products requires special attention, as they are sensitive to humidity, temperature, and other environmental factors. A well-maintained paper warehouse can help prevent any potential damage, ensuring the best quality for your customers.
Moreover, organized and efficient paper warehousing becomes even more critical for businesses selling primarily on Amazon. The platform's strict requirements for inventory management, packaging, and shipping can impact your seller rating and customer satisfaction. Therefore, it's essential to partner with a reliable logistics service provider, such as FBA Prep Logistics.
Having a seamless, optimized warehousing solution ensures:
Safe storage of delicate paper products
Proper organization and tracking of inventory
Effective inventory management and timely order fulfillment
Compliance with Amazon's stringent guidelines
Satisfied and returning customers
In the following sections, we will explore the advantages of choosing FBA Prep Logistics for your paper warehousing needs and how we can elevate your e-commerce business to new heights.
Learn more about Efficient PA Order Fulfillment Services for Your E-commerce Store
2. Efficient Inventory Management with FBA Prep Logistics
2.1 Catered to the Unique Needs of Amazon-focused Clients
At FBA Prep Logistics, we understand that selling on Amazon is unlike any other e-commerce platform. Entrepreneurs looking to make their mark on the digital marketplace need advanced inventory management systems tailored specifically to their needs. That's where our expertise in paper warehousing comes into play. Designed to cater to the unique requirements of Amazon-focused e-commerce businesses, our inventory management system for paper products storage allows our clients to focus on growing their ventures while leaving the logistics to us.
2.2 Advanced Inventory Management System
Our advanced inventory management system is designed to provide the utmost efficiency and organization of your paper products. With cutting-edge software, we offer real-time updates on inventory levels and maintain accurate records of your stock. This helps your business stay up-to-date with Amazon's stringent inventory management requirements, ensuring your products remain in stock, accessible, and ready for shipment at a moment's notice.
2.3 Barcode and SKU Tracking
Barcode and SKU tracking are essential for ensuring smooth order fulfillment on Amazon. Our system not only tracks inventory by SKU but also integrates seamlessly with Amazon FBA, enabling you to manage and monitor your entire inventory across different channels and warehouses. As a result, you can reduce the risk of errors, overselling, and stockouts, ultimately leading to increased customer satisfaction.
2.4 Streamlined Receiving and Replenishment
At FBA Prep Logistics, we prioritize the efficiency of our paper warehousing solutions. Our streamlined receiving and replenishment process ensure that your products are quickly and accurately stocked in our warehouse, always ready for fulfillment. This expedites the shipping process and enables you to meet your customers' expectations for prompt deliveries.
2.5 Customized Storage Solutions
We recognize that every e-commerce business is unique, with varying storage requirements depending on the size and type of product. As seasoned professionals in paper warehousing, we're able to offer customized storage solutions that cater to your business's specific needs. Our team will work closely with you to determine the best storage configuration for your inventory, optimizing space utilization and minimizing deadstock.
2.6 Proactive Monitoring and Optimization
Our dedicated team at FBA Prep Logistics continuously monitors and optimizes your inventory storage, ensuring products are accessible and ready for shipping. In addition, we will proactively identify potential stockouts and notify you before they occur, allowing you to make informed decisions about inventory replenishment. This approach can help you maintain a healthy stock level while effectively reducing the risk of lost sales due to stockouts.
2.7 Exceptional Customer Support
At FBA Prep Logistics, we take pride in our exceptional customer support. Our team of knowledgeable professionals is always available to assist you with any questions or concerns you may have about your paper warehousing needs. From onboarding to ongoing inventory management, our team remains committed to your success, ensuring seamless integration with Amazon FBA and overall customer satisfaction.
In conclusion, FBA Prep Logistics provides efficient inventory management, custom-tailored for e-commerce businesses in the paper products industry. By partnering with us, you can focus on growing your business while we handle your inventory management needs. Start leveraging our paper warehousing expertise and advanced inventory management system to take your e-commerce venture to new heights today.
3. Cost-effective Storage Solutions
When it comes to running a successful e-commerce business, especially on a platform like Amazon, maintaining a cost-effective operation is crucial. At FBA Prep Logistics, we understand the importance of offering affordable and competitive storage pricing for our clients. In this section, we'll discuss how our cost-effective paper warehousing solutions save both time and money for e-commerce businesses in the long run.
3.1. Tailored Storage Packages for E-commerce Businesses
One of the primary ways FBA Prep Logistics saves clients money is by providing customized storage packages. Our paper warehousing solutions are designed to meet the unique requirements of your e-commerce business, allowing you to pay only for the space you actually require. This flexibility ensures that you aren't overspending on unused storage space while still having the peace of mind that comes from knowing your inventory is securely maintained in a professional warehouse environment.
3.2. Volume Discounts and Scalability
At FBA Prep Logistics, we also understand that e-commerce businesses may experience fluctuations in inventory throughout the year, particularly during peak seasons. This is why we are proud to offer volume discounts and scalable storage solutions. As your inventory quantities increase, your storage costs decrease proportionally, allowing you to capitalize on cost savings and maintain profitability during periods of high demand.
3.3. Reduced Shipping and Handling Costs
Another major advantage of partnering with FBA Prep Logistics is the opportunity to save on shipping and handling costs. Our strategic location in Bristol, PA enables efficient shipping routes to Amazon fulfillment centers across the East Coast. By consolidating shipments, our warehouse operations reduce your shipping costs, helping you pass on the savings to your customers and maintain a competitive edge in the market.
3.4. Consolidated Services for Additional Cost Savings
When you choose FBA Prep Logistics as your paper warehousing service provider, you're not just getting a reliable storage solution. Our comprehensive supply chain management services provide additional cost savings opportunities for your e-commerce business. By streamlining the entire fulfillment process, from inventory tracking and storage to order processing and shipping, we help you consolidate costs and focus on growing your business.
3.5. Minimize Long-term Storage Fees from Amazon
If you've ever dealt with Amazon's long-term storage fees, you know how costly they can get. By using FBA Prep Logistics' cost-effective paper warehousing services, you can minimize or even eliminate those fees. We'll store your inventory in our secure facility, allowing you to better manage your inventory levels on Amazon and avoid costly charges that can negatively impact your bottom line.
3.6. Enable Strategic Inventory Management
Proper inventory management is absolutely vital to the success of any e-commerce business. Our paper warehousing solutions not only save you money but also empower you with the tools and support needed to manage your inventory strategically. With real-time inventory tracking and advanced warehouse management systems, you can make informed decisions that contribute to long-term business growth and profitability.
In conclusion, cost-effective storage solutions play a pivotal role in the overall success of your e-commerce business. By choosing FBA Prep Logistics, you're not only gaining secure and efficient paper warehousing services, but you're also saving on storage, shipping, handling, and long-term fees, while maintaining excellent profitability in an increasingly competitive market. With our team's expertise, advanced systems, and dedication to customer satisfaction, there's no doubt that FBA Prep Logistics is the best choice for businesses looking to scale and succeed on Amazon.
Secure and Climate-Controlled Environment
When it comes to paper warehousing, one of the most crucial aspects to consider is the storage environment. At FBA Prep Logistics, we fully understand the importance of maintaining a secure and climate-controlled environment for your paper products. But why is this so important, and what benefits can you expect from our advanced climate-control facilities?
Preservation: The Key to Quality
Paper products, like books, stationery, and packaging materials, are vulnerable to damage if not properly stored and preserved. Factors such as temperature, humidity, and exposure to pollutants can cause curling, discoloration, and other forms of deterioration. These issues can significantly impact the quality of your products, ultimately affecting customer satisfaction and your business reputation.
At FBA Prep Logistics, we are committed to offering a climate-controlled environment that maintains optimal conditions for your paper products. Our facilities are designed with temperature and humidity regulation systems, ensuring that your inventory is kept in the perfect condition to preserve its quality and integrity.
Safety and Security: Protecting Your Inventory
In addition to providing the ideal climate for your paper products, our warehouse facilities boast advanced security features to safeguard your valuable inventory. We recognize that the security of your assets is crucial to your e-commerce business, and our services reflect this understanding.
24/7 Surveillance and Access Control
Our warehouse is protected by 24/7 surveillance, utilizing state-of-the-art CCTV systems to monitor every nook and cranny. This constant oversight ensures immediate detection and intervention in the unlikely event of an incident.
Moreover, we have strict access controls in place to prevent unauthorized entry into the warehouse. Only authorized personnel are granted access, and we maintain a detailed log of all movement within the facility.
Fire Prevention and Suppression Systems
The risk of fire is particularly concerning when storing paper products. At FBA Prep Logistics, we understand this threat and have implemented comprehensive fire prevention and suppression systems in our warehouse. These systems include regular inspections, fire alarms, and advanced sprinkler systems designed to protect your inventory and minimize potential damage.
Inventory Insurance
As an added layer of protection for your inventory, we offer inventory insurance to cover your assets against potential loss or damage. This insurance policy demonstrates our commitment to the security of your products and provides peace of mind in case the unexpected happens.
The FBA Prep Logistics Advantage
Choosing FBA Prep Logistics for your paper warehousing needs offers a wealth of benefits when it comes to the secure and climate-controlled storage of your inventory. Our cutting-edge facilities and dedicated team prioritize the safety, preservation, and integrity of your paper products.
From the moment your inventory arrives at our warehouse, our professionals meticulously manage and maintain the environment, ensuring that your valuable assets remain in pristine condition. So why not put your trust in FBA Prep Logistics and experience the benefits of our advanced, secure, and climate-controlled paper warehousing solution? It's time to maximize your e-commerce business potential, and FBA Prep Logistics is here to help you every step of the way.
Expert Support and Seamless Integration with Amazon FBA
A significant benefit of using FBA Prep Logistics' paper warehousing service is the expert support and seamless integration we have with Amazon FBA. We understand the challenges that come with managing an e-commerce business, especially when it comes to meeting the specific requirements of the Amazon FBA platform. Our team of professionals is dedicated to assisting e-commerce businesses like yours in maximizing efficiency and achieving success on Amazon.
A Team of Highly Proficient Supply Chain Management Experts
Our FBA Prep Logistics team is composed of highly proficient supply chain management experts who understand the nuances of selling on Amazon. They possess years of experience working with Amazon FBA sellers and managing paper warehousing. We stay up-to-date with the latest industry trends, ensuring that we provide our clients with the best possible service. By working with FBA Prep Logistics, you are partnering with a team of passionate professionals who are committed to helping you grow your business on Amazon.
A Personalized Approach to Client Satisfaction
At FBA Prep Logistics, we believe in providing a personalized approach to ensure the utmost client satisfaction. Our support team is always ready to assist you in addressing any paper warehousing and Amazon FBA-related queries or issues. Communication is key in any successful business partnership, and we make it a top priority to maintain open channels of communication with our clients at all times.
An In-depth Understanding of Amazon FBA Guidelines
Selling on Amazon FBA comes with specific guidelines that must be adhered to. Our team is well-versed in Amazon FBA requirements, ensuring the proper management and storage of your paper products throughout the entire process. We understand the importance of staying compliant with Amazon's guidelines to avoid potential complications that could negatively impact your business.
Seamless Integration with Amazon FBA
Efficient integration with Amazon FBA is an essential component of our paper warehousing service. FBA Prep Logistics has developed a system that seamlessly connects with Amazon FBA, enabling us to efficiently manage your inventory and ship your products to Amazon fulfillment centers as needed.
Timely and Accurate Order Fulfillment
Reliable order fulfillment is crucial for maintaining a positive reputation on Amazon and keeping your customers satisfied. At FBA Prep Logistics, we take pride in our timely and accurate order fulfillment services, ensuring your paper products reach Amazon fulfillment centers promptly. Feel free to explore our other articles, such as The Ultimate Guide to E-commerce Logistics in the East Coast, for more information on how we can help streamline your e-commerce logistics.
Adaptive Inventory Management System
Our advanced inventory management system is designed to adapt to your specific needs, ensuring the efficient and accurate management of your paper products. This system enables us to control stock levels, maintain accuracy in order processing, and reduce potential errors. Ultimately, this allows FBA Prep Logistics to provide efficient, high-quality service that is crucial for success on Amazon.
Streamlined Return Handling
With a seamless integration to Amazon FBA, FBA Prep Logistics offers streamlined return handling for your paper products. We understand that returns are a natural aspect of e-commerce, and having a well-organized return process can enhance customer satisfaction and engagement. Check out our article on The Ultimate Guide to Amazon Reverse Logistics for East Coast Sellers for more information on how we can help manage the return process for your business.
In conclusion, FBA Prep Logistics' expert support and seamless integration with Amazon FBA make us the ideal choice for businesses looking for paper warehousing solutions. Our team of professionals, advanced inventory management system, and dedicated approach to client satisfaction ensures that your Amazon e-commerce business thrives, while your paper products are stored safely, securely, and in accordance with Amazon's guidelines. Choose FBA Prep Logistics as your trusted paper warehousing partner and watch your business soar to new heights.
The Benefits of Using Paper Warehousing with FBA Prep Logistics
FAQs
1. What is paper warehousing and how does it benefit my e-commerce business?
Paper warehousing refers to the storage and management of paper products for e-commerce businesses, particularly those selling on Amazon. By using FBA Prep Logistics' advanced paper warehousing solutions, your business can benefit from efficient inventory management, cost-effective storage, and exceptional support tailored to your needs.
2. How does FBA Prep Logistics' inventory management system work?
Our advanced inventory management system is customized for the unique requirements of e-commerce businesses dealing with paper products. It ensures accurate inventory tracking, order processing and helps manage your stocks effectively, reducing the likelihood of errors and delays.
3. How does FBA Prep Logistics offer cost-effective storage solutions?
We provide competitive pricing designed to suit the needs of e-commerce businesses selling on Amazon. By choosing FBA Prep Logistics, you're not only investing in secure and efficient paper warehousing solutions, but also saving on costs, enhancing your return on investment (ROI) and spending more time and resources on your business operations.
4. How does FBA Prep Logistics ensure the security and preservation of my paper products?
Our modern, climate-controlled facilities maintain the ideal environment for the proper storage of paper products. This ensures that your inventory is well-preserved and protected from any potential damage, providing you with peace of mind knowing that your products are in safe hands.
5. What makes FBA Prep Logistics' support and integration with Amazon FBA unique?
Our team consists of supply chain management experts dedicated to providing the best possible service to our clients. We work closely with Amazon FBA, ensuring a seamless integration between our warehouse management system and Amazon's fulfillment services. This enables your business to optimize its operations and achieve the desired growth.
Choose FBA Prep Logistics for your paper warehousing needs, and experience the difference in efficiency, reliability, and support that our state-of-the-art services can bring to your e-commerce business.
"`html

"`