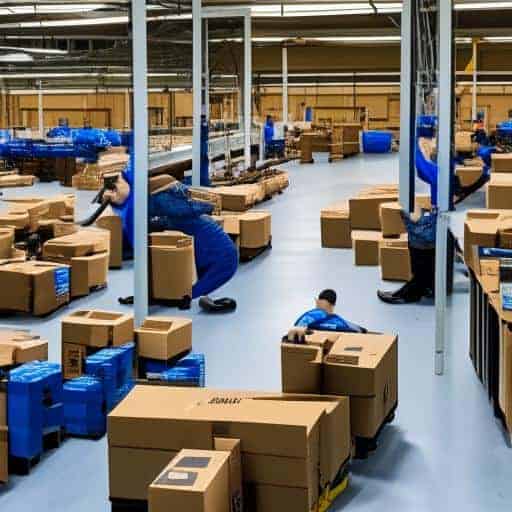 Top 5 Best FBA Prep Centers for Amazon Sellers
Introduction
Starting an e-commerce business on Amazon can be a lucrative venture, but it's essential to have an efficient and reliable support system in place to ensure the success of your online store. One crucial aspect of this support system is finding the best FBA (Fulfillment by Amazon) Prep Center to handle your inventory management, product preparation, and shipping. In this article, we'll provide an overview of some of the best FBA Prep Centers in the industry and explain why FBA Prep Logistics, a 3PL warehouse located in Bristol PA, should be your top choice for all your FBA needs. So, let's dive in and explore the benefits of working with the best FBA Prep Centers for Amazon Sellers!
The Importance of FBA Prep Centers for Amazon Sellers
An FBA Prep Center plays a vital role in the overall success of your Amazon business. By outsourcing these tasks to experts, you can focus on other aspects of your business, such as product sourcing, marketing, and scaling your operations. As a result, partnering with an FBA Prep Center can greatly impact your business growth and expansion.
At FBA Prep Logistics, we understand the challenges faced by small and medium-sized e-commerce businesses, especially those who are new to supply chain management. That's why we offer professional and tailored solutions that adapt to your specific needs and help you achieve your e-commerce goals.
In the sections below, we'll discuss the key features and qualities to look for in the best FBA Prep Centers, showcase how FBA Prep Logistics stands out among its competitors, and share some real-life success stories from our satisfied clients.
So, without further ado, let's get started by exploring what makes a great FBA Prep Center!
2. What Makes a Great FBA Prep Center?
When it comes to finding the best FBA prep centers for your Amazon business, you need to consider a number of factors that can significantly impact your overall success. With the increasing competition in the e-commerce industry, selecting the right 3PL partner that meets your unique needs can make all the difference. In this section, let's discuss the key features and qualities of the best FBA prep centers in the industry.
2.1. Efficient Storage & Warehouse Management Systems
An essential feature of the best FBA prep centers is the capability to manage your inventory with efficient storage systems. This means that the prep center utilizes advanced warehouse management systems (WMS) to maintain accurate inventory counts and streamline the order fulfillment process. A well-organized warehouse with optimized storage procedures ensures your products are securely stored and easily accessible, allowing quick and accurate order processing and shipping.
2.2. Accurate, Real-Time Inventory Management
Another crucial aspect of an excellent FBA prep center is the ability to access real-time inventory data and keep track of stock levels. You want to choose a 3PL partner that offers an advanced software platform with seamless integration to your Amazon Seller Central account for accurate inventory management. This integration helps to avoid stockouts that can hurt your seller performance, while also ensuring that you stay on top of any fluctuations in demand to plan your next inventory replenishment effectively.
2.3. Competitive Pricing and Flexible Service Options
The best FBA prep centers provide value for money with competitive pricing structures tailored to your specific needs. This means that you should expect transparency in pricing with no hidden costs or surprise fees. A great FBA prep center should also offer a range of customizable service options, allowing you to scale your business efficiently and remain agile in a constantly changing industry.
2.4. Expert Staff with In-Depth Industry Knowledge
A great FBA prep center understands that your success is their success. Thus, they invest in training and developing their staff to ensure they are knowledgeable about your niche, industry trends, and Amazon's evolving requirements. Choosing a partner with well-trained and experienced staff ensures your products are expertly handled and you receive informed advice and insights to help grow your business.
2.5. Fast Turnaround Times and Timely Communication
As an Amazon seller, you want to maintain high levels of customer satisfaction. This means partnering with a prep center that prides itself on quick order processing and fast turnaround times to meet the high standards set by Amazon. Additionally, best FBA prep centers are known for their timely and effective communication, ensuring that you are always updated and informed on every aspect of your business.
2.6. Strategic Location
Location plays a crucial role in the supply chain, so it's essential to partner with an FBA prep center that's strategically located near major transportation hubs, such as the East Coast. This ensures that products can be shipped more quickly and efficiently to Amazon's fulfillment centers, reducing shipping costs and transit times. A well-located prep center also allows for better opportunities to access various markets, giving you a competitive edge in the industry.
2.7. Scalability and Flexibility
Your partner FBA prep center should have the capacity to grow with your business and respond effectively to changes in demand. The best FBA prep centers offer scalable and flexible services, ensuring smooth operations even during peak seasons or when your business experiences a sudden surge in sales.
2.8. Comprehensive, End-to-End Services
Finally, choose a 3PL partner that offers a complete range of services, from Amazon FBA prep to advanced reverse logistics. All aspects of your fulfillment process, including storage, picking, packing, shipping, returns management, and inventory tracking, should be seamlessly covered to ensure operational efficiency.
In conclusion, finding the best FBA prep center for your Amazon business requires a careful evaluation of multiple factors. By considering the elements discussed in this section, you can confidently choose a 3PL partner that meets and exceeds your expectations, ultimately leading to greater success in the competitive e-commerce industry.
FBA Prep Logistics: The Ultimate Solutions for Your Business
FBA Prep Logistics is the ideal choice for e-commerce businesses looking for the best FBA prep centers in the industry. We pride ourselves on providing outstanding service and support to our clients, making us an invaluable addition to your Amazon selling journey. In this section, we will discuss how our expert team, prime Bristol PA location, exceptional customer support, and customizable services help us stand out among other FBA prep centers on the market.
Unique Expertise with Amazon FBA Seller Support
At FBA Prep Logistics, we understand the complexities of Amazon FBA, and our well-trained, professional team has the expertise to help our clients navigate the intricacies of FBA operations. We are committed to staying current with industry trends, ensuring that our clients receive the most up-to-date and reliable advice. Our expert team is driven to provide the best service possible, so you can focus on growing your Amazon business.
Strategic Bristol PA Location: Proximity to Amazon Fulfillment Centers
Our state-of-the-art warehouse in Bristol, PA, gives us an advantage over other FBA prep centers. Located on the East Coast, we are in close proximity to major Amazon fulfillment centers, allowing for faster and more efficient shipping of your products to Amazon warehouses. By partnering with FBA Prep Logistics, you can reduce your shipping costs and lead times, giving you a competitive edge in the crowded e-commerce space.
Unmatched Customer Support for Your Amazon Business
We at FBA Prep Logistics understand that our clients need reliable and prompt support to address their concerns and ensure the success of their Amazon businesses. That's why we offer exceptional customer support with a personal touch. Our dedicated account managers work closely with each client, providing tailored solutions to address their specific needs and offering prompt assistance whenever required. We firmly believe that strong communication is key to a successful partnership, and our clients are never left in the dark.
Customizable Services Tailored to Fit Your Needs
No two e-commerce businesses are alike, and we pride ourselves on offering flexible, scalable solutions to meet the unique demands of our clients. Our wide range of services encompasses product inspection, labeling, bundling, packaging, and more. Furthermore, our customizable approach means that you can pick and choose the exact services you need to streamline your operations and focus on growth.
Seamless Integration with Cutting-Edge Technology
Our commitment to staying at the forefront of technological advancements sets us apart from other FBA prep centers. At FBA Prep Logistics, we utilize the latest software, tools, and technology to improve the efficiency of our services. This enables us to provide real-time inventory tracking, accurate order processing, and seamless integration with various e-commerce platforms such as Shopify, ensuring a smooth experience for our clients.
A Partnership You Can Trust
FBA Prep Logistics is dedicated to fostering long-term relationships that help our clients succeed. By consistently delivering industry-leading service and support, we continually prove ourselves to be a trusted partner to e-commerce businesses of all sizes. Our commitment to your success is evidenced not only by our range of services but also by the testimonials and success stories of the many clients who have come to rely on our expertise and commitment to excellence.
In conclusion, FBA Prep Logistics stands out among the best FBA prep centers thanks to our unmatched expertise, strategic location, exceptional customer support, customizable services, and state-of-the-art technology. When you choose to partner with us, you can rest assured that your Amazon FBA business is in capable, trustworthy hands, allowing you to focus on what truly matters – growth and success.
How FBA Prep Logistics Helps Newcomers to Supply Chain Management
Entering the realm of supply chain management, especially for Amazon sellers, can be quite intimidating for newcomers. At FBA Prep Logistics, we understand that every Amazon seller wants to maximize efficiency, minimize errors, and reduce costs in their supply chain. That's where we come in to simplify the entire process and help you navigate this complex world with ease. In this section, we'll discuss:
Our tailored approach serving newcomers
A one-stop solution concept
Our range of services aimed at maximizing efficiency
The strategic location advantage in Bristol, PA
Streamlining the supply chain management process
A Tailored Approach to Serving Newcomers
As a business owner venturing into Amazon FBA, you need a partner who understands your unique requirements and can customize their services to meet your needs. At FBA Prep Logistics, we cater to businesses of all sizes, but we are particularly committed to helping newcomers succeed by providing a tailored approach to serve your unique needs. Our expert team will guide you through the entire process, ensuring you have a smooth and hassle-free experience.
FBA Prep Logistics: A One-Stop Solution for Amazon FBA Needs
One of the reasons FBA Prep Logistics stands out among the best FBA Prep Centers is our commitment to offering a comprehensive range of services under one roof. As a newcomer, solving all your supply chain management needs in a single location significantly simplifies your operations and ensures seamless coordination. Some of our services include inventory management, packaging, labeling, kitting, and shipping – everything you require for end-to-end support.
Take a look at our efficient PA Order fulfillment services for a quick insight into how your e-commerce store can benefit from our services.
Maximizing Efficiency with Our Range of Services
Whether your business is just starting or already established, FBA Prep Logistics offers a suite of services designed to maximize efficiency at every step of the supply chain. We handle everything from receiving, inspecting, and managing inbound shipments to fulfilling orders and handling returns. By choosing FBA Prep Logistics as your trusted partner, you can rest easy knowing that your inventory and shipments are being handled by professionals, leaving you free to focus on growing your business. Discover the Top Cost Reduction Strategies for Amazon Sellers in PA in our recent post.
Strategic Bristol, PA Location for Easy Access and Reduced Shipping Costs
Our strategically located warehouse in Bristol, PA, ensures easier access to the major marketplaces in the United States. This location serves as a key advantage, enhancing the overall efficiency of your supply chain and reducing your shipping costs. Learn more about the 3 Benefits of E-commerce Fulfillment on the East Coast for further insights into the strategic importance of our location.
Streamlining Your Supply Chain Management Process
At FBA Prep Logistics, our goal is to streamline the entire supply chain management process for our clients. By taking advantage of our one-stop solution approach and range of services, newcomers to supply chain management can quickly adapt and grow their business without the stress and confusion of managing multiple service providers.
In summary, FBA Prep Logistics is not just one of the best FBA Prep Centers for newcomers; we are a reliable and trusted ally, committed to helping you achieve your e-commerce goals. By choosing us as your partner, you can enjoy a range of advantages, from tailored assistance and a comprehensive suite of services to a strategic location and streamlined supply chain management process. So why wait? Let's embark on this journey together and unlock the full potential of your Amazon business!
5. Testimonials and Success Stories: Our Customers Speak for Us
A wise person once said, "the customer is always right," and here at FBA Prep Logistics, we couldn't agree more. Our top priority is ensuring that our clients have a fantastic experience, and their satisfaction is what keeps us motivated to improve our services constantly. We're proud to share some of the success stories and positive feedback we've received from our valued clients who have experienced the best FBA Prep Center services we have to offer. These testimonials highlight the significant benefits of partnering with FBA Prep Logistics, and their growth as Amazon sellers speaks volumes about our services' effectiveness.
5.1. Increased Sales and Profits for a Growing Amazon Business
One of our clients, Jane, runs a medium-sized e-commerce business on Amazon, selling a variety of products. She was struggling with inventory management, timely order fulfillment, and navigating the intricacies of FBA requirements. Jane decided to partner with FBA Prep Logistics and saw an immediate improvement in her operations. By utilizing our Efficient PA Order Fulfillment Services for Your E-commerce Store, Jane reported a 50% increase in sales and a 40% increase in profits within just a few months. Her business is now thriving, thanks to the time and effort she has been able to allocate towards marketing and expanding her product range instead of getting bogged down with logistics.
5.2. Smooth Transition to FBA with Expert Guidance
Another client, Mark, was hesitant to transition his business to FBA, fearing the potential complications and learning curve. FBA Prep Logistics provided Mark with comprehensive support, helping him understand The Ultimate Guide to E-commerce Logistics in East Coast and all the necessary processes, including product labeling, shipping, and Amazon compliance checks. Mark is now fully immersed in the world of FBA and has seen his business flourish. He attributes much of his success to the expert guidance and quality services provided by FBA Prep Logistics.
5.3. East Coast Advantages and Faster Shipping Times
A father-son duo, Mike and Chris, sell sports accessories on Amazon and were struggling with slow shipping times and high shipping costs. They reached out to FBA Prep Logistics and, after further exploring the benefits of an East Coast fulfillment partner, they decided to work with us. Through our strategic location in Bristol, PA, they were able to take advantage of 3 Benefits of E-commerce Fulfillment on the East Coast. As a result, their shipping times have significantly reduced, shipping costs have gone down, and their customer feedback has improved.
5.4. Simplified FBA Experience for New Amazon Sellers
When Emily and Luke started their Amazon FBA business, they were overwhelmed with the process of managing their supply chain and inventory. They heard about FBA Prep Logistics and decided to give us a try. Our dedicated and knowledgeable team provided them with insights into Top Cost Reduction Strategies for Amazon Sellers in PA and assisted them in every step of the FBA journey. Emily and Luke now recommend FBA Prep Logistics to all new Amazon sellers, as they have gained a simplified and efficient FBA experience they couldn't have achieved on their own.
5.5. Streamlined Returns Process for Shopify Store
Kate runs a successful Shopify store but was struggling to manage her returns. After partnering with FBA Prep Logistics, she began using our Hassle-free Shopify Returns in NJ service. Kate's returns process is now seamless and efficiently handles customer returns. As a result, her business now boasts a higher customer satisfaction rate and a considerable reduction in the time it takes to handle returns.
We hope these testimonials provide a clear picture of how partnering with FBA Prep Logistics, one of the best FBA Prep Centers in the industry, can positively impact your Amazon business. These diverse success stories showcase our commitment to providing top-notch, customizable services to meet the unique needs of each client, regardless of their business size or experience level. At FBA Prep Logistics, our goal is to offer comprehensive solutions to help you scale your business and achieve lasting success.
Frequently Asked Questions
1. What benefits do I get from using FBA Prep Logistics for my Amazon business?
With FBA Prep Logistics, you receive efficient storage systems, accurate inventory management, competitive pricing, and customizable services. Our strategic Bristol PA location ensures faster deliveries, while our expert team and reliable customer support guarantee a seamless experience for all your Amazon FBA needs.
2. What makes FBA Prep Logistics stand out among other FBA Prep Centers?
We pride ourselves on offering a one-stop solution for all your FBA Prep needs. Our exceptional customer support, expert team, flexible service options, and strategic location make us the perfect partner for both new and experienced Amazon sellers, ensuring your e-commerce business thrives.
3. How does FBA Prep Logistics support newcomers to supply chain management?
We understand that supply chain management can be challenging for beginners. FBA Prep Logistics is committed to simplifying this process by offering a comprehensive solution, which ultimately leads to increased efficiency and growth for your Amazon business.
4. Are there any success stories from clients who used FBA Prep Logistics?
Yes, many of our clients have experienced remarkable growth in their Amazon businesses after partnering with FBA Prep Logistics. Our comprehensive services and dedicated team help them achieve their e-commerce goals, boosting their overall success.
5. How do I start using FBA Prep Logistics for my Amazon business?
To start using FBA Prep Logistics, simply visit our website and request a quote. Our team will work closely with you to create a customized plan that fits your needs and ensure the seamless integration of our services into your business operations.