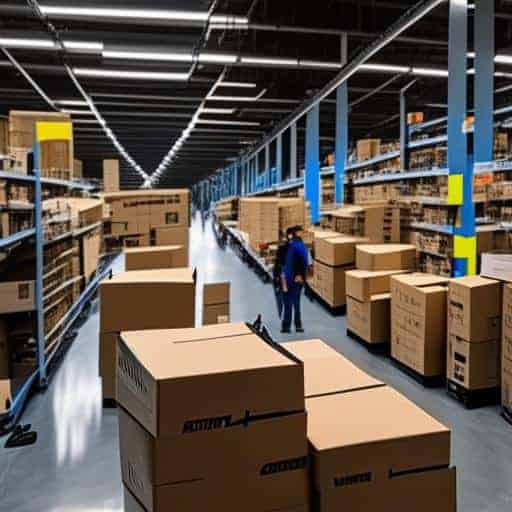 The Power of Amazon Prep Center Canada for Your E-commerce Business
1. Introduction to Amazon Prep Center Canada
Have you ever wondered how you could save time, effort, and resources while scaling your e-commerce business selling on amazon.com? Look no further! Introducing the concept of Amazon Prep Center Canada – a one-stop-shop service that can make a significant impact on the success of your e-commerce venture. An Amazon Prep Center in Canada offers various services that help you efficiently process, store, and ship your products to Amazon's warehouses, ensuring seamless delivery to customers that can lead to increased profits and a smoother operation. In this section, we will briefly introduce how an Amazon Prep Center Canada operates and its benefits for your e-commerce business.
1.1. What is an Amazon Prep Center Canada?
An Amazon Prep Center in Canada is a specialized service provider that primarily focuses on helping Amazon sellers prepare and ship their products for fulfillment by Amazon (FBA). These service providers offer various services such as product inspection, labeling, packaging, bundling, and shipping to ensure your products meet Amazon's strict guidelines before they are shipped to fulfillment centers. This helps you avoid costly errors that might lead to delays, lost sales, and customer dissatisfaction.
1.2. Why use an Amazon Prep Center in Canada?
As an e-commerce business owner, you have one main goal: to keep your customers happy by delivering outstanding products in the most efficient and effective manner. To achieve this, you need a reliable partner who understands the Amazon ecosystem and can help you navigate its complexities. This is where an Amazon Prep Center Canada comes in. Here are a few reasons why partnering with an Amazon Prep Center in Canada could be the perfect solution for your e-commerce business:
In conclusion, using an Amazon Prep Center in Canada is a strategic move that can lead to the growth and success of your e-commerce business. By partnering with an experienced service provider like FBA Prep Logistics, you can make the most of your operations, focusing on growing your business rather than getting bogged down by the nitty-gritty of logistics. In the next section, we will dive deeper into how FBA Prep Logistics can elevate your e-commerce business to new heights. So, buckle up and get ready to discover how our tailored services, strategic location, and supply chain management expertise can contribute to the success of your venture.
2. Benefits of Using FBA Prep Logistics as Your Amazon Prep Center in Canada
As a burgeoning e-commerce business, it's crucial to partner with the right Amazon Prep Center. In this section, we'll discuss the advantages of choosing FBA Prep Logistics as your Amazon Prep Center in Canada. Our tailored services, strategic location, and expertise in supply chain management set us apart from the competition – delivering tangible benefits to your business on amazon.com.
2.1 Tailored Services for Amazon Sellers
At FBA Prep Logistics, we understand that every e-commerce business is unique. That's why we offer customized services to cater to your specific needs and requirements. Some of our tailored solutions include:
2.2 Strategic Location in Bristol, PA
The strategic location of our warehouse in Bristol, PA, offers numerous benefits to e-commerce businesses looking to tap into the vast market potential of amazon.com:
2.3 Expertise in Supply Chain Management
At FBA Prep Logistics, our team is well-versed in the intricate ins and outs of supply chain management. By leveraging our wealth of expertise, we can help you streamline your business operations, avoid costly mistakes, and ultimately drive business growth. Our proficiency in supply chain management comes to the fore in various aspects, such as:
By choosing FBA Prep Logistics as your Amazon Prep Center in Canada, you stand to benefit from our tailored service offerings, strategic location, and supply chain management prowess. With our professional support and expertise, you can focus on growing your e-commerce business on amazon.com, leaving the logistics to us. So why wait? Partner with FBA Prep Logistics today and harness the power of our Amazon Prep Center Canada to drive your e-commerce success!
3. Streamlining Your Supply Chain with FBA Prep Logistics
If you are an e-commerce seller striving to streamline your supply chain management, particularly for your Amazon business – look no further. FBA Prep Logistics is the Amazon Prep Center Canada expert, adept at simplifying and optimizing your entire supply chain process. This ultimately saves you time, effort, and resources, while enhancing productivity and profitability. In this section, we dive into how we achieve this for our clients.
3.1 Tailored Solutions for Your Business Needs
FBA Prep Logistics understands that every e-commerce business is unique and requires personalized solutions. So, we study your business's specific needs and develop a strategic plan customized to your requirements. This ensures a seamless, streamlined operation – from inventory management to order fulfillment to shipping.
3.2 Efficient Inventory Management
Time is money, especially when managing your e-commerce inventory. Our top-notch inventory management system keeps track of your stock levels in real-time, allowing you to make informed decisions promptly. This prevents common pitfalls like stockouts and overstocking while optimizing product availability and delivery times. Learn how to simplify your inventory tracking on Shopify.
3.3 Seamless Order Fulfillment Process
Our efficient PA order fulfillment services deliver a smooth, hassle-free experience. By integrating FBA Prep Logistics into your supply chain, your orders are rapidly picked, packed, and shipped, ensuring quick delivery to your customers. Satisfied customers lead to positive reviews, which are crucial for your Amazon store's reputation and growth.
3.4 Cutting-edge Technology Integration
We leverage advanced technology to enhance your supply chain management. From streamlined order processing to real-time inventory updates, we deploy the latest tools to ensure accuracy, speed, and efficiency at every step. Discover how technology can be integrated into your Amazon Seller workflow in Pennsylvania.
3.5 Cost Reduction Strategies Tailored to Amazon Sellers
Reducing costs while maintaining a high service standard is vital for any e-commerce business. At FBA Prep Logistics, we help you achieve that balance by implementing top cost reduction strategies for Amazon sellers in PA. This includes optimizing storage space, reducing shipping costs, and preventing avoidable mistakes that could lead to financial loss.
3.6 Leveraging Cross-Docking Services
Why spend extra time and resources on storage when you can directly move your products from the supplier to the Amazon warehouse? Cross-docking is a key element for Amazon businesses that helps you save money on storage fees while accelerating the delivery process.
3.7 Expert Consultation and Customer Support
Our team of professionals provides expert consultation and 24/7 customer support to address all your supply chain concerns and keep your operations running smoothly. We continually train our staff to guarantee the highest level of expertise in the ever-evolving Amazon marketplace.
3.8 Access to Extensive E-commerce Logistics Guides
Still have questions about e-commerce logistics? We've got you covered – find the ultimate guide to e-commerce logistics on the East Coast and many more guides in our extensive resource library.
In conclusion, partnering with FBA Prep Logistics, the trusted Amazon Prep Center Canada, ensures your e-commerce business experiences a streamlined supply chain process, while leaving you more time to focus on growth. Boost your Amazon store's efficiency, productivity, and profits with our comprehensive, tailored solutions and expertise.
4. How FBA Prep Logistics Ensures Compliance and Smooth Shipping to Amazon Warehouses
As an Amazon seller, you always want to ensure your products reach Amazon warehouses without any hiccups. At FBA Prep Logistics, our Amazon Prep Center in Canada focuses on guaranteeing compliance with Amazon's strict guidelines to ensure a smooth shipping process to their warehouses. This section will dive into the steps we take for compliance and seamless shipping, helping you avoid costly errors and delays that can impact your e-commerce business.
4.1 Familiarity with Amazon's Packaging and Labeling Requirements
Packaging and labeling requirements for Amazon warehouses can be daunting for new sellers, but at FBA Prep Logistics, we're experts in navigating them. We carefully package and label your items according to Amazon's regulations, ensuring that your products meet the necessary criteria for successful delivery. Our team stays up to date with any changes in Amazon's packaging and labeling requirements, so you don't have to worry about following all the updates.
4.2 Quality Control Measures
High-quality control measures are essential in the preparation of your products for Amazon warehouses. Our Amazon Prep Center Canada team meticulously inspects each item and its packaging to ensure they meet Amazon's standards. These inspections help identify any damaged or defective products before shipping, allowing us to take corrective action accordingly.
4.3 Coordinating Shipment Scheduling
One vital aspect of compliance when shipping to Amazon warehouses is proper shipment scheduling. At FBA Prep Logistics, our team coordinates with Amazon's scheduling system, ensuring that your merchandise arrives at the designated warehouse on time and in the correct order. We work hard to eliminate delays in the shipping process, keeping your inventory in check and preventing any mishaps that could negatively impact your e-commerce business.
4.4 Training and Expertise
Training and expertise are critical for a smooth shipping process. Our Amazon Prep Center Canada team consists of highly trained professionals in the field of compliance management and shipping logistics. With extensive knowledge of Amazon's guidelines, we reduce the possibility of human error and ensure a seamless shipping process.
4.5 Inventory Tracking
Tracking your inventory is vital for preventing stockouts and overstocking situations. FBA Prep Logistics offers efficient inventory tracking solutions that help you stay updated on your product quantities and location at all times. Our inventory management system integrates seamlessly with your seller account, ensuring a quick and accurate transfer of information.
Discover how to simplify inventory tracking on Shopify.
4.6 Reliable Shipping Partners
Besides ensuring compliance with Amazon's regulations, we also prioritize working with reliable shipping partners for a seamless experience. Our carefully selected partners have extensive experience in shipping products to Amazon warehouses, helping to minimize delays or complications during transportation. With dependable shipping services at your disposal, you can focus on your core business activities while we handle the shipping process.
4.7 Customs and Import Documentation
International shipping often requires tedious and complex customs and import documentation. Our Amazon Prep Center Canada team is well-versed in handling such documentation, allowing your shipments to pass through customs smoothly. We understand the nuances of import regulations and will assist you in procuring the necessary documents and permits to ensure a streamlined shipping process.
4.8 Flexible Shipping Solutions
FBA Prep Logistics offers tailored shipping solutions to meet your e-commerce business's unique requirements. We provide various shipment options, including parcel shipping, LTL, and FTL, all while maintaining compliance with Amazon's shipping guidelines.
4.9 Preemptive Problem Solving
Our team at FBA Prep Logistics excels at identifying potential issues in the shipping process and addressing them before they escalate. This preemptive approach allows us to smooth out any bumps in the road and keep our clients' e-commerce businesses running smoothly.
4.10 Dedicated Support and Communication
Finally, one essential factor in ensuring compliance and smooth shipping lies in effective communication and dedicated support. Our Amazon Prep Center Canada team is here to answer your questions, address concerns, and keep you informed about the preparation and shipping of your products. With open communication channels and prompt assistance, you can trust that your e-commerce business is in good hands.
The process of shipping products to Amazon warehouses can be challenging, especially when trying to maintain compliance with their strict guidelines. However, by partnering with FBA Prep Logistics' Amazon Prep Center Canada, you can ensure a smooth and compliant shipping experience, helping your e-commerce business thrive.
In the next section, learn more about how businesses have boosted their e-commerce success using FBA Prep Logistics' services in a detailed case study.
Case Study: Boosting E-commerce Success with FBA Prep Logistics' Amazon Prep Center Services
In this section, we will be diving into real-life examples showcasing how e-commerce businesses, just like yours, have reaped the benefits of our services as an Amazon Prep Center in Canada. By opting for FBA Prep Logistics as their 3PL partner, these businesses have managed to significantly increase their profits while experiencing smoother, more efficient operations. Let's get started.
A Newbie Seller's Journey to Success
Situation: Jack, a new Amazon seller from Canada, was struggling with managing his inventory and fulfillment. His business was rapidly gaining traction, but Jack was overwhelmed with the complex supply chain requirements and Amazon's strict compliance guidelines.
Solution: After choosing FBA Prep Logistics as his Amazon Prep Center in Canada, Jack noticed an immediate improvement in his business processes:
Streamlined Supply Chain: FBA Prep Logistics took over Jack's inventory management and order fulfillment process, ensuring that all products were prepared and packaged according to Amazon's guidelines.

Reduced Costs and Increased Efficiency: By outsourcing these crucial logistics tasks to a reliable partner, Jack was able to focus on growing his business, leading to increased sales and improved profit margins.

Compliance Assurance: With FBA Prep Logistics handling all aspects of product preparation, Jack's shipments to Amazon warehouses were always compliant, reducing the risk of costly errors and delays.
Outcome: Jack's e-commerce business experienced significant growth, with an increase in sales of 140% within six months. The partnership with FBA Prep Logistics allowed Jack to scale his business without the stress of managing the supply chain intricacies on his own.
Growing a Seasonal E-commerce Business with FBA Prep Logistics
Situation: Sarah, an established Amazon seller, had a booming seasonal e-commerce business selling winter sports equipment. She faced challenges with inventory storage and keeping up with the fulfillment demands during peak sales periods.
Solution: By partnering with FBA Prep Logistics, Sarah received customized solutions tailored to her unique business needs:
Flexible Storage Solutions: FBA Prep Logistics provided Sarah with variable storage solutions for her inventory, accommodating the fluctuating demands of her seasonal business.

Efficient Order Fulfillment: Our expert team ensured that Sarah's orders were efficiently processed and shipped, even during peak sales periods when order volumes were high.

Optimized Inventory Management: Sarah was able to easily track her inventory levels, preventing stockouts and overstocking issues, which are common challenges for seasonal businesses.
Outcome: Sarah's e-commerce business saw a 175% increase in sales during the winter season, without experiencing any fulfillment bottlenecks or storage issues. The partnership with FBA Prep Logistics allowed her seasonal business to flourish while maintaining excellent customer satisfaction.
Expanding a Brand's Reach through International Markets
Situation: David, a successful Canadian Amazon seller, was looking to expand his e-commerce business to access the lucrative US market. However, navigating cross-border shipping, tax regulations, and logistics challenges seemed daunting.
Solution: Leveraging FBA Prep Logistics' strategic location in Bristol PA and our expertise in international logistics, we were able to support David's growth into the US market:
Smooth Cross-Border Shipping: Our expertise in cross-border shipping allowed David to effortlessly ship his products from Canada to our facility in the US, without running into customs or tax hurdles.

Fast Delivery to Amazon Warehouses: Due to our proximity to various Amazon fulfillment centers on the East Coast, David's products were quickly delivered to Amazon warehouses, ensuring his US customers received their orders in a timely manner.

Cost-Effective Solutions: David was able to take advantage of our competitive pricing and efficiently manage his inventory without incurring high international shipping costs.
Outcome: David saw a 225% increase in sales within the US market, growing his brand's reach and customer base. By partnering with FBA Prep Logistics as his Amazon Prep Center Canada, David was able to successfully penetrate the US market without the challenges of handling international logistics on his own.
Conclusion
These case studies showcase the transformative power of FBA Prep Logistics' Amazon Prep Center Canada services for e-commerce businesses of varying sizes and industries. By streamlining supply chain processes, ensuring compliance with Amazon's guidelines, and optimizing inventory management, we empower Amazon sellers to not just survive but thrive in their businesses. Choose FBA Prep Logistics as your 3PL partner and experience the benefits for yourself. Together, we can achieve remarkable e-commerce success.
Frequently Asked Questions</h2>
<h3>1. What is an Amazon Prep Center, and why should I consider using one in Canada?</h3>
<p>An Amazon Prep Center is a third-party warehouse that specializes in preparing, packaging, and shipping products for Amazon FBA sellers. Choosing an Amazon Prep Center in Canada, like FBA Prep Logistics, provides numerous benefits such as tailored services, strategic location, and expertise in supply chain management. This partnership can greatly impact your e-commerce success on amazon.com.</p>
<h3>2. How can FBA Prep Logistics help streamline and optimize my supply chain?</h3>
<p>FBA Prep Logistics simplifies your supply chain by handling various tasks, such as inventory management, packaging, labeling, and shipping. Partnering with us allows you to focus on other essential aspects of your business and trust that your inventory is well-managed and compliant with Amazon's guidelines. We also provide useful insights and data to enhance your supply chain operations.</p>
<h3>3. How does FBA Prep Logistics ensure that my products are compliant with Amazon's guidelines?</h3>
<p>Our team of experts is well-versed in Amazon's strict guidelines and requirements. We ensure that your products are properly packaged, labeled, and prepared, reducing the risk of costly errors and delays while shipping to Amazon warehouses. Our quality control measures and attention to detail ensure that your inventory is safe and compliant, for a smooth selling experience.</p>
<h3>4. Can you share some examples of how e-commerce businesses have benefited from using FBA Prep Logistics' services as an Amazon Prep Center in Canada?</h3>
<p>E-commerce businesses that choose FBA Prep Logistics as their Amazon Prep Center in Canada have reported significant improvements in their operations. These business owners experienced increased profits, smoother logistics, and overall better workflow optimization. Our customized solutions and skilled team have helped businesses of all sizes overcome challenges and stay ahead of their competitors in the e-commerce space.</p>
<h3>5. Why is FBA Prep Logistics the best Amazon Prep Center in Canada for my e-commerce business?</h3>
<p>FBA Prep Logistics offers a unique combination of tailored services, strategic location, and expertise in supply chain management that sets us apart from the competition. Our team is dedicated to helping you succeed on amazon.com, and we constantly adapt to ensure that your business thrives. Partnering with FBA Prep Logistics allows you to focus on growing your e-commerce business while entrusting all supply chain and fulfillment needs to a proven industry leader.</p>
<script type="application/ld+json">
{
"@context": "https://schema.org",
"@type": "FAQPage",
"mainEntity": [
{
"@type": "Question",
"name": "What is an Amazon Prep Center, and why should I consider using one in Canada?",
"acceptedAnswer": {
"@type": "Answer",
"text": "An Amazon Prep Center is a third-party warehouse that specializes in preparing, packaging, and shipping products for Amazon FBA sellers. Choosing an Amazon Prep Center in Canada, like FBA Prep Logistics, provides numerous benefits such as tailored services, strategic location, and expertise in supply chain management. This partnership can greatly impact your e-commerce success on amazon.com."
}
},
{
"@type": "Question",
"name": "How can FBA Prep Logistics help streamline and optimize my supply chain?",
"acceptedAnswer": {
"@type": "Answer",
"text": "FBA Prep Logistics simplifies your supply chain by handling various tasks, such as inventory management, packaging, labeling, and shipping. Partnering with us allows you to focus on other essential aspects of your business and trust that your inventory is well-managed and compliant with Amazon's guidelines. We also provide useful insights and data to enhance your supply chain operations."
}
},
{
"@type": "Question",
"name": "How does FBA Prep Logistics ensure that my products are compliant with Amazon's guidelines?",
"acceptedAnswer": {
"@type": "Answer",
"text": "Our team of experts is well-versed in Amazon's strict guidelines and requirements. We ensure that your products are properly packaged, labeled, and prepared, reducing the risk of costly errors and delays while shipping to Amazon warehouses. Our quality control measures and attention to detail ensure that your inventory is safe and compliant, for a smooth selling experience."
}
},
{
"@type": "Question",
"name": "Can you share some examples of how e-commerce businesses have benefited from using FBA Prep Logistics' services as an Amazon Prep Center in Canada?",
"acceptedAnswer": {
"@type": "Answer",
"text": "E-commerce businesses that choose FBA Prep Logistics as their Amazon Prep Center in Canada have reported significant improvements in their operations. These business owners experienced increased profits, smoother logistics, and overall better workflow optimization. Our customized solutions and skilled team have helped businesses of all sizes overcome challenges and stay ahead of their competitors in the e-commerce space."
}
},
{
"@type": "Question",
"name": "Why is FBA Prep Logistics the best Amazon Prep Center in Canada for my e-commerce business?",
"acceptedAnswer": {
"@type": "Answer",
"text": "FBA Prep Logistics offers a unique combination of tailored services, strategic location, and expertise in supply chain management that sets us apart from the competition. Our team is dedicated to helping you succeed on amazon.com, and we constantly adapt to ensure that your business thrives. Partnering with FBA Prep Logistics allows you to focus on growing your e-commerce business while entrusting all supply chain and fulfillment needs to a proven industry leader."
}
}
] }
</script>