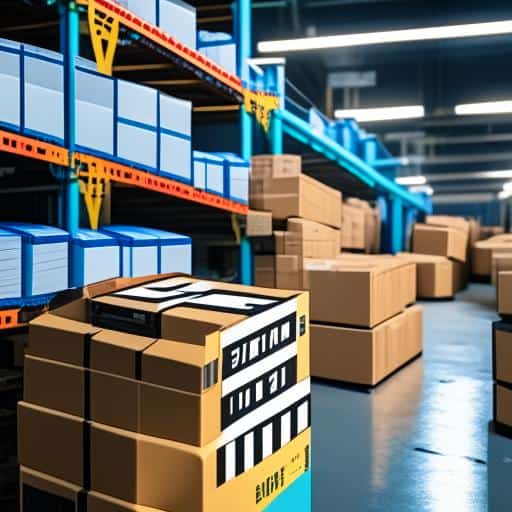 Introduction to E-commerce Order Fulfillment
If you're starting an e-commerce business or looking for ways to improve your existing online store, understanding e-commerce order fulfillment is crucial. E-commerce fulfillment refers to the process of receiving, storing, picking, packing, and shipping your products to customers. In today's competitive world, efficient e-commerce fulfillment can make or break your online business. In this section, we'll provide an overview of e-commerce order fulfillment, including its importance in the world of online selling and how it connects to various aspects of supply chain management.
E-commerce Order Fulfillment: The Backbone of Your Online Business
It's no secret that the success of your e-commerce business depends on more than just a stunning website and engaging product descriptions. At the heart of your online store is its order fulfillment process. From the moment a customer places an order to the time they receive their package, the entire fulfillment process should be seamless and efficient. With the growing importance of fast shipping and excellent customer service, mastering e-commerce fulfillment is essential to staying ahead in the game and keeping your customers happy.
The Importance of Streamlined Order Fulfillment
A smooth e-commerce fulfillment process can lead to benefits such as:
Improved customer satisfaction: Ensuring that orders are shipped quickly and accurately improves customers' experience, leading to positive reviews, repeat business, and referrals.
Increased sales: When you can consistently fulfill and ship orders on time, you're more likely to see an increase in sales as customers trust your brand to deliver on its promises.
Reduced costs: Streamlining your fulfillment process can help cut down on unnecessary expenses such as excess storage, labor costs, and shipping fees.
Scalable growth: Having an efficient e-commerce fulfillment strategy in place allows you to grow your business without worrying about bottlenecks or operational issues.
The E-commerce Order Fulfillment Workflow
The e-commerce fulfillment process typically involves several steps, including:
Receiving: This is when your warehouse or 3PL provider accepts products from your suppliers and stores them in designated warehouse locations.
Inventory management: Keeping track of the quantity, location, and status of your products is key to ensuring a smooth fulfillment process. Efficient inventory management can help minimize stockouts and overstocking issues.
Order processing: As soon as a customer places an order, the details should be transmitted to your warehouse or 3PL partner. This process includes updating inventory levels and creating picking lists for warehouse staff.
Picking: Warehouse staff locates the ordered products and physically collects them from storage locations.
Packing: The picked items are packaged securely, ensuring that the products will arrive in excellent condition. The shipping label is also applied during this step.
Shipping: The packed orders are handed off to your selected shipping carrier for delivery to the customer.
Third-Party Logistics (3PL) Providers: Your E-commerce Fulfillment Solution
One way to achieve streamlined e-commerce fulfillment is by partnering with a reliable third-party logistics (3PL) provider, like FBA Prep Logistics. 3PL partners handle various aspects of your supply chain, such as warehousing, order processing, and shipping. By outsourcing these tasks to a skilled 3PL team, you can focus on core business activities and watch your online store grow while knowing that your e-commerce order fulfillment is in capable hands.
In the following sections, we'll dive deeper into why FBA Prep Logistics should be your ideal 3PL partner. We'll explore our tailored solutions for e-commerce businesses and provide insights into how we can support your growth and connect you seamlessly with platforms like Amazon. We'll also discuss ways to minimize costs and maximize efficiency by partnering with FBA Prep Logistics. Stay tuned for more!
2. Why FBA Prep Logistics is Your Ideal 3PL Partner
2.1. Tailored Solutions for Growing E-commerce Businesses
As a growing e-commerce business, finding a 3PL partner that shares your vision and understands your needs is vital for success. FBA Prep Logistics provides tailored, efficient and streamlined services, specifically designed to cater to the needs of budding e-commerce companies. Our Bristol, PA-based 3PL warehouse has all the necessary equipment and a dedicated team of professionals ready to support your business as it expands.
2.2. Comprehensive Services for E-commerce Fulfillment
FBA Prep Logistics strives to be a one-stop shop for all your e-commerce fulfillment needs. We offer an extensive range of services, including order fulfillment, inventory management, packaging, and shipping solutions. By partnering with us, you can save time and effort by getting everything you need for your supply chain under one roof.
2.3. Strategically Located Warehouse
Our East Coast warehouse in Bristol, PA provides a strategic location for e-commerce fulfillment. Situated near major highways, ports, and transportation hubs, FBA Prep Logistics ensures quick and cost-effective delivery. Additionally, our proximity to major cities allows for faster shipping times, improving customer satisfaction and enhancing your brand reputation.
2.4. Seamless Integration with Multiple Sales Channels
At FBA Prep Logistics, we understand the importance of integrating with your preferred sales channels to streamline your inventory management. Our 3PL services can integrate seamlessly with popular marketplaces like Amazon, eBay, and Walmart, as well as e-commerce platforms like Shopify, WooCommerce, and Magento. This capability ensures smooth data flow and accurate inventory management across your various sales channels.
2.5. Advanced Technology for Efficient Operations
In the fast-paced world of e-commerce, leveraging technology is crucial for success. FBA Prep Logistics employs cutting-edge technology for efficient warehouse management, order processing, and real-time tracking. Our system sends automatic updates, ensuring you stay informed about your inventory and order status. Moreover, our services can integrate with Amazon Seller Central, giving you complete visibility over your sales performance.
2.6. Focused Approach on Amazon Sellers
FBA Prep Logistics recognizes the popularity and potential of Amazon's marketplace. As such, our 3PL services are tailored to support Amazon sellers, ensuring smooth integration with the platform's fulfillment services (FBA). Our team has extensive experience in shipment preparation, label compliance, and storage solutions, which are vital for a successful and hassle-free Amazon selling experience.
2.7. Top-notch Customer Support
We pride ourselves on our excellent customer support and clear communication channels. FBA Prep Logistics assigns a dedicated account manager to each client, ensuring you have a reliable point of contact at all times. Our support team is always ready to address your concerns and answer any questions, making sure your e-commerce fulfillment runs as smoothly as possible.
2.8. Scalable Solutions to Grow with Your Business
As your e-commerce business expands, FBA Prep Logistics' flexible and scalable solutions ensure you have the necessary resources to meet your growing needs. Our wide range of storage solutions and adaptable services can be easily tweaked to align with your specific requirements, making it easy to handle fluctuations in demand.
FBA Prep Logistics offers competitive and transparent pricing for our services. With no hidden costs or surcharges, you can accurately estimate your expenses and make informed decisions regarding your e-commerce fulfillment strategy. Our affordable pricing structure allows you to focus on growing your business while we handle the logistics, ensuring you don't break the bank.
2.10. A Proven Track Record of Success
Lastly, FBA Prep Logistics boasts a proven track record of success in working with e-commerce companies of all sizes. Our experience, combined with our tailored services and dedicated support, makes us the best choice for your e-commerce fulfillment needs. Choose FBA Prep Logistics, and reap the benefits of partnering with an experienced and proficient 3PL provider.
3. The Role of FBA Prep Logistics in E-commerce Fulfillment
At FBA Prep Logistics, our primary goal is to support e-commerce businesses like yours by taking on the crucial aspects related to e-commerce fulfillment. In this section, we will cover the key offerings and services that contribute to your success in the online selling space. By partnering with FBA Prep Logistics, you ensure smooth and hassle-free e-commerce operations.
3.1. Order Processing and Management
Effective order processing is essential for your business, as it directly affects customer satisfaction. We provide a seamless, end-to-end order management system, which includes receiving your orders, routing them to our warehouse, and updating you and your customers in real-time. By acting as an extension of your brand, our well-tuned order processing services ensure that your business meets customer expectations for prompt and accurate delivery.
3.2. Pick and Pack Services
Our efficient pick and pack services save your time and effort while lowering the risk of mistakes. We are equipped with state-of-the-art technologies and expert manpower to ensure that your orders are picked, packed, and dispatched with utmost precision and care. Our warehouse personnel pay close attention to detail, guaranteeing that the right products are always sent to the right customers.
3.3. Inventory Management
There's no need to stress over inventory management with FBA Prep Logistics on your side. Our robust system keeps you informed of your inventory levels, allowing you to plan and stock up accordingly. Plus, our simplified inventory tracking on Shopify and other platforms will help you manage your inventory status on multiple sales channels simultaneously.
3.4. E-commerce Returns Management
A transparent and efficient returns process is key to minimizing customer dissatisfaction. We facilitate hassle-free Shopify returns and ensure a smooth experience across other channels as well. Our team efficiently handles returns, processing them as quickly as possible, minimizing any potential negative impact on your business.
3.5. Quality Control and Compliance
We understand the importance of quality control in maintaining your brand reputation. Our team diligently inspects each item before it reaches your customers to ensure that only the best products leave our warehouse. Furthermore, we stay updated on the latest regulations and compliance requirements, such as Amazon's label compliance, to help you avoid any mishaps that may result in penalties or store suspensions.
3.6. Warehousing and Storage Solutions
Storage can be a significant concern for e-commerce businesses. FBA Prep Logistics offers both short- and long-term storage solutions that scale with your business needs. Our secure facilities in Bristol, PA, protect your inventory, and our real-time inventory reports keep you constantly informed.
3.7. Integration with E-commerce Platforms
One of our key advantages is seamless integration with popular e-commerce platforms such as Shopify, Amazon, and more. This enables us to provide you with a streamlined and consistent experience across all your sales channels.
3.8. Dedicated Customer Support
At FBA Prep Logistics, you are our top priority. We provide a dedicated customer support team, ensuring a smooth communication flow and quick resolution of any concerns or queries. By collaborating closely with your business, we work to achieve our common goals, proactively helping you run your operations more effectively.
In conclusion, FBA Prep Logistics plays a vital role in your e-commerce fulfillment journey by offering a comprehensive set of services tailored to address the unique challenges faced by online sellers. Partnering with us equips your business with the tools and support you need to succeed in the competitive e-commerce landscape.
Section 4: How FBA Prep Logistics Supports Amazon Sellers
As a growing e-commerce business, you're probably well-aware of the selling advantages Amazon offers. However, selling on Amazon can be challenging, especially when it comes to order fulfillment and inventory management. That's where we come in! FBA Prep Logistics has been specifically designed to cater to the unique needs of Amazon sellers, ensuring your business runs efficiently and effectively.
Close Integration with Amazon FBA
We understand e-commerce fulfillment is a crucial aspect of your business, and our services are fully compatible with Amazon Fulfilled-by-Amazon (FBA) requirements. Leveraging our expertise in FBA integration, we can simplify the process for you and save you time, money, and hassle.
Shipment Preparation and Label Compliance
One of the main criteria for successful Amazon FBA selling is accurate shipment preparation and label compliance. FBA Prep Logistics makes this a breeze for you with our top-notch [shipment preparation services(/2167/how-amazon-fba-prep-services-can-help-you-scale-your-business/)]. We manage everything from product labeling, packaging, inspections to palletizing and sorting your shipments. Ensuring compliance with Amazon FBA requirements will not only reduce shipping errors but also avoid additional fees and potential account suspensions.
Efficient Storage Solutions
We offer scalable storage solutions designed to accommodate your business growth. Our warehouse is equipped to handle your entire inventory, from small products to large pallets or oversized items. By choosing our storage services, you can take advantage of significant cost savings and hassle-free inventory management. Our warehouse team is trained to handle your products securely, guaranteeing your inventory arrives at Amazon fulfillment centers in perfect condition.
Customized Reporting and Tracking
Your business needs data to make informed decisions. We provide customized reporting and tracking for your Amazon inventory, allowing you to monitor your stock levels, sales, and shipments with ease. Our real-time data tracking will keep you in the loop and help you identify trends, reducing the risk of running out of stock or facing increased storage fees due to slow-moving products.
Simplifying Amazon Returns Management
Handling product returns is an unavoidable aspect of selling on Amazon. At FBA Prep Logistics, we understand the pain points associated with managing returns, dealing with FBA returns processing and restocking or disposing of returned items. Our return management services simplify this entire process for you, saving you time and effort while ensuring that your customers are satisfied.
Seamless FBA-Prep Services to Help You Scale
Setting up an e-commerce business on Amazon comes with its challenges, and FBA Prep Logistics is here to help you overcome those hurdles. With our [efficient e-commerce fulfillment(/2195/efficient-pa-order-fulfillment-services-for-your-e-commerce-store-3/)] service and dedicated team of professionals, we're equipped to cater to your needs and help you scale your business. Whether your sales are skyrocketing or you're just starting, we are here to empower your success in the Amazon marketplace.
In Conclusion
FBA Prep Logistics is committed to providing top-class support for Amazon sellers, ensuring your e-commerce fulfillment runs smoothly. By partnering with us, you'll receive expert assistance with a broad range of Amazon-specific concerns, including compliance, storage solutions, and handling returns. With our proven track record, we're confident that FBA Prep Logistics is the perfect 3PL partner to help your business thrive. Don't get bogged down in the operational side of selling on Amazon – let us take care of these details so you can focus on what you do best. Say goodbye to fulfillment hassles and hello to growth and profit!
5. Minimizing Cost and Maximizing Efficiency: The FBA Prep Logistics Advantage
Partnering with a reliable and experienced 3PL warehouse, like FBA Prep Logistics, can undoubtedly reduce your overhead costs and improve overall e-commerce fulfillment efficiency. Here, let's explore how FBA Prep Logistics can give your e-commerce business a competitive advantage by maximizing efficiency and minimizing costs:
5.1 Affordable Pricing
Understanding the budget constraints of e-commerce businesses, our 3PL warehouse offers exceptional services at affordable rates. This cost-effective solution allows you to save on shipping fees, operational costs, and daily warehouse maintenance expenses. Moreover, our Efficient PA Order Fulfillment Services for Your E-commerce Store have been specially designed to meet the needs of small and medium-sized businesses, focusing on shipping and logistics efficiency.
5.2 Quick Turnaround Times
One of the key factors determining the success of an e-commerce company is its ability to process and deliver orders in a timely manner. FBA Prep Logistics understands this need and therefore offers fast turnaround times for all order processing and shipping requirements. By partnering with us, you will be able to dispatch products faster than before and ensure your customers receive their orders on time, contributing to positive customer experiences and repeat business. Check our Ultimate Guide to E-commerce Logistics in East Coast to see how our logistics services help businesses meet customer expectations.
5.3 Scalable Storage Solutions
As your e-commerce business expands, your storage needs will naturally increase. FBA Prep Logistics allows you to effortlessly scale your storage requirements according to your business growth. Our warehouse has versatile storage solutions catering to businesses at various stages of development. This adaptability enables you to manage inventory more efficiently and save on costs resulting from underutilized storage space.
5.4 Minimizing Shipping-Related Issues
E-commerce businesses often face shipping challenges, such as order mix-ups, damaged products, or delayed deliveries. These issues result in unsatisfied customers, lost sales, and potential damage to your brand reputation. By partnering with FBA Prep Logistics, you can minimize shipping-related issues with our expertise and dedicated customer support. Our team ensures that each order is accurately picked, packed, and shipped, helping improve overall customer satisfaction.
5.5 Streamlined Inventory Management
FBA Prep Logistics excels at offering efficient inventory management solutions that allow you to track inventory levels, orders, and shipments in real-time. By having access to accurate inventory information, you can avoid stockouts, manage seasonal fluctuations, and make more informed decisions about your inventory. Our Simplify Inventory Tracking on Shopify service, for instance, demonstrates how our inventory systems integrate seamlessly into your existing e-commerce platform.
5.6 Customized Solutions for Your Business
As a 3PL provider, FBA Prep Logistics recognizes the unique challenges that e-commerce companies face. Therefore, we offer a range of customizable solutions, such as hassle-free Shopify returns in NJ and shipment preparation for Amazon sellers. Our goal is to provide tailored solutions for your e-commerce business, helping you achieve maximum efficiency and cost savings.
5.7 Expert Support Team
Don't underestimate the importance of exceptional customer support. Our dedicated and knowledgeable team ensures a smooth e-commerce fulfillment process and offers personalized guidance, addressing any concerns you may have. By collaborating with our expert team, who possesses years of experience in the industry, you will maximize your e-commerce business's efficiency and be well-positioned for continued growth.
5.8 Proximity to Major Markets and Shipping Centers
FBA Prep Logistics' strategic location in Bristol, PA, provides access to major markets and shipping centers along the East Coast. With efficient transportation networks and connections to the regional Amazon fulfillment centers, you will benefit from reduced shipping times and lower overall costs.
5.9 Environmentally Responsible Practices
Embracing environmentally friendly practices is not only good for the planet but can also lead to cost savings for your business. FBA Prep Logistics is committed to adopting green initiatives by using recycled and biodegradable materials, practicing energy-efficient management in our warehouse, and minimizing waste throughout the entire e-commerce fulfillment process.
So Why Choose FBA Prep Logistics?
The benefits of partnering with FBA Prep Logistics for your e-commerce fulfillment needs are clear – our services help reduce costs, maximize efficiency, and ultimately contribute to your business's success. By choosing us as your 3PL warehouse provider, you gain access to a team of industry experts who are passionate about supporting businesses like yours, delivering exceptional services, and ensuring a smooth and streamlined e-commerce fulfillment process. Reach out to us today, and let's start taking your e-commerce business to greater heights!
FAQs for Choosing FBA Prep Logistics as your 3PL Warehouse Partner
1. What is e-commerce order fulfillment and why is it important?
E-commerce order fulfillment is the process of storing, managing, packing, and shipping orders for online businesses. It's crucial for online sellers as it ensures a smooth and efficient delivery experience for customers. Efficient order fulfillment is vital for maintaining customer satisfaction and building long-term loyalty.
2. How does FBA Prep Logistics stand out as an ideal 3PL partner?
At FBA Prep Logistics, we offer tailored solutions that cater specifically to growing e-commerce businesses. Our Bristol, PA-based warehouse is fully equipped with the latest technology and expertise to streamline your shipping and inventory management processes. We work hard to build long-lasting relationships through efficient services and dedicated customer support.
3. What specific services does FBA Prep Logistics provide for e-commerce businesses?
We offer a wide range of services to support your e-commerce fulfillment needs, including order processing, pick and pack services, inventory management, and more. Our team works tirelessly to ensure smooth operations, while our friendly customer support staff is readily available to address any questions or concerns.
4. How does FBA Prep Logistics help Amazon sellers with their fulfillment processes?
We specialize in supporting Amazon sellers by seamlessly integrating with Fulfillment by Amazon (FBA) services. Our Amazon-focused offerings include shipment preparation, label compliance, storage solutions, and more. Our expertise in the Amazon ecosystem allows us to manage your inventory and shipments efficiently, giving you a hassle-free experience.
5. How can FBA Prep Logistics reduce fulfillment costs and improve efficiency?
By partnering with FBA Prep Logistics, you can expect to enjoy competitive pricing, quick turnaround times, scalable storage solutions, and fewer shipping-related issues. We constantly strive to optimize our processes and improve our services to deliver the best value for our clients, freeing you to focus on growing your e-commerce business.

"`