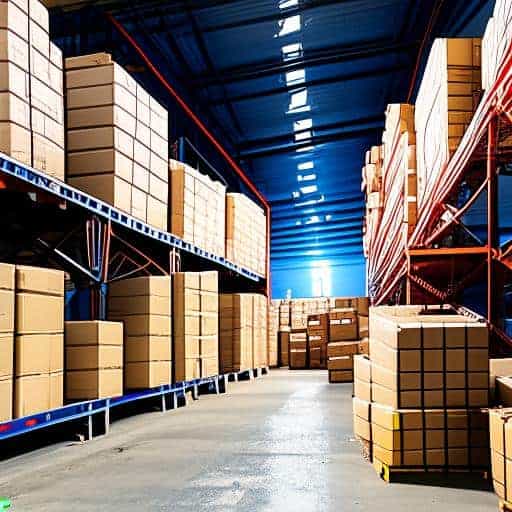 How 3PL Fulfillment Can Revolutionize Your Supply Chain Management
1. Introduction: The Modern E-Commerce Landscape
The world of e-commerce has experienced astonishing growth over the past few years. With the ever-growing number of online businesses, especially on platforms like Amazon, many are diving headfirst into the world of e-commerce. Companies are striving to establish themselves in the digital realm and capitalize on the plethora of opportunities that it brings. In fact, it is expected that online sales will account for over 17.5 percent of global retail sales by 2021.
However, with this rapid expansion comes various challenges for e-commerce businesses – one of the most pressing being supply chain management. Navigating the complexities of order fulfillment, warehousing, shipping, and returns can be daunting, particularly for those new to the e-commerce space or those wishing to scale up their operations. This is where 3PL (third-party logistics) fulfillment companies come into play. They can help revolutionize your supply chain management and propel your e-commerce company to greater heights.
The purpose of this article is to provide a detailed understanding of how a 3PL fulfillment company, such as FBA Prep Logistics, can add value to your e-commerce business. We will delve into the workings of 3PL companies and what makes FBA Prep Logistics the ideal partner for your e-commerce venture. So, without further ado, let's dive into the world of 3PL fulfillment.
1.1. The Challenges Faced by E-Commerce Businesses
The challenges that e-commerce businesses face extend far beyond simply setting up an online store on a platform like Amazon. They must grapple with a myriad of logistics concerns, such as:
Efficient, timely order fulfillment
Inventory management and storage
Cost-effective shipping solutions
Handling returns and exchanges
Streamlining various logistics processes
Each of these aspects must be diligently managed and optimized to ensure the success and growth of an e-commerce company. Handling all these logistics elements in-house can quickly become overwhelming, particularly for smaller businesses and those new to the industry.
1.2. The Solution: 3PL Fulfillment Services
Outsourcing your logistics management to a 3PL fulfillment company can revolutionize the way your e-commerce business functions. They provide a holistic solution to the various supply chain management challenges faced by online retailers, allowing them to focus on other aspects of their business.
In the next sections, we will explore what exactly 3PL fulfillment entails and how partnering with a top-notch 3PL warehouse company like FBA Prep Logistics can benefit your e-commerce business.
2. What is 3PL Fulfillment and Why It Matters
2.1 Defining 3PL Fulfillment
Third-Party Logistics, also known as 3PL fulfillment, is a service provided by external companies that handle product fulfillment on behalf of e-commerce businesses. These 3PL fulfillment companies manage important aspects of your supply chain, such as inventory storage, order picking, packing, shipping, and returns management. Ultimately, they streamline your logistics process and help ensure a positive customer experience with fast and efficient order fulfillment.
The outsourcing of logistics to a 3PL Fulfillment Company like FBA Prep Logistics allows e-commerce businesses, especially those selling on Amazon, to delegate crucial tasks to experts in the field, thus allowing businesses to focus more on product development, marketing, and overall growth.
2.2 Importance of Efficient and Reliable Supply Chain Management
A well-managed supply chain can make a significant difference in the success of your e-commerce business. Efficient supply chain management enables you to provide a high level of customer service and satisfaction by ensuring that your products are available, correctly packaged, and delivered on time. This, in turn, leads to increased sales, repeat customers, and a stronger online reputation.
On the other hand, businesses that struggle with inefficient supply chain management may encounter various issues, such as inventory shortages, delayed shipments, and negative customer feedback. When you're competing on a platform like Amazon, these issues can greatly impact your business's performance and potential growth.
2.3 Benefits of Outsourcing Logistics to a 3PL Fulfillment Company
There are numerous reasons why partnering with a 3PL Fulfillment Company like FBA Prep Logistics can be advantageous for your e-commerce business. Here are some key benefits:
Expertise and Experience: 3PL providers have extensive knowledge of logistics, shipping, and warehouse management. By outsourcing your fulfillment needs, you can leverage their expertise to optimize your supply chain processes and operations.

Cost Savings: Outsourcing logistics to a 3PL can result in cost savings as you no longer need to invest in warehouse space, labor, and equipment. Moreover, 3PL companies benefit from economies of scale, ensuring you get the best shipping rates possible.

Scalability: As your business grows, your logistics needs will also increase. Partnering with a 3PL company allows you to quickly scale your fulfillment operations without having to invest heavily in additional infrastructure.
Time Savings: Managing your supply chain in-house can be time-consuming. Outsourcing your logistics to a 3PL company like FBA Prep Logistics allows you to focus on other essential aspects of your business.

Reduced Errors: 3PL fulfillment providers utilize advanced technologies and processes to minimize errors in shipping, packaging, and inventory management. This can lead to a reduction in lost, misplaced, or damaged products and increased customer satisfaction.
Considering the potential advantages, it's no surprise that many e-commerce businesses opt to outsource their logistics operations to a reliable 3PL fulfillment partner. Next, we'll discuss how FBA Prep Logistics, a top-ranked 3PL warehouse based in Bristol PA, can cater specifically to the needs of our avatar and help your e-commerce business thrive.
FBA Prep Logistics: Your Ideal 3PL Fulfillment Partner
As an e-commerce business, especially one that mainly sells on Amazon, you're undoubtedly on the lookout for a top-notch 3PL fulfillment partner to help streamline your supply chain. You're in the right place, as FBA Prep Logistics is an expert 3PL warehouse located in Bristol, PA, committed to supporting e-commerce businesses like yours!
Catering to the Needs of Our Avatar
We understand that medium-sized e-commerce businesses, our target avatar, may be new to supply chain management or have limited experience working with 3PL providers. That's why at FBA Prep Logistics, our services are tailored to address the unique requirements and challenges faced by businesses operating mainly on Amazon.
Comprehensive 3PL Services
As your premier 3PL fulfillment company, FBA Prep Logistics goes above and beyond merely providing warehouse storage by offering a comprehensive range of services that ensure seamless order management and customer satisfaction. Some of our standout features include:
Product Inspection and Preparation
To meet Amazon's strict requirements, we thoroughly inspect your products for undamaged packaging, correct labeling, and all-around compliance. This step is crucial in preventing issues with Amazon fulfillment centers and avoiding long-term storage or removal fees.
Efficient Inventory Management
Our state-of-the-art Warehouse Management System (WMS) enables accurate inventory tracking, letting you know when stock levels are low and restocking is needed. This will help you mitigate stockouts and maintain a streamlined supply chain.
Cost-Effective Shipping Solutions
As a leading 3PL fulfillment company, we understand the importance of shipping costs to your bottom line. We offer tailored solutions, optimizing shipping methods to meet delivery deadlines at a reasonable cost.
Customized Packaging and Kitting
Our 3PL fulfillment services are designed to make your e-commerce store stand out on Amazon. We offer customized packaging and kitting solutions to give your products a professional look and edge over the competition.
Check out our comprehensive guide to e-commerce logistics on the East Coast!
Exceptional Customer Support
At FBA Prep Logistics, we recognize that e-commerce businesses, particularly those on Amazon, require fast and reliable support. That's why we provide exceptional customer service around the clock, ensuring you have all the resources and assistance needed for success.
Scaling with Your Business
One major advantage of partnering with a 3PL fulfillment company like FBA Prep Logistics is our ability to adapt and scale with your business. As your e-commerce store expands and grows, we'll be there every step of the way, offering customized solutions that align with your specific needs and goals.
Data-Driven Insights
As part of our commitment to continuous improvement, FBA Prep Logistics leverages data and analytics from your e-commerce operation to identify trends, track performance, and optimize supply chain processes. With those insights, you'll make more informed decisions and take your business to greater heights.
Explore the top cost-reduction strategies for Amazon sellers in PA
In sum, with FBA Prep Logistics at your side, you'll get a comprehensive, tailored 3PL fulfillment service that understands the unique challenges of Amazon sellers and addresses them head-on. With our industry expertise and state-of-the-art technology, we can help your e-commerce business thrive in an increasingly complex and competitive marketplace!
4. Benefits of Choosing FBA Prep Logistics for Your E-commerce Business
Choosing the right 3PL fulfillment company is undoubtedly one of the most critical decisions you can make for your e-commerce business. With FBA Prep Logistics by your side, you can focus on expanding your brand while we manage all your supply chain and logistics needs. In this section, we will dive into the specific benefits of partnering with FBA Prep Logistics and how our services can fuel your e-commerce company's growth.
4.1. Cost Savings and Transparent Pricing
One of the biggest advantages of working with FBA Prep Logistics is our cost-effective services. We strive to maintain transparent pricing so you can understand exactly where your money goes. Our competitive rates for storage, order fulfillment, and shipping help save you money, which in turn enables you to invest in other aspects of your business. The Benefits of Using Shopify Shipping on the East Coast offers more on the advantages of cost-effective shipping.
4.2. Streamlined Order Fulfillment
Efficient order fulfillment can make a world of difference to your e-commerce business. FBA Prep Logistics is dedicated to speeding up your delivery process, ultimately leading to satisfied customers and repeat business. With our streamlined order fulfillment services, you'll experience accurate order picking, secured packing, and fast shipping. Check out our Efficient PA Order Fulfillment Services for Your E-commerce Store to learn more.
4.3. Scalability and Flexibility
As your business grows, managing its ever-changing logistics requirements can be challenging. However, FBA Prep Logistics offers scalable and flexible solutions that cater to your business needs, regardless of whether you experience seasonal fluctuations or sudden surges in sales. Our warehouse can easily accommodate your growing inventory, ensuring you never miss out on sales opportunities.
4.4. Expert Inventory Management
An effective 3PL fulfillment company should go beyond picking, packing, and shipping orders. FBA Prep Logistics provides comprehensive inventory management services, which include organizing, tracking, and optimizing your stored products. Our expert team ensures regular updates on stock levels and promptly addresses any discrepancies. Learn more about optimizing inventory in our article on Simplify Inventory Tracking on Shopify.
4.5. Reduced Errors and Enhanced Customer Satisfaction
Order accuracy is the backbone of successful e-commerce companies. Mistakes in the fulfillment process adversely impact your reputation and customer satisfaction. At FBA Prep Logistics, we pay close attention to reducing errors and ensuring the right items reach the right customers. Our diligent team is equipped with the latest technology to minimize mistakes and enhance the shopping experience for your customers.
4.6. Dedicated Customer Support
Partnering with FBA Prep Logistics means receiving personalized and dedicated customer support. Our client-focused approach extends to providing seamless communication and resolving any issues that may arise in your e-commerce supply chain. Our team is available and ready to address your concerns, ensuring a smooth logistics experience for your company.
4.7. Strategic Warehouse Location
Our Bristol, PA warehouse is strategically located, enabling us to deliver products to your customers in the shortest possible time. Being situated near major transportation hubs offers quick access to various shipping channels, helping to reduce transit times and transportation costs. The Ultimate Guide to E-commerce Logistics in East Coast further explains the benefits of our strategic warehouse location.
4.8. Specialized Amazon Services
As a premier 3PL fulfillment company, FBA Prep Logistics offers specialized services tailored to Amazon sellers. We provide efficient and cost-effective solutions that cater to your Amazon store's unique needs, such as FBA prep services, which ensure compliance with Amazon's stringent requirements. For more information, check out our guide on How Amazon FBA Prep Services Can Help You Scale Your Business.
4.9. Collaboration Made Easy
Working with FBA Prep Logistics is a breeze! Our user-friendly technology and software integration capabilities mean seamless collaboration with your existing systems. With our central platform, you can easily manage inventory, track shipments, and ensure the smooth operations of your e-commerce business.
4.10. Future-Proof Your E-commerce Business
In a fast-paced industry like e-commerce, staying ahead of the competition is vital. FBA Prep Logistics helps future-proof your business by continuously investing in state-of-the-art technology and advanced logistics solutions. Our commitment to innovation ensures we adapt to changes in customer expectations, market trends, and industry requirements.
Now that you fully understand the benefits of partnering with FBA Prep Logistics, take the next step toward revolutionizing your supply chain management. Rest assured, our top-notch services will provide your e-commerce business with the competitive edge it needs to succeed. So, why wait? Partner with FBA Prep Logistics, and start experiencing unparalleled growth and efficiency for your e-commerce business!
Getting Started with FBA Prep Logistics: A Seamless Next Step
Are you ready to take your e-commerce business to new heights? Let us guide you through the seamless process of getting started with FBA Prep Logistics, an esteemed 3PL fulfillment company. We make it our mission to enhance your supply chain management and support your business goals. With our expertise, experience, and resources, partnering with FBA Prep Logistics is a no-brainer.
5.1 Easy Steps to Begin Your Fulfillment Journey with FBA Prep Logistics
Starting your fulfillment journey with FBA Prep Logistics is incredibly simple. Just follow these easy steps:
Get in touch: Reach out to us by visiting our contact page, using our contact form, or simply giving us a call. Our friendly team is always happy to help.
Tell us about your business: We'll gain a better understanding of your business goals, shipping requirements, and specific logistics needs.
Provide product information: Supply us with the necessary details about your products, like SKUs, dimensions, and weights.
Sign up for our services: After discussing your business and analyzing your needs, we will provide you with a tailored service proposal. Once you agree and sign up, we're ready to begin our partnership.
Integration: We help you seamlessly integrate your e-commerce platform, such as Amazon, with our system to keep everything in sync.
Inventory shipment: Ship your inventory to our secure warehouse in Bristol, PA. We will safely store and manage your products.
Let us handle the rest: With everything in place, FBA Prep Logistics will expertly manage your order fulfillment, shipping, and returns. You can focus on growing your business with peace of mind.
5.2 Collaborate with a Trusted 3PL Fulfillment Company
FBA Prep Logistics is recognized for our dedication to providing outstanding service and support to our clients. We take pride in being a trusted 3PL fulfillment partner, and are confident that the high-quality services we provide will revolutionize your e-commerce business. Some reasons to choose FBA Prep Logistics include:
Expertise in Amazon fulfillment: We have extensive experience working with Amazon sellers, and understand the nuances of complying with Amazon's fulfillment policies.
Cost-effective: With our competitive pricing, you don't have to fret about fulfillment costs eating into your bottom line. Our Efficient PA Order Fulfillment Services will keep costs low while providing top-notch service.
Cutting-edge technology: We use advanced technology for inventory management, real-time data tracking, and shipment tracking.
Customized services: Our team will analyze your specific needs and tailor our services to match, ensuring that your e-commerce business runs smoothly.
5.3 Don't Miss Out on the Chance to Revolutionize Your E-commerce Operations
By partnering with FBA Prep Logistics, you can expect to reap numerous benefits, such as improved efficiency, increased scalability, and reduced errors. E-commerce businesses that work with us enjoy a smooth and hassle-free experience thanks to our streamlined order fulfillment, inventory management, and shipping services. You can be confident that your supply chain management is in excellent hands, allowing you to focus on what you do best—growing your business.
Now is the perfect time to take the plunge and start reaping the rewards of a seamless supply chain. We invite you to contact us and begin the process of revolutionizing your e-commerce business with FBA Prep Logistics as your 3PL fulfillment partner. The moment you engage with us, you'll experience the difference that our world-class fulfillment services can make for your online business. Don't waste another moment—get in touch with FBA Prep Logistics now, and let us help bring your supply chain management to the next level.
FAQs
What exactly is 3PL fulfillment?
3PL stands for Third-Party Logistics, and 3PL fulfillment refers to the outsourcing of various logistics and supply-chain management services to a third-party company, like FBA Prep Logistics. They handle tasks like inventory management, order fulfillment, and shipping, allowing your e-commerce business to focus on other essential aspects like marketing and product development.
Why should I choose FBA Prep Logistics as my 3PL fulfillment partner?
FBA Prep Logistics offers a range of benefits, such as cost savings, streamlined order processing, efficient inventory management, and customizable shipping services. Our focus on the unique needs of small and medium-sized e-commerce businesses selling on Amazon allows us to deliver tailored services that cater specifically to your requirements, improving overall business efficiency and growth.
How does FBA Prep Logistics handle order fulfillment?
Order fulfillment at FBA Prep Logistics involves receiving, processing, and shipping your e-commerce orders. We utilize a seamless system to ensure swift and accurate order processing. Once an order is received, our team picks, packs, and ships the order in a timely manner while maintaining high-quality service standards.
Will my business be able to scale with FBA Prep Logistics?
Absolutely! FBA Prep Logistics prides itself on offering scalable 3PL fulfillment solutions that adjust to your business's needs. As your e-commerce business grows, our services can expand to accommodate the increased order volume and inventory management requirements, allowing you to focus on continued growth and success without worrying about logistics limitations.
What are the steps to get started with FBA Prep Logistics?
Getting started with FBA Prep Logistics is simple. First, reach out to our team to discuss your specific e-commerce business needs and requirements. We'll work together to tailor a 3PL fulfillment plan that aligns with your business goals. Once a plan is in place, we'll guide you through the seamless integration process to ensure a smooth transition and start reaping the benefits of partnering with FBA Prep Logistics.