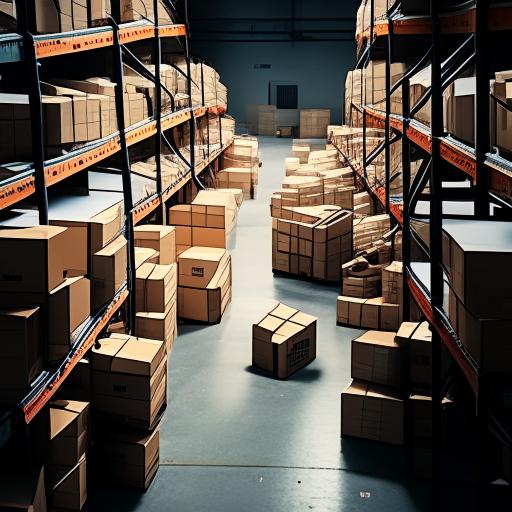 Amazon 3PL for Beginners
1. Introduction to Amazon 3PL and Its Importance for E-commerce Businesses
Welcome to the world of Amazon 3PL, where we're here to provide a comprehensive guide for newcomers to this essential part of e-commerce and supply chain management. As an e-commerce business owner, utilizing third-party logistics (3PL) services, such as those offered by FBA Prep Logistics, can significantly streamline a multitude of tasks including inventory management, order fulfillment, and returns handling. This allows you to focus on what truly matters – growing your business and providing exceptional customer experiences.
1.1. Brief Overview of 3PL and How It Fits Into the Supply Chain Management
Three-Party Logistics (3PL) is a crucial aspect of modern supply chain management that involves businesses partnering with specialized service providers, like FBA Prep Logistics, to outsource various tasks such as warehousing, transportation, and fulfillment. Essentially, a 3PL warehouse acts as an intermediary between your e-commerce store and your customers, ensuring that products are stored, packed, shipped, and delivered efficiently.
By leveraging Amazon 3PL services, e-commerce businesses can greatly benefit from enhanced operational efficiency, cost savings, and an improved ability to scale without the burden of managing complex logistical processes in-house.
1.2. Importance of Choosing the Right 3PL Partner for Success on Amazon and Other E-commerce Platforms
Selecting the ideal Amazon 3PL partner is crucial for the success of your e-commerce business. A reliable logistics partner should understand the unique demands and requirements of selling on Amazon, as well as other e-commerce platforms. This ensures that your business can seamlessly meet the ever-evolving standards of customer preferences and industry compliance.
Partnering with an experienced Amazon 3PL warehouse such as FBA Prep Logistics is crucial for businesses looking to maintain a competitive edge in today's rapidly growing e-commerce marketplace. By entrusting your supply chain operations to a team of experts, you can maximize the efficiency and accuracy of your logistical processes, ultimately leading to increased customer satisfaction and improved sales performance.
So, now that you have an overview of what 3PL is and its importance in the e-commerce realm, let's dive deeper into understanding the services offered by an Amazon 3PL warehouse like FBA Prep Logistics and how it can contribute to your e-commerce business' success. Keep reading to find out how we can help optimize your inventory management, streamline your order fulfillment, and provide a smooth returns handling process.
Understanding the Services Offered by a 3PL Warehouse like FBA Prep Logistics
As an e-commerce business owner, you know how crucial it is to have a reliable partner to take care of the logistics side of things. FBA Prep Logistics is fully equipped to provide a comprehensive array of services to make your Amazon 3PL experience seamless. Let's dive into some of the key offerings that set FBA Prep Logistics apart from the rest:
Inventory Management and Storage: How FBA Prep Logistics Helps You Maintain Optimal Stock Levels and Saves You Time and Resources
Centralized Storage: With FBA Prep Logistics, all your inventory is stored in a single, easily accessible location. This eliminates the need to manage multiple warehouses or storage spaces, saving you time and effort. The Ultimate Guide to E-commerce Logistics in East Coast provides insights into how this centralized approach can streamline your operations.

Real-time Inventory Tracking: We understand that staying informed about your stock levels is crucial for your Amazon business. That's why we offer advanced inventory tracking capabilities that provide real-time insights into your stock availability. This helps avoid stock outages, stock accumulation, and other inventory-linked issues.

Efficient Receiving Process: At FBA Prep Logistics, we strive to minimize the time it takes to receive and process your inventory. Our experienced team quickly unloads, inspects, and catalogs your products, ensuring they are ready for dispatch in the shortest time possible.
Order Fulfillment: Efficient and Speedy Processing of Orders for Your Amazon Business
Accurate Order Picking: Our team is trained to pick and pack orders with precision, ensuring that customers receive the correct items, every time. We understand that mistakes can hurt your reputation on Amazon, and we make accuracy our top priority.

Fast Order Processing: At FBA Prep Logistics, we understand that fast order processing is crucial for meeting Amazon's strict performance standards. That's why we utilize efficient workflows and the latest technology to ensure orders are dispatched swiftly. Efficient PA Order Fulfillment Services for Your E-commerce Store outlines how our speedy service can contribute to your business's success.

Scalable Fulfillment Solutions: Regardless of your Amazon 3PL requirements – be it large or small, we have the resources and expertise to scale our fulfillment services accordingly. This allows you to meet fluctuations in demand while keeping costs under control.
Returns Handling: Ensuring a Smooth Return Process for Customers and Minimizing Losses for Your E-commerce Store
Hassle-free Returns: Customer satisfaction is our top priority, and we strive to make returns as smooth as possible. We handle all aspects of the return process, from receiving and inspecting returned products to restocking or disposing as per your requirements.

Quick Refunds: With FBA Prep Logistics, your customers won't need to wait long for their refunds. We process returns swiftly and issue refunds promptly, ensuring your customers remain satisfied with their shopping experience.

Detailed Reporting: To help you gain insights into the reasons behind product returns, we provide detailed reports and analysis. This data can be invaluable in identifying potential issues and mitigating them in the future to enhance customer satisfaction.
In conclusion, embracing FBA Prep Logistics as your Amazon 3PL warehouse partner means entrusting your supply chain to a team with extensive experience and diverse services. From storage to order fulfillment and returns handling, our team is dedicated to supporting your e-commerce endeavors and helping you maintain a sterling reputation on Amazon.
Benefits of Partnering with FBA Prep Logistics for Your Amazon Business
As an e-commerce business owner, selecting the right 3PL partner is absolutely crucial to the success and growth of your Amazon store. By choosing FBA Prep Logistics as your Amazon 3PL provider, you not only benefit from our wide range of services but also access numerous advantages that set us apart from the competition. Let's delve into some of the primary benefits of partnering with FBA Prep Logistics for your Amazon business:
3.1 Professional and Experienced Staff
At FBA Prep Logistics, we take pride in having a strong team of experienced and knowledgeable professionals who specialize in Amazon and other e-commerce platform fulfillment needs. Our skilled staff members understand the unique requirements and challenges faced by online sellers and are equipped to offer tailored solutions that cater specifically to your business needs.
3.1.1 Tailored Solutions for Your Business
Our team at FBA Prep Logistics is dedicated to helping you grow your Amazon business, and we understand that every seller has distinct needs. We work closely with you to develop customized service plans that accommodate your unique requirements and help you maintain a competitive edge in the market.
3.1.2 Expertise in Amazon Policies and Best Practices
As an Amazon 3PL, we stay well-informed about Amazon's policies, guidelines, and best practices to ensure that your products are always in compliance. Our in-depth understanding of these standards helps us optimize your inventory management and avoid any potential pitfalls that may otherwise slow down your business growth.
3.2 Cost Savings
Cutting costs is a top priority for every e-commerce seller looking to scale their business. Working with FBA Prep Logistics allows you to achieve cost savings without sacrificing quality or customer satisfaction. Here's how we make that possible:
3.2.1 Reduced Infrastructure and Workforce Expenses
By partnering with FBA Prep Logistics, you don't need to invest heavily in warehouse infrastructure or staffing. Instead, our state-of-the-art storage and fulfillment facilities help you maintain optimal inventory levels while minimizing overall expenses. As your Amazon business grows, we can easily adapt to match your increasing requirements, saving you both time and money in the long run.
3.2.2 Volume-based Discounts
To help you save even more, FBA Prep Logistics offers volume-based discounts for sellers dealing with a high volume of orders each month. As your business grows, our competitive pricing model ensures that your costs per order will decrease, contributing to a healthier profit margin.
3.3 Enhanced Customer Satisfaction
Your customers are the lifeblood of your Amazon business, and their satisfaction is a key driver of success. By partnering with FBA Prep Logistics, you reap several benefits that directly contribute to improving your customers' shopping experience:
3.3.1 Faster Delivery Times
Our strategic location in Bristol, PA enables us to ship your products quickly and efficiently, ensuring that your orders reach their destination within the shortest time possible. Our streamlined fulfillment process and efficient PA order fulfillment services are designed to meet Amazon's stringent delivery requirements and keep your customers satisfied.
3.3.2 Streamlined Returns Handling
Returns are an inevitable part of the e-commerce business. At FBA Prep Logistics, we're aware of how crucial it is to handle returns efficiently and with minimal hassle for both sellers and customers. Our team manages the entire return process, from receiving returned items to inspecting, repackaging, and restocking them. This professional approach to returns handling helps reduce losses for your store and maintains your reputation for exceptional customer service.
3.3.3 Proactive Problem Resolution
At FBA Prep Logistics, we believe that proactive communication is vital to resolving any issues that may arise during the fulfillment process. Our attentive staff keeps you informed about any potential hiccups, addressing and resolving them quickly, ensuring that customers remain unaffected.
In conclusion, partnering with FBA Prep Logistics as your Amazon 3PL provides you with a vast array of benefits that can greatly enhance the performance and profitability of your e-commerce business. Our professional team, cost-saving approach, and emphasis on customer satisfaction make FBA Prep Logistics the optimal choice for any Amazon seller looking to improve their supply chain management and accelerate business growth. So, why wait? Discover the difference FBA Prep Logistics can make for your Amazon business today.
Transitioning Your Amazon Business to FBA Prep Logistics: A Simple Process
Making the switch to FBA Prep Logistics as your go-to Amazon 3PL partner can feel like a daunting process. However, the actual transition is quite simple and stress-free if you follow our step-by-step guide. Here, we'll walk you through the process of getting started with FBA Prep Logistics, provide tips for a smooth transition, and give insight on effectively communicating with your previous 3PL, if applicable.
Step 1: Evaluate Your Current 3PL Provider and Pinpoint Opportunities for Improvement
Before jumping into the transition process, it's crucial to understand where your current 3PL might be falling short. Take note of and evaluate any hassles, inefficiencies, or cost issues you are currently facing. Identifying these areas will allow you to better communicate your needs with FBA Prep Logistics and ensure that their services align with your specific requirements as an Amazon seller.
Step 2: Get in Touch with FBA Prep Logistics
Next, reach out to the FBA Prep Logistics team and inquire about their services by visiting our contact page. Our experienced staff will gladly assist you with the transition process and help you determine which of our services will be most beneficial for your business.
Step 3: Share Your Amazon Seller Central Information
To make your move to FBA Prep Logistics seamless, provide us with your Amazon Seller Central credentials. This will allow our team to access crucial order and inventory data that will enhance our ability to manage your supply chain effectively. Rest assured, we take data privacy seriously, so your information is safe and secure with us.
Step 4: Communicate Your Needs and Set Expectations
Having clear and open communication with FBA Prep Logistics is essential for a successful transition. Share your concerns regarding your current Amazon 3PL workflow and discuss the opportunities for improvement noted in Step 1. This open dialogue will help establish expectations for both parties and assure that our services are tailored to meet your requirements.
Step 5: Update Your Amazon Seller Central Settings
Once you've established your partnership with FBA Prep Logistics, it's time to update your Amazon Seller Central settings. Ensure your shipping and inventory settings accurately reflect your new partnership with FBA Prep Logistics for an even more seamless transition. Our team will be there to help guide you through this process if needed.
Step 6: Coordinate with Your Previous 3PL Provider
If you are currently using another 3PL provider, be sure to communicate your transition to FBA Prep Logistics professionally. Work closely with both FBA Prep Logistics and your previous 3PL provider to facilitate the efficient transfer of inventory and operational responsibilities. This will help minimize any interruptions to your Amazon business.
Step 7: Monitor and Evaluate for Continued Growth
Now that you've switched to FBA Prep Logistics as your Amazon 3PL partner, it's crucial to regularly assess your supply chain operations. Continually monitor your inventory levels, order processing times, and customer satisfaction to ensure that your partnership with FBA Prep Logistics is guiding your Amazon business to new heights. Your success is our success, and we're always striving to improve our services for our clients.
Tips for a Smooth Transition
Be thorough in your communication with both your previous 3PL and FBA Prep Logistics during the entire transition process.
Stay organized, as keeping track of inventory and order data during the switch will minimize any potential issues.
Give yourself adequate time to make the transition, allowing for any unexpected challenges or delays.
In conclusion, FBA Prep Logistics is here to simplify your Amazon 3PL experience and streamline your supply chain operations. The transition process is straightforward, and our team of experts is ready to ensure a seamless changeover. Don't hesitate to reach out to us and discover how we can be the perfect Amazon 3PL partner for your growing e-commerce business.
Why FBA Prep Logistics is the 3PL Warehouse to Choose
As we wrap up this comprehensive guide on Amazon 3PL for beginners, it's crucial to understand why FBA Prep Logistics stands out as the best warehouse to choose for your e-commerce business. Partnering with FBA Prep Logistics can help you focus on growing your business while we take care of the backend operations such as inventory management, order fulfilment, and returns handling.
Here are the key takeaways that make FBA Prep Logistics the ideal partner for your Amazon business:
1. Exceptional Expertise Catering to Amazon Sellers
FBA Prep Logistics specializes in providing services tailored to the unique needs of Amazon sellers. Our experienced staff are well-versed with the complexities of Amazon's marketplace and are dedicated to offering exceptional support to guide your business to success on Amazon and other e-commerce platforms.
2. Streamlined Inventory Management and Storage Solutions
Keeping an optimal stock level is crucial for any e-commerce business to thrive. Our Efficient PA Order Fulfillment Services for Your E-commerce Store ensure that you maintain the right balance between supply and demand, allowing you to predict and manage your stock efficiently. With our warehousing solutions, you can save both time and resources on inventory management.
3. Unmatched Order Fulfillment Services
At FBA Prep Logistics, we understand the importance of efficient and timely order processing for your Amazon business. Our order fulfillment services are designed to ensure speedy processing and shipping of orders, enabling you to provide fast delivery times and keep your customers happy.
4. Comprehensive Returns Handling
Returns can be a headache for e-commerce businesses, but not with FBA Prep Logistics. Our seamless returns process ensures that your customers have a positive shopping experience. By minimizing losses due to returns and keeping your buyers satisfied, you can expect to see an increase in your e-commerce store's performance.
5. Significant Cost Savings
In today's competitive e-commerce landscape, businesses must scale cost-effectively to remain profitable. FBA Prep Logistics allows you to grow your Amazon business without the need for significant investment in infrastructure and workforce. Our cost reduction strategies can help your business save money while providing high-quality services to your customers.
6. Enhanced Customer Satisfaction
Partnering with FBA Prep Logistics ensures your customers have an unparalleled shopping experience thanks to faster delivery times and efficient return handling. Our dedication to your business extends beyond just inventory management and order fulfilment. We are committed to boosting customer satisfaction by providing a seamless supply chain service.
7. Easy Transition Process
FBA Prep Logistics makes it simple for businesses to transition from their previous 3PL providers or start integrating 3PL services into their operations. With our guidance and expert tips, you can experience a smooth transition to working with FBA Prep Logistics and fully optimize your Amazon business.
8. Strategic East Coast Location
Our East Coast warehouse location offers significant advantages for your e-commerce business. As detailed in our Ultimate Guide to E-commerce Logistics in East Coast, an East Coast warehouse provides faster shipping times and cost savings, making it a perfect choice for e-commerce sellers targeting customers in the region.
So, what are you waiting for? E-commerce sellers with a focus on growing their Amazon business need a reliable 3PL partner like FBA Prep Logistics. With our expert team, specialized solutions, seamless transition processes, and advantageous location, there is no better warehouse to choose for your Amazon 3PL needs.
Explore the unparalleled services and support offered by FBA Prep Logistics to enhance your supply chain management and steer your e-commerce business towards sustainable growth. Connect with us today and unlock your e-commerce business's full potential with FBA Prep Logistics as your trusted Amazon 3PL partner.
Frequently Asked Questions</h2>
<div itemscope itemtype="https://schema.org/FAQPage">
<div itemscope itemprop="mainEntity" itemtype="https://schema.org/Question">
<h3 itemprop="name">What is a 3PL and why is it important for my e-commerce business?</h3>
<div itemscope itemprop="acceptedAnswer" itemtype="https://schema.org/Answer">
<p itemprop="text">A 3PL, or third-party logistics provider, is a company that handles various aspects of your supply chain, including inventory management, order fulfillment, and returns handling. Partnering with a reliable 3PL like FBA Prep Logistics is important for e-commerce businesses because it streamlines the entire supply chain process, saving you time, resources, and money, while enhancing customer satisfaction.</p>
</div>
</div>
<div itemscope itemprop="mainEntity" itemtype="https://schema.org/Question">
<h3 itemprop="name">What services can I expect from FBA Prep Logistics?</h3>
<div itemscope itemprop="acceptedAnswer" itemtype="https://schema.org/Answer">
<p itemprop="text">FBA Prep Logistics offers a range of services tailored to your Amazon business, including inventory management and storage, order fulfillment, and returns handling. We are committed to helping you maintain optimal stock levels, process orders efficiently, and handle returns smoothly, allowing your e-commerce business to thrive.</p>
</div>
</div>
<div itemscope itemprop="mainEntity" itemtype="https://schema.org/Question">
<h3 itemprop="name">Why should I choose FBA Prep Logistics for my Amazon business?</h3>
<div itemscope itemprop="acceptedAnswer" itemtype="https://schema.org/Answer">
<p itemprop="text">FBA Prep Logistics has a professional, experienced team with a deep understanding of Amazon sellers' needs. We offer tailored solutions, help you save costs, and ensure enhanced customer satisfaction with faster delivery times and efficient handling of returns. Our services empower you to scale your e-commerce business without heavy investment in infrastructure and resources.</p>
</div>
</div>
<div itemscope itemprop="mainEntity" itemtype="https://schema.org/Question">
<h3 itemprop="name">How do I transition my Amazon business to work with FBA Prep Logistics?</h3>
<div itemscope itemprop="acceptedAnswer" itemtype="https://schema.org/Answer">
<p itemprop="text">Switching to FBA Prep Logistics is a simple process. We will provide you with a step-by-step guide on how to start working with us, keeping in mind seamless communication with any previous 3PL (if applicable). Moreover, we will help you update your Amazon Seller Central settings to facilitate a smooth transition to our services.</p>
</div>
</div>
<div itemscope itemprop="mainEntity" itemtype="https://schema.org/Question">
<h3 itemprop="name">How does working with FBA Prep Logistics improve my overall supply chain management?</h3>
<div itemscope itemprop="acceptedAnswer" itemtype="https://schema.org/Answer">
<p itemprop="text">FBA Prep Logistics offers customized, scalable, and efficient supply chain solutions, which enable you to focus on other aspects of your business. With expert support on inventory management, order fulfillment, and returns handling, your Amazon business will enjoy improved supply chain management, leading to satisfied customers and business growth.</p>
</div>
</div>
</div>