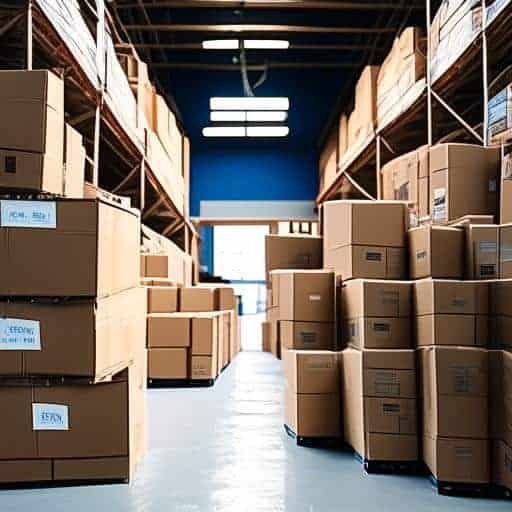 How a Prep Center Can Save Your Amazon Business
Introduction
In the world of e-commerce, especially when selling on Amazon, efficiency and consistency are crucial for success. One of the essential steps in ensuring your products get to customers in the best shape possible is using a prep center. Prep centers handle the tedious tasks associated with running an Amazon FBA business, such as product inspection, labeling, packaging, and shipping. But choosing a reliable prep center Amazon service can make all the difference in streamlining your operations.
Meet FBA Prep Logistics, a trusted 3PL warehouse based in Bristol, PA. We're not just a warehouse, but a game-changer. Our services go beyond mere storage – we take care of all the tasks required to run your Amazon business smoothly, allowing you to focus on growth and generating more sales.
Whether you are an experienced Amazon seller or just starting, partnering with a top-notch prep center like FBA Prep Logistics can make all the difference. So, how exactly can our services revolutionize your e-commerce business? Read on to find out!
Reliable and Efficient Services
At FBA Prep Logistics, we know that your success is our success. That's why we offer a wide range of services tailored to fit your specific needs and requirements. From product preparation to cost-effective storage solutions, our team of professionals is committed to making your Amazon FBA business as smooth and hassle-free as possible.
Catering to Your Unique Amazon Business Needs
Every Amazon business is unique, and we understand that. Our team of experts is here to work closely with you to develop a customized plan that caters specifically to your business goals and requirements, ensuring you receive the most value for your investment.
So, if you're ready to save time, money, and resources while boosting your Amazon FBA business, FBA Prep Logistics is the partner you need. Keep reading to discover how our comprehensive service can benefit you in the long run.
Streamlined Product Preparation
As an ecommerce business owner, you're undoubtedly juggling countless responsibilities. One of the critical aspects of ensuring your success is having a streamlined product preparation process. At FBA Prep Logistics, our Prep Center Amazon team understands that efficiency and accuracy are integral to your business's smooth operations. We're here to support you in every way possible when it comes to product preparation.
Accurate and Efficient Product Preparation
With FBA Prep Logistics as your Partner Amazon prep center, there's no need to stress about the quality of your product preparation. Our experienced team takes the utmost care when handling and prepping your products. We ensure each item is correctly packaged and labeled, adhering to various packaging regulations and requirements for different items. Our attention to detail and commitment to accuracy can save you valuable time and resources, allowing you to focus on other critical aspects of your business.
Importance of Proper Product Preparation for Your FBA Business
You may wonder why product preparation is so important for your Amazon FBA business. Proper product preparation is a crucial factor in your business's performance for several reasons.
Fulfillment Speed: When your products are well-prepped and ready to ship, it facilitates quicker delivery to your customers. An efficient prep center like ours expedites this process, ultimately leading to satisfied customers and positive reviews.

Amazon Compliance: Staying compliant with Amazon's stringent FBA requirements is essential – this includes everything from labeling, packaging, and even storage. We ensure compliance with these rules, so you avoid the costly repercussions of delayed or rejected shipments.

Reduced Product Damage: Accurate and secure packaging reduces product damages, which can tarnish your brand's reputation and lead to additional costs for refunds and returns. Our experienced team uses the appropriate materials and techniques to minimize this risk.
Greater Profitability: Enhancing the efficiency of your product preparation process leads to reduced overheads and greater profitability. By outsourcing to a professional prep center like FBA Prep Logistics, you can optimize your cost structure and make your Amazon FBA business more profitable.
Our Proven Prep Center Amazon Processes
Our streamlined product preparation process at FBA Prep Logistics begins with receiving your inventory. From the moment your items arrive at our facility, we take over the responsibility of ensuring they're ready for sale on Amazon. Our well-structured process involves:
Inspecting each product for damages or defects
Adhering to Amazon's specific packaging and labeling requirements
Repackaging or bundling items when necessary
Secure storage of your inventory in our warehouse
Efficient management of your stock levels and timely restocking
Timely dispatch of items to your customers.
Going the Extra Mile with Customization Services
Our Prep Center Amazon services at FBA Prep Logistics don't just stop at packaging and labeling. We also offer customized services tailored to your specific needs. If you want to go the extra mile for your customers with product personalization, we can help with a wide range of services, including:
Branding and labeling with your logo
Sticker and label design
Custom insert card design and printing
Bundle creation for special promotions
Seasonal or gift wrapping services.
Why FBA Prep Logistics Is Your Go-To Prep Center Amazon
We understand that selecting the right Amazon prep center can be a challenging decision. However, our unique blend of efficiency, accuracy, and customization services set us apart as the ideal partner for your Amazon FBA business. Our wealth of experience in the ecommerce industry will propel your business growth, allowing you to stay abreast with the ever-changing landscape of Amazon FBA.
In conclusion, at FBA Prep Logistics, our expert team is at the heart of our dependable Prep Center Amazon services. We work tirelessly to ensure each product is prepared according to Amazon's standards, helping you avoid costly mishaps and enhance your reputation. Our premium services at competitive prices make us the go-to partner for any ecommerce business owner looking to optimize operations, increase profits, and thrive in the Amazon marketplace. So why wait? Partner with FBA Prep Logistics and experience the difference that a professional Amazon prep center can make!
III. Cost-Effective Storage Solutions
As an e-commerce entrepreneur, you most likely want to focus on growing your business and increasing your profits, but managing your inventory storage can be a significant challenge and expense. That's where FBA Prep Logistics shines, offering cost-effective storage solutions to help your Amazon business thrive!
In this section, we will dive into the various benefits of partnering with FBA Prep Logistics for your storage needs, from affordable rates to flexible options that cater to your unique requirements. So let's explore how efficient storage management can boost your profits and streamline your inventory control by choosing FBA Prep Logistics as your prep center Amazon partner.
1. Affordable Storage Rates
One of the most attractive features of FBA Prep Logistics' storage solutions is their highly competitive pricing. As a 3PL warehouse located in Bristol, PA, FBA Prep Logistics is strategically positioned to provide efficient and cost-effective storage services for your Amazon FBA business.
The affordable storage rates offered by FBA Prep Logistics allow you to take advantage of a high-quality and secure storage solution without breaking the bank. This competitive pricing helps to keep your overhead expenses low, empowering you to channel more resources into growing your e-commerce business.
2. Flexible Storage Options
Every e-commerce business has its unique needs when it comes to storage. FBA Prep Logistics understands this and offers flexible storage solutions tailored to your specific requirements. Whether you need long-term storage for items with slower turnover rates or short-term storage for fast-selling products, FBA Prep Logistics has you covered.
Additionally, FBA Prep Logistics provides scalable storage solutions that adapt to the ebbs and flows of your business. This means that as your inventory levels fluctuate, FBA Prep Logistics will accommodate these changes, ensuring that you are only paying for the storage space you need.
3. Strategic Location
When it comes to warehousing and storage, location is key. FBA Prep Logistics is advantageously positioned in Bristol, PA, giving you access to one of the largest markets in the United States. This strategic location allows for fast and efficient shipping to various Amazon fulfillment centers, ultimately saving you time and money in transportation costs.
The prime location of FBA Prep Logistics as a prep center Amazon partner ensures that your products arrive at their intended destination in a timely manner, leading to improved customer satisfaction ratings and increased sales.
4. Better Inventory Control & Management
Keeping track of your inventory is crucial to maintaining your e-commerce business's success, but it can be a headache when trying to manage it on your own. FBA Prep Logistics offers top-notch inventory management services, ensuring that you are always in the loop about your stock levels.
By having FBA Prep Logistics manage your inventory, you can benefit from their expertise in warehouse management and advanced tracking systems. This streamlined process helps to reduce the risk of overselling, stock discrepancies, and other inventory-related issues that can hurt your e-commerce business.
5. Storage Consolidation
Another benefit of using the storage solutions provided by FBA Prep Logistics is the ability to consolidate your inventory in one central location. This can be particularly advantageous if you are currently using multiple storage facilities or even trying to manage storage from your home or office.
By consolidating your inventory at FBA Prep Logistics, you can have all your products in one strategic location, close to major shipping routes, and serviced by a dedicated team of experts. This consolidation reduces the complexity of your supply chain, making it easier for you to manage your e-commerce business effectively.
6. Enhanced Security
Last but not least, FBA Prep Logistics takes security very seriously. With your e-commerce business's valuable inventory stored at their facilities, you can rest easy knowing that your products are well-protected.
FBA Prep Logistics employs state-of-the-art security measures to deter theft, damage, and other potential risks, ensuring that your products remain safe and secure at all times. This level of security adds an extra layer of protection to your e-commerce business, safeguarding your investment and providing peace of mind.
Conclusion
In conclusion, choosing FBA Prep Logistics as your prep center Amazon partner for storage services is a smart decision that can significantly benefit your e-commerce business. From affordable and flexible storage options to strategic location and enhanced security, FBA Prep Logistics offers a comprehensive storage solution that can save you time, money, and resources.
By partnering with FBA Prep Logistics, you can focus on growing your e-commerce business while they handle your inventory management, storage, and security. So what are you waiting for? Explore the partnership opportunities with FBA Prep Logistics today and give your Amazon FBA business the competitive edge it needs to succeed!
IV. Expert Amazon Compliance
As an Amazon seller, one of the crucial aspects you must focus on is compliance with the platform's requirements and guidelines. Failing to do so can hinder your e-commerce success and put your business at risk. This is where partnering with a prep center Amazon expert, like FBA Prep Logistics, becomes essential for your venture. In this section, we'll discuss the importance of Amazon compliance and how FBA Prep Logistics can help you avoid mishaps through its comprehensive knowledge and experience.
A. Understanding Amazon's FBA Requirements and Guidelines
Selling on Amazon FBA demands adherence to various regulations to ensure a seamless and profitable experience. These rules involve aspects like product labeling, packaging, shipping, and even the use of the right materials. Amazon has an extensive list of requirements that sellers can refer to, but understanding and implementing these guidelines can be daunting, especially for those new to the e-commerce platform.
As a dedicated prep center Amazon warehouse, FBA Prep Logistics is well-versed in Amazon's FBA requirements and guidelines. Our team consistently keeps up with any updates or changes from Amazon, ensuring that your inventory is prepared according to the current standards.
B. The Risks Associated with Non-Compliance
Ignoring Amazon's regulations or making a mistake in following them can result in severe consequences for your e-commerce business. Penalties can range from:
Extra fees or charges
Delayed shipments
Suspension or termination of your FBA account
Loss of customers and trust in your brand
These consequences can not only undermine your business growth but also put your hard-earned reputation at stake. Partnering with an expert prep center Amazon service provider like FBA Prep Logistics helps you avoid such risks and reduces the chances of your business being negatively impacted.
C. Utilizing FBA Prep Logistics' Compliance Expertise
As a reliable and knowledgeable prep center Amazon warehouse, FBA Prep Logistics ensures that your products comply with Amazon's FBA standards, offering you:
Meticulous Labeling and Packaging: Our team efficiently handles tasks like product labeling, packaging, and kitting – ensuring your items are appropriately prepped for shipment.
Regular Inspections: At FBA Prep Logistics, we conduct routine inspections of your inventory to confirm that it rigidly adheres to Amazon's requirements. This proactive approach helps identify and rectify potential compliance issues before they escalate.
Informed and Updated Team: Our team members are not only proficient but also regularly updated with the latest Amazon FBA guidelines to ensure seamless compliance.
Customized Services: We understand that each e-commerce business is unique, and so are their requirements. Our team works closely with you to understand your specific needs and tailor our services accordingly.
By entrusting FBA Prep Logistics with your Amazon FBA compliance, you'll leverage the benefits of our expertise and ensure your inventory is meticulously prepared to meet the platform's requirements.
Conclusion
In the competitive world of e-commerce, partnering with a reliable and proficient prep center Amazon warehouse like FBA Prep Logistics can significantly enhance your chances of success. From streamlined product preparation to cost-effective storage solutions and expert compliance with Amazon's guidelines – our team is committed to providing unparalleled services that cater to your e-commerce needs.
Why wait? Elevate your Amazon FBA business by exploring partnership opportunities with FBA Prep Logistics. Together, we can optimize your supply chain management and help you sail through the complexities of the e-commerce world.
V. Top-Notch Customer Support & Partner Success
At FBA Prep Logistics, our core belief is that impeccable customer support and the success of our partners are the driving factors behind our journey in the world of supply chain management for Amazon sellers. Our primary focus lies in elevating your e-commerce business to new heights while ensuring a smooth and hassle-free experience. Let's explore how the right 3PL partner, like FBA Prep Logistics, is essential to your business's growth.
1. Personalized Services and Attention to Detail
Our team of experts treats every partner's business needs individually, ensuring every requirement is thoroughly understood and met. By paying close attention to the specificities of each business, we dedicate ourselves to deliver maximum efficiency and success to our partner Amazon sellers.
2. Proactive Communication & Transparency
In a dynamic industry like e-commerce, communication is key. We pride ourselves on our proactive approach, updating our partners regularly and ensuring complete transparency. Our collaborative spirit fosters a strong bond with our partners, enabling your business to soar.
3. Expert Guidance & Mentorship
Navigating the Amazon FBA landscape can be confusing, especially for newcomers in supply chain management. That's where our experienced team of professionals comes in, offering invaluable guidance and mentorship to help your business overcome challenges and thrive.
4. Success-Driven Partnerships
We firmly believe that your success translates to our success. Our commitment to your growth goes beyond mere transactions – we aim to cultivate long-lasting, success-driven partnerships by providing exceptional support, every step of the way.
5. Continuous Improvement & Adaptability
In the ever-changing world of e-commerce, staying on top demands adaptability. Our team continuously improves and evolves alongside your business so that both parties remain on the cutting edge of the industry.
6. Around-the-Clock Support
As an Amazon seller, your needs can be time-sensitive. FBA Prep Logistics' dedicated customer support team is always on standby, ready to assist our partners around the clock. We aim to address and resolve any concerns promptly, ensuring peace of mind for our partners.
7. Access to Resources & Expertise
Partnering with FBA Prep Logistics as a prep center Amazon seller grants access to a plethora of resources, tools, and expertise that may be otherwise challenging or costly to obtain independently. Our partners benefit from a streamlined experience, comprehensive services, and industry know-how that genuinely propels their e-commerce ventures forward.
8. Personal Touch & Trust
As a digital marketing assistant with FBA Prep Logistics, we place immense value in establishing trust and cultivating a personal touch with our partners. This connection is evident in our unrivaled support, streamlined processes, and our commitment to propelling your Amazon FBA business towards success.
9. Scalable Partnerships
Growing businesses require scalable solutions. With our flexible storage facilities, state-of-the-art infrastructure, and personalized attention, we ensure that partnering with us not only meets your current business needs but also supports future growth.
10. Hassle-Free Experience
By outsourcing your supply chain management to FBA Prep Logistics, your business can focus on core competencies and growth strategies, while we handle every detail of your Amazon operations. Our customer-centric approach simplifies your e-commerce journey, providing a seamless, worry-free experience.
FBA Prep Logistics is dedicated to being the backbone of your e-commerce business, offering unparalleled customer support and prioritizing partner success. By providing expertise, resources, and meticulous attention to detail, our partnership allows your Amazon FBA venture to prosper and flourish.
So, are you ready to boost your e-commerce endeavors with a reliable 3PL partner that places your success above all else? Take the next step and explore FBA Prep Logistics – the epitome of excellent customer support and partner success.
Frequently Asked Questions
1. How does FBA Prep Logistics streamline the product preparation process for my Amazon FBA business?
FBA Prep Logistics utilizes efficient processes, secure handling, and an experienced team to ensure your products are prepared and packaged according to Amazon's FBA requirements. This saves you time and resources, and ensures your products reach Amazon's fulfillment centers without issues.
2. What are the benefits of FBA Prep Logistics' storage facilities?
FBA Prep Logistics offers affordable rates and flexible options for its storage facilities, providing cost-effective storage solutions for your e-commerce business. Efficient storage management can lead to increased profits, better inventory control, and a more streamlined supply chain management process.
3. How does FBA Prep Logistics ensure compliance with Amazon's FBA requirements and guidelines?
FBA Prep Logistics has a comprehensive understanding of Amazon's FBA requirements and guidelines. By partnering with us, you'll avoid costly mistakes and non-compliance issues, as our team is well-versed in Amazon's processes and will help your products get to the fulfillment centers without any setbacks.
4. How is customer support provided by FBA Prep Logistics?
FBA Prep Logistics is committed to providing exceptional customer support and assistance for our partners. Our dedicated 3PL team helps e-commerce business owners navigate the complex world of supply chain management and is focused on ensuring your business grows and thrives.
5. How can partnering with FBA Prep Logistics enhance my e-commerce business?
By partnering with FBA Prep Logistics, you'll have access to streamlined product preparation services, cost-effective storage solutions, expert Amazon compliance, and top-notch customer support. These combined benefits lead to a more efficient and profitable e-commerce business and help you focus on growth rather than logistics.
In Conclusion
Choosing FBA Prep Logistics as your 3PL partner can be a game-changing decision for your Amazon FBA business. From product preparation to storage solutions, compliance, and customer support, our team will handle your logistical needs, allowing you to focus on growing and expanding your e-commerce venture. Don't hesitate to explore partnership opportunities with FBA Prep Logistics and take your business to new heights.