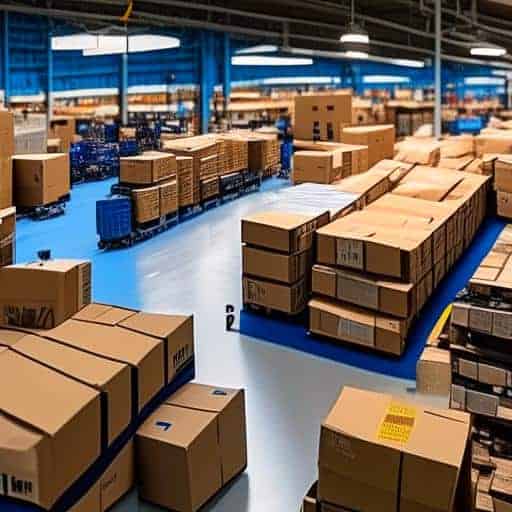 Introduction: Embracing 3PL for Amazon FBA Success
Did you know that partnering with a 3PL (third-party logistics) company can significantly increase your chances of success as an e-commerce business selling on Amazon? That's exactly what a 3PL like FBA Prep Logistics, located in Bristol, PA, offers to help your business reach its full potential while ensuring customer satisfaction and smooth logistics operations. If you're a medium-sized e-commerce business mainly selling on Amazon, you're likely new to supply chain management and might not have experienced the benefits of working with a 3PL provider like us.
Amazon sellers face several challenges, such as meeting strict performance metrics and managing complex shipping and inventory requirements. It can be a daunting task — especially for those who have never used a 3PL before. This article aims to provide a comprehensive guide on how FBA Prep Logistics can help you overcome these hurdles and support your business growth.
In this section, you'll discover:
How our expertise in Amazon's requirements and policies can help you maintain a healthy seller performance rating, avoid penalties, and stay compliant with ever-changing rules
How we streamline inventory management and storage processes, leading to lower overhead costs and improved organization for your Amazon business
The importance of scalability and how partnering with FBA Prep Logistics will enable your e-commerce business to grow more efficiently
The advantages of reduced shipping costs and faster delivery times by utilizing FBA Prep Logistics' strategic location and expertise in optimizing shipping carriers and routes
How FBA Prep Logistics enhances customer service and returns management processes for your Amazon FBA business
With these insights in hand, you'll be better equipped to make an informed decision about whether FBA Prep Logistics is the right 3PL partner for your Amazon FBA business.
Our ultimate goal is to provide you with a valuable partnership that positions your brand for success in a highly competitive marketplace. So, are you ready to embark on a journey towards a more efficient, scalable, and profitable Amazon FBA business? Let's dive in and explore the top reasons why FBA Prep Logistics is the perfect choice for your warehousing and logistics needs.
Reason 1: Expertise in Amazon's Requirements & Policies
###Navigating the Complex World of Amazon FBA Regulations
Selling on Amazon can be an excellent revenue-generating opportunity for your e-commerce business; however, mastering the intricate regulations and ever-changing requirements of the platform is crucial. A 3PL Amazon FBA partner like FBA Prep Logistics brings expertise and understanding of Amazon's ins and outs to the table, ensuring your business remains compliant and in good standing in the marketplace.
Stay Ahead of Policy Updates with a Knowledgeable Partner
Amazon is known for its frequent policy updates, which can directly impact your e-commerce business's operations. Compliance with these policies and regulations is paramount to maintaining a healthy seller performance rating and avoiding potentially costly penalties. As a result, partnering with a 3PL that is well-versed in Amazon FBA rules and requirements is a strategic move.
FBA Prep Logistics stays up-to-date with all Amazon seller policies, ensuring that you're always in compliance and operating efficiently. This proactive approach allows you to focus on your core business activities without the constant worry of keeping up with policy changes.
Minimize Listing Errors and Maximize Product Visibility
One critical aspect of a successful Amazon FBA operation is the proper listing and optimization of your products. The 3PL Amazon FBA experts at FBA Prep Logistics are skilled in crafting Amazon FBA listings according to Amazon's guidelines, increasing your products' visibility and driving customer engagement.
From accurate product descriptions to optimized product images, we ensure that your listings comply with Amazon's style guide and best practices to improve your products' chances of being found by potential customers.
Avoid Inventory-Related Issues with Proactive Management
Amazon FBA sellers know that maintaining compliant inventory levels is essential to avoid penalties and maintain a healthy seller performance rating. FBA Prep Logistics can help you prevent such issues with our effective inventory management strategies, such as monitoring your inventory's Fulfillment Network Stock Keeping Unit (FNSKU) numbers and safety stock levels.
We assist in proactively addressing any potential inventory problems to reduce the risk of stockouts and keep your listings active and generating sales.
Expert Handling of Product Returns
Amazon has strict requirements for handling returns, and failure to adhere to these guidelines can lead to negative impacts on your seller rating and potential penalties. At FBA Prep Logistics, our team is well-equipped to manage your Amazon returns process with care and efficiency, ensuring compliance with Amazon's Return and Refund policies.
We take care of the hassle of returns, allowing you to focus on growing your e-commerce business while maintaining healthy relationships with your customers.
Embrace a Compliance-Centric Approach for Lasting Success
In conclusion, partnering with FBA Prep Logistics, a 3PL Amazon FBA expert, is essential for e-commerce businesses looking to optimize their Amazon operations. By addressing various aspects of Amazon's requirements and policies, from inventory management to product returns, we offer a comprehensive compliance-centric approach that allows you to focus on your core business activities and ensure lasting success on the platform. Put your Amazon FBA operations in capable hands and witness the difference a knowledgeable 3PL partner can make for your e-commerce enterprise.
3. Reason 2: Streamlined Inventory Management & Storage
Managing and storing inventory can be an overwhelming task for growing e-commerce businesses. However, efficient inventory management is essential for a smooth-running operation and preventing costly issues such as stockouts, backorders, and incorrect shipments. By partnering with a top-notch 3PL like FBA Prep Logistics, you can leave all the inventory management and storage challenges behind and focus on what matters most for your business – creating a compelling brand and attracting satisfied customers.
3.1 Improved Inventory Tracking & Visibility
3PL Amazon FBA services ensure accurate tracking of your inventory levels, so you don't have to worry about running out of stock or facing dead inventory. At FBA Prep Logistics, we offer real-time tracking of inbound and outbound shipments, which is crucial for making data-driven decisions about your product offerings. Our streamlined processes and cutting-edge warehouse management system will ensure that you have full visibility and control over your inventory at any given moment. We also provide customized inventory reports to help you identify trends, forecast demand, and make informed decisions about your product line.
3.2 Efficient Receive, Store, & Distribute Process
Inefficient and disorganized inventory management can lead to errors like mis-picks, overstocking, and poor warehouse utilization. Embracing the expertise of FBA Prep Logistics for your 3PL Amazon FBA needs saves you from all these complications. Our warehouse in Bristol, PA is designed to optimize the flow of your inventory – from receiving to storage and distribution. Our team of experienced professionals adheres to industry best practices for accurate order picking and packing, ensuring that your products reach Amazon Fulfillment Centers and customers in perfect condition.
3.3 Cost-effective Storage Solutions
When partnering with FBA Prep Logistics, you receive flexible and cost-effective storage solutions tailored to your unique business needs. We have a well-equipped and strategically located warehouse in Bristol, PA, which not only offers an added advantage when it comes to minimizing shipping costs and delivering your products promptly but also takes the hassle out of securing storage space for your inventory. Plus, you only pay for the storage space you use, which is an excellent way to reduce overhead costs for your e-commerce business.
3.4 Seamless Integration with Amazon FBA
Incorporating your 3PL services with Amazon FBA has never been easier. FBA Prep Logistics focuses on simplifying your e-commerce journey by offering seamless integration with Amazon's processes and requirements. We help you navigate through the complex world of Amazon FBA with ease, ensuring that your products are prepped, packed, and shipped in compliance with Amazon's guidelines. Our team of experts is always updated on the latest Amazon requirements and policies, which gives you peace of mind knowing that your products are in excellent hands.
3.5 Expert Handling of Complex Products & Kits
E-commerce businesses frequently handle complex products, bundles, and kits, which require specialized care and expertise. At FBA Prep Logistics, we have years of hands-on experience in preparing and managing various types of items, including delicate, oversized, and unique-shaped products. Our skilled team focuses on ensuring that your products are handled with care and shipped to Amazon Fulfillment Centers or your customers without any issues.
3.6 Enhanced Flexibility & Adaptability
As your e-commerce business grows, it's crucial to have an inventory management system that can adapt to your evolving needs. By choosing FBA Prep Logistics as your 3PL Amazon FBA partner for streamlined inventory management, you enable your business to be more agile and responsive to market changes. Our scalable solutions and expert support make it easier for you to adapt to shifting customer demands, expand your product offerings, or enter new markets.
In summary, efficient inventory management and storage play a vital role in the smooth operation and success of any e-commerce business, especially for those selling on Amazon. By partnering with FBA Prep Logistics, you gain access to streamlined processes, expert knowledge, and cost-effective solutions that will help you overcome inventory challenges and focus on growing your brand. Our commitment to tracking accuracy, storage optimization, and seamless integration with Amazon FBA creates a strong foundation for the long-term success of your e-commerce business.
Reason 3: Scalability & Business Growth
In the world of e-commerce, the ability to scale your business efficiently and effectively is crucial for long-term success. As an Amazon seller, you may find that as your business grows, your logistics and supply chain management tasks become increasingly complex and time-consuming. By partnering with a 3PL service like FBA Prep Logistics, you can overcome these challenges and support your business growth without any hiccups. This section will explore the multitude of ways a 3PL Amazon FBA partnership can help your e-commerce business seamlessly scale as demand fluctuates and grows over time.
Scalability Through Flexible Storage Solutions
One of the significant benefits of working with a 3PL provider like FBA Prep Logistics is the availability of flexible storage solutions designed to accommodate your ever-changing inventory needs. As your e-commerce business expands, your storage requirements will naturally increase, but this doesn't need to be a concern when you have a trusty 3PL partner to support you.
With FBA Prep Logistics, you'll have access to a state-of-the-art warehouse in the East Coast. By offering flexible storage options, FBA Prep Logistics can adapt to your inventory size while ensuring efficient product tracking and fulfillment. This dynamic approach to warehousing reduces your overhead costs and allows you to allocate resources elsewhere.
Effortless Handling of Seasonal Fluctuations
Every e-commerce business experiences seasonal fluctuations in sales, which can lead to a massive impact on storage and logistics needs. A capable 3PL partner, such as FBA Prep Logistics, can expertly manage these demands with ease, providing a hassle-free experience for your Amazon business.
Whether it's handling increased order volumes during the holiday season or adjusting to a sudden influx of returns after a big sale, FBA Prep Logistics offers a seamless solution to maintaining high-quality service regardless of the season. By efficiently scaling up or down as needed, you can trust FBA Prep Logistics to provide the adaptable support your business requires throughout the year.
Saving Time & Resources for Business Growth
As an Amazon seller, your time and resources are valuable. By outsourcing your logistics to a 3PL company like FBA Prep Logistics, you can focus on core business activities such as expanding your product line, improving your marketing strategy, and building a loyal customer base.
With FBA Prep Logistics handling your inventory tracking and order fulfillment, you can allocate more time and energy on areas most crucial to your business's growth. Outsourcing these tasks to experts not only allows you to work more efficiently on other aspects of your business but also ensures a smooth and professional supply chain operation.
Leveraging Technology for Streamlined Operations
Technology plays an essential role in scaling an e-commerce business. FBA Prep Logistics understands this and employs cutting-edge tech solutions to integrate with your Amazon seller workflow seamlessly.
By adopting advanced technological solutions, FBA Prep Logistics ensures your order processing, inventory management, and shipping tasks run as smoothly and efficiently as possible. Their innovative approach to managing your Amazon FBA business helps you scale up effortlessly while staying competitive in the ever-evolving e-commerce landscape.
Final Thoughts on Scalability & Growth
In conclusion, partnering with a 3PL provider like FBA Prep Logistics offers an array of benefits that help your e-commerce business scale smoothly and sustainably. With flexible storage solutions, streamlined operations, seasonal adaptability, and advanced technology in place, FBA Prep Logistics supports your business through every stage of growth. By entrusting your logistics and supply chain management to the experts, you can confidently focus on expanding your product line, nurturing your customer relationships, and achieving your long-term business goals.
Reason 5: Reduced Shipping Costs & Faster Delivery Times
Every e-commerce business owner knows that shipping costs and delivery times have a significant impact on customer satisfaction. By partnering with FBA Prep Logistics, a leading 3PL Amazon FBA warehouse located in Bristol, PA, we assure you a drastic improvement in these crucial areas. Let's explore how we can help you achieve reduced shipping costs and faster delivery times, resulting in a better experience for your customers.
Our Strategic Location
Our warehouse in Bristol, PA, offers e-commerce businesses a premier location on the East Coast, with easy access to major transportation hubs and distribution centers. This strategic positioning translates into several benefits for your Amazon FBA business:
Optimized shipping routes: Our centralized location allows us to optimize shipping routes, ensuring your packages reach customers on time and reducing overall transit time.

Lower shipping costs: Given our close proximity to various distribution centers, you can save on shipping costs by utilizing our extensive network of carrier partnerships.

Quick order processing: With our up-to-date inventory management system, we ensure all orders are processed quickly and efficiently, allowing your customers to receive their items promptly.
Increased customer satisfaction: A combination of faster deliveries and reduced shipping costs leads to happier customers, leadiing to positive Amazon seller ratings.
Expertise in Shipping Carriers and Methods
Our 3PL Amazon FBA services include expertise in analyzing and selecting the most efficient shipping carriers and methods for your e-commerce business. FBA Prep Logistics constantly evaluates the best shipping options available, including:
Prioritizing carriers based on their performance
Negotiating volume discounts
Utilizing multiple carrier options to suit different shipping requirements
Our goal is to deliver your products to your customers as quickly and cost-effectively as possible.
Streamlined Shipping Process
At FBA Prep Logistics, we invest in technology and processes that streamline our shipping workflows. We employ:
Barcoding systems: Quick and accurate scanning of each item guarantees a smoothly flowing order fulfillment process.
Automated schedule pick-ups: This ensures prompt dispatch and reduces the time your items spend in transit.
Real-time shipment tracking: Our up-to-date tracking system lets you monitor the status of your shipments and stay informed of progress, ultimately keeping your customers informed as well.
Customizable Shipping Solutions
Every business has unique shipping needs, and we cater to those by providing customizable shipping solutions. Whether you need:
Expedited shipping for time-sensitive orders
Standard shipments within the United States
International shipping to expand your customer base
FBA Prep Logistics can tailor shipping options to best fit your e-commerce business model.
Handling Amazon Prime Orders
As an Amazon Prime seller, you're required to meet stringent shipping standards. Our efficient, streamlined operations and strategic location ensure we can process and ship your Prime orders on time, keeping your Prime customers happy while maintaining your eligibility for this exclusive program.
Choose FBA Prep Logistics for Your Amazon FBA Business
In conclusion, partnering with FBA Prep Logistics for your 3PL Amazon FBA needs offers many advantages. Among them, reduced shipping costs and faster delivery times stand out as key factors in elevating customer satisfaction and improving your Amazon seller ratings. Our strategic location in Bristol, PA, expertise in shipping carriers and methods, streamlined processes, and customizable shipping options make us an ideal choice for e-commerce businesses looking to reach new heights in the Amazon marketplace.
Remember, providing excellent shipping services is integral to a successful e-commerce business. At FBA Prep Logistics, we have the tools, knowledge, and infrastructure to support you every step of the way. Don't miss this opportunity to grow your business by partnering with a reliable, efficient, and cost-effective 3PL warehouse. Choose FBA Prep Logistics and let us help you ship your way to success!
Frequently Asked Questions</h3>
<dl>
<dt><strong>1. How does FBA Prep Logistics stay up-to-date with Amazon's requirements and policies?</strong></dt>
<dd>Our team of experts constantly monitor and keep track of Amazon's changing policies and guidelines, ensuring that we are always informed and compliant. This helps your business maintain a strong seller performance rating and avoid costly penalties.</dd>
<dt><strong>2. How does FBA Prep Logistics help with efficient inventory management?</strong></dt>
<dd>By utilizing advanced inventory management systems, we accurately track your products, streamline fulfillment, and offer cost-effective storage solutions. This helps keep your Amazon business organized and allows you to reduce overhead costs.</dd>
<dt><strong>3. How can partnering with FBA Prep Logistics support scalability and business growth?</strong></dt>
<dd>Our flexible services allow your business to scale seamlessly, accommodating seasonal fluctuations in demand and long-term growth. By outsourcing logistics tasks, you can direct your time and resources towards growing your brand and expanding your product line.</dd>
<dt><strong>4. How does FBA Prep Logistics reduce shipping costs and improve delivery times?</strong></dt>
<dd>Our strategic location in Bristol, PA, and expertise in optimizing shipping carriers and routes result in lower shipping costs and faster delivery times. This ultimately leads to higher customer satisfaction and improved Amazon seller ratings.</dd>
<dt><strong>5. What role does FBA Prep Logistics play in customer service and returns management?</strong></dt>
<dd>We assist in providing top-notch customer service through efficient returns management and hassle-free resolution of order issues. Our streamlined return process helps maintain positive customer relationships while reducing the burden of handling returns in-house.</dd>
</dl>
<script type="application/ld+json">
{
"@context": "https://schema.org",
"@type": "FAQPage",
"mainEntity": [
{
"@type": "Question",
"name": "How does FBA Prep Logistics stay up-to-date with Amazon's requirements and policies?",
"acceptedAnswer": {
"@type": "Answer",
"text": "Our team of experts constantly monitor and keep track of Amazon's changing policies and guidelines, ensuring that we are always informed and compliant. This helps your business maintain a strong seller performance rating and avoid costly penalties."
}
},
{
"@type": "Question",
"name": "How does FBA Prep Logistics help with efficient inventory management?",
"acceptedAnswer": {
"@type": "Answer",
"text": "By utilizing advanced inventory management systems, we accurately track your products, streamline fulfillment, and offer cost-effective storage solutions. This helps keep your Amazon business organized and allows you to reduce overhead costs."
}
},
{
"@type": "Question",
"name": "How can partnering with FBA Prep Logistics support scalability and business growth?",
"acceptedAnswer": {
"@type": "Answer",
"text": "Our flexible services allow your business to scale seamlessly, accommodating seasonal fluctuations in demand and long-term growth. By outsourcing logistics tasks, you can direct your time and resources towards growing your brand and expanding your product line."
}
},
{
"@type": "Question",
"name": "How does FBA Prep Logistics reduce shipping costs and improve delivery times?",
"acceptedAnswer": {
"@type": "Answer",
"text": "Our strategic location in Bristol, PA, and expertise in optimizing shipping carriers and routes result in lower shipping costs and faster delivery times. This ultimately leads to higher customer satisfaction and improved Amazon seller ratings."
}
},
{
"@type": "Question",
"name": "What role does FBA Prep Logistics play in customer service and returns management?",
"acceptedAnswer": {
"@type": "Answer",
"text": "We assist in providing top-notch customer service through efficient returns management and hassle-free resolution of order issues. Our streamlined return process helps maintain positive customer relationships while reducing the burden of handling returns in-house."
}
}
] }
</script>