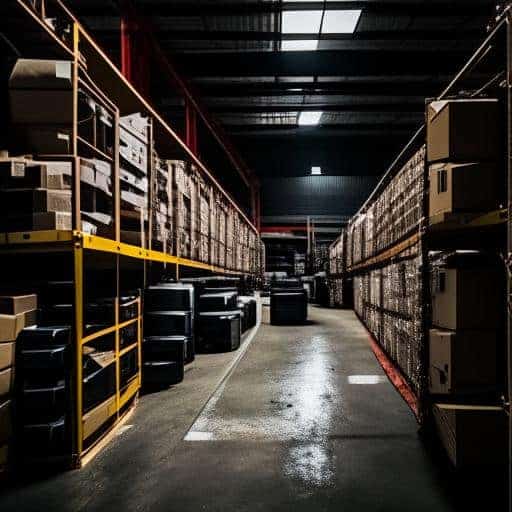 Introduction: The Growing Need for 3PL Warehouse Services
In today's fast-paced world, eCommerce businesses are on the rise, and one of the essential factors for success is efficient logistics management. This is where third-party logistics (3PL) warehouses come into play. Especially for eCommerce businesses primarily selling on Amazon, partnering with a 3PL warehouse in the USA has become crucial to manage the supply chain effectively and stay ahead of the competition.
But why should your business choose FBA Prep Logistics as your go-to solution for all of your 3PL warehouse needs? Well, we have the answers for you! Here, we'll discuss the variety of services offered by FBA Prep Logistics, our convenient location, expertise in Amazon FBA fulfillment, and commitment to exceptional customer support. By the end of this article, you'll understand why FBA Prep Logistics should be your top choice when it comes to selecting a 3PL warehouse partner in the USA.
FBA Prep Logistics: Your one-stop destination for 3PL warehouse services
Having a reliable partner in managing your supply chain can be a game-changer for your eCommerce business. Not all 3PL warehouses are created equal, and that's why you need one that understands your requirements and provides you with tailored solutions. FBA Prep Logistics specializes in offering efficient and comprehensive services to strengthen your presence in the Amazon marketplace and boost your sales in no time. With us by your side, you'll be able to focus more on other aspects of your business while leaving the logistics in our capable hands.
II. Comprehensive Services and Flexibility
As a business owner managing an online store, you likely have many things to handle at once, from marketing your products to providing customer support. Wouldn't it be great if you could leave the fulfillment and logistics to someone else, so you could focus on what you do best? This is where FBA Prep Logistics comes in, a leading 3PL Warehouse USA service provider. In this section, we'll dive into the wide range of services we offer and how our flexible solutions cater to your unique business needs.
A. Services for eCommerce Businesses
At FBA Prep Logistics, we provide end-to-end solutions for all your eCommerce needs, offering a complete range of services that help streamline your supply chain management:
Receiving: Rapid and accurate onboarding of your products into our warehouse, ensuring inventory and SKUs are organized and ready to go.
Storage: Secure, climate-controlled environments for your inventory, so you can rest easy knowing your products are stored safely and protected.
Inventory Management: Robust, real-time inventory management systems that allow you to monitor stock levels and optimize your inventory turnover.
Order Fulfillment: Efficient pick, pack, and shipping of your customer orders, utilizing advanced warehouse technology and expertise to ensure a swift and accurate order processing.
Shipping: Seamless integration with major carriers, offering you competitive shipping rates and faster delivery times to your customers.
Returns Management: Hassle-free returns and exchanges for your customers, streamlining the reverse logistics process while reducing costs.
With these comprehensive services combined, you'll gain peace of mind knowing that FBA Prep Logistics has got your back, while you focus on growing your eCommerce business.
B. Customization and Flexibility
At FBA Prep Logistics, we understand that each business has its unique requirements and challenges, which is why we offer customizable solutions to cater to your specific needs. Our flexible approach awaits different industry segments, products, and sales volumes.
Bespoke Service Plans: Tailored plans to match your budget and logistics requirements, whether you're an emerging entrepreneur or an established brand.
Scalability: As your business grows, our services gracefully scale with your needs, ensuring continued support and fulfillment proficiency.
Seasonal Fluctuations Handling: Our services adapt to handle peak seasons and high sales volumes, ensuring that your business runs smoothly even during the busiest periods.
Special Handling & Kitting: Additional services such as product bundling, kitting, and special packaging to accommodate your unique product offerings.
International Fulfillment: Support for global marketplaces with seamless integration into your international fulfillment channels.
With our flexible services and solutions, FBA Prep Logistics serves as the perfect partner for eCommerce retailers selling in various niches and marketplaces.
In conclusion, the comprehensive services and flexibility offered by FBA Prep Logistics ensure that partnering with us will lead to an efficient supply chain for your eCommerce business. Our customizable solutions cater to unique needs, ranging from emerging entrepreneurs to quickly scaling businesses. Trust FBA Prep Logistics to handle your eCommerce operations, providing you with peace of mind and a reliable, responsive 3PL Warehouse USA partner that grows with your business.
III. Convenient Location and Accessibility
One of the most important factors when selecting a 3PL Warehouse in the USA for your eCommerce business is the convenience and accessibility of its location. FBA Prep Logistics is strategically situated in Bristol, PA, making it an ideal choice for businesses focusing on the amazon.com marketplace. The proximity to major cities and transportation hubs on the East Coast ensures faster shipping times and minimized transportation costs. In this section, we will discuss the benefits of our convenient location and how it can help your online business thrive.
A. Easy Access to Major Cities and Highways
Bristol, PA, is a prime spot for a 3PL Warehouse in the USA due to its proximity to major cities like New York City, Philadelphia, and Baltimore. This ensures that your products can quickly reach your customers in densely populated areas, resulting in positive customer feedback and repeat business. Moreover, our facility is easily accessible through major highways and interstate routes, ensuring a smooth and timely transportation of goods to their final destination.
B. Proximity to Ports and Airports
Our location in Bristol offers excellent accessibility to key ports and airports in the region. This means that importing and exporting products to and from your Amazon store is more efficient and cost-effective. For instance, FBA Prep Logistics is in close proximity to the Port of Philadelphia and the Newark-Elizabeth Marine Terminal, enabling faster shipment processing and customs clearance. In addition, major airports such as Philadelphia International Airport (PHL) and Newark Liberty International Airport (EWR) are within easy reach, further improving shipping efficiency and reducing overall logistics costs.
C. Reduced Shipping Times and Costs
An essential advantage of partnering with a 3PL Warehouse in the USA like FBA Prep Logistics is the potential savings on shipping times and costs. By utilizing a warehouse near major transportation hubs, you can reduce both domestic and international transit times, ensuring faster order fulfillment and happier customers. Furthermore, you will likely enjoy reduced shipping costs as a result of fewer miles traveled and reduced fuel consumption. As a result, your business can maintain competitive pricing while delivering products to consumers in a timely fashion.
D. Streamlined Inventory Management
Another benefit of a conveniently located 3PL warehouse is the ease of managing your inventory. Since FBA Prep Logistics is close to major cities and transportation hubs, our facility minimizes the need for multiple warehouse locations where goods must be stored and transported. This approach helps you centralize inventory management and simplifies inspection, shrinkage control, and tracking simplifying inventory tracking on Shopify. A more straightforward and efficient inventory management system ultimately translates into cost savings and increased profitability.
E. Enhancing Local Presence
For businesses targeting customers in the East Coast e-commerce logistics in the East Coast, FBA Prep Logistics offers a vital advantage. Our warehouse enables your business to establish a strong foothold in the area, thus making it more present and accessible to customers. Furthermore, a local warehouse can help improve your reputation among local buyers, potentially increasing your customer base and long-term competitiveness.
F. Eco-Friendly Supply Chain Solution
By partnering with a 3PL Warehouse in the USA that is located close to crucial transportation hubs and customer bases, you also contribute to a more sustainable and eco-friendly supply chain. Reduced transportation distances lower greenhouse gas emissions and energy consumption, aligning your business with environmentally conscious practices – an increasingly crucial consideration for many consumers.
In conclusion, a strategic location is an undeniable advantage when looking for a 3PL Warehouse in the USA. FBA Prep Logistics, with its convenient location in Bristol, PA, provides your eCommerce business with easy access to major cities, ports, and airports, leading to reduced shipping times and costs. Moreover, our warehouse simplifies inventory management and enhances your local presence while promoting a more eco-friendly supply chain. Choosing FBA Prep Logistics as your 3PL partner is a decision that makes both financial and environmental sense for your online business.
IV. Expertise in Amazon FBA Fulfillment
As an eCommerce business selling on Amazon, it is essential to have a solid understanding of how the Fulfillment by Amazon (FBA) program works. However, dealing with FBA requirements can sometimes be daunting, especially for businesses new to supply chain management. Thankfully, FBA Prep Logistics is here to help. With our extensive knowledge and experience in dealing with Amazon FBA requirements, we ensure a hassle-free partnership for eCommerce businesses.
A. Strict Packaging Guidelines
One of the challenges faced by eCommerce businesses using FBA is meeting Amazon's strict packaging guidelines. Poorly packaged items can lead to significant delays, added costs, and potential negative buyer feedback. FBA Prep Logistics understands these challenges and takes every precaution to ensure your products are packaged correctly according to Amazon's requirements. This level of expertise is one of the reasons FBA Prep Logistics stands out as the ideal 3PL Warehouse USA partner.
B. Precise Labeling
Another critical aspect of FBA compliance is proper labeling. Mislabeling or inadequate labeling can lead to misplaced or lost items, which can negatively impact your customer satisfaction and overall business reputation. With FBA Prep Logistics, you can rely on the accuracy and consistency of our labeling process. We adhere to Amazon's labeling guidelines, ensuring that your inventory stays organized and easily trackable.
C. Shipment Deadlines
Amazon enforces strict shipment deadlines for FBA sellers to maintain efficient operations. Missing these deadlines can result in significant financial penalties or even account suspension. Partnering with FBA Prep Logistics guarantees that your shipments are consistently delivered within Amazon's required timeframe. Our team will closely monitor your inventory and shipping schedules, promptly addressing any potential deadline issues and keeping your account in good standing.
D. Product Prep Services
Some products require specific preparation before they can be shipped to Amazon's FBA warehouse. FBA Prep Logistics offers a comprehensive range of product prep services, ensuring your items comply with Amazon's requirements. From poly bagging, bubble wrapping, and applying warning labels to assembling multi-packs and sets, our team will handle every detail, so you can focus on growing your business.
E. Efficient FBA Shipment Creation
Creating FBA shipments can be time-consuming, especially for inexperienced sellers or those with large inventories. FBA Prep Logistics will streamline the entire shipment creation process for you, from selecting eligible products to compiling accurate shipping plans and generating shipping labels. As a result, your shipments always comply with Amazon's requirements, and you can avoid common mistakes that may incur additional FBA fees.
F. Regular Inventory Reconciliation
Accurate inventory management is critical to a successful eCommerce business. FBA Prep Logistics will perform regular inventory reconciliations to ensure that your stock levels are up-to-date and accurately reflect your business's reality. As a result, you can confidently make strategic decisions about pricing, promotions, and assortment planning knowing that your inventory is well managed.
By choosing FBA Prep Logistics as your 3PL Warehouse USA partner, you can benefit from our expertise in Amazon FBA fulfillment. Our team will ensure that your products are adequately prepped, labeled, and shipped according to Amazon's guidelines. We free up valuable time and resources, allowing you to focus on the core aspects of your eCommerce business. Don't let the complexities of Amazon FBA fulfillment hold your business back – partner with FBA Prep Logistics today and experience the difference our expertise can make for your business.
Section V: Exceptional Customer Support and Trustworthiness
In this ever-evolving eCommerce landscape, having a reliable and efficient 3PL Warehouse in the USA is crucial. One of the defining characteristics of FBA Prep Logistics is the exceptional customer support and trustworthiness we provide.
Trustworthy and Well-respected Partner
As your eCommerce business grows, it becomes more important to find a partner that you can trust with your valuable inventory and order management. Here at FBA Prep Logistics, we believe in building lasting relationships with our clients, which is why we take pride in being a reliable partner.
Reputation Built on Success
Our reputation for trustworthiness comes from our track record of satisfied clients. We have been in the industry for years and have worked with countless eCommerce businesses that have experienced significant growth as a result. Our team is well-versed in finding solutions to any challenges that may arise during the order fulfillment process, ensuring that your products are in good hands.
Exceptional Customer Support
Our primary focus at FBA Prep Logistics is to ensure that your business runs smoothly, and that starts with offering exceptional customer support. Our team of experts is committed to addressing your needs and concerns promptly, so you can concentrate on other aspects of your business.
Responsive and Attentive Team
From coordinating your inventory management to staying up-to-date on Amazon FBA requirements, our team is proactive and responsive. We believe in providing personalized attention to every single client, regardless of their size or scope. This attentiveness ensures that you're never left wondering about the status of your order or searching for information.
Seamless Communication and Transparency
When you partner with FBA Prep Logistics, you'll benefit from a seamless communication process. Our knowledgeable team is available through various channels, such as phone, email, and live chat. We also provide regular reports and updates so that you're always informed about your inventory levels and order fulfillment progress. Our commitment to transparency is second to none, offering you complete peace of mind.
Efficient Issue Resolution
Of course, no business partnership is without its challenges. The good news is that our dedicated team at FBA Prep Logistics is skilled in efficiently resolving any issues that may arise. We consistently review our processes and protocols to identify areas for improvement, ensuring that every interaction with FBA Prep Logistics is as seamless as possible.
Tailored Support to Suit Your Needs
Every eCommerce business has unique requirements, which is why our customer support team is trained to provide tailored solutions to suit your specific needs. Whether you need assistance with inventory management, shipping regulations, or anything in between, our team is here to help you navigate the complexities of eCommerce logistics.
Continuous Improvement
Ensuring a high level of customer support doesn't stop at solving problems. At FBA Prep Logistics, we seek continuous improvement in every aspect of our service. By staying up-to-date on the latest industry trends and technologies, regularly evaluating our processes, and soliciting feedback from our clients, we continue to enhance our customer service offering.³
Thinking Forward
Choosing FBA Prep Logistics as your 3PL warehouse in the USA is an investment in your eCommerce business's future. With exceptional customer support, responsiveness, transparency, and trustworthiness, you can feel confident that your supply chain is secure.
We encourage you to explore the vast range of services and benefits available at FBA Prep Logistics.⁴ Partner with us to take your eCommerce business to new heights and establish a lasting, reliable connection in the world of eCommerce logistics. Reach out to our team today and let us show you the FBA Prep Logistics difference.
Frequently Asked Questions about FBA Prep Logistics</h1>
<h2>1. What services does FBA Prep Logistics provide?</h2>
<p>FBA Prep Logistics offers a comprehensive range of 3PL warehouse services for eCommerce businesses, such as receiving, storage, inventory management, order fulfillment, shipping, and returns management. This ensures that businesses can focus on growth and sales while FBA Prep Logistics takes care of their supply chain needs.</p>
<h2>2. Can FBA Prep Logistics handle businesses selling on Amazon?</h2>
<p>Absolutely! FBA Prep Logistics specializes in providing Amazon FBA fulfillment services, making sure your products are prepared and shipped according to Amazon's strict guidelines. Their team of experts has extensive experience navigating Amazon FBA's rules, ensuring a seamless partnership for eCommerce businesses.</p>
<h2>3. Why should I choose FBA Prep Logistics as my 3PL warehouse?</h2>
<p>FBA Prep Logistics offers numerous benefits, including flexibility, customization, a strategic location in Bristol, PA, expertise in Amazon FBA, and exceptional customer support. Their dedicated team of professionals is committed to helping your eCommerce business thrive by providing top-tier logistics services.</p>
<h2>4. How does FBA Prep Logistics ensure my products are stored safely?</h2>
<p>FBA Prep Logistics' warehouse is equipped with modern security systems, 24/7 monitoring, and a clean environment. In addition, they have stringent procedures to ensure the safety and quality of your products throughout the entire storage and fulfillment process.</p>
<h2>5. Is FBA Prep Logistics able to accommodate my business's growth and changing needs?</h2>
<p>Definitely! FBA Prep Logistics prides itself on its flexibility and ability to adapt to your business needs. As your eCommerce business expands and evolves, they will work with you to adjust their services accordingly. This ensures that your supply chain remains efficient and well-managed as you scale your operations.</p>
<h2>6. How do I get started with FBA Prep Logistics?</h2>
<p>To inquire about partnering with FBA Prep Logistics, simply <a href="https://www.example.com/contact-us">contact their team</a> to discuss your requirements, receive a customized quote, and begin taking advantage of their unparalleled supply chain solutions.</p>
<p>Choose FBA Prep Logistics for all your 3PL warehouse needs and focus on growing your eCommerce business to greater heights. Contact their team today and learn more about how a partnership can lead to greater success in the fast-paced world of online sales.</p>
<script type="application/ld+json">
{
"@context": "https://schema.org/",
"@type": "FAQPage",
"mainEntity": [{
"@type": "Question",
"name": "What services does FBA Prep Logistics provide?",
"acceptedAnswer": {
"@type": "Answer",
"text": "FBA Prep Logistics offers a comprehensive range of 3PL warehouse services for eCommerce businesses, such as receiving, storage, inventory management, order fulfillment, shipping, and returns management. This ensures that businesses can focus on growth and sales while FBA Prep Logistics takes care of their supply chain needs."
}
}, {
"@type": "Question",
"name": "Can FBA Prep Logistics handle businesses selling on Amazon?",
"acceptedAnswer": {
"@type": "Answer",
"text": "Absolutely! FBA Prep Logistics specializes in providing Amazon FBA fulfillment services, making sure your products are prepared and shipped according to Amazon's strict guidelines. Their team of experts has extensive experience navigating Amazon FBA's rules, ensuring a seamless partnership for eCommerce businesses."
}
}, {
"@type": "Question",
"name": "Why should I choose FBA Prep Logistics as my 3PL warehouse?",
"acceptedAnswer": {
"@type": "Answer",
"text": "FBA Prep Logistics offers numerous benefits, including flexibility, customization, a strategic location in Bristol, PA, expertise in Amazon FBA, and exceptional customer support. Their dedicated team of professionals is committed to helping your eCommerce business thrive by providing top-tier logistics services."
}
}, {
"@type": "Question",
"name": "How does FBA Prep Logistics ensure my products are stored safely?",
"acceptedAnswer": {
"@type": "Answer",
"text": "FBA Prep Logistics' warehouse is equipped with modern security systems, 24/7 monitoring, and a clean environment. In addition, they have stringent procedures to ensure the safety and quality of your products throughout the entire storage and fulfillment process."
}
}, {
"@type": "Question",
"name": "Is FBA Prep Logistics able to accommodate my business's growth and changing needs?",
"acceptedAnswer": {
"@type": "Answer",
"text": "Definitely! FBA Prep Logistics prides itself on its flexibility and ability to adapt to your business needs. As your eCommerce business expands and evolves, they will work with you to adjust their services accordingly. This ensures that your supply chain remains efficient and well-managed as you scale your operations."
}
}, {
"@type": "Question",
"name": "How do I get started with FBA Prep Logistics?",
"acceptedAnswer": {
"@type": "Answer",
"text": "To inquire about partnering with FBA Prep Logistics, simply contact their team to discuss your requirements, receive a customized quote, and begin taking advantage of their unparalleled supply chain solutions."
}
}] }
</script>