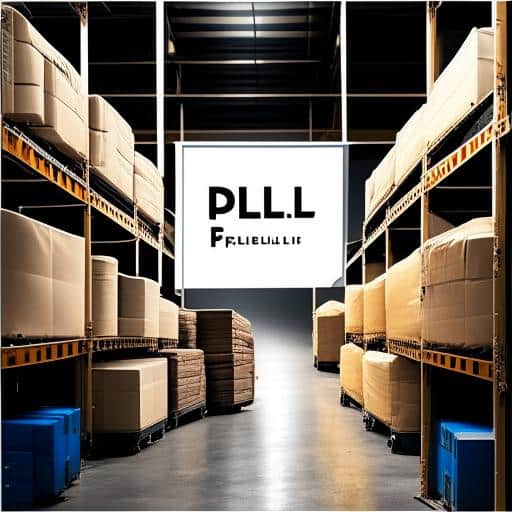 How FBA Prep Logistics Takes Your E-Commerce Business to the Next Level
Introduction
In today's fast-paced and ever-evolving e-commerce landscape, it's crucial to partner with a fulfilment 3PL warehouse that can effectively meet the needs of your online business. At FBA Prep Logistics, we pride ourselves on being a leading third-party logistics provider located in Bristol, PA, dedicated to helping e-commerce businesses grow and succeed. Our world-class fulfillment services play an instrumental role in helping companies of all sizes maximize their sales potential, streamline their supply chain, and improve customer satisfaction.
We understand that navigating the complex world of e-commerce can be daunting, especially when it comes to supply chain management and fulfillment. That's why we make it our mission to provide you with the support, knowledge, and resources you need to scale your business to new heights. In the following sections, we'll explore the various ways FBA Prep Logistics stands out as the go-to 3PL provider, offering unmatched expertise in Amazon FBA services, customized and scalable solutions, cutting-edge technology, and exceptional customer support. So sit back, relax, and let us take your e-commerce business to the next level!
Expertise in Amazon FBA
At FBA Prep Logistics, we understand that your e-commerce business needs to stay ahead in a highly competitive market. Our specialization in Amazon FBA (Fulfillment by Amazon) services sets us apart as the go-to fulfilment 3PL partner for any business that wants to enhance its presence on Amazon.com. By entrusting your Amazon FBA requirements to us, you can focus on driving sales while we expertly manage the logistics.
Why Amazon FBA?
Utilizing Amazon FBA unlocks a range of advantages for e-commerce businesses. Some of the key benefits include:
Prime Eligibility: Consumers trust products that carry the Prime tag, and entrusting FBA Prep Logistics as your fulfilment 3PL ensures that your products qualify for this coveted status. With Prime eligibility, you can increase sales by targeting Amazon's millions of loyal customers.

Improved Customer Service: By partnering with FBA Prep Logistics, you can efficiently offer Amazon's top-notch customer service, including 24/7 support and hassle-free returns to your buyers; factors that significantly enhance their shopping experience and elevate your brand appeal.

Cost-effective Storage and Shipping: Our expertise in managing Amazon FBA warehousing allows us to optimize operations, passing down storage and shipping cost savings to your business.
Comprehensive Understanding of Amazon's Requirements
We know that Amazon has stringent requirements and guidelines, and we take pride in our thorough understanding of their intricacies. Our team stays up-to-date with the latest Amazon regulations, which enables us to expertly navigate FBA processes for product shipments, inspections, and secure storage.
Adept at Guidelines for Product Packaging and Labeling
FBA Prep Logistics' team has comprehensive knowledge of Amazon's product packaging and labeling guidelines, ensuring that your inventory is accurately processed and packaged. We also take care of specific requirements such as suffocation warnings for poly bags or expiration date labeling for perishable items.
Skilled in Handling FBA Shipping and Pallet Prep
Our team is well-versed in preparing shipments according to Amazon's requirements, including palletizing and labeling. We take the stress out of shipping and handling by managing the entire process for you, making sure everything runs smoothly and reaches Amazon's fulfillment centers on time.
Capitalizing on Sales Potential Through Maximum Product Visibility
Our how-to guide on The Ultimate Guide to E-commerce Logistics in East Coast elaborates on the best practices to rank higher on Amazon and enhance product visibility. At FBA Prep Logistics, we ensure that your products comply with Amazon's guidelines so that you can focus on Search Engine Optimization (SEO) strategies, maximizing your sales potential.
Expertise in Handling a Wide Range of Products
Amazon features a vast array of products, and our fulfilment 3PL services cater to a broad spectrum of industries, including apparel, toys, electronics, and health supplements. No matter the niche, our Amazon FBA expertise ensures that we manage every e-commerce business's needs professionally and effectively.
In conclusion, partnering with FBA Prep Logistics for your Amazon FBA needs offers a wealth of benefits to help your e-commerce business excel. Our specialized knowledge of Amazon's requirements, combined with our deep understanding of the e-commerce landscape, empowers your business with the necessary edge to reach new heights in sales and customer satisfaction. Experience the difference that an expert fulfilment 3PL can make and take your e-commerce business to the next level with FBA Prep Logistics.
Customized, Scalable Solutions
At FBA Prep Logistics, we understand that every e-commerce business has unique needs and requirements. That's why we provide customized, scalable solutions to cater to businesses of all sizes, from small startups to established enterprises. Our team of experts works closely with each client, aiming to understand their specific challenges, goals, and growth potential in order to tailor our offerings accordingly.
Comprehensive Range of Services
FBA Prep Logistics offers a wide range of services to fit the diverse needs of your e-commerce business. Some of our services include:
Storage: Our state-of-the-art fulfillment warehouse in Bristol, PA has ample storage capacity, ensuring that your inventory is efficiently stored and organized to meet Amazon's strict guidelines. Our facility is equipped with advanced security systems, temperature-controlled environments, and secure racking systems to ensure your products are safe and easily accessible.

Labeling: With our fulfilment 3PL services, we can efficiently handle all necessary labeling for your products, including FNSKU labeling and barcode labeling, ensuring each product is correctly identified and complies with Amazon's requirements.

Kitting: Assembling your products into kits or bundles is a great way to offer upselling opportunities and enhance the customer experience. Our kitting services involve packing, labeling, and shipping your products as a single unit, saving you time and resources while creating new revenue streams.
Returns Management: The online shopping experience doesn't end when a customer receives their order. Handling returns quickly and effectively is crucial to maintaining customer satisfaction. Our fulfilment 3PL team offers efficient returns management, with inspection and restocking services to ensure your products are returned to your inventory in a saleable condition.

Custom Packaging: FBA Prep Logistics can create tailored packaging solutions for your products, ensuring they are shipped safely while conveying your brand's unique identity. Custom packaging can improve your customer's unboxing experience, leading to positive reviews and increased customer loyalty.
Scalability to Match Your Business Growth
FBA Prep Logistics understands that your e-commerce business is constantly evolving and growing. That's why our services are flexible and scalable, designed to adapt and grow with your business. As you launch new products, expand your product catalog, or increase your sales volume, we are prepared to handle the additional workload alongside you. Our team can assess your shifting needs and adjust our customized solutions accordingly, whether that means adding more storage space, expanding the scope of our services, or increasing our order processing capacity.
By partnering with FBA Prep Logistics, you can rest assured that as your e-commerce business grows, our fulfilment 3PL services will evolve with it. This enables you to seamlessly expand your online presence and capitalize on new market opportunities, all while enjoying the cost savings and operational efficiencies that come with a reliable and well-managed fulfillment partner.
So, if you're ready to take your e-commerce business to the next level, look no further than FBA Prep Logistics. Our customer-centric approach ensures that you enjoy a customized and scalable fulfilment 3PL solution, designed to meet your company's specific needs and foster its continued growth. With our support, not only will your business become more efficient and cost-effective, but your customers will enjoy an exceptional shopping experience that fosters their loyalty and satisfaction.
Advanced Technology and Inventory Management
At FBA Prep Logistics, we believe in the power of advanced technology and efficient inventory management to streamline and improve the fulfillment process for our clients. In this digital age, it is essential for e-commerce businesses of all sizes to have access to cutting-edge technology that can seamlessly integrate with various e-commerce platforms and optimize order management. In this section, we will dive into the sophisticated technology we utilize at FBA Prep Logistics and our commitment to providing state-of-the-art inventory management systems for businesses in the e-commerce sector.
Real-Time Inventory Tracking and Analytics
With Fulfilment 3PL services from FBA Prep Logistics, e-commerce businesses can benefit from real-time inventory tracking and analytics. Our advanced inventory management system allows businesses to monitor their inventory levels, track order fulfillment, and manage stock allocations efficiently and effectively. No more worrying about stockouts or inefficient order processing – our technology ensures your inventory is always up-to-date, allowing you to make informed decisions about your e-commerce business.
Enhance Sales Forecasting
Our advanced technology not only provides real-time inventory tracking but also offers intelligent sales forecasting to help businesses stay ahead of demand. By analyzing historical sales data, our system can generate accurate sales projections, enabling e-commerce businesses to prepare for future sales surges and avoid costly stockouts.
Minimize Overstock Issues
Overstocking can lead to high storage costs and potential waste. Our inventory management technology helps e-commerce businesses avoid overstock issues by utilizing product demand forecasts and inventory levels to suggest optimal stock levels. This helps businesses maintain lean inventory, reduce storage costs, and improve cash flow.
Seamless Integration with E-Commerce Platforms
E-commerce businesses today rely on various platforms to manage their online stores. FBA Prep Logistics' inventory management system is designed to work seamlessly with popular e-commerce platforms, including Shopify, Amazon, and eBay. This integration allows for easy management of orders, improved order processing, and automated data synchronization, ensuring efficient order fulfillment and reduced errors.
Sync Your Inventory Across Multiple Channels
For e-commerce businesses selling on multiple platforms, our system's ability to sync inventory across various channels is a game changer. We ensure that your inventory levels are updated consistently across all sales channels, preventing overselling and stock discrepancies.
Automated Order Processing
Our technology automates order processing tasks, including order import, inventory allocations, and fulfillment status updates. This enables businesses to save time and resources on manual processes, while also reducing the risk of errors.
Streamlined Returns Processing
Managing customer returns can be complex and time-consuming, but our technology simplifies this process by automating return approvals, RMA issuance, and restocking. This ensures a smooth, hassle-free experience for both e-commerce businesses and their customers, providing efficient return management and improving customer satisfaction.
Embracing Technology for Continued Growth
At FBA Prep Logistics, we are dedicated to staying at the forefront of industry advancements and continually investing in our technology infrastructure. Our commitment to adopting the latest technology ensures that we can provide our clients with the best possible solutions to support their e-commerce businesses' growth and success.
In summary, our advanced technology and inventory management systems are an essential aspect of the Fulfilment 3PL services offered by FBA Prep Logistics. These systems empower e-commerce businesses by providing real-time inventory tracking and analytics, seamless integration with e-commerce platforms, and automated order processing. By choosing FBA Prep Logistics as your 3PL warehouse partner, you are choosing a future-proof solution that keeps pace with the ever-changing e-commerce landscape and positions your business for success.
5. Dedicated Customer Support and Exceptional Service
At FBA Prep Logistics, we understand that the success of your e-commerce business is not solely dependent on streamlining inventory management and efficient order fulfilment, but also on the quality of the customer service you receive from your fulfilment 3PL partner. We take this responsibility very seriously, and that's why we've built a dedicated customer support team that is available, reliable, and always ready to help you navigate those potential challenges in the supply chain.
5.1 Commitment to Client Success
Our top priority is to ensure that your e-commerce business thrives and expands. In order to support your growth, we are committed to providing an exceptional level of service that caters to your unique requirements. Our team of experienced professionals is always there to guide you in making the most informed decisions, be it while choosing the right storage solutions, managing product returns, or handling complex shipping scenarios.
5.2 Availability and Responsiveness
We understand that in today's fast-paced world of e-commerce, accessibility is integral to seamless operations. Our customer support team is available to respond to your concerns, answer questions, and assist with any issues that arise during the fulfilment process. We pride ourselves on our quick response times and ability to resolve issues efficiently, ensuring that your business runs smoothly and your customers remain satisfied.
5.3 Expertise in E-commerce Challenges
The world of e-commerce is constantly evolving, and that means new opportunities to excel as well as new challenges to overcome. As your fulfilment 3PL partner, FBA Prep Logistics can anticipate these challenges, offer guidance on best practices, and help you adapt to the changing landscape. We stay up-to-date on industry trends to ensure we're offering the best possible solutions for your unique needs.
5.4 Personalized Support
We believe that each e-commerce business has a distinct set of needs, objectives, and aspirations. That's why we offer personalized support, custom tailored to the specific requirements of your business. Whether it's helping you streamline a single aspect of your process, or designing an end-to-end strategy to scale your operations, we work closely with you to find the most effective path to success.
5.5 Proactive Problem Solving
Effective communication is vital to preventing and addressing supply chain hiccups. Our dedicated team of professionals is trained to detect potential issues before they can impact your e-commerce operations. By proactively managing these challenges, we ensure that your business always runs smoothly and you maintain a stellar reputation among your customers.
5.6 Client Testimonials: Proof of Our Exceptional Service
Don't just take our word for it! Our clients are testament to the exceptional service we provide at FBA Prep Logistics. For instance, one e-commerce business owner benefited immensely from our tailored solutions, expressing their satisfaction with our "friendly customer support, excellent logistics services, and seamless integration with my e-commerce platform." They not only saw an improvement in efficiency and cost savings, but also an increase in customer satisfaction. You can find many more success stories on our website, showcasing how working with FBA Prep Logistics can turn your e-commerce venture into a thriving success.
In Conclusion: Excellence and Expertise at Your Service
By choosing FBA Prep Logistics as your fulfilment 3PL partner, you're not only investing in efficient operations, scalable solutions, and advanced technology, but also exceptional customer support and service from a team that is genuinely dedicated to the success of your e-commerce business. Put simply, we're here to help you take your e-commerce venture to its full potential, and we're committed to making every step of your journey as smooth and fulfilling as possible.
How FBA Prep Logistics Takes Your E-Commerce Business to the Next Level
Introduction
At FBA Prep Logistics, we're a leading 3PL warehouse dedicated to providing efficient fulfillment services for e-commerce businesses. It's time to propel your e-commerce business to new heights!
Expertise in Amazon FBA
Our skilled team specializes in Amazon FBA services, equipping your e-commerce business with numerous benefits. We're well-versed in Amazon's strict guidelines, ensuring your business can maximize sales potential on this popular platform.
FAQ 1: What is Amazon FBA and how can it benefit my e-commerce business?
Amazon Fulfillment By Amazon (FBA) is a service where they handle storage, packaging, and shipping on behalf of sellers. For e-commerce businesses, this means reduced shipping costs, faster delivery times, and access to Amazon Prime's vast customer base, ultimately boosting sales.
Customized, Scalable Solutions
At FBA Prep Logistics, we cater to businesses of all sizes, offering tailor-made fulfillment solutions. From storage to returns management, our wide range of services can adapt as your e-commerce business grows.
FAQ 2: What services does FBA Prep Logistics offer?
Storage
Labeling
Kitting
Returns management
Advanced Technology and Inventory Management
We use sophisticated technology to ensure a streamlined fulfillment process, including real-time inventory tracking and analytics. Our system also integrates seamlessly with various e-commerce platforms, making order management a breeze.
FAQ 3: How does FBA Prep Logistics handle inventory tracking and management?
Our advanced inventory management system offers real-time inventory tracking and reporting, accessible 24/7. It automatically syncs with popular e-commerce platforms, enabling you to stay up-to-date on stock levels, sales trends, and much more!
Dedicated Customer Support and Exceptional Service
We take pride in our top-notch customer support and superior services. By understanding your e-commerce business's unique challenges, we help you thrive and achieve success in this competitive landscape.
FAQ 4: What sets FBA Prep Logistics apart from other 3PL warehouses?
FBA Prep Logistics stands out due to our expertise in Amazon FBA, customized and scalable solutions, advanced technology, and incredible customer support. We're dedicated to helping your e-commerce business grow and achieve excellence!
Conclusion
It's crystal clear – FBA Prep Logistics is the ideal 3PL warehouse partner for your e-commerce business. By offering a comprehensive suite of solutions, innovative technology, and exceptional customer support, we'll help you reach your ultimate potential.