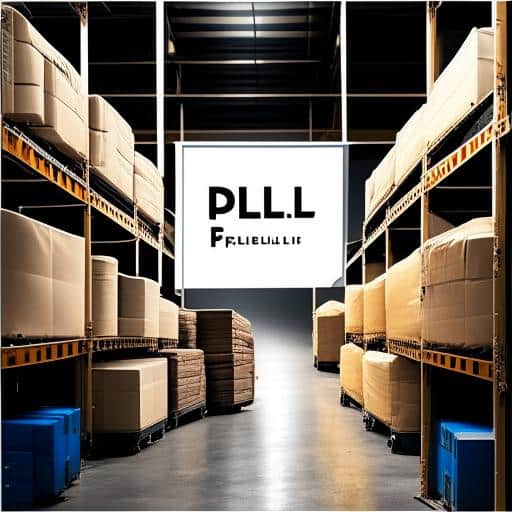 1. Introduction: Welcome to FBA Prep Logistics
Hello there, fellow e-commerce entrepreneur! We know how Amazon can be a great platform for your business, and you're probably looking for ways to outperform your competition and scale up your operations. This is where we come into play. At FBA Prep Logistics, we offer top-notch fulfillment 3PL services tailored specifically for e-commerce businesses like yours, focusing primarily on the ever-growing Amazon marketplace.
Our goal is to simplify your supply chain management and allow you to put the focus back on your core e-commerce business. With expertise in order fulfillment, logistics, and inventory management, our team will ensure your business runs smoothly and your customers receive their orders on time. But we're not just about speed and accuracy; our end-to-end services also encompass the latest technology for keeping track of, managing, and shipping all your inventory.
At FBA Prep Logistics, we understand the challenges of navigating the e-commerce world, and we're committed to offering you an efficient and effective solution for fulfilling your orders and providing a seamless experience for you and your customers.
So stay with us as we elaborate on the different aspects of fulfillment 3PL and how we, here at FBA Prep Logistics, can significantly improve the way your business operates and achieves success.
2. Understanding Fulfillment 3PL: Your Key to E-Commerce Success
To truly appreciate the value that FBA Prep Logistics brings to the table, it's important to first understand what fulfillment 3PL is and why it plays such a critical role in e-commerce success. In this section, we'll break down the concept of fulfillment 3PL, its growing importance in the e-commerce world, and why partnering with a company like FBA Prep Logistics is essential for businesses looking to scale up and optimize their supply chain management.
2.1 What is Fulfillment 3PL?
Fulfillment 3PL, or third-party logistics, refers to the process of outsourcing various logistics and fulfillment operations to an external company, such as FBA Prep Logistics. This includes services like order fulfillment, warehousing, inventory management, and shipping logistics. The primary goal of this partnership is to streamline e-commerce operations and help businesses grow more efficiently by delegating these complex tasks to logistics experts, allowing business owners to focus on marketing, sales, and other core aspects of their operations.
2.2 The Growing Importance of Fulfillment 3PL in E-Commerce
In today's fast-paced e-commerce landscape, effective supply chain management has become more important than ever. As online shoppers demand quicker delivery times and more personalized experiences, businesses are expected to keep up with these trends. This is where fulfillment 3PL providers, such as FBA Prep Logistics, come into play. By offering comprehensive logistics services, businesses can ensure a smooth customer experience, faster deliveries, and fewer returns. In essence, 3PL providers are a vital component to staying competitive in an ever-evolving e-commerce space.
2.3 Key Benefits of Partnering with a Fulfillment 3PL Company
The decision to partner with a fulfillment 3PL, like FBA Prep Logistics, can bring numerous benefits to e-commerce businesses. Some of the most notable advantages include:
Scalable growth: As e-commerce companies grow, so do their logistical requirements. Outsourcing fulfillment operations to a 3PL provider allows businesses to scale with ease, as the provider can readily support increased order volume and adapt to the company's evolving needs.

Cost savings: Fulfillment 3PL providers typically have access to better shipping rates, more advanced technology, and established warehouse networks. These factors often result in significant cost savings for businesses when compared to managing logistics in-house.

Expertise: Fulfillment 3PL companies specialize in logistics and bring a wealth of industry experience to the table. By partnering with a provider like FBA Prep Logistics, businesses can tap into their expertise to streamline operations, improve customer satisfaction, and navigate complex regulatory requirements.
Time savings: With fulfillment responsibilities delegated to a 3PL provider, business owners can better focus on growing sales, marketing efforts, and other key areas of their business, ultimately accelerating growth and driving success.
2.4 How FBA Prep Logistics Fits into the Fulfillment 3PL Landscape
As a top-tier fulfillment 3PL provider, FBA Prep Logistics offers a comprehensive range of services tailored specifically for e-commerce businesses, especially those venturing into the Amazon marketplace. Our extensive experience in the industry, coupled with our commitment to customer satisfaction, user-friendly technology, and efficient processes, sets us apart from other 3PL providers.
By entrusting FBA Prep Logistics with your logistics needs, you'll benefit from our expertise in every step of the fulfillment process. From efficient order fulfillment services in PA to comprehensive e-commerce logistics on the East Coast, FBA Prep Logistics has got you covered.
In summary, understanding what fulfillment 3PL entails and the benefits it can bring to your e-commerce business is key to unlocking your company's full potential. By partnering with a trusted and experienced provider like FBA Prep Logistics, you will be well-positioned to capitalize on these benefits, optimize your supply chain management, and truly achieve e-commerce success.
3. Building Trust and Efficiency: The Cornerstones of FBA Prep Logistics Services
At FBA Prep Logistics, we understand that the backbone of a successful e-commerce business depends on trust and efficiency. By partnering with a reliable fulfillment 3PL such as ours, your e-commerce business can experience significant growth without having to worry about the complexities of supply chain management. Here's an in-depth look at our core services and how they're tailored to optimize your business operations.
3.1. Timely Order Fulfillment
One of the most crucial elements of a thriving e-commerce business is prompt and accurate order fulfillment. Customers expect the products they've ordered to arrive in perfect condition and within the promised shipping timeframe. FBA Prep Logistics is committed to meeting and exceeding those expectations by:
Streamlining the order fulfillment process to minimize the time from order confirmation to dispatch.
Implementing advanced packaging methods to ensure products are protected during transit.
Coordinating with reliable carriers to provide a wide range of shipping options, catering to different preferences and budgets.
With these strategies, FBA Prep Logistics ensures your customers repeatedly have a positive shopping experience – converting them into loyal, long-term patrons.
3.2. Reliable Inventory Management
Maintaining the right inventory levels is crucial to the success of an e-commerce business. By partnering with FBA Prep Logistics, you can rest assured that your stock is accurately monitored and managed, avoiding both out-of-stock situations and overstocking, which may lead to costly markdowns or liquidation.
Our expert team uses cutting-edge inventory management systems to provide you with real-time updates on product levels. Additionally, the system is designed to create an optimal restocking plan, allowing your business to take advantage of order trends and sales patterns proactively.
3.3. Accurate Shipping Logistics
Efficient 3PL services are not complete without careful attention to shipping logistics. Navigating regional regulations, taxes, and customs procedures can be challenging. Our experienced logistics team at FBA Prep Logistics has a wealth of knowledge on such matters, ensuring that your orders arrive at their destinations efficiently and in compliance with all local laws.
We regularly revisit our carrier partnerships to evaluate their performance, ensuring that deliveries are made within the promised time frame and that any unexpected delays are clearly communicated to keep customers informed.
3.4. Scalable Solutions for Growing Businesses
By offering flexible and scalable 3PL solutions, FBA Prep Logistics empowers your e-commerce business to expand smoothly. Regardless of whether you're a small business looking to break into new markets or an established company wanting to reach new heights, our comprehensive services are adaptable to your evolving needs.
Our custom technology integration, automation, and process improvement options can handle increased volume and complexity as your company grows, accommodating your unique requirements in various scenarios.
3.5. Dedicated Account Management and Support
At FBA Prep Logistics, we believe that seamless communication is a vital ingredient in successful partnerships. To ensure that all your needs are met, we assign a dedicated account manager to each client. This expert will act as your primary point of contact, overseeing your specific fulfillment needs, and coordinating with all relevant teams within our organization.
Moreover, our customer support team is readily available to assist with any queries or provide technical support. Your success is our top priority, and we're committed to providing both proactive and responsive support to facilitate gratifying results.
3.6. Competitive Pricing, Transparent Billing
Maintaining affordable and transparent pricing is a core element of FBA Prep Logistics' commitment to fostering trust with our valued partners. Our flexible pricing structure is designed to accommodate businesses of varying scales and requirements, all while ensuring that there are no hidden costs or surprise fees. Not only does this approach allow us to cater to a diverse range of clients, but it also encourages long-lasting relationships built on honesty and reliability.
3.7. Customized Reporting and Insights
Knowledge is power, which is why FBA Prep Logistics offers an array of customized reports to keep you informed and in control of your business operations. With access to detailed analytics and data insights, you will be better equipped to monitor your supply chain performance, identify potential bottlenecks, and make well-informed decisions to optimize processes, cut costs, and improve customer satisfaction.
By emphasizing Trust and Efficiency, FBA Prep Logistics provides a comprehensive 3PL solution tailored to your unique e-commerce business needs, ensuring smooth operations, cost savings, and enhanced success. Start your journey with FBA Prep Logistics today and experience the benefits of partnering with a dedicated and dependable fulfillment center!
4. Making the Leap: Transitioning to FBA Prep Logistics as Your 3PL Partner
Just like any new business venture, transitioning to a fulfillment 3PL can seem like a daunting process, especially for small businesses that haven't explored supply chain management before. But fear not! At FBA Prep Logistics, we strive to make the whole process of partnering with us as seamless and straightforward as possible. In this section, we'll outline several steps you can follow to successfully transition to us as your 3PL partner:
4.1 Assess Your E-Commerce Fulfillment Needs
Before reaching out to us, take stock of your current operations and identify which challenges you'd like a fulfillment 3PL to help you resolve. This may include improving order processing time, easing the burden of inventory management, or even finding solutions to optimize shipping logistics.
4.2 Contact FBA Prep Logistics and Share Your Goals
Once you're ready to move forward, reach out to our expert team and share the challenges you're currently facing in your e-commerce operations. Our professionals will provide a comprehensive consultation to understand your business and help you set realistic goals for working with a fulfillment 3PL like FBA Prep Logistics.
4.3 Customize Your 3PL Service Package
Every e-commerce business has unique needs, and at FBA Prep Logistics, we understand that. We offer customizable service packages tailored to your individual requirements. Our team will work closely with you to choose the best mix of services, whether it's Efficient PA Order Fulfillment, Top Cost Reduction Strategies for Amazon Sellers in PA, or Simplify Inventory Tracking on Shopify.
4.4 Establish Effective Communication Channels
Clear communication between your business and FBA Prep Logistics is crucial for successful collaboration. When transitioning to our fulfillment 3PL services, it's essential to establish effective communication channels that ensure a smooth flow of information from top to bottom. Our team will ensure you're updated on all aspects of the process and promptly address any concerns.
4.5 Engage in Proactive Planning
Optimizing your e-commerce operations with a fulfillment 3PL is not a passive process. Stay engaged with our team to proactively identify potential roadblocks and work on joint solutions to keep your supply chain running smoothly. Remember, your success is our success.
4.6 Review and Monitor Performance
To measure the effectiveness of your partnership with FBA Prep Logistics, regularly monitor key performance indicators (KPIs) like order processing time, inventory accuracy, and shipping costs. Our team will continuously monitor these metrics to ensure optimal performance and make data-driven decisions for continuous improvement.
4.7 Streamline Reverse Logistics
Don't neglect the importance of reverse logistics when working with a fulfillment 3PL. FBA Prep Logistics can help you manage your Amazon Reverse Logistics and Hassle-free Shopify Returns in NJ, ensuring a smooth process that keeps your customers satisfied and maintains your reputation.
4.8 Embrace the Efficiency and Growth Potential
Finally, embrace the efficiency and growth potential that comes from partnering with a fulfillment 3PL like FBA Prep Logistics. With our tailored services, dedicated team, and keen focus on ensuring your e-commerce operations run smoothly, you'll be well on your way to achieving the success you've always dreamed of.
In conclusion, transitioning to FBA Prep Logistics as your 3PL partner may seem like a challenging task, especially for those new to supply chain management. However, with the right approach – assess your needs, engage effectively with our team, customize your 3PL services package, monitor performance, and stay proactive – you'll quickly realize the immense potential that FBA Prep Logistics offers in optimizing your e-commerce operations. Now is the perfect time to take the leap towards a better and more efficient e-commerce future with us as your trusted 3PL partner!
5. Case Studies: Real-World Examples of E-Commerce Success with FBA Prep Logistics
We understand that it's one thing to talk about the benefits of partnering with Fulfilment 3PL like FBA Prep Logistics, but it's another thing to show real-world examples of e-commerce businesses that have experienced genuine growth and success through our services. In this section, we'll dive into a few detailed case studies of online businesses that have significantly improved their operations, customer satisfaction, and revenue by choosing to work with FBA Prep Logistics for their e-commerce fulfillment needs.
5.1. A Budding Organic Skincare Brand
A small skincare brand that manufactures organic and eco-friendly products had been struggling for a while to manage their fulfillment in-house. When they decided to transition to a Fulfilment 3PL provider, they chose FBA Prep Logistics. Thanks to our efficient PA Order Fulfilment Services and accurate inventory management processes, they saw an immediate increase in the speed of their order processing and improved customer satisfaction.
5.2. A Growing Home Decor Business
A rapidly expanding home decor business with a strong online presence was looking for an efficient way to streamline their order fulfillment and inventory management processes. They partnered with FBA Prep Logistics and took advantage of our E-commerce Logistics solutions to help scale their business effectively. As a result, they experienced reduced shipping times, more accurate inventory tracking, and a substantial increase in their annual revenue.
5.3. A Customized Apparel Seller on Amazon
An Amazon seller that specializes in customized apparel experienced major issues with mismanaged shipments, leading to late deliveries and a high volume of customer complaints. The retailer decided to partner with FBA Prep Logistics. With our specialized Amazon Reverse Logistics services, we were able to streamline their returns and refund processes, significantly reducing customer complaints and enabling the business to refocus its resources on expanding its product offerings.
5.4. A Niche Sports Equipment Retailer
A niche sports equipment retailer struggled with stockouts and inaccurate inventory tracking, leading to a loss in sales and unsatisfied customers. By utilizing FBA Prep Logistics' Inventory Tracking services, the retailer was able to regain control over their inventory levels and ensure their products were always in stock. This not only improved their customer satisfaction but also boosted their overall sales performance.
5.5. A High-End Electronics Online Store
A high-end electronics online store faced difficulties in managing complex shipping logistics and maintaining accurate tracking information for its customers. As a result, they opted to utilize FBA Prep Logistics' Shopify Shipping services and discovered a seamless and efficient shipping process. With improved shipping logistics and real-time tracking information, the store experienced a noticeable increase in customer satisfaction and repeat purchases.
In Summary
These case studies demonstrate how partnering with a Fulfilment 3PL like FBA Prep Logistics can transform an e-commerce business, optimizing every aspect of the supply chain — from order fulfillment and inventory management to shipping logistics and reverse logistics. We are proud to have worked with a wide range of businesses, each with unique requirements and challenges, and helped them succeed in their goals.
If you're looking to make the leap and partner with a reliable 3PL provider, there's no better choice than FBA Prep Logistics. With our commitment to trust, efficiency, and excellence, we're here to help you achieve the growth and success you've always dreamed of. Let's work together to unlock your e-commerce business's full potential.
Frequently Asked Questions
What is FBA Prep Logistics and why is it important for my e-commerce business?

FBA Prep Logistics is a premier 3PL fulfillment service provider, specializing in catering to the unique needs of e-commerce businesses, particularly those working with Amazon. Partnering with us simplifies your supply chain management, helping you save time, optimize inventory control, and provide fast and accurate order fulfillment to your customers.

How does a 3PL service like FBA Prep Logistics improve my e-commerce operations?

Our 3PL services streamline your fulfillment processes and enable you to focus on growing your business. With FBA Prep Logistics, you get access to expert order processing, warehousing, inventory management, and shipping solutions that allow you to deliver better experiences to your customers, which can lead to increased sales and customer retention.

What makes FBA Prep Logistics different from other 3PL providers?

At FBA Prep Logistics, our focus is on building trust and efficiency with our clients by offering personalized services tailored to your specific needs. Our skilled team constantly works to improve and modify our processes to ensure a seamless experience for your e-commerce business. Additionally, our location in Bristol, PA allows us to offer competitive shipping times and rates for Amazon sellers.

How do I begin the transition to FBA Prep Logistics as my 3PL partner?

We've made the onboarding process simple and straightforward. To begin, get in touch with our expert team to discuss your needs and requirements. We will guide you through the registration process, help you understand our 3PL offerings, and work with you to establish the best possible fulfillment and logistics processes for your e-commerce business.

Can you provide examples of success stories with e-commerce businesses using FBA Prep Logistics?

Yes, we have numerous case studies that showcase the growth and success of our clients, thanks to our exceptional 3PL services. By partnering with FBA Prep Logistics, these businesses have experienced improved order fulfillment, streamlined inventory management, and enhanced customer satisfaction, leading to increased sales and business growth. Get in touch with us to hear more about these success stories and how we can help your business achieve the same results.