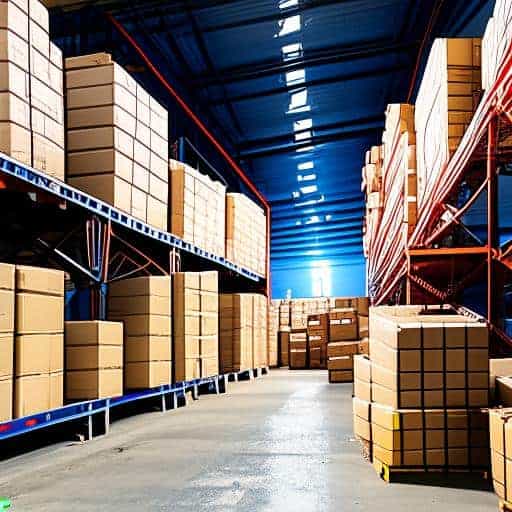 Introduction: The Power of 3PL Fulfillment for Supply Chain Management
In today's highly competitive world of e-commerce, businesses are looking for ways to stand out and streamline their operations. The key to success lies in finding a strategic partner who can revolutionize your e-commerce supply chain management. This is where the importance of third-party logistics (3PL) comes into play, and FBA Prep Logistics, a leading 3PL fulfillment company, can be that ace up your sleeve.
Why Is a 3PL Fulfillment Company Essential for Your Business?
As a median-sized e-commerce seller on Amazon, you might have never considered using a 3PL before, but with the ever-growing complexities in the supply chain management process, it's time to explore the benefits of partnering with a reliable 3PL fulfillment company like FBA Prep Logistics.
In this article, we'll discuss how FBA Prep Logistics can help you:
Reduce operational costs and save time
Scale your e-commerce business effortlessly
Enhance the customer experience with expert order fulfillment services
Streamline management and analytics for your business
So let's dive in and understand why FBA Prep Logistics should be your go-to 3PL fulfillment company.
The Expertise and Experience You Need
At FBA Prep Logistics, we've built a solid reputation in the 3PL industry by offering tailored solutions that cater to each business's unique needs. Our team of industry experts possesses a wealth of experience and knowledge in supply chain management, allowing you to focus on your core business while we handle the complexities of order fulfillment, warehousing, and shipping.
The Cutting-Edge Technology for a Competitive Edge
FBA Prep Logistics stays ahead of the curve by incorporating the latest technology and innovations in our operations. Our state-of-the-art infrastructure and IT systems ensure your business thrives in today's dynamic e-commerce market, giving you a competitive advantage like never before.
The Strategic Location Advantage
Situated in Bristol, PA, FBA Prep Logistics takes advantage of its prime location to offer efficient order fulfillment services and quick deliveries to your customers throughout the East Coast. Our strategic position allows us to provide cost-effective e-commerce fulfillment solutions that cater to your ever-evolving business needs.
The Personalized Approach and One-to-One Support
At FBA Prep Logistics, we believe in building lasting relationships with our clients, which is why we assign a dedicated account manager to each business we serve. This ensures seamless communication, personalized support, and an understanding of your specific requirements, leading to a tailored service experience.
In the next sections, we will delve deeper into how FBA Prep Logistics, as your 3PL fulfillment company, can transform your e-commerce supply chain management process. The journey to a more efficient and satisfying business outcome begins with making the right choice – FBA Prep Logistics.
2. Reduce Operational Costs and Save Time
Opting for a professional 3PL fulfillment company not only streamlines your supply chain operations but also plays a crucial role in cutting down operational costs and saving time. So, how does FBA Prep Logistics address these concerns? In this section, we will discuss various aspects of FBA Prep Logistics that contribute to cost savings and improved efficiency.
2.1 Harness the Benefit of Specialized Expertise
FBA Prep Logistics employs experts who hold extensive experience and knowledge in warehousing, packaging, and transportation. You no longer need to invest in hiring and training personnel to cater to these critical aspects. Instead, FBA Prep Logistics will manage these areas, thereby reducing your overall manpower cost and ensuring efficient supply chain management.
2.2 Monetary Savings through Economies of Scale
A key advantage of partnering with a 3PL fulfillment company like FBA Prep Logistics is leveraging their economies of scale. By holding agreements with various companies, FBA Prep Logistics can negotiate better rates with carriers and enjoy bulk discounts on packaging materials. These cost savings are then passed on to you, leading to reductions in shipping costs and significantly lower expenses on packaging.
2.3 Reduce Costs of Storage Space
Real estate costs are always a significant concern for businesses, especially when it comes to e-commerce. You may require larger warehouses as your business grows, leading to increased expenses. FBA Prep Logistics offers scalable storage solutions for e-commerce companies, ensuring that you always have the right amount of space for your inventory and are not burdened with high real estate costs.
2.4 Focus on Your Core Business Activities
By outsourcing your supply chain management to FBA Prep Logistics, you can redirect your time and resources towards the growth and development of your e-commerce business. By focusing on areas such as product development, marketing, and customer service, you improve your company's overall performance, while FBA Prep Logistics handles the logistics aspect.
2.5 Streamlined Shipping Processes
With a professional 3PL fulfillment company like FBA Prep Logistics, you can benefit from a streamlined shipping process. A well-planned and organized shipping workflow enables you to save time on order fulfillment and delivery, thus enhancing customer satisfaction. Moreover, by adopting the latest technologies and processes, FBA Prep Logistics simplifies shipping workflows, leaving no room for inefficiencies or errors.
2.6 Inventory Management Efficiency
Keeping track of your inventory, especially when dealing with multiple sales channels, can be daunting. FBA Prep Logistics offers efficient inventory management systems that ensure your inventory is always updated and accurate. By avoiding stockouts and overstock issues, you can minimize costs associated with unsold merchandise and storage space.
2.7 Save on Return Costs
Dealing with product returns can be quite a hassle and may lead to an increase in operational costs. FBA Prep Logistics offers hassle-free return services, effectively minimizing return costs and ensuring that products are brought back into circulation quickly. In addition, FBA Prep Logistics has the infrastructure and expertise to deal with product returns that would have otherwise consumed your time, effort, and rent money.
2.8 Benefit from Advanced Technology
FBA Prep Logistics leverages advanced technology to help businesses optimize their finances and time spent on logistical processes. For instance, their state-of-the-art systems provide easy access to real-time data about inventory, orders, and shipments, enabling businesses to make well-informed decisions with minimal hassle.
In conclusion, opting for a professional 3PL fulfillment company like FBA Prep Logistics is a game-changer for your business. Not only does it allow you to save on operational costs—including staffing, shipping, storage, and technology—but it also helps streamline your supply chain processes. The end result is a more efficient and cost-effective e-commerce operation, enabling you to focus on growing and developing your business.
3. Scale Your E-Commerce Business Effortlessly
Partnering with a 3PL fulfillment company like FBA Prep Logistics is essential for achieving seamless growth, regardless of your e-commerce operation size. In this section, we'll explore how tailored solutions and scalability are key differentiators for companies looking to expand while adapting to market dynamics.
3.1 Customized Solutions for Enhanced Flexibility
Every business has unique needs when it comes to dealing with supply chains and order fulfillment. As an experienced 3PL Fulfillment Company, FBA Prep Logistics offers flexible services catering to your specific requirements. Our custom solutions are designed to fit businesses of all sizes – whether you're a small entrepreneur starting or a seasoned player in the e-commerce world, we've got your back.
3.2 Adapting to Market Fluctuations
When it comes to e-commerce, market fluctuations are inevitable. Sales volumes may vary due to seasonal trends, global events, or unforeseen circumstances that impact consumer behavior. FBA Prep Logistics' tailored approach positions us to react swiftly to your business's changing needs, ensuring that we can effectively deal with market variations and maintain high service levels.
3.3 Inventory Management Made Effortless
Effective inventory management is crucial for e-commerce businesses to avoid stockouts and overstocking issues. Teaming up with a 3PL fulfillment company like FBA Prep Logistics gives you access to our advanced inventory management systems, which not only save time but also increase efficiency, accuracy and productivity.
3.4 Ramped-Up Business Operations with No Growing Pains
Your e-commerce business's supply chain can grow rapidly, especially during peak seasons. Our 3PL services, such as Efficient PA Order Fulfillment, are designed to ramp up your operations smoothly and meet increased demand without hiccups. Our ability to quickly scale up resources and manpower ensures your business can expand without facing painful bottlenecks or delays.
3.5 Comprehensive Returns Management
As your business grows, you will inevitably encounter an increase in returns. FBA Prep Logistics's Hassle-free Shopify Returns services ensure returned items are processed seamlessly and efficiently. From processing customer returns to handling reverse logistics, we make sure your growing e-commerce operation doesn't suffer from inefficiencies related to handling returns.
3.6 Expanding to New Markets with Confidence
Entering new markets is an exciting challenge, but it comes with its fair share of obstacles. With FBA Prep Logistics as your 3PL partner, you can expand to new markets backed by our customized solutions tailored to regional market nuances. Plus, our E-commerce Logistics in East Coast expertise ensures smooth shipping and handling across different markets.
3.7 Leverage Our Expertise in Scaling Your Business
We at FBA Prep Logistics have deep experience in helping e-commerce businesses scale to new heights. From Shopify Inventory Control to Amazon Reverse Logistics, we provide a range of services that cater to all your supply chain needs. With our state-of-the-art infrastructure, industry know-how, and expertise, you can focus on strategically growing your business while leaving logistical challenges to us.
3.8 Conclusion: Achieving Business Growth Starts with the Right 3PL Partner
Growing your e-commerce business is a daunting process – but with a trustworthy 3PL fulfillment company like FBA Prep Logistics by your side, the journey becomes smoother and easier. Our tailored, scalable solutions and market adaptability ensure you can confidently focus on your expansion goals while we handle the supply chain complexities. So, are you ready to scale up your e-commerce business? Let FBA Prep Logistics be the partner you need to succeed.
4. Enhance Customer Experience with Expert Order Fulfillment Services
Partnering with a top-tier 3PL fulfillment company like FBA Prep Logistics can do wonders for your e-commerce business, especially when it comes to enhancing the customer experience. The ultimate goal of every online store is to win over customers and keep them coming back. A professional 3PL company can work wonders in this regard, as it ensures that each order gets delivered on time and in perfect condition. In this section, we will explore various ways FBA Prep Logistics contributes to improving the end-customer experience through its expert order fulfillment services.
4.1. Accurate and Efficient Order Processing
One of the most critical aspects of online shopping for customers is receiving the correct items they ordered. By partnering with FBA Prep Logistics, you can ensure that your customers experience a seamless order processing system. Our advanced technology and experienced team members meticulously track each order, preventing any chances of error. Moreover, we work closely with e-commerce platforms like Shopify to ensure seamless integration, leading to a fully optimized order management process.
4.2. Speedy Order Fulfillment and Shipping
In today's fast-paced digital world, customers expect their purchases to arrive as quickly as possible. FBA Prep Logistics understands the value of timely deliveries, and our strategic warehouse locations on the East Coast allow us to expedite the shipping process. Our efficient PA order fulfillment services ensure that all orders get shipped out promptly, keeping your customers satisfied and more likely to return to your store in the future.
4.3. Safe and Secure Packaging
No one likes to receive damaged goods. At FBA Prep Logistics, we prioritize the safe and secure packaging of each order. Our team of experts employs the best packaging practices to ensure that your products reach the customers without any damages, keeping them happy and satisfied with their purchases.
4.4. Hassle-Free Returns Management
There will inevitably be situations where customers may want to return a product. By working with FBA Prep Logistics, you can provide a hassle-free return experience to your customers. Our 3PL company will handle all returns efficiently, minimizing the stress on both you and your customers.
4.5. Personalized Services for Your Unique Needs
Different businesses have different requirements, and FBA Prep Logistics focuses on offering tailored solutions to cater to your specific needs. Whether it's a matter of handling specialized products or providing branded packaging, our team is equipped to tackle these tasks, thus ensuring a top-notch shopping experience for your customers.
4.6. Dedicated Customer Support
Nothing can be more frustrating for the customers than not receiving answers when they have questions or concerns. FBA Prep Logistics acknowledges the importance of consistent and responsive customer support and offers top-quality assistance to address any customer-related issues, maintaining a satisfied and loyal customer base.
4.7. Access to International Markets
FBA Prep Logistics' extensive global network allows you to offer your products to customers in international markets without any difficulty. This expands your customer base, bringing in more potential clients while offering them a seamless buying experience through our expert order fulfillment services.
4.8. Eco-Friendly Practices
Modern customers appreciate businesses that are conscious of their environmental impact. FBA Prep Logistics follows eco-friendly practices in its operations, minimizing waste and making efficient use of resources. This can positively influence your brand image and attract environmentally-conscious customers.
In conclusion, choosing FBA Prep Logistics as your 3PL partner will result in a significant improvement in the overall customer experience. With our expert order processing, timely deliveries, secure packaging, hassle-free returns, and a focus on personalization, you can guarantee an enhanced shopping experience for your customers. This will not only help retain your existing customer base but also attract more potential buyers in the long run, ensuring your e-commerce business thrives.
Streamline Management and Analytics for Your Business
In the world of e-commerce, it's essential to stay ahead of the competition, and one way to do that is by streamlining your management and analytics. Partnering with a 3PL Fulfillment Company like FBA Prep Logistics can make this task relatively simple and stress-free. This section will discuss how our state-of-the-art technology and industry expertise can provide e-commerce businesses with valuable data insights and a comprehensive management system that simplifies supply chain operations.
Boosting Efficiency with A Streamlined Management System
Working with a 3PL Fulfillment Company like FBA Prep Logistics not only offers a wide range of benefits for your e-commerce business but also simplifies your overall supply chain operations. Our advanced management system is designed to integrate seamlessly with your e-commerce platform, making everything from inventory tracking to order fulfillment more efficient and accurate. Take a look at how to integrate technology into your Amazon seller workflow in Pennsylvania.
Utilizing Cutting-edge Technology
In order to meet the growing demands of the e-commerce industry, a 3PL Fulfillment Company like FBA Prep Logistics constantly adopts and integrates new technology. This cutting-edge technology enables us to automate key aspects of the supply chain process, resulting in time savings, cost efficiency, increased accuracy and better order fulfillment. Our ultimate goal is to free up your time and resources, allowing you to focus on the core aspects of your e-commerce business.
Gain Insights with Data Analytics
To help you better understand your business and make informed decisions, FBA Prep Logistics provides data analytics along with valuable insights into your supply chain and customer behavior. When you partner with us, you gain access to key performance indicators (KPIs) that reflect the success of your supply chain operations. This includes metrics on inventory levels, order fulfillment rates, shipping times and costs, as well as customer service performance. By having this information readily available, you can easily identify areas for improvement and streamline your operations.
Customizable Reporting
Our 3PL Fulfillment Company also offers customizable reporting options to suit your business requirements. This can include detailed performance reports, sales trends, customer demographics, and more. With access to this data and insights, you can better tailor your marketing strategies, improve customer satisfaction, and enhance your overall e-commerce operations. Check out our definitive guide to Amazon PPC advertising for NJ sellers to learn more about optimizing your advertising campaigns.
Real-time Inventory and Order Tracking
Our advanced management system at FBA Prep Logistics provides real-time inventory and order tracking capabilities. This ensures that you always have an accurate picture of your stock levels and can quickly identify any potential issues. Additionally, our real-time order tracking allows you to monitor the progress of individual orders, ensuring they are processed quickly and efficiently while maintaining high customer satisfaction levels. Experience the benefits of easy and reliable Shopify transportation in Pennsylvania through our expert services.
Seamless Integration with E-commerce Platforms
One of the key benefits of partnering with FBA Prep Logistics is our seamless integration with popular e-commerce platforms like Amazon, Shopify, and more. We're able to connect with your online store and handle all aspects of your supply chain operations, from inventory management to order fulfillment. Our integration makes it easy to manage your e-commerce business, whether you're a Shopify Inventory Control expert or an Amazon Reverse Logistics specialist.
In conclusion, partnering with FBA Prep Logistics as your 3PL Fulfillment Company can significantly streamline your supply chain management and analytics. Our state-of-the-art technology, industry expertise, and seamless integration with e-commerce platforms allow you to focus on expanding your business while we handle the complex tasks behind the scenes. From boosting efficiency to providing valuable data insights, FBA Prep Logistics is the ideal partner for your e-commerce business growth.
FAQs: FBA Prep Logistics and 3PL Fulfillment Solutions
1. What is a 3PL fulfillment company and how can it benefit my e-commerce business?

A 3PL fulfillment company, or third-party logistics provider, is a service that takes care of various supply chain processes on behalf of your e-commerce business. Partnering with a qualified 3PL company, like FBA Prep Logistics, can bring significant benefits to your business, including cost reductions, operational efficiency, easy scalability, enhanced customer experience, and streamlined management and analytics.

2. How can FBA Prep Logistics help me save on operational costs and time?

By outsourcing your supply chain processes to FBA Prep Logistics, you can save on labor, warehouse, and inventory management costs, along with shipping expenses. FBA Prep Logistics' expertise in these areas allows for efficient handling of your operations, enabling you to focus your time and resources on other aspects of your business.

3. How does FBA Prep Logistics support the growth of my e-commerce business?

FBA Prep Logistics offers customized solutions catered to your business's unique needs, allowing for seamless growth and adaptability as your business evolves. Our flexible services can easily adjust to changing market conditions and sales volumes, allowing you to scale smoothly with a reliable fulfillment partner by your side.

4. How does FBA Prep Logistics enhance the end-customer experience?

With expert order fulfillment services, FBA Prep Logistics ensures timely deliveries, well-packaged products, and error-free order processing. Our professional approach and attention to detail help create a positive and satisfactory experience for your customers, encouraging repeat purchases and brand loyalty.

5. How will partnering with FBA Prep Logistics benefit my business's management and analytics?

Our state-of-the-art technology and industry expertise provide valuable data insights and comprehensive management systems that simplify your supply chain operations. With FBA Prep Logistics, you gain access to real-time analytics and reporting tools, helping you make informed decisions and optimize your business strategies.