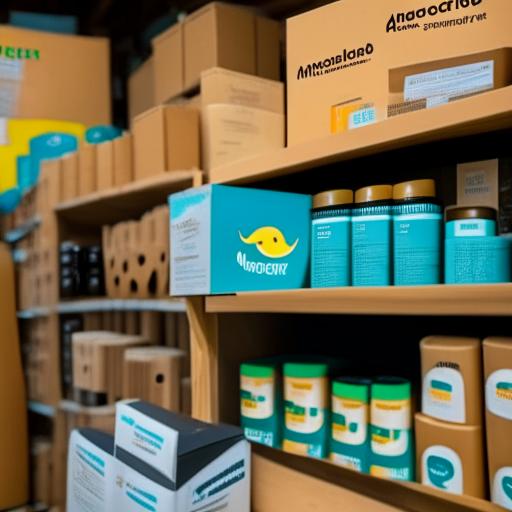 Introduction to FBA Prep Logistics: Your Ultimate 3PL Partner for Amazon
Say hello to FBA Prep Logistics, the best 3PL for Amazon sellers! We are a 3PL warehouse located in Bristol, PA, specializing in helping e-commerce businesses, just like yours, grow and thrive in the competitive Amazon marketplace. Our team of logistics professionals understands the unique requirements of Amazon businesses and offers tailored services and support to make sure you meet and exceed your goals.
As your trusted 3PL partner, FBA Prep Logistics focuses on delivering personalized and top-notch fulfillment services and supply chain solutions. With years of experience in the industry, we possess the knowledge and resources to streamline your e-commerce business and boost your presence on the East Coast.
So, are you an Amazon seller who's new to supply chain management and thinking of outsourcing your logistics needs? Look no further! In this article, we'll convince you why FBA Prep Logistics is the warehouse of choice for your Amazon business. We've got your back, every step of the way.
Top-Notch Team of Professionals
When it comes to offering the best logistics services, we're proud to have a team of passionate and experienced professionals who are genuinely dedicated to helping your Amazon business thrive. Our team is well-versed in Amazon's specific requirements and stays up-to-date with marketplace trends and policies. As a result, you'll find the perfect partner to ensure smooth sailing for your e-commerce venture.
Customer-Centric Approach
We understand that every e-commerce business is unique. That's why our services are tailored to meet the specific needs of each Amazon seller we work with. Our client-focused approach ensures that we offer personalized service and customized solutions, providing the ideal environment for your business to flourish.
Unbeatable Infrastructure and Location
Strategically situated at the heart of the East Coast, FBA Prep Logistics offers easy access to major transportation hubs and exceptional convenience. With our top-of-the-line warehouse and advanced technology, we are fully equipped to accommodate your inventory and fulfillment needs. No matter the size of your business or the volume of your orders, you can trust us to handle your Amazon operations with ease.
Stellar Reputation and Client Testimonials
Don't just take our word for it when it comes to choosing the best 3PL for Amazon sellers. Our reputation speaks for itself. Over the years, we have helped countless e-commerce businesses simplify their supply chain operations and improve their bottom lines. As a result, we've gained glowing testimonials from clients who have experienced our exceptional service firsthand.
Now that you have a brief overview of FBA Prep Logistics and our superior offerings, let's dive into our unique features and offerings in the next section. Stick around to learn more about why FBA Prep Logistics should be your top choice for Amazon fulfillment support.
2. Understanding the Importance of a Reliable 3PL for Amazon Businesses
As an e-commerce business owner who mainly sells on Amazon, you may not realize the immense value a reliable 3PL (third-party logistics) provider can bring to your business. In this section, we will delve into the significance of having a trustworthy and efficient 3PL partner to manage logistics, reduce costs, and streamline the supply chain for Amazon sellers.
2.1 Efficiently Handling Logistics
Your Amazon business's success is highly dependent on efficient and seamless logistics management. Fulfillment processes like warehousing, order packing, shipping, and handling returns are time-consuming and require dedicated resources. A reliable 3PL like FBA Prep Logistics can manage these processes on your behalf, ensuring timely deliveries and accurate order fulfillment. This allows you to focus on other critical aspects of your business, such as product development, customer acquisition, and marketing.
2.2 Reducing Operational Costs
One of the primary advantages of partnering with a 3PL like FBA Prep Logistics is cost reduction. By outsourcing your logistics needs, you can significantly reduce your expenses associated with maintaining a warehouse, staffing, and supply chain management. Thanks to our vast network and bulk discounts, we can pass on our savings to you, enabling your business to enjoy competitive shipping rates and optimized storage solutions.
2.3 Streamlining Supply Chain
Managing your supply chain can be a complex task, especially for new Amazon sellers with limited experience in the domain. A trustworthy 3PL provider like FBA Prep Logistics can streamline your supply chain for you. Our expert team and cutting-edge technology can help optimize your inventory levels and reduce lead times, while also ensuring compliance with all Amazon requirements.
2.4 Mitigating Risks and Managing Returns
Given the inherent uncertainties and challenges tied to the e-commerce industry, having a dependable 3PL provider is essential to minimize potential risks. FBA Prep Logistics's skilled professionals are adept at handling unforeseen issues such as fluctuations in demand or supply chain disruptions, helping you maintain business continuity and customer satisfaction levels. Moreover, our expertise in managing Amazon returns allows us to help you reduce losses and maintain positive buyer feedback.
2.5 Enhancing Scalability
As your Amazon business grows, your logistics needs will also expand. A capable 3PL like FBA Prep Logistics offers the flexibility required to scale with your business easily. Our array of services, extensive warehouse space, and collaboration with reliable carriers ensure that we can accommodate your business needs regardless of its size or complexity.
2.6 Supporting Your Expansion into International Markets
Expanding your Amazon business globally can be an incredible growth opportunity. However, it also presents new challenges and complexities due to cross-border regulations, customs, and taxes. Partnering with a proficient 3PL like FBA Prep Logistics can help you navigate these obstacles and support your international growth by offering global shipping solutions and international trade expertise.
2.7 Strengthening Brand Perception
Reliable order fulfillment, accurate shipping, and exceptional customer service are all crucial aspects that contribute to a strong brand perception. A top-tier 3PL like FBA Prep Logistics can help you deliver an exceptional customer experience by seamlessly managing your logistics processes and maintaining high quality standards. A positive brand image can lead to increased customer loyalty and better reviews, ultimately driving more sales and growth.
In summary, partnering with a reliable 3PL like FBA Prep Logistics can be a game-changer for your Amazon selling journey. From efficiently managing logistics to reducing operational costs, streamlining the supply chain, mitigating risks, and bolstering scalability, a trustworthy 3PL provider can help you set the stage for success. By making the smart choice and entrusting your Amazon logistics needs to FBA Prep Logistics, you are ensuring a smooth and seamless e-commerce experience for both you and your customers.
Now that you have a better understanding of the importance of choosing a reliable 3PL for your Amazon business, we will explore the key features that make FBA Prep Logistics your best choice. Make sure to stay tuned and uncover how our tailored solutions and expert support can benefit your e-commerce venture.
Key Features That Make FBA Prep Logistics Stand Out
When considering the best 3PL for Amazon Sellers, you can trust FBA Prep Logistics to stand shoulders above the competition. Our team is dedicated, skillful, and committed to helping you maximize your business growth on Amazon. The following are the key features that make FBA Prep Logistics the ideal partner for your e-commerce business:
1. Tailored Services
At FBA Prep Logistics, we understand that each business is unique, and your logistical needs may differ from others. That's why our 3PL warehouse offers customized services that align with your specific business requirements. This ensures a smooth and efficient flow of operations as your company scales.
2. Amazon Compliance Support
Our team of experts has in-depth knowledge of Amazon's requirements and guidelines. This allows us to offer ample support to ensure that all your inventory, shipping, and packaging processes comply with Amazon's expectations. By working with FBA Prep Logistics, you can enjoy a seamless and hassle-free experience while avoiding any potential hiccups.
3. Inventory Management
FBA Prep Logistics offers advanced inventory management solutions to help you stay on top of your stock levels and ensure optimal utilization of your warehouse space. Our experts use cutting-edge technology to monitor and manage your inventory effectively, keeping you updated on stock levels and providing alerts when it's time to restock.
Read our article on Simplify Inventory Tracking on Shopify to learn more about how inventory management can help your business grow.
4. Multi-Channel Fulfillment
In addition to Amazon, FBA Prep Logistics supports fulfillment for other e-commerce platforms, making it easier for you to manage all your orders from a single dashboard. This not only simplifies your logistic processes but also provides an opportunity to expand your business beyond Amazon.
5. Cost-Effective Solutions
Our focus is on delivering cost-effective fulfillment solutions without compromising on quality. Our expertise in logistics allows us to leverage economies of scale, helping you boost your profit margins by reducing shipping costs, warehousing fees, and labor expenses.
Check out our insights on Top Cost Reduction Strategies for Amazon Sellers in PA for more information on how FBA Prep Logistics can help you save money.
6. Scalable Operations
Growing your Amazon business is an exciting journey, but it also comes with an increased demand for efficient logistics. FBA Prep Logistics is ready to support your growth with scalable warehousing and fulfillment services, allowing you to expand your operations without any hindrances.
7. Rapid Order Fulfillment
We're committed to delivering a fast, reliable, and efficient order fulfillment experience for your customers. Our streamlined processes and cutting-edge technologies enable us to ship orders promptly, ensuring that your customers receive their purchases as quickly as possible.
Learn more about our Efficient PA Order Fulfillment Services for Your E-commerce Store in this comprehensive guide.
8. Dedicated Customer Support
Our exceptional customer support team is always available to assist you and address any concerns you may have. We believe that communication is crucial to the success of any partnership, and that's why we prioritize keeping you informed throughout every step of the process.
9. Strategic Location
Our 3PL warehouse, located in Bristol, PA, is strategically positioned to offer a competitive advantage to East Coast sellers. Shipping from our warehouse guarantees faster delivery times, reduces shipping costs, and enhances your overall customer experience.
Explore the 3 Benefits of E-commerce Fulfillment on the East Coast to further see how our location benefits your business.
10. Advanced Technologies
FBA Prep Logistics utilizes the latest technologies in automation, tracking, and reporting to ensure efficiency and transparency in all our operations. These technological advancements also enable us to integrate with popular e-commerce platforms, making it effortless to manage your orders and inventory from a unified interface.
Read our article on How to Integrate Technology into Your Amazon Seller Workflow in Pennsylvania to learn more about our tech-savvy approach.
In conclusion, partnering with FBA Prep Logistics for your Amazon business ensures you get the most comprehensive and expert-backed 3PL services that allow your e-commerce venture to reach new heights. Our wide range of features, combined with exceptional customer service and industry know-how, make FBA Prep Logistics the best 3PL for Amazon sellers.
4. Expert Tips for Choosing the Right 3PL for Your Amazon Business
Selecting the best 3PL for Amazon sellers is crucial to the growth and success of your e-commerce venture. To help you find the perfect partner, we've put together expert tips that can elevate your supply chain management and ease the complexities of your Amazon selling experience.
4.1 Communication: Establishing Clear and Open Channels
Effective communication is vital when partnering with a 3PL. FBA Prep Logistics understands this and prioritizes open and transparent communication to keep clients informed at every step of the way. When evaluating a 3PL warehouse, pay attention to their response time, proactivity in solving issues, and willingness to collaborate closely with your team.
4.2 Scalability: Adapting to Your Business Growth
An ideal 3PL should accommodate your business growth without complications. Be it a sudden spike in sales or long-term expansion, FBA Prep Logistics has the flexibility and resources to scale alongside your Amazon business. A future-proof 3PL provider will not only adapt to your changing needs but also help you identify new opportunities and tackle challenges head-on.
4.3 Technology: Utilizing Advanced Tools and Systems
The use of cutting-edge technology is a game-changer in optimizing supply chain operations. When looking for the best 3PL for Amazon sellers, focus on warehouses that leverage modern software and tools to streamline processes such as order management, inventory control, and Simplify Inventory Tracking on Shopify. FBA Prep Logistics employs advanced technology to ensure efficiency and accuracy, keeping your business one step ahead at all times.
4.4 Amazon Compliance Support: Mitigating Risks and Avoiding Pitfalls
Operating on the Amazon platform comes with its own set of requirements and guidelines. Partnering with a 3PL warehouse like FBA Prep Logistics that specializes in Amazon compliance can save you time, money, and potential headaches. We're well-versed with Amazon's rules and regulations, providing proactive support to safeguard your business against disruptions and penalties.
4.5 Inventory Management: Maintaining Stock Levels and Accuracy
Maintaining optimum inventory levels is crucial for any Amazon seller. Choose a 3PL partner with a robust inventory management system that tracks stock movement, reduces human errors, and prevents stockouts or overstocks. With FBA Prep Logistics, you can trust us to have a real-time, accurate view of your inventory, enabling you to make informed decisions for your Amazon business.
4.6 Expertise in Fulfillment Services
The proficiency of a 3PL in offering fulfillment services directly impacts your customer satisfaction and brand reputation. Look for a 3PL with a proven track record in Efficient PA Order Fulfillment, packing, labeling, and timely shipping. FBA Prep Logistics combines expertise with accuracy and efficiency to ensure your customers receive their orders promptly and in perfect condition.
4.7 Customizable and Specialized Solutions
No two Amazon sellers have the same requirements and goals. Partner with a 3PL like FBA Prep Logistics that understands this and offers tailored strategies and services, whether it's personalized packaging, branded materials, or unique shipping options. With us, you can design a bespoke logistics plan to suit your specific business needs.
4.8 Strong Customer Reviews and Testimonials
Customer reviews and testimonials can be a reliable source of information when evaluating a 3PL warehouse. Monitor feedback from fellow Amazon sellers to gauge their overall satisfaction and experience with a prospective 3PL provider. At FBA Prep Logistics, we take pride in our long-lasting relationships with clients, who consistently share their positive experiences and success stories.
4.9 Competitive Pricing and Transparent Costs
It's essential to choose an affordable 3PL partner without compromising quality. Work with a warehouse like FBA Prep Logistics that offers competitive pricing and transparent costs to help you manage and scale your business effectively while maintaining a healthy bottom line.
4.10 Location: Streamlining Logistics with Prime Location
Selecting a 3PL situated in a strategic location like FBA Prep Logistics in Bristol PA, brings several benefits such as reduced transit time, lower shipping costs, and improved customer satisfaction. Our central location on the East Coast allows your business to reach a vast customer base with ease, making us the best 3PL for Amazon sellers.
To wrap up, finding the best 3PL for Amazon sellers involves assessing various factors such as communication, scalability, technology, expertise, and location, amongst others. With FBA Prep Logistics, you can rest assured that we meet and surpass these factors to offer your Amazon business unparalleled service, support, and success. Reach out to us, and let's set your Amazon adventure on the path to triumph!
Get Started with FBA Prep Logistics: Streamline Your Amazon Business Today
As an Amazon seller, expanding and streamlining your e-commerce business may seem like an overwhelming task. However, having the best 3PL for Amazon sellers like FBA Prep Logistics as your partner can make all the difference. Our comprehensive solutions and outstanding customer service give you the confidence and peace of mind you need to focus on scaling your business. So what are you waiting for? Let's embark on a journey together towards supply chain optimization and strategic growth for your Amazon business.
5.1 Hassle-Free Onboarding Process
At FBA Prep Logistics, we understand that getting started with a new 3PL can be challenging. That's why we have designed a seamless onboarding process, complete with dedicated account managers to walk you through each step, ensuring a smooth transition. You can say goodbye to confusing contracts and onboarding headaches, and hello to streamlined logistics management.
5.2 Precise Inventory Control and Real-Time Reporting
Stay up-to-date with your Amazon inventory needs and avoid stockouts with advanced tracking and reporting tools offered by FBA Prep Logistics. Our Simplify Inventory Tracking on Shopify offers top-of-the-line warehouse management software that gives you real-time insights into your products, preventing stock shortages and costly Amazon Reverse Logistics situations.
5.3 Integration with Amazon and Other E-commerce Platforms
No matter what platform you use to sell your products, FBA Prep Logistics has you covered. Our systems integrate seamlessly with Amazon, Shopify, and other major e-commerce platforms. Simplify your workflow by automating inventory updates, order tracking, shipping management, and more with our user-friendly interface.
5.4 Scalability Tailored to Your Business Growth
As your Amazon business grows, so do your logistic needs. FBA Prep Logistics offers scalable solutions suitable for medium-sized businesses all the way to large-scale operations. With our vast fulfillment network and industry-leading technology, we provide the flexibility to accommodate your ever-changing needs, saving you time and effort in the long run.
5.5 Ongoing Support and Expert Consultations
Your success is our success. After getting started with FBA Prep Logistics, you'll have access to an expert team of logistics professionals who are ready to tackle any challenges you may face. From Amazon FBA Prep Services to The Definitive Guide to Amazon PPC Advertising, our dedicated account managers and experienced consultants will provide invaluable insights, support, and advice tailored to your business's unique needs.
5.6 Join the Ranks of Satisfied FBA Prep Logistics Clients
Our commitment to excellence has made FBA Prep Logistics a trusted name among successful Amazon sellers. You can count on our Efficient PA Order Fulfillment Services to handle all aspects of your fulfillment process with accuracy and professionalism. Join the ranks of satisfied clients who have experienced the difference that partnering with FBA Prep Logistics can make in their e-commerce businesses.
Take your Amazon venture to the next level by collaborating with FBA Prep Logistics – the best 3PL for Amazon sellers. Embark on a successful journey with streamlined logistics management, unwavering support, and unparalleled expertise. Don't wait – contact FBA Prep Logistics and start experiencing the benefits of our 3PL services for yourself today!
Frequently Asked Questions about FBA Prep Logistics
1. What is the advantage of partnering with FBA Prep Logistics for my Amazon e-commerce business?

By working with FBA Prep Logistics, you'll benefit from our tailored services, Amazon compliance support, effective inventory management, and more. Our expertise in logistics and dedication to your success will help you streamline your supply chain and grow efficiently.

2. How does FBA Prep Logistics ensure compliance with Amazon's strict requirements?

We stay up to date with Amazon's policies and work closely with you to ensure your inventory and shipments meet their requirements. Our dedicated team is trained in Amazon FBA requirements to avoid costly errors or delays.

3. Can FBA Prep Logistics support the scalability of my growing Amazon business?

Definitely! We're prepared to adapt and cater to the changing needs of your business as it grows. Our flexible solutions can be adjusted according to the size and scope of your e-commerce operations, enabling you to expand effortlessly.

4. How does FBA Prep Logistics manage my inventory efficiently?

We utilize advanced software and tracking systems to monitor and control your inventory in real-time. Our warehouse processes ensure optimal storage and workflow, resulting in faster order fulfillment and better overall inventory control.

5. How can I start working with FBA Prep Logistics to streamline my Amazon e-commerce business?

To get started with FBA Prep Logistics, simply contact us and share your specific Amazon e-commerce needs. Our team will work with you to develop a tailored solution that sets your business on the path to success.