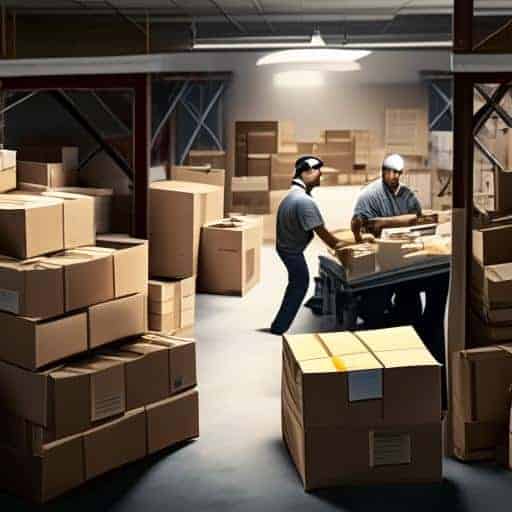 Find the Best FBA Prep Center
Introduction
In the fast-paced world of e-commerce, finding the perfect Fulfillment by Amazon (FBA) prep center can be a game changer for your online business. With the right partner, you can streamline your supply chain, lower your shipping costs, and fulfill orders more quickly, all while focusing on what you do best: selling your products. But how do you choose the best FBA Prep Center? One that is strategically located and offers all the services tailored to your specific needs? Let us guide you through the process and show you why FBA Prep Logistics is your go-to 3PL warehouse for an optimized e-commerce experience.
Location Matters: FBA Prep Center Near Me
As the saying goes, location is everything. When searching for an "FBA Prep Center Near Me," consider how the facility is positioned in relation to the overall distribution network. A strategically located FBA prep center, like FBA Prep Logistics in Bristol, PA, is essential for any e-commerce business. Here's why:
Reduced shipping costs: Being near major distribution hubs means you'll be able to tap into better shipping rates, ultimately leading to significant cost savings for your business. And, since you'll be working with an FBA Prep Center Near Me, your shipments will travel shorter distances, meaning you'll pay less for transportation.

Improved delivery times: A well-positioned FBA prep center ensures that your products get to your customers' doorsteps faster. At FBA Prep Logistics, our location near major distribution hubs allows us to take advantage of faster shipping routes, resulting in quicker delivery times for your customers. After all, we're all aware of the importance of speedy deliveries for maintaining customer satisfaction.

Better inventory management: An FBA prep center located close to your suppliers and customers means you can more easily manage inventory levels, reduce the risk of stockouts, and avoid overstocking, thus maintaining an optimal balance.
Easier access to multiple markets: With your inventory stored at a strategically placed FBA prep center like FBA Prep Logistics, you'll be perfectly poised to reach multiple markets quickly. This will open doors for expanding your e-commerce business and tapping into new customer segments.

Greater flexibility and responsiveness: When unexpected changes occur, such as an increase in order volume or a sudden market shift, you'll want an FBA partner who's agile and able to adjust quickly. A prep center in a prime location can make all the difference in these situations, helping your e-commerce business remain competitive and meet increased demand.
For more information on the benefits of a strategically-positioned warehouse, be sure to read The Ultimate Guide to E-commerce Logistics in the East Coast and learn more about Efficient PA Order Fulfillment Services for Your E-commerce Store.
II. Location Matters: FBA Prep Center Near Me
When it comes to efficiently managing an e-commerce business selling on Amazon, finding the ideal FBA prep center near you is crucial. In the ever-competitive world of online retailing, partnering with a strategically located FBA prep center such as FBA Prep Logistics in Bristol, PA, can significantly optimize your supply chain, cut down on shipping costs, and improve delivery times for your customers. Let us dive into the numerous advantages of choosing FBA Prep Center Near Me for your e-commerce needs.
1. Cut Down on Shipping Costs
Partnering with a local FBA prep center like FBA Prep Logistics can substantially reduce the shipping costs associated with sending items to Amazon fulfillment centers or directly to your customers. By sorting products and consolidating shipments, a well-located prep center can make use of less-than-truckload (LTL) shipping options, resulting in lower freight rates for your business.
2. Centralized Fulfillment Hub
FBA Prep Logistics, located in Bristol, PA, offers a centralized fulfillment hub due to its close proximity to major East Coast cities such as New York, Philadelphia, and Washington D.C. This strategic location ensures that your products are easily accessible to a large portion of the U.S. population, which ultimately translates to a wider customer base and faster shipping times. A speedy delivery process can significantly contribute to enhanced customer satisfaction and positive feedback on your Amazon listings.
3. Reduced Transit Times
One major benefit of partnering with an FBA prep center near your suppliers or customers is the reduced transit times. With FBA Prep Logistics' strategically located warehouse, your products can reach your target market more efficiently. This will not only save you time but also enable you to keep up with high demand and maintain a consistently positive reputation on Amazon.
4. Improved Inventory Management
Having an FBA prep center close to your suppliers or primary customer base allows for improved inventory management. In-house experts at FBA Prep Logistics can help monitor stock levels, adjust order quantities, and ensure that your products are delivered on time, ultimately enhancing your e-commerce business's overall reliability. Additionally, by keeping a close eye on your inventory, you can better prevent stockouts and overstocks, both of which can be detrimental to your sales and reputation.
5. Greater Flexibility and Control
A centralized FBA prep center can offer you greater control over your inventory and flexibility in managing unexpected changes in demand or supply chain disruptions. FBA Prep Logistics' facility in Bristol, PA, will ensure that your products are stored and managed efficiently, even in times of uncertainty. This flexibility can be essential in maintaining a competitive edge over other sellers in the constantly evolving e-commerce landscape.
6. Save Time and Resources
The closer the FBA prep center is to your suppliers or customers, the less time you'll spend coordinating shipments and managing inventory. A nearby FBA prep center like FBA Prep Logistics will not only handle these logistics on your behalf but will also save valuable time and resources that you can reinvest in other aspects of your business, such as product development and marketing.
7. Leverage Local Expertise
Partnering with a local FBA prep center can provide you with the advantage of leveraging their local knowledge and expertise. FBA Prep Logistics' team of experts is well-versed in the intricacies of the local market and supply chain, allowing them to better assist you in optimizing your fulfillment processes and navigating potential challenges.
In conclusion, choosing an FBA Prep Center Near Me like FBA Prep Logistics in Bristol, PA, can significantly impact your e-commerce business's success by cutting down shipment costs, improving delivery times, and giving you unparalleled inventory management. With a strategically located and experienced partner like FBA Prep Logistics by your side, you can focus on scaling your business while they handle the logistics.
III. Warehousing and Fulfillment: Leave it to the Experts
When you search for an "FBA Prep Center Near Me," you must prioritize expertise in warehousing and fulfillment. Outsourcing these operations to a 3PL like FBA Prep Logistics allows you to focus on what you do best – selling. Here's how our expertise can benefit your e-commerce business:
1. Experience in Handling Diverse Product Categories
---
FBA Prep Logistics specializes in catering to a wide range of product categories, making it easier for your e-commerce business to scale and diversify without any hiccups. From fragile and high-value items to bulky and perishable products, our trained professionals ensure that each item is handled with care and efficiency.
2. Accurate Inventory Management
---
Excel with ease in inventory management when you outsource your warehousing needs to FBA Prep Logistics. Our advanced inventory management system tracks every product in real-time, ensuring accurate stock data and minimizing the risk of stockouts or overstocking. This increased accuracy allows you not only to optimize your sales and inventory but also to provide a reliable shopping experience for your customers. Curious about how to simplify inventory tracking further? Check out our article on simplified inventory tracking on Shopify.
3. Streamlined Picking and Packing
---
FBA Prep Logistics has developed fast and efficient picking and packing processes, utilizing well-organized warehousing layouts and experienced staff to fulfill your orders. Picking accuracy minimizes errors, ensuring your customers receive the correct items. Additionally, our team professionals pack each order with the utmost care to prevent damages during transit.
4. Optimized Shipping Solutions
---
FBA Prep Logistics works closely with major carriers to offer competitive shipping rates and reliable delivery services. By collaborating with us, your e-commerce business can leverage our partnerships with carriers to save on shipping costs and ensure timely deliveries. To learn more about the benefits of e-commerce fulfillment on the East Coast, explore our article: 3 Benefits of E-commerce Fulfillment on the East Coast.
5. Returns Processing
---
Efficient return processing is essential to maintain customer satisfaction and reduce the logistical burden for your e-commerce business. At FBA Prep Logistics, our skilled team members manage returns quickly, inspect products, and update inventory levels, ensuring a smooth experience for customers and minimizing headaches for your business. Discover hassle-free returns with our guide on Shopify Returns in NJ.
6. Technology Integration
---
FBA Prep Logistics offers seamless integration with popular e-commerce platforms like Amazon, Shopify, and WooCommerce, allowing your business to automate its order fulfillment. For more insights on integrating technology into your Amazon seller workflow, read our how-to guide on technology integration for Amazon sellers in Pennsylvania.
7. Scalability
---
As a growth-focused e-commerce business owner, you must choose a 3PL partner that can grow with you. FBA Prep Logistics offers scalable solutions to manage fluctuations in order volume, ensuring a seamless fulfillment experience throughout your business's expansion.
8. Customer Support
---
Our commitment to customer support sets us apart from other FBA prep centers. FBA Prep Logistics provides personalized assistance, addressing your specific issues and concerns promptly and efficiently. Our expertise ensures that your orders are in good hands while you focus on growing your e-commerce sales.
9. Cost Reduction Strategies
---
FBA Prep Logistics helps you cut costs and boost your profit margins with our range of efficient services and competitive shipping rates. For more on saving money, check out our article on cost reduction strategies for Amazon sellers in PA.
In conclusion, choosing a strategically located and expert 3PL partner like FBA Prep Logistics can do wonders for your e-commerce business. By leaving warehousing and fulfillment in the hands of experienced professionals, you can focus on growing your sales and providing an exceptional shopping experience to your customers.
IV. Custom Services Tailored to Your Business Needs
E-commerce businesses come in all shapes and sizes, and each has its unique set of requirements. That's where a flexible and adaptable FBA prep center near me, like FBA Prep Logistics, comes into play. Our range of personalized services is designed to cater to your specific business needs, such as inventory management, picking and packing, and shipping label creation, to ensure your supply chain runs seamlessly.
A. Inventory Management: Organized and Efficient
At FBA Prep Logistics, we understand that proper inventory management is key to your e-commerce success. With our state-of-the-art inventory management system, we keep track of your product stock, prevent stockouts or overstocking, and help you manage your inventory levels efficiently. Our system integrates directly with Shopify and other popular e-commerce platforms to provide real-time insights into your inventory levels and enable data-driven decision-making.
B. Picking and Packing: Precise and Prompt
Our skilled team at FBA Prep Logistics is dedicated to ensuring accuracy and speed in our picking and packing process. This essential step is crucial to keeping your customers happy and maintaining your business's high fulfillment standards. In addition to our strict quality control measures, we offer customizable packaging options to cater to your brand's specific requirements. From branded packaging materials to personalized inserts, we can create a unique unboxing experience for your customers, ensuring repeat business and increased loyalty.
C. Shipping Label Creation: Automated and Accurate
Shipping labels might seem like a small part of your e-commerce operation, but they play a critical role in ensuring accurate and timely delivery of your merchandise. At FBA Prep Logistics, we've made it our mission to simplify the shipping process with our automated shipping label creation system. This system eliminates the possibility of human error and inaccurate shipping details, allowing us to maintain efficient shipping and satisfaction rates for your customers.
D. East Coast Fulfillment Solutions
FBA Prep Logistics is an expert at providing efficient order fulfillment services for e-commerce businesses, and our location on the East Coast of the United States adds to our competitive advantage. With our well-designed warehouse and fulfillment center in Bristol, PA, we can provide expedited shipping options for your business. So whether you are using Shopify for your e-commerce platform or selling on Amazon, FBA Prep Logistics has you covered with our tailored solutions, designed to cater to various business requirements.
E. Reverse Logistics and Returns Management
A smoothly functioning reverse logistics and returns management system is crucial to maintaining customer satisfaction and trust. FBA Prep Logistics offers comprehensive reverse logistics solutions, including handling returned products, processing refunds, and restocking inventory. By partnering with us to manage your returns, you can be confident that your customers' return experience will be smooth and seamless, building loyalty and increasing repeat business.
F. Technology Integration: Streamlined and Seamless
The FBA Prep Logistics team prides itself on our ability to adapt to and utilize technology in order to streamline your supply chain management. Through the integration of your e-commerce platform with our inventory and fulfillment systems, we can provide you with real-time data and insights, allowing you to make informed business decisions and optimize your operations. Our seamless technology integration ensures smooth communication and efficient workflows for your e-commerce business.
In conclusion, finding the perfect FBA prep center near me to cater to your unique e-commerce business needs is essential for streamlining logistics and achieving success in today's competitive market. FBA Prep Logistics, with its customizable and adaptable approach, can provide tailored services to suit your specific requirements, ensuring efficient supply chain management and a seamless customer journey. Choose FBA Prep Logistics and let your business live up to its fullest potential!
V. Why Choose FBA Prep Logistics: The Partner You Can Trust
Choosing the right partner for your e-commerce business is crucial, and you might be wondering, "why should I pick FBA Prep Logistics as the best FBA prep center near me?" Here are the key reasons why partnering with us can be a game-changer for your business:
1. Strategically Located
Our warehouse in Bristol, PA, offers a prime location for e-commerce businesses. Located in the East Coast, we are well-connected to major transportation routes, ensuring faster delivery times and reduced shipping costs 3 Benefits of E-commerce Fulfillment on the East Coast.
2. Experienced Staff
We have a team of highly trained professionals with extensive experience in e-commerce logistics and supply chain management. Our staff is committed to ensuring your business gets the best service possible, treating your products as if they were our own The Ultimate Guide to E-commerce Logistics in East Coast.
3. Comprehensive Services
From inventory management and order fulfillment, to shipping label creation and effective reverse logistics, we provide a myriad of services tailored to your unique business needs How Amazon FBA Prep Services Can Help You Scale Your Business.
4. Cutting-Edge Technology
In order to stay ahead of the curve, we deploy the latest technology solutions for efficient inventory tracking, streamlined communication, and real-time monitoring of your products How to Integrate Technology into Your Amazon Seller Workflow in Pennsylvania.
5. Cost-Effective Solutions
By partnering with FBA Prep Logistics, you gain access to competitive rates and efficient processes, which ultimately leads to cost savings and improved profit margins Top Cost Reduction Strategies for Amazon Sellers in PA.
6. Customized Approach
Every e-commerce business is unique, and we acknowledge that. Our services are personalized to cater to your specific requirements, ensuring your business receives the attention it deserves. From Warehousing and Fulfillment to Custom Services, we have it all Efficient PA Order Fulfillment Services for Your E-commerce Store.
7. Transparency
We value open communication and ensure that you are always in the loop. Whether it's reporting, invoicing, or keeping you updated on the progress of your orders, transparency is our priority.
8. Scalability
As your business grows, our services can grow with you. We have the flexibility to handle fluctuating demand, ensuring that your supply chain infrastructure scales seamlessly to accommodate your business expansion.
9. Data Security
At FBA Prep Logistics, protecting your sensitive information is our responsibility. We adhere to strict data security protocols, ensuring that your business information remains confidential and safe.
10. Customer Support
We are passionate about forging long-term relationships with our clients and believe communication is key. Our dedicated team is always available to answer your queries, providing prompt and professional support when needed.
In conclusion, choosing FBA Prep Logistics as the "FBA prep center near me" means that you are entrusting your e-commerce business to a reliable partner that is fully equipped to ensure your supply chain runs smoothly and efficiently. With our strategic location, experienced staff, comprehensive services, and commitment to transparency and customer satisfaction, we are confident that partnering with us will streamline your operations, allowing you to focus on what truly matters – growing your e-commerce business.
Find the Best FBA Prep Center
FAQs
Why is location important for an FBA prep center?

Location plays a crucial role in ensuring your e-commerce business saves on shipping costs and achieves faster delivery times. A strategically located FBA prep center like FBA Prep Logistics in Bristol, PA ensures quick transit of your goods to Amazon fulfillment warehouses, thus improving customer satisfaction and reducing overheads.

How can FBA Prep Logistics help with warehousing and fulfillment?

One of the key benefits of partnering with FBA Prep Logistics is that our team of experts handles all aspects of warehousing and fulfillment for you. This allows e-commerce businesses like yours to focus on what you do best – selling. From storage and order management to picking, packing, and shipping, our team covers it all.

What custom services does FBA Prep Logistics offer for e-commerce businesses?

FBA Prep Logistics provides a range of custom services tailored to suit your individual business needs. These include inventory management, picking and packing, shipping label creation, and more. Our well-rounded expertise ensures that your e-commerce supply chain operates smoothly, efficiently, and cost-effectively.

Why should I choose FBA Prep Logistics as my 3PL partner?

Choosing FBA Prep Logistics as your 3PL partner gives you a cutting-edge advantage in the competitive e-commerce landscape. Our expert team is dedicated to streamlining your supply chain management for improved customer satisfaction and increased profitability. We're located in the strategic Bristol, PA area, which helps reduce shipping costs and transit times. So take the hassle out of your logistics by partnering with FBA Prep Logistics.
This website uses cookies and third party services.
OK