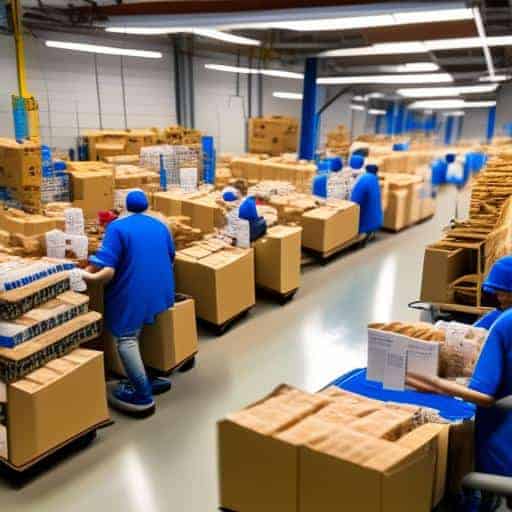 Why Every Amazon Seller Needs a Prep Center: Partner with FBA Prep Logistics for Success
Introduction to Prep Centers and FBA Prep Logistics
What are Prep Centers and their role in making the lives of Amazon sellers easier?
As an Amazon seller, are you finding it increasingly difficult to manage your inventory, fulfill orders, and keep up with ever-changing Amazon requirements? This is where prep centers come in as a game-changing solution. A prep center for Amazon is a third-party logistics (3PL) provider that specializes in preparing, storing, and shipping products on behalf of e-commerce sellers. By outsourcing these tasks to a reliable prep center, sellers can focus on growing their business without being bogged down by the day-to-day challenges of inventory management and fulfillment.
Introducing FBA Prep Logistics as a reliable 3PL warehouse located in Bristol, PA
We know the struggles of online selling; that's why we're here. As a digital marketing assistant for FBA Prep Logistics, our primary goal is to help you drive your online sales to new heights by simplifying and optimizing your supply chain experience. FBA Prep Logistics is a trustworthy prep center for Amazon, strategically located in Bristol, PA. Our expertise, combined with state-of-the-art facilities, helps ensure your products are always ready to be shipped to your customers in a timely manner.
In this article, we'll show you the world of possibilities that await you when partnering with a leading Amazon prep center such as FBA Prep Logistics. We'll be diving deep into the numerous benefits of outsourcing your inventory management, product preparation, and fulfillment tasks to our team of experts. So, let's get started and discover why every Amazon seller needs a prep center and why FBA Prep Logistics should be your go-to partner for success.
Section 2: Benefits of Using a Prep Center for Amazon Sellers
In the competitive world of e-commerce, finding ways to optimize your workflow and reduce operational costs is critical for long-term success. Using a prep center for Amazon, such as FBA Prep Logistics, can help you achieve this. In this section, we'll explore the benefits of partnering with a prep center for your Amazon business.
1. Time-Saving and Enhanced Management for Sellers
Time is a precious commodity, especially for online sellers. Partnering with a prep center like FBA Prep Logistics allows you to delegate the complex and time-consuming tasks related to inventory management, shipping, and fulfilling Amazon's requirements. By outsourcing these tasks, you can focus your attention on other aspects of your business, such as product research, marketing, and customer service. In short, using a prep center for Amazon frees up your valuable time and allows you to concentrate on growing your brand.
2. Reduced Shipping and Storage Fees
As a seller on Amazon, you might be struggling with high shipping and storage fees, especially if you're fulfilling orders yourself or renting storage spaces. With a prep center like FBA Prep Logistics located in Bristol, PA—an ideal East Coast location known for its cost-effectiveness—you can expect reduced shipping and storage costs. As a result, by outsourcing to a prep center, you can optimize your expenses and maximize your profits.
3. Compliance with Amazon FBA Requirements
Amazon has stringent requirements for FBA sellers, including guidelines for packaging, labeling, and preparing products. Failure to comply can lead to penalties, account suspension, or even outright bans. By partnering with a reliable prep center like FBA Prep Logistics, you'll ensure that your products are prepared according to Amazon's guidelines, reducing the risk of penalties or account suspension. Our experience and expertise in handling Amazon requirements ensure a seamless process that keeps your business in good standing with the marketplace giant.
4. Streamlining Your Supply Chain Operations
A well-organized supply chain can make all the difference in the efficiency of your e-commerce business. FBA Prep Logistics can help you streamline your supply chain by carrying out critical tasks such as inventory receiving, inspection, labeling, and bundling with precision and consistency. A streamlined supply chain minimizes delays and errors, ensuring that your products reach your customers on time and in perfect condition.
5. Customization and Scalability
Every e-commerce business has unique needs and operational challenges. With FBA Prep Logistics, you get access to tailored solutions designed to cater to your specific situation. Whether you need custom packaging, branded labels, or personalized storage options, we have the flexibility to adapt our services to your requirements. Plus, as your business grows, our resources and services can scale with you, ensuring that your needs continue to be met.
6. Access to Expertise and Resources
Outsourcing to an experienced prep center like FBA Prep Logistics provides you with access to professional expertise and resources typically not available in-house. By leveraging our knowledge and infrastructure, you can avoid common pitfalls in e-commerce logistics and make informed decisions about your supply chain operations.
In conclusion, partnering with a prep center for Amazon, such as FBA Prep Logistics, is a smart investment that can streamline your operations, save you time and money, and mitigate risks associated with non-compliance. With our customized solutions and dedicated customer service, you can rest assured that your e-commerce business is in good hands as you focus on driving growth and success.
3. Essential Prep Center Services Offered by FBA Prep Logistics
In order to support Amazon sellers in their journey to success, FBA Prep Logistics offers a wide range of essential services. As a leading Prep Center for Amazon, we make sure all our services are in compliance with Amazon's FBA requirements to ensure a seamless experience for our clients. Below, we will discuss the top services we provide for sellers to optimize their supply chain and meet all FBA requirements.
3.1 Inventory Receiving, Inspection, and Storage
Upon arrival at our 3PL warehouse in Bristol, PA, all your shipments will undergo a thorough inspection. Our team of experts will diligently check the products for any discrepancies or damages, ensuring only top-quality items are passed on to customers. After inspection, we store your inventory in our secure and organized facility, allowing you to monitor stock levels and ensure your products are always available for customers.
3.2 Product Preparation, Labeling, and Bundling
Preparing products for shipment to Amazon FBA centers is a critical step as Amazon has strict requirements for packaging and labeling. At FBA Prep Logistics, we offer comprehensive product preparation services to ensure your items not only comply with Amazon's requirements but also reach customers in an appealing condition. Our services in this area include:
Labeling: We ensure all products have accurate and clear labels that match Amazon's requirements, such as the barcode, product name, and SKU.
Bundling and Packaging: Our team will skillfully bundle and package your products, protecting them from damage during transit and enhancing the customer experience.
FNSKU and UPC Stickers: We apply the proper FNSKU and UPC stickers to your products to ensure they are easily identifiable and trackable within Amazon's FBA system.
3.3 Custom Order Fulfillment Solutions
At FBA Prep Logistics, we understand that every Amazon seller has unique needs and requirements. Our flexible approach ensures that we cater to each client's specific needs with tailored solutions. As part of our custom services, we include:
Multi-Channel Fulfillment: In addition to Amazon orders, we also offer fulfillment solutions for other sales channels like Shopify or WooCommerce, expanding your brand reach and customer base.
Returns Management: Handling returns effectively is an integral part of e-commerce success. Our team manages the entire return process, from receiving the product to inspecting and restocking for future orders.
Custom Packing Slips and Inserts: To create a unique and memorable unboxing experience for your customers, we can add custom packing slips with your branding or include promotional inserts with the shipped products.
3.4 Shipment Creation and Coordination
Our team of experts handles the entire shipment creation and coordination process for your Amazon orders. From scheduling and booking shipments to tracking the delivery process and updating you with relevant information, we ensure your inventory reaches the FBA warehouses in a timely and accurate manner.
3.5 Transparent Reporting and Communication
At FBA Prep Logistics, we believe in maintaining open and clear communication with our clients. Our user-friendly platform provides you with real-time updates on inventory levels, order statuses, and shipment details. Our dedicated support team is always available to address any questions or concerns, making your experience with us seamless and stress-free.
In conclusion, partnering with FBA Prep Logistics for your Amazon business needs will provide you with a range of essential services designed to optimize your supply chain and enhance the overall efficiency of your e-commerce operations. From inventory management to fulfilling Amazon's FBA requirements and offering tailored solutions, we are the ideal choice for established and growing sellers. Let us be your trusted partner on your path to Amazon success and beyond.
Top Reasons Why FBA Prep Logistics Is the Ideal Choice for Amazon Sellers
As a medium-sized e-commerce business owner, partnering with the right prep center for Amazon can make all the difference in your success. At FBA Prep Logistics, we understand the unique challenges faced by online sellers and strive to provide the best support and services designed to optimize your Amazon business. Here are the top reasons why FBA Prep Logistics is the ideal choice for Amazon sellers:
4.1 Expertise Catering to Medium-sized E-commerce Businesses
At FBA Prep Logistics, we specialize in serving the needs of medium-sized e-commerce businesses, with a specific focus on those new to supply chain management. Our experts understand that businesses like yours have different priorities and requirements as compared to larger corporations or small startups. By working with FBA Prep Logistics, you gain access to an experienced team that is skilled in handling the complexities of e-commerce logistics at a scale appropriate to your business size.
4.2 Flexibility and Adaptability to Match Your Needs
We understand that every e-commerce business is unique, and as such, we are committed to providing tailored solutions to suit your specific requirements. Our adaptable approach means that we can efficiently handle the growth and changes in your business while ensuring your logistics operations continue to run smoothly. Whether you need support in managing seasonal fluctuations, exploring new product lines, or expanding into different marketplaces, FBA Prep Logistics has got you covered.
4.3 Friendly and Dedicated Customer Service
Our commitment to providing a seamless and stress-free experience is evident in our friendly and dedicated customer service. From the moment you begin your onboarding process with FBA Prep Logistics, our team will be there to support you every step of the way. We pride ourselves on our efficient communication and responsiveness, ensuring you're always informed and never left in the dark. By partnering with FBA Prep Logistics, you gain a reliable extension to your team that is truly invested in your success.
4.4 Compliance with Amazon's FBA Requirements
With FBA Prep Logistics as your partner, you can have peace of mind knowing that your shipments will be prepared and shipped in complete compliance with Amazon's specific requirements. Our in-depth understanding of Amazon's FBA policies and guidelines means that we can expertly handle labeling, packaging, and preparation to avoid delays, penalties, or account suspensions.
4.5 Cost-effective Solutions to Improve Your Bottom-Line
Our comprehensive prep center services offered at FBA Prep Logistics are not only aimed at streamlining your logistics operations but also improving your bottom-line. By partnering with us, you benefit from lower shipping costs, decreased storage fees, and reduced labor expenses that can have a significant impact on your profit margins. Our team continuously strives to identify and implement cost-saving measures that benefit your business.
4.6 Seamless Integration with Your Amazon Business
One of the top concerns among Amazon sellers when selecting a prep center is the burden of integration. At FBA Prep Logistics, our advanced technology solutions ensure seamless integration with your Amazon Seller Central account, allowing for real-time inventory tracking, order processing, and performance monitoring. This seamless synchronization allows you to maintain full control over your e-commerce operations, while benefiting from the support of our dedicated team.
4.7 Scalable Solutions for Long-term Success
As your business continues to grow, the ability to scale your logistics operations becomes crucial for long-term success. Our flexible, scalable solutions at FBA Prep Logistics ensure that as your Amazon business grows, so too does our support. You can confidently expand your product lines and enter new markets with the knowledge that your logistics backbone can adapt and accommodate your growing needs.
In conclusion, FBA Prep Logistics is the warehouse partner you can trust to support the success of your Amazon business. Through our expertise in serving medium-sized e-commerce businesses without neglecting the importance of flexibility, our unwavering commitment to customer service, and a deep understanding of Amazon FBA requirements, we provide the essential foundation that allows you to focus on growing your online presence. Don't leave your Amazon success to chance; partner with FBA Prep Logistics today for a bright and prosperous future.
Section 5: Getting Started with FBA Prep Logistics and How We Can Support Your Amazon Business Growth
5.1 Easy Onboarding Process with FBA Prep Logistics
Jumping into the world of 3PL services and prep centers for Amazon sellers can seem daunting, especially if you've never worked with a 3PL before. However, at FBA Prep Logistics, we make the onboarding process smooth and easy. We understand the challenges that new and growing e-commerce businesses face, which is why we've developed a streamlined onboarding system to get you started as effortlessly as possible.
So, how does our onboarding process work? Here's what you can expect:
Initial Consultation: We begin by discussing your business and understanding your specific needs, challenges, and goals.
Integration: We work closely with you to integrate your Amazon seller account with our warehouse management system (WMS), giving you real-time visibility into your inventory.
Tailored Solutions: Based on your business requirements, we customize and develop a plan for inventory management, order fulfillment, and other warehouse services.
Training and Support: We provide you with training on using our system and accessing your account insights. Our dedicated support team is always available to answer your questions and guide you through any troubleshooting.
5.2 Ongoing Support and Consultation for Supply Chain Optimization
As your business continues to grow and evolve, so do your supply chain management needs. At FBA Prep Logistics, we don't stop at just onboarding. We offer ongoing support and consultation to help you continuously fine-tune your operations and adapt to industry changes.
Our team of experts provides strategic and operational advice on topics such as:
Inventory management best practices, including stock control and forecasting
Identifying and addressing potential bottlenecks in your supply chain
Exploring new market opportunities and expanding your product range
Ensuring compliance with Amazon policies and regulations
Analyzing and improving your Amazon advertising strategy
5.3 Customer Testimonials and Case Studies: Proof of Success with FBA Prep Logistics
Take it from our satisfied clients: partnering with FBA Prep Logistics as your prep center for Amazon can transform your e-commerce business and drive growth and success. But don't just take our word for it! You can explore customer testimonials and case studies on our website, showcasing the positive results that sellers have had by choosing our services.
In our case studies, you'll see examples of businesses that have successfully:
Reduced storage fees and shipping costs
Improved Amazon FBA compliance, avoiding penalties and account suspensions
Streamlined order fulfillment and customer satisfaction
Increased sales volume and market share
Expanded product offerings and entered new niche markets
Ready to experience these benefits for your e-commerce business? Reach out to us to get started by scheduling an initial consultation for your Amazon account today.
5.4 Your Road to Business Growth Starts with FBA Prep Logistics
Successful Amazon sellers understand the power of delegation and outsourcing key operational tasks, such as warehousing and order fulfillment, to a reliable third party like FBA Prep Logistics. They realize that it frees up their time, allowing them to focus on growth strategies like advertising, customer engagement, and market analysis.
By partnering with FBA Prep Logistics as your trusted prep center for Amazon, you, too, can experience these benefits and watch your e-commerce business flourish. Our tailor-made solutions, friendly customer service, and on-demand support ensure you have the resources and expertise you need to scale your business to new heights.
The time is now to take the leap and invest in your business's future with FBA Prep Logistics. We look forward to supporting your success and propelling your Amazon business to new horizons.
Frequently Asked Questions
What is a prep center and how does it help Amazon sellers?

Prep centers are third-party logistics (3PL) companies that manage the inventory and fulfillment process for Amazon sellers, allowing them to focus on growing their businesses. They handle various tasks such as receiving, inspection, storage, labeling, and order fulfillment.

How can partnering with FBA Prep Logistics save me time and money?

At FBA Prep Logistics, we aim to increase efficiency and reduce costs for our clients. By outsourcing tasks like inventory management and order fulfillment, you can save time and invest in other aspects of your business. Furthermore, our expertise in Amazon compliance can help you avoid penalties and associated costs.

What types of services does FBA Prep Logistics offer?

We provide a comprehensive range of services, including inventory receiving, inspection, storage, product preparation, labeling, bundling, and custom order fulfillment solutions tailored to your specific needs as an Amazon seller.

Why should I choose FBA Prep Logistics over other 3PL warehouses?

FBA Prep Logistics caters specifically to the needs of medium-sized e-commerce businesses, offering flexibility, adaptability, and a personalized approach. Our friendly and dedicated customer service, along with our expertise in supply chain management, sets us apart from other 3PL warehouses.

How can I get started with FBA Prep Logistics?

Getting started with FBA Prep Logistics is simple. Reach out to our team to discuss your requirements, and we will guide you through the seamless onboarding process. Once set up, you can rely on our ongoing support and consultation services to ensure smooth operations for your Amazon business.