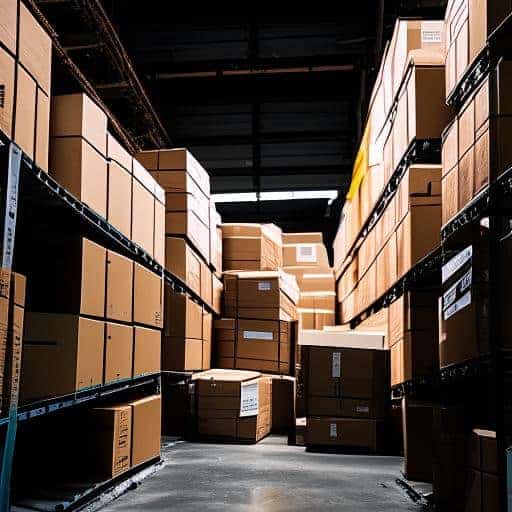 Introduction to 3PLs and the Rapid E-commerce Growth in Toronto
Welcome to the exciting world of e-commerce in Toronto, where businesses are thriving, and the online marketplace is booming. As a digital marketing assistant at FBA Prep Logistics, I'm here to help you confidently navigate the supply chain landscape, even if you're a newcomer to the world of 3PLs. Read on to discover how partnering with a reliable 3PL like FBA Prep Logistics can help your e-commerce business reach its full potential in Toronto's competitive online market.
What are 3PLs?
First things first, let's demystify the term "3PL". Third-party logistics providers, or 3PLs, are companies that offer comprehensive supply chain management services, from warehousing and inventory management to order fulfillment and shipping. By outsourcing these critical operations to 3PLs like FBA Prep Logistics, e-commerce businesses can focus on their core competencies, such as product development and marketing, while leaving the complicated world of logistics to the experts.
So, why is there such a buzz surrounding 3PLs in Toronto?
The E-commerce Explosion in Toronto
Toronto has quickly become a hub for e-commerce, with more and more companies recognizing the benefits of selling online. The city's strong economy, thriving tech scene, and proximity to major markets like the United States make Toronto an attractive destination for e-commerce businesses. The surge in online shopping, further fueled by the COVID-19 pandemic, has only intensified the demand for efficient and reliable supply chain management solutions.
That's where 3PLs like FBA Prep Logistics come in.
The Importance of Partnering with a Reliable 3PL in Toronto
In today's fast-paced online marketplace, e-commerce businesses must constantly up their game to stay ahead of the competition. Efficient supply chain management is no longer a luxury but a necessity for e-commerce success. A dependable 3PL partner like FBA Prep Logistics can be your secret weapon in this e-commerce battlefield.
By streamlining your logistic operations, optimizing your order fulfillment process, and reducing shipping costs, FBA Prep Logistics enables your e-commerce business to achieve increased customer satisfaction and build a lasting competitive edge.
But wait, there's more! FBA Prep Logistics offers specialized solutions tailored to your unique e-commerce needs. In the next section, you'll discover the various services we provide and how we can help you level up your online business.
So, are you ready to embrace the 3PL advantage and thrive in Toronto's e-commerce ecosystem? Stay tuned and keep reading to uncover the winning formula that is FBA Prep Logistics. Remember, your success in the e-commerce space is just a smart partnership away.
Check out this article for more information on how FBA Prep Logistics can deliver the best order fulfillment services for your e-commerce store.
The FBA Prep Logistics Advantage: Comprehensive Services Tailored to Your Needs
When it comes to choosing the ideal 3PL Toronto provider, many medium-sized e-commerce businesses often struggle to find the perfect fit. FBA Prep Logistics, however, offers customized solutions that cater to e-commerce businesses of all sizes, and we're continually adapting and evolving to better meet your needs. In this section, we'll explore the top services and solutions we offer that give our clients a competitive edge in the ever-growing e-commerce market.
Customized Solutions for Diverse E-commerce Operations
We understand that each e-commerce business is unique, with distinctive requirements and challenges. At FBA Prep Logistics, we don't believe in a one-size-fits-all approach. Instead, we focus on analyzing your specific needs and developing tailored solutions that align with your business goals and growth strategies.
Comprehensive Inventory Management
Your e-commerce business relies heavily on efficient inventory management, and that's where our expertise comes into play. We help manage your inventory from start to finish by providing services such as:
Receiving and verifying product shipments
Sorting, storing, and organizing your inventory in our state-of-the-art facilities
Tracking inventory levels in real-time to prevent stockouts or overstocking
Simplify Inventory Tracking on Shopify to ensure seamless integration with your e-commerce platform
Superior Order Fulfillment Services
As a leading 3PL Toronto provider, FBA Prep Logistics takes the hassle out of order fulfillment, allowing you to focus on growing your business and engaging with your customers. We handle all the nitty-gritty details like:
Picking and packing products with speed and accuracy
Managing orders during peak seasons or promotional events
Customizing packaging materials and labeling to elevate your brand's image
Check out our Efficient PA Order Fulfillment Services for Your E-commerce Store for more information
Seamless Amazon Integration
Considering the massive scale of Amazon's marketplace, navigating its fulfillment process can be a daunting task for many e-commerce entrepreneurs. That's why FBA Prep Logistics specializes in simplifying the Amazon selling process by offering:
FBA (Fulfillment by Amazon) preparation and shipping services
Assistance with Amazon Seller Central management and account setup
Integration with Amazon FBA Prep Services to streamline your entire supply chain
Support for making the most of Amazon's marketing and advertising features
Global Shipping Capabilities
With FBA Prep Logistics as your trusted 3PL Toronto partner, expanding your business beyond Toronto and reaching customers worldwide has never been easier. Our global shipping capabilities include:
Competitive shipping rates through our extensive network of carriers
Expertise in international shipping regulations, documentation, and customs clearance
Real-time shipment tracking and timely updates
Learn more about E-commerce Fulfillment on the East Coast and how it can contribute to your international success
Value-Added Services for a Competitive Edge
In addition to the core services outlined above, FBA Prep Logistics also offers value-added services that set us apart from other 3PL Toronto providers:
Returns management to ensure timely processing of customer returns
Specialty kitting and assembly services for unique product configurations
Product photography, content creation, and marketing support for your e-commerce store
Whether you're a small business just entering the e-commerce space or an established online retailer looking to expand, FBA Prep Logistics has the experience and expertise to help you succeed. By partnering with us, you're not only gaining access to our extensive array of services but also joining a community of like-minded businesses who have seen firsthand the benefits of outsourcing their supply chain management to a trusted 3PL provider. So, what are you waiting for? Give your Toronto-based e-commerce operation the competitive edge it deserves by considering FBA Prep Logistics today!
Section 3: Cost and Time Savings with FBA Prep Logistics' 3PL Expertise
3.1 Maximizing Your Profit Margins
Outsourcing your supply chain management to FBA Prep Logistics, a top-tier 3PL Toronto provider, can significantly improve your e-commerce business's bottom line. With our expertise in inventory management, order fulfillment, and shipping, we can help you maximize your profit margins while maintaining high customer satisfaction. Curious about how we achieve this? Let's dive into the myriad of ways our services can save you both time and money.
3.2 Managing Your Inventory Efficiently
At FBA Prep Logistics, we know how crucial efficient inventory management is for e-commerce businesses. Our advanced system reduces the risk of overstocking or running out of stock, minimizing storage costs and ensuring product availability for your customers. By outsourcing your inventory management to us, you can focus on other aspects of your business, leaving the tedious tasks of stock control to our team of experts.
3.3 Faster, More Reliable Fulfillment
Another primary advantage of partnering with FBA Prep Logistics is our commitment to fast and reliable order fulfillment. Our strategic location in Bristol, PA provides excellent access to transportation networks, enabling us to fulfill orders quickly and ship them to your customers faster than ever before. Reduced transit times lead to happier customers and lower shipping costs, driving more sales and revenue for your e-commerce business.
3.4 Seamless Integration with Amazon
As an e-commerce business owner, you know the importance of Amazon's marketplace. Recognizing this, FBA Prep Logistics has developed a seamless integration with Amazon's platform, making it easier than ever to manage your inventory and fulfill orders through this popular marketplace. With our integration, your business can leverage the power of Amazon's customer base while still benefiting from our comprehensive suite of 3PL services.
3.5 Reduced Shipping Costs with Volume Discounts
Partnering with FBA Prep Logistics means tapping into our extensive network of transportation partners, giving your e-commerce business access to volume discounts unavailable to smaller businesses. By leveraging these discounts, your business can reduce shipping costs and increase profit margins – savings you can pass on to your customers or invest back into growing your business.
3.6 Scaling Your E-commerce Business with Ease
The scalability offered by FBA Prep Logistics allows e-commerce businesses to grow without the added stress and costs of in-house logistics. As your business expands, we can scale our services with you, providing any additional resources needed to manage your increasing volume of orders without a hitch. This flexibility means you never have to worry about investing in additional warehouse space or hiring more staff as your business grows, freeing up valuable time and resources.
3.7 Ongoing Process Improvements for Competitive Advantage
At FBA Prep Logistics, we pride ourselves on staying up-to-date with industry trends and continuously improving our processes to provide the best possible services to our clients. This commitment to excellence translates to cost and time savings for your e-commerce business. Outsourcing to FBA Prep Logistics means you're always equipped with the latest tools and know-how to maintain a competitive edge in the rapidly evolving world of e-commerce.
3.8 Capitalizing on Our Expertise for Success
Outsourcing your supply chain management to FBA Prep Logistics unlocks a wealth of expertise that can help your business venture into new markets and sales channels. We understand the nuances of e-commerce logistics and can provide guidance and support as you explore opportunities for growth. By trusting FBA Prep Logistics with your logistics needs, you gain a knowledgeable and dedicated partner invested in your business's success.
Secure Your Future with FBA Prep Logistics
In conclusion, partnering with FBA Prep Logistics, a leading 3PL Toronto provider, offers numerous cost and time-saving benefits for e-commerce businesses. Our comprehensive services, strategic location, and commitment to staying current with industry trends set us apart from other 3PL providers. Trust FBA Prep Logistics to manage your supply chain operations and watch your e-commerce business reach new heights.
Trust and Transparency: How FBA Prep Logistics Ensures Top-Notch Customer Service and Communication
In the competitive world of e-commerce, building trust with your customers is crucial to the success and growth of your business. As your trusted 3PL Toronto partner, we at FBA Prep Logistics understand the critical importance of transparent communication, exceptional customer service, and secure data management for maintaining strong relationships with your clients. In this section, we will delve into the steps we take to provide you with the best possible experience when working with our 3PL services.
A Customer-Centric Approach to 3PL Services
At FBA Prep Logistics, our priority is you and your e-commerce business. Our team of dedicated professionals is committed to understanding your unique needs and providing tailored solutions to help you scale efficiently. We focus on:
Personalized service: Every e-commerce business has its own set of challenges and requirements. Our team takes the time to listen, analyze, and implement strategies that meet your specific goals and objectives.
Flexibility: As your business grows and evolves, so do your 3PL needs. We proactively adapt our services to ensure we continue to meet and exceed your expectations.
Problem-solving: Our proactive approach to addressing potential challenges ensures that we can quickly resolve issues before they impact your business.
Transparent Communication and Real-Time Tracking
At FBA Prep Logistics, we believe that effective communication is key to a successful partnership. That's why we are committed to providing you with complete transparency and real-time tracking capabilities for your order and inventory management. Some features we offer include:
Access to an easy-to-use online dashboard, where you can monitor inventory levels, orders, and shipment statuses
Regular updates and reports to help you make informed decisions about your supply chain
Prompt and responsive support from our expert customer service team, who are always available to answer any questions or address concerns
Secure Data Management and Protection
In today's digital world, the security of sensitive data is paramount. FBA Prep Logistics takes comprehensive measures to protect your information and maintain the utmost confidentiality. Our robust data management practices include:
Advanced encryption of client data during transmission and storage
Regular security audits and updates to ensure we're using the latest industry best practices
Rigorous employee training programs to foster a culture of privacy and data security awareness
Setting the Standard for 3PL Excellence
By entrusting your e-commerce business's supply chain management with FBA Prep Logistics, you'll not only benefit from our expertise and comprehensive services but also gain a partner genuinely invested in your success. We set the standard in 3PL Toronto through:
Continuous improvement of our processes and systems, staying current with industry trends and best practices
Soliciting and acting upon client feedback, which helps us to refine our services further and adapt to your evolving business needs
Establishing long-lasting relationships based on trust, transparency, and shared success
In conclusion, partnering with FBA Prep Logistics offers more than just logistical solutions—it provides peace of mind knowing that your e-commerce business has a strong foundation for growth. Together, we can focus on delivering exceptional customer experiences and achieving unparalleled success in the bustling Toronto e-commerce market. So why wait? Reach out to FBA Prep Logistics today and discover how our 3PL Toronto services can help your business thrive!
Section 5: Making the Switch: How to Get Started with FBA Prep Logistics
As a Toronto-based e-commerce business owner, you may be wondering how to take the next step in optimizing your supply chain and partnering with a 3PL like FBA Prep Logistics. In this section, we'll walk you through some tips and guidance to get you started, ensuring a smooth transition and minimizing disruptions to your business.
5.1: Evaluate Your Current Supply Chain Needs
Before diving into the world of 3PL, it's crucial to have a clear understanding of your current supply chain management practices. Assess the effectiveness of your existing processes, including order fulfillment, inventory management, and shipping. Consider the following questions:
Are you consistently meeting customer expectations for delivery times?
Are your shipping costs sustainable and competitive in the marketplace?
Do you have proper inventory tracking and management systems in place?
Are you spending too much time managing logistics, hindering your business's overall growth?
By identifying both strengths and weaknesses in your current processes, you'll have a better understanding of how a 3PL partnership can benefit your e-commerce business.
5.2: Research and Identify the Right 3PL Partner for Your Business
Choosing a 3PL like FBA Prep Logistics begins with researching potential partners and identifying the one that fits your unique requirements. Take note of the available 3PLs in Toronto and evaluate them based on factors such as:
Services offered (inventory management, order fulfillment, international logistics)
Integration capabilities with your selling platform (Amazon, Shopify, etc.)
Location and its impact on shipping times and costs
Industry reputation, client testimonials, and success stories
At this stage, you can browse through our previously published articles on Efficient PA Order Fulfillment Services or explore the Top Cost Reduction Strategies for Amazon Sellers in PA to gain more insights into what FBA Prep Logistics has to offer.
5.3: Get in Touch with FBA Prep Logistics for a Personalized Consultation
Once you've identified FBA Prep Logistics as the potential right fit for your e-commerce business, it's time to get in touch with us for a personalized consultation. Our team of experts will work closely with you to gather more information about your business, understand your goals, and determine how our 3PL services can best support your operations.
Our professionals will also assess your current supply chain management processes and recommend tailored improvements to suit your specific needs. This assessment allows both parties to establish realistic expectations and keep communication lines open throughout the partnership.
5.4: Plan and Execute a Smooth Transition to FBA Prep Logistics
When you're ready to make the switch to FBA Prep Logistics, dedicated account managers will guide you through each step of the onboarding process. This includes integrating your selling platform with our system, setting up inventory management processes, and ensuring your products are properly fulfilled and shipped to customers.
By working together and having clear communication, you can minimize any disruptions to your e-commerce operations during the transition. And after successfully implementing your new supply chain management model with FBA Prep Logistics, you can focus on growing your business and achieving higher levels of success!
---
In conclusion, leveraging the expertise of a 3PL like FBA Prep Logistics can significantly benefit your Toronto e-commerce business. By recognizing the importance of effective supply chain management, evaluating your needs, and partnering with our team, you position yourself for success in today's competitive online marketplace. So go ahead and get started with FBA Prep Logistics – we're excited to help your business grow and thrive!
FAQs
1. What specific services does FBA Prep Logistics offer to e-commerce businesses?

FBA Prep Logistics provides a comprehensive suite of services tailored to e-commerce businesses, including inventory management, order fulfillment, global shipping, and seamless integration with Amazon's platform.

2. How can partnering with FBA Prep Logistics save my e-commerce business time and money?

By outsourcing supply chain management to FBA Prep Logistics, you streamline operations, reduce shipping costs, and ensure faster delivery times, all of which contribute to significant time and cost savings.

3. What is the benefit of FBA Prep Logistics being located in Bristol, PA?

Our strategic location in Bristol, PA, allows for efficient delivery times and reduced shipping costs, ensuring your products reach customers quickly and you stay competitive in the e-commerce market.

4. How does FBA Prep Logistics ensure top-notch customer service and communication?

We prioritize customer satisfaction, transparent communication, and real-time tracking for order and inventory management. Our commitment to providing exceptional service ensures seamless collaboration with your business.

5. How can I get started with FBA Prep Logistics?

Reach out to FBA Prep Logistics for a consultation and personalized assessment of your e-commerce operations. Together, we'll evaluate your current supply chain management needs and identify outsourcing opportunities that can benefit your business.