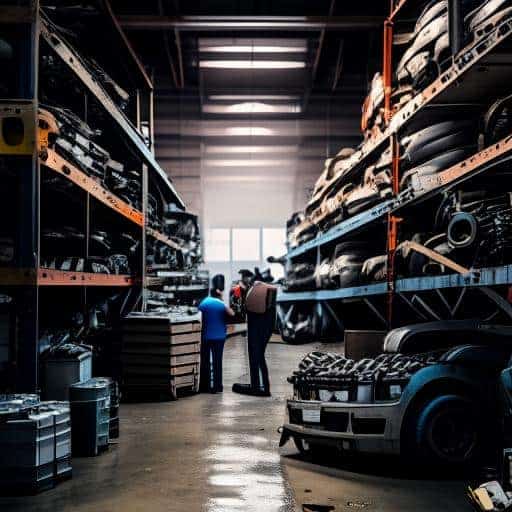 Optimizing Your Car Parts Fulfillment Warehouse
1. Introduction to Car Parts Fulfillment
Running a successful e-commerce business selling car parts requires not only a deep understanding of the products and market but also an efficient and streamlined fulfillment process. Many small to medium-sized e-commerce businesses are new to supply chain management and may have never worked with a third-party logistics (3PL) provider before. This is where FBA Prep Logistics comes in as the perfect fulfillment warehouse for car parts, to ensure hassle-free inventory management and shipping experience for your e-commerce venture.
1.1. The Importance of a Streamlined Fulfillment Process for Car Parts Businesses
For car parts sellers, having a streamlined fulfillment process is crucial for ensuring customer satisfaction and staying ahead of the competition. With numerous businesses vying for customer attention, a quick and efficient fulfillment process can set your online store apart from others. Additionally, managing a diverse range of car parts — different makes, models, and types — can be a daunting task, making an organized inventory management system essential to prevent stockouts and ensure smooth order processing.
1.2. FBA Prep Logistics: Your Solution for Fulfillment Needs
Enter FBA Prep Logistics, a 3PL warehouse located in Bristol, PA, that specializes in catering to the needs of e-commerce businesses selling car parts. As a digital marketing assistant, we understand that your primary focus should be on promoting your products and growing your online presence, so leave the tedious job of inventory management and shipping to us. Here's why choosing FBA Prep Logistics as your fulfillment partner makes perfect sense:
We're proficient in handling car parts fulfillment, ensuring your orders are processed accurately and quickly.
Our deep understanding of the e-commerce landscape makes us the go-to partner for businesses selling on Amazon and other popular platforms.
We deliver a seamless and hassle-free experience for you and your customers, allowing you to focus on your core business.
Ready to explore how FBA Prep Logistics can help optimize your car parts fulfillment process? Keep reading to learn more about our various logistics services designed to meet your unique requirements.
Coordinating Inventory Management for Car Parts Fulfillment
One of the key aspects of running a successful car parts business is ensuring that your inventory management system is streamlined and efficient. FBA Prep Logistics specializes in coordinating inventory management for car parts fulfillment, so you can rest easy knowing that your products are well-organized and ready to ship at a moment's notice. In this section, we'll go over how our specialized approach to inventory management benefits your business and helps you maintain a competitive edge.
Implementing Real-Time Inventory Tracking
We at FBA Prep Logistics utilize a real-time inventory tracking system, designed to give you the most accurate and up-to-date information on your stock levels. Our state-of-the-art software creates a barcode for each product, which is then scanned into the system and linked to its relevant information. This includes details like SKU numbers, quantities, dimensions, and more. When your products are shipped out, the system is instantly updated to reflect the new stock levels. With this information always up to date, you'll be able to make informed decisions and stay ahead of potential overstocking or stockout issues that could impact your business's reputation or profitability.
Streamlined Receiving and Storage Practices
Another pivotal aspect of our inventory management system is the way we handle inbound shipments. Our fulfillment warehouse for car parts is designed to make receiving new inventory simple and efficient. As products arrive and are scanned into the system, we assign them to specific storage locations within the warehouse, allowing for easy access when it's time to pick an item for fulfillment.
By utilizing organized storage zones, we ensure that every product is accounted for and easily accessible. This means it can seamlessly transition from storage to shipment when an order comes in. Enjoying efficient storage practices helps reduce picking errors, ultimately minimizing the likelihood of delays or mistakes that could impact your customer satisfaction.
Leveraging Demand Forecasting and Reorder Points
At FBA Prep Logistics, we understand the importance of balancing inventory levels to meet customer demand while minimizing storage costs. Our team employs demand forecasting techniques based on historical sales data, trends, and other factors to help anticipate fluctuations in the car parts market. This data helps establish optimal reorder points, ensuring that stock levels remain balanced while minimizing the risk of stockouts or overstocking.
Managing these reorder points allows your business to respond effectively to changes in demand, positioning you as a reliable and adaptable seller in the market. By continually monitoring and adjusting your reorder points and inventory levels, we ensure that your car parts business remains competitive and provides an excellent experience to your customers.
Reducing Human Errors Through Automation
Human errors, such as mislabeling or misplacing products, can lead to costly mistakes and delays in order fulfillment. FBA Prep Logistics employs advanced automation technology within our fulfillment warehouse for car parts to minimize the risk of human error. Automated inventory management, including barcode scanning and real-time updates, ensures a higher degree of accuracy and helps maintain a seamless fulfillment process.
Reducing human error in the warehouse is essential to protect your business reputation and customer relationships. By trusting FBA Prep Logistics to manage your inventory, you'll benefit from a meticulous and efficient approach that ensures products reach your customers on time and in perfect condition.
Conclusion: Partnering with FBA Prep Logistics for Inventory Management
Coordinating inventory management is essential for success in the car parts business. By partnering with FBA Prep Logistics for your fulfillment needs, you gain access to a comprehensive and effective inventory management system designed to optimize every aspect of the process. Our dedicated team and state-of-the-art facilities offer streamlined storage, real-time tracking, reduced human error, and expert forecasting techniques to ensure you always have the right amount of inventory on hand to meet customer demand.
Ready to take your car parts fulfillment to the next level? Trust in FBA Prep Logistics – we have the experience, resources, and commitment required to help your business excel in e-commerce fulfillment.
3. Picking, Packing, and Shipping Processes
Optimizing your car parts fulfillment warehouse involves not just inventory management but also efficient picking, packing, and shipping processes. As a leading third-party logistics (3PL) provider, FBA Prep Logistics has developed streamlined systems to cater to your specific needs. Here, we will highlight how our skilled team manages these crucial aspects of order fulfillment for our car parts clients to ensure timely and precise delivery of their products.
3.1 Efficient Picking and Packing Techniques Customized for Car Parts
Car parts come in various shapes and sizes, and proper handling of these items is the key to successful fulfillment. At FBA Prep Logistics, we have designed our methods to be adaptable and responsive to your unique product range.
Our picking process starts with trained warehouse staff assigned to the task. Using cutting-edge technology, the most efficient route in the warehouse is determined to retrieve the required items. This saves time and boosts productivity, ensuring a seamless workflow.
Once the car parts are picked, accuracy is verified before proceeding to the packing stage. This is essential, as it prevents incorrect or incomplete orders from being shipped to your customers.
In the packing stage, FBA Prep Logistics takes packaging requirements very seriously. Car parts being delicate and sometimes heavy, we utilize:
Customized packaging solutions to provide a perfect fit for your items
Adequate padding materials to prevent damage during transit
Sturdy boxes and containers to ensure the package reaches the customer in the best possible condition
Our expertise in packing car parts ensures that your items are handled with care, reducing returns due to damage and providing a positive buying experience for your customers.
3.2 Shipping Expertise Ensuring Timely and Accurate Delivery
FBA Prep Logistics uses a combination of time-tested methods and the latest technology to optimize the shipping process. As a car parts fulfillment warehouse, delivering customer satisfaction is our top priority. Our shipping services include:
A vast network of reliable shipping partners offering competitive rates for both domestic and international shipments. This translates to quicker delivery times at a lower cost for your buyers.
Real-time shipment tracking, allowing both you and your customers to monitor your orders with ease. This keeps everyone informed and manages expectations effectively.
Streamlined order processing and label generation, ensuring that all packages are dispatched in a timely manner.
A dedicated customer support team is ready to address and resolve any shipping issues that may arise, minimizing delays in delivery.
Aside from these obvious benefits, working with FBA Prep Logistics means you gain access to invaluable knowledge of shipping requirements and regulations. Our experience with e-commerce giants like Amazon ensures that your orders will meet the necessary compliances, preventing costly delays, or potential account suspensions.
3.3 The Power of Positive Reviews
Remember that efficient picking, packing, and shipping processes reflect on your business's reputation. Ensuring timely, accurate, and damage-free delivery of your car parts contributes to positive customer feedback and repeat business. Partnering with FBA Prep Logistics, a trusted fulfillment warehouse for car parts, allows you to focus on growing your business, while we seamlessly handle your order fulfillment needs. Together, we'll drive your e-commerce success to new heights.
4. Utilizing FBA Prep Logistics' Expertise in E-Commerce Fulfillment
One major aspect that separates FBA Prep Logistics from other fulfillment warehouses for car parts is our deep expertise in e-commerce fulfillment. Focusing on serving e-commerce businesses, particularly those selling on Amazon, enables us to address the unique challenges they face in the ever-evolving online marketplace. In this section, we'll detail how FBA Prep Logistics can be your guiding light in navigating the murky waters of e-commerce fulfillment.
4.1 Catering Specifically to E-Commerce Car Parts Businesses
At FBA Prep Logistics, we understand that selling car parts online presents different challenges than selling other types of products. Little details such as specific packaging requirements, additional safety measures, and providing ample support to ensure customer satisfaction are crucial. With years of experience in e-commerce fulfillment of car parts, we're best equipped to handle your specific needs.
4.2 Helping You Meet Amazon's Requirements
As an Amazon seller, you know that complying with their requirements and staying on top of changes is essential for maintaining account health. Amazon FBA Prep Services from FBA Prep Logistics can help you adhere to Amazon's strict guidelines, such as proper labeling, packaging, and shipment preparation. By staying on top of these ever-changing requirements, we ensure that your business remains competitive and grows on the platform.
4.3 Robust Returns Management
Returns can be a headache. But not anymore with FBA Prep Logistics handling your e-commerce logistics. Our hassle-free Shopify Returns process takes care of everything from receiving, inspecting, restocking, and even disposing of damaged items if necessary. By streamlining your returns, we help you provide excellent customer service while minimizing the impact of returns on your business.
4.4 Fulfilling Multi-Channel Orders with Ease
FBA Prep Logistics understands the importance of a multi-channel sales strategy in today's e-commerce landscape. To cater to sellers utilizing multiple online marketplaces, FBA Prep's system integrates seamlessly with various platforms such as Shopify, WooCommerce, and eBay, in addition to Amazon. This ensures that all your orders are managed through one system, with inventory levels updated in real-time, avoiding any stock discrepancies or customer dissatisfaction.
4.5 Boosting Your Online Presence: Amazon PPC
In a crowded marketplace like Amazon, it's imperative to make your brand stand out. FBA Prep Logistics can also support your Amazon PPC advertising strategy. By utilizing our expertise in managing successful ad campaigns, you can reach a wider audience and increase your sales volume without breaking your budget.
4.6 Advantages of Partnering with an East Coast 3PL
FBA Prep Logistics is based in Bristol, PA, which benefits your business in many ways. As an East Coast e-commerce fulfillment provider, we boast strategic geographical advantages that can speed up your delivery times and reduce shipping costs. This includes easy access to major US ports, close proximity to a large portion of the country's population, and shorter transit times to Europe.
4.7 Continuous Process Improvement
In the e-commerce world, the status quo doesn't lead you to success. FBA Prep Logistics believes in continuous improvement – it's in our DNA. By using the latest technology and methodologies, we stay ahead of the curve and ensure that our clients receive top-notch service, maintaining your competitive advantage in the market.
Our innovative approach to Amazon Seller Workflow means automating and optimizing various processes, reducing manual labor, and minimizing errors. This results in a more accurate, efficient, and cost-effective fulfillment warehouse for car parts that cater directly to your needs.
To summarize, partnering with FBA Prep Logistics for your car parts fulfillment needs means gaining a plethora of e-commerce-centric advantages. With our dedicated services catering to Amazon sellers and other online marketplaces, we're here to ensure you reach the pinnacle of e-commerce success. Let us take your online car parts business to the next level, ensuring timely deliveries, streamlining returns, optimizing advertising, and so much more.
Scaling Your Car Parts Business with FBA Prep Logistics
Achieving consistent and efficient growth is a primary objective for any e-commerce business that sells car parts. Partnering with a fulfillment warehouse experienced in handling car parts, like FBA Prep Logistics, can transform your company's potential and enable you to take full advantage of the e-commerce boom. In this section, we'll discuss how FBA Prep Logistics can adapt to your changing needs as your e-commerce revenue and customer base expand.
5.1 Enhancing Your Customer Experience
It's no secret that providing an excellent customer experience is a critical part of scaling any e-commerce business. With FBA Prep Logistics, you can ensure that your customers receive their car parts in a timely and well-packaged manner, which can lead to increased customer satisfaction, positive reviews, and repeat purchases. Your business stands to benefit significantly if you can depend on a fulfillment warehouse for car parts like FBA Prep Logistics to keep your customers happy as your business grows.
5.2 Meeting the Demands of a Growing Inventory
As your business expands, so too will your inventory. A professional 3PL with experience in e-commerce logistics in the East Coast like FBA Prep Logistics will have the space and resources to store and manage your growing range of car parts efficiently. They will minimize stockouts and overstocking issues that might otherwise cause disruptions in your business.
5.3 Staying ahead with Technology Integration
FBA Prep Logistics understands the importance of technology in an expanding e-commerce business. They can help integrate various software and tools to streamline your company's workflows and simplify inventory tracking on Shopify. As your business grows, you might find it increasingly difficult to manage the complexities of your supply chain logistics. With FBA Prep Logistics, you can have peace of mind knowing that technological advancements are being incorporated to keep your business operating efficiently.
5.4 Speeding up the Shipping Process
A fast and efficient shipping process can give your car parts business a competitive edge. FBA Prep Logistics has the expertise and resources to build a robust shipping infrastructure that can speed up your order deliveries and reduce shipping times. Their wide range of efficient PA order fulfillment services ensures that your customers receive their car parts on time, every time.
5.5 Expanding to New Markets
As your car parts business grows, you may want to explore new markets and territories. FBA Prep Logistics can help facilitate this expansion process. Their extensive logistics network and expertise in e-commerce logistics on the East Coast can help you break into new regions and countries, allowing your business to reach new heights.
5.6 Leveraging the Power of Fulfillment Analytics
Access to valuable data and insights can be the key to identifying opportunities for growth. FBA Prep Logistics provides data-driven insights in the form of fulfillment analytics, allowing you to make informed decisions and develop strategies for expanding your business. You can better understand your inventory levels, order processing times, and shipping costs, and use these insights to drive continuous improvement and long-term success.
5.7 Handling Increased Order Volumes
As your sales volume increases, so does the challenge of managing more significant order numbers. FBA Prep Logistics can expertly handle surges in demand and manage fluctuating order volumes, ensuring that your customers receive their car parts swiftly, even during peak seasons or sudden spikes in sales.
In conclusion, partnering with FBA Prep Logistics can play an instrumental role in scaling your car parts business. With their tailored inventory management, technological integrations, and shipping expertise, you can focus on growing your business while they handle your logistical needs. Trusting FBA Prep Logistics' experienced team to manage your car parts fulfillment is one of the best decisions you could make for your expanding business.
Optimizing Your Car Parts Fulfillment Warehouse
Introduction to Car Parts Fulfillment
Brief overview of the importance of a streamlined fulfillment process for car parts businesses. Introducing FBA Prep Logistics as the solution for your fulfillment needs.
Coordinating Inventory Management
Explanation of how FBA Prep Logistics effectively manages inventory, ensuring seamless transition from storage to shipment. Benefits of efficient inventory management for reducing stockouts and overstocking issues.
Picking, Packing, and Shipping Processes
Detailing FBA Prep Logistics' efficient picking and packing techniques customized for car parts. Highlighting the company's shipping expertise, ensuring timely and accurate delivery of orders to customers.
Utilizing FBA Prep Logistics' Expertise in E-Commerce Fulfillment
The unique advantages of working with a 3PL tailored for e-commerce and Amazon sellers. Assistance with navigating Amazon's specific requirements and ensuring continued account health.
Scaling Your Car Parts Business with FBA Prep Logistics
Exploring the growth potential of your business when partnered with a dedicated 3PL. How FBA Prep Logistics can adapt to your changing needs as your e-commerce revenue and customer base expand.
FAQs
Q1: How does FBA Prep Logistics ensure accurate inventory management for car parts fulfillment?

A1: FBA Prep Logistics uses advanced inventory management software and dedicated team members who regularly monitor and update inventory levels for your car parts. This enables seamless transition from storage to shipment and helps reduce stockouts and overstocking issues.

Q2: What makes FBA Prep Logistics' picking and packing process efficient for car parts?

A2: Our trained staff at FBA Prep Logistics follows customized picking and packing procedures specifically designed for car parts, ensuring items are picked accurately and packed securely to meet the specific needs of car parts businesses.

Q3: How does FBA Prep Logistics support e-commerce businesses selling car parts on Amazon?

A3: FBA Prep Logistics provides support for e-commerce businesses selling on Amazon by ensuring compliance with Amazon's guidelines, handling complex shipping arrangements, and managing Amazon FBA requirements. We also help maintain your Amazon account health and provide guidance on best practices for selling car parts online.

Q4: Can FBA Prep Logistics help me scale my car parts business as it grows?

A4: Absolutely! FBA Prep Logistics offers scalable solutions that can grow alongside your business. Our ability to adapt and customize our services to your changing needs can help you increase and maintain your e-commerce revenue and customer base with ease.

Q5: How do I get started with FBA Prep Logistics for my car parts fulfillment and warehousing needs?

A5: To begin working with FBA Prep Logistics, simply visit our website at www.example.com and fill out the contact form or request a quote. One of our representatives will be in touch to discuss our customized solutions for your car parts fulfillment needs.