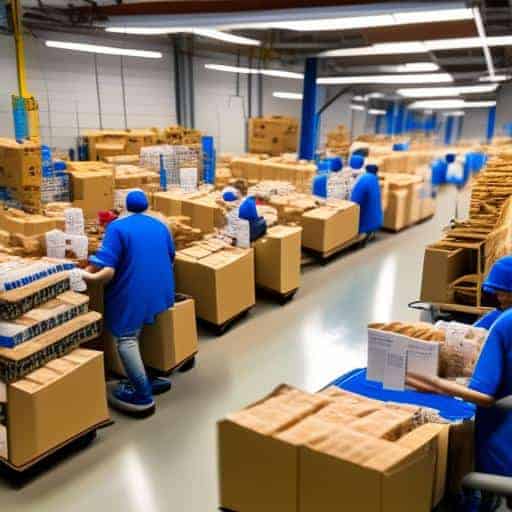 Why Every Amazon Seller Needs a Prep Center and Why FBA Prep Logistics is Your Ultimate Choice
I. Introduction
As an Amazon seller, you're well aware of the various challenges that come with running a successful e-commerce business. One often overlooked aspect is the immense value provided by prep centers, particularly for medium-sized businesses, in the Amazon seller ecosystem. So, what is a prep center, and why should you consider using one? Simply put, a prep center is a third-party logistics (3PL) warehouse that helps Amazon sellers with the various tasks involved in processing inventory, from receiving items to preparing them for shipment to Amazon Fulfillment Centers. This article will introduce you to the world of prep centers and explain how FBA Prep Logistics, a leading 3PL warehouse in Bristol, PA, can be the perfect solution for your Amazon prep needs.
A. The Importance of Prep Centers for Median-sized E-commerce Businesses
When selling on Amazon, sellers need to make sure that their products are properly prepared, packaged, and shipped to meet Amazon's stringent requirements. Failure to do so may result in extra costs, delays, and even account suspensions.
For median-sized e-commerce businesses, handling these tasks in-house can be time-consuming, labor-intensive, and may detract from focusing on other crucial aspects of growing the business. This is where partnering with a prep center, like FBA Prep Logistics, can make all the difference.
B. Introducing FBA Prep Logistics
FBA Prep Logistics is a top-rated 3PL warehouse that specializes in providing a comprehensive range of services tailored to the unique needs of Amazon sellers. Located in Bristol, PA, our state-of-the-art facility and expert team are dedicated to offering professional, efficient, and cost-effective solutions to streamline your inventory management and product preparation processes.
By choosing FBA Prep Logistics as your prep center for Amazon, you'll not only save time and effort but also gain access to resources specifically designed to help your Amazon business thrive. Read on to discover the various services we offer and how they can help your business grow.
Streamlining Product Preparation
Ensuring your products are prepped and packaged correctly is an essential aspect of a successful Amazon business. Product preparation can be quite time-consuming and complex, particularly for sellers who are new to supply chain management or those attempting to juggle multiple aspects of their growing businesses. But a great prep center for Amazon like FBA Prep Logistics has you covered.
Time-Saving and Simplified Product Prep
By utilizing a dedicated prep center like FBA Prep Logistics, you can significantly free up your time and resources, allowing you to focus on growing and scaling your business strategically. Our streamlined processes, coupled with the commitment of our professional team, ensure that your products will be ready for shipment and storage faster than ever before.
At FBA Prep Logistics, we pride ourselves on offering comprehensive services to assist with every aspect of product preparation. This means you won't have to worry about the confusion and headaches that can come from trying to manage a DIY product prep operation.
Expert Services for Every Aspect of Product Preparation
So, what types of product preparation services does FBA Prep Logistics offer? Here are some examples:
Bundling
Creating product bundles is an effective sales strategy to increase average order value and ultimately boost your Amazon business revenue. Our team is experienced in managing efficient bundling processes that ensure your products are properly packaged and labeled to satisfy Amazon's requirements.
Labeling and Barcoding
Amazon requires proper labeling and barcoding to ensure your products are easily identifiable and trackable within their system. The FBA Prep Logistics team is dedicated to providing accurate labeling and barcoding services, making sure that your products comply with Amazon's stringent criteria.
Packaging and Polybagging
Products sold on Amazon must be packaged correctly and safely. Our team ensures your items are securely wrapped and protected to prevent any damage during transit or storage. We also offer efficient polybagging services, helping to prolong the shelf life and maintain the quality of your products.
Inspection and Quality Control
Quality control is a crucial aspect of product preparation. Our team carefully inspects every product to ensure it meets Amazon's quality standards before being shipped or stored to prevent any potential returns, negative reviews, or penalties from Amazon due to damaged or non-compliant products.
Sticker, Label, and Price Tag Removal
Clearing and cleaning your products from unwanted price tags, stickers, and labels are essential to provide a positive buying experience for your Amazon customers. FBA Prep Logistics expertly handles such tasks, ensuring that your brand's image remains pristine and professional.
Embracing the FBA Prep Logistics Difference
Not only does FBA Prep Logistics provide comprehensive product preparation services, but we also take a personalized approach to each client's unique needs. Our goal is to truly understand your business's specific requirements, providing seamless integration into Amazon's system and delivering efficient and customized solutions designed to drive your success on the platform.
In summary, partnering with a prep center for Amazon like FBA Prep Logistics can save you valuable time, energy, and resources, allowing you to concentrate on building your e-commerce empire. Our expertise in product preparation and commitment to excellent service ensures that your products will be ready for transit, storage, and ultimately, happy Amazon customers. Try FBA Prep Logistics today, and experience the difference for yourself.
III. Inventory and Storage Management
As an Amazon seller, remaining competitive and meeting customers' expectations involves effectively managing your inventory and storage. This ensures your products are always in stock and delivered on time. However, as your e-commerce business grows, managing inventory can become increasingly complex and time-consuming. This is where FBA Prep Logistics steps in as your perfect prep center for Amazon.
1. Challenges of Inventory Management
Growth in product offerings: With an expanding product catalog, keeping track of inventory levels becomes challenging. You may either run out of stock for high-demand items, leading to lost sales or overstock items, tying up capital and increasing storage costs.
Seasonal fluctuations: Many e-commerce businesses experience fluctuations in demand during peak seasons such as holidays. Managing inventory and accommodating these shifts while avoiding stockouts or excess inventory can be tricky.
Warehouse space management: As you add more products, efficient organization and utilization of storage space become critical challenges.
SKU management: A vast number of SKUs can make inventory tracking and management difficult without having a proper system in place.
Returns and reverse logistics: Dealing with product returns, restocking them, and managing damaged goods can further complicate the inventory management process.
2. FBA Prep Logistics: Efficient Inventory Management Services
At FBA Prep Logistics, we understand the challenges Amazon sellers face in managing their inventory and provide comprehensive solutions to address these issues. Our experienced team and state-of-the-art technology ensure that your inventory is efficiently managed, promoting growth and profitability.
Inventory tracking technology: We utilize advanced inventory management systems to track your stocks in real-time. This allows you to monitor inventory levels, sales data, and warehouse space, making informed decisions on stocking and ordering.
Optimized warehouse organization: Our storage facilities utilize the industry's best practices in warehouse organization, ensuring that your inventory is stored efficiently, maximizing storage space, and preventing potential damages.
Precision and accuracy: Our team of skilled workers is committed to ensuring order accuracy. We accurately pick, pack and ship items to your customers, thereby minimizing the risk of errors and lost sales due to stockouts or delays.
Inventory forecasting: We provide valuable data insights, enabling you to forecast future demand and inventory needs accurately. This allows you to plan accordingly, reducing the risk of stockouts, overstocking, and associated costs.
3. Safe and Secure Storage Facilities
At FBA Prep Logistics, we are committed to offering our clients top-notch storage solutions. Our secure, clean, and efficient warehouse facilities cater to all your inventory management needs.
Climate-controlled environment: Our warehouses are climate-controlled and designed to withstand various weather conditions, ensuring that your inventory is always protected from temperature extremes, humidity, and other environmental factors that could damage your products.
Security measures: Our facilities are equipped with advanced security systems, including CCTV surveillance, alarm systems, and access controls, ensuring your inventory's safety and preventing unauthorized access.
Flexible storage options: Our storage facilities offer both long-term and short-term storage solutions, catering to different business needs like seasonal inventory fluctuations or temporary storage during relocation or warehouse maintenance.
In conclusion, partnering with an experienced prep center for Amazon like FBA Prep Logistics can help you overcome the challenges associated with inventory management. Our comprehensive inventory management services and state-of-the-art facilities ensure that your e-commerce business operates efficiently and profitably. To further enhance your Amazon selling experience, check out The Ultimate Guide to Amazon Reverse Logistics for East Coast Sellers and learn how our team can assist you with your reverse logistics needs.
IV. Shipping and Fulfillment Optimization
A key factor in the success of any e-commerce business selling on Amazon is the ability to optimize shipping and fulfillment processes effectively. As a median-sized e-commerce business, you must understand that even the smallest delays or errors can lead to negative customer reviews and decreased sales. This section will explain how partnering with FBA Prep Logistics, an established prep center for Amazon, can save you time and money by optimizing your shipping and fulfillment processes, ensuring utmost customer satisfaction.
1. Lower Shipping Costs and Faster Delivery
One major advantage of working with FBA Prep Logistics is that we help you significantly reduce your shipping costs. Our strategic warehouse location in Bristol, PA, on the East Coast, enables us to reach a large percentage of customers within a short period. This proximity to major US cities and shipping hubs allows us to utilize efficient e-commerce fulfillment solutions and pass the cost savings on to you. Moreover, our optimized shipping processes help ensure that your products reach your customers faster, which increases the likelihood of positive reviews and repeat purchases.
2. Improved Order Accuracy and Quality Control
Fulfillment errors, such as sending out damaged or incorrect items, can lead to customer dissatisfaction and may even result in negative reviews on your Amazon listings. At FBA Prep Logistics, we pride ourselves on our rigorous quality control processes. Before your products are shipped out, our experienced warehouse team meticulously examines each order to ensure that it is accurate and free of damage. This attention to detail guarantees a high level of customer satisfaction and helps maintain your Amazon seller reputation.
3. Flexible and Scalable Fulfillment Solutions
As your e-commerce business grows, so do the demands on your shipping and fulfillment processes. FBA Prep Logistics offers customizable order fulfillment services that allow our clients to scale their operations quickly and effortlessly. By utilizing modern technology and automated systems, we can handle varying order volumes with ease. This flexibility ensures that your business can continue to grow without any hiccups in your shipping and fulfillment processes.
4. Seamless Integration with Amazon Systems
At FBA Prep Logistics, we understand the importance of seamless integration with Amazon's shipping and fulfillment systems. Our warehouse management software is designed to work in tandem with Amazon's Seller Central, allowing for real-time updates on inventory, order tracking, and shipping status. This integration not only keeps you informed about your business's logistics but also ensures that your customers receive accurate and up-to-date information about their orders.
5. Expert Consultation and Support
As a dedicated prep center for Amazon sellers, FBA Prep Logistics provides expert consultation and support to our clients. Our knowledgeable team of logistics and Amazon-savvy professionals can advise you on best practices and strategies to optimize shipping and fulfillment for your e-commerce business. By leveraging our expertise, you can rest assured that your products are being shipped out in the most efficient and cost-effective manner.
Conclusion
In summary, optimizing your e-commerce business's shipping and fulfillment processes is crucial to your success on Amazon. Choosing FBA Prep Logistics as your go-to prep center for Amazon ensures that you benefit from reduced shipping costs, faster delivery times, improved order accuracy, seamless Amazon system integration, and expert assistance. Discover more about how we can help your business thrive with our tailored e-commerce logistics solutions by getting in touch with us today. Let our exceptional 3PL services be the strategic advantage you need to succeed in the competitive world of e-commerce.
Expertise in Amazon Compliance
When navigating the world of e-commerce, it's essential for businesses to adhere to marketplaces' unique requirements and guidelines. In this particular case, Amazon's policies and procedures can be complex to understand. This complexity makes it crucial for businesses to remain fully compliant with Amazon's specific standards. Equipping your business with the right partner to manage this aspect of your operations is invaluable. Here's where we come in – FBA Prep Logistics brings decades of expertise in Amazon compliance to the table.
Comprehensive Understanding of Amazon's Requirements
Amazon has specific requirements in place for sellers, ensuring both a positive customer experience and the overall efficiency of its platform. These requirements touch on product listing, packaging, labeling, and shipping. By partnering with FBA Prep Logistics, a top-of-the-line prep center for Amazon, you can rest easy, knowing that every Amazon standard will be met with utmost accuracy and precision. This way, you can concentrate your efforts on expanding your business, leaving your compliance worries behind.
Continuous Training and Expertise
At FBA Prep Logistics, our team undergoes regular training to stay current on all of Amazon's policies, guidelines, and updates. By ensuring our team is continually educated and informed, we guarantee seamless integration with the platform and safeguard your business against the risk of non-compliance penalties or suspensions. Our in-depth knowledge of Amazon's compliance requirements positions us as one of the most trusted 3PL partners. So why just trust any prep center when you can work with the experts at FBA Prep Logistics?
Amazon Suspension Prevention
A significant risk of non-compliance is the possibility of having your Amazon selling privileges suspended. These suspensions can result in a devastating loss of revenue and deter your business growth. FBA Prep Logistics takes this concern seriously and prioritizes the prevention of any issues related to non-compliance. By choosing FBA Prep Logistics as your prep center for Amazon, you not only gain access to round-the-clock support from Amazon compliance professionals but also reduce the probability of suspension and lost revenue.
Addressing Account Health Metrics
Account health is a critical variable in ensuring your Amazon business thrives. Amazon sets strict guidelines related to seller performance, which affect overall account health. Adhering to these guidelines can be overwhelming for growing e-commerce businesses. When partnering with the experts at FBA Prep Logistics, you gain access to solutions that address your account's essential health metrics, like Order Defect Rate (ODR), Pre-Fulfillment Cancel Rate (PFCR), and Late Shipment Rate (LSR). By recognizing and addressing potential issues, we keep your account health in top shape, allowing you to focus on growth.
Minimizing Returns and Negative Feedback
Our dedication to Amazon compliance and expertise in efficient product preparation translates to customer satisfaction. The comprehensive services provided by FBA Prep Logistics, from product prep to efficient shipping, contribute to minimizing both returns and negative feedback. This ultimately results in a substantial boost to your business's reputation on Amazon, as well as a more rewarding seller experience.
####### Uncompromising Quality Control
At FBA Prep Logistics, we are committed to delivering the best possible service to our clients. Our thorough quality control process ensures the products we prepare for our clients conform to Amazon's precise standards. By prioritizing quality in every aspect of our Amazon prep services, not only do we help build your customer satisfaction but also secure your business's spot in the competitive e-commerce market.
In conclusion, partnering with FBA Prep Logistics as your go-to 3PL warehouse is a strategic move for any Amazon seller looking to streamline their operations, maximize revenue, and ensure the utmost compliance with Amazon guidelines. Our dedicated team, comprehensive services, and unwavering commitment to quality set us apart from other prep centers. Don't delay – take advantage of our expertise and watch as we become an essential part of your success story. Reach out to FBA Prep Logistics today, and let's forge a winning partnership together.
Frequently Asked Questions
What is a prep center and how does FBA Prep Logistics help Amazon sellers?

A prep center is a third-party logistics (3PL) warehouse that provides product preparation, inventory management, and shipping services to Amazon sellers. FBA Prep Logistics is a leading 3PL warehouse that streamlines these processes, ensuring seamless integration with Amazon and helping sellers save both time and money.

Why is product preparation important for Amazon sellers?

Product preparation is crucial for ensuring that the products meet Amazon's strict requirements and reach the customers in perfect condition. By partnering with FBA Prep Logistics, sellers can ensure their products are expertly prepared, reducing the chances of returns, negative reviews, or account suspensions due to non-compliance.

How does FBA Prep Logistics manage inventory and storage for sellers?

We provide a safe and secure storage solution tailored to each seller's needs. Our inventory management services ensure accurate tracking and efficient handling of your products, resulting in better organization and accessibility for your growing e-commerce business.

How does FBA Prep Logistics optimize shipping and fulfillment for Amazon sellers?

Our team of experts work tirelessly to maximize shipping efficiency and minimize costs. By leveraging our expertise in Amazon's complex shipping requirements, we ensure that products are sent out quickly and accurately, leading to increased customer satisfaction and positive seller feedback.

What makes FBA Prep Logistics the best choice for ensuring Amazon compliance?

Our team has in-depth knowledge of Amazon's policies and requirements. We stay up-to-date with the platform's latest changes, mitigating the risk of non-compliance and avoiding potential penalties or suspensions. By partnering with FBA Prep Logistics, you can focus on growing your business while we handle the complexities of Amazon compliance.