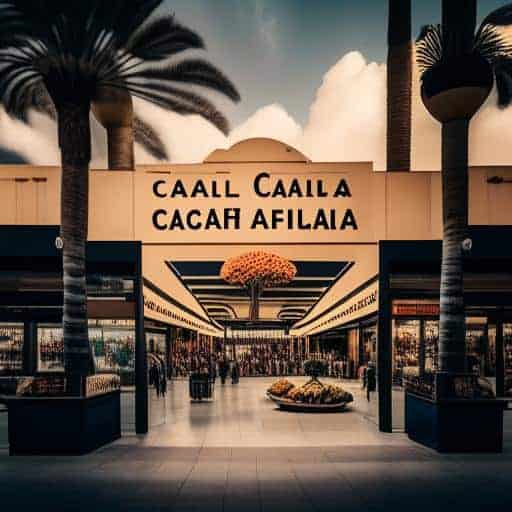 Why California FBA Prep Center is The New Gold Rush?
1. Introduction
As the e-commerce industry continues to flourish, there has been a significant increase in the demand for Fulfillment by Amazon (FBA) Prep Centers. Among all the states in the US, California stands out as a game-changer in the industry, becoming the new gold rush for e-commerce businesses. In this article, we will discuss why choosing a California FBA Prep Center like FBA Prep Logistics can be a major stepping stone towards your e-commerce business success.
The world of e-commerce has been thriving over the past few years, with businesses big and small seizing the opportunity to sell their products and services online. As the market grows, so does the need for efficient, cost-effective, and reliable logistics solutions to support these businesses. That's where FBA Prep Centers come in, offering a hassle-free, professional, and customized service that lets e-commerce businesses thrive without breaking the bank.
Just like during the Gold Rush, California has emerged as a prime spot for e-commerce companies looking for top-notch FBA Prep Center solutions. Its strategic location and the many benefits it offers make California an excellent choice for businesses of all sizes. Want to know why? Read on as we dig into the factors that make California FBA Prep Centers the new gold rush for e-commerce businesses.
2. Strategic Location & Rapid Shipping
One of the primary reasons why California FBA Prep Center is becoming the new gold rush for e-commerce businesses is its strategic location. California boasts the perfect geographical position, which enables rapid shipping and reduced lead times. In this section, we will explore the advantages of California as a prime location for e-commerce businesses looking for top-notch warehousing and logistics services.
2.1 Proximity to Major Markets
California FBA Prep Center's strategic location offers direct access to significant markets in the United States. The Golden State is the most populous in the country, which means that having your inventory here puts you closer to millions of potential customers.
In addition, California neighbors other large markets like Arizona, Nevada, and Oregon. This makes it the ideal hub for businesses targeting the entire US West Coast audience.
2.2 Access to Top Shipping Carriers
California FBA Prep Center has access to some of the most reliable and efficient shipping carriers in the e-commerce industry. Major shipping providers, such as UPS, FedEx, and the USPS, offer various shipping options to cater to different needs and budgets. This enables you to provide faster and more flexible shipping options to your customers, giving you a competitive edge in the market.
2.3 International Shipping Capabilities
California is known for its world-class ports, such as the Port of Los Angeles and the Port of Long Beach, which means that partnering with a California FBA Prep Center also gives you easier access to international shipping options. This is crucial if you're planning on expanding your business beyond the US borders. Faster and seamless international shipping can help you reach more customers and boost your sales.
2.4 Reduced Shipping Time and Cost
Being located closer to your customers translates to improved shipping times and reduced shipping costs. California FBA Prep Center enables you to reach your customers on the West Coast within a short time, often on the same or next day, depending on the shipping options you choose. The closer you are to your customers, the lower the shipping costs for both you and your clients, making it a win-win situation.
2.5 Amazon's Distribution Network
California is home to several Amazon fulfillment centers, which adds to the overall appeal of using a California FBA Prep Center. With Amazon's distribution network at your fingertips, you can further optimize your supply chain, leading to faster delivery times and higher customer satisfaction rates.
2.6 Streamlined Ground Transportation
California's extensive network of highways and interstates ensures seamless ground transportation for your inventory. This reduces the chances of delays and ensures that your products reach the customers on time. The Ultimate Guide to E-commerce Logistics in East Coast provides valuable insights into the importance of efficient ground transportation for e-commerce businesses.
In conclusion, the strategic location of California FBA Prep Center plays a pivotal role in providing rapid shipping and reduced lead times. By partnering with FBA Prep Logistics, your e-commerce business can take advantage of California's prime location, well-established shipping carriers, and international shipping facilities, ensuring faster order fulfillment and happier customers.
Stay tuned for the next section, where we will discuss cost-effective & scalable solutions offered by FBA Prep Logistics to accommodate the growing needs of your e-commerce business.
3. Cost-effective & Scalable Solutions Offered by California FBA Prep Center
When it comes to running a successful e-commerce business, whether you're just starting or looking to expand your current operations, it's crucial to have cost-effective and scalable solutions in place. FBA Prep Logistics understands this need and provides a wide range of services catered to help your business grow with minimal hassle. Let's explore some of the key areas where a California FBA Prep Center can make a significant positive impact on your e-commerce venture.
3.1 Minimized Overhead Costs
One of the primary reasons to choose FBA Prep Logistics is the minimized overhead costs. By outsourcing your fulfillment process to a California FBA Prep Center, you can avoid the expenses associated with maintaining and operating an in-house warehouse, hiring and training staff, and resolving any potential logistical issues. Ultimately, this results in reduced operational spending, which can be redirected towards other key business priorities.
3.2 Cost-effective Pricing Model
At FBA Prep Logistics, our cost-effective pricing model is designed to be stress-free and tailored to your business needs. This means that you only pay for the services you use, rather than being locked into a rigid and expensive long-term commitment. By eliminating any financial constraints, our California FBA Prep Center empowers you to expand your operations and invest in growth opportunities as they arise.
3.3 Volume-based Discounts
As your business grows and your order volume increases, FBA Prep Logistics offers volume-based discounts that reward you for your success. These discounts allow you to enjoy even greater savings, ensuring that our California FBA Prep Center remains both profitable and competitive for your brand.
3.4 Multichannel Integration Convenience
Our California FBA Prep Center is designed to easily integrate with various e-commerce platforms and marketplaces, including Shopify, Amazon, eBay, and more. This seamless integration ensures that your fulfillment process remains consistent across all channels, no matter where your customers are. Additionally, our systems are equipped to handle large order volumes, minimizing the risk of discrepancies or errors.
3.5 Tailored Solutions & Continuous Improvement
As an e-commerce business owner, you'll have unique requirements that are essential to your growth and success. At FBA Prep Logistics, we're committed to understanding your specific needs and working closely with you to develop tailored solutions that drive results. This customized approach enables us to adjust as necessary and continually improve our services to ensure optimal performance for your business.
3.6 Facility Expansion & Distribution Network Growth
As your business evolves, the need for larger storage spaces and more efficient distribution channels becomes apparent. FBA Prep Logistics offers extensive potential for warehouse expansion, ensuring that your products are always within close reach of your customer base. By leveraging our comprehensive distribution network on the East Coast, we're able to facilitate shorter delivery times, reduced shipping costs, and overall enhanced customer experiences.
3.7 Boosted Cash Flow & Competitive Edge
By choosing our California FBA Prep Center, you'll enjoy a more efficient and cost-effective fulfillment process that leads to improved cash flow. When other sellers are tied up with expensive in-house solutions, you can redirect your resources towards strategic initiatives, such as marketing and product development. This competitive advantage will give you a more robust foothold in the ever-evolving e-commerce landscape.
In conclusion, FBA Prep Logistics' cost-effective and scalable solutions play a vital role in the success of your e-commerce business. Our California FBA Prep Center enables you to optimize resources, minimize overhead costs, and invest in strategies that will drive significant growth and profit margins. By taking advantage of our specialized services, you'll be well on your way to navigating the exciting new frontier of the e-commerce gold rush and capitalizing on the vast potential within the industry.
4. Inventory Management & Streamlined Processes
California FBA Prep Center's importance in the e-commerce market owes much to its top-notch inventory management solutions and streamlined processes. Every seller aims to reduce fulfillment-related issues to the minimum, and FBA Prep Logistics ensures that by providing top-of-the-line services tailored to meet your requirements flawlessly. Let's dive into the key benefits of efficient inventory management and streamlined processes at California FBA Prep Center.
4.1. Accurate & Real-Time Inventory Tracking
At California FBA Prep Center, inventory management starts with accurate inventory tracking. With the implementation of state-of-the-art inventory tracking systems, FBA Prep Logistics helps e-commerce businesses track their inventory in real-time. This enables sellers to stay updated about their stock levels, minimizing the risk of overselling products and offering better customer experience. It's a crucial advantage for businesses that rely on marketplaces like Amazon, as inventory control is essential for maintaining a high seller rating and customer satisfaction.
4.2. Error-Free Receiving & Storage Procedures
First impressions last forever, and that's why FBA Prep Logistics ensures that the initial phase of receiving goods at California FBA Prep Center is hassle-free and efficient. Comprehensive inspection processes are employed to verify the accuracy of incoming shipments, identify potential damage, and report discrepancies if any. After the inspection, products are stored in designated storage locations using smart warehousing techniques, allowing for seamless shipment preparation and retrieval.
4.3. Organized & Secure Warehouse Environment
A clean and organized warehouse is vital for an efficient inventory management system. California FBA Prep Center provides a well-managed and secure warehouse facility, which translates to decreased misplacements, expedited picking and packing, and reduced human error. This environment is crucial for maintaining the quality and safety of the products, giving sellers and their customers peace of mind.
4.4. Efficient Order Processing & Fulfillment
Thanks to cutting-edge technology and process automation, California FBA Prep Center significantly reduces the time and effort required for order processing and shipping. Swifter turnaround times, alongside accurate order fulfillment, reinforces customer trust, and brand loyalty. By optimizing their packing process and choosing the most cost-effective shipping methods, businesses can further cut costs while ensuring a swift delivery experience for their customers.
4.5. Customized Packaging & Labeling Solutions
California FBA Prep Center recognizes that each e-commerce store has its unique requirements when it comes to packaging and labeling. As such, FBA Prep Logistics offers tailored solutions that fit your business needs and elevate your brand image. Customized packaging options, along with carefully imprinted labels and barcodes, ensure compliance with Amazon's stringent guidelines and help prevent costly delays or potential penalties.
4.6. Better Forecasting & Strategic Planning
Efficient inventory management plays a key role in business growth, as it empowers sellers with insights and data to make informed decisions. California FBA Prep Center's comprehensive reporting and analytics tools allow e-commerce businesses to track patterns and sales trends, facilitating better forecasting and strategic planning. By closely monitoring and analyzing inventory data, businesses have a competitive edge in stock reordering and avoiding stock-outs, enabling them to meet market demands efficiently.
4.7. Seamless Integration with E-commerce Platforms
With the rise of e-commerce platforms like Shopify and Amazon, it becomes imperative for businesses to have a seamless integration between their fulfillment center and sales channels. California FBA Prep Center works closely with these platforms, ensuring that businesses receive prompt notifications, stock levels remain up to date, and orders are promptly dispatched, leading to better customer satisfaction and greater revenue opportunities.
In conclusion, choosing California FBA Prep Center for your e-commerce inventory management and fulfillment needs is a strategic decision that can propel your business into new heights. The optimized processes and state-of-the-art infrastructure offered by FBA Prep Logistics streamline your operations, resulting in improved customer satisfaction and increased profits. Now is the time to ride the wave of this new gold rush in the e-commerce industry and make your mark in the competitive marketplace with the help of FBA Prep Logistics.
5. Stellar Support & Increased Customer Satisfaction
Choosing the right California FBA Prep Center means partnering with a warehouse that understands the importance of stellar support and increased customer satisfaction. FBA Prep Logistics excels at providing high-quality and personalized services that help e-commerce businesses build a strong reputation and attract more customers. Let's explore how this contributes to increased revenue and a much stronger position in the competitive market.
5.1 Expert Guidance Every Step of the Way
FBA Prep Logistics offers a wealth of expertise in e-commerce logistics and FBA services. Our experienced team is always available to provide guidance and support to help your online business navigate the intricacies of selling on platforms like Amazon. With our support, you can focus on growing your business without getting bogged down in the complex and time-consuming tasks associated with order fulfillment and inventory management.
5.2 Exceptional Customer Support Services
Our California FBA Prep Center not only provides in-depth expertise but also prides itself on the exceptional customer support services we offer. We understand the importance of being available and responsive when you need assistance. We believe that our success is tied to your success, which is why we tirelessly work to provide reliable support and ensure that your needs are met – and exceeded – every step of the way. Our dedicated team is always ready to answer your questions and address your concerns with transparency and professionalism, earning your trust and loyalty as an essential partner in your e-commerce journey.
5.3 Increased Customer Satisfaction for Your E-commerce Business
One of the most significant advantages of partnering with FBA Prep Logistics is how it positively affects your customers' satisfaction. By providing efficient, accurate, and timely order fulfillment, we help ensure that your products reach their destinations promptly and in excellent condition. This, in turn, results in positive reviews and feedback from your customers, which is essential for building a strong reputation and attracting more customers to your online store.
5.4 Personalized Services Tailored to Your Needs
E-commerce businesses come in all shapes and sizes, and there is no one-size-fits-all solution when it comes to warehouse operations. FBA Prep Logistics understands this and offers personalized services tailored to your unique needs and goals. By understanding your specific requirements and customizing our services to meet your needs, we help optimize your operations, streamline your processes, and, ultimately, increase your bottom line. Remember, a satisfied customer often translates to a loyal repeat buyer.
5.5 The Crucial Role of Customer Feedback
In the competitive world of e-commerce, customer feedback plays a crucial role in shaping the success of your business. We at FBA Prep Logistics fully comprehend this and continuously strive to enhance our services based on the valuable input of our clients. This allows us to consistently improve and adapt, ensuring that both your business and ours are always moving forward together.
5.6 Solidifying Your Position in the Market
The synergy of all these elements – expert guidance, exceptional customer support, increased customer satisfaction, personalized services, and responsiveness to customer feedback – results in a stronger market position for e-commerce businesses working with FBA Prep Logistics. When customers recognize the reliable and efficient services we provide, you will reap the benefits in terms of increased sales, positive reviews, and long-lasting loyalty.
In Summary
Partnering with FBA Prep Logistics as your California FBA Prep Center doesn't just boost your online business; it sets the stage for exponential growth and success in the thriving e-commerce industry. By capitalizing on the strategic location, rapid shipping, cost-effective and scalable solutions, efficient inventory management and streamlined processes, and our stellar support services, you will find your e-commerce business shining brighter than ever and ready to conquer today's competitive marketplace.
Frequently Asked Questions</h2>
<h3>1. Why is California considered the new gold rush for FBA Prep Centers?</h3>
<p>The exponential growth of e-commerce businesses in California has led to a high demand for FBA Prep Centers, making it the new gold rush. California's strategic location, proximity to major markets, and transportation hubs provide an ideal environment for businesses to thrive in.</p>
<h3>2. How does FBA Prep Logistics' strategic location in California benefit e-commerce businesses?</h3>
<p>By being located in California, FBA Prep Logistics is close to major markets and transportation hubs. This leads to rapid shipping times and reduced lead times, giving e-commerce businesses a competitive edge in the market.</p>
<h3>3. Are the solutions provided by FBA Prep Logistics cost-effective and scalable for different sizes of businesses?</h3>
<p>Yes, FBA Prep Logistics offers cost-effective and scalable solutions for businesses of all sizes. Whether you are just starting out or expanding your operations, FBA Prep Logistics can accommodate your needs and help you grow.</p>
<h3>4. How does FBA Prep Logistics help with inventory management and streamlined processes?</h3>
<p>FBA Prep Logistics provides efficient inventory management and streamlined processes that result in better organization, faster turnaround times, and increased profits for e-commerce businesses. By partnering with FBA Prep Logistics, you can focus on growing your business while they handle the logistical aspects.</p>
<h3>5. What kind of support does FBA Prep Logistics offer to e-commerce businesses?</h3>
<p>FBA Prep Logistics offers personalized and professional customer support to help e-commerce businesses build a strong reputation and attract more customers. This increases revenue and strengthens their position in the competitive market.</p>
<script type="application/ld+json">
{
"@context": "https://schema.org",
"@type": "FAQPage",
"mainEntity": [
{
"@type": "Question",
"name": "Why is California considered the new gold rush for FBA Prep Centers?",
"acceptedAnswer": {
"@type": "Answer",
"text": "The exponential growth of e-commerce businesses in California has led to a high demand for FBA Prep Centers, making it the new gold rush. California's strategic location, proximity to major markets, and transportation hubs provide an ideal environment for businesses to thrive in."
}
},
{
"@type": "Question",
"name": "How does FBA Prep Logistics' strategic location in California benefit e-commerce businesses?",
"acceptedAnswer": {
"@type": "Answer",
"text": "By being located in California, FBA Prep Logistics is close to major markets and transportation hubs. This leads to rapid shipping times and reduced lead times, giving e-commerce businesses a competitive edge in the market."
}
},
{
"@type": "Question",
"name": "Are the solutions provided by FBA Prep Logistics cost-effective and scalable for different sizes of businesses?",
"acceptedAnswer": {
"@type": "Answer",
"text": "Yes, FBA Prep Logistics offers cost-effective and scalable solutions for businesses of all sizes. Whether you are just starting out or expanding your operations, FBA Prep Logistics can accommodate your needs and help you grow."
}
},
{
"@type": "Question",
"name": "How does FBA Prep Logistics help with inventory management and streamlined processes?",
"acceptedAnswer": {
"@type": "Answer",
"text": "FBA Prep Logistics provides efficient inventory management and streamlined processes that result in better organization, faster turnaround times, and increased profits for e-commerce businesses. By partnering with FBA Prep Logistics, you can focus on growing your business while they handle the logistical aspects."
}
},
{
"@type": "Question",
"name": "What kind of support does FBA Prep Logistics offer to e-commerce businesses?",
"acceptedAnswer": {
"@type": "Answer",
"text": "FBA Prep Logistics offers personalized and professional customer support to help e-commerce businesses build a strong reputation and attract more customers. This increases revenue and strengthens their position in the competitive market."
}
}
] }
</script>