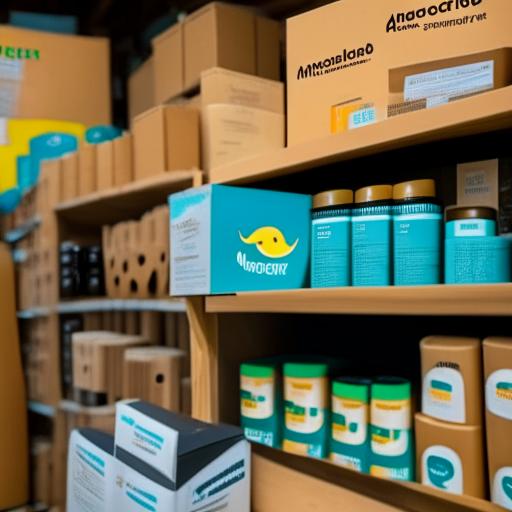 Introduction: The Importance of a Top-Notch 3PL for Amazon Sellers
In today's ultra-competitive e-commerce landscape, it's crucial for Amazon sellers to partner with a reliable third-party logistics (3PL) provider, one that not only streamlines their supply chain but also helps them stay ahead of the competition. As an Amazon seller, your main goal is to grow your business, increase sales and provide an exceptional customer experience. But with the ever-changing world of e-commerce and the overwhelming number of 3PL companies out there, it's essential to select one that truly understands the unique challenges faced by Amazon sellers and can significantly contribute to their business success. That's where FBA Prep Logistics comes into play.
Being the best 3PL for Amazon sellers means offering a comprehensive range of services tailored to their specific needs, providing high-quality customer support to help navigate the complexities of logistics, utilizing cutting-edge technology and infrastructure, and having a strategic location that ensures fast and efficient delivery to both Amazon fulfillment centers and end customers.
In this section, we'll discuss the various factors that make FBA Prep Logistics the go-to choice for Amazon sellers looking to optimize their supply chain and scale their business. So, let's dive right in and learn more about what sets FBA Prep Logistics apart from other 3PL providers in the industry.
Why Choose FBA Prep Logistics
By partnering with FBA Prep Logistics, you'll be capitalizing on the following advantages that make them stand out among the competition:
1. Amazon-specific Expertise
FBA Prep Logistics is tailored specifically for Amazon sellers, which means they understand the nuances, challenges, and best practices involved in the Amazon marketplace. This intimate knowledge of the Amazon ecosystem allows them to optimize logistics processes accordingly and ensure smooth operations from start to finish.
2. Comprehensive Service Offerings
FBA Prep Logistics offers a wide range of services designed to meet the diverse needs of Amazon sellers. From inventory management and order fulfillment to FBA prep (check out our guide to FBA prep), you can count on FBA Prep Logistics to handle every aspect of your supply chain, so you can focus on scaling your business.
3. Customer-Centric Approach
Customer service plays a pivotal role in determining the success of any 3PL partnership. FBA Prep Logistics prides itself on providing top-notch customer support to help guide newbies through the logistics process and assist experienced sellers with optimizing their supply chain strategy.
4. Advanced Technology and Infrastructure
In the world of e-commerce, technology can make or break a business. FBA Prep Logistics utilizes cutting-edge technology systems and warehouse infrastructure to ensure efficient operations and deliver a competitive edge for Amazon sellers.
5. Strategic Location
FBA Prep Logistics is strategically located in Bristol, PA, which allows them to offer quick and efficient shipping to Amazon fulfillment centers and end customers across the country. Whether you're targeting the East Coast or nationwide, their location ensures your products reach your customers as quickly as possible.
With all these factors in mind, it's clear that FBA Prep Logistics is positioned to be the ultimate 3PL choice for Amazon sellers. In the following sections, we'll discuss these factors in more detail, and by the end of this article, you'll be well-equipped to make an informed decision regarding the best 3PL partner for your Amazon business. So, read on and discover what makes FBA Prep Logistics the ideal choice to help you achieve e-commerce success on the Amazon marketplace.
Comprehensive Services Tailored for Amazon Sellers: FBA Prep Logistics
As an Amazon seller, you understand the importance of a seamless supply chain. Meeting the requirements of Amazon's strict guidelines can be challenging, especially for those new to the process. That's why choosing the best 3PL for Amazon sellers, like FBA Prep Logistics, is essential for your business success.
Expertise in FBA Prep Services
FBA Prep Logistics specializes in providing end-to-end services tailored specifically to the needs of Amazon sellers. Our team of professionals has extensive experience handling all aspects of FBA prep, from inventory management to labeling, packaging, and shipment preparation. Furthermore, our strict adherence to Amazon requirements ensures that your products will move smoothly through their fulfillment centers. Here's what you can expect from our FBA prep services:
Inspecting items for damage or defects
Preparing and labeling products according to Amazon FBA guidelines
Bundling and packaging products as required or requested
Creating customized packaging and inserts for product presentation enhancement
Handling case-packed items and pallet shipments
Coordinating with Amazon to ensure seamless inbound shipments
Efficient Inventory Management for Maximum Profitability
Proper inventory management is vital for a successful e-commerce business. FBA Prep Logistics offers innovative inventory tracking that allows you to stay updated in real-time throughout the entire supply chain process. Our comprehensive inventory management system includes:
Real-time updates on stock levels and product statuses
Multi-channel synchronization to avoid stock discrepancies
Automated reordering to prevent stockouts
Periodic inventory audits to ensure accuracy
Customizable alerts to help you stay ahead of potential issues
With FBA Prep Logistics, you can focus on growing your business while we handle the complex details of inventory management.
Streamlined Order Fulfillment for Timely Deliveries
An integral part of FBA Prep Logistics' comprehensive service offerings is efficient order fulfillment. Fast and accurate shipping is crucial for maintaining satisfied customers and positive feedback ratings. Our expert team ensures that your orders are:
Picked, packed, and shipped in adherence to Amazon's strict guidelines
Shipped with precision and speed to meet or beat delivery deadlines
Packaged securely to prevent damage during transit
Managed with advanced technological tools for seamless tracking and updates
Our efficient PA order fulfillment services are designed to help you meet the demands of modern e-commerce and keep your customers satisfied.
Reverse Logistics Management for Smooth Returns Processing
Returns processing can be a headache for Amazon sellers, but FBA Prep Logistics makes it simple and headache-free. Our experienced team excels in handling reverse logistics, allowing you to better handle customer returns and salvage as much value as possible from returned items. Our reverse logistics services include:
Receiving and processing customer returns
Evaluating returned items and conducting necessary inspections
Handling restocking, disposal, or refurbishment as necessary
Re-fulfilling returned items in accordance with Amazon guidelines
Providing detailed reporting and analysis for ongoing optimization
With FBA Prep Logistics' reverse logistics management, you can minimize the impact of returns on your bottom line and focus on generating more sales.
By choosing FBA Prep Logistics as your 3PL partner, you're selecting a company that understands the distinct needs of Amazon sellers. Our comprehensive services, from FBA prep to inventory management and order fulfillment, provide the support you need to succeed in the competitive Amazon marketplace. Don't let logistical challenges keep you from achieving your e-commerce goals. Partner with the best 3PL for Amazon sellers, FBA Prep Logistics, and watch your business flourish.
3. High-Quality Customer Support: Your Partner in Success
When it comes to the best 3PL for Amazon sellers, customer support is a critical factor that can make or break your experience. At FBA Prep Logistics, we understand that running an online business can be challenging and confusing for those who are new to the world of supply chain management. That's why we pride ourselves on offering top-notch customer support, acting as a partner that's committed to helping you achieve success in the ever-competitive Amazon Marketplace.
3.1 Personalized Support from a Team of Experts
Our dedicated support team consists of logistics and e-commerce experts who have deep knowledge and experience in navigating the complexities of Amazon's policies and processes. We will work alongside you to understand your unique business needs, and will be there to answer any questions you may have along the way. Whether you're just starting or already an experienced seller, we'll provide the guidance, advice, and assistance you need at every step of your journey.
3.2 Quick Response Times to Ensure Efficiency
As an Amazon seller, time is of the essence. Customer inquiries or issues need prompt responses to avoid potential sales losses or negative reviews. At FBA Prep Logistics, our customer support team is committed to delivering swift and comprehensive responses to all your concerns. With us, you won't have to worry about missed opportunities or delayed shipments affecting your bottom line. We're here to help you stay ahead of the game.
3.3 Proactive Problem-Solving to Keep You Moving Forward
In the world of e-commerce logistics, encountering challenges is inevitable. With FBA Prep Logistics as your 3PL partner, we don't just address the issues as they arise – we also take a proactive approach to troubleshooting and problem-solving before they become major setbacks for your business. Our goal is to not only minimize potential disruptions but to also help you identify areas for growth and improvement.
3.4 Regular Communication: Transparency and Collaboration
Clear and open communication is crucial when you entrust your business operations to a third-party logistics provider. At FBA Prep Logistics, we make it a priority to maintain regular communication with our clients through multiple channels such as email, phone calls, and virtual meetings. By keeping you informed of our progress and any challenges we might be facing, we foster a collaborative environment that ensures our mutual success.
3.5 Expert Assistance with Supply Chain Optimization
Whether you are a veteran Amazon seller or just starting, there's always room for improvement in optimizing your supply chain operations. Our team of experts in e-commerce logistics is eager to share their knowledge and insights with you. By helping you identify areas for optimization, we aim to save you time and money and bring your business to the next level.
3.6 Customized Training and Resources
Our commitment to supporting your business doesn't stop at just providing great services. To set you up for success, FBA Prep Logistics also offers customized training and a wealth of resources tailored to your unique business needs. From tips on navigating Amazon's policies to best practices for maintaining inventory, we'll share our expertise to ensure you stay ahead in this competitive market.
In conclusion, smooth and efficient logistics operations are crucial to the success of any Amazon seller. By partnering with FBA Prep Logistics, you are not only choosing a 3PL with comprehensive services tailored to your specific needs, but also one that offers dedicated customer support to help you navigate the complex world of online selling. With our experienced team by your side, you can focus on growing your business and achieving success on Amazon, while leaving the logistics challenges to us. Make an informed decision for your e-commerce business today – choose FBA Prep Logistics as your trusted 3PL partner.
Technology and Infrastructure: The Backbone of a Reliable 3PL
Choosing the best 3PL for Amazon sellers is a crucial decision, and when it comes to technology and infrastructure, FBA Prep Logistics truly stands out among the competition. Our state-of-the-art systems and warehouse facilities contribute to efficient and seamless order processing, ensuring that your products reach their destination on time. In this section, let's dive into the key aspects of FBA Prep Logistics' technology and infrastructure that separate us from other providers.
Cutting-Edge Warehouse Management System
At the heart of FBA Prep Logistics' operations is a cutting-edge warehouse management system (WMS) that enables efficient inventory management, order fulfillment, and shipment tracking. This advanced system streamlines the entire process, from receiving goods to packing and shipping orders. Our WMS is designed specifically with Amazon sellers in mind, ensuring that all FBA requirements are met and that your products are always ready for Amazon's fulfillment centers.
Real-Time Inventory Tracking
Say goodbye to the guesswork of managing your inventory. Our WMS provides real-time inventory tracking, allowing you to monitor stock levels and respond quickly to customer demands or potential stockouts. This feature is especially valuable for Amazon sellers, as maintaining adequate inventory can directly impact your seller performance metrics and sales.
Seamless Integration with Amazon Seller Central
One of the best features of our WMS is its seamless integration with Amazon Seller Central. This connectivity allows for automatic syncing of order details and faster processing times, making FBA Prep Logistics the ideal 3PL partner for Amazon sellers. Our system also supports other major e-commerce platforms such as Shopify and WooCommerce, ensuring a seamless experience for multi-channel sellers.
Advanced Warehouse Infrastructure
Our modern warehouse facilities are designed for efficiency and scalability, offering a clean, secure, and organized environment for your products. Our team follows strict protocols for handling, storage, and shipping of items, ensuring the highest level of quality control and minimizing any risks to your inventory.
Flexible Storage Solutions
FBA Prep Logistics understands that each Amazon seller is unique, with different products and storage needs. That's why we offer flexible storage solutions such as pallet, shelf, and bin storage to accommodate a wide variety of products and business models. This approach ensures that your inventory is managed efficiently and in a way that makes sense for your business.
Optimized Order Fulfillment Process
Our warehouse layout is strategically designed for efficient order fulfillment, minimizing the time it takes for your products to be picked, packed, and shipped. Leveraging the pick and pack method along with our advanced WMS allows us to process orders quickly and accurately, ensuring your Amazon customers receive their orders promptly.
Data Security and Backups
In today's digital age, you can never be too careful when it comes to data security. FBA Prep Logistics invests in robust data protection measures, including firewalls, encryption, and secure servers. Furthermore, we regularly backup all important data, guaranteeing that your inventory and order information are protected from potential risks.
Scalable Solutions to Support Your Growth
As your business grows and expands, FBA Prep Logistics is ready to scale alongside you. Our technology and infrastructure are designed to accommodate an increase in volumes and additional service offerings, ensuring that you won't outgrow your 3PL partner. This scalability prevents any disruptions or constraints on your growth path, allowing you to focus on taking your Amazon business to new heights.
Environmentally Friendly Practices
At FBA Prep Logistics, we also prioritize environmentally friendly practices in our technology and infrastructure. We utilize energy-efficient systems and aim to minimize waste in our operations, helping to reduce our environmental footprint. By choosing FBA Prep Logistics, you're not only selecting a reliable 3PL partner but also doing your part for a greener future.
In Conclusion
FBA Prep Logistics' advanced technology systems and warehouse infrastructure are integral to our commitment to providing the best services for Amazon sellers. We understand that the success of your e-commerce business relies heavily on prompt and accurate order fulfillment, which is why we continuously invest in our technology and infrastructure. By choosing FBA Prep Logistics as your 3PL partner, you can trust that your products will be stored and handled with care, your orders will be processed efficiently, and your customer satisfaction will remain a top priority. Make the smart choice for your Amazon business and partner with FBA Prep Logistics today.
5. Location and Speed: Delivering Your Products On Time, Every Time
One of the main factors in selecting the best 3PL for Amazon sellers is the warehouse location and speed of order processing. After all, these are the key factors that enable your customers to receive their products quickly and efficiently. In this section, we will discuss what makes FBA Prep Logistics the ideal choice in terms of strategic location and speed of operation.
5.1 Strategic Location: Positioned for Success
FBA Prep Logistics takes pride in its strategic warehouse location in Bristol, PA. Situated near the heart of the East Coast, this placement allows for easy access to major transportation hubs, ensuring faster deliveries to Amazon fulfillment centers and end-customers alike. Some of the benefits of FBA Prep Logistics' superb location include:
Proximity to Major Cities: Bristol, PA is located near some of the most populated cities in the US, such as New York City, Philadelphia, Baltimore, and Washington D.C. This translates into reduced shipping times and lower transportation costs for delivering products to these populous regions.

Ease of Access to Major Highways: FBA Prep Logistics' facility has easy access to important interstate highways like I-95 and I-76. These highways help to connect your products efficiently to various Amazon fulfillment centers across the nation.

Strong Regional Transportation Network: The surrounding region offers air, rail, and sea logistic options, which create even more possibilities for expanding your business. Having access to multiple transportation methods boosts your delivery flexibility, allowing you to reach customers in more remote locations.
Efficient Shipping to Amazon Fulfillment Centers: Being close to several Amazon fulfillment centers enables FBA Prep Logistics to ship your inventory promptly. This is instrumental in avoiding long-term storage fees and maintaining your inventory control.
5.2 Lightning-Fast Order Processing
Rapid order processing is essential for delivering your products on time and maintaining Amazon's standards. FBA Prep Logistics understands the importance of speed, and that's why we employ a streamlined system to ensure your orders are processed and shipped promptly. Some key aspects of our efficient operations include:
Advanced Warehouse Management System: Our cutting-edge WMS allows for accurate and efficient order processing. By leveraging technology and integrating it into your Amazon workflow, we minimize errors and speed up the overall process.

Experienced Staff: Our team of skilled professionals diligently works to handle all aspects of your inventory and order processing. Their experience in the industry ensures quick and accurate shipment preparation, resulting in higher customer satisfaction ratings for your e-commerce business.

Continuous Improvement: FBA Prep Logistics constantly seeks to enhance its processes so that your orders can be processed even faster and more accurately. By staying up-to-date with the latest advancements in the industry, we ensure that your business is always on the cutting edge.
Strong Partnerships with Shipping Providers: Our strong relationships with reputable shipping companies, such as UPS, FedEx, and USPS, help us secure reduced shipping rates and faster delivery times. This ultimately benefits your business, as it lowers your shipping costs and increases customer satisfaction.
5.3 Adaptability to Amazon's Dynamic Requirements
Fulfilling orders for Amazon sellers can be a complex task, as their marketplace is constantly evolving. However, FBA Prep Logistics is always prepared to adapt to these changes, ensuring your business remains competitive and your customers are satisfied. Our flexible and dynamic approach to logistics means we can easily modify our processes to accommodate revised Amazon requirements or sudden shifts in shipping demand.
In conclusion, FBA Prep Logistics' strategic location and speedy order-processing help to deliver your products on time, every time. Our seamless integration into your Amazon seller workflow and adaptability to dynamic requirements make us the best 3PL for Amazon sellers who want to ensure their products reach customers promptly and reliably. Choose FBA Prep Logistics, and give your e-commerce business the competitive edge it needs to flourish.
Frequently Asked Questions
1. What kind of services can I expect from FBA Prep Logistics as an Amazon seller?

At FBA Prep Logistics, we provide comprehensive services tailored for Amazon sellers, including inventory management, order fulfillment, FBA prep, and more. We focus on helping you optimize your supply chain and achieve success in the Amazon marketplace.

2. How does FBA Prep Logistics ensure exceptional customer support?

We prioritize your satisfaction and offer dedicated customer support through every step of the logistics process. Our team of experts is always available to guide newcomers and help experienced sellers refine their supply chain strategies for maximum efficiency and profitability.

3. What sets FBA Prep Logistics' technology and infrastructure apart from other 3PL providers?

FBA Prep Logistics utilizes advanced technology systems and state-of-the-art warehouse infrastructure that streamline our operations, ensuring efficient inventory management and order fulfillment. This allows us to provide you with a competitive edge in the fast-paced Amazon marketplace.

4. How does FBA Prep Logistics' location in Bristol, PA benefit my Amazon business?

Our strategic location in Bristol, PA offers quick and efficient shipping to Amazon fulfillment centers and end-customers across the country. This ensures your products are delivered on time, every time, providing an optimal customer experience and boosting your brand reputation.

5. I'm new to Amazon selling. How can FBA Prep Logistics help me get started with my supply chain management?

FBA Prep Logistics is the perfect partner for newcomers to the Amazon marketplace. Our team of experts will guide you through the process of setting up your supply chain, sharing their extensive knowledge and experience to help you scale and achieve success in your e-commerce business.