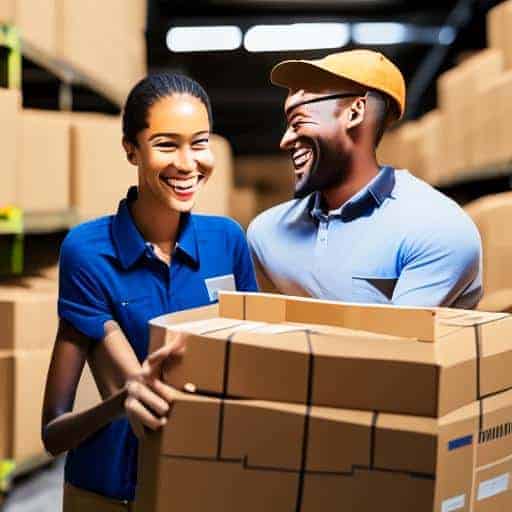 Introduction to 3PL Fulfillment Services
Welcome to the world of 3PL fulfillment services, where e-commerce businesses can experience exceptional logistics support and scalability. If you're new to supply chain management or have never explored partnering with a third-party logistics (3PL) provider, this section will provide you with a comprehensive introduction to what 3PL services entail and how they can help your e-commerce business excel.
What is a 3PL Fulfillment Service?
A 3PL fulfillment service is a company that provides outsourced logistics services to support various aspects of an e-commerce business. From warehousing and inventory management to order fulfillment and shipping, a 3PL provider can handle these logistical tasks, allowing business owners to focus on other important areas such as marketing, product development, and customer relationships.
How Does a 3PL Fulfillment Service Work?
Partnering with a 3PL fulfillment service involves a streamlined process where the third-party provider takes care of multiple logistics tasks on your behalf:
Receiving inventory: Your inventory is shipped to the 3PL provider's warehouse, where it is stored and managed.
Order processing: Once a customer places an order, the 3PL provider processes it, picking and packing the items for shipment.
Shipping and delivery: The 3PL provider ships the products to the customers, utilizing various shipping options and carriers to ensure timely delivery.
Returns handling: A 3PL fulfillment service can also manage product returns, ensuring a smooth and efficient process for both you and your customers.
Benefits of 3PL Fulfillment Services for E-commerce Businesses
There are numerous advantages to partnering with a 3PL fulfillment service. Here are some key benefits that may pique your interest:
Scalability: As your e-commerce business grows, so do your logistics needs. A 3PL provider can seamlessly accommodate an increase in order volume and storage requirements, making it easier to scale your business.
Cost-effective solution: Outsourcing logistics operations to a 3PL provider can save money by eliminating the need for in-house warehousing, staff, and infrastructure investments.
Expertise in the field: A top-notch 3PL provider has extensive experience in handling logistics challenges, ensuring that your orders are processed and shipped efficiently and accurately.
Enhanced customer experience: Partnering with a 3PL provider allows you to offer faster delivery times, efficient order tracking, and simplified returns, which can significantly enhance your customers' overall shopping experience.
Finding the Right 3PL Partner
Now that you have a clear understanding of what a 3PL fulfillment service does and how it can benefit your e-commerce business, it's essential to find a provider that aligns with your specific needs and values. In the next section, we'll discuss critical factors to consider when determining if partnering with a 3PL is the right move for your business. Additionally, we will showcase how FBA Prep Logistics checks off all the boxes when it comes to delivering efficient and personalized logistical solutions for your e-commerce business.
Evaluating the Need for a 3PL Partner
As a growing e-commerce business, you may be wondering if a partnership with a 3PL fulfillment service is right for you. To help you decide, we'll explore key factors you should consider when thinking about outsourcing your logistics functions. But first, let's quickly understand the signs that suggest it's time for your business to seek outside assistance.
Signs You May Need a 3PL Fulfillment Service
Increasing order volume: An increase in the number of orders not only boosts your revenue but also adds pressure to your warehousing and fulfillment processes. If you're struggling to keep up, a 3PL partner can help you scale your operations.
Limited resources: Lack of time, labor, and warehouse space can hold your business back. Outsourcing your logistics to a 3PL service lets you focus on your core operations and frees up your resources for growth.
Inefficient processes: Is your order fulfillment process plagued by mistakes, delays, or miscommunication? Partnering with an expert 3PL provider can streamline your processes, ensuring customer satisfaction and timely deliveries.
Geographical limitations: Expanding to new markets can be challenging, especially if your business is concentrated in a specific region. A 3PL partner can help by offering shipping solutions that cater to different areas, both nationally and internationally.
Now that we've identified the signs, let's delve into some factors e-commerce businesses should weigh when deciding whether to partner with a 3PL fulfillment service.
Key Factors to Consider
1. Industry-specific experience
When evaluating potential 3PL partners, ensure they have experience and expertise in your specific industry. This will make it easier to build a successful, long-term relationship, as they understand your business requirements and challenges. At FBA Prep Logistics, we have extensive experience working with e-commerce businesses, particularly Amazon sellers.
2. Technology and integration
Effective 3PL fulfillment services utilize advanced technology to streamline processes, track inventory, and enable seamless communication. Examine the technology used by potential partners, their compatibility with your e-commerce platform, and options for integration. Our customized solutions at FBA Prep Logistics ensure seamless integration with your existing systems.
3. Flexibility and scalability
As your business expands, your logistical needs will evolve. Choose a 3PL partner who is agile, adaptable, and able to accommodate your changing needs. FBA Prep Logistics is highly flexible and scalable, enabling us to support your growth, whether you're a small start-up or a larger entity.
4. Customer support and communication
Effective communication is crucial for any successful partnership. Assess the level of customer support offered by prospective 3PL providers. Are they responsive? Do they have a dedicated account manager? At FBA Prep Logistics, client satisfaction is our priority, and we offer dedicated customer support, addressing your concerns promptly and efficiently.
5. Cost structure and pricing
When comparing 3PL fulfillment services, consider their pricing models and the transparency of their cost structure. A partnership should be cost-effective and provide a solid return on investment. At FBA Prep Logistics, we offer competitive pricing tailored to your specific needs, ensuring you receive unparalleled value for your investment.
6. Reputation and testimonials
Before trusting a 3PL provider with your logistics operations, research their reputation and look for testimonials from satisfied customers. This will give you a clearer understanding of their strengths and weaknesses. FBA Prep Logistics is proud of our track record, and we encourage you to explore our client testimonials to learn more about our services.
In conclusion, evaluating the need for a 3PL partner involves a thorough examination of various factors such as industry experience, technology, scalability, customer support, pricing, and reputation. With this information, you'll be better equipped to determine if partnering with a 3PL fulfillment service like FBA Prep Logistics is the right choice for your e-commerce business. Once you've gained clarity on your logistics needs and potential partnerships, you can move forward confidently, focusing on growing your business with the support of a trusted 3PL provider.
Benefits of Partnering with FBA Prep Logistics
When it comes to choosing a 3PL fulfillment service for your e-commerce business, it's crucial to make the right choice. After all, the success of your business depends on it! In this section, we'll explore the various benefits of partnering with FBA Prep Logistics, the leading 3PL warehouse in Bristol, PA. From our personalized solutions to our exceptional customer service, FBA Prep Logistics is the top choice for your 3PL needs.
1. Tailored Solutions for Your Business
At FBA Prep Logistics, we understand that each e-commerce business is unique, which is why we offer customized solutions to meet your specific needs. With our wide range of services, including inventory management, pick and pack, order fulfillment, and returns processing, we'll work with you to create a package that addresses your business's unique requirements.
Our expert team will also assess your current logistics processes to pinpoint areas where improvements can be made, providing data-driven insights to help streamline your operations and enhance your overall efficiency.
2. Dedicated Customer Service
We take pride in our commitment to providing top-notch customer service. When you choose FBA Prep Logistics as your 3PL partner, rest assured that we'll always prioritize your needs and concerns. Our friendly and knowledgeable team members are available round-the-clock to answer any questions and provide timely updates on your inventory and shipments.
It's our goal to create long-lasting relationships with our clients, which is why we also assign you a dedicated account manager who will work closely with you to ensure that your needs are met and expectations are exceeded at all times.
3. Extensive Experience with Amazon
As your 3PL fulfillment service partner, we understand the intricacies of the Amazon marketplace and have developed strategies to keep sellers ahead of the competition. Our team has years of experience working with Amazon's demanding requirements, ensuring that your products are prepped, packaged, and shipped quickly and effectively to Amazon FBA warehouses.
By partnering with FBA Prep Logistics, you'll benefit from our knowledge of Amazon's complex system, which can translate into shorter prep times, faster shipments, and, ultimately, happier customers.
4. Cost-Effective Pricing Structures
We strongly believe that high-quality 3PL services shouldn't break the bank. That's why FBA Prep Logistics offers competitive, transparent pricing structures tailored to the needs of your business. As we find ways to improve efficiency, you'll see the savings reflected in your bottom line.
Additionally, our pricing is designed to accommodate e-commerce businesses of all sizes. Whether you're a small startup or an established brand, we offer the right solutions at an affordable price.
5. Cutting-Edge Technology
Streamlined processes are vital to any successful 3PL partnership. FBA Prep Logistics uses state-of-the-art technology to enhance and facilitate the day-to-day operations of your e-commerce business. Our cloud-based platform allows you to track your inventory and shipments in real time, making order management simpler and more efficient.
Plus, our platform is easily integrated with popular e-commerce platforms, such as Shopify and WooCommerce, ensuring seamless communication between your store and our warehouse. This level of integration ultimately leads to faster order processing, better inventory management, and improved customer satisfaction.
6. Scalability and Flexibility
One of the most significant benefits our 3PL fulfillment service offers is the ability to grow and adapt alongside your e-commerce business. As your company expands and evolves, we'll continually adapt our services to meet your changing needs. Whether you require additional warehouse space or need to handle an influx of seasonal orders, FBA Prep Logistics has you covered.
With our flexible storage and fulfillment options, you can focus on expanding your business while we handle the logistics, allowing you to remain agile and responsive in an ever-changing industry landscape.
7. East Coast Location
Strategically located in Bristol, PA, FBA Prep Logistics is perfectly positioned to serve the East Coast market. This prime location offers numerous benefits to your e-commerce store. For example, by partnering with us, you can expect faster shipping times and reduced shipping costs compared to working with a 3PL located further away. By entrusting your logistics to a 3PL fulfillment service with an East Coast presence, you'll be able to reach a large portion of your customers quickly and efficiently.
In conclusion, FBA Prep Logistics is an exceptional partner for your e-commerce business. By offering tailored solutions, unmatched customer service, extensive Amazon experience, cost-effective pricing, advanced technology, and unparalleled scalability and flexibility, we ensure that your business operates smoothly and efficiently. So, take the next step in growing your e-commerce store and experience the myriad benefits of partnering with FBA Prep Logistics.
Key Components of a Successful 3PL Partnership
A successful partnership with a 3PL fulfillment service requires more than just shipping and storing products. True collaboration with a 3PL provider like FBA Prep Logistics ensures your e-commerce business thrives and grows to new heights. In this section, we will delve into the key components that make a successful 3PL partnership and highlight how FBA Prep Logistics implements these elements for the benefit of our clients.
Transparent Communication
Effective communication is the foundation of any successful partnership. With FBA Prep Logistics, you never have to worry about being left in the dark about your inventory or shipments. We believe in keeping the lines of communication open and honest to ensure the smooth flow of operations and provide clarity on every aspect of your business.
Regular updates on inventory levels and shipments
Instant notifications of any potential issues or delays
Real-time access to data and analytics for smarter decision-making
Dedicated account managers to address any queries or concerns
Streamlined Processes
Efficient processes are crucial for making the most of your 3PL partnership. At FBA Prep Logistics, we strive to continuously refine and optimize our workflow, equipping your business to be adaptable and agile. This allows you to meet customer demands and exceed expectations.
Integration with popular e-commerce platforms, such as Shopify and Amazon
Advanced technology solutions to monitor inventory and track shipments
Rigorous quality control measures that weed out inefficiencies
Customizable processes tailored to suit the specific needs of your e-commerce business
Scalable Solutions
Scalability is essential for the success of any e-commerce business, and partnering with a 3PL provider that can grow with you is critical. FBA Prep Logistics offers practical, flexible, and scalable fulfillment solutions, allowing your business to expand with ease.
Capacity to handle seasonal fluctuations and promotional events
Dedicated support to help you scale your product offerings and reach new markets
Ability to accommodate increase in order volume without compromising on service quality
Customization and Flexibility
Every e-commerce business has unique requirements, and a one-size-fits-all approach isn't sufficient for success. FBA Prep Logistics embraces customization and personalization, creating tailored solutions that address your specific needs and preferences.
Custom packaging options to enhance your brand image
Support for special requests, such as gift wrapping or promotional inserts
Personalized service plans that cater to the ever-evolving requirements of your business
Commitment to Continuous Improvement
A 3PL partner that is committed to growth and improvements in their services, technology, and processes ensures your business stays ahead of the competition. FBA Prep Logistics fosters a culture of continuous improvement and innovation to deliver consistent, high-quality service that drives positive results.
Regularly updated technology and tools to increase efficiency and accuracy
Ongoing training for our staff to enhance their knowledge and skills
Proactive identification of areas in need of improvement and implementing evidence-based strategies
Cost-Effective Pricing Structures
Finally, a successful 3PL partnership should be both efficient and cost-effective. Choosing FBA Prep Logistics means you benefit from our competitive pricing structures, helping you drive down costs while maximizing your profit margin. We work closely with you to find ways to optimize your supply chain and logistics, identifying opportunities for cost savings and improved efficiency.
Transparent pricing with no hidden fees
Volume-based discounts to reward growing businesses
Efficient processes that minimize wasted time and resources
Conclusion
Cultivating a successful 3PL partnership involves finding a provider that prioritizes transparency, robust processes, scalability, customization, commitment to improvement, and cost-effective pricing structures. By choosing FBA Prep Logistics, you gain all these benefits and more, enabling your e-commerce business to flourish in an ever-evolving market. Our dedicated team works tirelessly to meet your unique needs and exceed your expectations, setting the stage for a long-lasting and fruitful partnership.
Making the Leap: How to Start Working with FBA Prep Logistics
You've finally made the decision to explore the world of 3PL fulfillment services, and FBA Prep Logistics is your top choice. So, what's next? How do you begin this fantastic journey of growth, efficiency, and optimization? We've got you covered! In this section, we'll guide you through the steps to partner with FBA Prep Logistics and establish a reliable and successful logistics solution that will propel your e-commerce business to new heights.
Step 1: Get in Touch for a Consultation
Begin your partnership journey by reaching out to the FBA Prep Logistics team through our contact page or by giving us a call. We'll schedule a consultation call at a time that suits you best, and during this conversation, we'll discuss your e-commerce business, logistical needs, challenges, and goals. This is the perfect opportunity for you to learn more about our 3PL fulfillment service, and for us to understand how we can best support your business operations.
Step 2: Receive a Customized Service Proposal
Once we have a solid understanding of your business needs and goals, we'll provide you with a customized service proposal tailored specifically to your e-commerce business. This proposal will include detailed information about our solutions, processes, and pricing structures, all designed to achieve the best possible outcomes for your unique situation. We're confident that our proposal will demonstrate the extensive benefits of our 3PL fulfillment service and showcase the value FBA Prep Logistics provides compared to other options in the market.
Step 3: Agree on Terms and Establish the Partnership
After going over the proposal and discussing any further questions you may have, if you feel that FBA Prep Logistics is the right choice for your e-commerce business, we'll proceed to the next step. Together, we'll establish a partnership agreement, which outlines essential terms, conditions, and responsibilities for both parties. With a signed agreement in place, we'll officially kick off our journey as your dedicated 3PL fulfillment service provider!
Step 4: Seamlessly Integration with Your E-commerce Platform
Once the partnership agreement is signed, our team will work closely with yours to ensure a smooth and seamless integration between FBA Prep Logistics and your e-commerce platform. Whether you use Shopify or any other popular e-commerce platform, we've got you covered. Our expert team will help set up the required infrastructure and processes, enabling automated order processing, inventory tracking, and shipping to create a seamless experience for you and your customers.
Step 5: Continuous Improvement and Growth
FBA Prep Logistics is not just a one-time solution provider. We're here to help you grow and adapt to an ever-changing industry landscape. As your dedicated 3PL partner, we'll continuously monitor and optimize our operations to ensure maximum efficiency and deliver exceptional results. Regular communication, feedback, and collaboration are key components of our partnership, allowing us to stay agile and respond to changes in your business or the market.
So, there you have it – the path to a successful partnership with FBA Prep Logistics as your 3PL fulfillment service provider. Follow these steps, and we'll embark on a fantastic journey together, unlocking new potential for your business and providing the support you need to dominate the e-commerce space. Are you ready to make the leap? If so, get in touch with our team today, and let's start building an unbeatable business strategy for your online enterprise!
FAQs About FBA Prep Logistics 3PL Services
1. What exactly are 3PL fulfillment services, and how do they benefit e-commerce businesses?

3PL fulfillment services refer to third-party logistic companies that handle product storage, order processing, packaging, and shipping for e-commerce businesses. They help businesses manage their logistics efficiently, save time and resources, and ultimately lead to increased customer satisfaction and sales.

2. How do I know if my e-commerce business needs a 3PL partner?

Signs that your business may need a 3PL partner include overwhelmed internal logistics, increasing shipping costs, difficulty handling order volume, and limited expertise in managing supply chain processes. A 3PL partner can help manage these issues and streamline your logistics operations.

3. What sets FBA Prep Logistics apart from other 3PL providers?

FBA Prep Logistics offers tailored solutions, dedicated customer service, extensive experience with Amazon's fulfillment network, and cost-effective pricing structures. Our focus on continuous improvement and transparent communication ensures our clients enjoy a successful, long-term partnership.

4. What are the key components of a successful 3PL partnership?

Transparent communication, streamlined processes, and a commitment to continuous improvement are crucial for a successful 3PL partnership. FBA Prep Logistics demonstrates these components by fostering strong relationships with clients, adapting to their evolving needs, and providing regular performance updates.

5. How can I start working with FBA Prep Logistics as my 3PL partner?

Begin by contacting our team for a consultation, during which we'll assess your business needs and provide a customized service proposal. As your 3PL partner, FBA Prep Logistics will help you streamline your logistics operations, grow your business, and adapt to the ever-changing e-commerce industry landscape.