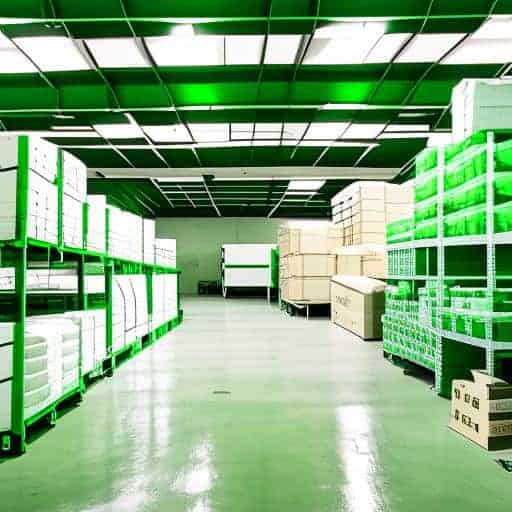 1. Introduction to FBA Prep Centers
Welcome to the world of e-commerce! As a growing online business, you must've encountered the term "FBA," which stands for Fulfillment by Amazon. It's one of the most popular and widely used services for online sellers, and it's no wonder why. The importance of reliable and professional 3PL (third-party logistics) service like FBA Prep Centers cannot be emphasized enough when it comes to taking your business to the next level.
What Are FBA Prep Centers?
Imagine your business getting access to industry-leading logistics, warehousing, and management while you sit back and focus on customer engagement and new product launches. Sounds great, right? That's the power of FBA Prep Centers! In simple terms, they handle all the nitty-gritty aspects of your e-commerce venture, leaving you with ample time to grow and expand your business without getting bogged down by supply chain management.
The Significance of Using FBA Prep Centers
Why is it crucial to partner with a reliable and professional 3PL service like FBA Prep Logistics for your online store? Here are some quick reasons:
Time-saving: FBA Prep Centers handle tasks like receiving shipments, inspection, storage, labeling, packaging, and preparing products for shipment to Amazon. This frees up your time to concentrate on essential aspects of your business.

Cost-effective: By outsourcing your inventory management and fulfillment processes, you can significantly reduce expenses related to warehousing, labor costs, and shipping.

Customer satisfaction: FBA Prep Centers ensure that your products are packaged and shipped promptly, increasing overall customer satisfaction and brand perception.
Scalability: As your business expands, FBA Prep Centers can easily scale and adapt to accommodate your growing inventory and logistical needs.
Meet FBA Prep Logistics: Your Trusted 3PL Warehouse Partner
FBA Prep Logistics is a 3PL warehouse based in Bristol, PA that specializes in supporting the needs of e-commerce businesses, like yours. Whether you're a small-to-medium-sized seller on Amazon or any other online marketplace, our dedicated team streamlines your order fulfillment process, taking the stress out of managing your inventory, shipments, and returns. And with our strategic East Coast location, we provide efficient order fulfillment services and 3 key benefits of e-commerce fulfillment.
As a digital marketing assistant, I can assure you that our ultimate goal is to ensure your e-commerce business's success by providing tailored solutions and top-notch customer support along the way. The advantages of partnering with FBA Prep Logistics go beyond just order processing, as we strive to foster long-term relationships and understand your business's unique needs. So, why wait to give your Amazon store the competitive edge it deserves? Embark on this journey with FBA Prep Logistics and experience the difference of partnering with a professional 3PL service.
2. Understanding Amazon FBA and Its Challenges
Amazon FBA (Fulfillment by Amazon) is a popular service provided by Amazon to help e-commerce businesses easily store, pack, and ship their products. There's no denying that the opportunity of reaching millions of customers on the largest online marketplace is truly enticing for business owners. However, managing FBA processes can be quite challenging, particularly for those who are new to supply chain management.
Let's dive into the world of Amazon FBA to grasp the complexities and how partnering with an FBA Prep Center like FBA Prep Logistics can alleviate these challenges.
2.1 How Does Amazon FBA Work?
When you, as an e-commerce business owner, choose to use Amazon FBA, it means you'll store your inventory in Amazon's fulfillment centers. Once a customer places an order for your product, Amazon takes care of packing, shipping, and even handling returns on your behalf. This frees up your time to focus on other aspects of your business while leveraging Amazon's world-class shipping and customer service.
2.2 Common Challenges in Managing FBA Processes
Despite any e-commerce business's undeniable advantages, navigating the complexities of Amazon FBA without the proper knowledge and resources can be daunting. Here are some common challenges business owners typically face:
2.2.1 Inventory Management
Effective inventory management is crucial in avoiding stockouts and overstocking. Not having enough stock may lead to lost sales, while overstocking can result in increased storage fees. It's essential to find the perfect balance to maximize profits and ensure customer satisfaction.
2.2.2 Strict Amazon FBA Requirements
Amazon has a stringent set of guidelines for product preparation, labeling, and packaging that sellers need to adhere to. Failure to comply with these rules may result in additional fees, delays, or even rejection of your inventory. Properly preparing your products for Amazon FBA can be a time-consuming and challenging process, especially for inexperienced sellers.
2.2.3 Fulfillment Fees and Storage Costs
Fulfillment fees and storage costs are also critical factors e-commerce businesses must consider. Amazon's fees can change over time, creating challenges in predicting expenses, which might affect your profit margins. Furthermore, not using Amazon's storage efficiently can increase long-term storage fees, further eating into your profits.
2.2.4 Product Returns and Refunds
Handling product returns and refunds is another tricky aspect of the FBA process. Amazon has a strict system for returns, which puts a lot of responsibility on the seller for providing accurate and detailed product information. Managing returns and refunds can be time-consuming, and any mistakes may result in penalties or negative reviews from buyers.
2.3 The Importance of Proper Order Fulfillment and Inventory Management
Managing inventory and ensuring accurate order fulfillment is crucial to the success of any e-commerce business. Mistakes and delays in these areas can lead to unsatisfied customers, negative reviews, and harm to your business's reputation. Moreover, a poorly managed supply chain can result in increased operational costs, storage fees, and inefficiencies that can stifle your business's growth.
With the challenges presented by managing FBA processes independently, it's essential to understand the significance of partnering with a reliable and professional 3PL service like FBA Prep Logistics. Not only will it help you overcome these challenges, but it will also enable your business to focus on more critical aspects, such as marketing, product development, and customer engagement.
3. The Role of FBA Prep Logistics in Streamlining Your Business
In today's fast-paced e-commerce world, it is critical for businesses to stay ahead of their competitors. One of the most significant challenges a growing e-commerce business faces is efficient supply chain management, especially when selling on Amazon. This is where FBA Prep Logistics comes in to help streamline your operations and allow you to focus on what matters most – growing your business. In this section, we will dive deep into how FBA Prep Logistics can help you overcome the challenges and enjoy the benefits of partnering with a dedicated FBA Prep Center.
3.1 Receiving Shipments
FBA Prep Logistics offers a solution to one of the main problems e-commerce businesses face: handling incoming shipments. We understand that dealing with shipments can be overwhelming, time-consuming, and challenging, especially for a growing business. Our team of professionals will receive your shipments, relieving you from this daunting task and allowing you to focus on other aspects of your business.
3.2 Inspection and Storage
Inventory management is one of the most critical components of a successful e-commerce business. Proper inspection and storage of products can help avoid issues with stockouts, losses, and ultimately low customer satisfaction. At FBA Prep Logistics, our team thoroughly inspects all your products for potential quality issues, damages, or discrepancies in quantities.
Once the inspection is complete, our FBA Prep Center will store your goods in a safe and secure environment, ensuring they are protected from potential damage and theft. This not only gives you peace of mind but also guarantees satisfied customers when their order arrives in perfect condition.
3.3 Labeling and Packaging
Labeling and packaging may seem like minor details, but they are essential when it comes to meeting Amazon's strict requirements, which can lead to account suspensions or penalties if not followed. FBA Prep Logistics takes the stress out of this process by accurately labeling and packaging your products, ensuring all items are compliant with Amazon's guidelines.
3.4 Preparing for Shipment to Amazon
As a top-notch FBA Prep Center, we understand that shipping your inventory to Amazon in a timely and cost-effective manner is vital for the success of your business. Our team at FBA Prep Logistics takes care of the entire process, from creating shipping plans to properly packing products and scheduling pickups with carriers. This ensures that your products arrive at Amazon's fulfillment centers safely and timely, enabling smooth FBA operations.
3.5 Saving Time and Reducing Stress
By partnering with FBA Prep Logistics, you save time and reduce stress related to managing your supply chain. Our dedicated and professional team takes care of these essential tasks so you don't have to. In turn, you can allocate more time and resources to focus on strategies to grow your business, develop new products, and improve your customer experience.
3.6 Streamlining Your E-commerce Business Operations
FBA Prep Logistics is your all-in-one solution for managing your inventory and FBA operations efficiently. By utilizing our services, we help optimize your supply chain and streamline processes, improving overall operational efficiency. The result? A more profitable and smoother-running e-commerce business that can cater to the ever-growing needs of the hard-to-please Amazon customers.
In conclusion, partnering with FBA Prep Logistics not only provides a seamless and efficient supply chain management solution but also contributes to your business growth. We take pride in offering top-notch services and a dedicated team that helps you overcome common Amazon FBA challenges. Believe us when we say, with FBA Prep Logistics by your side, you can say goodbye to supply chain headaches and hello to unstoppable growth.
4. Why Choose FBA Prep Logistics Over Other Providers
Choosing the right FBA Prep Center is critical in taking your e-commerce business to greater heights. FBA Prep Logistics stands out from the crowd by offering several unique features that make it the go-to warehouse for fulfilling your Amazon orders. Below are some of the reasons why you should choose FBA Prep Logistics over other providers in the market.
4.1 Transparent Pricing
Hidden charges and extra fees can disturb your budget and decrease your profit margins. We at FBA Prep Logistics understand the importance of fair pricing for any e-commerce business. That's why we provide a clear and transparent pricing structure for all our services, so you know exactly what you're paying for without any surprises. This honesty in our pricing ensures that you can confidently manage your financials while utilizing our services.
4.2 Top-Notch Customer Service
We always prioritize our clients' satisfaction. You can expect excellent customer service from our team of professionals at FBA Prep Logistics, as they are proactive in solving problems and adapting to your business's unique requirements. We dedicate ourselves to provide you with the support you need, making sure we answer your inquiries and address your concerns in a timely manner. The success of your e-commerce business is our top priority, and we work relentlessly to assist you whenever necessary.
4.3 Scalability
Expanding your e-commerce business is one of the main goals every entrepreneur aims to achieve. With FBA Prep Logistics, we make that possible through our scalable solutions that adapt as your needs grow. Our facilities and team members are equipped to handle fluctuations in demand, be it peak seasons or unexpected surges in order volume, ensuring that your business can smoothly adapt to market changes.
4.4 Customization Options
We realize that every e-commerce business has different needs, and our services should be tailored to meet those unique requirements. This is where FBA Prep Logistics excels, as we provide customization options so you can choose the most suitable services for your business. From offering diverse packaging and labeling options to accommodating specific prep instructions, we make sure our services cater to your business model in the best possible way.
4.5 Prime Location
Location plays a vital role in delivering your products on time and reducing shipping costs. FBA Prep Logistics is strategically positioned on the East Coast in Bristol, PA, which enables us to cater to a broad customer base with ease. Our prime location ensures shorter transit times, quicker deliveries, and ultimately, happier customers for your e-commerce business.
4.6 Advanced Technology
In the age of technology, it's crucial to have a partner who embraces innovation and uses it to your advantage. At FBA Prep Logistics, we utilize cutting-edge software and technology to streamline our processes, enhance efficiency, and minimize errors. This ensures that your inventory is managed accurately, order processing is swift, and you get real-time updates on your account.
4.7 Expert Team
A company's backbone is its team, and at FBA Prep Logistics, we take pride in having a group of skilled and knowledgeable professionals who are experts in handling all FBA-related procedures. Our staff ensures that your inventory is received, prepped, and shipped with utmost care while adhering to all Amazon FBA guidelines. So, you can trust us and focus on the essential tasks in growing your e-commerce business.
In conclusion, FBA Prep Logistics stands out as the premier choice for e-commerce entrepreneurs for its unparalleled commitment to providing top-quality 3PL services. By partnering with us, you can enjoy the benefits of transparent pricing, exceptional customer service, scalability, customization options, prime location, advanced technology, and a team of experts. Elevate your e-commerce business today by choosing FBA Prep Logistics as your trusted FBA Prep Center.
Steps to Get Started with FBA Prep Logistics
Embarking on a journey with FBA Prep Logistics for hassle-free Amazon FBA management is an easy and straightforward process. Our team is dedicated to making it simple for you to focus on growing your e-commerce business without getting bogged down in supply chain management. Follow the steps listed below to start enjoying the benefits of partnering with FBA Prep Logistics.
Step 1: Reach Out for a Custom Quote
To initiate the process, contact FBA Prep Logistics to request a personalized quote that suits your business requirements. Provide us with essential details such as your product type, inventory volume, and shipping frequency, so we can develop a transparent pricing plan tailored to your needs.
Step 2: Set Up Your Account and Connect with Your Amazon Seller Central
Once you receive the quote and decide to move forward, create an account with FBA Prep Logistics. During the setup process, connect your Amazon Seller Central account to our platform. This integration will allow FBA Prep Logistics to manage your inventory and shipments seamlessly.
Step 3: Prepare Your Shipments Following Amazon Guidelines
To ensure a smooth process, it is essential to prepare your shipments according to Amazon's guidelines, including proper labeling and packaging. Need advice on packaging requirements? Check out our Efficient PA Order Fulfillment Services for Your E-commerce Store blog post for tips on safe and efficient packaging practices.
Step 4: Share Your Shipment Plan with FBA Prep Logistics
Inform FBA Prep Logistics of the details of your shipment plan, including the products to be sent, the quantity of each SKU, and the destination Amazon fulfillment center. Our team will work closely with you to ensure your inventory is accurately received, inspected, and prepared for Amazon FBA.
Step 5: Track Your Inventory and Shipments in Real-Time
With your shipments in our expert hands, you can keep an eye on the progress of your inventory through our platform, which offers real-time tracking. This level of visibility ensures you are well-informed about your supply chain and can make data-driven decisions to grow your business.
Step 6: Scale Your Business with Confidence
As your e-commerce business grows, FBA Prep Logistics is here to support every step of the way. We're able to scale our services in lockstep with your expansion, allowing you to focus on other vital aspects of your business. Curious about the additional advantages of our services? Dive into The Ultimate Guide to E-commerce Logistics in East Coast for an in-depth exploration.
Taking these steps to partner with FBA Prep Logistics will pave the way for a successful venture into the world of Amazon FBA. By leaving the supply chain management and logistics details up to us, you'll be free to concentrate on what matters most – growing your e-commerce business. FBA Prep Logistics is your trusted partner for creating a profitable and stress-free Amazon selling experience.
Frequently Asked Questions
1. What is an FBA Prep Center, and why should I use one for my e-commerce business?
An FBA Prep Center is a third-party logistics (3PL) service provider that specializes in managing Amazon FBA operations for e-commerce businesses. By using a professional FBA Prep Center like FBA Prep Logistics, you can save time, reduce stress, and focus more on growing your business while the 3PL provider handles tasks like receiving shipments, inspection, storage, labeling, packaging, and preparing your products for shipment to Amazon.
2. What are the common challenges of managing Amazon FBA processes on my own?
Managing Amazon FBA processes can be complex and time-consuming, especially for growing e-commerce businesses. Common challenges include staying up-to-date with Amazon's policies and requirements, handling order fulfillment, managing inventory, and coordinating shipments. Failing to properly handle these processes can result in costly mistakes and potential negative impacts on your Amazon seller account.
3. How can FBA Prep Logistics streamline my e-commerce business?
FBA Prep Logistics offers a comprehensive suite of services designed to streamline your Amazon FBA processes. These services include receiving shipments, inspection, storage, labeling, packaging, and shipment preparation. By partnering with FBA Prep Logistics, you can delegate these time-consuming tasks to experienced professionals, allowing you to focus more on growing your business and enhancing your product offerings.
4. What makes FBA Prep Logistics stand out among other 3PL providers?
FBA Prep Logistics stands out due to its transparent pricing, top-notch customer service, scalability, and customization options to fit the unique needs of every e-commerce business. Unlike other 3PL providers, FBA Prep Logistics is committed to working closely with clients to ensure they receive the best possible service and achieve their business goals.
5. How can I get started with FBA Prep Logistics?
Getting started with FBA Prep Logistics is simple and straightforward. First, request a quote to understand the pricing details. Next, prepare your shipments by following Amazon's guidelines and share your shipment plans with FBA Prep Logistics. The team will then handle receiving your products, inspecting them, storing them, labeling and packaging, and finally preparing them for shipment to Amazon's fulfillment center.