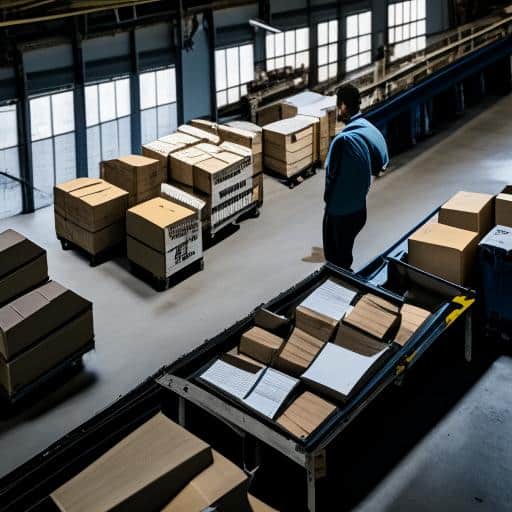 The Impact of 3PL Costs on Your Sales
I. Introduction
When it comes to running a successful e-commerce business, streamlining your supply chain with the help of third-party logistics (3PL) providers has become a crucial aspect. Reducing your overall 3PL costs while maintaining the high-quality services you need is a delicate balancing act. FBA Prep Logistics, a top-tier 3PL warehouse located in Bristol PA, specializes in offering tailor-made logistics solutions designed to suit businesses selling on amazon.com. In this article, we'll explore the factors affecting 3PL costs and their impact on your sales, as well as how FBA Prep Logistics provides the most cost-effective yet premier services that will help you grow.
Understanding these 3PL costs will enable you to make better decisions for your business. As the adage goes, you can't manage what you don't measure – so let's delve into the world of 3PL pricing to see how it affects your e-commerce business.
With competition becoming fiercer by the day, it's crucial to stay ahead of the curve and not let 3PL costs eat into your profits. Knowing how FBA Prep Logistics can provide the best value for these services will help you maximize your return on investment.
TL;DR: This article discusses the importance of understanding and managing 3PL costs for e-commerce businesses and how FBA Prep Logistics provides high-quality services at competitive prices to help improve profit margins and increase sales.
Factors Affecting the Cost of 3PL Services
As an eCommerce business owner, understanding 3PL costs is crucial to managing expenses and maximizing profits. Keep in mind that not all 3PL providers have the same pricing structure. There are several factors contributing to the cost of 3PL services, and in this section, we'll dive into these factors to help you grasp what drives those costs.
Warehouse Space and Storage Fees
One of the primary factors affecting 3PL costs is the amount of warehouse space required for storing your inventory. 3PL providers, including FBA Prep Logistics, charge fees based on the space your products occupy. Storage fees typically vary based on the square footage needed, the type of storage (pallets, shelves, or bins), and the duration of storage.
Furthermore, some 3PLs may also charge for seasonal changes in storage needs. If your business experiences fluctuating inventory levels during peak seasons or due to promotional campaigns, additional storage fees may apply. Understanding the storage requirements for your products will help you budget accordingly and avoid surprise costs.
Labor and Handling Fees
Labor is a crucial component of 3PL costs. Activities such as receiving, sorting, and storing your goods require manual labor. As part of their service, 3PL providers like FBA Prep Logistics employ skilled staff to manage and handle your inventory efficiently. Labor costs typically depend on the complexity and volume of work, as well as regional wage standards.
Handling fees are another vital aspect of the 3PL cost equation. These fees cover the expenses of processing, packing, and shipping your orders. The complexity, size, and weight of your products can significantly impact handling fees. Providers may charge per order or per product, and these fees can vary based on factors like customized packaging or additional services.
Transportation and Shipping Rates
Since efficient delivery plays a critical role in your eCommerce business's success, transportation and shipping costs are essential considerations. Shipping rates often depend on factors such as destination, package weight and dimensions, and carrier services. While the 3PL provider may have negotiated rates with carriers, your orders' specific characteristics might alter shipping costs.
3PL providers could also charge for additional services such as expedited shipping or international shipping. By understanding these costs and the shipping options available through your chosen 3PL, you can optimize your shipping strategy and minimize expenses.
Technology and Integration
Nowadays, leveraging cutting-edge technology is crucial for thriving eCommerce businesses. Your chosen 3PL provider should offer software solutions that integrate seamlessly with your business platforms, such as Shopify or Amazon. These software solutions may come at a cost, either as a monthly subscription or usage-based fee.
Integration expenses should not be overlooked when evaluating 3PL costs. A reliable 3PL provider like FBA Prep Logistics invests in advanced technologies to streamline operations and ensure a seamless experience for both you and your customers.
Account Management and Support Services
Lastly, quality customer service from a 3PL provider can have a price tag. Account management and support services fees can depend on communication frequency, complexity, and the level of support provided. Some 3PLs offer a dedicated account manager, who becomes your point of contact for all your needs, while others may charge extra fees for premium support.
In conclusion, understanding how these factors contribute to 3PL costs is vital for effective cost management and maximizing your eCommerce business's profits. With this knowledge, you can identify opportunities to optimize expenses and make well-informed decisions when partnering with a 3PL provider such as FBA Prep Logistics.
How FBA Prep Logistics Balances Quality and Affordability
In the highly competitive e-commerce landscape, finding a 3PL provider that can balance quality with affordability is vital for the success of businesses selling on amazon.com. FBA Prep Logistics understands the importance of striking this balance for our clients while providing a seamless experience in their supply chain management journey. In this section, we will walk you through how FBA Prep Logistics is your optimum choice when it comes to balancing quality and affordability in 3PL services.
Competitive Pricing Strategy
FBA Prep Logistics employs a competitive pricing strategy for each aspect of our services to ensure no financial burden on your business. By analyzing the market trends and studying other 3PL providers' cost structures, we ensure our 3PL costs maintain the perfect equilibrium between being cost-effective and keeping up with the industry standards.
Warehouse Space
One of the main components of 3PL costs comes from warehouse space pricing. At FBA Prep Logistics, we offer spacious and efficient warehouse solutions at affordable rates tailored to your business requirements. Our flexible storage options, such as specific zones for temperature-controlled items or high-security areas for valuable products, come with no hidden fees or premiums.
Labor Costs
We understand that labor costs can be a significant contributor to total 3PL costs. FBA Prep Logistics ensures that our workforce is highly skilled, efficient, and well-compensated without creating a financial burden on your business. Our transparent labor cost structure includes both regular and seasonal staff, making it easier for you to plan and manage your expenditures.
Handling Fees
Handling fees are another potential challenge to affordability in 3PL services, with tasks like pick and pack, kitting, and order processing adding up quickly. FBA Prep Logistics continually reviews and optimizes these processes to maintain a competitive edge. We provide our clients with clearly itemized fees for each handling service, avoiding any hidden costs or surprise bills.
Value-Added Benefits
Besides our competitive pricing strategy, FBA Prep Logistics offers various value-added benefits that enhance your e-commerce business's overall experience and efficiency.
Tailored Logistics Solutions
We understand that one-size-fits-all approaches often lead to inefficiencies and higher costs. Our team works closely with each client to create tailored logistics solutions specific to their unique business needs. By personalizing services, FBA Prep Logistics ensures you receive the most cost-effective and performance-enhancing solutions for your e-commerce operations.
Scalability
The e-commerce industry can be highly unpredictable and demands businesses to adapt quickly. FBA Prep Logistics supports your business growth by offering scalable services that adjust to the fluctuating market demands in real-time. This flexibility in scaling our services ensures that you don't overpay for space or services you don't need, keeping your 3PL costs at an optimum level.
Excellent Customer Service
Customer service plays an integral role in maintaining a seamless and cost-effective supply chain operation. Our dedicated customer support team is committed to addressing any concerns or issues you may have, ensuring smooth communication and efficient collaboration. FBA Prep Logistics' exceptional customer service not only keeps you informed and at ease but contributes to mitigating any issues that could potentially drive up costs.
By combining competitive pricing with value-added benefits, FBA Prep Logistics strikes the perfect balance between quality and affordability in 3PL services. Our tailored logistics solutions, scalability, and excellent customer service make us the ideal partner for e-commerce businesses selling on amazon.com. Star exploring the solutions we offer for your business, such as our Efficient PA Order Fulfillment Services for Your E-commerce Store or our comprehensive Ultimate Guide to E-commerce Logistics in the East Coast, and experience the FBA Prep Logistics advantage today!
IV. Improving Profit Margins by Reducing 3PL Costs
As an eCommerce business owner looking to maximize your profits, it's crucial to continuously seek ways to reduce your 3PL costs without compromising quality. In this section, we will explore various strategies to achieve lower 3PL costs while maintaining high performance in your supply chain operations. These strategies include streamlining processes, effective inventory management, and leveraging data analytics.
Streamlining Processes

One way to reduce your 3PL costs is by streamlining and optimizing your logistics processes. FBA Prep Logistics offers seamless and integrated services designed to improve efficiency at every stage along your supply chain. From order management to returns processing, our streamlined approach ensures that you benefit from minimized operational costs and increased productivity.

Effective Inventory Management

Managing and tracking your inventory efficiently can significantly decrease your 3PL costs. It prevents overstocking and stockouts, which can lead to costly storage and lost sales opportunities. FBA Prep Logistics provides advanced inventory control tools, allowing you to make data-driven decisions about your stock levels and replenishment requirements. Implementing a just-in-time (JIT) inventory management strategy can also help strike the optimal balance between holding costs and stock availability.

Warehouse Optimization
- Optimizing your warehouse space usage and layout can bring substantial reductions in 3PL costs. FBA Prep Logistics offers scalable storage solutions tailored to your unique business needs. Our expert team ensures space is utilized efficiently to minimize storage costs and provide room for your business to grow.

Effective Use of Shipping Data

Collecting, analyzing, and leveraging data from your shipping activities allows for better decision-making and cost reductions. FBA Prep Logistics provides access to real-time shipping data, enabling you to identify bottlenecks in your supply chain and make well-informed strategic choices to minimize costs.

Shipping Discounts and Negotiating Carrier Rates

Working with a 3PL provider like FBA Prep Logistics, you can benefit from their negotiated carrier rates and bulk shipping discounts. Such savings contribute directly to reducing your 3PL costs and improving your business' profit margins.

Picking and Packing Efficiency
- Improving the efficiency of your order picking-and-packing processes saves time, labor costs, and minimizes the chances of errors. FBA Prep Logistics utilizes best practices in picking and packing, ensuring you can reduce your 3PL costs while maintaining a high level of service quality for your customers.

Reducing Packaging and Material Costs

Optimizing your packaging materials and processes can lead to significant savings in both materials and shipping costs. FBA Prep Logistics offers expert consultation on packaging options, helping you find the most cost-effective yet protective solutions for your products.

Automation and Technology Integration

Incorporating automation and technology into your logistics processes simplifies many time-consuming and labor-intensive tasks. FBA Prep Logistics provides cutting-edge technologies and easily integrates them into your workflow, aiding you in lowering your 3PL costs without sacrificing any aspect of your operation.

Returns Processing Efficiency
- Efficiently processing returns plays a critical role in customer satisfaction and overall business success. FBA Prep Logistics offers streamlined returns management solutions, enabling you to save time, lower costs, and quickly reintegrate returned products into your inventory for resale.

Continuous Improvement and Performance Monitoring

FBA Prep Logistics firmly believes in continuous improvement and proactively monitoring the performance of our services. By partnering with us, you benefit from regular performance reviews and ongoing optimization efforts to drive down your 3PL costs even further.
By implementing these strategies, your eCommerce business can drastically reduce its 3PL costs without sacrificing quality or efficiency. FBA Prep Logistics takes pride in delivering top-notch logistics services at competitive prices, ensuring our clients enjoy improved profit margins and a path to a successful and sustainable business.
Next, we'll delve into how lower 3PL costs can directly boost your eCommerce sales and lead to business growth.
How Lower 3PL Costs Can Boost Your Sales
In today's eCommerce landscape, the importance of an efficient and cost-effective supply chain cannot be stressed enough for businesses selling on Amazon. By reducing 3PL costs, e-commerce businesses can witness a significant boost in sales and increased customer satisfaction. In this section, we'll explore how FBA Prep Logistics' competitive pricing can lead to greater sales and enhanced brand reputation.
Improved Customer Experience
When you partner with a reliable 3PL provider like FBA Prep Logistics, you can channel your focus on improving and growing your business. Through optimized warehouse operations, reduced order processing time, and tailored logistics solutions, customers will appreciate quick delivery times, accurate orders, and professional handling of their products. By keeping 3PL costs down, you can invest more in enhancing your customers' experience, which ultimately leads to better sales and reviews on Amazon.
Faster Delivery
As you might already know, fast delivery is a crucial aspect of any e-commerce business. In a world where Amazon Prime guarantees speedy delivery, it's essential to ensure that your 3PL provider can keep up with such expectations. By leveraging FBA Prep Logistics' efficient PA order fulfillment services, your business can witness improved transit times, which in turn attracts more customers to your store and boosts overall sales.
Uninterrupted Inventory Management
With an organized inventory management system and competent 3PL partner, you can keep tabs on your stock levels, making sure you never run out of popular items. By maintaining the right stock levels at the optimal 3PL costs, you can ensure that your products are always available to your customers. This uninterrupted supply avoids losing potential customers and sales due to out-of-stock scenarios. FBA Prep Logistics can help you streamline your inventory management processes, reducing costs and driving more revenue.
Increased Operational Efficiency
Reducing 3PL costs involves evaluating the entire supply chain and identifying areas where improvements can be made. FBA Prep Logistics allows you to make more strategic choices due to its advanced e-commerce logistics solutions. These optimizations will increase operational efficiency, helping you save valuable resources that can be reinvested into your business' growth. A more efficient operation allows you to process more orders quickly, leading to an increase in sales.
Enhanced Supplementary Services
Cost-effective 3PL providers like FBA Prep Logistics also offer additional services that can contribute to your e-commerce sales growth. Examples of these services include hassle-free returns management, top-notch packaging, and promotional material inserts. By spending less on 3PL costs, you can afford to invest more in these value-added services that enrich your customers' overall shopping experience and drive them to make repeat purchases.
Competitive Pricing Strategy
By keeping your 3PL costs low, you can price your products more competitively on Amazon. Competitive pricing can help attract more customers, making your products stand out among competitors. By offering attractive prices and delivering superior service through FBA Prep Logistics, you can drive sales without sacrificing quality or customer satisfaction.
To wrap it up, partnering with a cost-efficient 3PL like FBA Prep Logistics can have a significant influence on your Amazon sales. From improved operational efficiency and faster delivery to enhanced customer experiences and competitive pricing, all these factors lead to increased sales and heightened brand reputation. So, why not choose FBA Prep Logistics as your all-inclusive 3PL solution and start enjoying the benefits of their cost-effective services today? Reach out to them and unlock the potential of smooth and streamlined logistics management that can take your e-commerce business to new heights!
Frequently Asked Questions</h2>
<dl>
<dt>1. What exactly is a 3PL service, and how does it relate to eCommerce businesses?</dt>
<dd>A 3PL (third-party logistics) service is a provider that manages and outsources various aspects of a company's supply chain, including warehousing, transportation, and order fulfillment. For eCommerce businesses selling on amazon.com, partnering with a 3PL like FBA Prep Logistics can help streamline operations, improve customer service, and result in faster delivery times.</dd>
<dt>2. What factors affect the cost of 3PL services?</dt>
<dd>Several factors contribute to the cost of 3PL services, including warehouse space, labor, and handling fees. Understanding these factors can help you better manage costs and maximize your profits.</dd>
<dt>3. How does FBA Prep Logistics balance quality and affordability in their 3PL services?</dt>
<dd>FBA Prep Logistics offers a competitive pricing strategy for each aspect of their services while providing tailored logistics solutions, scalability, and excellent customer service. This balance ensures that you get the best possible 3PL service at an affordable price.</dd>
<dt>4. Are there strategies for reducing 3PL costs without compromising on quality?</dt>
<dd>Yes, strategies such as streamlining processes, effective inventory management, and leveraging data analytics can help reduce 3PL costs without sacrificing quality. FBA Prep Logistics assists businesses in achieving lower costs while maintaining high performance in their supply chain operations.</dd>
<dt>5. How can lower 3PL costs boost my sales?</dt>
<dd>Cost-efficient 3PL services can help improve customer service, faster delivery times, and increased operational efficiency, all of which can lead to sales growth. Trusting a reliable 3PL provider like FBA Prep Logistics can give you the best results at an optimal cost.</dd>
</dl>
<script type="application/ld+json">
{
"@context": "https://schema.org",
"@type": "FAQPage",
"mainEntity": [{
"@type": "Question",
"name": "What exactly is a 3PL service, and how does it relate to eCommerce businesses?",
"acceptedAnswer": {
"@type": "Answer",
"text": "A 3PL (third-party logistics) service is a provider that manages and outsources various aspects of a company's supply chain, including warehousing, transportation, and order fulfillment. For eCommerce businesses selling on amazon.com, partnering with a 3PL like FBA Prep Logistics can help streamline operations, improve customer service, and result in faster delivery times."
}
}, {
"@type": "Question",
"name": "What factors affect the cost of 3PL services?",
"acceptedAnswer": {
"@type": "Answer",
"text": "Several factors contribute to the cost of 3PL services, including warehouse space, labor, and handling fees. Understanding these factors can help you better manage costs and maximize your profits."
}
}, {
"@type": "Question",
"name": "How does FBA Prep Logistics balance quality and affordability in their 3PL services?",
"acceptedAnswer": {
"@type": "Answer",
"text": "FBA Prep Logistics offers a competitive pricing strategy for each aspect of their services while providing tailored logistics solutions, scalability, and excellent customer service. This balance ensures that you get the best possible 3PL service at an affordable price."
}
}, {
"@type": "Question",
"name": "Are there strategies for reducing 3PL costs without compromising on quality?",
"acceptedAnswer": {
"@type": "Answer",
"text": "Yes, strategies such as streamlining processes, effective inventory management, and leveraging data analytics can help reduce 3PL costs without sacrificing quality. FBA Prep Logistics assists businesses in achieving lower costs while maintaining high performance in their supply chain operations."
}
}, {
"@type": "Question",
"name": "How can lower 3PL costs boost my sales?",
"acceptedAnswer": {
"@type": "Answer",
"text": "Cost-efficient 3PL services can help improve customer service, faster delivery times, and increased operational efficiency, all of which can lead to sales growth. Trusting a reliable 3PL provider like FBA Prep Logistics can give you the best results at an optimal cost."
}
}] }
</script>