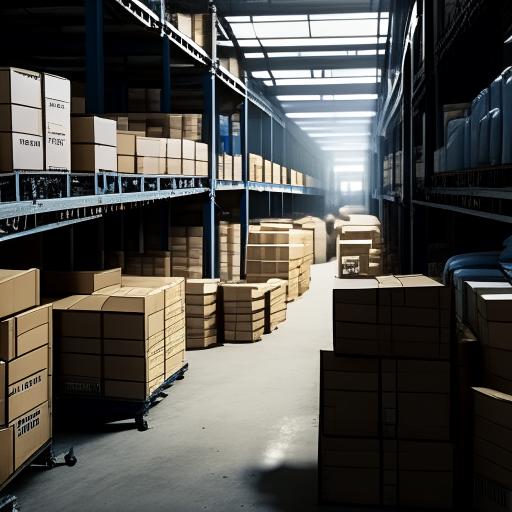 Streamline Your E-commerce with 3PL Prep Services
Section 1: Introduction to 3PL Prep Services
In today's highly competitive e-commerce landscape, it's crucial for businesses to have an efficient, well-structured, and streamlined supply chain process. As an e-commerce seller, you need to ensure that your products are correctly received, inspected, packaged, labeled, and shipped to your customers with precision and within a finite timeframe to secure satisfied customers and positive reviews. This is where 3PL Prep services come into play.
Third-party logistics, or 3PL, is an umbrella term that refers to a wide range of logistic services provided by an external provider, taking care of everything from warehousing and transportation to order fulfillment and more. 3PL Prep focuses specifically on the preparation aspect of the process, ensuring that your products go through a standardized procedure before they are shipped out.
So, why is 3PL Prep essential in streamlining your e-commerce business? Let's dive into some of the main reasons:
1.1 Speed and Efficiency
Speed is a critical factor in pleasing your customers. The faster they receive their orders, the more likely they are to leave positive feedback and return for future purchases. Partnering with a proficient 3PL Prep provider like FBA Prep Logistics ensures efficient and accurate handling of your products, from receiving and inspecting to labeling and packaging, all within the promised delivery times.
1.2 Accuracy and Compliance
Ensuring that your products meet marketplace guidelines, such as Amazon FBA, can be daunting and complex. A 3PL Prep provider takes care of this aspect for you, guaranteeing that your products are packaged, labeled, and ready for shipment by adhering to the specific rules and regulations of each platform.
1.3 Scalability and Adaptability
Businesses need to adapt to fluctuations in order volume without compromising efficiency. Teaming up with an experienced 3PL Prep provider allows for better scalability and reduces any bottlenecks or delays due to large order volumes.
1.4 Cost Savings
Hiring an in-house team and maintaining the infrastructure to manage your e-commerce supply chain process can be costly and time-consuming. Outsourcing to a 3PL Prep provider saves you resources, allowing you to allocate more time and money towards marketing and growing your business.
1.5 Focus on Core Business Competencies
Delegating responsibilities to a 3PL Prep provider minimizes operational hurdles and allows online sellers to direct their efforts and energy towards growing their businesses. When you don't have to worry about the intricacies of supply chain processes, you can prioritize product development, branding, and customer engagement.
In conclusion, integrating 3PL Prep services into your e-commerce business model offers clear advantages that can catapult your business to new heights and ensure customer satisfaction. By partnering with a trusted 3PL Prep provider like FBA Prep Logistics, you'll enjoy the peace of mind that comes with knowing your products are being efficiently and accurately handled, creating an optimal supply chain process that paves the way for a thriving e-commerce business.
Section 2: Why FBA Prep Logistics Stands Out
Choosing the right 3PL partner is crucial for the success of your e-commerce business. At FBA Prep Logistics, we understand this and strive to be the go-to 3PL warehouse for e-commerce businesses, especially those selling on amazon.com. We stand out from the competition for several reasons, and here we'll discuss just a few of the key factors that set us apart:
Industry-leading Expertise and Experience
Our proven track record and extensive experience in the logistics and supply chain industry provide us with invaluable knowledge to help our clients succeed. We've worked with e-commerce businesses of various sizes and in different niches, allowing us to develop a deep understanding of the unique challenges and requirements of each. This expertise contributes to the top-notch 3PL Prep services we provide and the confidence our clients have in us.
Comprehensive Solutions under One Roof
We pride ourselves on being a one-stop-shop for all your 3PL Prep needs, offering a wide range of services. From inbound receiving to inspection, packaging, labeling, and shipment, our comprehensive solutions simplify your supply chain management and take the burden off your shoulders.
State-of-the-art Facilities and Technology
At FBA Prep Logistics, we continually invest in upgrading our facilities and implementing advanced technology to stay ahead of the curve. Our modern warehouse in Bristol, PA, is perfectly equipped to handle all types of products, allowing us to deliver custom 3PL Prep solutions. Efficient technology integration like Simplify inventory tracking on Shopify ensures the accuracy and transparency of our processes.
Unwavering Commitment to Customer Satisfaction
Our main goal is to help our clients grow their businesses, and this is possible only if their customers are happy. We take every step to ensure efficient and accurate handling, from receiving to shipping. Our dedication to customer satisfaction results in delightful experiences for our clients and their end customers.
Competitive Pricing without Compromising Quality
We understand that cost is a crucial factor in choosing a 3PL provider, especially for smaller e-commerce businesses. Our transparent pricing structure provides a competitive edge without sacrificing the quality of our services. So, with FBA Prep Logistics, you get the best of both worlds – affordability and quality.
Environmentally Conscious Practices
As a responsible 3PL partner, we strive to minimize our environmental impact by adopting sustainable practices in our processes. This not only helps the planet but also appeals to conscious consumers, positively impacting the reputation of the e-commerce brands we work with.
Preventing Common Amazon FBA Issues
Navigating Amazon FBA requirements can be challenging, especially for new sellers. Our team's vast experience and expertise in 3PL Prep help to prevent common FBA issues, including labeling errors or packaging issues, thus saving time, effort, and money for our clients.
Lastly, our strategic location in Bristol, PA, provides numerous benefits when it comes to our 3PL Prep services. From efficient order fulfillment to quick shipping, our East Coast warehouse enables us to serve e-commerce businesses more effectively.
In conclusion, FBA Prep Logistics is the ultimate choice when looking for a trustworthy and efficient 3PL warehouse provider. Our expertise, comprehensive solutions, commitment to customer satisfaction, competitive pricing, environmentally-sustainable practices, and strategic location make us the perfect partner for your e-commerce business. Don't wait – reach out to us today to discuss how we can help streamline your supply chain process and unlock your business's full potential!
FBA Prep Logistics' Range of Services
As an e-commerce business owner, streamlining your supply chain process is a top priority for overall efficiency and customer satisfaction. One of the powerful ways to achieve this is by partnering with a 3PL warehouse that can effortlessly accommodate all your logistical needs. FBA Prep Logistics provides a comprehensive list of services for e-commerce businesses, designed to save you time and effort. Let's take a look at how 3PL Prep services offered by FBA Prep Logistics can help support and grow your e-commerce venture.
Inbound Receiving
Handling incoming shipments can be time-consuming and may lead to errors if not managed correctly. With our expertise in 3PL Prep services, we take the burden off your shoulders by efficiently receiving your inventory. Our team ensures that your products are accurately unpacked, sorted, and prepared for further processing.
Inspection: Ensuring Product Quality
Quality control is essential when it comes to maintaining a positive brand image and customer experience. FBA Prep Logistics offers a thorough inspection process, checking each product for damages or discrepancies to uphold the highest possible quality standards. This critical step saves you time and helps maintain customer trust in your brand.
Packaging: Protecting Your Products
Proper packaging is crucial in preserving the integrity of your products during storage and shipping. Our 3PL Prep services provide customization and protection to suit your products' specific needs. We utilize high-quality packing materials and state-of-the-art equipment to guarantee secure packaging that aligns with your brand image.
Labeling: Meeting Compliance and Streamlining Shipment
FBA Prep Logistics ensures that each product and package is accurately labeled according to your particular requirements and industry standards. By adhering to these guidelines, our 3PL Prep services play a significant role in streamlining the shipping process and avoiding potential complications with carriers or customs regulations.
Barcodes and SKU Labels
With precise labeling, we take great care to avoid any mix-ups or delays in the shipping process. Barcodes and SKU labels are meticulously applied, guaranteeing a swift, error-free process as your products make their way through the supply chain.
FNSKU Labels
As an e-commerce business selling on Amazon, FNSKU labeling is vital for the correct routing of your products within Amazon's fulfillment centers. Our knowledgeable team understands this process and ensures each product receives an accurate FNSKU label, allowing for error-free processing within the Amazon framework.
Shipment: Timely and Cost-effective
FBA Prep Logistics recognizes the importance of reliable and cost-effective shipping when running an e-commerce business. Our 3PL Prep services include managing both domestic and international shipments, drawing on our experience to select the most suitable carriers and routes, ensuring timely delivery and cost savings for your e-commerce venture The Ultimate Guide to E-commerce Logistics in East Coast.
Palletization and Container Loading
Our 3PL preparation services also include palletization and container loading. We carefully stack and load your shipments to maximize space, prioritizing safety and reducing the risk of damage during transit. This organization translates into cost and time savings for your e-commerce business.
Prepaid and Freight Collect Shipping Options
As part of our commitment to flexibility, we offer both prepaid and freight collect shipping options for your shipments, providing you with the choice to select the best option for your business's specific financial and logistical needs.
By offering a comprehensive range of 3PL Prep services customized for e-commerce businesses, FBA Prep Logistics not only saves you time and effort but also allows you to focus on growing and expanding your venture. By partnering with FBA Prep Logistics, you can be confident that your supply chain process is being handled with care, expertise, and attention to detail, driving customer satisfaction and business success in the long run. Reach out to us today Efficient PA Order Fulfillment Services for Your E-commerce Store to learn more about how our 3PL Prep services can support your e-commerce vision.
Customization and Flexibility: Adapting to Your Unique Needs with 3PL Prep Services
As an e-commerce business owner, you might find that your needs and requirements change frequently, making it difficult to manage your supply chain consistently. With the constantly evolving nature of e-commerce, it's crucial that you work with a 3PL partner that understands the importance of customization and flexibility. That's where FBA Prep Logistics comes in, as our 3PL Prep Services are designed to cater to the unique needs of each client and provide tailored solutions to help them meet their goals.
Embracing the Dynamic Nature of E-commerce
Every e-commerce business is different, and even the needs of individual businesses can fluctuate as they grow and evolve. With our 3PL Prep Services, we understand that there's no one-size-fits-all solution, which is why we focus on offering adaptable services that can be tailored to your specific requirements.
Individual Product Handling: Whether you're selling fragile items or products of various shapes and sizes, our experienced team is capable of handling all types of inventory with care and efficiency. We take special care to ensure that your products are packaged securely and labeled accurately, providing the best possible service to you and your customers.

Order Volume Flexibility: Our 3PL Prep Services can quickly adapt to the demands of your business during periods of rapid growth or seasonal fluctuations. From accommodating a sudden increase in order volume to managing peak seasons like holidays, we're here to ensure that your supply chain runs smoothly and efficiently at all times.

Inventory Management: Exclusive to FBA Prep Logistics, our clients get access to our robust inventory management system that can be customized to suit your e-commerce business's specific needs. By doing so, we enable you to track your inventory levels, monitor incoming and outgoing shipments, and even forecast future demand for a seamless supply chain experience.
Tailored Solutions for Diverse Business Goals
At FBA Prep Logistics, we believe that every e-commerce business is unique, which is why we offer a wide range of services designed to support your business objectives.
Custom Packaging Solutions: If you're looking to enhance your brand's image or need specialized packaging to protect your products during shipping, our team can provide comprehensive custom packaging solutions that cater to your requirements.

Prioritized Services: Need to get your products to market quickly? Our prioritized service options enable you to fast-track your shipments, ensuring that your inventory reaches Amazon warehouses or other destinations on time.

Specialized Shipment Needs: Our expertise extends beyond standard shipping services. If you need to arrange international shipments, freight forwarding, or other specialized shipping needs, FBA Prep Logistics is equipped to handle these challenges seamlessly.
Expert Support for All Your 3PL Prep Needs
As a valued client of FBA Prep Logistics, you'll have access to our dedicated team of experts who are committed to helping you achieve your e-commerce goals. From guiding you through the process of setting up your custom solution to ongoing support and consultation, our team is available to provide you with the personalized attention you deserve.
Stay Competitive and Responsive in a Fast-paced Industry
In a rapidly changing e-commerce landscape, having a flexible and customizable supply chain plays a vital role in ensuring your business remains competitive and agile. By partnering with FBA Prep Logistics, you're not only benefiting from our extensive experience in the field but also gaining access to tailored services that best suit your business objectives.
Ultimately, with our 3PL Prep Services, you can rest assured that your supply chain is being managed expertly, allowing you to focus on growth and success in today's competitive e-commerce market. Ready to take the plunge? Then don't hesitate to reach out to us and start optimizing your supply chain today.
Streamlining Your Business: Partner with FBA Prep Logistics Today
In the world of e-commerce, success is contingent upon your ability to maintain efficient processes, deliver quality products, and delight your customers. This is where 3PL Prep services come in to help enhance your supply chain operations. By choosing FBA Prep Logistics, you gain access to our comprehensive range of expertise and tailored solutions that cater to the unique needs of your business.
5.1 FBA Prep Logistics: A One-Stop Solution for E-commerce Businesses
As you've seen throughout this article, FBA Prep Logistics is a versatile and dynamic 3PL provider that offers a wide range of adaptable services, from inbound receiving to packaging and labeling. With us, you receive a full suite of services designed to accelerate your growth, streamline your operations, and improve your customer satisfaction ratings.
5.2 Growth-oriented Solutions for Your E-commerce Business
At FBA Prep Logistics, we understand that every business is unique in its challenges and needs. That's why we take the time to develop tailored strategies that align with your specific goals and objectives. Our customizable and flexible services grant you the freedom and control to scale your business effectively, while our dedicated team works relentlessly to support your success.
5.3 Boost Customer Satisfaction with Reliable Order Fulfillment
With our experienced team and a keen focus on optimizing supply chain processes, FBA Prep Logistics ensures your products arrive in perfect condition and your orders are fulfilled efficiently. Our effortless fulfillment services keep your customers happy, encouraging repeat purchases and driving increased revenue for your business.
5.4 Improved Efficiency and Cost Savings
By outsourcing your supply chain management to FBA Prep Logistics, you can concentrate on other aspects of your business, such as marketing, product development, and customer service. Outsourcing your storage and fulfillment needs to us is a cost-effective decision that can ultimately lead to decreased operational expenses, increasing your business's profit margins.
5.5 Transparent and Seamless Integration
FBA Prep Logistics prides itself on providing transparent and seamless integration with various e-commerce platforms, such as Shopify. Our user-friendly systems make it easy to monitor and manage your inventory levels, ensuring you have full control over your business's performance at all times.
5.6 Trusted, Experienced Staff
We recognize the importance of maintaining a professional, qualified team that consistently upholds the highest standards when handling your products and shipments. Our team members undergo comprehensive training to ensure reliable, efficient, and quality service, which translates to better customer satisfaction and ultimately, a more profitable e-commerce business.
5.7 Your Success Is Our Priority
Our mission is to help e-commerce businesses like yours grow, and our commitment to excellence is what sets FBA Prep Logistics apart from other 3PL providers. We prioritize your success and work diligently to provide the best possible service so your business can thrive.
Ready to Optimize Your Supply Chain? Reach Out to FBA Prep Logistics Today
If you're ready to start streamlining your e-commerce business's supply chain processes, look no further than FBA Prep Logistics. With our range of customized services, experienced team, and dedication to your success, we are the ideal partner to help you optimize your operations and grow your business. Don't miss out on the opportunity to enhance your e-commerce business – contact FBA Prep Logistics for a consultation, and let's begin revolutionizing your supply chain today!
Frequently Asked Questions (FAQs)
What is a 3PL and why should I use one for my e-commerce business?

A 3PL (Third-Party Logistics) provider is a company that offers logistics and supply chain management services to e-commerce businesses. By outsourcing these tasks to a 3PL like FBA Prep Logistics, you can save time, reduce costs, and focus on growing your business while ensuring a streamlined and efficient process for handling, storing, packaging, and shipping your products.

What sets FBA Prep Logistics apart from other 3PL providers?

FBA Prep Logistics stands out among 3PL providers because of our dedicated team, proven expertise, and comprehensive range of services. We handle a variety of products and shipments with precision, ensuring every client's supply chain process is seamless and efficient. Our commitment to providing tailored solutions for each e-commerce business is what sets us apart from the competition.

How does FBA Prep Logistics help streamline my e-commerce business?

By providing a range of services such as inbound receiving, inspection, packaging, labeling, and shipment, FBA Prep Logistics takes care of the entire logistics process for you. This saves time and effort on your part while ensuring accuracy and efficiency, ultimately leading to higher customer satisfaction and better business growth.

What if my business has unique requirements and goals?

FBA Prep Logistics understands that every e-commerce business has specific needs and objectives. That's why we offer customization and flexibility in our 3PL preparation services. We will work closely with you to understand your unique requirements and offer tailored solutions that help meet your goals, streamline your supply chain process, and optimize your overall business growth.

How can I partner with FBA Prep Logistics for my e-commerce logistics needs?

Reaching out to FBA Prep Logistics is the first step in streamlining your e-commerce logistics process. Contact us today for a consultation, and let us help you optimize your supply chain and grow your e-commerce business to its fullest potential.