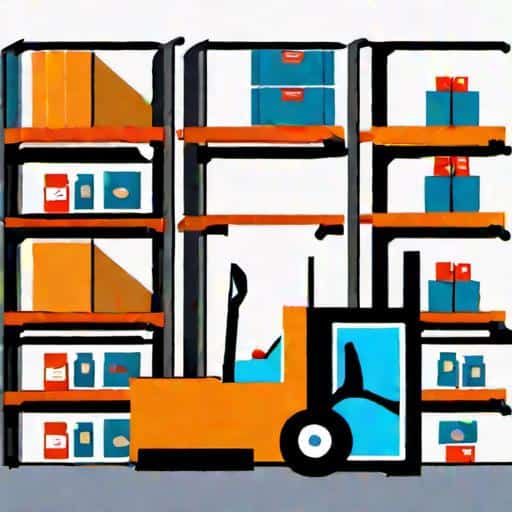 Introduction: Discovering 3PL Fulfillment and Supply Chain Management
Welcome to the ever-expanding world of e-commerce, where partnering with the right 3PL fulfillment company can make all the difference in your business growth and success. In this article, we'll introduce you to FBA Prep Logistics, a cutting-edge 3PL warehouse located in Bristol, PA, and show you why we are the ideal partner for medium-sized businesses looking to scale up their operations on Amazon.
A Brief Overview of the Critical Role of 3PL Fulfillment Companies in E-commerce Businesses
Before we dive deeper into the benefits of partnering with FBA Prep Logistics, it's essential to understand the role that 3PL fulfillment companies play in the e-commerce industry. As your business expands, the complexities of managing inventory, fulfilling orders, and maintaining high levels of customer satisfaction become increasingly challenging. This is where a 3PL company steps in, offering efficient and scalable solutions to streamline your logistics operations.
Partnering with a reliable 3PL fulfillment company like FBA Prep Logistics ensures that your customers receive their orders on time, while you can focus on the more critical aspects of your business, such as customer acquisition and product development.
Introducing FBA Prep Logistics: Your Perfect 3PL Partner for Amazon-focused Business
FBA Prep Logistics delivers a unique combination of tailored services, industry expertise, and advanced technology to provide efficient and cost-effective solutions to your supply chain management challenges. Located on the East Coast, our Bristol, PA warehouse is strategically positioned to cater to medium-sized Amazon sellers who are new to supply chain management and require a trustworthy 3PL partner to facilitate their growth.
With FBA Prep Logistics, you have access to a team of experts in the e-commerce field who understand the intricacies of running a successful operation on Amazon. Our range of services includes inventory management, order fulfillment, returns processing, and a host of other essentials to ensure your business runs like a well-oiled machine.
In the following sections, we will explore the numerous advantages of partnering with FBA Prep Logistics and how our bespoke approach sets us apart from the competition. Discover our streamlined process and start experiencing the benefits of joining forces with FBA Prep Logistics today.
Understanding 3PL Fulfillment: Streamlining Your E-Commerce Operations
Running an e-commerce business, especially on a platform like Amazon, can be exhilarating. However, as your business grows, one challenge commonly faced by many sellers is ensuring efficient and effective supply chain management. That's where 3PL fulfillment companies come into play – they help streamline your e-commerce operations with ease. In this section, we're going to dive deep into how a 3PL fulfillment company like FBA Prep Logistics can take your e-commerce business to new heights by offering various advantages, such as cost savings, inventory management, and speedy shipping.
2.1 Breaking Down the 3PL Fulfillment Concept: What is a 3PL Company?
Before we dive into the benefits, let's first understand what a 3PL Fulfillment Company is. A Third-Party Logistics (3PL) company provides outsourced logistics and supply chain management solutions for e-commerce businesses. Their services include product storage, order fulfillment, tracking, and shipping management, among others. Partnering with a 3PL company allows businesses to focus on marketing and product development rather than getting bogged down with logistics management tasks.
2.2 Cost Savings with 3PL Fulfillment Companies
One primary advantage of outsourcing your e-commerce business's fulfillment and supply chain to a 3PL fulfillment company is the immediate cost savings. Managing inventory storage and handling shipping and logistics in-house can be expensive and time-consuming. By partnering with a 3PL fulfillment company like FBA Prep Logistics, you can eliminate high overhead costs associated with warehouse rent, employees, and shipping expenses.
Additionally, you'll benefit from the 3PL's shipping volume and negotiated rates with carriers, translating to lower shipping costs and fuel surcharge reductions. Our warehouse in Bristol, PA, offers unbeatable shipping rates due to its strategic location on the East Coast, providing faster and more cost-effective delivery options.
2.3 Mastering Inventory Management
Ensuring your inventory is well managed can make or break your e-commerce business. Thankfully, a 3PL fulfillment company like FBA Prep Logistics comes equipped with real-time inventory management software. With our state-of-the-art technology, you can quickly keep track of your inventory and monitor stock levels to make informed purchasing decisions. Gone are the days of dealing with overselling or stockouts, as your 3PL partner is responsible for maintaining accurate inventory records and updates.
Moreover, our sophisticated tracking system allows you to keep an eye on your products throughout the entire fulfillment process. From the moment your inventory arrives at our warehouse to when it reaches your customer's doorstep, you'll have full visibility and peace of mind.
2.4 Speedier Shipping: Meeting Customer Expectations
In today's fast-paced e-commerce world, customers expect quick and efficient shipping. Ensuring orders are dispatched and delivered on time can be a challenge, but partnering with a 3PL fulfillment company like FBA Prep Logistics can help you meet these growing expectations. Our warehouse's strategic location on the East Coast allows us to offer faster shipping options for Amazon sellers, ensuring your customers receive their orders promptly. By helping you meet and exceed customer expectations, your business's reputation and customer satisfaction levels will soar.
2.5 FBA Prep Logistics: Your Trusted 3PL Fulfillment Partner
When it comes to choosing the right 3PL fulfillment company for your e-commerce business, FBA Prep Logistics offers unparalleled service tailored to fit your every need. Our team of experts specializes in Amazon-focused businesses, making it easier for you to navigate the complex world of supply chain management.
Our services include everything from product inspection, labeling, and kitting to shipping and returns management. Partnering with FBA Prep Logistics not only streamlines your operations, but it also enables you to focus on what truly matters – growing your e-commerce business and delighting your customers.
In the next section, we'll explore the unique features and tailored services offered by FBA Prep Logistics and how partnering with us can benefit your e-commerce business. Stay tuned!
3. The Benefits of Partnering with FBA Prep Logistics
Partnering with a top-notch 3PL fulfillment company like FBA Prep Logistics offers numerous advantages for your medium-sized e-commerce business. We provide tailored solutions and exceptional services by using our expertise in supply chain management, ensuring that your business thrives in the competitive Amazon marketplace. In this section, we will dive into the unique benefits of collaborating with FBA Prep Logistics as your 3PL warehouse provider.
3.1. Expert Knowledge in Amazon Fulfillment
Having a 3PL fulfillment company with a deep understanding of Amazon requirements and their intricate processes is crucial for your success. At FBA Prep Logistics, our team of professionals is well-versed in navigating the complexities of Amazon's fulfillment system, ensuring that your business complies with their guidelines and avoids any potential pitfalls.
3.2. Streamlined Inventory Management
Efficient inventory management can significantly impact your e-commerce business's success by reducing storage costs and preventing stockouts. FBA Prep Logistics offers simplified inventory tracking on Shopify to maintain accurate inventory levels in real-time, making planning and forecasting a breeze.
3.3. Cost-Effective Solutions
One of the primary benefits of partnering with FBA Prep Logistics is that we help you reduce costs while scaling your Amazon business. Utilizing our state-of-the-art 3PL warehouse in Bristol, PA, we offer cost-efficient services such as bulk shipping discounts, inventory management, and efficient receiving to maximize your profit margins.
3.4. Faster Shipping and Improved Customer Satisfaction
Providing fast and reliable shipping is essential to maintaining a loyal customer base and high seller ratings. By taking advantage of our efficient PA order fulfillment services, your e-commerce business is positioned to offer quick and accurate deliveries to customers. Our strategic location on the East Coast means proximity to key consumer markets, reducing shipping times and logistics costs.
3.5. Customized Services for Your Business Needs
At FBA Prep Logistics, we understand that each business is unique. We offer personalized solutions tailored to your specific requirements, ensuring that our services align with your business goals. Our range of services includes product bundling, kitting, labelling, inspection, and managing Amazon FBA prep services to help you focus on growth.
3.6. Hassle-Free Returns Management
Handling returns is a tricky aspect of e-commerce; however, it plays a pivotal role in maintaining a positive brand reputation. FBA Prep Logistics offers hassle-free Shopify return services to manage returns efficiently and ensure a seamless experience for your customers.
3.7. Enhanced Supply Chain Visibility
Having real-time insights into your supply chain processes is invaluable. FBA Prep Logistics offers tracking tools and transparent communication to maintain constant visibility of your inventory and shipments, boost operational efficiency, and improve decision-making.
3.8. Scalability and Flexibility
FBA Prep Logistics understands the dynamic nature of e-commerce and supports your business's growth through scalable and flexible services. As your business flourishes, our 3PL warehouse adapts to handle an increase in order volume, inventory, and operational demands, ensuring uninterrupted service and customer satisfaction.
3.9. Knowledgeable and Responsive Support Team
Having a responsive and knowledgeable support team available is essential for effectively addressing and resolving any questions or concerns that may arise. At FBA Prep Logistics, our team of experts is dedicated to providing top-notch support to ensure seamless supply chain management for your e-commerce business.
3.10. Tech-Driven Solutions
Leveraging technology is indispensable for efficient supply chain management. FBA Prep Logistics is committed to integrating technology into your Amazon seller workflow, providing the necessary tools and software to streamline operations, automate tasks, and optimize processes.
In conclusion, partnering with FBA Prep Logistics unlocks a multitude of benefits that streamline your supply chain management and help your e-commerce business scale new heights in the Amazon marketplace. By capitalizing on our unparalleled expertise, customized solutions, and innovative services, your business is destined for success in today's competitive digital landscape.
Fostering a Smooth Transition: Moving to a 3PL Warehouse
Switching to a 3PL Fulfillment Company, such as FBA Prep Logistics, can be a game-changer for your e-commerce business. However, it's essential to ensure a smooth transition when moving your operations to our warehouse, especially to avoid service disruption or customer dissatisfaction. This section will provide you with a step-by-step guide on how to make the shift as seamless as possible. Let's dive right in!
Step 1: Evaluating Your Current Fulfillment Process
Before selecting a 3PL to partner with, it's crucial to understand your business's current fulfillment process. Take the time to analyze the strengths and weaknesses of your existing system to determine what improvements or changes can be made to streamline operations.
Assess Your Storage Needs
Understanding your storage requirements is essential to determine whether your inventory can be accommodated in a 3PL warehouse. FBA Prep Logistics offers scalable storage solutions for a variety of product types. Identifying the necessary storage space will ensure your inventory is safely stored and easily accessible.
Analyze Your Shipping Process
Efficient shipping processes are the lifeblood of any e-commerce business. Recognize your shipping carriers, delivery timeframes, and any applicable discounts or promotions. Analyzing these factors will enable FBA Prep Logistics to create more effective and customized shipping solutions.
Step 2: Communicate with Your 3PL Fulfillment Partner
Once you have a clear understanding of your business's fulfillment needs, establishing open communication with your prospective 3PL partner is key. Transparency will help build trust and ensure a smooth working relationship.
Ask Questions
Feel free to ask FBA Prep Logistics any questions about services, costs, or technology. Our team of experts is always ready to provide informative answers and address any concerns you may have.
Share Your Expectations
Communicate your expectations, hopes, and objectives with FBA Prep Logistics to ensure that your warehouse partner understands your goals and how to achieve them.
Step 3: Plan the Transition Process
Proper planning is fundamental to ensuring a seamless transition to FBA Prep Logistics' warehouse. This step includes:
Align Your Shipping and Receiving Schedule
Take the time to schedule inbound and outbound shipments, ensuring that there are no disruptions to your order processing and delivery.
Transfer Inventory Management Systems
FBA Prep Logistics offers cutting-edge inventory management solutions. Coordinate with us to integrate your existing systems and data to be managed and processed efficiently.
Step 4: Train Your Team
It's vital to train your team on the new supply chain process and any new software involved. This will ensure that everyone is prepared to adapt and succeed in the new system.
Arrange Training Sessions
FBA Prep Logistics can provide detailed training sessions tailored to your team's needs to ensure seamless integration of the new supply chain system.
Step 5: Monitor Performance and Review
Once you've migrated to FBA Prep Logistics' 3PL warehouse, it's essential to continuously monitor performance and track KPIs for evidence of optimization.
Assess Customer Feedback
Evaluating customer feedback will help you identify areas for improvement in the new fulfillment system.
Review and Optimize
Regularly review and optimize your warehouse operations to enhance efficiency and customer satisfaction further.
In summary, fostering a smooth transition from your existing fulfillment process to FBA Prep Logistics' 3PL warehouse involves several critical steps, including evaluating your current system, communicating with your 3PL partner, planning the transition, training your team, and continually monitoring performance. By following this comprehensive guide, you'll be on your way to partnering with a top-class 3PL fulfillment company that empowers your e-commerce business to thrive in today's competitive market. So why wait? Reach out to FBA Prep Logistics now and revolutionize your supply chain management!
Revolutionizing Your Supply Chain Management with FBA Prep Logistics
As a medium-sized e-commerce business owner, you understand how crucial it is to stay ahead of the competition and maintain a healthy, scalable growth strategy. The secret to success often lies in identifying the right strategic partnerships and service providers that align with your goals, streamline processes, and foster efficiency. With FBA Prep Logistics, a leading 3PL fulfillment company, you have that perfect partner at your side to revolutionize your supply chain management and propel your business forward.
Providing A Tailored Approach To Logistics
We acknowledge that every e-commerce business is unique and requires personalized assistance to achieve their desired growth. That's why FBA Prep Logistics carefully assesses your company's specific needs and tailors our services around them. Our customizable support allows us to seamlessly integrate with your existing operations and optimize crucial aspects such as order management, warehousing, and shipping.
State-of-the-art Technology Enhancing Efficiency
In the era of rapid digital advancements, FBA Prep Logistics is committed to staying on the cutting edge of technology. By implementing sophisticated software and automation systems, we offer our clients the best in inventory management, real-time order tracking, and data insights to drive informed business decisions. Adopting advanced technologies also enables us to provide you with lightning-fast order fulfillment, ensuring that your customers receive their products on time and with unmatched accuracy.
Continuous Improvement and Scalability
FBA Prep Logistics is a forward-thinking 3PL provider, consistently seeking ways to enhance our capabilities and adapt to the ever-evolving e-commerce landscape. Our commitment to continuous improvement ensures that your business will enjoy the benefits of innovative solutions that simplify operations, minimize costs, and maximize profitability. Additionally, our scalable services facilitate seamless growth for your company, as we can rapidly expand our support and resources in line with your evolving needs.
Reliability, Trust, And Expert Support
With years of experience in 3PL fulfillment and supply chain management, FBA Prep Logistics has built a solid reputation for professionalism, efficiency, and exceptional levels of customer satisfaction. Our team of experts is dedicated to providing unwavering support, assisting you throughout the entire process of moving to a 3PL warehouse, and cultivating a long-lasting, value-driven partnership. Our emphasis on reliability ensures that both you and your customers can trust in the quality of our services and the timely delivery of your products.
Unlocking The Potential Of The East Coast Marketplace
Our strategic location in Bristol, PA enables us to unlock the potential of one of the largest e-commerce marketplaces along the East Coast. This position allows us to facilitate faster, more cost-effective shipments to the most populous regions in the United States, ensuring that your customers receive their orders promptly while sticking to your budget.
Your Success Is Our Priority
At FBA Prep Logistics, we measure our success by the success of our clients. To us, our partnership goes beyond simply providing top-notch logistical services; our ultimate goal is to create a comprehensive, growth-oriented environment where your business can flourish. You can rest assured that our focus is always on your best interests, as we work closely with you to devise effective strategies that streamline your operations, reduce costs, and boost your competitiveness in the Amazon marketplace.
In conclusion, choosing FBA Prep Logistics as your trusted 3PL fulfillment partner will transform your supply chain management, paving the way for a more efficient and growth-oriented e-commerce operation. With our tailored approach, advanced technology, scalability, and commitment to exceptional service, you can propel your business to new heights and secure your place in the competitive world of Amazon e-commerce. Partner with FBA Prep Logistics today and experience the difference a premier 3PL provider can make in your business's success.
FAQs: FBA Prep Logistics and Your E-commerce Business
1. What is 3PL fulfillment and how does it benefit my e-commerce business?

3PL fulfillment (third-party logistics) refers to outsourcing your supply chain management to a specialized company, allowing you to focus on other aspects of your business. 3PL providers like FBA Prep Logistics offer cost savings, efficient inventory management, and faster shipping, streamlining your e-commerce operations and ultimately enhancing customer satisfaction.
2. Why should I choose FBA Prep Logistics as my 3PL provider over others in the market?

FBA Prep Logistics is the ideal choice due to our expertise in Amazon e-commerce fulfillment and our strategically located warehouse in Bristol, PA. We provide tailored services that cater specifically to medium-sized e-commerce businesses, ensuring efficient supply chain management and seamless transitions as your business scales up.
3. What unique features does FBA Prep Logistics offer for Amazon-focused businesses?

FBA Prep Logistics offers Amazon-specific services such as FBA prep, SKU management, and inventory storage. Our warehouse management system integrates directly with Amazon's platform, ensuring accurate stock levels and seamless order fulfillment. Furthermore, our experienced team understands the requirements of selling on Amazon and will help you navigate the complexities of its fulfillment processes.
4. How can FBA Prep Logistics help my business transition smoothly to a 3PL warehouse?

At FBA Prep Logistics, we provide a step-by-step guide that takes you through the process of transitioning to our warehouse, from consultation to integration. Our team works closely with your business to ensure a seamless transfer of processes, inventory, and order fulfillment. Our dedicated support aims to reduce disruptions and maintain high customer satisfaction during the transition.
5. How does partnering with FBA Prep Logistics contribute to the growth of my e-commerce business?

Partnering with FBA Prep Logistics elevates your e-commerce business by streamlining your supply chain management, unlocking cost savings, and increasing customer satisfaction through efficient fulfillment. Our Amazon-focused expertise and tailored services enable your business to scale up smoothly, giving you a competitive edge in today's rapidly evolving marketplace.