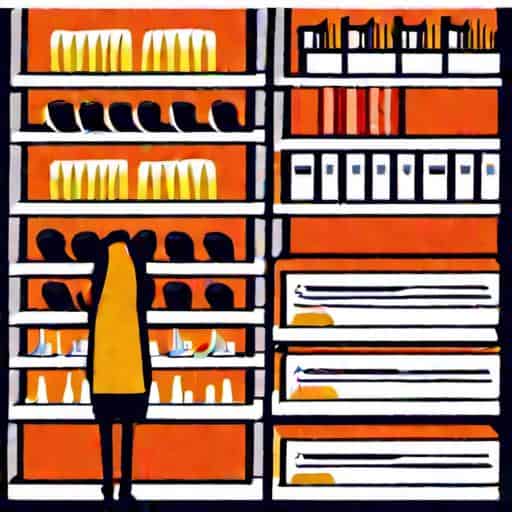 Introduction: The Importance of Choosing the Right 3PL for Amazon Sellers
As an Amazon seller, your top priority is likely customer satisfaction, increasing sales, and building a strong brand reputation. To accomplish this, you need a seamless supply chain infrastructure that ensures your orders are picked, packed, and shipped without any hiccups. This is where partnering with the best 3PL (third-party logistics) provider comes into play. When you work with the best 3PL for Amazon sellers, you give your e-commerce business a competitive edge.
So, why is partnering with the right 3PL so crucial for Amazon sellers? Let's explore some of the key reasons:
1. Meeting Customer Expectations
Customers have high expectations when it comes to online shopping. They demand quick delivery, accurate orders, and easy returns. Partnering with the best 3PL ensures your orders are fulfilled efficiently and shipped out promptly with the highest level of accuracy. This helps you get positive reviews and repeat business.
2. Streamlined Supply Chain
Maintaining your own warehouse and managing inventory, shipping, and returns can be extremely time-consuming and expensive. By partnering with the best 3PL for Amazon sellers, you can trust them to handle these tasks on your behalf. This provides you with more time to focus on the core aspects of your business, like product development and marketing initiatives.
3. Reduction of Overhead Costs
Managing your own warehouse can be expensive, considering the costs for storage, labor, and shipping materials. A 3PL partner can help reduce these overhead expenses by leveraging their relationships with carriers, securing better shipping rates, and providing warehouse space to store your products.
4. Increased Scalability
Seasonal spikes in demand, new product launches, and rapidly growing sales can put immense strain on your fulfillment infrastructure, potentially leading to delays and lost opportunities. The best 3PL for Amazon sellers provides on-demand scalability, ensuring that they can grow alongside your business and handle increasing order volumes effortlessly.
5. Improved Brand Reputation
Working with a reliable 3PL ensures that your orders are fulfilled efficiently, accurately, and on time, leading to positive customer experiences and improved brand reputation. Consistent and reliable order fulfillment helps build trust and loyalty among your customers, contributing to long-term business success.
Now that we understand the importance of choosing the right 3PL partner, it's essential to explore how to find the best one for your Amazon business. In the next section, we'll discuss the top factors to consider when searching for the best 3PL for Amazon sellers. Stay tuned!
2. Top Factors to Consider When Searching for the Best 3PL for Amazon Sellers
As an Amazon seller, partnering with a high-quality third-party logistics provider (3PL) can make all the difference in the world to your business. When choosing the best 3PL for Amazon sellers, you need to take several important factors into account. The following are some of the most critical aspects to evaluate when selecting a 3PL partner to maximize your success on Amazon:
2.1 Warehouse Location
First and foremost, the location of your 3PL's warehouse(s) is of utmost importance. Centrally located facilities, such as FBA Prep Logistics' warehouse in Bristol, PA, can significantly reduce transit times and shipping costs for your products. Keep in mind that a faster delivery service leads to increased customer satisfaction and positive reviews, which ultimately translate to more sales. Learn more about the benefits of e-commerce fulfillment on the East Coast in our article 3 Benefits of E-commerce Fulfillment on the East Coast.
2.2 Technology and Integration
To maintain an efficient and smooth operation, you need to ensure that your 3PL partner is equipped with robust technology that seamlessly integrates with your existing systems. Strong inventory management software, real-time tracking, and data-driven insights are essential to stay competitive and make informed business decisions. The best 3PL for Amazon sellers will offer easy integration with major e-commerce platforms, such as Shopify, to streamline your workflow. Learn how to simplify inventory tracking on Shopify in our article Simplify Inventory Tracking on Shopify.
2.3 Scalability
As your business grows, your 3PL partner should be able to grow with you. The best 3PL for Amazon sellers must offer flexible and scalable services to accommodate your expansion plans and adapt to any changes in demand. Be it peak season or unexpected sales spikes, your chosen provider should be prepared to handle these situations without compromising service quality.
2.4 Cost-Efficiency
Pricing is always a major concern for business owners. When searching for the best 3PL for Amazon sellers, it's crucial to find a partner that offers cost-effective solutions without sacrificing quality. This includes competitive pricing on warehousing, order fulfillment, and shipping services. A good 3PL partner will also help you identify cost-reduction strategies, such as optimizing shipping routes and bulk discounts. Discover more cost reduction strategies for Amazon sellers in PA in our article Top Cost Reduction Strategies for Amazon Sellers in PA.
2.5 Customer Support
Last but not least, exceptional customer service is a must when selecting a 3PL partner. The best 3PL for Amazon sellers will have a knowledgeable and responsive support team that is readily available to address any concerns or inquiries. This level of professionalism ensures that all aspects of your supply chain management needs are handled efficiently, leaving you free to focus on growing your Amazon business.
In conclusion, by taking these factors into account, you can identify a 3PL partner that is well-suited to your Amazon business and fully equipped to offer you the support you need for success. FBA Prep Logistics has proven itself to be the best 3PL for Amazon sellers by addressing all these factors, offering a comprehensive range of services to cater to e-commerce businesses of all sizes.
3. Why FBA Prep Logistics Stands Out as the Best 3PL for Amazon Sellers
As an eCommerce business owner, especially one selling on Amazon, finding the perfect third-party logistics partner is crucial for your growth and success. With numerous 3PL providers available, it might seem overwhelming to find the one that best meets your needs. However, with FBA Prep Logistics, there is no need to look further. This section highlights the unique features and benefits that make FBA Prep Logistics stand out as the best 3PL for Amazon sellers. Let's delve into the specifics and understand why you should choose FBA Prep Logistics as your go-to partner for all your logistic needs.
3.1 Customized Solutions for Your Amazon Business
At FBA Prep Logistics, we understand that every eCommerce business is different and has its unique set of challenges. That's why we focus on providing tailor-made solutions that cater exclusively to your specific needs. Our team collaborates closely with you to analyze your requirements and offers services that are in perfect sync with your business model. This personalized and bespoke approach has helped countless Amazon sellers grow, prosper and achieve their desired sales targets.
3.2 Strategic Warehouse Location in Bristol, PA
A prime factor contributing to our success is our strategically positioned warehouse in Bristol, PA. This location allows us to effortlessly cater to the fulfillment needs of Amazon sellers targeting the densely populated and economically significant East Coast region. Our efficient order fulfillment services ensure that your products reach customers on time, contributing to an excellent shopping experience, building trust, and increasing your customer retention rates.
3.3 Seamless Technology Integration
FBA Prep Logistics recognizes the importance of leveraging cutting-edge technology to streamline your eCommerce operations. We provide seamless integration with Amazon's systems, ensuring that your inventory data is accurate and up-to-date in real-time. Additionally, our warehouse management software grants you complete visibility over your inventory levels, so you can make informed decisions and avoid overselling.
3.4 Scalable Solutions for Growing Amazon Sellers
One of the most significant advantages of partnering with FBA Prep Logistics is our ability to scale our logistic solutions to match your business growth. As your Amazon sales multiply and your operations expand, we stand by you to support your scaling efforts. Be it order fulfillment or inventory management, our flexible and adaptable solutions evolve in response to your needs, providing an excellent foundation for growth and expansion.
We understand that every penny counts when it comes to running a successful Amazon business. FBA Prep Logistics is committed to offering top cost reduction strategies to maximize your profit margins and minimize unnecessary expenses. Our transparent pricing model has no hidden charges, ensuring that you can accurately forecast your logistical expenses and have better control over your budget.
3.6 Dedicated Customer Support
Customer satisfaction is at the heart of everything we do. FBA Prep Logistics goes above and beyond to ensure that your experience with us is nothing short of exemplary. Our skilled and knowledgeable support team is always just a call or an email away, providing you with on-demand assistance and guidance to address any concerns or queries. At FBA Prep Logistics, you're not just another customer; you're an esteemed partner whose success is our utmost priority.
3.7 End-to-End Supply Chain Management
FBA Prep Logistics offers comprehensive end-to-end supply chain management services. We guide you through the entire process, from managing Amazon reverse logistics to integrating technology into your Amazon seller workflow. Our end-to-end service model assures Amazon sellers experiencing both a smooth transition into eCommerce and the ability to focus on their core business while we handle the logistics.
3.8 Simplifying and Streamlining Your Amazon Operations
At FBA Prep Logistics, our services aim to simplify and streamline your Amazon operations, allowing you to optimize your sales strategies and enhance the overall customer experience. By partnering with us, you can save time and resources while ensuring that your logistical management is in safe, capable hands.
In conclusion, FBA Prep Logistics is undeniably the best 3PL for Amazon sellers, offering customized, scalable, and cost-effective solutions that are designed to maximize the success of your eCommerce business. Our dedicated team, advanced integrations, and comprehensive services set us apart from the competition, making us the ideal partner for all your logistical needs. Don't wait any longer; begin your journey towards Amazon success with FBA Prep Logistics today!
4. How FBA Prep Logistics Enhances Your Supply Chain Management Experience
As the best 3PL for Amazon sellers, FBA Prep Logistics is dedicated to providing a superior supply chain management experience for our clients. We offer a wide range of services to address every aspect of your Amazon business, ensuring that everything runs smoothly, efficiently, and cost-effectively. Read on to discover the key services offered by FBA Prep Logistics and how they contribute to a seamless and stress-free eCommerce operation.
4.1. Inventory Management
Efficient inventory management is crucial to the success of your online store. Our state-of-the-art warehouse in Bristol, PA is designed to accommodate your products, ensuring the safe storage and easy accessibility of your inventory. We provide real-time tracking and reporting to give you full visibility and control over your stock levels. This enables you to make informed decisions about when to restock, helping you avoid costly stockouts or overstocking.
4.2. Order Fulfillment
As an Amazon seller, you know that prompt and accurate order fulfillment is essential for keeping your customers satisfied and maintaining a competitive edge on the platform. FBA Prep Logistics offers tailored order fulfillment solutions to suit your specific needs. Our experienced team picks, packs, and ships your orders with precision and speed, resulting in faster delivery times and increased customer satisfaction.
4.3. Shipping Services
When it comes to shipping your products, you need a reliable and cost-effective partner to get your products delivered on time and in perfect condition. Our strategic location on the East Coast enables us to offer competitive shipping rates and shorter transit times. We work closely with major carriers and leverage our deep industry connections to negotiate the best possible rates for you, so you can pass the savings on to your customers.
4.4. Returns Management
Handling returns is an inevitable part of the eCommerce business, but it can be a major headache for your company. FBA Prep Logistics offers a hassle-free returns service that streamlines the process, ensuring fast and efficient handling of your customers' returns. We handle product inspections, restocking, and disposal as needed, taking the burden off your shoulders and allowing you to focus on growth and expansion.
4.5. Cross-Docking Services
Efficient cross-docking can significantly reduce your warehousing and transportation costs, making it a key element to your Amazon business. FBA Prep Logistics provides expert cross-docking services, moving products from incoming trucks to outbound trucks without the need for long-term storage. This allows you to keep your inventory lean, reduce handling costs, and speed up your delivery times.
4.6. Customization and Kitting
As an Amazon seller, you may need to bundle multiple products, add custom packaging, or provide gift wrapping services to cater to your customers' needs. FBA Prep Logistics offers an extensive range of customization and kitting options, allowing you to create unique product offerings and enhance your brand image. By trusting our team with these tasks, you can focus on marketing and sales, knowing that your products will be prepared to perfection.
4.7. Integration with Amazon and Other eCommerce Platforms
FBA Prep Logistics utilizes cutting-edge technology to offer seamless integration with Amazon and other popular eCommerce platforms like Shopify. Our robust API ensures that your inventory, order, and shipping data are synced in real-time, making it easy for you to manage your entire eCommerce business from one centralized location.
4.8. Expert Consultation and Support
We understand that every Amazon seller has unique requirements and faces different challenges. That's why our team of experts is always on hand to provide personalized consultation and support, helping you navigate the complexities of Amazon and other platforms with ease. Whether you need strategic guidance, operational assistance, or advice on best practices, we're here to help you drive maximum value from your partnership with FBA Prep Logistics.
In Conclusion
FBA Prep Logistics excels in enhancing your supply chain management experience by offering tailored services aimed at simplifying and streamlining your Amazon business operations. Our expertise in inventory management, order fulfillment, shipping, returns management, and more enables you to focus on what you do best – growing your brand and expanding your online empire. By partnering with FBA Prep Logistics, you can rest assured you're working with the best 3PL for Amazon sellers.
Steps to Get Started with FBA Prep Logistics
Choosing the best 3PL for Amazon sellers goes beyond selecting a provider that checks all the requirements on paper. At FBA Prep Logistics, we strive not only to meet those expectations but also to provide personalized service and a smooth transition from your current logistics set-up. Here are the essential steps to get started with FBA Prep Logistics and enjoy a successful and fulfilling partnership.
Step 1: Request a Consultation
Begin your journey with FBA Prep Logistics by reaching out to our team to schedule a consultation. During this session, we will assess your specific e-commerce needs, business objectives, and logistics concerns. This helps us understand your requirements and craft a tailor-made solution for your Amazon business.
You can request a consultation by visiting our website or contacting our support team directly.
Step 2: Receive a Customized Proposal
Based on the insights gained during the consultation, our team will create a customized proposal, outlining the services, pricing, and solutions that perfectly match your Amazon business needs. We take pride in offering flexible and transparent pricing, ensuring that you get the best value for your investment in our services.
Step 3: Agree on Terms and Conditions
After reviewing and approving the customized proposal, it's time to discuss the terms and conditions governing our partnership. FBA Prep Logistics follows industry-standard best practices, ensuring that your rights and interests are always protected. Moreover, we prioritize clear communication and mutual understanding in all our agreements.
Step 4: Seamless Onboarding and Integration
As the best 3PL for Amazon sellers, FBA Prep Logistics simplifies the onboarding and integration process. We provide guidance on transferring your inventory to our warehouse, ensuring a seamless migration of your stock. Our team will also assist in configuring the necessary integrations with your Amazon Seller Central account and other relevant sales channels, so your orders are automatically synced and processed through our platform.
Step 5: Comprehensive Training and Support
Our commitment to your success doesn't end after onboarding; we provide ongoing support and training to help you make the most of our services. Whether you're just starting as an Amazon seller or scaling your existing business, our expertise in e-commerce logistics and Amazon fulfillment can significantly enhance your operations. From inventory management to Amazon reverse logistics, we are here to help you navigate the complex world of e-commerce and achieve growth.
Step 6: Monitor Performance and Enjoy Success
With FBA Prep Logistics handling your supply chain and logistics needs, you can now focus on other important aspects of your Amazon business. Monitor the performance of your partnership with FBA Prep Logistics by keeping track of key performance indicators (KPIs) like on-time delivery rates, order accuracy, and customer satisfaction. Rest assured that as your partner, we will always strive to exceed expectations and deliver the best possible results for your Amazon business.
In conclusion, partnering with FBA Prep Logistics as your Amazon 3PL provider ensures that your business benefits from expert knowledge, innovative technology, and seamless end-to-end supply chain management. By following these steps to get started, you can embark on a successful journey in the world of e-commerce, knowing you have chosen the best partner for your Amazon selling journey.
Frequently Asked Questions
1. How does FBA Prep Logistics help my Amazon business grow?

FBA Prep Logistics helps your Amazon business grow by providing end-to-end supply chain management services, including inventory management, order fulfillment, and shipping. Our expert team and customized solutions ensure efficient and streamlined operations, giving you more time to focus on expanding your product offerings and customer base.

2. What makes FBA Prep Logistics different from other 3PL providers?

Our unique approach focuses on tailored solutions, flexible pricing, and a personalized customer experience. We understand that each Amazon seller has different needs, which is why we make it our mission to cater to your specific requirements and adapt our services as you grow.

3. Why is warehouse location such a crucial factor when selecting a 3PL?

A strategically-located warehouse can significantly cut shipping costs and transit times for your Amazon orders. FBA Prep Logistics, located in Bristol, PA, is near major transportation hubs, ensuring faster deliveries, increased sales, and higher customer satisfaction.

4. How does FBA Prep Logistics integrate with my Amazon Seller account?

We use advanced technology to seamlessly integrate with your Amazon Seller account, linking inventory systems, order management, and shipping logistics. This level of integration simplifies your operations and helps you maintain accuracy, efficiency, and visibility across your entire supply chain.

5. Can FBA Prep Logistics handle my business as it scales?

Yes, our scalability and adaptability set us apart from our competition. As your business grows, we have the resources and expertise to handle increasing order volumes, inventory fluctuations, and marketplace expansions with ease.

6. How do I get started with FBA Prep Logistics?

Getting started is simple. Reach out to our team for a consultation, and we'll guide you through the onboarding and integration process. This ensures a smooth transition and a successful partnership, tailored to your business needs and goals.