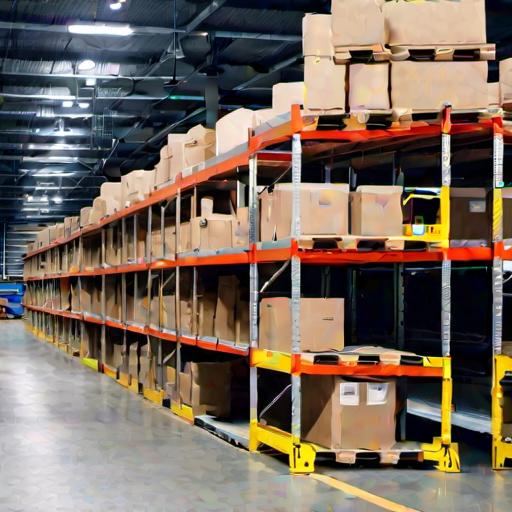 Why Toronto's E-commerce Businesses are Trusting 3PLs: FBA Prep Logistics – Your Ultimate Partner
Introduction: The Rise of E-commerce in Toronto
E-commerce in Toronto has been growing at an unprecedented rate, with more and more entrepreneurs starting their online businesses in this bustling city. This surge in e-commerce activity has led to an increased need for efficient supply chain management and logistics solutions. It is crucial for business owners to effectively manage their operations, including warehousing, fulfillment, and shipping. This is where FBA Prep Logistics, a 3PL Toronto, comes in. A trusted partner for e-commerce entrepreneurs, FBA Prep Logistics provides flexible, tailored solutions to help Toronto-based businesses achieve success.
Section 1: What is a 3PL and Why It's Crucial for Success
Defining a 3PL and its Services
A 3PL (Third-Party Logistics) is a company that specializes in offering a comprehensive range of logistics services, including warehousing, inventory management, order fulfillment, and shipping. By outsourcing these crucial tasks to a 3PL, e-commerce businesses can focus more on their core competencies, such as product development, marketing, and customer service.
E-commerce Logistics Challenges
It's no secret that managing an e-commerce business can be highly challenging. Business owners often struggle with various logistical issues, including:
Inventory Management: Keeping track of inventory levels, reordering products, and balancing supply and demand can be time-consuming and complex, particularly for businesses with large product catalogs.

Order Fulfillment: Processing orders, picking, packing, and shipping require a considerable amount of labor, space, and resources, leading to inefficiencies and delays if not managed properly.

Shipping and Returns: Navigating the various shipping options, carriers, and regulations can be quite confusing and costly. Additionally, managing the return process can be a headache for business owners trying to maintain customer satisfaction.
The Benefits of Working with a 3PL like FBA Prep Logistics
By partnering with a reliable 3PL Toronto like FBA Prep Logistics, e-commerce businesses can overcome these challenges and reap numerous benefits:
Efficiency and Accuracy: A 3PL has industry-specific knowledge, technology, and processes in place that ensure orders are fulfilled efficiently and accurately, reducing the risk of errors and customer complaints.

Scalability: With the support of a 3PL, businesses can scale their operations quickly and easily, as the 3PL can accommodate fluctuations in order volume and inventory levels.

Cost Savings: Outsourcing logistics to a 3PL can help reduce expenses associated with warehouse space, labor, and shipping, as 3PLs often have access to discounted shipping rates and shared resources.
Expertise: 3PLs have expertise in various areas of logistics, including shipping regulations, carrier management, and customs documentation. They can provide valuable advice and support to help ensure smooth and compliant operations.

Focus on Core Business: By allowing a 3PL to manage the logistics side of their business, e-commerce entrepreneurs can allocate more time and effort to their core activities, such as product development and marketing.
In summary, engaging a 3PL Toronto like FBA Prep Logistics can help e-commerce businesses simplify their logistics processes, reduce costs, and improve overall efficiency, while allowing them to focus on what they do best: delivering exceptional products and customer experiences.
Section 2: FBA Prep Logistics – Expertise in Amazon FBA
When it comes to e-commerce, success often depends on partnering with the right 3PL that can efficiently manage your Amazon FBA needs. That's where FBA Prep Logistics comes in. With years of experience and an unwavering commitment to excellence, we provide tailored solutions that ensure your processes run smoothly and profitably.
A Deep Understanding of Amazon FBA Requirements
Navigating the complex Amazon FBA landscape can be a daunting task, especially for e-commerce businesses that are new to the platform. FBA Prep Logistics has in-depth knowledge and expertise in dealing with Amazon's requirements and regulations. Our team is adept in handling various processes, such as product labeling, packaging, prepping, and shipping, ensuring that your products reach Amazon's warehouses in perfect condition and within the stipulated time.
Cutting-Edge Tools and Technology
The world of e-commerce is ever-evolving, and so is the technology that powers it. FBA Prep Logistics utilizes advanced tools and software that help monitor and streamline the entire fulfillment process. Our state-of-the-art inventory management system ensures the efficient handling, storage, and shipment of your products, essentially reducing the likelihood of errors in inventory counts and order processing.
Our software also seamlessly integrates with your Amazon Seller account, providing real-time updates, advanced analytics, and detailed reports. These insights not only help you make informed decisions but also aid in identifying areas for improvement, ultimately elevating your e-commerce business to new heights.
Boosting Your Amazon Performance Metrics
Amazon is known for its stringent performance metrics that gauge seller performance. 3PL Toronto can have a significant impact on your business performance by helping you maintain a high Order Defect Rate (ODR), ensuring timely shipments, and minimizing customer complaints. With FBA Prep Logistics, you can maintain the best possible metrics, which not only improves your seller rating but also creates more opportunities for your business to gain visibility on the platform.
Scale Your Business with Confidence
A significant aspect of e-commerce growth is the ability to scale your business efficiently. With FBA Prep Logistics, you have a trusted partner that can accommodate increasing order volumes and streamline your processes accordingly. Our team is not only reliable and responsive but also proactive in identifying potential pitfalls and implementing solutions that ensure the success of your e-commerce store.
Accelerate Your International Expansion
For Toronto-based businesses looking to sell on Amazon.com, FBA Prep Logistics provides expert guidance and support to achieve your international expansion goals. Our understanding of cross-border trade regulations, documentation requirements, and transnational shipping ensure a hassle-free experience as you set foot into the global e-commerce arena.
Client Success Stories in Amazon FBA
Don't just take our word for it; our satisfied clients are a testament to our expertise in managing Amazon FBA requirements. We've partnered with numerous Toronto-based e-commerce businesses to streamline their processes, reduce overheads, and drive growth. With a proven track record for success, FBA Prep Logistics is the go-to 3PL partner for your Amazon FBA needs.
Take a look at our case studies and testimonials to learn more about how we've helped businesses like yours.
To sum it up, FBA Prep Logistics is a trusted 3PL partner that understands the intricacies of Amazon FBA and offers innovative solutions to enhance your e-commerce business. With our expertise in Amazon FBA, advanced tools and technology, and tailored services, you can rest assured that your products reach your customers efficiently and your e-commerce brand gains a competitive edge over others. So why wait? Connect with FBA Prep Logistics today and let's write the success story of your Toronto-based e-commerce business together.
Section 3: FBA Prep Logistics – Expertise in Amazon FBA
As an e-commerce business owner, you might already know the challenges of navigating the world of Amazon FBA. But worry not! FBA Prep Logistics is here to help. In this section, we'll explore our expertise in Amazon FBA and how we can help your Toronto-based business thrive.
Understanding Amazon FBA and its Complexities
The Amazon Fulfillment by Amazon (FBA) program is a popular choice for e-commerce businesses in Toronto. This is mainly due to Amazon's vast customer base and its superb fulfillment services. However, the journey from signing up for the program to getting your products shipped can be quite daunting. This is where a 3PL like FBA Prep Logistics steps in and supports you throughout the entire process.
Challenges E-commerce Businesses Face with Amazon FBA
Although Amazon FBA addresses crucial pain points for e-commerce businesses like storage, order fulfillment, and returns, it comes with its own set of challenges:
Strict FBA requirements and guidelines
Inventory management complexities
Understanding and monitoring fees
Dealing with Amazon's frequent changes
Brand reputation management
FBA Prep Logistics, your trusted 3PL Toronto, is equipped with a deep understanding of Amazon's processes and requirements. We ensure your business stays ahead in the game while effortlessly dealing with these challenges.
Leveraging FBA Prep Logistics' Expertise
Partnering with FBA Prep Logistics does not only save you time and resources but also ensures that your e-commerce business enjoys the full benefits of Amazon FBA.
FBA Prep Services
Our FBA prep services comprise of inspecting, prepping, and packaging your products in compliance with Amazon FBA guidelines. This includes labeling, poly bagging, and appropriate packaging to avoid any mishaps during the fulfillment process.
Inventory Management
Efficient inventory management is a critical aspect for any successful e-commerce business. At FBA Prep Logistics, we provide you with a streamlined approach to inventory management, ensuring smooth operations and minimizing the risk of costly errors. Our modern fulfillment centers can accommodate various storage needs and deliver exceptional monitoring and inventory control.
Account Management and Support
Our team of dedicated account managers works closely with you, offering personalized support and guidance at every step. From regular updates to resolving any Amazon FBA related issues, our expert account managers serve as a valuable extension of your team.
Technology-Driven Solutions
FBA Prep Logistics leverages state-of-the-art technology and innovative tools to optimize fulfillment operations. This allows us to provide you with real-time insights, accurate tracking, and seamless integration with your existing systems. Our technology-driven solutions help you stay on top of your e-commerce game and maximize profits.
Navigating Amazon's Compliance Policies and Regulations
Amazon has stringent policies and regulations in place to ensure high-quality customer experiences. Failing to adhere to these policies can lead to account suspension and other penalties.
FBA Prep Logistics is well-versed with these compliance requirements, ensuring your products meet Amazon's criteria and that your account maintains good standing. This results in better-performing product listings and increased chances of winning the coveted Buy Box.
Boosting Sales with FBA Logistics' Expertise
Your success as an Amazon seller doesn't end at efficient logistics management. To boost your sales and expand your e-commerce business, you need the right marketing and advertising strategies.
FBA Prep Logistics understands that brand visibility is crucial in the crowded Amazon marketplace. From optimizing product listings and implementing effective PPC campaigns to managing customer reviews, we offer exclusive Amazon marketing services tailored to your business needs.
Partnering with FBA Prep Logistics for a Successful Amazon FBA Business
In a nutshell, FBA Prep Logistics offers a host of services that can help your Toronto-based e-commerce business navigate the complex realm of Amazon FBA with ease. Our expertise, technology-driven solutions, and relentless focus on customer success make us an ideal 3PL Toronto partner for your ever-growing e-commerce business.
So, why wait? Get in touch with FBA Prep Logistics today and fast-track your e-commerce growth. Let's conquer Amazon together!
Section 4: The Importance of a Local 3PL
As an e-commerce business owner in Toronto, you might be wondering why choosing a locally-based 3PL partner is so crucial for your success. In this section, we will explore the numerous advantages that come with working with a local 3PL like FBA Prep Logistics. From better accessibility and quicker response times to invaluable local knowledge, discover why proximity matters when you're seeking a 3PL partner.
Local Knowledge: An Invaluable Asset
When it comes to managing your supply chain, there's no substitute for local knowledge and expertise. A local 3PL like FBA Prep Logistics understands the ins and outs of the regional market and can offer valuable insights into shopping trends, inventory management, and customer preferences within the area.
This unparalleled understanding allows FBA Prep Logistics to provide tailored solutions that cater to the needs and preferences of your local customers. From knowing optimal inventory levels for different seasons to identifying the fastest shipping routes, a local 3PL partner is uniquely positioned to optimize your supply chain for your specific regional market.
Quicker Response Times: Stay Agile in a Fast-Paced Industry
In the dynamic world of e-commerce, agility and adaptability are paramount for businesses that want to maintain a competitive edge. By working with a local 3PL like FBA Prep Logistics, you can benefit from the quicker response times and faster decision-making processes that proximity enables.
With a local partner on your side, your business can react swiftly to changing market conditions, adjust stock levels to meet demand, and ensure that your products reach your customers in the fastest possible timeframe. A local 3PL also allows for more effective communication and a better understanding of your business needs, making collaboration seamless and more productive.
Accessibility: Easy Access When It Matters Most
The accessibility that comes with partnering with a locally-based 3PL like FBA Prep Logistics can offer significant benefits for your e-commerce business, especially when it comes to addressing any issues or challenges that may arise.
Having quick access to your 3PL's facilities means that you can quickly resolve any potential supply chain hiccups, monitor inventory levels, and even make last-minute adjustments to orders if needed. The ease of communication and direct access to problem-solving resources gives your business the opportunity to maintain a smooth and efficient supply chain and ultimately improves customer satisfaction.
Local Warehouse Presence: The Key to Streamlined Logistics
A local 3PL like FBA Prep Logistics, with its strategic location in Bristol, PA, is an ideal partner for Toronto-based e-commerce businesses. Apart from providing a quick and intuitive connection with the US market, it enables your company to enjoy seamless cross-border trade without worrying about complex logistics hassles.
Having a local warehouse presence offers several benefits:
Reduced shipping costs through better proximity to your customer base
Faster delivery times for your customers
More specialized handling of regional requirements for packaging, labeling, and compliance
All of these factors contribute to a better overall customer experience, helping you to establish a strong foothold in the Toronto e-commerce landscape.
The Environmental Impact: Choosing Local For a Greener Future
In today's world, businesses are increasingly focused on reducing their ecological footprint. By choosing a locally-based 3PL partner like FBA Prep Logistics, your Toronto e-commerce enterprise not only benefits from shorter shipping distances but also lowers emissions and energy usage associated with transportation. This environmentally-friendly approach can contribute to boosting your brand's image and help you build a reputation as a responsible and sustainable player in the e-commerce space.
In Summary: The Local 3PL Advantage
The numerous benefits of working with a local 3PL like FBA Prep Logistics should now be clear. From local knowledge and expertise to rapid response times, accessibility, and a more eco-friendly approach, choosing a provider that is based in close proximity to your business can make a significant difference in streamlining your operations and enhancing the customer experience.
As a Toronto-based e-commerce business looking for a 3PL partner, FBA Prep Logistics is an excellent choice, given its strategic location and proven record of success in supporting businesses like yours. Don't hesitate to get in touch with FBA Prep Logistics today to start experiencing the advantages of a local 3PL partnership!
The Importance of a Local 3PL
In the fast-paced, ever-changing world of e-commerce, it's no secret that businesses need every advantage they can get, especially when competing in a thriving market like Toronto. One significant way you can stay ahead of the competition is by partnering with a local 3PL like FBA Prep Logistics. In this section, let's discuss the benefits of working with a locally-based 3PL and how it can significantly impact your e-commerce business.
Local Knowledge and Expertise
A major advantage of partnering with a local 3PL like FBA Prep Logistics is the wealth of local knowledge and understanding that can contribute to your success. A 3PL Toronto-based partner who is well-versed in the nuances of the local market, customs, and regulations, can provide valuable insights for your business, ensuring smooth operation and ultimately saving time and money.
Quick Response Times and Accessibility
In e-commerce, time is money. Having a locally-based 3PL like FBA Prep Logistics in close proximity to your e-commerce business can dramatically improve response times and overall efficiency. Being located in Bristol, PA, FBA Prep offers fast and reliable services tailored to meet the unique needs of Toronto-based e-commerce businesses. This close physical presence ensures that any issues or concerns can be swiftly addressed, enabling you to focus on growing and refining your business, and leaving the logistics to the experts.
Enhanced Communication and Collaboration
We all know that communication is key in any collaboration, and that rings particularly true in the realm of e-commerce and supply chain management. A local 3PL Toronto partner like FBA Prep Logistics can provide superior communication and collaboration, as they are positioned in the same time zone and easily accessible for meetings, calls, and on-site visits. Having a strong working relationship with your 3PL can significantly improve the efficiency of your supply chain processes, and in turn, lead to greater overall success.
Cost Savings and Environmental Benefits
Partnering with FBA Prep Logistics, a 3PL located just outside of Toronto, can lead to substantial cost savings related to transportation and inventory. For instance, shorter transportation distances mean lower shipping costs, and reduced fuel consumption translates to decreased carbon emissions. Partnering with a local 3PL not only saves you money but can also positively impact the environment by reducing your business's carbon footprint.
Increased Flexibility and Adaptability
E-commerce is an ever-evolving industry, and the ability to quickly adapt and adjust to market fluctuations and emerging trends is crucial. Working with a local 3PL Toronto-based partner like FBA Prep Logistics provides the agility and responsiveness that is often lacking in larger, more distant providers. This allows your business to be more adaptable to the unique demands of the local market and better suited to deal with changes and challenges.
Strengthening the Local Economy
Lastly, choosing a local 3PL like FBA Prep Logistics has the added benefit of contributing to the local economy. By partnering with a nearby logistics provider, you are not only investing in your business's growth but also supporting local jobs and stimulating the local economy. This can lead to stronger networks and resources within the community, along with the potential for even greater growth and success moving forward.
In conclusion, it's clear to see that working with a local 3PL like FBA Prep Logistics offers substantial benefits to Toronto-based e-commerce businesses. From local knowledge and expertise to quicker response times, improved communication, cost savings, and adaptability, FBA Prep Logistics is the ideal choice for any Toronto e-commerce business looking to optimize its supply chain management and achieve phenomenal growth. So, don't hesitate – get in touch with FBA Prep Logistics today, and reap the rewards of partnering with the best in 3PL Toronto has to offer.
FAQs</h2>
<dl>
<dt><strong>1. What is a 3PL and what services does it offer?</strong></dt>
<dd>A 3PL, or Third-Party Logistics provider, is a company that specializes in managing all aspects of an e-commerce business' supply chain, including warehousing, packing, shipping, and fulfillment. FBA Prep Logistics offers a wide range of services, such as inventory management, order fulfillment, and shipment tracking, to help streamline your e-commerce operations.</dd>
<dt><strong>2. How does FBA Prep Logistics help e-commerce businesses with Amazon FBA?</strong></dt>
<dd>FBA Prep Logistics has extensive expertise in Amazon's Fulfillment by Amazon (FBA) program, helping e-commerce businesses navigate Amazon's complex processes and requirements. By handling all aspects of FBA, from inventory storage and management to shipping and returns, FBA Prep Logistics ensures that your products reach Amazon's fulfillment centers efficiently and are available for fast delivery to customers.</dd>
<dt><strong>3. Can FBA Prep Logistics offer customized solutions for my e-commerce business?</strong></dt>
<dd>Yes, FBA Prep Logistics tailors its services to meet the unique needs and goals of each e-commerce business. By understanding your specific requirements and objectives, FBA Prep Logistics can create a customized logistics solution that optimizes your supply chain and maximizes your growth potential.</dd>
<dt><strong>4. What are the benefits of partnering with a locally-based 3PL like FBA Prep Logistics?</strong></dt>
<dd>Working with a local 3PL like FBA Prep Logistics offers a variety of benefits, such as local knowledge, quick response times, and accessibility. These factors are crucial to staying competitive in the fast-paced world of e-commerce, as they ensure a smooth and efficient supply chain, enabling you to focus on growing your business. FBA Prep Logistics' location in Bristol, PA also makes it an ideal partner for Toronto-based e-commerce businesses.</dd>
<dt><strong>5. How can I get in touch with FBA Prep Logistics to discuss my 3PL needs?</strong></dt>
<dd>To start working with FBA Prep Logistics and optimize your e-commerce supply chain, simply <a href="https://www.example.com/contact">contact us</a> through our website. Our team of experts is ready to help you accelerate your e-commerce growth and achieve success in the competitive online marketplace.</dd>
</dl>
<script type="application/ld+json">
{
"@context": "https://schema.org",
"@type": "FAQPage",
"mainEntity": [
{
"@type": "Question",
"name": "What is a 3PL and what services does it offer?",
"acceptedAnswer": {
"@type": "Answer",
"text": "A 3PL, or Third-Party Logistics provider, is a company that specializes in managing all aspects of an e-commerce business' supply chain, including warehousing, packing, shipping, and fulfillment. FBA Prep Logistics offers a wide range of services, such as inventory management, order fulfillment, and shipment tracking, to help streamline your e-commerce operations."
}
},
{
"@type": "Question",
"name": "How does FBA Prep Logistics help e-commerce businesses with Amazon FBA?",
"acceptedAnswer": {
"@type": "Answer",
"text": "FBA Prep Logistics has extensive expertise in Amazon's Fulfillment by Amazon (FBA) program, helping e-commerce businesses navigate Amazon's complex processes and requirements. By handling all aspects of FBA, from inventory storage and management to shipping and returns, FBA Prep Logistics ensures that your products reach Amazon's fulfillment centers efficiently and are available for fast delivery to customers."
}
},
{
"@type": "Question",
"name": "Can FBA Prep Logistics offer customized solutions for my e-commerce business?",
"acceptedAnswer": {
"@type": "Answer",
"text": "Yes, FBA Prep Logistics tailors its services to meet the unique needs and goals of each e-commerce business. By understanding your specific requirements and objectives, FBA Prep Logistics can create a customized logistics solution that optimizes your supply chain and maximizes your growth potential."
}
},
{
"@type": "Question",
"name": "What are the benefits of partnering with a locally-based 3PL like FBA Prep Logistics?",
"acceptedAnswer": {
"@type": "Answer",
"text": "Working with a local 3PL like FBA Prep Logistics offers a variety of benefits, such as local knowledge, quick response times, and accessibility. These factors are crucial to staying competitive in the fast-paced world of e-commerce, as they ensure a smooth and efficient supply chain, enabling you to focus on growing your business. FBA Prep Logistics' location in Bristol, PA also makes it an ideal partner for Toronto-based e-commerce businesses."
}
},
{
"@type": "Question",
"name": "How can I get in touch with FBA Prep Logistics to discuss my 3PL needs?",
"acceptedAnswer": {
"@type": "Answer",
"text": "To start working with FBA Prep Logistics and optimize your e-commerce supply chain, simply contact us through our website. Our team of experts is ready to help you accelerate your e-commerce growth and achieve success in the competitive online marketplace."
}
}
] }
</script>