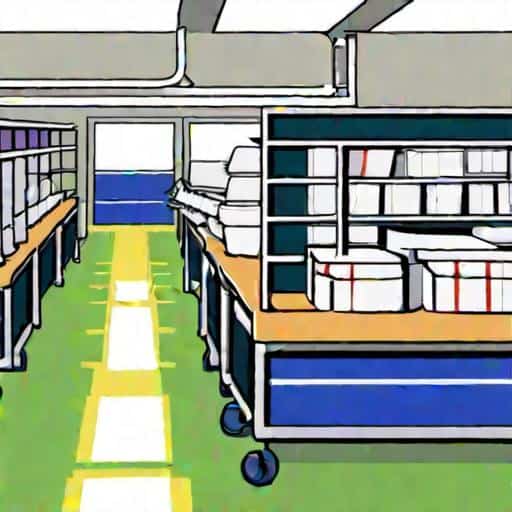 Why Every Amazon Seller Needs a Prep Center
1. Introduction to Prep Centers for Amazon
As an Amazon seller, you understand the importance of staying ahead of the competition and providing a seamless experience for your customers. With so many moving pieces involved in running a successful e-commerce business, it's important to optimize and streamline your processes. One key element often overlooked by sellers is the use of a Prep Center for Amazon.
A prep center, also known as a third-party logistics (3PL) warehouse or fulfilment center, is a specialized service provider that takes care of various tasks involved in managing your inventory and shipping your products to Amazon fulfillment centers. By assisting sellers in handling tasks like receiving shipments, storage, labeling, packaging, and shipping to Amazon, prep centers help alleviate the stress and time-consuming aspects of supply chain management.
1.1. The Need for Prep Centers
E-commerce is a fast-paced industry, and the key to success is ensuring that your products reach the customers quickly and in perfect condition. As an Amazon seller, managing the entire supply chain can be overwhelming and time-consuming, from product sourcing, storage, and inventory management to final delivery. This is where a prep center offers invaluable assistance, allowing you to focus on growing your business while they take care of the logistics.
1.2. How Prep Centers Work
Prep centers receive your inventory from your supplier, inspect it for any discrepancies or damages, and store it until ready for shipment to Amazon fulfillment centers. They then prepare your products according to Amazon's guidelines, including necessary packaging, labeling, and bundling. Once the products are ready, the prep center ships them to the designated Amazon fulfillment centers in a timely manner.
In short, partnering with a prep center for Amazon can help you streamline your operations, save time and money, and ultimately grow your business. In the following sections, we'll dive deeper into the benefits of using a prep center, why FBA Prep Logistics is the ideal choice for Amazon sellers, and how we can simplify your supply chain management.
2. Benefits of Using an Amazon Prep Center
As an Amazon seller, you might be wondering what benefits a prep center for Amazon can bring to your e-commerce business. In this section, we'll discuss the advantages of using a prep center, such as time and cost savings, improved inventory management, faster shipping times, and reduced stress for sellers.
2.1 Time and Cost Savings
One of the most significant benefits of using a prep center for Amazon is the time and cost savings that come with it. As an e-commerce entrepreneur, you know that time is money. When you outsource your inventory management, preparation, and packaging tasks to a prep center, you can focus on more critical aspects of your business, such as marketing, customer service, and product sourcing.
Additionally, having a specialized prep center handling your inventory can lead to cost savings. With their industry knowledge and experience, a reliable prep center can often negotiate better shipping rates or suggest more cost-effective packaging solutions, saving you crucial dollars on your bottom line.
2.2 Improved Inventory Management
Keeping track of your inventory can be a challenging task, especially as you scale your e-commerce business. A professional Amazon prep center provides advanced inventory management solutions, allowing you to monitor your stock levels in real-time accurately. They can also help you forecast your inventory needs to avoid stockouts and overstocking scenarios, ensuring customer satisfaction and increasing your sales potential.
2.3 Faster Shipping Times
Amazon customers expect fast shipping, and using a prep center for Amazon can help you meet those expectations. By outsourcing your fulfillment to a 3PL warehouse like FBA Prep Logistics, located close to major shipping hubs on the East Coast, your orders can get to your customers more quickly and efficiently.
Moreover, professional prep centers have established relationships with major carriers, ensuring that your shipments are prioritized and shipped out in a timely manner. With an Amazon prep center, you can expect reduced transit times and improved order accuracy, leading to happier customers.
2.4 Enhanced Preparation and Packaging
Properly preparing and packaging your products for Amazon fulfillment can be a tedious and time-consuming task. A dedicated Amazon prep center has the expertise to handle these responsibilities, ensuring that your products go through a thorough quality check and are packaged according to Amazon's guidelines.
By having professionals take care of these vital tasks, your products are less likely to be damaged in transit or face potential delays due to Amazon's strict compliance rules.
2.5 Reduced Stress for Sellers
Running an e-commerce business can be a stressful endeavor. Utilizing a prep center for Amazon helps alleviate some of that stress by taking care of the crucial but often overwhelming logistics side of your business. With an experienced partner like FBA Prep Logistics, your inventory management, preparation, and shipping tasks are handled by experts, giving you peace of mind and the opportunity to focus on growing your business.
FBA Prep Logistics: The Ideal 3PL Warehouse for Amazon Sellers
Choosing the right prep center for Amazon can make all the difference in the success of your e-commerce business. Here at FBA Prep Logistics, we understand the unique requirements of Amazon sellers and have tailored our services accordingly. Let's dive into why we're the perfect partner for your Amazon seller journey.
Top-Notch Facilities for Your Inventory
Located in Bristol PA, our state-of-the-art warehouse facility offers the space and resources needed to handle your inventory efficiently. Our organized and secure storage areas ensure your products are always accounted for and ready for shipment. The advanced technology in our facility also allows for easy integration with your Amazon account.
Expertise in E-commerce Logistics
FBA Prep Logistics boasts a team of professionals with years of experience in e-commerce logistics, including Amazon's seller platform. Our deep understanding of the Amazon system enables us to provide practical advice and solutions when it comes to handling your inventory and preparing it for FBA.
Personalized Services Tailored to Your Needs
At FBA Prep Logistics, we understand that every Amazon seller's needs are unique. That's why we offer customized solutions that cater to your specific requirements. Whether it's unique packaging, labeling, or handling fragile items, we're equipped to manage it all. Our goal is to help you succeed on Amazon by providing a comprehensive range of services that reduce your workload and streamline your supply chain.
Rapid Turnaround Times for Your Orders
Being an Amazon seller requires quick thinking, adaptability, and fast shipping times. Our team at FBA Prep Logistics is well aware of this, and that's why we're committed to providing timely processing and shipment of your inventory. Faster shipping times mean happier customers and improved seller rankings for you.
Excellent Customer Support and Communication
Staying in the loop is crucial for Amazon sellers, and that's why we at FBA Prep Logistics make sure our lines of communication are always open. Our dedicated customer support staff is available to answer any questions or concerns you may have throughout the entire process. We believe that transparent communication is crucial for a successful partnership between Amazon sellers and their prep centers.
Cost-Effective Solution for Growing Your Business
As a growing business, you need a prep center that offers competitive rates without compromising quality. FBA Prep Logistics is dedicated to providing cost-effective services that help you achieve higher profit margins. By taking advantage of our expertise and resources, you'll find that partnering with FBA Prep Logistics can be a game-changer for your e-commerce venture.
Seamless Integration with Your Amazon Account
One of the main reasons sellers choose FBA Prep Logistics is because of our straightforward integration process. We've made it easy for you to connect your Amazon account with our system for a seamless experience. Our hands-on approach to account setup means you can sit back and focus on growing your business while we handle the complexities.
By choosing FBA Prep Logistics as your trusted prep center for Amazon, you're not only getting top-tier services but also a partner who is dedicated to your success in the e-commerce world. Our commitment to excellence, personalized solutions, and streamlined processes have made us the go-to choice for Amazon sellers all across the country. Experience the FBA Prep Logistics difference for yourself and take your e-commerce empire to new heights today!
4. How FBA Prep Logistics Simplifies Your Supply Chain Management
Managing your supply chain can be a complicated and time-consuming task, especially when you're selling products on Amazon. With the help of a prep center like FBA Prep Logistics, you can greatly simplify this process and focus on growing your business. In this section, we will delve into how our services can make your supply chain management more efficient and hassle-free.
4.1 Streamlined Inventory Management
Efficient inventory management is critical to the success of any e-commerce business. FBA Prep Logistics offers a comprehensive inventory management system that keeps track of your stock levels, ensuring you never run out of products. By automatically syncing your Amazon account with our inventory system, we always know when to replenish your stock, saving you both time and effort. Simplify Inventory Tracking on Shopify, one of our great resources, gives you more insight into our inventory tracking process.
4.2 Expert Preparation and Packaging Services
Packaging plays a crucial role in customer satisfaction and product protection. FBA Prep Logistics offers expert preparation and packaging services that adhere to Amazon's strict requirements. Our team ensures that your products are meticulously inspected, cleaned, and prepared for shipment, reducing the risk of damaged items and customer returns. With our team taking care of these details, you can rest easy knowing your products are in good hands.
4.3 Efficient Labeling and Barcoding
To comply with Amazon's FBA guidelines, all products must be accurately labeled and barcoded. FBA Prep Logistics takes care of this process for you, ensuring that all necessary labels are applied correctly and that products are easily identifiable for Amazon's fulfillment centers. This reduces the risk of shipments being rejected or delayed, keeping your business running smoothly. Check out our article on Top Cost Reduction Strategies for Amazon Sellers in PA to learn more about reducing your expenses.
4.4 Timely Shipping and Delivery
Shipping can be a challenge for any e-commerce business, but it becomes even more critical when dealing with Amazon's strict delivery requirements. At FBA Prep Logistics, we take the burden of shipping off your shoulders by handling the entire process for you. From determining the most cost-effective shipping methods to managing carrier relationships, we ensure that your products are delivered to Amazon's fulfillment centers promptly and efficiently.
4.5 Managing Returns and Reverse Logistics
Handling returns and reverse logistics can be a headache for any online seller. At FBA Prep Logistics, we take care of this process for you, inspecting and processing returned products according to Amazon's guidelines. Our team also helps you analyze the reasons for returns, allowing you to make informed decisions to reduce return rates and improve customer satisfaction. To learn more about reverse logistics and how we can assist you, check out our Ultimate Guide to Amazon Reverse Logistics for East Coast Sellers.
4.6 Personalized, Scalable Solutions
As your business grows, so should your supply chain management strategies. FBA Prep Logistics offers personalized, scalable solutions that grow with your business, ensuring you always have the support and resources you need to succeed. We work closely with you to identify the most efficient and cost-effective strategies for all aspects of your supply chain management, helping you save money and stay competitive in the ever-evolving world of e-commerce.
4.7 Dedicated Customer Support
When partnering with FBA Prep Logistics, you can count on our dedicated customer support team to be there for you every step of the way. We understand the challenges faced by Amazon sellers and are committed to helping you overcome them. Our team is always available to answer your questions, provide guidance, and address any concerns you may have, making your experience with us as seamless and stress-free as possible.
4.8 FBA Prep Logistics: Your Trusted Partner in Amazon Success
Running a successful e-commerce business on Amazon requires expert knowledge, meticulous attention to detail, and a strong commitment to customer satisfaction. By partnering with FBA Prep Logistics, you can focus on what you do best: building your brand and growing your business. Our comprehensive suite of services, including inventory management, packaging, labeling, shipping, and support, will take the burden of supply chain management off your plate, allowing you to reach new heights in the competitive Amazon marketplace.
Don't wait any longer to give your business the edge it needs. Start your journey with FBA Prep Logistics today and discover for yourself the difference a dedicated and proficient prep center can make.
5. Getting Started with FBA Prep Logistics: The First Steps
Starting your journey with FBA Prep Logistics is seamless and straightforward. Our dedicated team's goal is to help you simplify your fulfillment process and create a lasting partnership that will strengthen your Amazon business. Below, we provide a step-by-step guide on how to get started with FBA Prep Logistics, along with some valuable tips for a successful collaboration.
5.1. Registration with FBA Prep Logistics
The first step in working with our top-rated prep center for Amazon involves registering with FBA Prep Logistics. To begin, simply visit our website and fill out our registration form. Provide us with the necessary details, such as your business name, contact information, and a short description of your Amazon products. Our team will review your registration submission and notify you once it's approved.
5.2. Setting Up Your Account
Once your registration is approved, it's time to set up your account on our user-friendly platform. We provide all the necessary tools and resources for successful inventory management and order fulfillment. During account setup, you'll have the chance to integrate your Amazon Seller Central account with our platform, enabling a seamless connection between your sales and our fulfillment services.
5.3. Integrating with Amazon
Integrating your Amazon account with FBA Prep Logistics is crucial for streamlining your orders and maximizing efficiency. Once your account is set up, navigate to the integrations page and select "Amazon." Follow the prompted steps to connect your account to our platform. This secure integration allows us to access crucial information, such as the inventory you plan to send to Amazon fulfillment centers and the specific requirements for each product.
5.4. Sending Inventory to Our Warehouse
After you have connected your accounts, you'll need to send your inventory to our warehouse in Bristol, PA. Creating an inbound shipment on our platform is quick and easy. Provide the necessary information and details regarding the contents of your shipment, such as product SKUs, quantities, and any specific packaging or labeling requirements.
Pro Tip: To prevent delays and additional fees, ensure that your inventory adheres to Amazon's requirements regarding product packaging and labeling. Our team is well-versed in Amazon's guidelines and can provide assistance if needed.
5.5. Inventory Management and Order Processing
With your inventory in our warehouse, FBA Prep Logistics takes care of everything from inventory management, product preparation, coordination with Amazon fulfillment centers, and providing reliable order processing. We'll keep you up-to-date on the status of your inventory and shipments, ensuring you can focus on growing your business without the added stress of supply chain management. Check our Efficient PA Order Fulfillment Services for Your E-commerce Store to understand better how our services can benefit your e-commerce business.
5.6. Establish a Strong Communication Channel
A key element for a successful partnership is open and regular communication. Be proactive in sharing any updates, concerns, or questions with our team. Feel free to reach out to your dedicated account manager at any point during the process. They are here to help and support you every step of the way.
5.7. Continuously Optimize Your Processes
As an Amazon seller, there's always room for improving your supply chain operations. Regularly review your processes with our team and explore ways to optimize your fulfillment strategy. Read up on The Ultimate Guide to E-commerce Logistics in East Coast to discover how you can make the most out of our services for your e-commerce business.
Keep Moving Forward with FBA Prep Logistics
Starting your journey with FBA Prep Logistics is more than just a decision to partner with a prep center for Amazon; it's an essential move to empower your e-commerce brand to grow further. With the right mindset and continuous improvement, you'll be well on your way to taking full advantage of our inventory management and order fulfillment expertise. Together, we'll pave the path to your Amazon success.
FAQs</h2>
<h3>1. What is a prep center and why do I need one as an Amazon seller?</h3>
<p>A prep center is a third-party logistics (3PL) warehouse that specializes in receiving, preparing, and shipping products on behalf of Amazon sellers. By using a prep center like FBA Prep Logistics, you can streamline your supply chain management, save time and money, and focus on growing your e-commerce business.</p>
<h3>2. How does FBA Prep Logistics save me time and money?</h3>
<p>FBA Prep Logistics takes care of tasks like inventory management, product preparation, labeling, and shipping, allowing you to concentrate on marketing and sourcing new products. Moreover, our efficient processes and expert team help you avoid costly mistakes and ensure smooth operations.</p>
<h3>3. Does FBA Prep Logistics only work with Amazon sellers?</h3>
<p>While we specialize in assisting Amazon sellers, FBA Prep Logistics can also cater to the needs of e-commerce businesses selling on other platforms. Our expertise in e-commerce logistics makes us the ideal partner for managing your inventory and shipments.</p>
<h3>4. How does FBA Prep Logistics ensure that my inventory is properly prepared for Amazon fulfillment centers?</h3>
<p>Our team at FBA Prep Logistics is well-versed in Amazon's guidelines and requirements for product preparation and packaging. We ensure that your products are prepped to meet Amazon's standards, reducing the risk of problems at fulfillment centers.</p>
<h3>5. How do I get started with FBA Prep Logistics?</h3>
<p>To get started with FBA Prep Logistics, simply register on our website, set up an account, and integrate it with your Amazon seller account. We then guide you through the entire process and provide tips for a successful partnership and hassle-free supply chain management.</p>
<script type="application/ld+json">
{
"@context": "https://schema.org",
"@type": "FAQPage",
"mainEntity": [{
"@type": "Question",
"name": "What is a prep center and why do I need one as an Amazon seller?",
"acceptedAnswer": {
"@type": "Answer",
"text": "A prep center is a third-party logistics (3PL) warehouse that specializes in receiving, preparing, and shipping products on behalf of Amazon sellers. By using a prep center like FBA Prep Logistics, you can streamline your supply chain management, save time and money, and focus on growing your e-commerce business."
}
}, {
"@type": "Question",
"name": "How does FBA Prep Logistics save me time and money?",
"acceptedAnswer": {
"@type": "Answer",
"text": "FBA Prep Logistics takes care of tasks like inventory management, product preparation, labeling, and shipping, allowing you to concentrate on marketing and sourcing new products. Moreover, our efficient processes and expert team help you avoid costly mistakes and ensure smooth operations."
}
}, {
"@type": "Question",
"name": "Does FBA Prep Logistics only work with Amazon sellers?",
"acceptedAnswer": {
"@type": "Answer",
"text": "While we specialize in assisting Amazon sellers, FBA Prep Logistics can also cater to the needs of e-commerce businesses selling on other platforms. Our expertise in e-commerce logistics makes us the ideal partner for managing your inventory and shipments."
}
}, {
"@type": "Question",
"name": "How does FBA Prep Logistics ensure that my inventory is properly prepared for Amazon fulfillment centers?",
"acceptedAnswer": {
"@type": "Answer",
"text": "Our team at FBA Prep Logistics is well-versed in Amazon's guidelines and requirements for product preparation and packaging. We ensure that your products are prepped to meet Amazon's standards, reducing the risk of problems at fulfillment centers."
}
}, {
"@type": "Question",
"name": "How do I get started with FBA Prep Logistics?",
"acceptedAnswer": {
"@type": "Answer",
"text": "To get started with FBA Prep Logistics, simply register on our website, set up an account, and integrate it with your Amazon seller account. We then guide you through the entire process and provide tips for a successful partnership and hassle-free supply chain management."
}
}] }
</script>