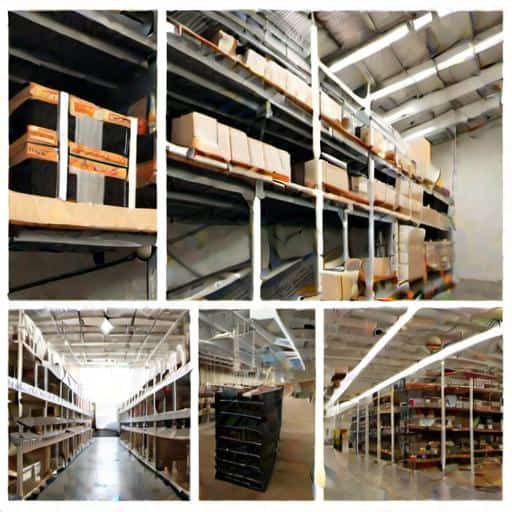 Introduction: Welcome to the Future of E-Commerce Fulfillment
Gone are the days when e-commerce businesses handled all aspects of fulfillment in-house. Instead, businesses that want to stay ahead of the curve are outsourcing their fulfillment operations to California FBA Prep Services – and for good reason.
Fulfillment By Amazon (FBA) has revolutionized how e-commerce businesses, especially those selling primarily on Amazon.com, manage their supply chain. Instead of dealing with all the nitty-gritty details of warehousing, inventory management, and shipping, businesses can now leave these tasks to third-party logistics (3PL) providers, freeing up time and resources to focus on growth and expansion.
One company leading the way in offering top-notch 3PL services is FBA Prep Logistics. Based in Bristol, PA, and with a strategic California location, FBA Prep Logistics ensures that your e-commerce business benefits from streamlined operations, hassle-free management, and faster shipping times to Amazon's fulfillment centers.
This article is your guide to understanding how partnering with FBA Prep Logistics for your California FBA Prep Services can be a game-changer for your e-commerce business. We'll discuss the benefits of partnering with a California-based warehouse, the range of services we provide to address your business' needs, and our commitment to providing unparalleled customer support.
Your success in the ever-evolving world of e-commerce is our priority. Let us show you how utilizing our California FBA Prep Services, combined with the expertise and dedication of the FBA Prep Logistics team, can take your e-commerce business to new heights. So, sit back, relax, and let's dive into the world of FBA Prep Logistics and our California FBA Prep Services.
Section 2: Why Your E-Commerce Business Needs California FBA Prep Services
Choosing the right 3PL warehouse is crucial to the success of your e-commerce business. In this section, we'll discuss why partnering with a California-based 3PL company for FBA Prep Services is a smart decision. You'll see how our strategic and convenient location, faster lead times, and cost-saving benefits make FBA Prep Logistics the ultimate choice for those selling mainly on Amazon.
Convenient Location
California FBA Prep Services are ideal for e-commerce businesses, as the state serves as a gateway to both national and international markets. With a vast network of transportation options, including highways, airports, and seaports, California is a logistics hub that can help your business grow exponentially. By choosing a warehouse located on the West Coast, you can significantly improve your logistics efficiency, ensuring faster delivery times to your customers.
Faster Lead Times
As an e-commerce entrepreneur, you know the importance of speed in the world of online selling. Customers expect their orders to be shipped quickly, and the ability to process and ship orders fast is fundamental to a successful e-commerce business. With California FBA Prep Services, you can take advantage of our proximity to Amazon fulfillment centers in the region, ensuring that your inventory arrives at the proper destination quickly and efficiently. This results in shorter lead times, which translates into happier customers and more return business.
Cost Savings
Partnering with FBA Prep Logistics for your California FBA Prep Services also brings considerable cost savings. Our warehouse automation processes and advanced warehouse management system (WMS) means there will be no compromise on the efficiency and quality of services while keeping costs as low as possible. In addition, by having a California-based warehouse, you can save on shipping costs, as your inventory will have a shorter distance to travel from our facility to your customers and Amazon fulfillment centers.
Seamless Integration
At FBA Prep Logistics, we understand that as a growing e-commerce business, you have a lot on your plate. To make things easier for you, we offer seamless integration with popular e-commerce platforms such as Shopify and Amazon Simplify Inventory Tracking on Shopify This integration allows you to focus on other aspects of your business while having all of your inventory and order fulfillment information centralized and up to date.
Scalability
FBA Prep Logistics is prepared to grow alongside you. As your e-commerce business starts gaining more traction, you can count on FBA Prep Logistics to handle all of your new fulfillment needs. Our California FBA Prep Services can scale to meet the increasing demands of your online business without requiring you to invest in additional infrastructure or personnel.
Compliant Operations
Operating within the complex world of e-commerce selling can be confusing, and it's crucial to maintain compliance with various state and federal regulations. Partnering with FBA Prep Logistics ensures that you have a reliable, experienced, and professional team handling your inventory, ensuring full compliance with all relevant safety and regulatory standards.
In conclusion, California FBA Prep Services can significantly benefit your growing e-commerce business. By partnering with FBA Prep Logistics, you can leverage our strategic location, faster lead times, cost savings, seamless integration, scalability, and compliance expertise to ensure the success and growth of your online selling venture.
3. FBA Prep Logistics: A Comprehensive Solution for Your Needs
With seamless integration and reliable California FBA Prep services, FBA Prep Logistics goes above and beyond to streamline your e-commerce business' entire fulfillment process. We want to make sure your inventory is stored, sorted, and shipped to Amazon fulfillment centers efficiently, so you can focus on what you do best – growing your business.
3.1. Receiving Inventory Efficiently
No matter how big your business is, FBA Prep Logistics is equipped to handle your inventory needs, offering spacious storage and efficient organization within our California FBA Prep Services warehouse. Our solutions are designed to reduce manual touchpoints and errors, ensuring your inventory is received and organized accurately and securely. This way, we help your e-commerce business save time and resources while maximizing your profits.
3.2. Inbound Freight Management
Along with receiving your inventory, FBA Prep Logistics will also efficiently manage your inbound freight. Our experts will work closely with your carriers to manage all your freight needs, starting from loading to shipping schedules and carrier negotiations. We offer complete visibility, secure handling, and on-time deliveries, so your business can focus on expanding its horizons.
3.3. Comprehensive FBA Prep Services
FBA Prep Logistics provides a wide array of California FBA Prep Services, designed to comply with Amazon's rigorous requirements. As a result, we can handle everything from product inspection and labeling to bundling and packaging. Our experienced team ensures every step of the process adheres to Amazon's guidelines, leaving you stress-free and confident that your products will reach customers in perfect condition.
3.4. Amazon-Friendly Shipments
Shipping your products to Amazon fulfillment centers can feel like a hassle, with their strict guidelines and requirements. But with FBA Prep Logistics, you can rest assured that each shipment adheres to Amazon's standards. We package and label your products in compliance with Amazon's requirements, reducing the risk of delays, fees, or penalties. Let us take care of your shipping needs to get your products in front of customers faster and more efficiently.
3.5. Efficient Inventory Management
Keeping track of your inventory is crucial for maintaining efficient e-commerce operations. FBA Prep Logistics offers an advanced inventory management system, ensuring that stock levels are accurate and up-to-date. With real-time data and the ability to view and manage your inventory from anywhere, our system helps you avoid stock shortages, plan for future demand, and optimize your storage needs.
3.6. Seamless E-Commerce Integrations
Our system at FBA Prep Logistics easily integrates with leading e-commerce platforms like Amazon, Shopify, eBay, and many more. Whether you are selling on just one or multiple marketplaces, our team ensures efficient order processing and fulfillment, automatically syncing your inventory data across all channels. This way, you can manage all of your sales channels in one place, providing better customer experience, and reducing inventory management headaches.
3.7. Customized Solutions for Each Client
No two e-commerce businesses are the same. That's why at FBA Prep Logistics, we work closely with our clients to develop customized solutions tailored to their unique needs and requirements. By understanding your specific goals, processes, and challenges, our team creates a plan to streamline your supply chain and optimize your California FBA Prep Services experience.
4. In Conclusion: Your Key Partner for Amazon Success
FBA Prep Logistics is your one-stop solution for a seamless and efficient California FBA Prep Services experience. Our comprehensive range of services, advanced technology, top-notch customer support, and competitive pricing make us the perfect choice for e-commerce businesses looking to expand their presence on Amazon. Let us help you increase your stress-free efficiency, maximize your profits, and enjoy the success you deserve. Choose FBA Prep Logistics today, and unlock the true potential of your e-commerce business!
Have any questions or ready to take the next step? Be sure to check our Efficient PA Order Fulfillment Services for Your E-commerce Store and Top Cost Reduction Strategies for Amazon Sellers in PA guides for more information on how FBA Prep Logistics can be your perfect fulfillment partner.
4. Top-Notch Customer Support to Guide You Every Step of the Way
As a digital marketing assistant at FBA Prep Logistics, I understand that diving into the world of supply chain management and FBA Prep Services can be intimidating for business owners who are new to these processes. That's where California FBA Prep Services truly shine. In this section, I'll be explaining why our customer support is essential to your success, ensuring that you have a smooth and stress-free experience with FBA Prep Services.
4.1. Personalized Onboarding Process
When you put your trust in FBA Prep Logistics, you can expect a personalized onboarding process tailored to your e-commerce business. Our dedicated team takes the time to understand your unique needs and preferences, allowing us to create a custom strategy that accommodates your requirements. This level of attention goes a long way in ensuring your business thrives with our California FBA Prep Services.
4.2. Hands-On Assistance from Industry Experts
Our highly trained specialists are consistently available to provide you with real-time, hands-on support, as you navigate through the complexities of FBA Prep Services. Through our collaborative approach, businesses like yours can make informed decisions, stay up-to-date with the latest Amazon compliance requirements, and ultimately increase the efficiency of your supply chain operations.
4.3. Regular Communication and Updates
At FBA Prep Logistics, we value clear and open communication with our clients. Our customer support team regularly shares progress updates on your inventory handling, packaging, and labeling, so you never feel in the dark about the status of your products. This practice of fostering transparency and accountability is just one way we distinguish ourselves as a California FBA Prep Service provider.
4.4. Proactive Problem-Solving Approach
Our proactive approach helps to identify potential issues before they escalate into major problems. From researching new packaging materials to anticipating seasonal inventory fluctuations, our skilled team is prepared to take on any supply chain challenge and offer valuable insights that can help you avoid common pitfalls.
4.5. Infinite Resource of Knowledge
FBA Prep Logistics can act as an infinite resource of knowledge for your e-commerce business, providing critical information about inventory control, shipping regulations, and Amazon's FBA guidelines. In addition, our team stays updated on industry trends, technological advancements, and best practices that can enhance your business operations.
4.6. Streamlining the Learning Process
With our top-notch customer support, we strive to streamline the learning process for you and your team. Our extensive experience and expertise in California FBA Prep Services enable us to provide you with an array of resources, including The Ultimate Guide to E-commerce Logistics in East Coast and Top Cost Reduction Strategies for Amazon Sellers in PA, helping you learn the ropes and accelerate your growth.
4.7. Round-the-Clock Support
In the fast-paced world of e-commerce, it's crucial to have constant support in case any unforeseen challenges emerge. That's why we're available to assist you with any concerns or questions, no matter the time of day. Our commitment to providing exceptional customer service helps your business navigate the complexities of managing an Amazon store with confidence.
By now, it should be clear that exceptional customer support plays a pivotal role in the success of any e-commerce business using California FBA Prep Services. FBA Prep Logistics prioritizes personalized attention, hands-on assistance, and constant communication, creating a stress-free experience for ambitious business owners like you who want to stay ahead in the competitive e-commerce landscape. If you're ready to take your business to new heights, FBA Prep Logistics is here to offer the expertise and guidance you need.
5. See the Difference: Why Choose FBA Prep Logistics for Your California FBA Prep Services?
As you weigh your options for the perfect fulfillment partner for your e-commerce business, it's essential to understand why FBA Prep Logistics stands out from the crowd. We take pride in providing top-notch California FBA Prep Services for e-commerce businesses selling on Amazon. Allow us to showcase why we're the ideal choice for your business:
5.1 Experience Matters: Trust in Our Expert Team
At FBA Prep Logistics, our team consists of experts with years of experience in supply chain management and e-commerce logistics. We know the ins and outs of the Amazon FBA process, from handling inventory to managing returns. Our expertise extends beyond just fulfilling orders; we also provide valuable insights into effective inventory management, cost-saving measures, and seamless integration with your online store. The Ultimate Guide to E-commerce Logistics in East Coast offers a wealth of information for businesses looking to bolster their supply chain management, including the benefits of partnering with an experienced 3PL provider like FBA Prep Logistics.
5.2 Superior Location: Strategically Located in California
FBA Prep Logistics' strategic location in California provides several advantages for e-commerce businesses looking to expedite their fulfillment process and reach their customers faster. Our warehouse ensures proximity to major shipping routes, leading to faster transit times and reduced shipping costs for your business. As we discussed in the earlier section on The Benefits of E-commerce Fulfillment on the East Coast, a strategically placed fulfillment center delivers higher customer satisfaction and increased profit margins.
5.3 Tailored Solutions: Customized FBA Prep Services for Your Business
We understand that each e-commerce business is unique, so we provide customized FBA Prep Services to cater to your specific needs. From bundling and labeling to prepping fragile items, our team is skilled in handling various tasks to ensure smooth and efficient order processing. Additionally, we adapt our processes to accommodate specific requirements set forth by Amazon, ensuring full compliance and seamless integration within their fulfillment ecosystem.
5.4 Streamlined Systems: Leveraging Technology for Optimal Efficiency
At FBA Prep Logistics, we recognize the importance of technology in creating a seamless and efficient fulfillment process. We utilize advanced software solutions to provide accurate inventory tracking, expedite order processing, and optimize warehouse organization. Combining state-of-the-art technology with our team's expertise yields unmatched efficiency and accuracy in our California FBA Prep Services.
We value transparency and honesty, so we offer straightforward pricing with no hidden fees or surprises. Our clear and simple pricing structure allows you to accurately budget for fulfillment costs and avoid unexpected expenses. This approach helps our clients enjoy peace of mind as they grow their e-commerce business without constantly worrying about fluctuating fulfillment costs.
5.6 The FBA Prep Logistics Commitment: Excellent Customer Support
FBA Prep Logistics is committed to providing a high level of customer support to ensure a seamless and satisfying experience for our clients. We understand that navigating the world of supply chain management can be overwhelming, so our expert team is always ready to assist, guide, and answer questions to make your experience as hassle-free as possible. As mentioned earlier, our Top-Notch Customer Support exemplifies our dedication to addressing your concerns and ensuring your e-commerce business thrives.
In conclusion, FBA Prep Logistics is the ultimate fulfillment partner for your California-based e-commerce business. Our expertise, strategic location, tailored solutions, integrated technology, transparent pricing, and exceptional customer support make us the clear choice for your California FBA Prep Services. Are you ready to see the difference FBA Prep Logistics can bring to your business? Reach out to us today and take your e-commerce venture to new heights!
Frequently Asked Questions
1. What are the main benefits of using FBA Prep Logistics for my e-commerce business?

By partnering with FBA Prep Logistics, you'll benefit from strategic and convenient California-based warehouse locations, faster lead times, cost savings, and comprehensive solutions to streamline your entire fulfillment process. Plus, our top-notch customer support ensures a stress-free experience.

2. How does FBA Prep Logistics help with faster lead times?

Our warehouse located in Bristol, PA, is strategically positioned to reduce transit times and ensure efficient transportation of your products to Amazon fulfillment centers. As a result, your products will be available for sale faster, improving your competitive edge.

3. Can FBA Prep Logistics handle inventory from multiple suppliers?

Yes, our team is experienced in managing inventory from various suppliers, consolidating shipments, inspecting products, and preparing them for Amazon FBA. We aim to streamline your entire fulfillment process and ensure a smooth flow of inventory.

4. How does FBA Prep Logistics' customer support assist new e-commerce businesses?

Our customer support team goes the extra mile to help you understand the nuts and bolts of 3PL services. We offer personalized guidance and address all your questions, ensuring you feel confident about using our services and ultimately optimizing your supply chain management.

5. What types of products can FBA Prep Logistics handle?

We work with a broad range of products, from small, lightweight items to large, bulky products. Our team is well-versed in handling complex and varying inventory needs. Contact us to discuss your specific product requirements, and we'll help you find a tailored solution.
Ready to Join the Future of E-Commerce Fulfillment?
Embracing FBA Prep Logistics as your California 3PL partner translates to a smarter e-commerce business. With our strategic location, comprehensive solutions, and personalized support, we're your all-in-one warehouse solution to help you thrive on Amazon. Take the leap and experience the FBA Prep Logistics difference today.