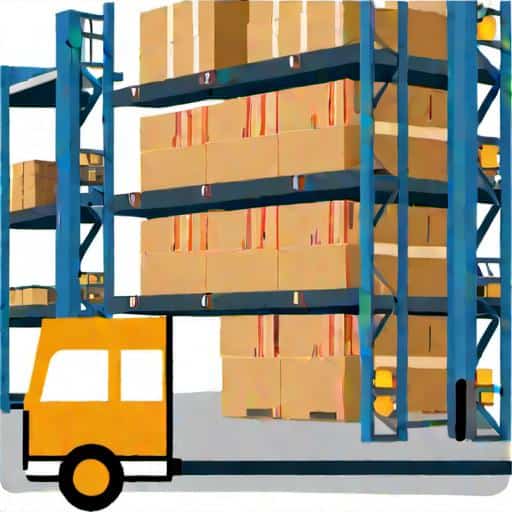 Introduction: Discover the Power of FBA Prep Logistics
Are you ready to take your e-commerce business to the next level? If you're an Amazon seller, you know the importance of a seamless supply chain management system that integrates with your online store. But as your business grows, so does the complexity of managing your inventory and fulfilling customer orders. That's where Fulfilment 3PL comes in. If you haven't explored the benefits of partnering with a 3PL warehouse before, now is the perfect time. FBA Prep Logistics is just the partner you need to elevate your e-commerce success story.
By working with FBA Prep Logistics, you'll be able to focus more on growing your business and spending less time stressing about inventory management and shipping. Our personalized, full-service approach to fulfilling your e-commerce needs is precisely what your business needs to thrive. We take care of all the details, so you can scale your operations with confidence.
But let's dive deeper. In this article, we will discuss the comprehensive range of services offered by FBA Prep Logistics, our streamlined e-commerce integration with Amazon's platform, our exceptional customer service and support, and the cost-effective inventory management solutions we provide. By the time you've finished reading, you'll be in no doubt as to why FBA Prep Logistics is the perfect warehouse partner for your e-commerce business.
So, are you ready to discover the power of FBA Prep Logistics? Let's get started!
II. Comprehensive Fulfillment Services Tailored to Your Needs
Growing an e-commerce business goes far beyond coming up with a fantastic product—efficient and streamlined operations are needed to bring your product into the hands of your valued customers. Here at FBA Prep Logistics, we believe in offering tailored fulfillment 3PL services designed to help you succeed in the competitive world of e-commerce, providing peace of mind to businesses like yours.
1. Inbound Receiving
Our comprehensive fulfillment services start with inbound receiving. We understand that every shipment entering our warehouse is an essential contribution to your e-commerce business's inventory. Our professional and experienced team handles every shipment with utmost care, ensuring that everything is accounted for and documented. To maintain accuracy and prevent discrepancies, our warehouse utilizes state-of-the-art technology and a stringent process to verify the contents of each shipment automatically.
2. Kitting
Kitting and assembly are vital components of the e-commerce supply chain. At FBA Prep Logistics, we offer customized kitting services to cater to your business needs. Be it creating promotional bundles or assembling components into a ready-to-ship product, our team is always ready to help. Our experienced staff members ensure that every package is prepared with care, precision, and professionalism. By outsourcing your kitting process to our fulfilment 3PL warehouse, you can focus on growing your business, leaving the tedious packaging tasks to us.
3. Labeling
Proper labeling plays a crucial role in ensuring that your products make it to the right shelves and ultimately to the correct customers. FBA Prep Logistics' team of experts provides professional labeling services following Amazon's stringent guidelines and requirements. From updating barcodes to attaching shipping labels, we make sure each product is labeled accurately and ready for seamless integration into Amazon's system.
4. Quality Control Checks
Our fulfillment service philosophy revolves around providing top-notch services, which is why we take quality control very seriously. Our meticulous team conducts thorough inspections of all products, making sure they meet the highest quality standards. Any issue that arises, be it damaged items or discrepancies, is communicated to you promptly so corrective actions can be taken.
5. Secure Storage
As a reliable fulfilment 3PL warehouse, we understand the value of keeping your inventory safe and organized. Our secure storage facility is designed to provide optimal inventory management solutions, ensuring appropriate storage conditions, proper organization, and easy retrieval of items. We monitor our storage facilities 24/7, guaranteeing that your products are protected and ready for delivery when an order comes in.
6. Order Packing and Shipping
Ensuring a smooth order fulfillment process is at the core of our services. FBA Prep Logistics provides efficient packing and shipping services designed to meet your e-commerce store's demands. Our team is trained to pack items securely, utilizing the right packaging materials and boxes corresponding to the product's size and weight. This attention to detail ensures your products reach Amazon's warehouses and eventually your customers safely while adhering to Amazon-specific guidelines.
7. Dedicated Account Management
Partnering with FBA Prep Logistics means you have a dedicated account manager committed to understanding your business's unique needs. Your account manager is responsible for overseeing all aspects of your supply chain process, ensuring each step runs smoothly and efficiently. This level of personalized service enables you to stay informed and confident in every stage of your e-commerce operations.
Now that you understand how FBA Prep Logistics can provide comprehensive fulfillment 3PL services tailored to your needs, the next step is considering the benefits of seamless e-commerce integration. Read on to learn how our user-friendly integration can optimize your business's operations.
III. Streamlined E-Commerce Integration
One of the most critical aspects of a thriving e-commerce business is the seamless integration of its various supply chain components. As a result, FBA Prep Logistics is designed to streamline the integration process between your e-commerce store and Amazon's platform effortlessly. By incorporating these comprehensive e-commerce solutions into your business, you can leverage the latest in technology and efficiency like never before.
3.1 Easy Integration Process
Our easy-to-implement Fulfilment 3PL system takes you step by step through the setup process, ensuring a smooth and seamless integration experience. With just a few clicks, you can synchronize your product listings, map your preferred shipping methods, and set up automatic order fulfillment processes, greatly enhancing your workflow and reducing manual tasks.
3.2 Comprehensive API Connectivity
FBA Prep Logistics boasts a powerful and robust API connectivity, providing your business with a highly adaptable and efficient solution that grows alongside your e-commerce venture. By connecting directly with Amazon through our API, you'll have access to real-time order and inventory data, helping you stay ahead of the competition and scale your business more effectively. Our API also supports multi-channel and multiplatform e-commerce, allowing you to centralize your inventory and order management across various online marketplaces.
3.3 Effortless Inventory Management
Gain full control over your inventory with FBA Prep Logistics' user-friendly interface. Our inventory management system offers advanced features such as automated inventory syncing, multi-warehouse support, and real-time updates, ensuring you have the most accurate and up-to-date information at your fingertips. With easy-to-generate reports that highlight your inventory's performance, forecasting demand, and managing stock levels becomes simpler and more accurate, allowing you to make smarter business decisions.
3.4 Enhanced Order Processing
Leverage our advanced order processing capabilities to elevate your e-commerce operation. FBA Prep Logistics empowers you to automate key tasks such as route optimization, batch processing, and order tracking. Furthermore, our platform offers full compatibility with Shopify stores, allowing you to reach an even broader clientele and streamline your order fulfillment process for maximum efficiency.
3.5 Unprecedented Speed and Accuracy
As part of our commitment to delivering top-notch Fulfilment 3PL services, FBA Prep Logistics ensures that all orders are processed and shipped with remarkable speed and precision. By combining cutting-edge technology with our knowledgeable staff's expertise, we strive to minimize error and maintain consistent standards of quality throughout the order fulfillment process. You and your customers can rest assured that every package will arrive on time and in perfect condition.
3.6 Scalable Solutions for a Growing Business
FBA Prep Logistics understands that your business needs change and evolve as it grows. Our flexible, scalable e-commerce integration solutions are designed to handle increasing volumes of orders and new products, ensuring your success at every stage. With the tools and support provided by FBA Prep Logistics, you can focus on accelerating your business's growth, knowing that your supply chain management remains consistently streamlined and efficient.
In conclusion, FBA Prep Logistics' streamlined e-commerce integration offers your e-commerce business numerous benefits, from seamless inventory management to a robust API connectivity that synchronizes your operations with Amazon's platform effortlessly. State-of-the-art technology and dedicated customer support combine to enable smooth, efficient processes that elevate your business to new heights of success. By choosing FBA Prep Logistics as your trusted Fulfilment 3PL partner, you'll unlock valuable resources and expertise that translate into an unmatched competitive edge in the ever-evolving e-commerce landscape.
IV. Stellar Customer Service and Support
A Personalized Approach to Customer Care
One of the key factors that sets FBA Prep Logistics apart from the competition is our unwavering commitment to providing top-notch customer service and support. We firmly believe that each of our clients' e-commerce businesses is unique and deserves individualized attention to cater to their specific needs. With FBA Prep Logistics as your (Fulfilment 3PL provider), you'll receive dedicated customer support, ensuring that your concerns and queries are addressed promptly and professionally.
Navigating the Complexities of Supply Chain Management
If you're new to supply chain management or have never used a 3PL before, the process can be daunting. But fear not! Our expert team at FBA Prep Logistics is here to help you successfully navigate these unfamiliar waters. From guiding you on the ins and outs of inventory management to offering advice on shipping and logistics best practices, we are with you every step of the way.
Effective Communication: A Key Ingredient for Success
We understand that clear, open, and timely communication is crucial for businesses, especially when dealing with e-commerce and supply chain operations. As your Fulfilment 3PL partner, we ensure that you are always in the loop regarding any updates, changes, or issues that may arise in the fulfillment process. Have a question or concern? Our friendly and knowledgeable customer service team is just a phone call or email away and eager to assist you.
Proactive Issue Resolution
In the fast-paced world of e-commerce, time is money, and the last thing your business needs is an unforeseen problem disrupting your operations. At FBA Prep Logistics, we believe in proactive issue resolution, which means identifying potential problems before they arise and addressing them head-on. This allows us to minimize disruptions to your business and ensure a smooth fulfillment process for your customers.
Real-Time Support for Real-Time Needs
Our digitally-connected world means that e-commerce never sleeps, and sometimes, you need immediate assistance. FBA Prep Logistics recognizes the importance of real-time support and is always ready to help you with any urgent issues that might come up.
Educating Our Clients to Foster Growth
We're not just a Fulfilment 3PL provider; we're also committed to helping your e-commerce business learn and grow. By sharing our industry insights, best practices, and success strategies, we aim to empower our clients to make informed decisions that positively impact their businesses. We're delighted when our customers succeed and find it highly rewarding to be part of their growth story.
Seamless Collaboration with a Reliable Partner
Fulfilling customer orders accurately and on time is a critical part of the e-commerce puzzle. To keep those pieces fitting together seamlessly, you need a reliable Fulfilment 3PL partner that you can trust. FBA Prep Logistics is dedicated to building strong, long-lasting relationships with our clients through transparent, honest, and collaborative efforts, ensuring the success of both parties.
Your Success is Our Success
At FBA Prep Logistics, we recognize that our clients' success directly impacts our own. We take immense pride in providing top-notch customer service and personalized support that enables your e-commerce business to thrive. With our knowledgeable team, strong values, and dedication to client satisfaction, you can trust FBA Prep Logistics as your go-to Fulfilment 3PL partner for a prosperous e-commerce journey.
In conclusion, choosing FBA Prep Logistics as your Fulfilment 3PL partner comes with numerous benefits. Our exceptional customer service, personalized support, and commitment to your success differentiate us from other 3PL providers. Let FBA Prep Logistics be the partner you trust to help you navigate the complexities of supply chain management and achieve outstanding results for your e-commerce business.
V. Cost-Effective and Efficient Inventory Management
Keeping costs low without sacrificing efficiency is crucial to the success of an e-commerce business. When supply chain management is optimized, business owners can focus on other essential aspects of their online store and providing the best possible shopping experience for their customers. At FBA Prep Logistics, we understand this need and deliver cost-effective and efficient inventory management services to our clients. Let's delve into the benefits of partnering with a top fulfilment 3PL like FBA Prep Logistics:
5.1 Accurate and Real-Time Inventory Tracking
Efficient inventory management begins with accurate tracking of stock levels. With our cutting-edge technology and systems, we provide real-time information about your inventory, allowing you to stay on top of your stock needs. Our systems can identify potential stockouts, helping you avoid lost sales and unhappy customers. By delegating this task to FBA Prep Logistics, you'll gain peace of mind knowing your inventory is being closely monitored.
5.2 Reduced Overhead Costs
When you partner with a fulfilment 3PL like FBA Prep Logistics, you can save on the costs associated with managing your inventory in-house. By outsourcing your supply chain operations, you'll reduce the need for additional storage space, labor, and equipment related to managing your inventory. Our cost-effective solutions are designed to save you money without compromising on efficiency.
5.3 Optimized Warehouse Space Utilization
We understand that space is valuable, and that's why we've designed our warehouses to effectively utilize every square foot. Continuous optimization of space usage allows us to store more products for our clients while keeping storage costs low. Increased efficiency in space management translates to a more cost-effective inventory management solution for your e-commerce business.
5.4 Streamlined Order Processing
Order processing is a vital aspect of any e-commerce operation. At FBA Prep Logistics, order clarity and accuracy are our top priorities. By utilizing barcode technology and advanced software tools, we're able to streamline the picking, packing, and shipping processes, ensuring timely deliveries and reducing the likelihood of errors. Our order processing capabilities contribute to cost savings and improved efficiency for your e-commerce business.
5.5 Reduced Shipping Costs
Did you know that East Coast fulfillment can save your business money on shipping costs? Being strategically located in Bristol, PA, gives us easy access to major shipping carriers and key distribution channels, which translates to reduced shipping costs for our clients. Our expertise in logistics, combined with our relationships with key carriers, allows us to offer competitive shipping rates and provide savings for our e-commerce partners.
5.6 Improved Turnaround Times
Working with a dependable fulfilment 3PL leads to faster shipping and turnaround times for your customers. At FBA Prep Logistics, our efficient fulfillment services ensure that orders are picked, packed, and shipped in a timely manner, which is essential for maintaining customer satisfaction and a positive reputation for your online store.
5.7 Scalability and Flexibility
As your e-commerce business grows, so will your inventory management needs. FBA Prep Logistics offers scalability and flexibility to accommodate your evolving business. As you experience increases in order volume, we can easily adapt our services to meet your demands. This way, you can expand your business without the burden and expense of managing your supply chain in-house.
5.8 Expertise in E-commerce Logistics
When you partner with FBA Prep Logistics, you're gaining access to a team of experts in e-commerce logistics. Our knowledge and experience in the field ensure that your inventory is managed efficiently and cost-effectively, contributing to the overall success of your business. Our commitment to excellence sets us apart from other fulfilment 3PL providers in the market.
In summary, cost-effective and efficient inventory management is a critical part of running a successful e-commerce business. FBA Prep Logistics is dedicated to providing exceptional services and support to help online entrepreneurs take their businesses to new heights. By partnering with us, you'll experience the many advantages of outsourcing your supply chain operations to a reliable 3PL warehouse, allowing you to focus on what you do best—providing fantastic products and amazing customer experiences!
Introduction: Discover the Power of FBA Prep Logistics
As a new e-commerce business owner, you might have a lot of questions about 3PL warehouses and how they can streamline your operations when selling on Amazon.com. Let us at FBA Prep Logistics help answer some of those frequently asked questions and show you why we are the right choice for your growing business!
Frequently Asked Questions:
1. How do tailored services offered by FBA Prep Logistics ensure a seamless experience?

At FBA Prep Logistics, we understand that every e-commerce business has unique requirements. We offer a range of customized services such as inbound receiving, kitting, and labeling to meet your specific needs. This ensures that your products are accurately tracked and efficiently managed, helping you focus on growing your business.

2. How does the e-commerce integration with FBA Prep Logistics make my life easier?

Our user-friendly integration with Amazon's platform simplifies your supply chain management. With automated processes and real-time data syncing, you'll spend less time on logistics and more time on growing your e-commerce business.

3. What kind of customer support does FBA Prep Logistics provide?

At FBA Prep Logistics, we pride ourselves on our commitment to client satisfaction. Our experienced team offers personalized support to address any concerns you might have about the ins and outs of supply chain management.

4. Will outsourcing supply chain operations to FBA Prep Logistics save my business money?

Absolutely! Partnering with FBA Prep Logistics means you can take advantage of cost-effective inventory management solutions, freeing up valuable resources that could be better spent on marketing, sales, and other areas critical to your business's growth.

5. How can FBA Prep Logistics help my e-commerce business succeed?

By teaming up with FBA Prep Logistics, you can focus on what you do best—selling great products on Amazon! We take care of the complex logistics and inventory management, providing you with a streamlined operation that allows you to grow and thrive.
Trust FBA Prep Logistics to Boost Your E-Commerce Success
In conclusion, partnering with FBA Prep Logistics, a reliable 3PL warehouse, can elevate your e-commerce business on Amazon.com. From tailored services to user-friendly integration, stellar customer support, and cost-effective inventory management solutions, we have your back! So why wait? Let FBA Prep Logistics help you achieve success in the competitive world of e-commerce.